DIY Mug Rack with K-Cup® Storage
This post has been compensated by Collective Bias, Inc. and its advertiser. All opinions are mine alone. This post was sponsored by Starbucks as part of an Influencer Activation. I received compensation and complimentary products to facilitate my review. #StarbucksCaffeLatte #MyStarbucksatHome #CollectiveBias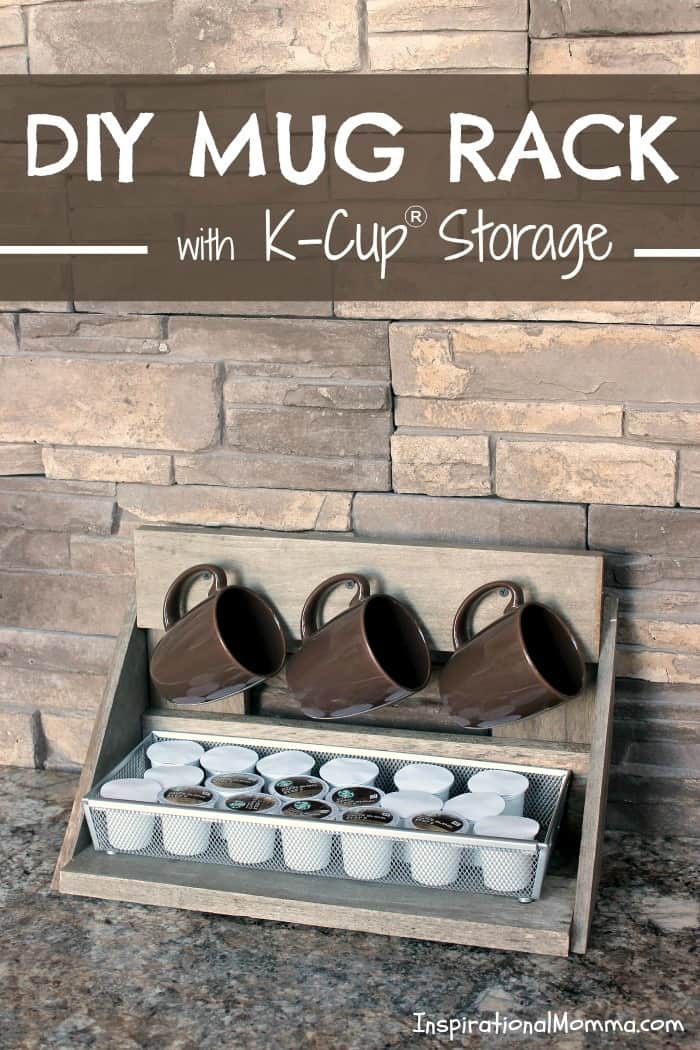 "Shhhh...I just need a minute. Hang on...almost ready."
"Ahhhhh...okay. What did you need?"
I'm not sure about you, but my ideal morning starts with a yummy cup of coffee. With four kiddos waking up early, I am usually bombarded with questions and requests from the moment I open my eyes. When at all possible, I try my hardest to get that fresh cup brewed before I am forced to face another busy day.
Recently, I discovered something special. It was like a shiny treasure just waiting for me on the grocery store shelf! I was lucky enough to find Starbucks® Caffe Blend K-Cup® pods. Now, I am not sure how familiar you are with where I live. But let's just say it's kind of in the middle of nowhere. Our nearest Starbucks® is 30 miles away. When my husband and I sneak away to have a date night, we always end our evening with a trip to Starbucks®! Sadly, this doesn't happen often enough!
With this new product, I am able to taste the delicious flavors from Starbucks® right in my own home! With my increased amount of coffee drinking and K-Cups® on hand, I decided it was time to create a coffee station that would house our mugs and our Starbucks® Caffe Blend K-Cup® pods.
Lately, I have been obsessed with finding old wooden objects that can be brought back to life. My latest victim for this project was an outdoor plant stand that was beaten and battered from the unforgiving Wisconsin weather. (I am so sad that I didn't take a picture of it before I destroyed it.) My husband cringed at the sight of it. It tipped over in the slightest of winds and was only strong enough to hold my smallest potted flower. It was time. I took action and turned it into a masterpiece...my DIY Mug Rack with K-Cup® Storage.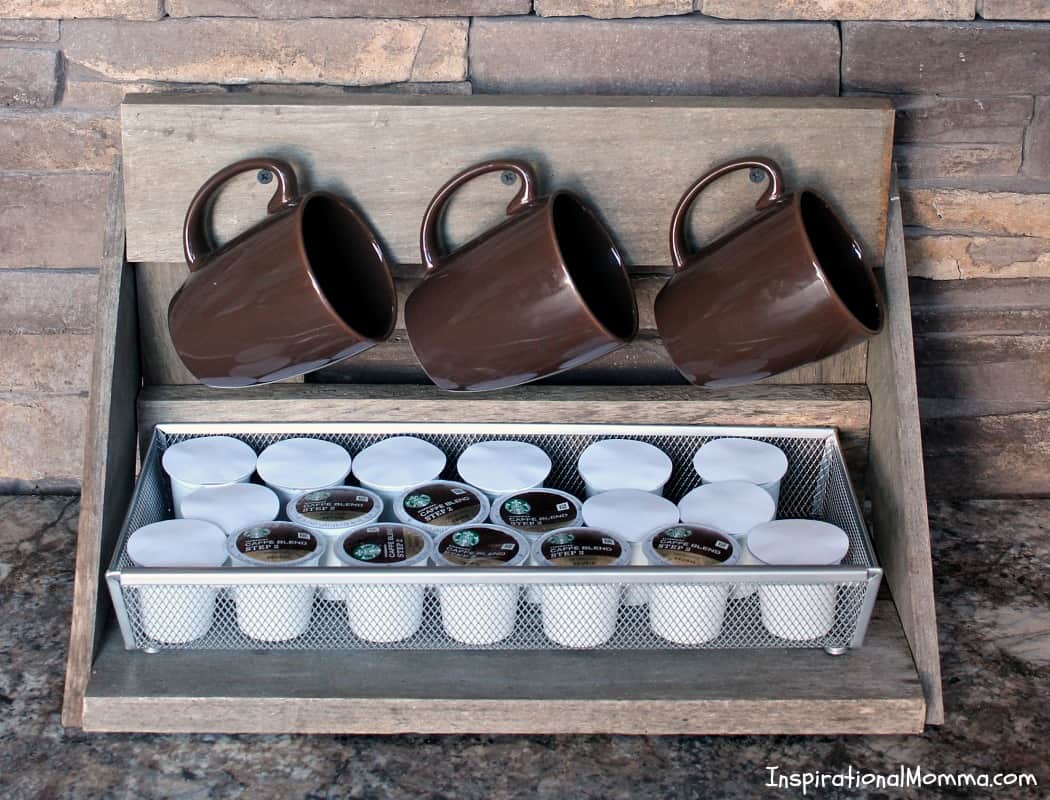 Follow the simple tutorial below and get ready to be amazed!
Step 1: You must find your materials. The particular plant stand that I sacrificed was made of boards that were 3 1/2" wide. That is also the width that most pallet boards are. Please just keep in mind that the wood you use can vary a bit. Your finished product size will just be a little different. You will also need some small nails and 3 hooks for the mugs (I used black drywall screws).
Step 2: Once you have located your materials, it is now time to start cutting. For this project, you will need the following board sizes (see photo below):
4 - 16" boards
2 - 9 1/2" boards
2 - 12" boards with a 45 degree angle on each end (the longer side of the board is 12", the shorter side is about 5")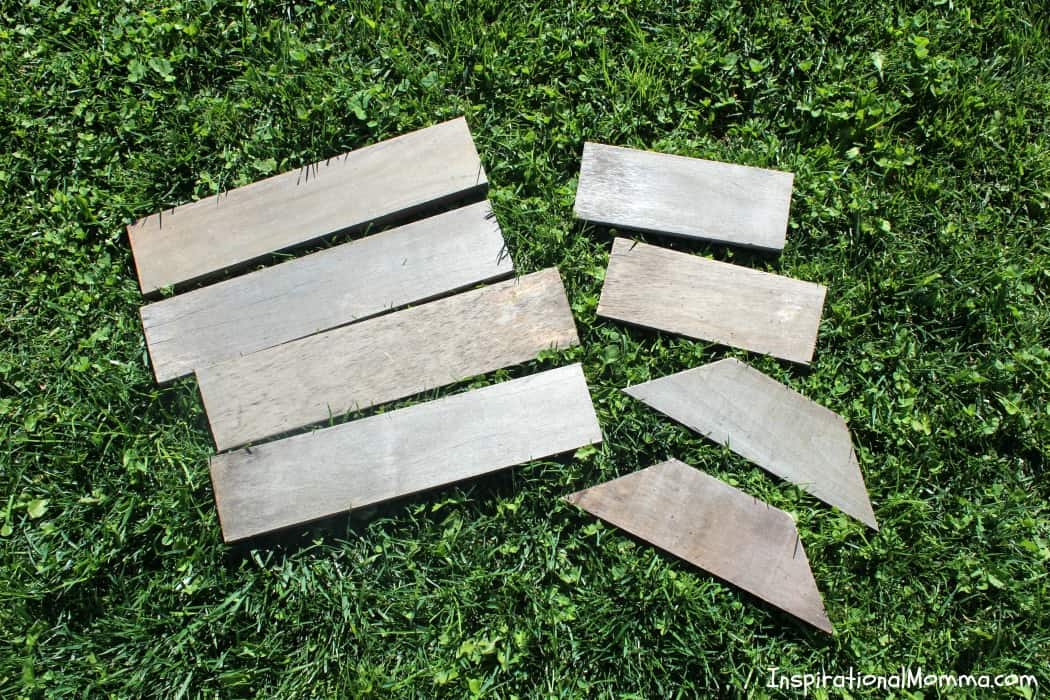 It's time to build!
Step 3: Nail two of the 16" boards together, forming the base of your DIY Mug Rack. (see photo below) To be sure they are secured together, you must hammer in the nails at an angle. Also, throughout this entire project, don't be afraid of using too many nails. You must be sure your finished product is sturdy.
Step 4: Add another 16" board, forming the back of the DIY Mug Rack. Be sure that the bottom of this board is flush with the base that you already built. (see photo below)

Step 5: Next we are going to add the 9 1/2" stabilizing boards. Secure them to the back board that was just added, making sure they are flush. (see photo below)

Step 6: Attach the final 16" board to the back of the DIY Mug Rack. I decided to put mine about 1" higher than the stabilizing boards. (see photo below)
Step 7: Add the anchor boards with the 45 degree angles. Before nailing them, be sure that both ends are flush. (see photo below)
Step 8: Finish things up with your hooks. When deciding where to put them, I used the mugs that I knew I was going to hang on them. This will help determine the spacing. (see photo below)

That is it! You are officially a carpenter! If you choose to, you also can find a basket that slides into the DIY Mug Rack with K-Cup® Storage. I found mine at a local store for just $7.00. An ideal size is 7" x 15".
Finally, it is time to take your masterpiece inside and brew yourself a hot cup of something special!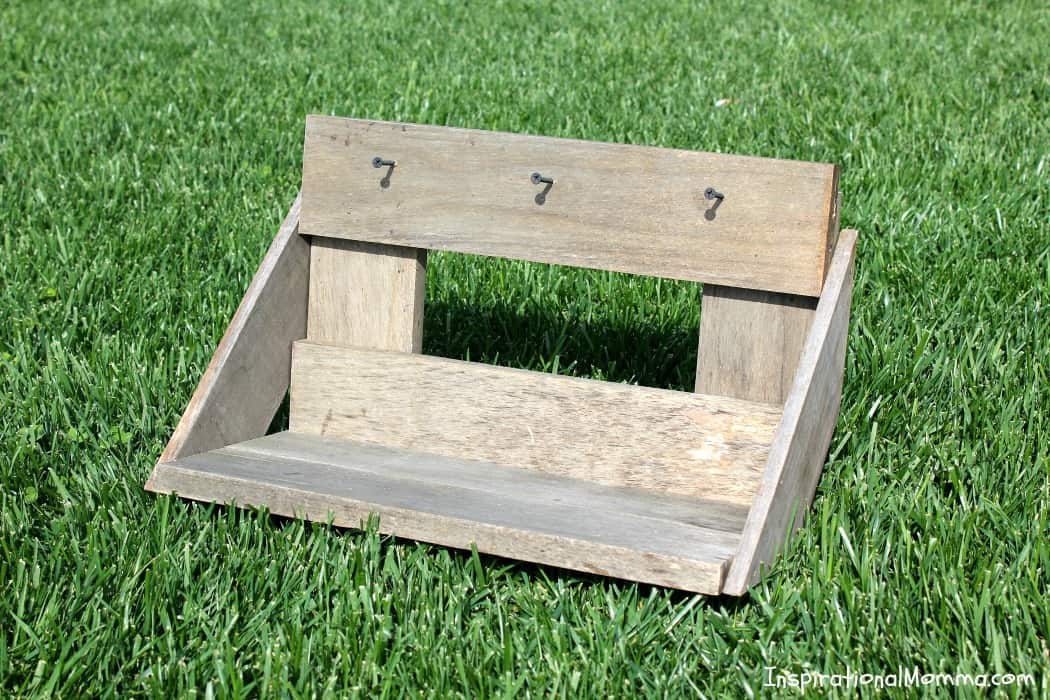 Lucky for us, Starbucks® has an amazing product that allows us to enjoy one of their masterpieces right in our own kitchen! Starbucks® Caffè Latte K-Cup® pods are just what I need to start my day off right (and maybe one after I eat lunch and another just after dinner). Made from milk and with no artificial flavors, they are simply delicious. I also love that there are three amazing flavors to choose from...vanilla, caramel, and mocha! I still haven't decided my favorite, therefore I must continue trying them all over and over again until a decision has been made : )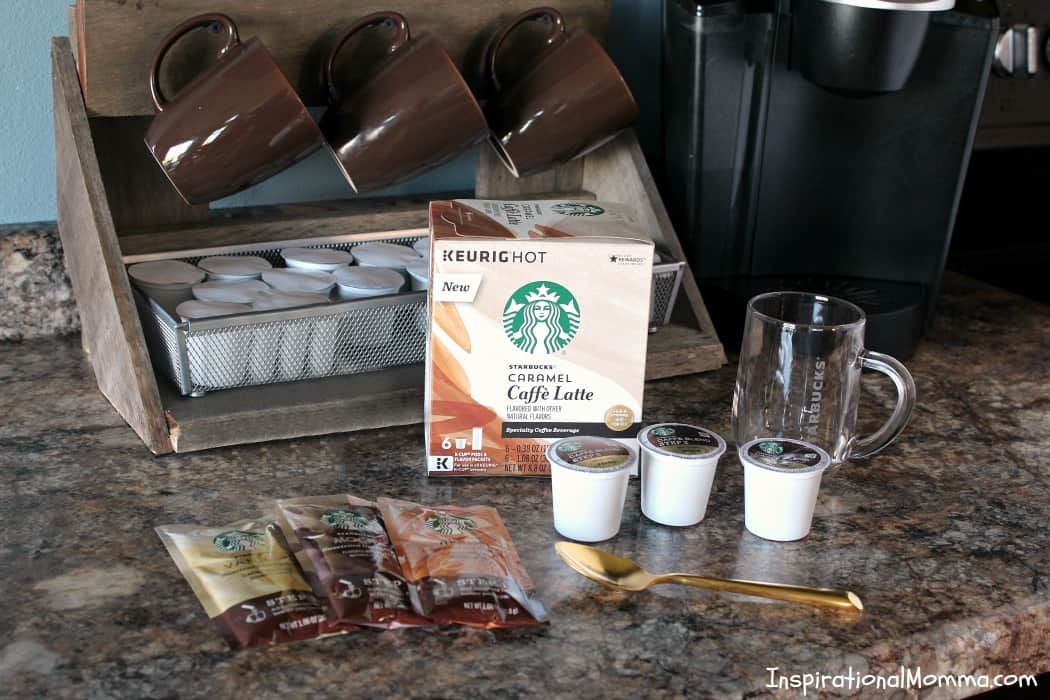 While the flavor tastes complicated, it is so easy to whip one of these up! Just two steps!
First, you must pour the flavor packet into the mug.
Second, brew the Starbucks® Caffe Blend K-Cup® pod in your Keurig® brewer. Be sure to select the 8-ounce setting.
Done! Now all that is left to do is stir and enjoy!

Now that you have been introduced to Starbucks® Caffe Blend K-Cup® pods and your DIY Mug Rack with K-Cup® Storage is complete, you can sit back and relax.
While you're sipping that yummy deliciousness, be sure to let me know what you think in the comments below! Which flavor do you prefer?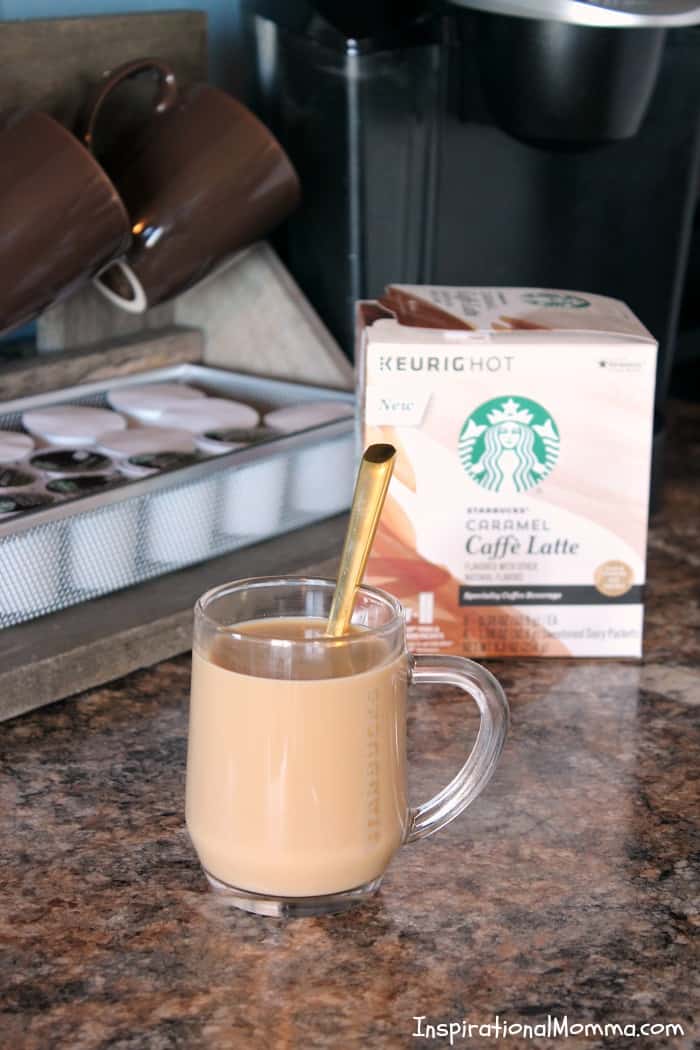 2016 Starbucks® Corporation. All rights reserved. Keurig, Keurig HOT, K-Cup and the K logo are trademarks of Keurig Green Mountain, Inc., used with permission.
Get Inspired!
Never miss my delicious recipes, cute creations, or household tips!