3-Ingredient Oreo Truffles
No baking required to make these 3-Ingredient Oreo Truffles. They are easy to make and taste delicious. Simple Oreo balls are sure to impress!
No-Bake Oreo Truffles
This is finger food at its finest! This sweet treat is easy to make and requires no baking. If you are looking for another simple, delicious dessert, you have to check out my No Bake Cookie Dough Bites! You may just fall in love!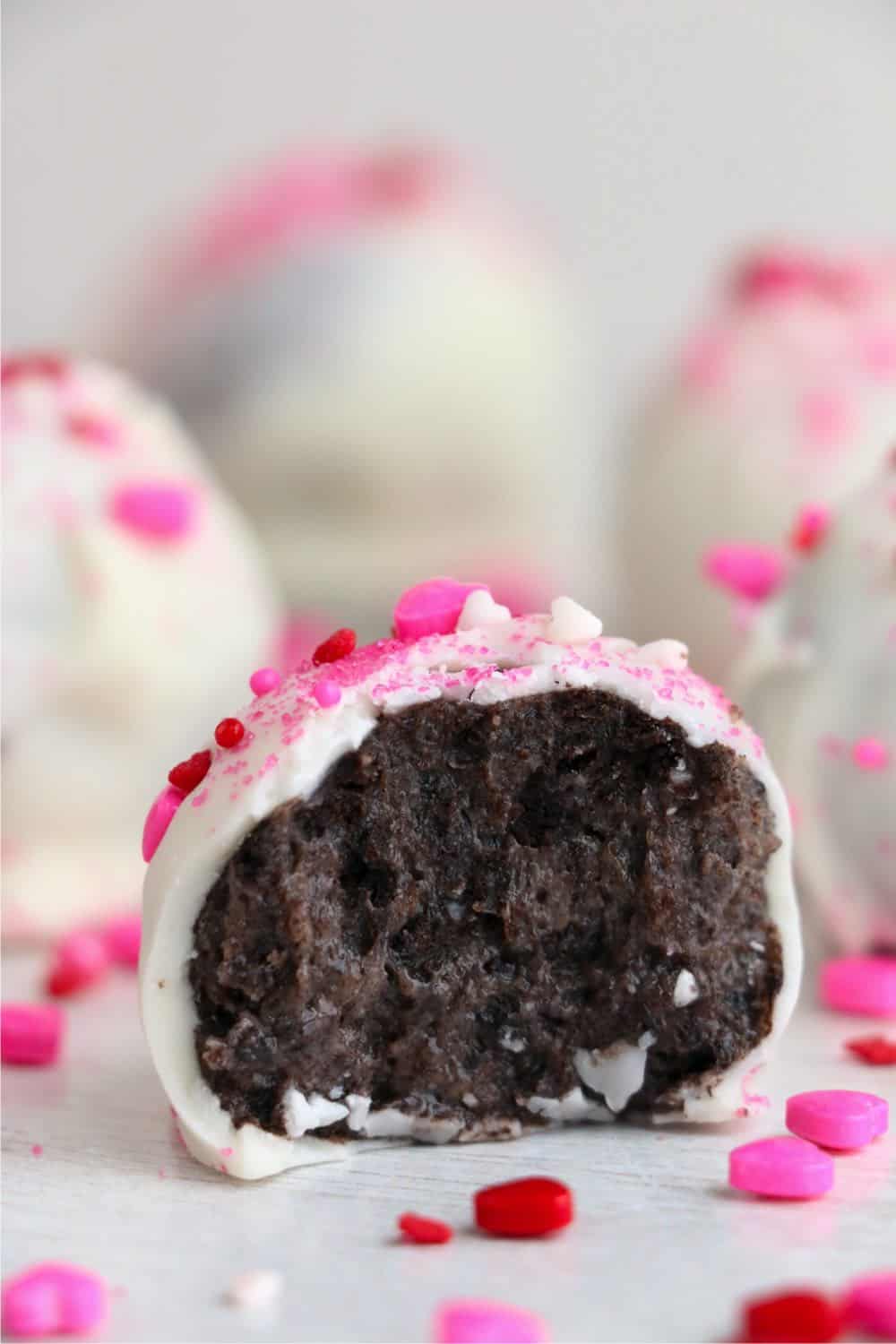 It never fails! No matter where I take these Oreo truffles, it seems they disappear in no time at all. After all, they are made of pure deliciousness. Oreos, cream cheese, and white bark...how can one go wrong?
I always have to laugh when people ask me for the recipe. I almost want to keep it a secret and keep them thinking it is some sort of elaborate creation that they shouldn't even think of attempting. But let's be honest! Anyone can make them. With just three ingredients, they are so quick and easy to make...anyone can do it!
How Long Do Oreo Truffles Last?
In the refrigerator: Keep your Oreo truffles for up to three weeks in an airtight container.
In the freezer: Your Oreo truffles will keep for up to two months in a freezer-safe airtight container.
Can Oreo Balls Be Left Out?
You may be wondering if Oreo truffles even require refrigeration. Because one of the three ingredients is cream cheese, they do need to be kept refrigerated in order for the truffle to stay together.
When left out at room temperature, the cream cheese softens and your beautiful truffle will turn into more like a delicious blob. Also, Oreo balls taste best when served cold.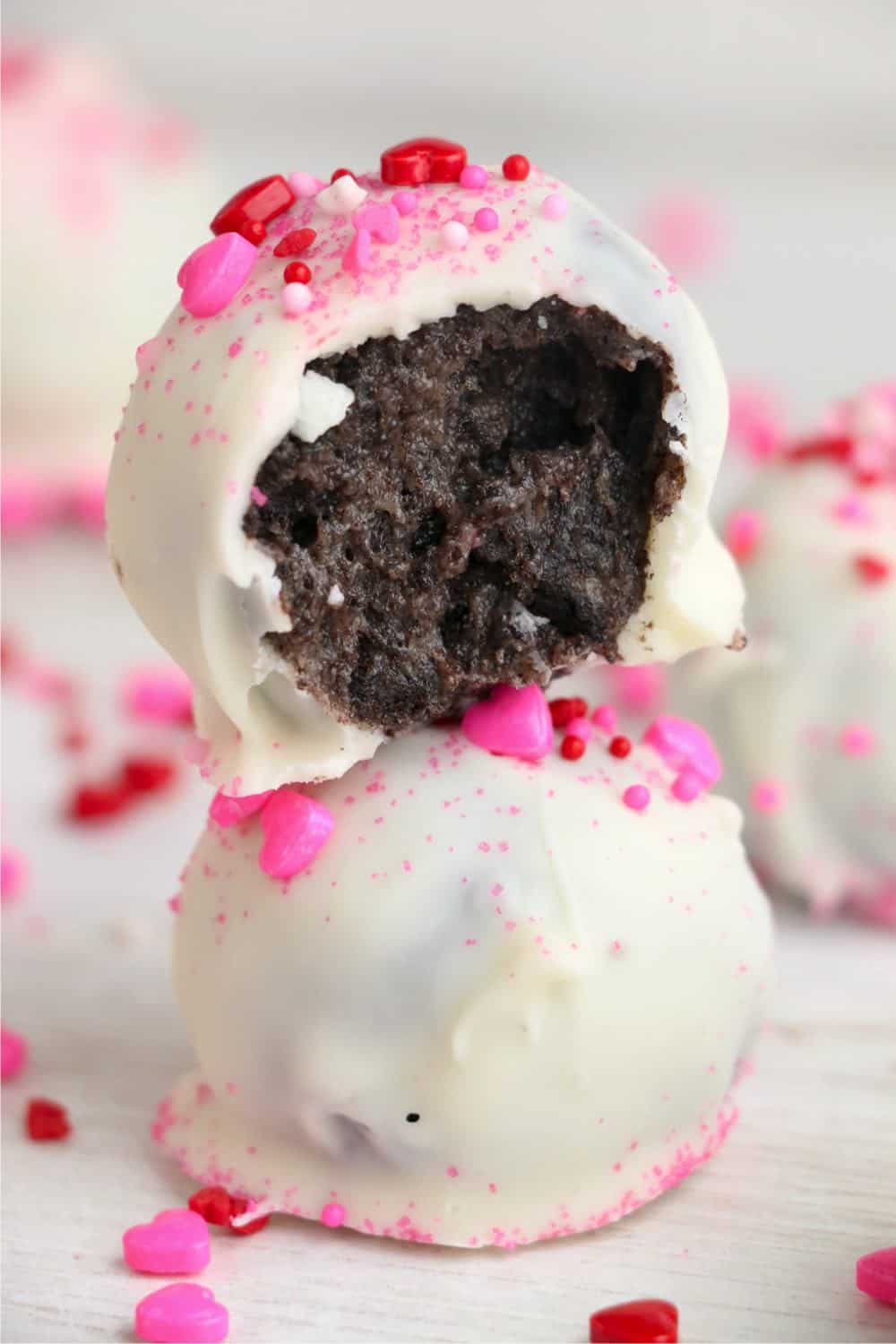 Ingredients for Oreo Truffles
Oreos
cream cheese
white bark
Variations
It's easy to customize your Oreo truffles for your exact flavor craving. Here are a few ideas to get you started.
Peppermint Oreo Truffles
Add a teaspoon or two of peppermint extract to your truffle, or crush up peppermint candy canes to sprinkle on top (or both!).
Coffee Oreo Balls
To give your truffles a coffee-twist add one or two pumps of a coffee-flavored syrup to your truffles. Kahlua-flavored syrup will work here too. For an extra kick try topping your Oreo truffles with a few chocolate-covered espresso beans.
Peanut Butter Oreo Truffles
For an epic variation, add half a cup of peanut butter, Nutella, or your favorite nut butter to your truffle mix. You may want to half your cream cheese amount (from 8 ounces down to 4 ounces) as it may be a bit too rich. But I'll let you make that call.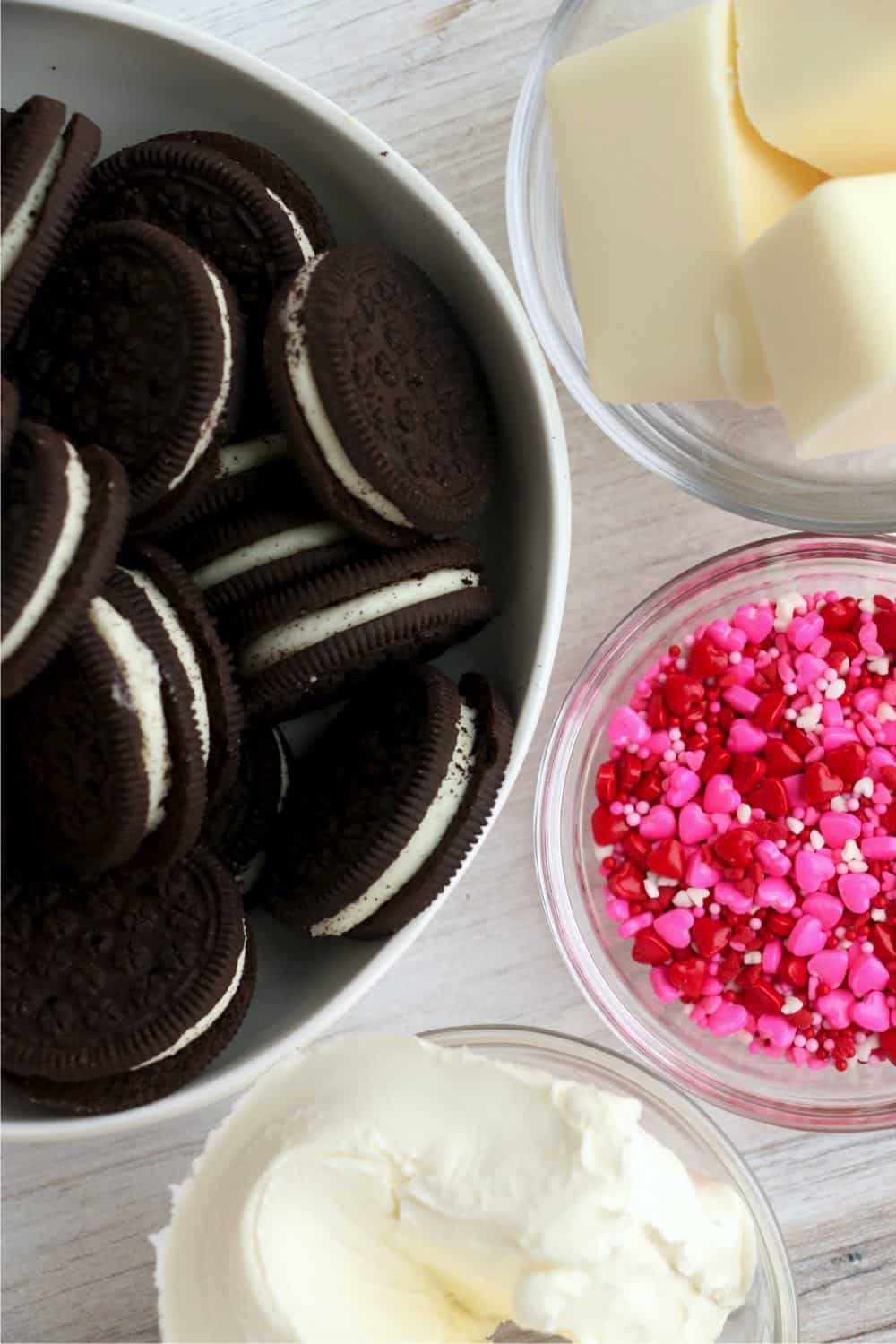 How To Make Oreo Truffles
With only three ingredients, this is an easy dessert that comes together quickly. After crushing your Oreos, put them in a large mixing bowl with the softened cream cheese. Using a hand mixer, beat the two together until the white streaks of the cream cheese are gone.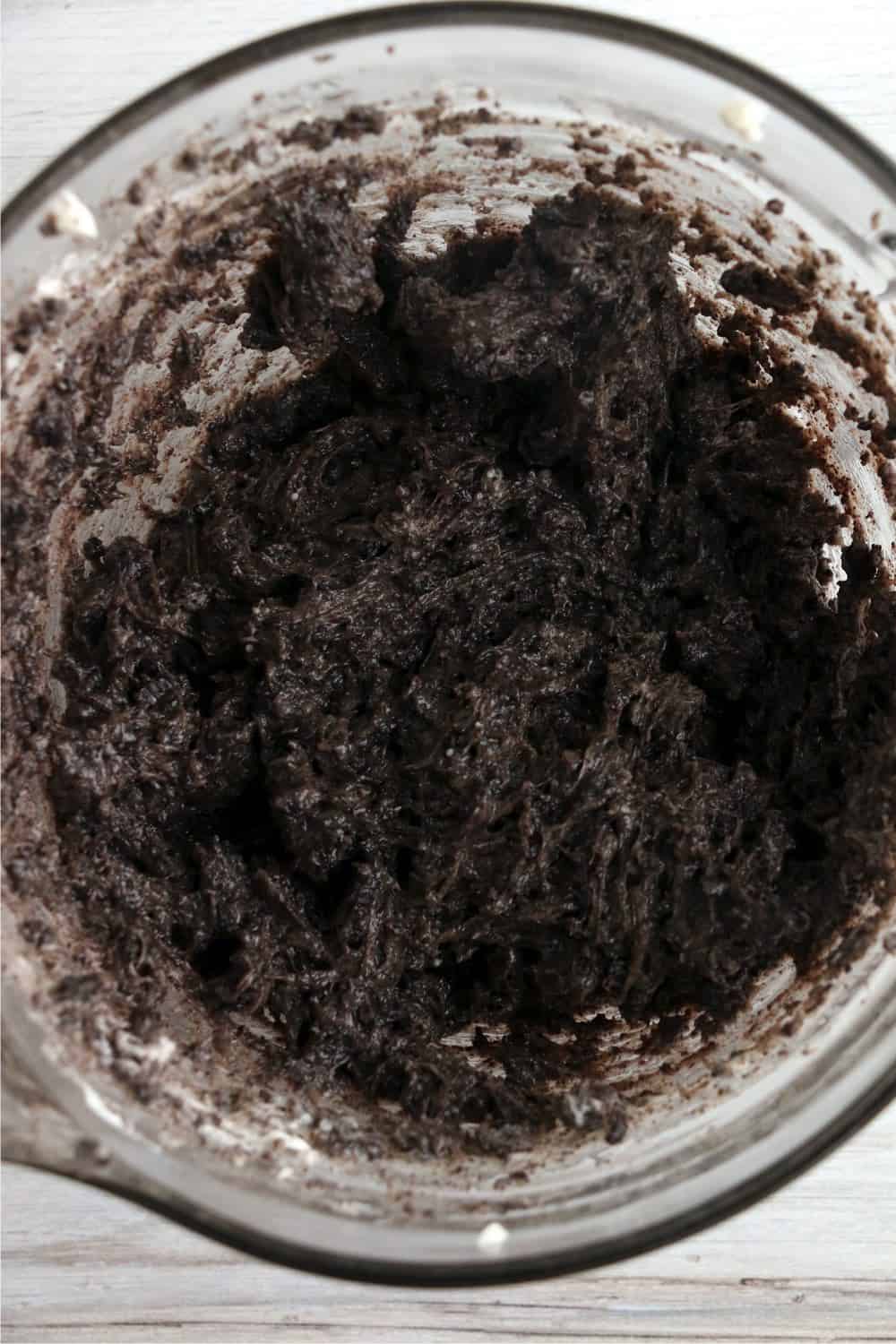 To form my truffles, I like to use a 1-inch cookie scoop. Place them on a baking sheet lined with parchment paper. I always find it difficult to form them into nice round balls while they are at room temperature. After chilling them for an hour, you will be able to roll them much easier.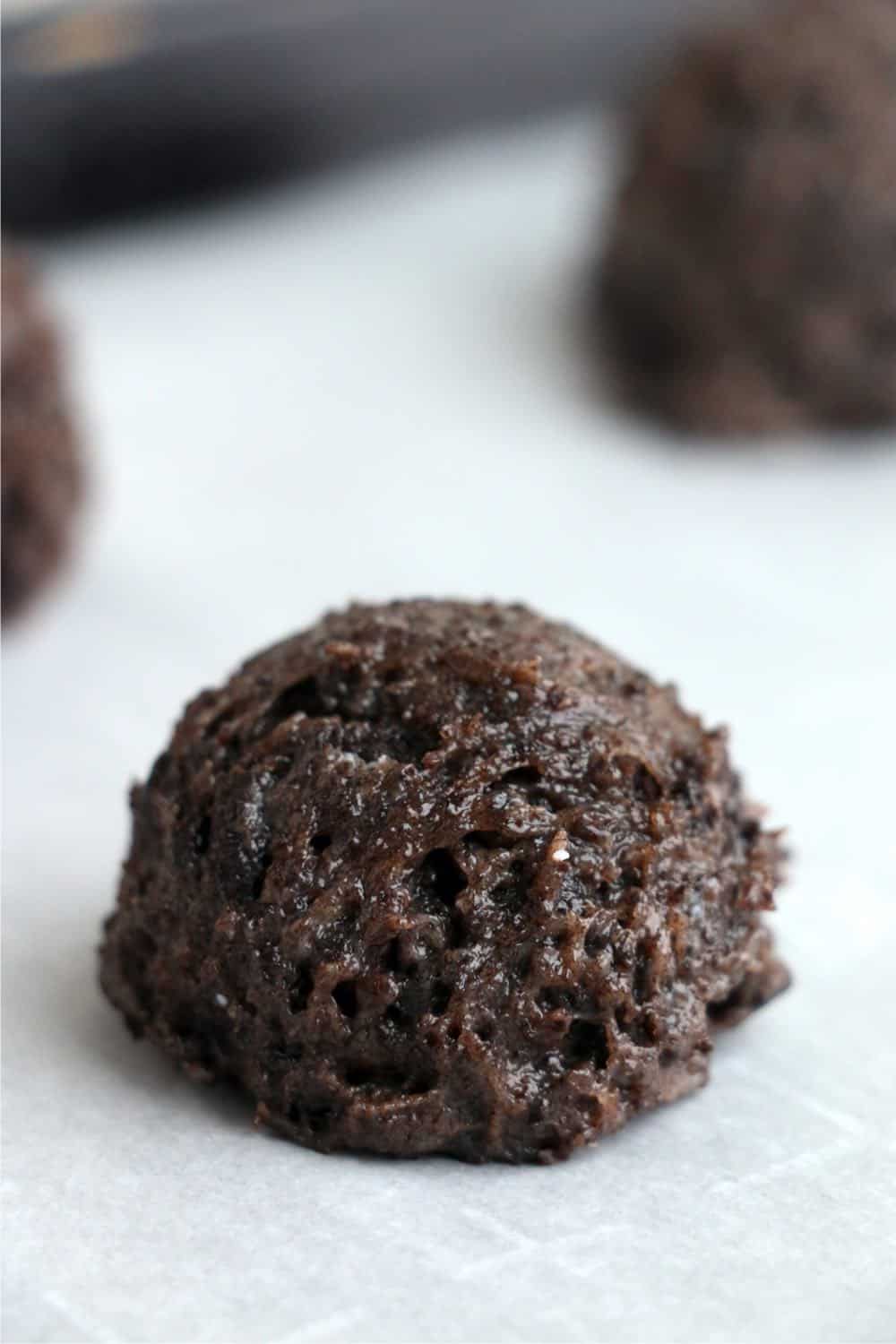 Once your truffles are chilled and rolled nicely, it is time to prepare the white bark. Put it in a small microwave-safe bowl and microwave it in 30-second intervals. Stir often until the bark is completely melted.
Using two forks, coat each truffle in the melted bark. Before placing them back on the parchment paper, allow the excess white bark to drip off.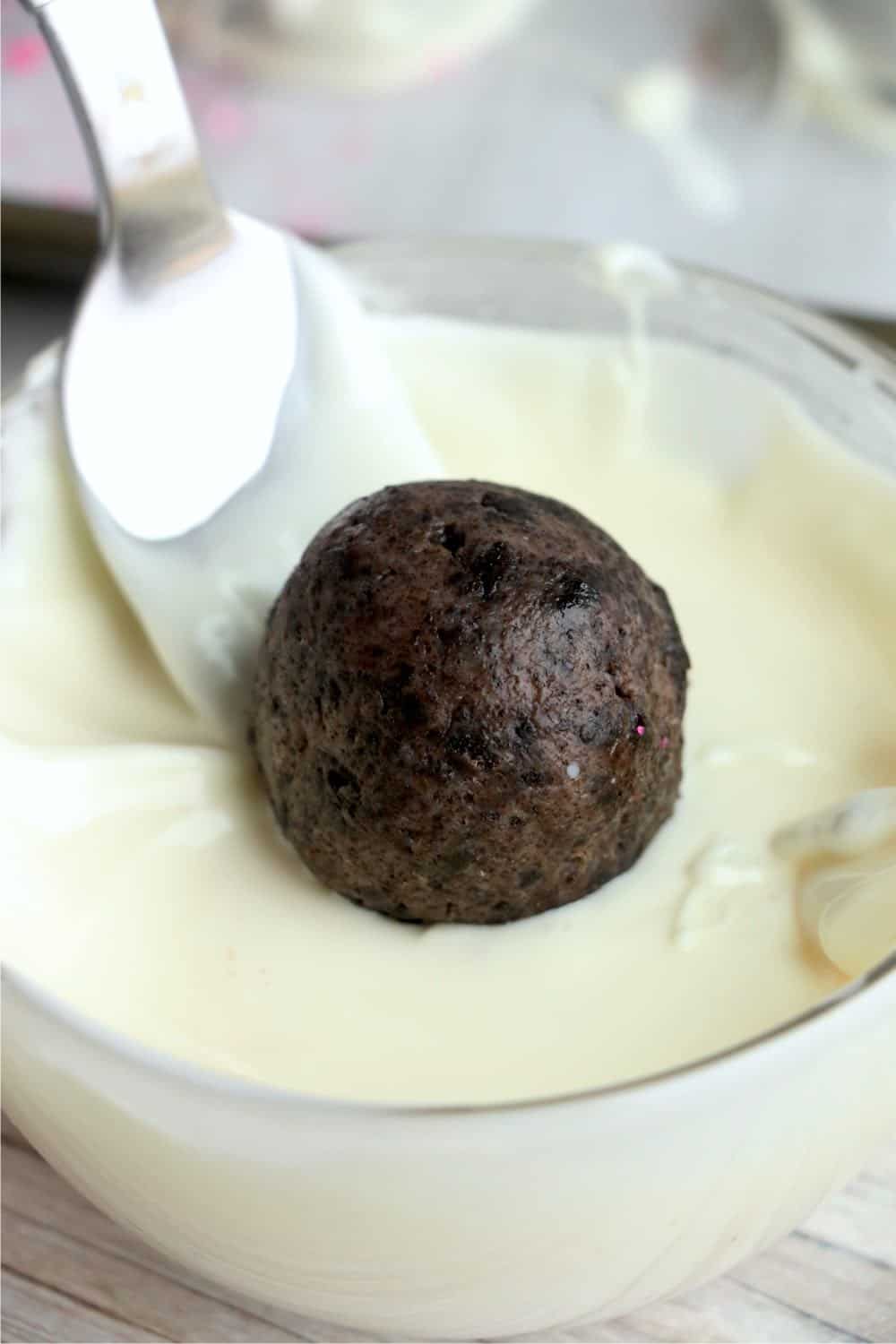 Now let's make them pretty! I am all about the sprinkles. They can take any dessert to the next level. So, before the white bark begins to harden, add the finishing touch.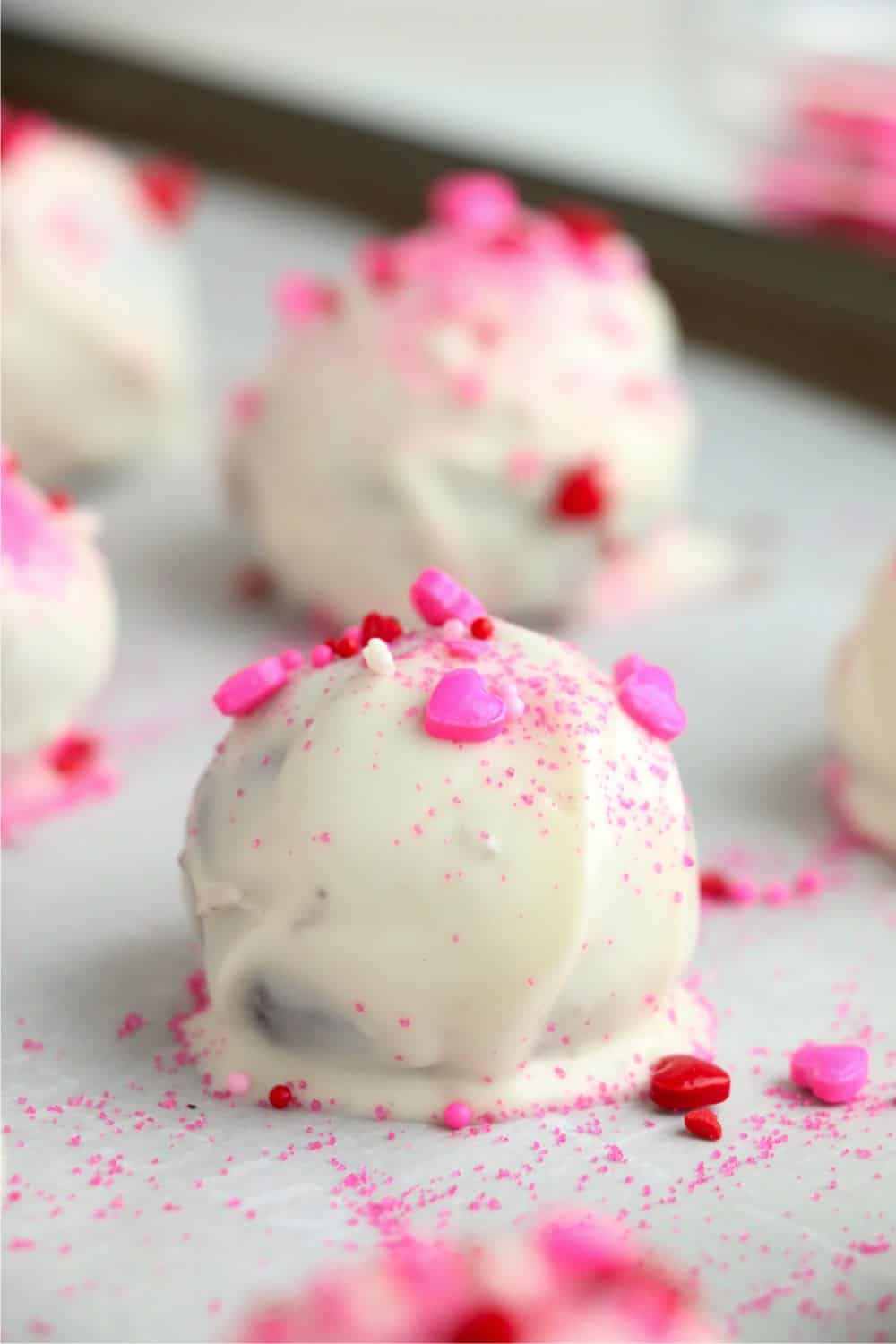 How Do You Dip Oreo Balls in Chocolate Without Making a Mess?
In order to dip your Oreo balls in bark without making a big mess, follow this quick system.
Once your Oreo and cream cheese balls are chilled and firm, take them out of the fridge and drop them one by one into the melted chocolate.
Use a spoon to pour chocolate over the entire truffle and then scoop it out with a fork. Allow the excess melted chocolate to drip off back into the bowl and once it's ready, transfer to a prepared cookie sheet using a toothpick to guide it off the fork, neatly onto the tray.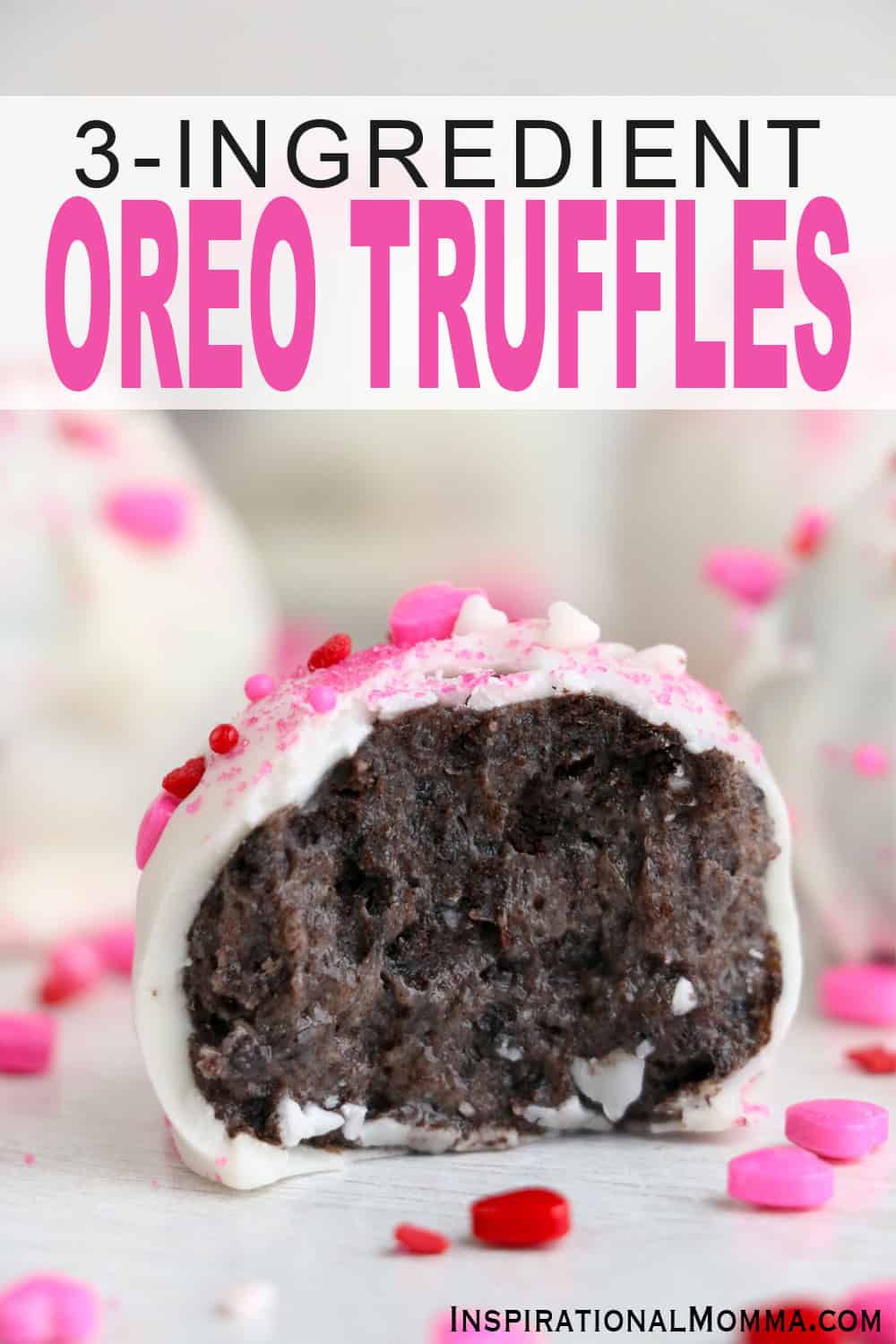 Love what you see? Find more of my fun creations on Facebook, Instagram & Pinterest! You can also sign up for my weekly newsletter below and never miss any of my inspirations!
Can't get enough sweets? Check out more of my favorites!
3-Ingredient Oreo Truffles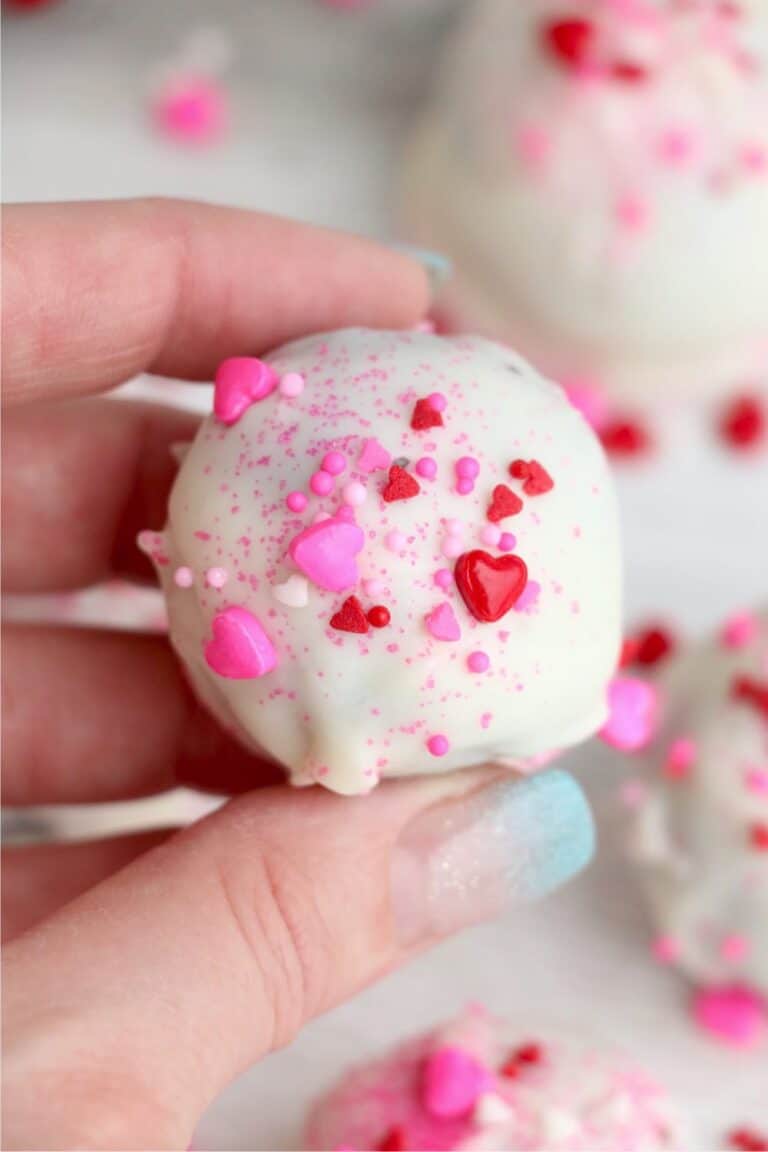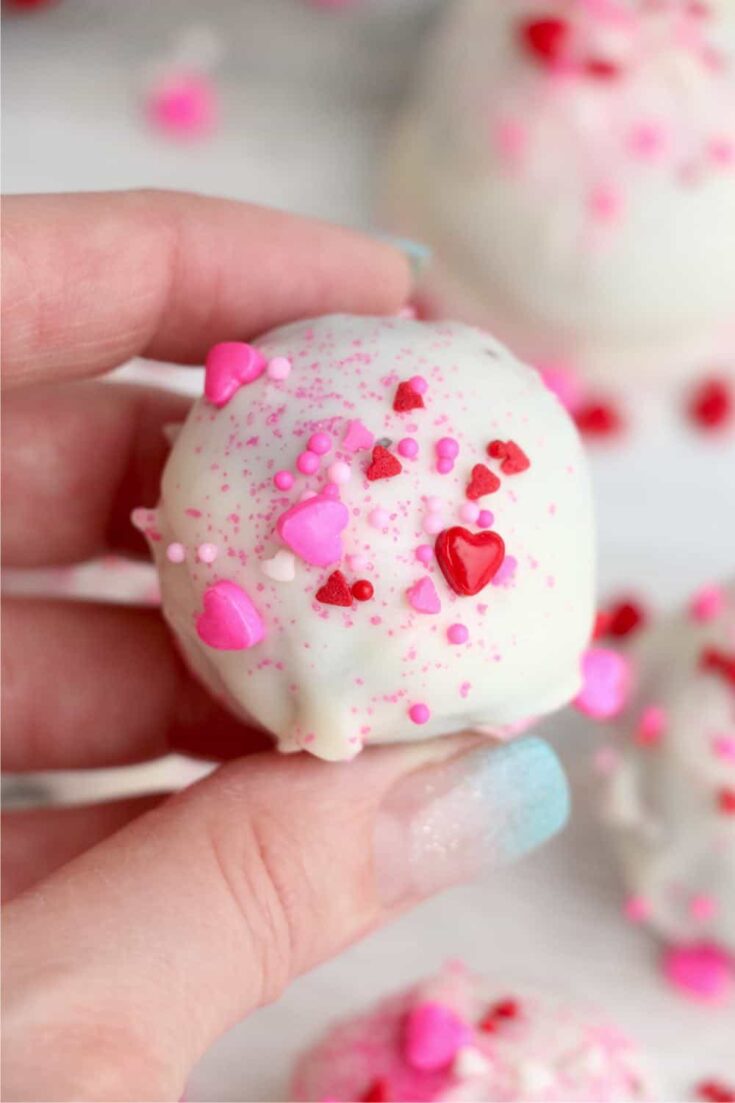 No baking required to make these 3-Ingredient Oreo Truffles. They are easy to make and taste delicious. Simple Oreo balls are sure to impress!
Total Time
1 hour
10 minutes
Ingredients
15.35 oz Oreos, crushed
8 oz cream cheese, softened
12 oz white bark
sprinkles (optional)
Instructions
In a medium mixing bowl, beat Oreo crumbs and cream cheese together.
Using a 1-inch scoop, place scoopfuls on a baking sheet lined with parchment paper.
Freeze truffles for 1 hour. You will now be able to share them into balls.
Melt white bark in a microwave-safe bowl in 30-second intervals.
Using two forks, dip truffles completely in melted chocolate. Allow excess to run off and place them back on the parchment paper.
Add sprinkles before bark hardens.
Chill until bark is hardened.
Nutrition Information
Yield
30
Serving Size
1
Amount Per Serving
Calories

94
Total Fat

5g
Saturated Fat

2g
Trans Fat

0g
Unsaturated Fat

3g
Cholesterol

8mg
Sodium

80mg
Carbohydrates

11g
Fiber

0g
Sugar

6g
Protein

1g
Get Inspired!
Never miss my delicious recipes, cute creations, or household tips!