25 Random Acts of Christmas Kindness Calendar Printable
This shop has been compensated by Collective Bias, Inc. and its advertiser. All opinions are mine alone. #PilotYourHoliday #CollectiveBias #Ad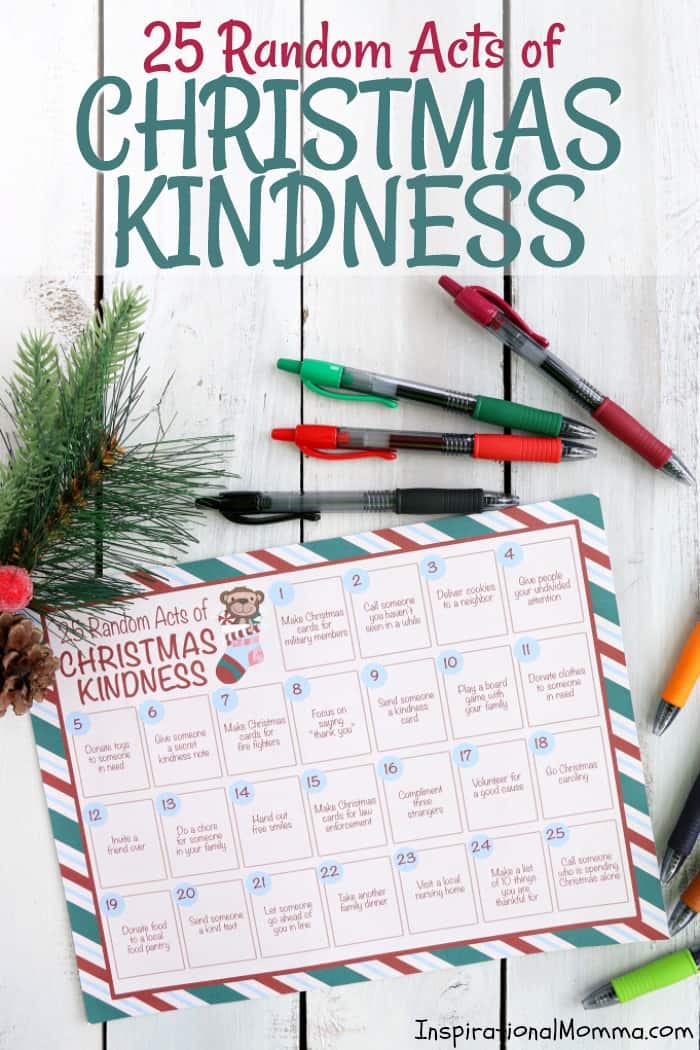 Christmas! It truly is my favorite time of the year. And that is saying a lot considering I can't stand cold weather and snow! Living in Wisconsin my whole life, I have always had a white (and freezing cold) Christmas, but it is still a time of year that warms my heart and brings me a sense of peace. For me, the holidays are filled with family, friends, food, and a constant urge to put a smile on someone's face. For as long as I can remember, the importance of sharing love, joy, and kindness with others has been instilled in me.
To help share my family's mission, I have created this 25 Random Acts of Christmas Kindness Calendar. After all, I know this time of year gets busy, and this free printable can help keep us all on track and focused on sharing the free gift of kindness!
While there are 25 tasks included that can truly make a difference in others' lives, there are a few that I hold near and dear to my heart! Whether we take a moment to realize it or not, there are special people, or "heroes" as I like to call them, not able to spend this awesome time of year with the people that they love. Instead, they are risking their lives running into a burning buildings, protecting our streets putting their own lives on the line, or an ocean away, defending our freedom. The brave men and women who have chosen to become fire fighters, police officers, or military members continuously display just how selfless they are.
And that is exactly why I have devoted three separate days on my 25 Random Acts of Christmas Kindness Calendar just for them! Each year, my husband, children, and I spend time creating homemade Christmas cards for these heroes of ours. Our lines might not be straight, our coloring might not be perfect, but these cards are created with so much love and appreciation. When getting ready for this Christmas season, I made a quick stop at Target to pick up the supplies that we needed. And even better, I was able to use this awesome Cartwheel offer and score 15% off any G2 Gel Ink Pen. And you can to! This offer is available until December 31st!
Equipped with some blanks cards and envelopes and some trusty Pilot G2® Pens, we were ready to get creative!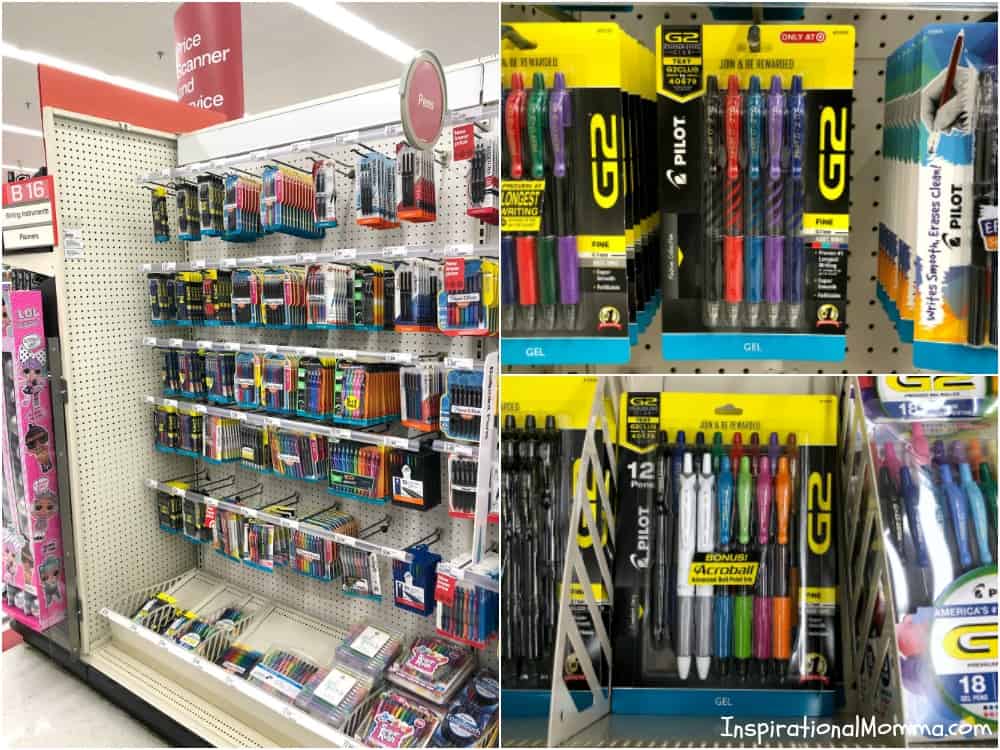 My children always get so excited to see the fun colors that they get to use. Thankfully there is a wide enough variety that they usually aren't fighting over the same ones. And I can always depend on G2® Pens by Pilot Pen to create endless masterpieces with the smooth writing gel ink! After all, why wouldn't you use a special pen to create special holiday messages?
You too can check out awesome Pilot Pen products at Target! Or, if you want to stay home in your cozy pajamas...you can have them shipped right to your door! Just hover over the photo below to order your very own G2® Pens by Pilot Pen. After all, they are tested and approved by everyone in our household!
Now, to some, it may seem like a simple task to create a few Christmas cards. But each year, as we sit down to do this, I take the time to share with my children exactly why this is so important. It is fairly easy for them to understand and relate to what I am talking about. My husband, and their daddy, is a police lieutenant. Each day, as he heads out the door, I am well-aware of the dangers that stare him in the face. And as my children get older, they are realizing this scary truth more and more.
This coming Christmas will be the third in a row that we will wake up Christmas morning knowing that dad isn't home. Instead, he has already left for work and is serving and protecting our community. He, along with countless others, will put their duty first and foremost. Some have asked if this makes me upset. And the truth is does make me a bit sad, but the pride that I have in him for his continuous service and selfless acts easily outweigh any negative feelings.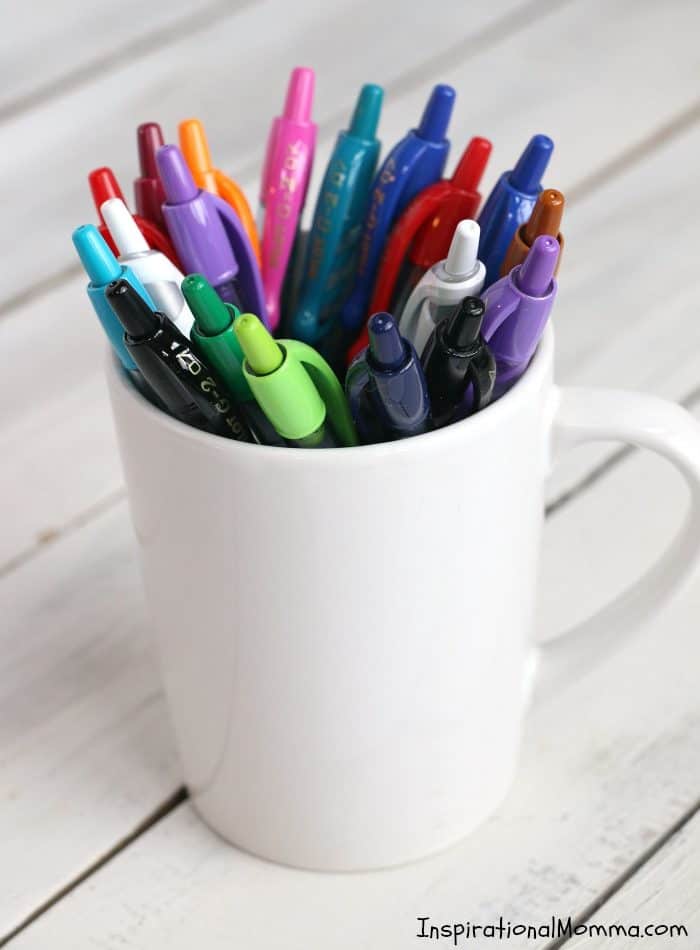 My children have also grown to respect all of our "heroes" that are willing to risk their own safety to protect others. At young ages, they have developed kind hearts and love sharing their love for others. Because of this, they take tasks #1, #7, and #15 on the 25 Random Acts of Christmas Kindness Calendar quite seriously! After all, they are not going to hand out just any cards. They want their cards to let the recipients know how incredible we think they are!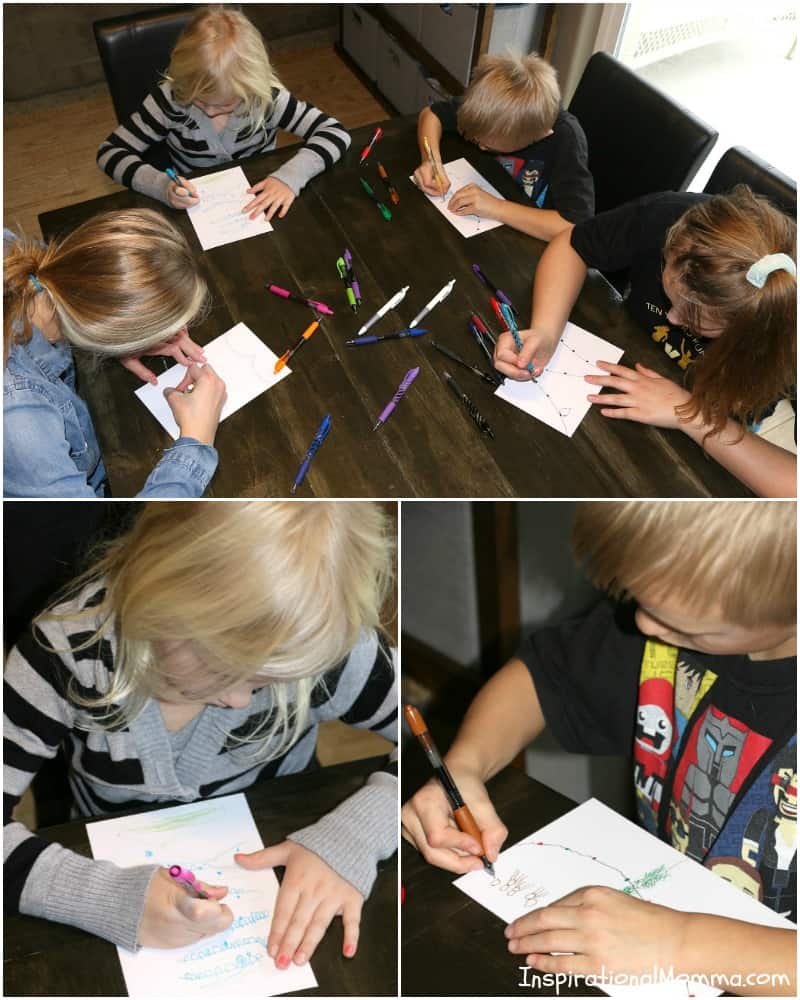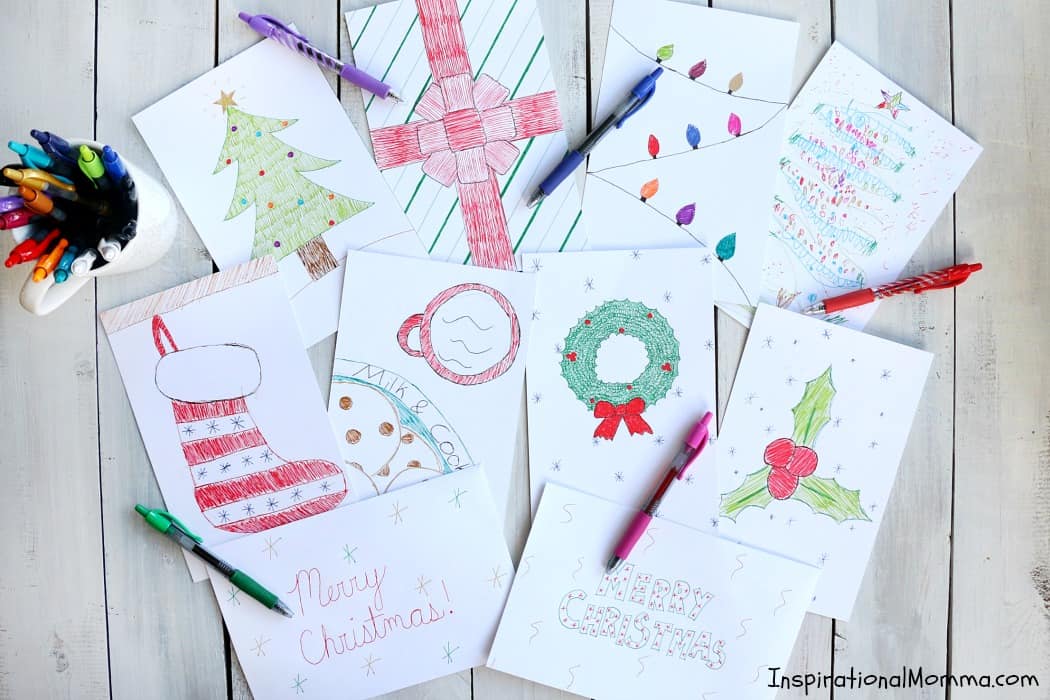 Once all of our artwork is complete, it is time to finish each card off with a special handwritten message. Now that my older daughters are 11 and 13, they have claimed this very important portion of the card. It is their goal to write something different and meaningful to each of our heroes. You may think the drawing and coloring takes the longest, but that isn't true. It is these heart-felt messages of love and appreciation that they spend the most time on.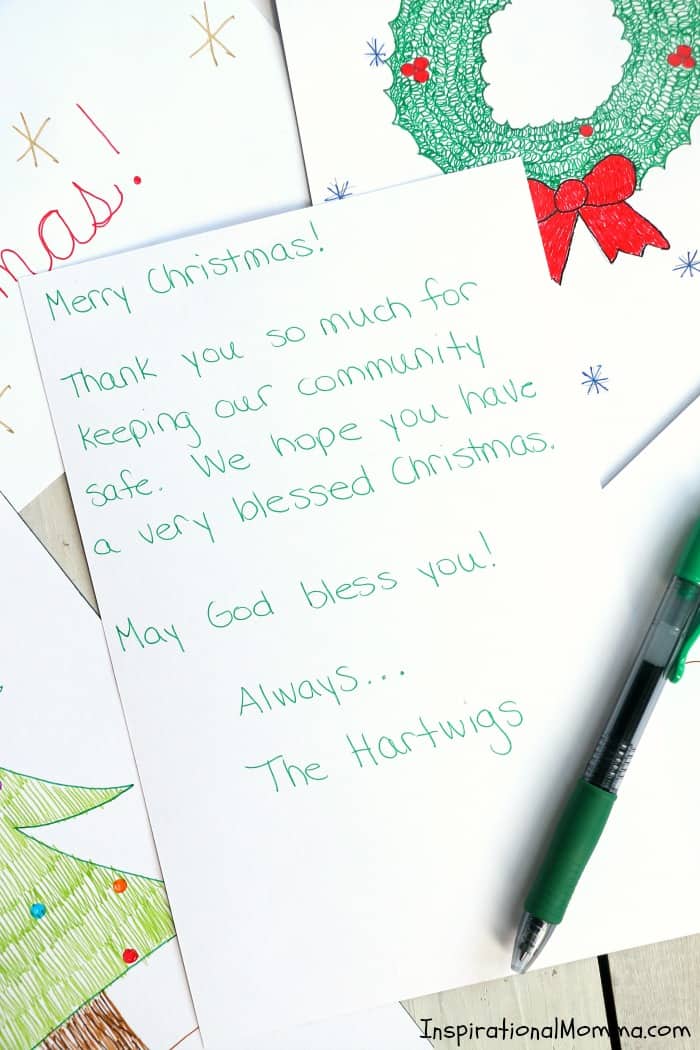 MISSION COMPLETE! While we do love creating these homemade Christmas cards, the most rewarding part is definitely the delivery. With such a simple gesture, we are able to show our heroes just how awesome they are!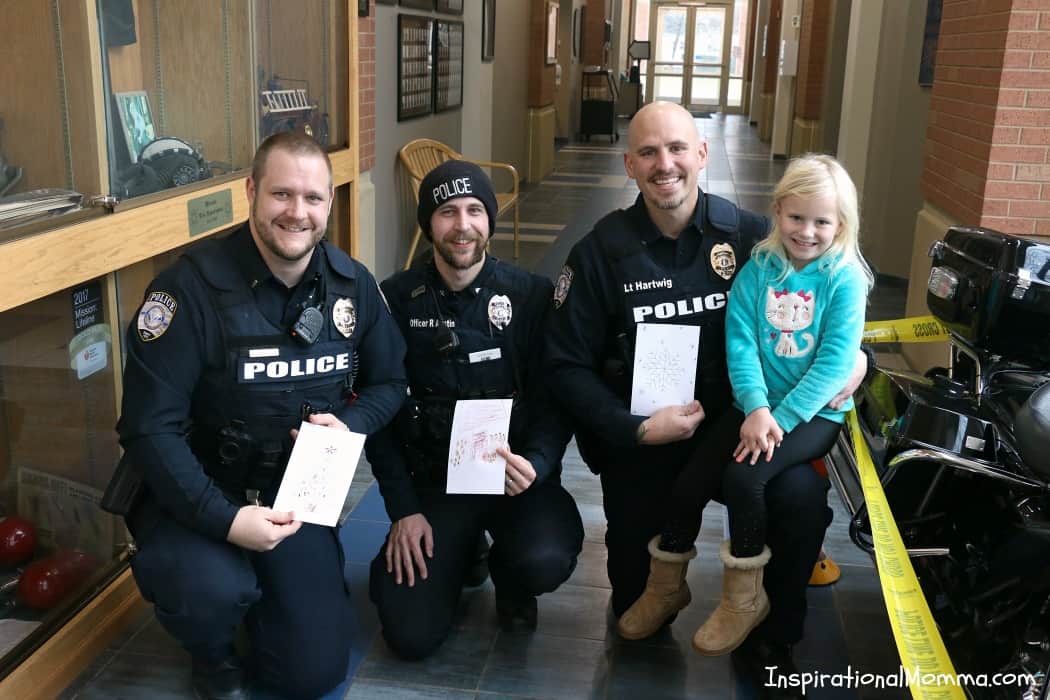 I hope you have found some inspiration to spread kindness during this Christmas season. Many of the tasks on my 25 Random Acts of Christmas Kindness Calendar are 100% free! They just require a small piece of your time, and I can guarantee that it will be well-worth it. I have found that by sharing positivity and kindness, I am able to focus more on the positive things in life with a genuine smile on my face.
Now it's your turn! With the holiday season upon us, it is time to print your own FREE 25 Random Acts of Christmas Kindness Calendar! By completing these simple tasks, you will give countless smiles to those around you. And by using G2® Pens by Pilot Pen, you can guarantee yourself that you will do it in a colorful, gorgeous way!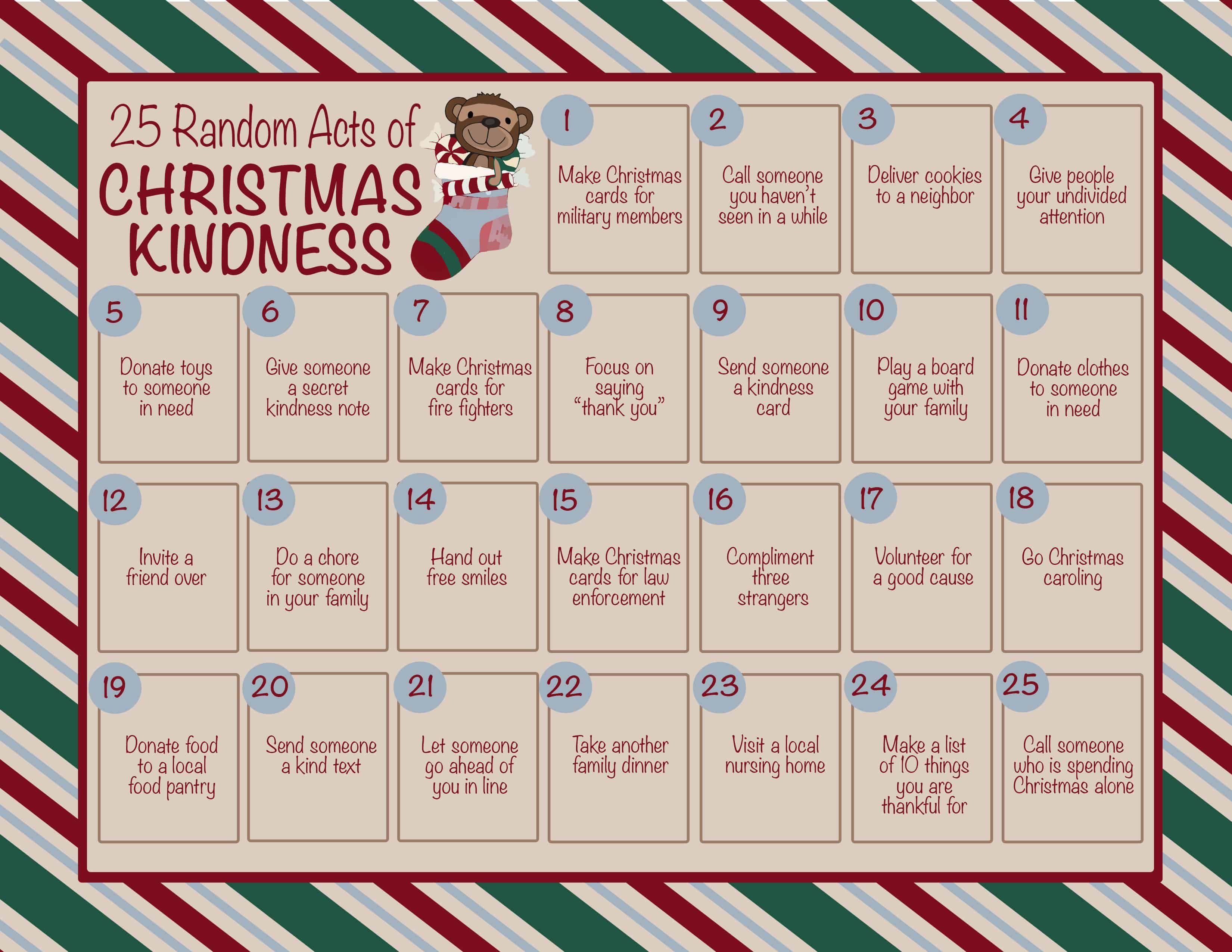 The Christmas season truly is a beautiful time of year. We have the ability to share kindness, joy, and love with everyone around us. Make it your mission to put a smile on someone's face. After all, we may not know if their job will be keep away from their family during the holidays or if they are missing a special loved one that is stationed overseas.
The challenge is on! Together, let's complete these 25 tasks and spread love and the free gift of kindness!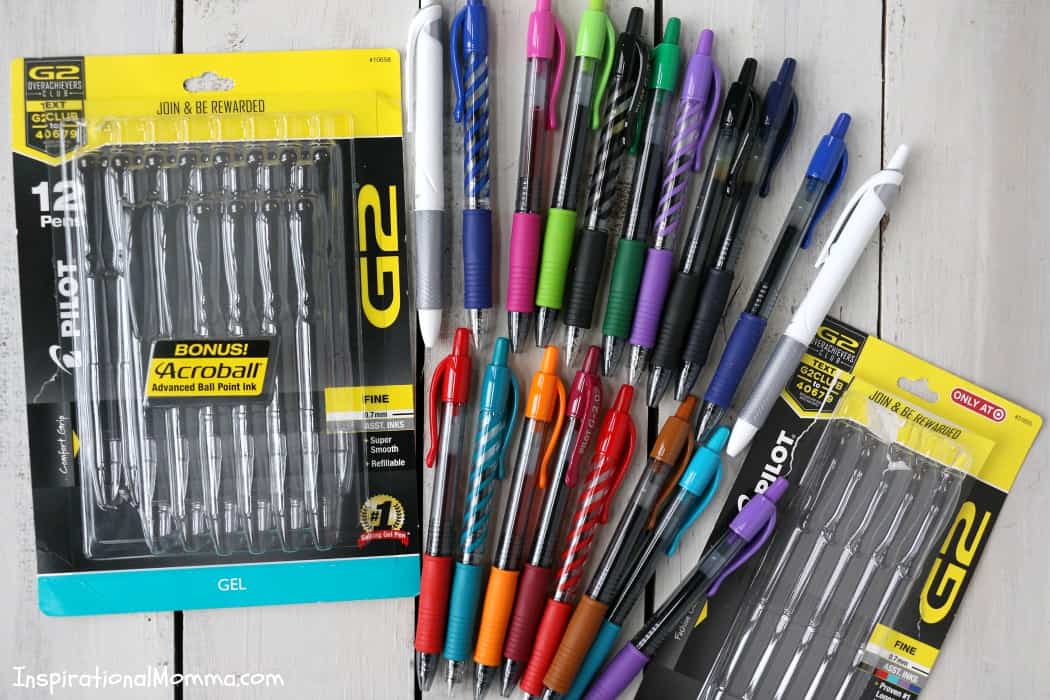 Get Inspired!
Never miss my delicious recipes, cute creations, or household tips!