Butterscotch Bird Nests are a cute, sweet spring treat! Crunchy chow mein noodles covered in delicious butterscotch, topped off with M&Ms.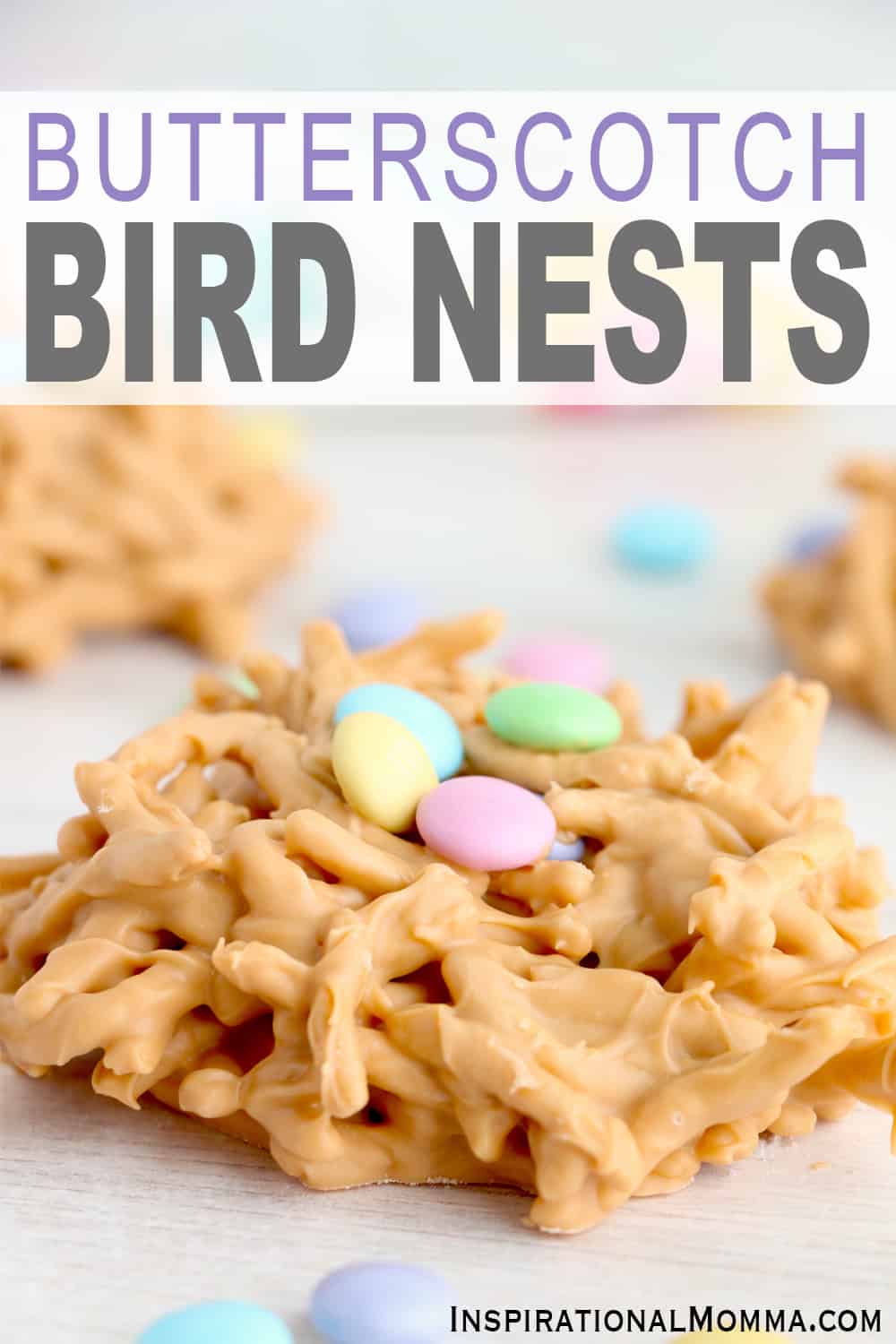 No Bake Nest Cookies
These cute, sweet treats are perfect for any time of the year. They are so easy to make and kids of all ages love them. If you are looking for another adorable snack, check out my simple Oreo Truffles! They are always a crowd favorite!
There are so many things that I love about this delicious treat. Let's start with just how easy they are to make. They can literally be made in just minutes. And let's be honest, they really can be made by anyone. My daughter Emzlee is just six years old, and this is a recipe that she can make completely on her own. She has a blast changing things up with white chocolate chips one time and milk chocolate the next. And we have had Reese's Pieces eggs as well as red, white, and blue almond M&M eggs.
She is always so proud to share her latest combination with our family, and I just love the smile on her face when she shares that she did it all on her own! Now we just have to work on her cleaning up the kitchen all on her own when she is done.
The next thing that I adore about this dessert is that it reminds me of spring. A harsh reality that I face every year is just how long Wisconsin winters are. When I see my first robin in spring, it is sign to me that summer is on the way. These cute nests are a perfect reminder that warm weather will arrive soon, and I will once again be able to hang out outside, relaxing and listening to the birds of summer.
I hope these easy-to-make desserts put a smile on your face just like they do for me.
Check out my simple recipe below and enjoy!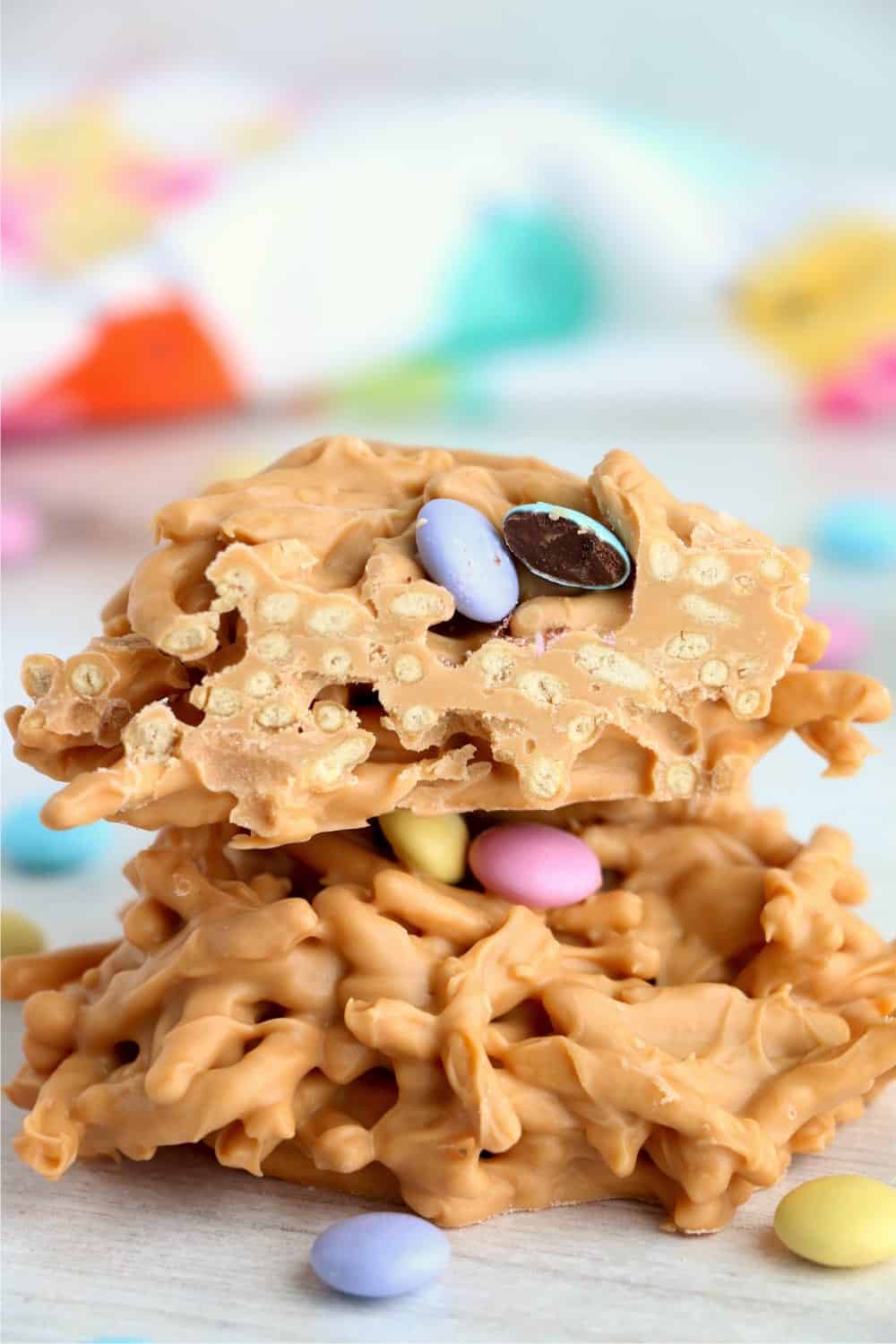 Tips for Making No Bake Easter Nests Even Easier
Wax paper: It's a good idea to use wax paper to line your pan or countertop whenever you make no bake recipes. This prevents mess and makes your butterscotch bird nests easier to transfer.
For uniform size: You can scoop the nests into a muffin tin to help shape the nests.
Refrigerate: It is best to refrigerate the bird nests until the chocolate is hardened, around 15 or 20 minutes.
Ingredients for Butterscotch Bird Nests
white bark
butterscotch chips
chow mein noodles
M&Ms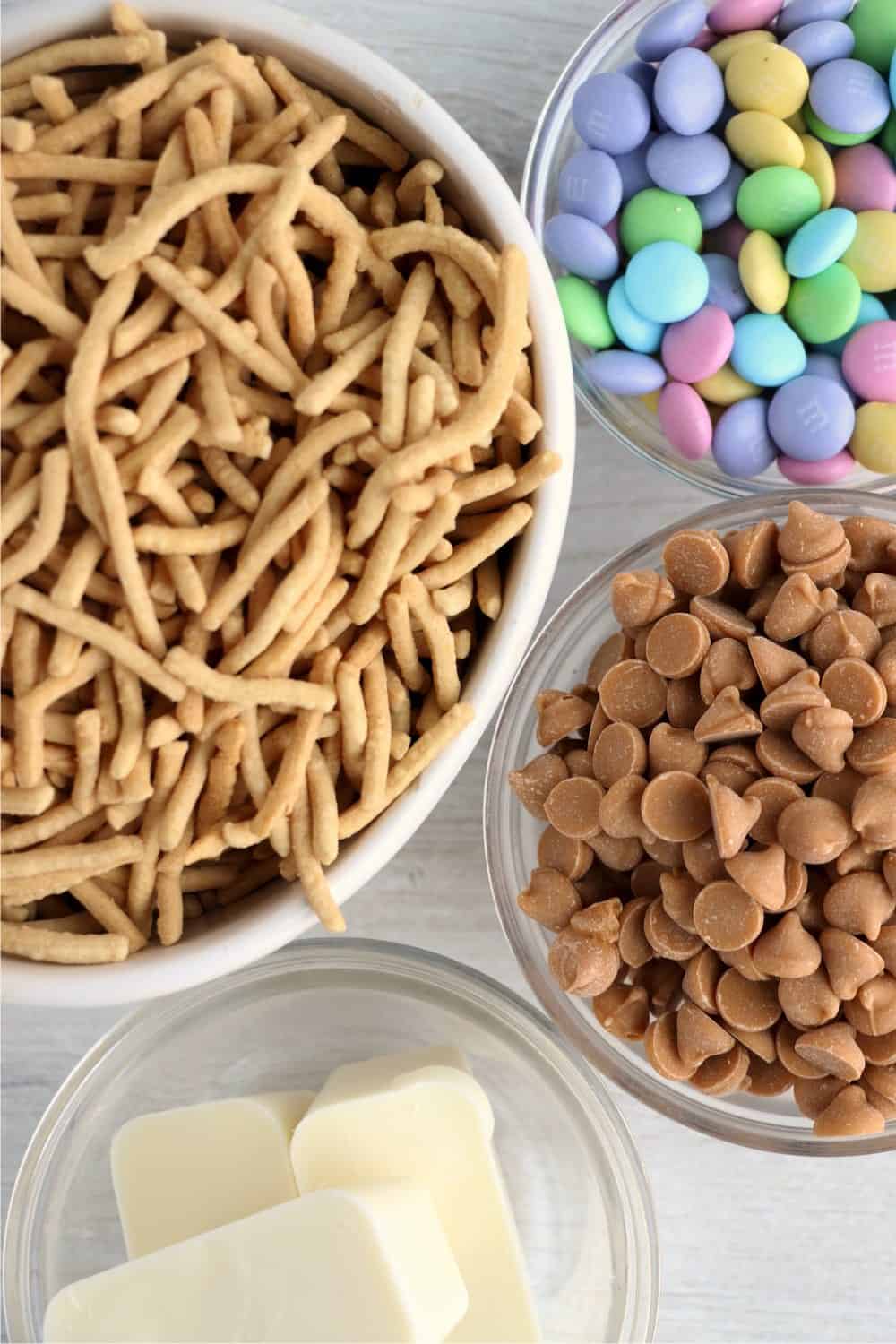 Butterscotch Bird Nests Substitutions
Chow Mein noodle substitutions: This is the base of your cookie and you do have options!
Ideas to try
Chopped pretzels or pretzel sticks
Potato sticks
Special K
Rice Krispies or rice cereal
Corn Flakes
Toasted coconut
Oats
Baking chips substitutions: This recipe starts with butterscotch chips but you can add in your favorite type of chips to your liking.
Ideas to try
Dark chocolate chips
White chocolate chips
Milk chocolate chips
White bark substitutions: There are a few things that will work instead of white bark, and all of these suggestions can be swapped at a 1:1 ratio.
Ideas to try
Peanut butter
Almond bark
Candy wafers
M&M "eggs" substitutions: Allow your creativity to flow for what candy you choose for the eggs.
Ideas to try
Jelly beans
Mini eggs
Peep birds
Mini Cadbury eggs
How to make No Bake Nest Cookies
To get things started, it is always helpful to prepare a baking sheet by lining it with parchment paper. You can set it aside for a few minutes until you are ready for it.
Next up, you need to melt the white bark and butterscotch chips in a microwave-safe bowl.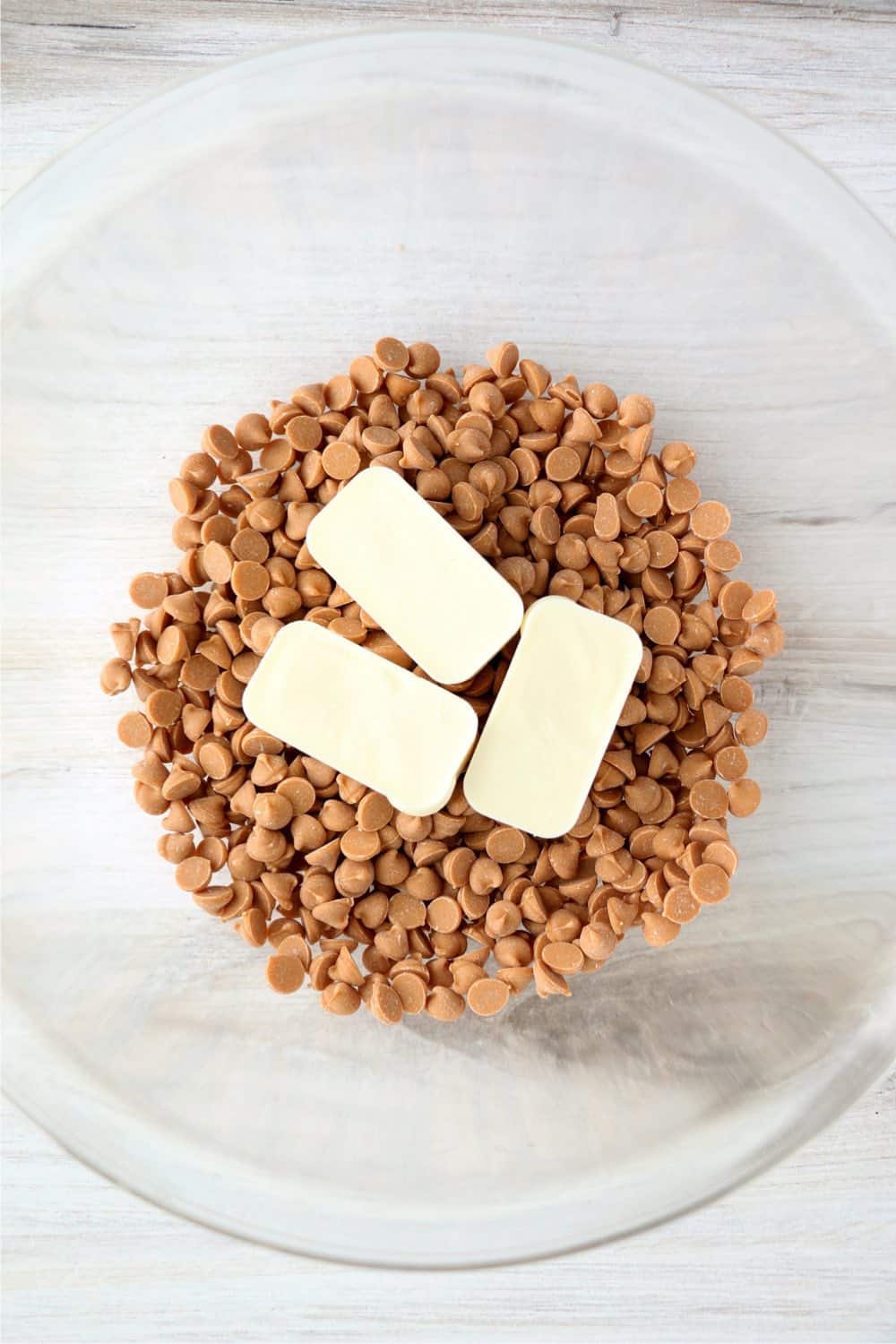 It is so important to heat in 30-second intervals, stirring often. If this mixture is overcooked or not stirred frequently, you may burn it which is not something that can be undone. When the bark and butterscotch chips are completely melted, they will create a creamy, smooth consistency.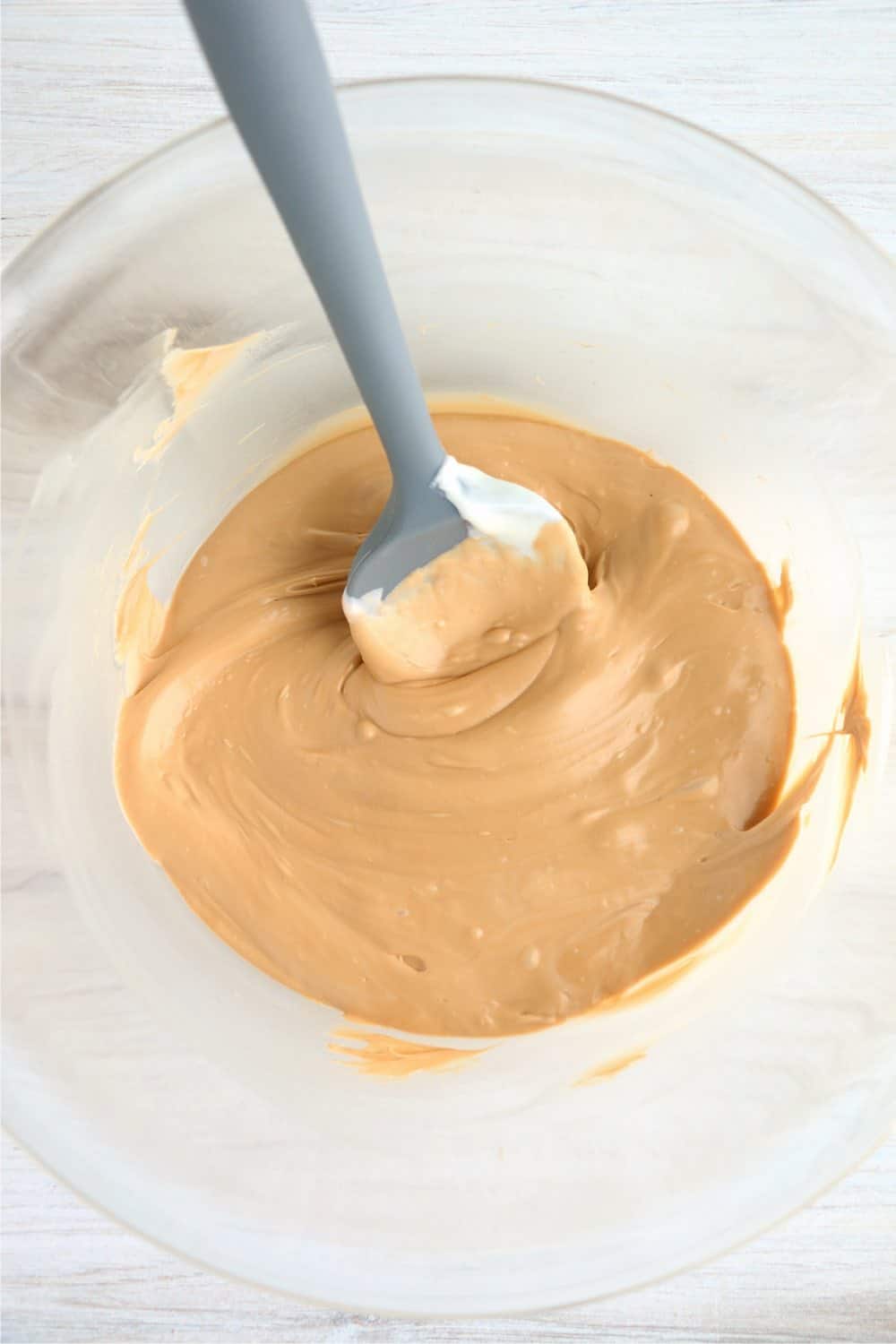 Next, you can stir in the chow mein noodles. Do this gently. Some of the noodles will inevitably break, but that is just fine. They will still taste delicious.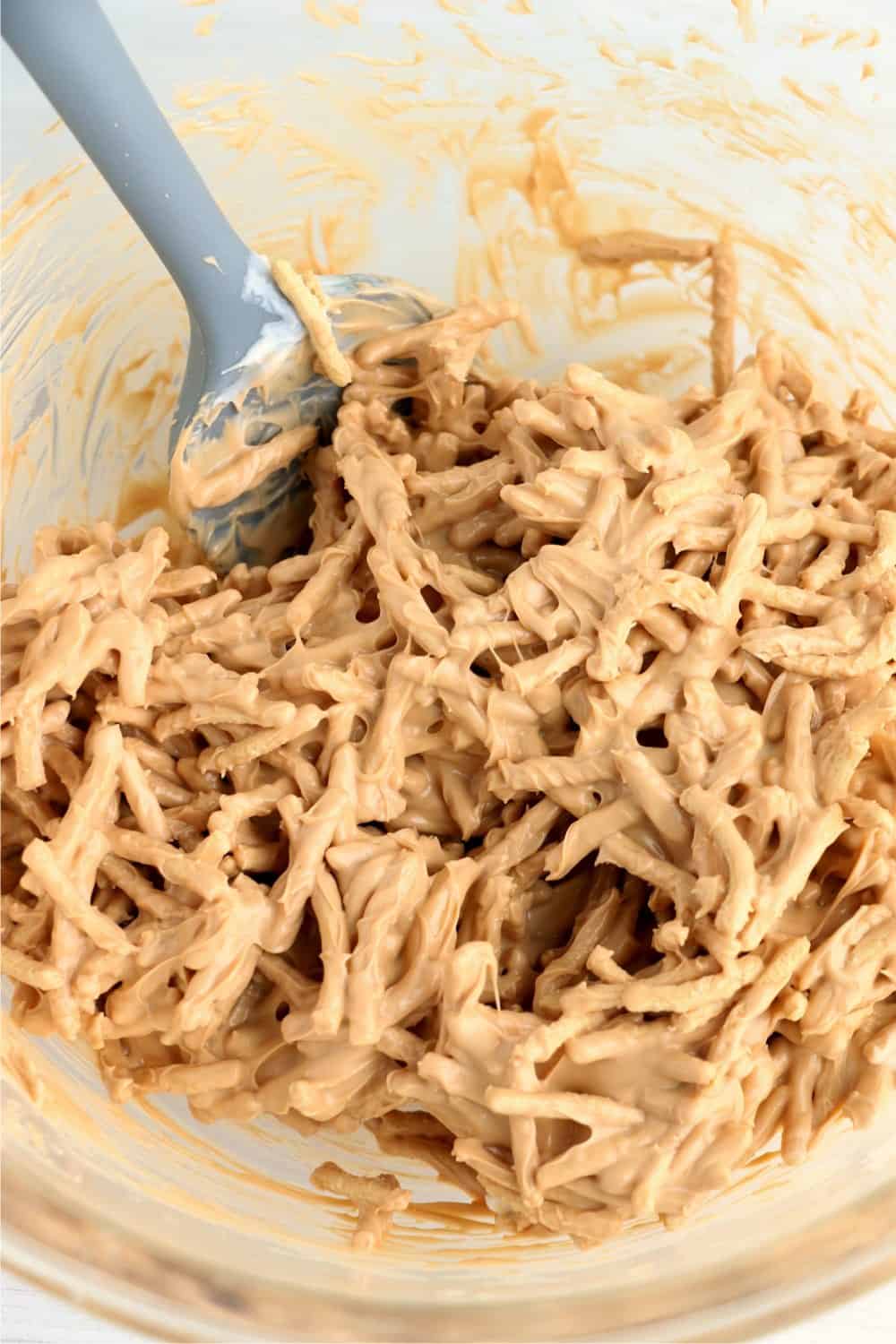 Before the butterscotch mixture begins to harden, place spoonfuls of the mixture on your prepared baking sheet. Make sure they are not touching each other. If they are, they will be stuck together when they harden. Carefully shape them into round nests and gently form a small indent for the "eggs." This step may be easier as the nests begin to harden.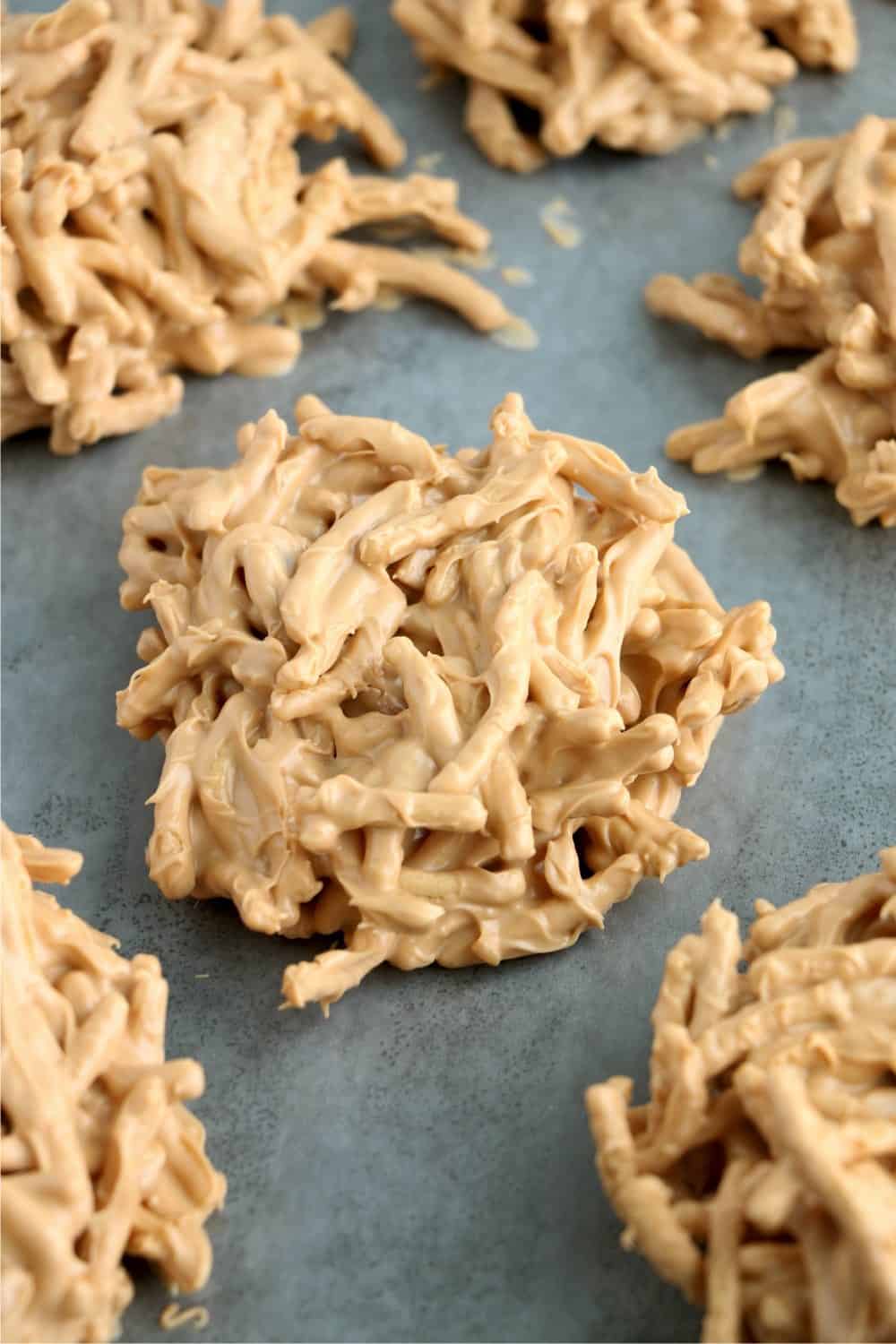 Once the nests are formed, you can add the M&Ms to finish things off. Now you just need to chill your Butterscotch Bird Nests until they are hardened. If you ask me, this is finger food at its finest. Sweet, easy, and delicious! These are perfect treats to make for any occasion, and I hope your family enjoys them as much as we do.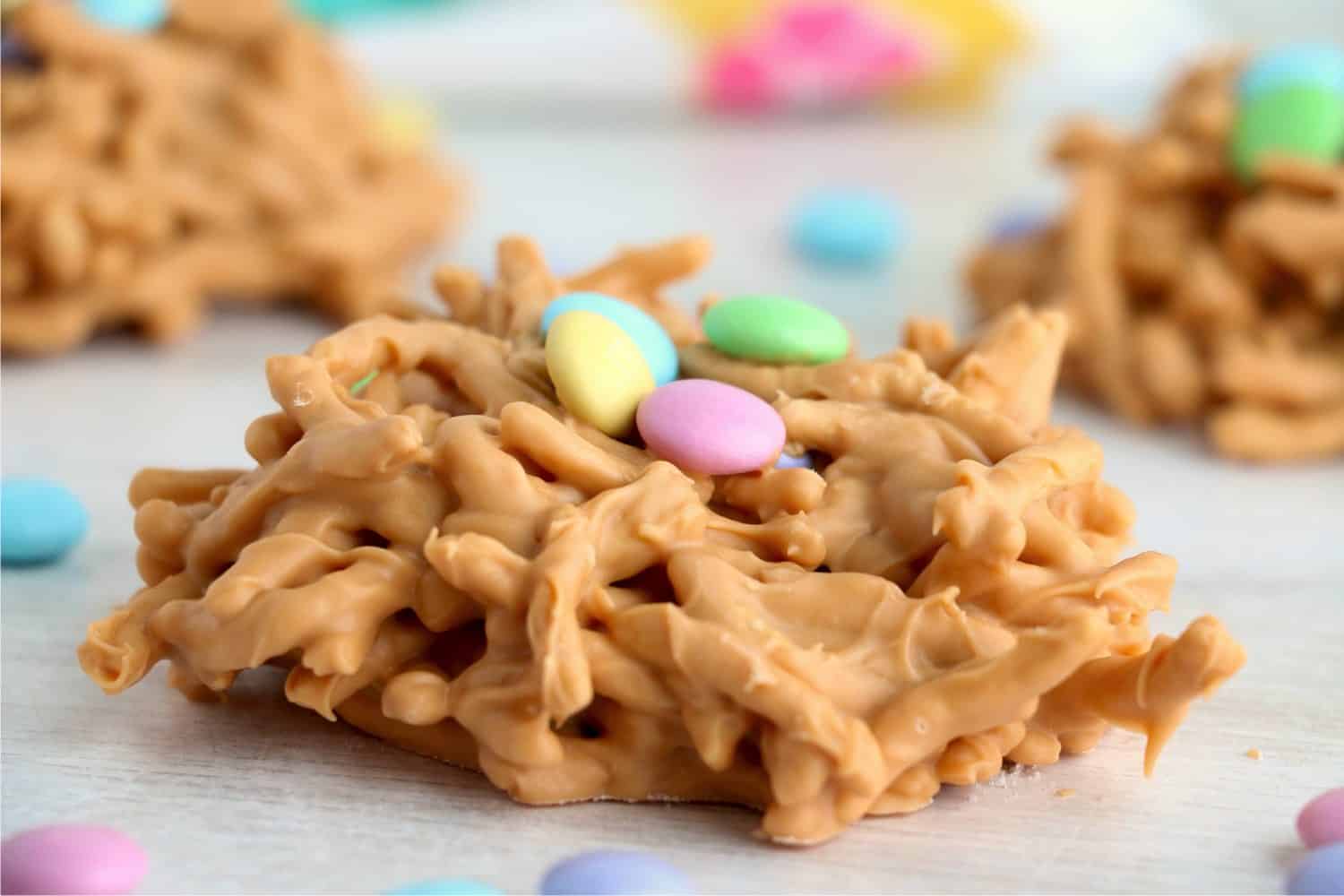 Love what you see?
Find more of my fun creations on Facebook, Instagram & Pinterest! You can also sign up for my weekly newsletter below and never miss any of my inspirations!
Can't get enough? Check out more of my favorites!
Yield: 15
Butterscotch Bird Nests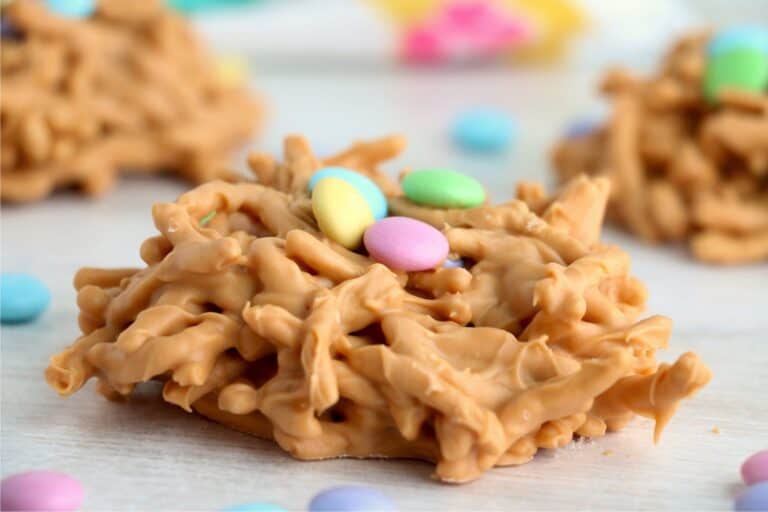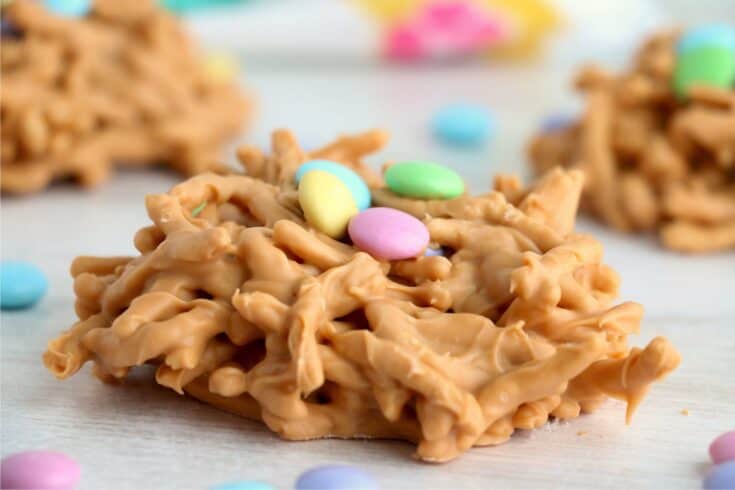 Butterscotch Bird Nests are a cute, sweet spring treat! Crunchy chow mein noodles covered in delicious butterscotch, topped off with M&Ms.
Additional Time
20 minutes
Ingredients
6 oz white bark

12 oz butterscotch chips

3 cups chow mein noodles

spring colored M&Ms
Instructions
Melt white bark and butterscotch chips in a microwave-safe bowl in 30-second intervals until melted.
Stir in chow mein noodles.

Place spoonfuls on a baking sheet lined with parchment paper.
As nests begin to harden, form them into nests by pressing down the middles.

Add M&Ms to the middle indent.

Chill and serve.
Nutrition Information
Yield
15
Serving Size
1
Amount Per Serving
Calories

191
Total Fat

9g
Saturated Fat

6g
Trans Fat

0g
Unsaturated Fat

2g
Cholesterol

0mg
Sodium

154mg
Carbohydrates

26g
Fiber

1g
Sugar

18g
Protein

2g
Get Inspired!
Never miss my delicious recipes, cute creations, or household tips!