Caprese Hasselback Chicken Recipe
This Caprese Hasselback Chicken Recipe brings a ton of flavor with just six ingredients. Baked and keto-friendly, it is a perfect dinner choice!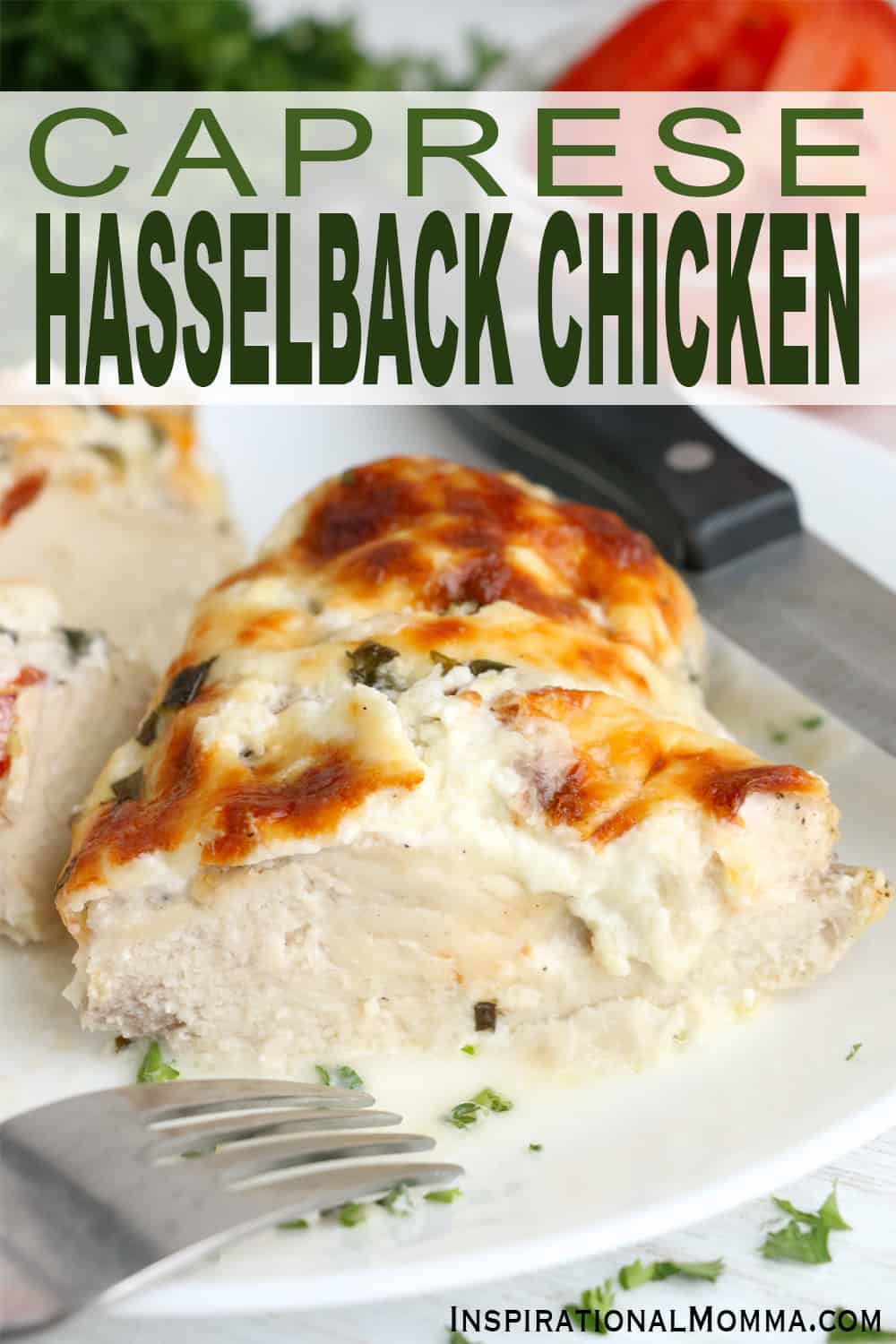 Mozzarella Stuffed Chicken Breasts
It is time to create a restaurant-quality dinner right in your own kitchen. This chicken is smothered in a mozzarella based sauce and baked to perfection! Tender, flavorful, and juicy, it will quickly become a favorite! Looking for another chicken dinner that is sure to please? Check out my Five-Ingredient Crock Pot Chicken and Stuffing!
If you happen to be at my house during dinnertime, I can pretty much guarantee that nine times out of ten, you will be served a dish filled with beef or chicken. It seems that they are my go to main dishes. Now, I do have many to choose from that my family loves, but I also have a few favorites that definitely grace our table a bit more often than the others.
One of our absolute favorites is my Easy Homemade Meatloaf! I am always sure to make a double batch so I can enjoy the leftovers for a few days. I also can never go wrong with my Grandma Joan's Homemade Chicken Dumpling Soup! Another meal that has "satisfaction guaranteed" written all over it. So, whether I am marinating, slow cooking, shredding, baking, or frying, it seems that beef and chicken have a special place at our dinner table.
And this delicious Caprese Hasselback Chicken is a meal that we have quickly fallen in love with. It wasn't too long ago that I ordered something similar from a restaurant. The flavors were amazing and complex, but when I really thought about it, I realized that it was a simple dish that I could create right at home.
After a little tweaking, I got it right where we love it! The flavors are delicious, but not too overpowering for my little ones. The chicken is baked perfectly and so tender. Served with your favorite side dish, this meal is one that will never disappoint. As we like to say in our house, "Winner! Winner! Chicken Dinner!" I hope you enjoy it just as much as we do!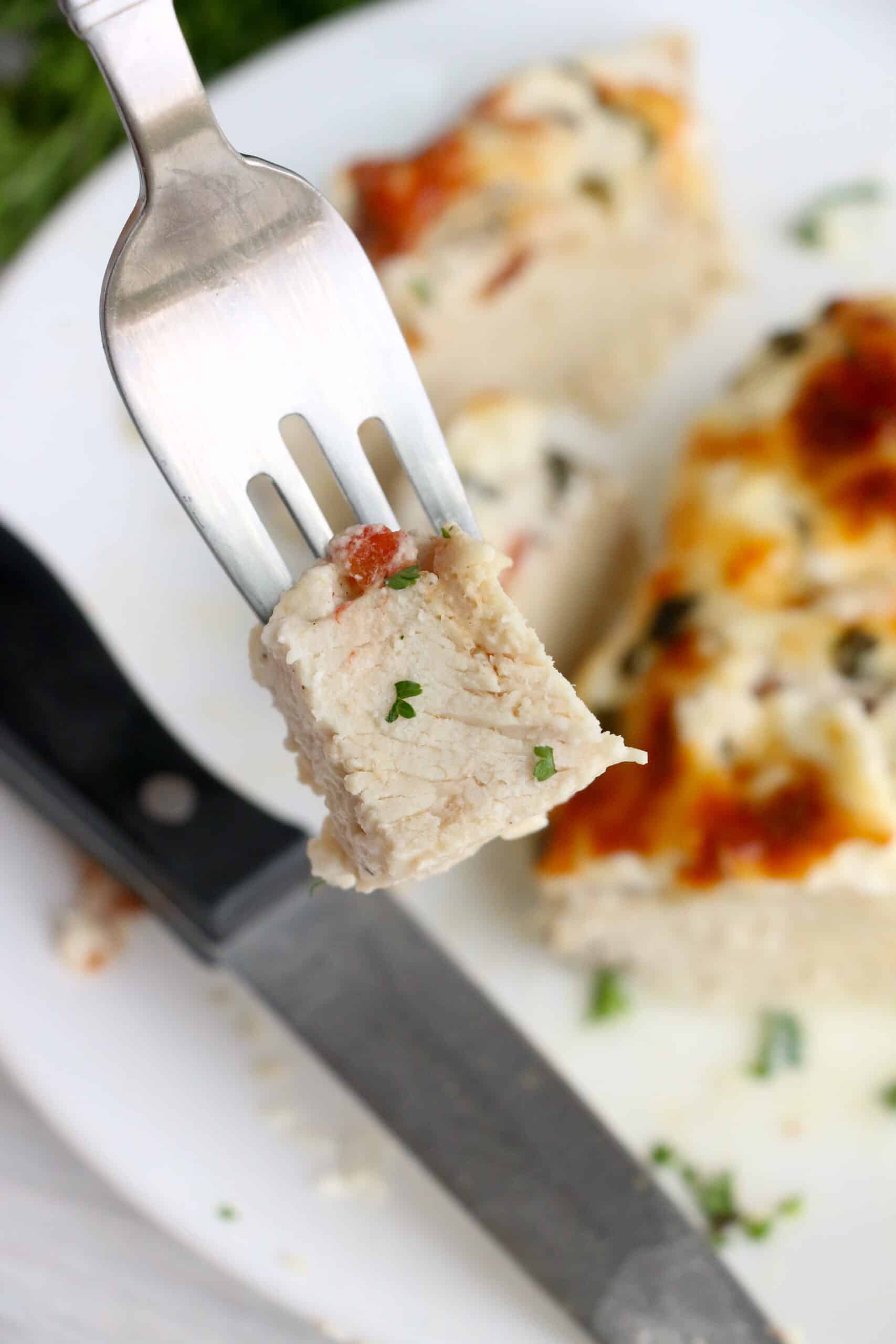 Why is it called Caprese?
"Caprese" means a salad with fresh mozzarella, tomatoes and basil. So when you're thinking about this Caprese hasselback chicken recipe, you know you'll be using these three key ingredients!
What is the hasselback technique?
"Hasselback" is a cutting method often used with vegetables (especially potatoes) to achieve a fanned-out shape without cutting all the way through the food. In this chicken recipe, you'll apply this technique to the chicken, slicing down about 75%, every half inch. This allows you to stuff your chicken with delicious mozzarella and tomatoes before cooking. Worth the effort!
Ingredients for Caprese Hasselback Chicken Recipe
chicken breasts
mozzarella cheese
tomatoes
salt
pepper
mayonnaise
sour cream
milk
fresh basil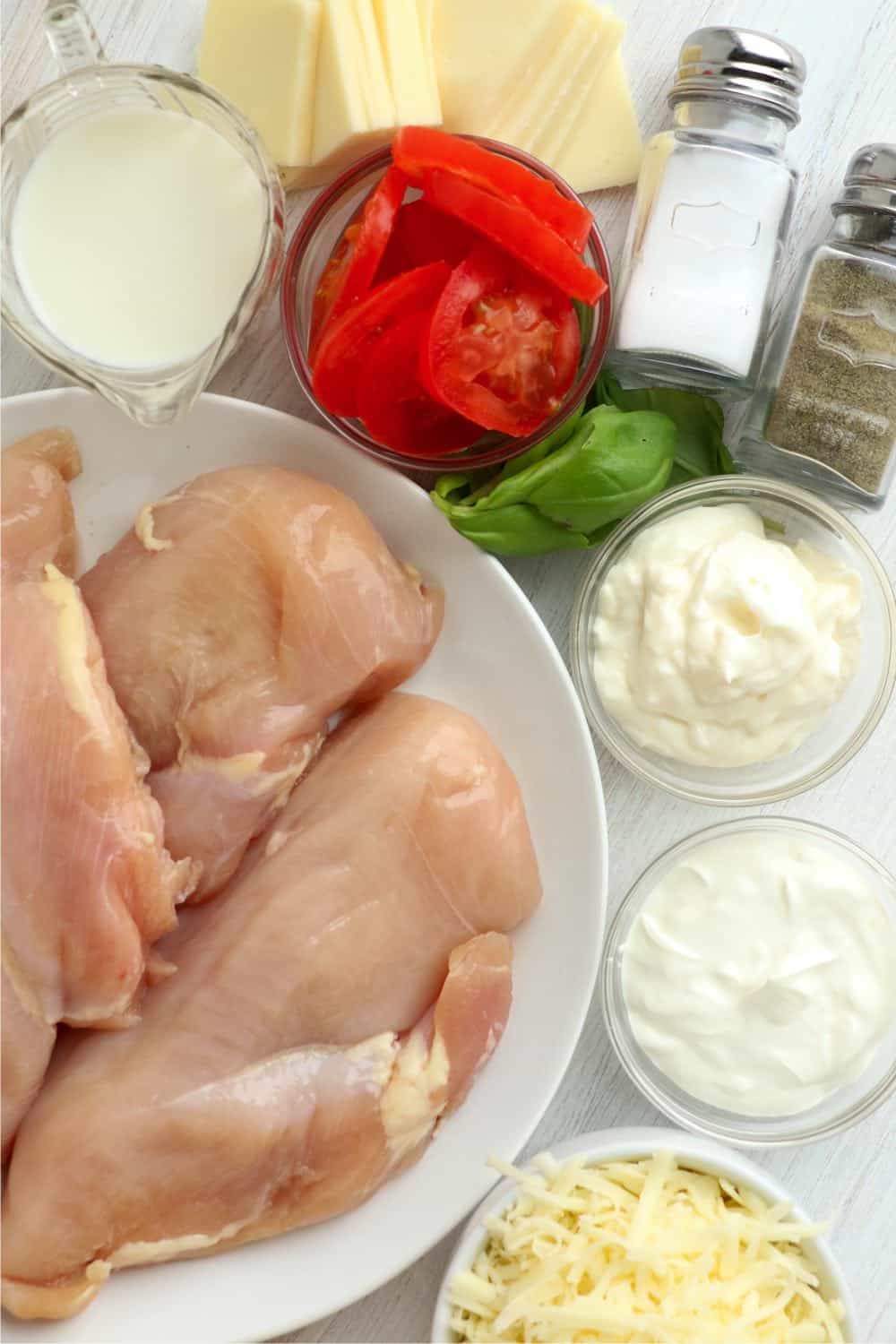 How to make Stuffed Caprese Chicken Breasts
To get things started, you can preheat your oven to 400ºF. You can also prepare a 9x13 baking dish by spraying it with non-stick cooking spray. Set it aside for later.
Next up, we need to prepare the chicken breasts. I like to do this on a large cutting board. Carefully slice them width-wise every half inch. Be sure to only cut about 75% of the way through. If you cut too far, you will clearly cut the chicken breast in two. If you don't cut far enough, you won't allow the sauce to cook deep within the chicken, which gives it the moist, rich flavors.
Our next step is to stuff the chicken. Do this by alternating slices of mozzarella cheese and tomatoes. Depending on the size of your tomatoes, you may choose to cut them in half. This is completely up to you and your preference. Before preparing the sauce, sprinkle your chicken with salt and pepper and place them in your prepared baking dish.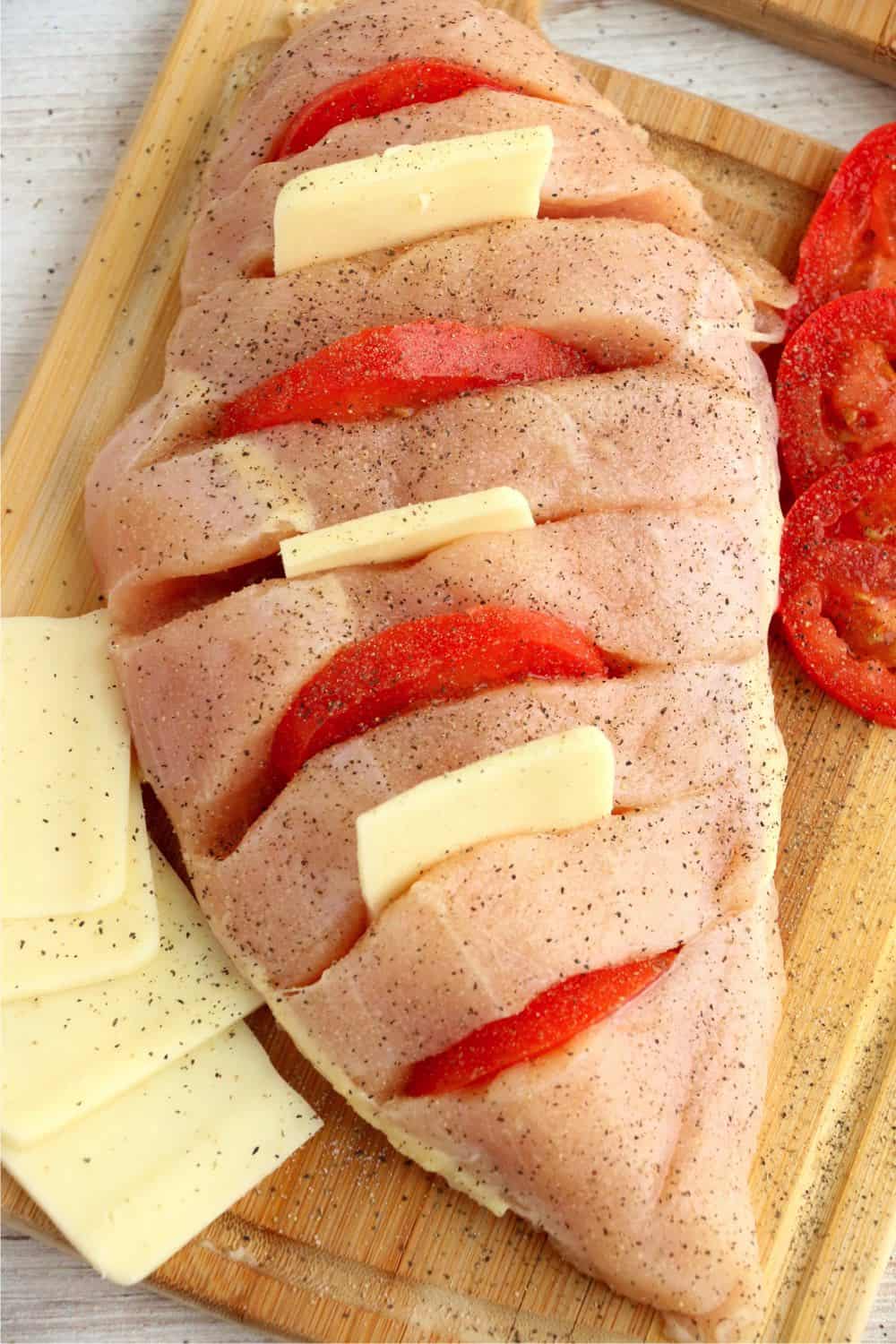 Making the Sauce for this Caprese Hasselback Chicken Recipe
We are going to prepare the sauce in a small mixing bowl. Combine the mayonnaise, sour cream, 1/2 teaspoon salt, 1/4 teaspoon pepper, and milk. Using a whisk, mix until the sauce consistency is uniform and smooth.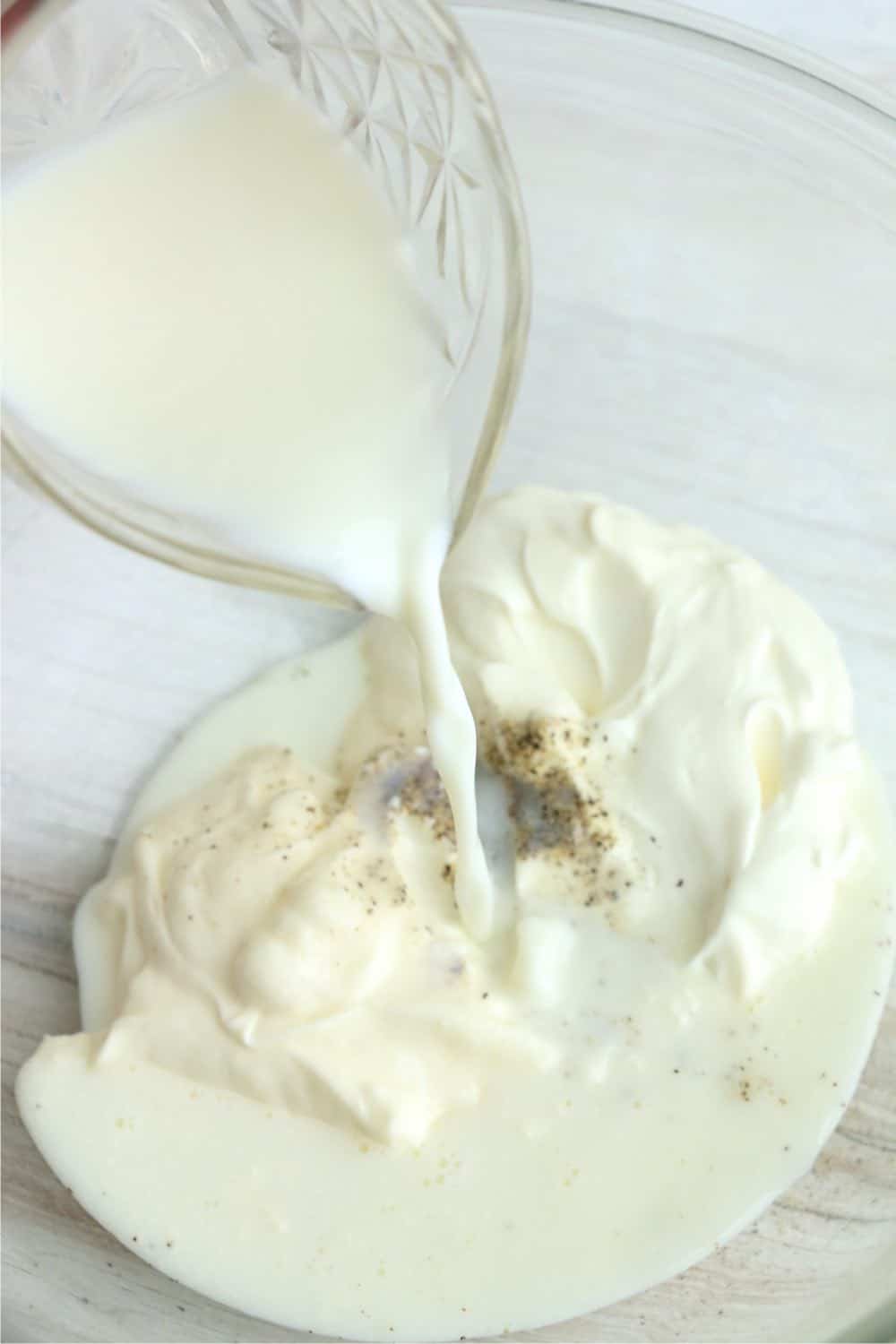 To finish the sauce, add a 1/2 cup of shredded mozzarella cheese, stirring well.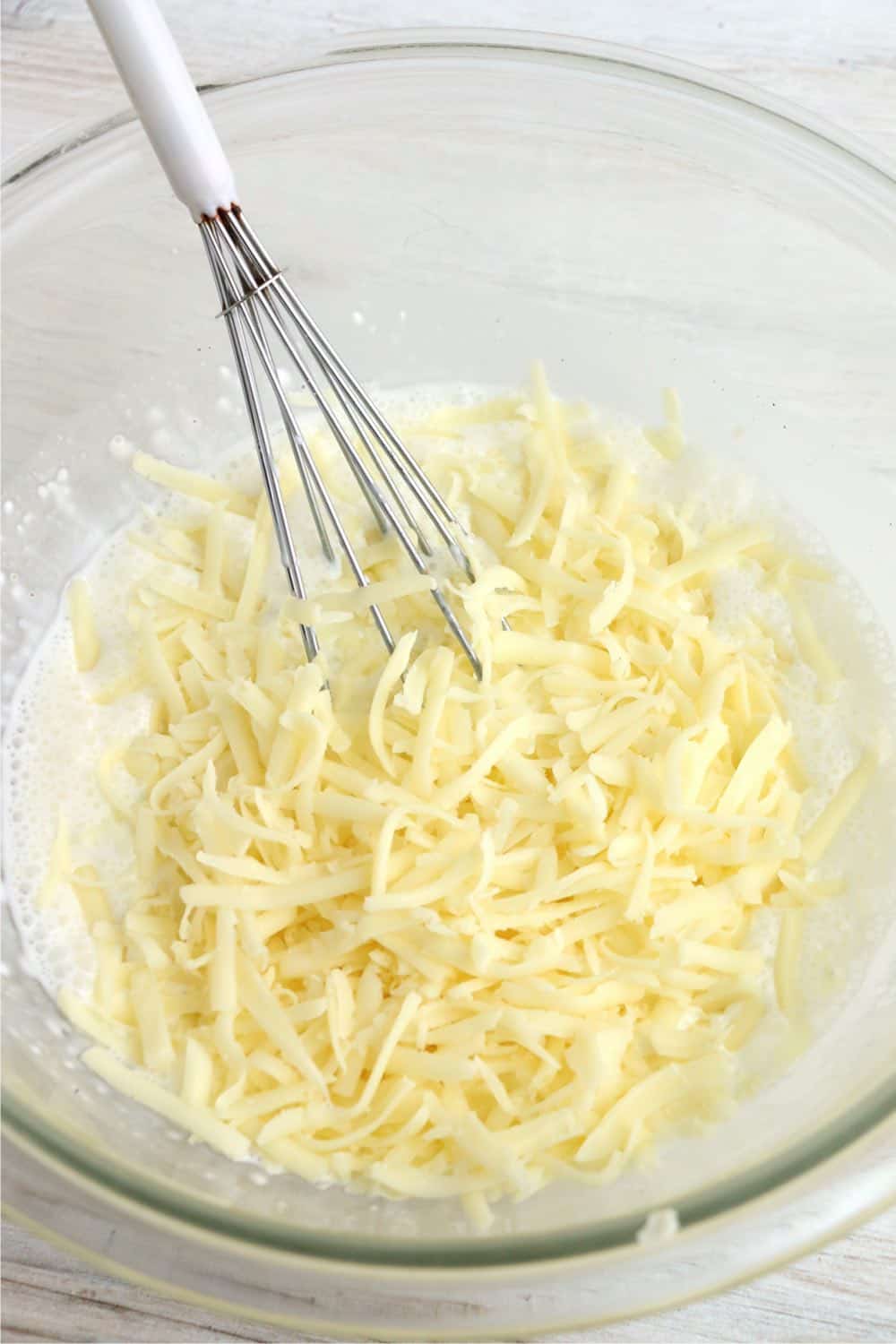 This is where things get good! You just created a simple yet sensational sauce and we are going to cover our stuffed chicken breasts with it. Evenly spread the sauce over top, covering as much of the chicken as possible.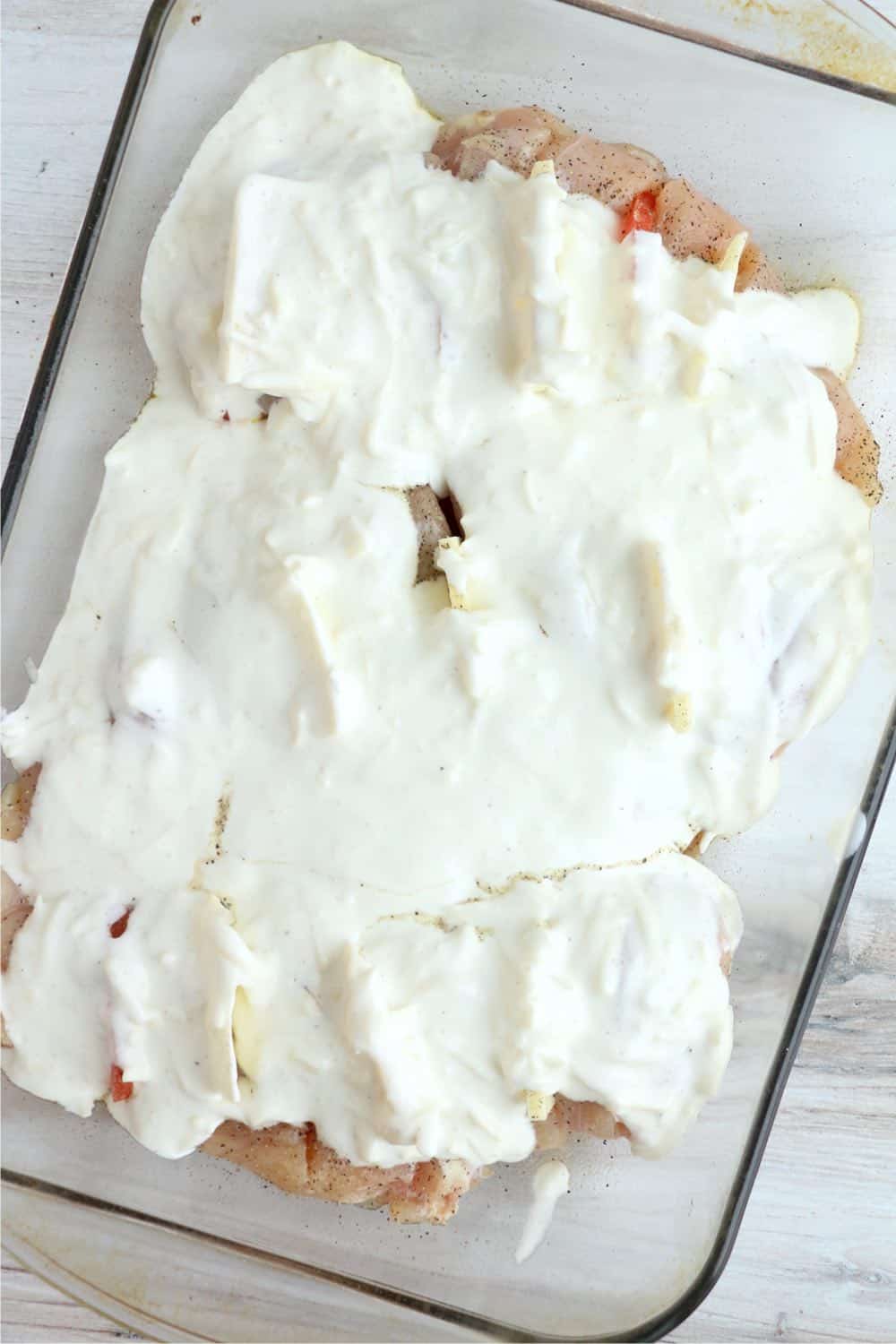 Next, sprinkle the remaining shredded mozzarella cheese and basil over top of the sauce. You have to admit, it looks good and you can't wait to dig in!

Place the baking dish in your oven, uncovered, and bake it for 35-40 minutes or until the internal temperature of the chicken is 165ºF.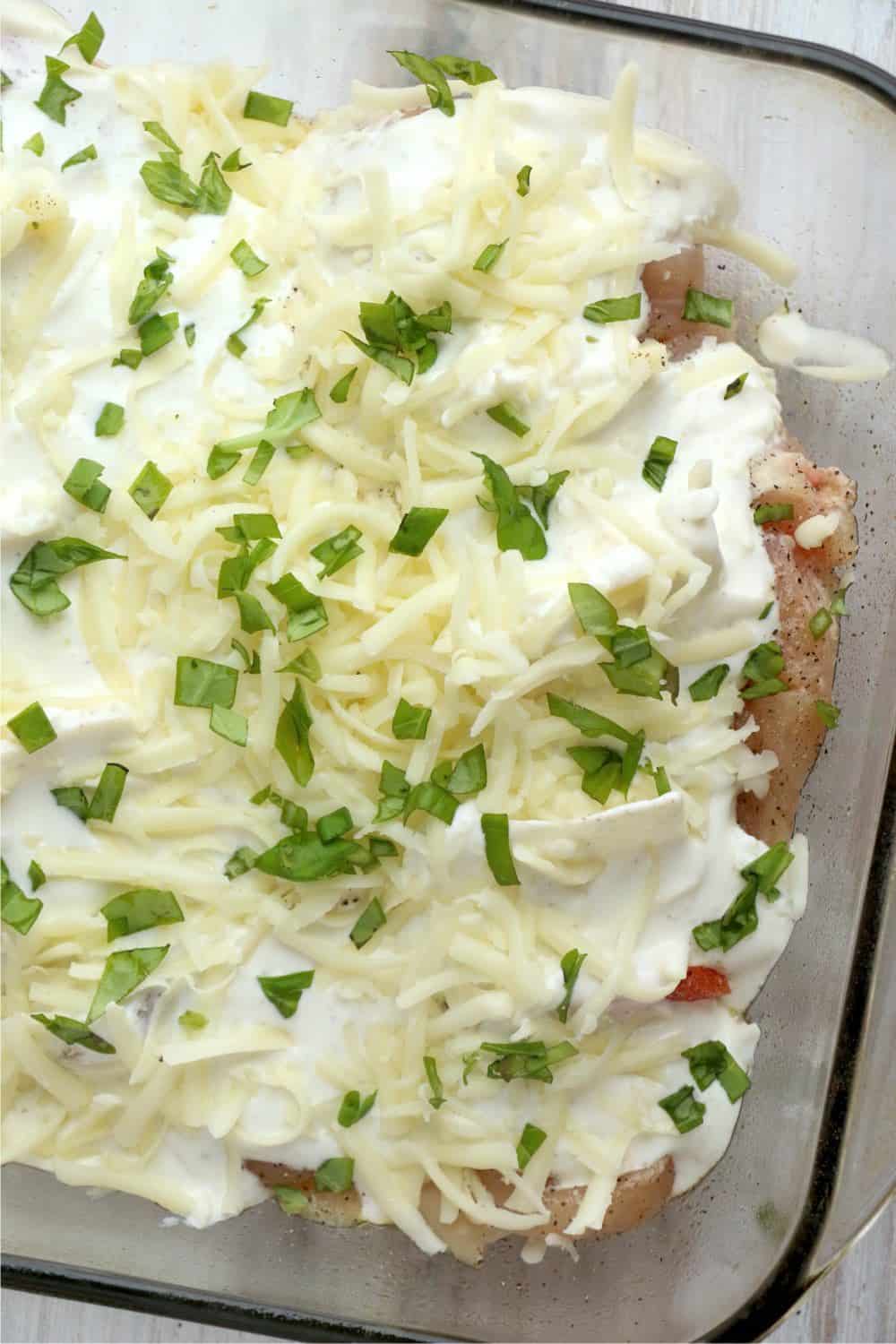 While baking, the fresh tomatoes, mozzarella, and basil will thoroughly infuse your chicken with all the right flavors. Served with the sauce it is already smothered in, this Caprese Hasselback Chicken Recipe is a dinner you will find yourself making again and again.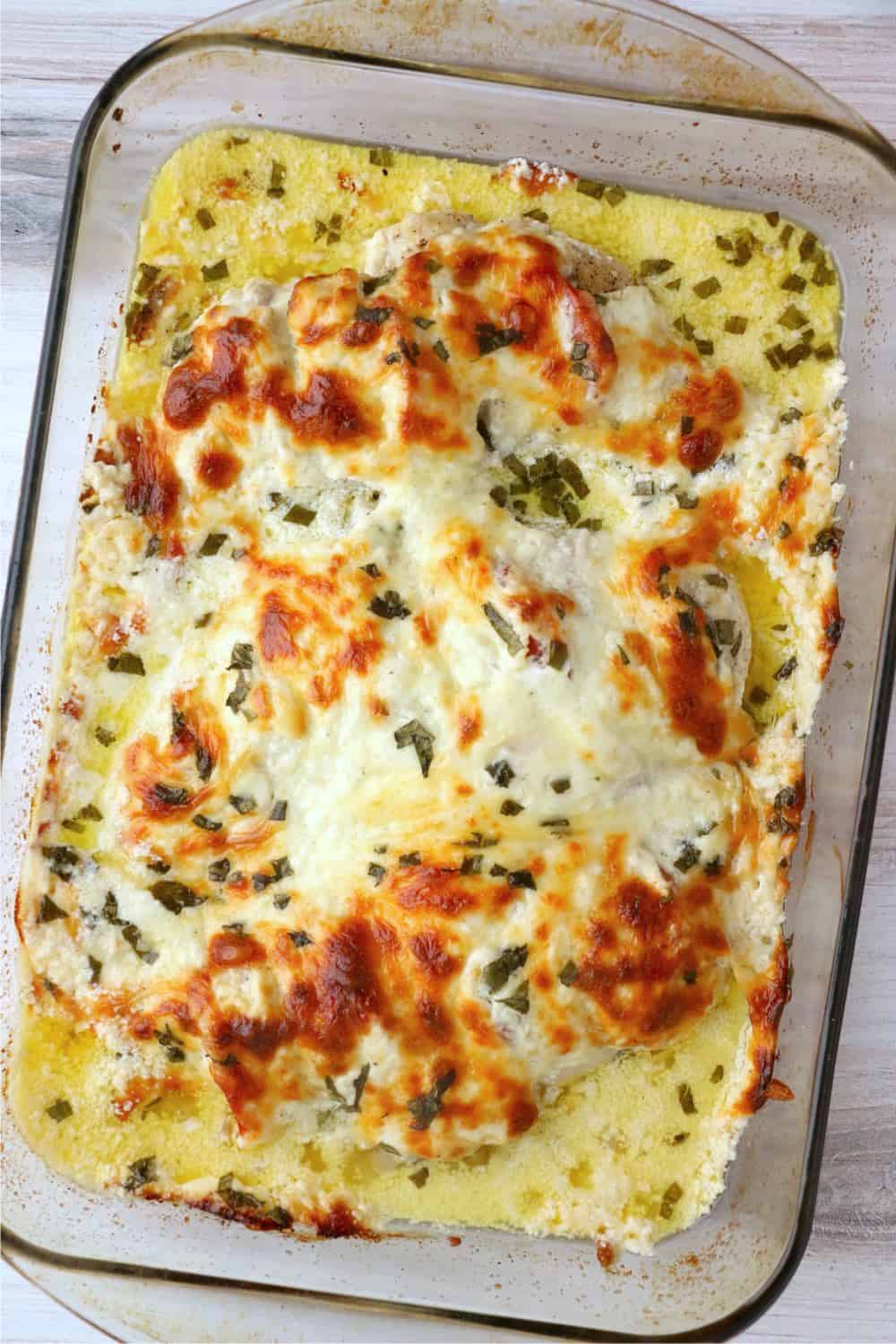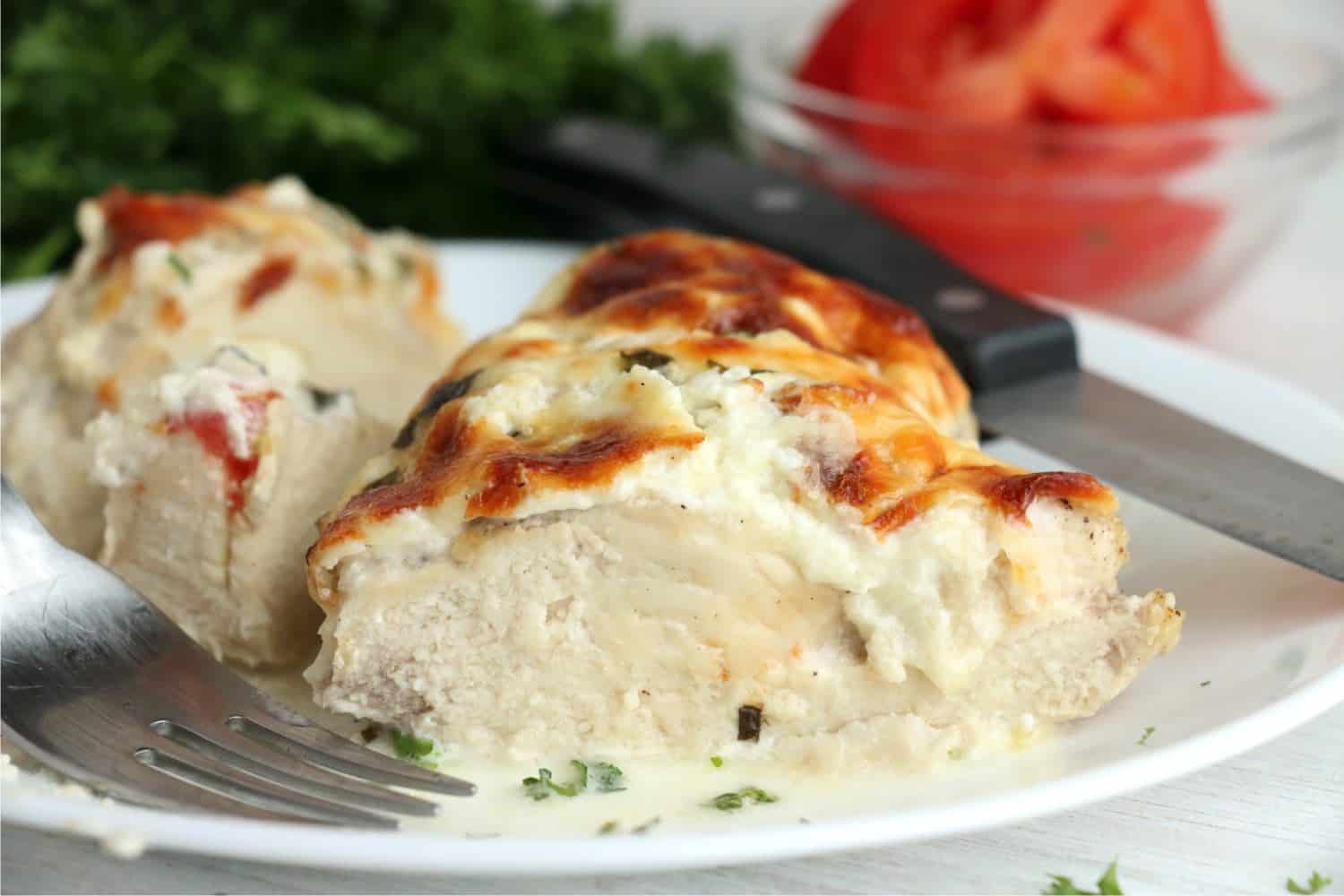 Love what you see?
Find more of my fun creations on Facebook, Instagram & Pinterest! You can also sign up for my weekly newsletter below and never miss any of my inspirations!
Can't get enough? Check out more of my favorites!
Caprese Hasselback Chicken Recipe
Yield: 3 servings
Caprese Hasselback Chicken Recipe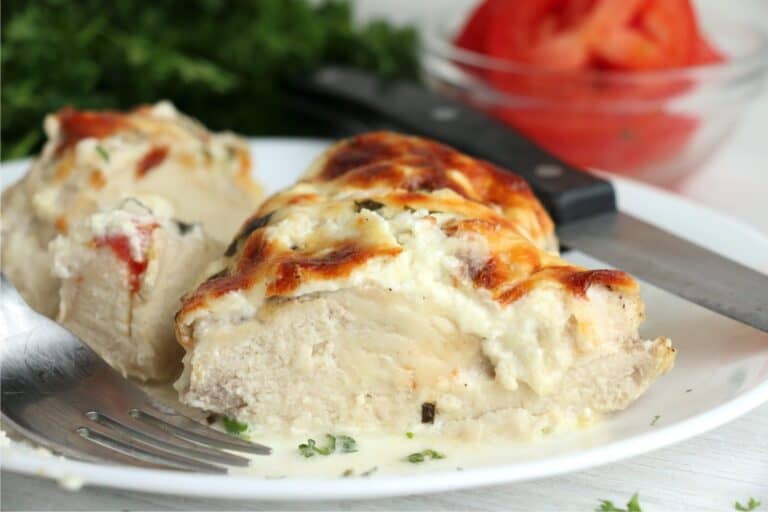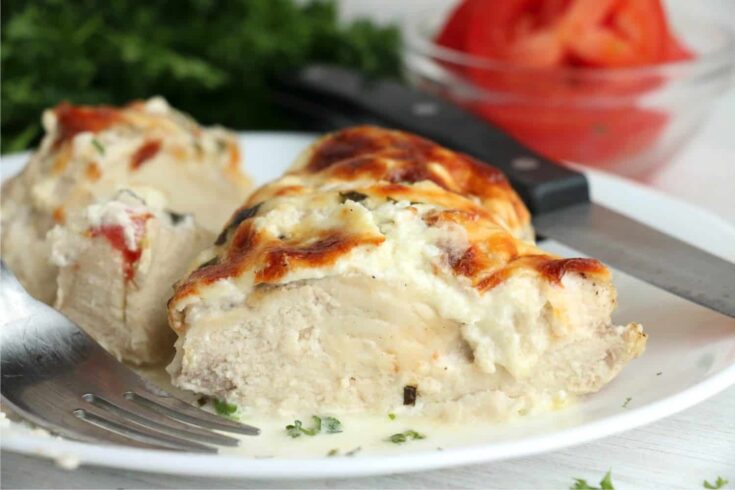 This Caprese Hasselback Chicken Recipe brings a ton of flavor with just 6 ingredients. Baked and keto-friendly, it is a perfect dinner choice!
Ingredients
3 large boneless chicken breasts


15 slices mozzarella cheese


15 tomato slices


1 tsp salt, divided


1/2 tsp pepper


1/2 cup mayonnaise


1/2 cup sour cream


1/4 cup milk


1 cup mozzarella cheese, shredded and divided
 

2 tbsp fresh basil chopped and divided
Instructions
Preheat oven to 400ºF.

Prepare chicken breasts by slicing them width-wise every 1/2 inch about 75% down.

Stuff them by alternating cheese slices and tomato slices.

Place them in a greased 9x13 baking dish
.
Salt and pepper the chicken breasts.

Prepare sauce by combining mayonnaise, sour cream, 1/2 tsp salt, 1/4 tsp pepper, milk, and 1/2 cup shredded cheese in a small mixing bowl.

Evenly spread sauce overtop of chicken breasts.

Sprinkle remaining shredded cheese and basil over top.

Bake for 35-40 minutes or until the internal temperature of the chicken is 165ºF.
Nutrition Information
Yield
3
Serving Size
1
Amount Per Serving
Calories

1091
Total Fat

80g
Saturated Fat

33g
Trans Fat

0g
Unsaturated Fat

40g
Cholesterol

283mg
Sodium

2247mg
Carbohydrates

11g
Fiber

1g
Sugar

6g
Protein

80g
Get Inspired!
Never miss my delicious recipes, cute creations, or household tips!