Marinated Mushrooms are easy to prepare and packed with delicious flavors. Enjoy them as appetizers or on pasta, pizza, or burgers.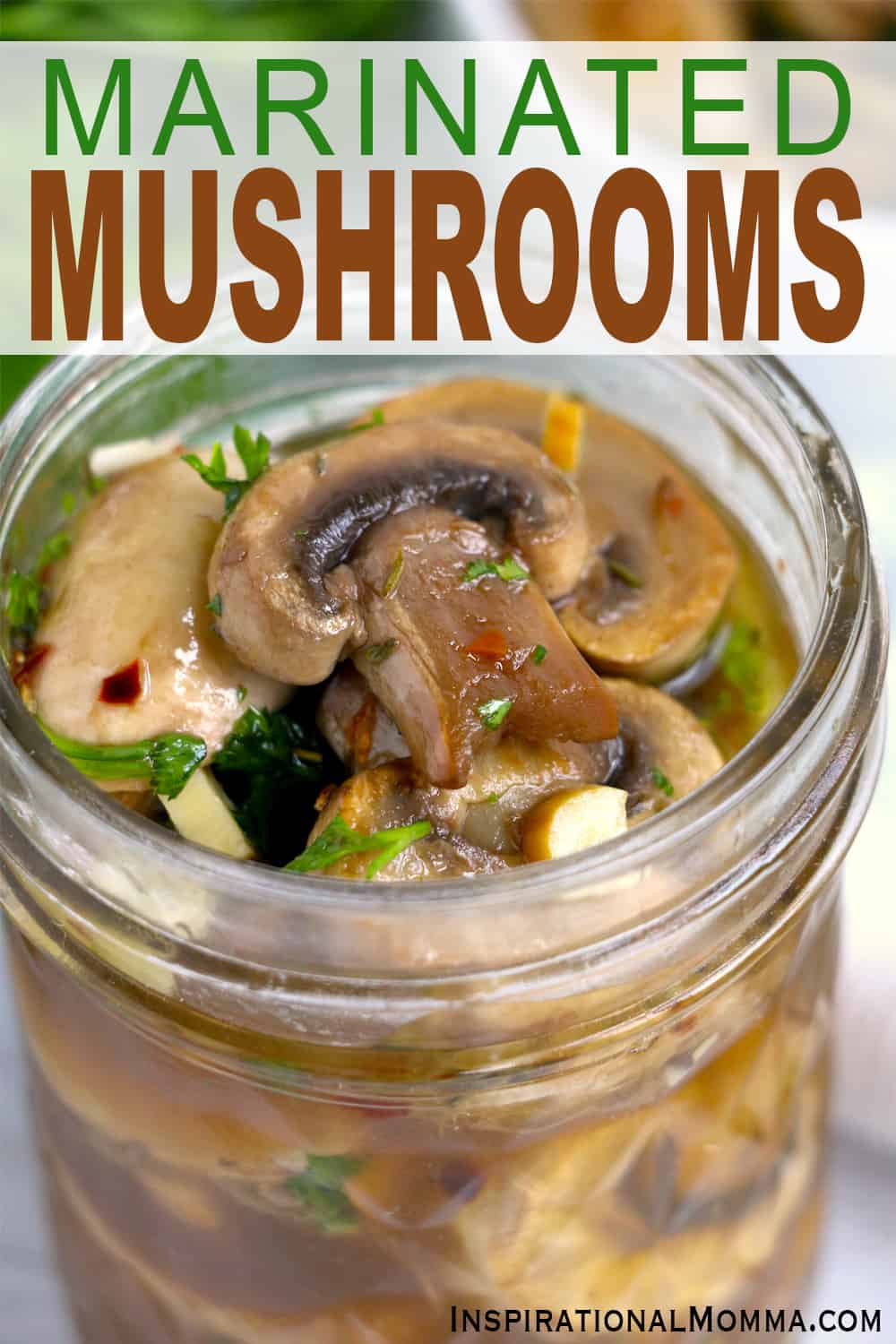 Easy Garlic Mushrooms
If you are a mushroom lover like me, you are always looking for ways to add garlic mushrooms to everything you eat. I am also always looking for easy, delicious ways to prepare them! These marinated mushrooms are just that. Easy and delicious! If you want to try another fool-proof, tasty appetizer, check out my Crock Pot Honey Garlic Meatballs! A definite crowd-pleaser!
I can still remember the day I created my easy garlic mushroom recipe! I walked into the grocery store to grab a jar of my favorite marinated mushrooms only to discover they were gone! Not just gone, but completely eliminated. My go-to canned marinated mushrooms had been replaced with a similar product. But let's be honest, when you have a favorite, others have a hard time living up to it. I took a risk and bought the new brand and was fairly disappointed. They weren't terrible, but I didn't love them.
At that point, I made it my mission to recreate those delicious marinated mushrooms that had been taken from me! After a few tries and a bit of ingredient tweaking, I did it! I created an easy-to-make, bursting with flavor, marinated garlic mushroom recipe that can be enjoyed with so many things! They are a tasty addition on top of pizzas and burgers, added to your favorite pasta or precisely placed in your cold Bloody Mary!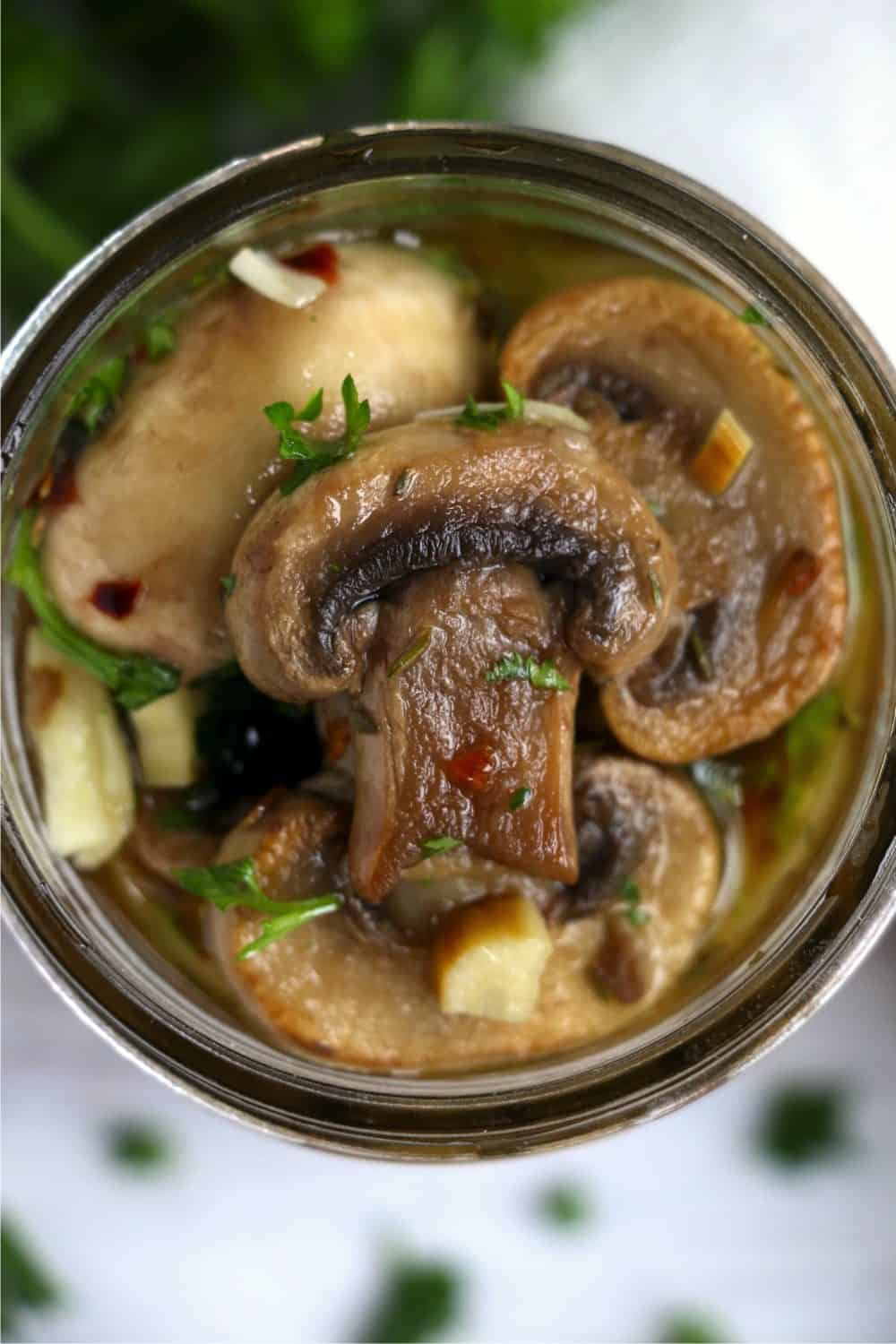 Health Benefits of Mushrooms
Marinated mushrooms are so good for you! They're cholesterol and gluten free and have high amounts of dietary fiber, iron and riboflavin along with vitamins A, B6 and C. It's no wonder mushrooms are considered a superfood—they are good for bone health and your immune system.
Are Canned Mushrooms as Healthy as Fresh Mushrooms?
No matter if you choose to have marinated mushrooms canned or fresh, they contain the same nutritional content. The only real difference is canned mushrooms are preserved in a salty brine.
If you are wondering if you can substitute canned mushrooms for fresh mushrooms, or vice versa, the answer is yes! As a general rule, a pound of fresh mushrooms can be substituted for six ounces of canned button mushrooms.
Different Types of Mushrooms
With my marinated mushrooms recipe you can use any type of mushroom you wish, but here are a few suggestions to help you narrow down the options.
If you're looking for the healthiest mushrooms, go for oyster mushrooms, shiitake mushrooms, cremini mushrooms or baby bella mushrooms. They're high in fiber, potassium and if they've been exposed to UV light then plenty of vitamin D.
The mushrooms known for having the most flavor are maitake mushrooms. This variety of mushrooms are popular in Japan and the word maitake translates from japanese to "dancing mushroom," isn't that neat? It also has some fun nicknames: hen of the woods, chicken of the woods and fried chicken mushroom.
How Do You Clean Fresh Mushrooms Before Cooking?
Just before you cook up your garlic butter mushrooms, place them in a colander and rinse them off with water to loosen any dirt. You can pat them dry with a paper towel, or give the colander a shake to remove excess water. Then, slice up your mushrooms and you're good to go!
Marinated Mushrooms Recipe
In order to get that perfect marinated flavor, you want to prepare your mushrooms for marinating, so don't skip the saute step! Warming the mushrooms up in the frying pan will open up their pores, and they'll absorb tons of marinade flavor. And, the longer you can leave your garlic mushrooms in the marinade, the better.
I hope you enjoy them as much as I do. Check out my recipe below and enjoy!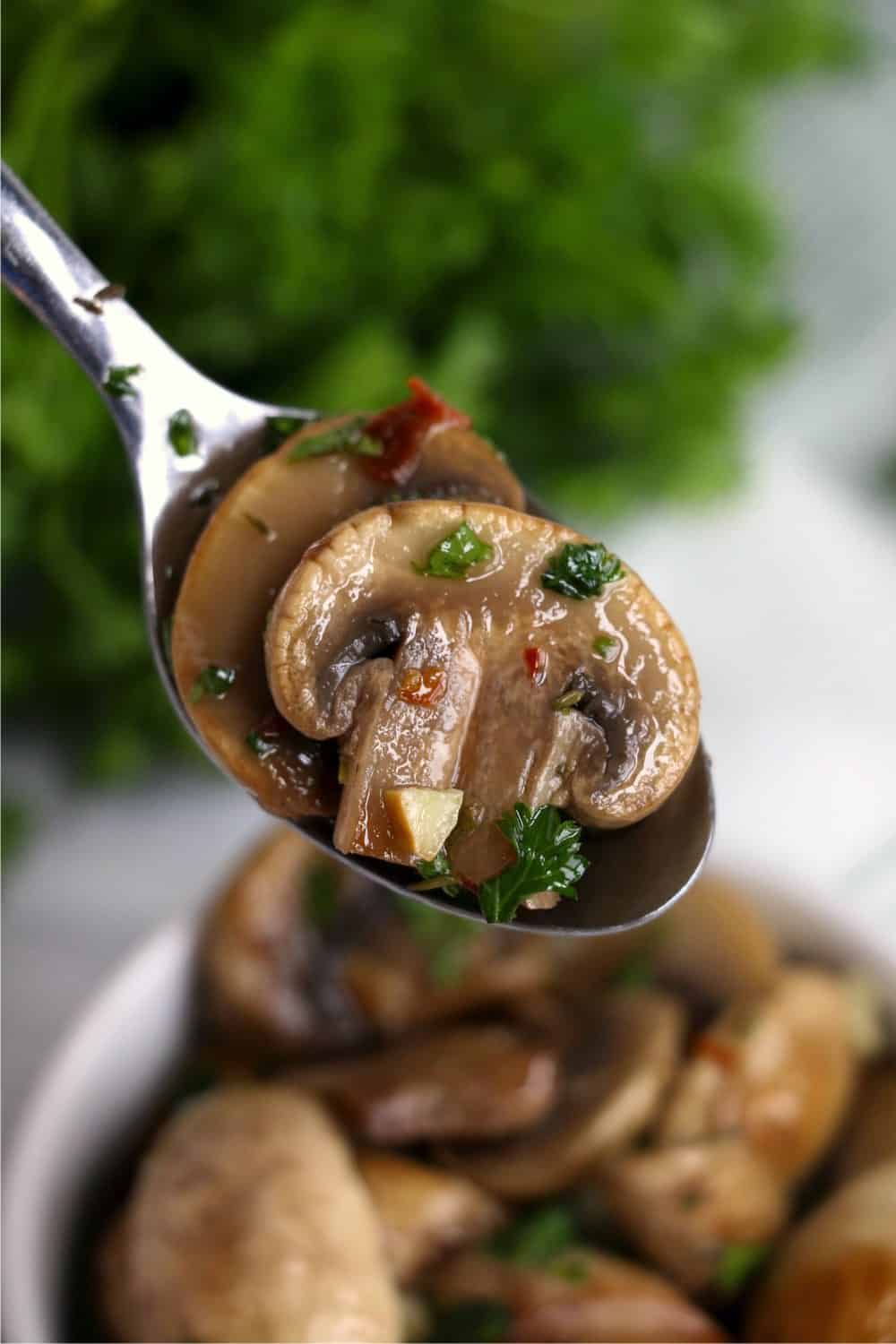 Ingredients for Marinated Mushrooms
mushrooms
apple cider vinegar
garlic cloves
honey
thyme
salt
red pepper flakes
fresh parsley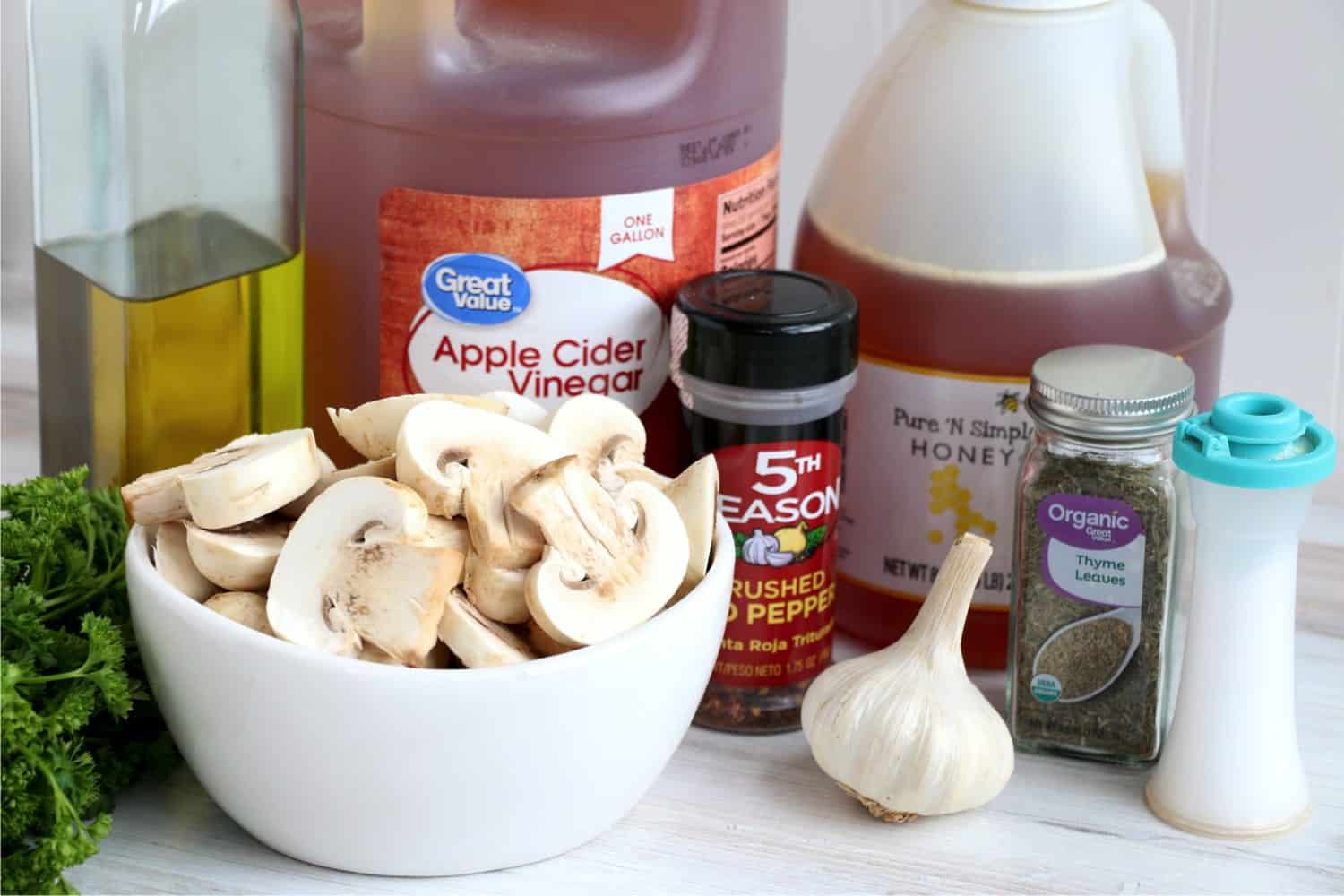 How to Make Simple Garlic Mushrooms
Sautéing your mushrooms is completely optional. When I am short on time, I skip this step and they still turn out deliciously. However, I have found that the texture is a bit different when I do sauté them, and I do prefer this step. If you choose to, in a greased skillet, sauté the sliced mushrooms over medium heat for about 8 to 10 minutes or until they are tender. You will also notice that they will darken in color.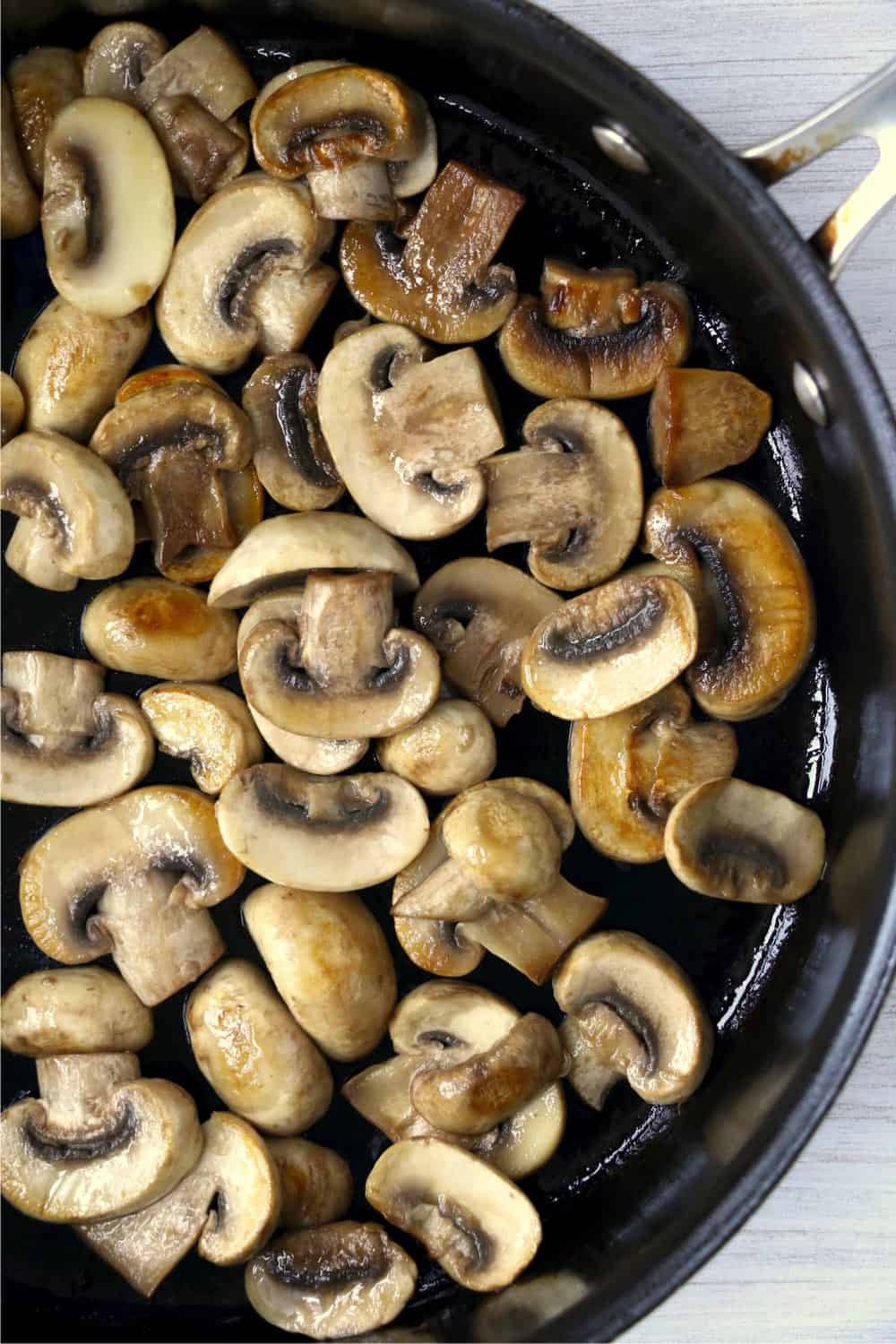 In a mixing bowl, combine all the ingredients except the mushrooms. Stir everything together well.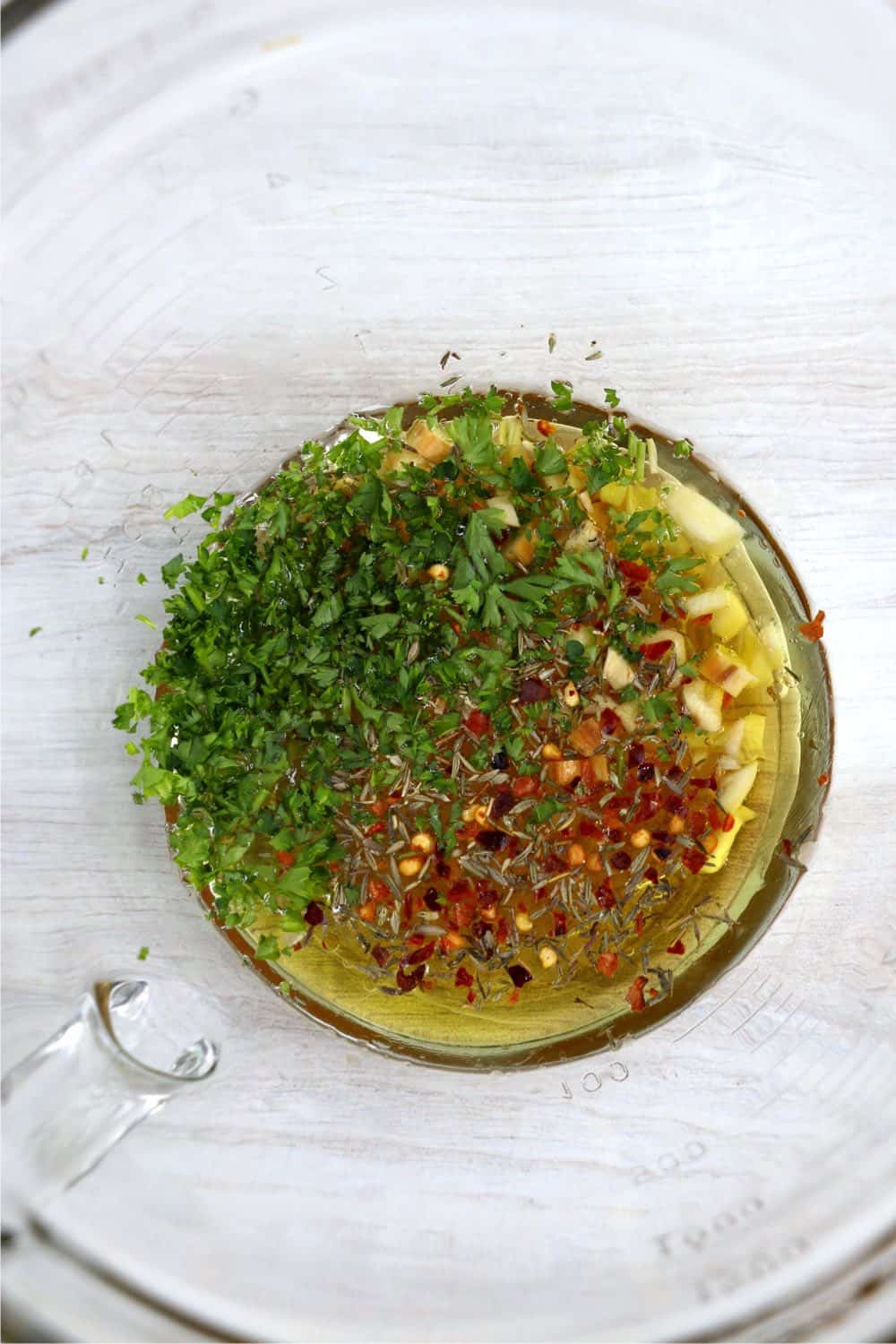 Add the mushrooms to the sauce and stir until they are coated.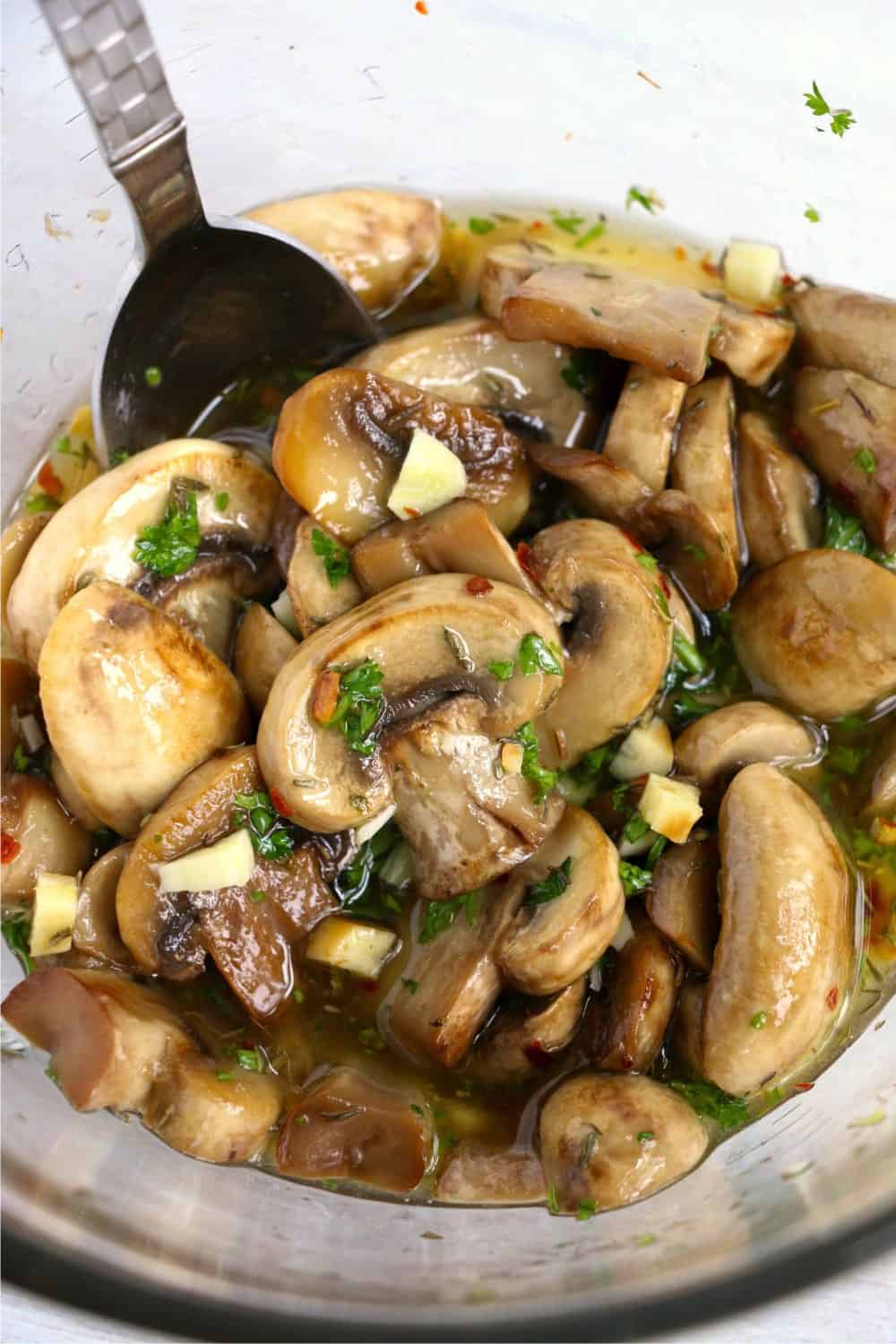 Pour everything from the bowl into a jar. Now, I will admit that I find myself eating these right away. I am definitely a mushroom lover. But they are definitely more flavorful if you allow them to marinate for about 24 hours covered and in the refrigerator.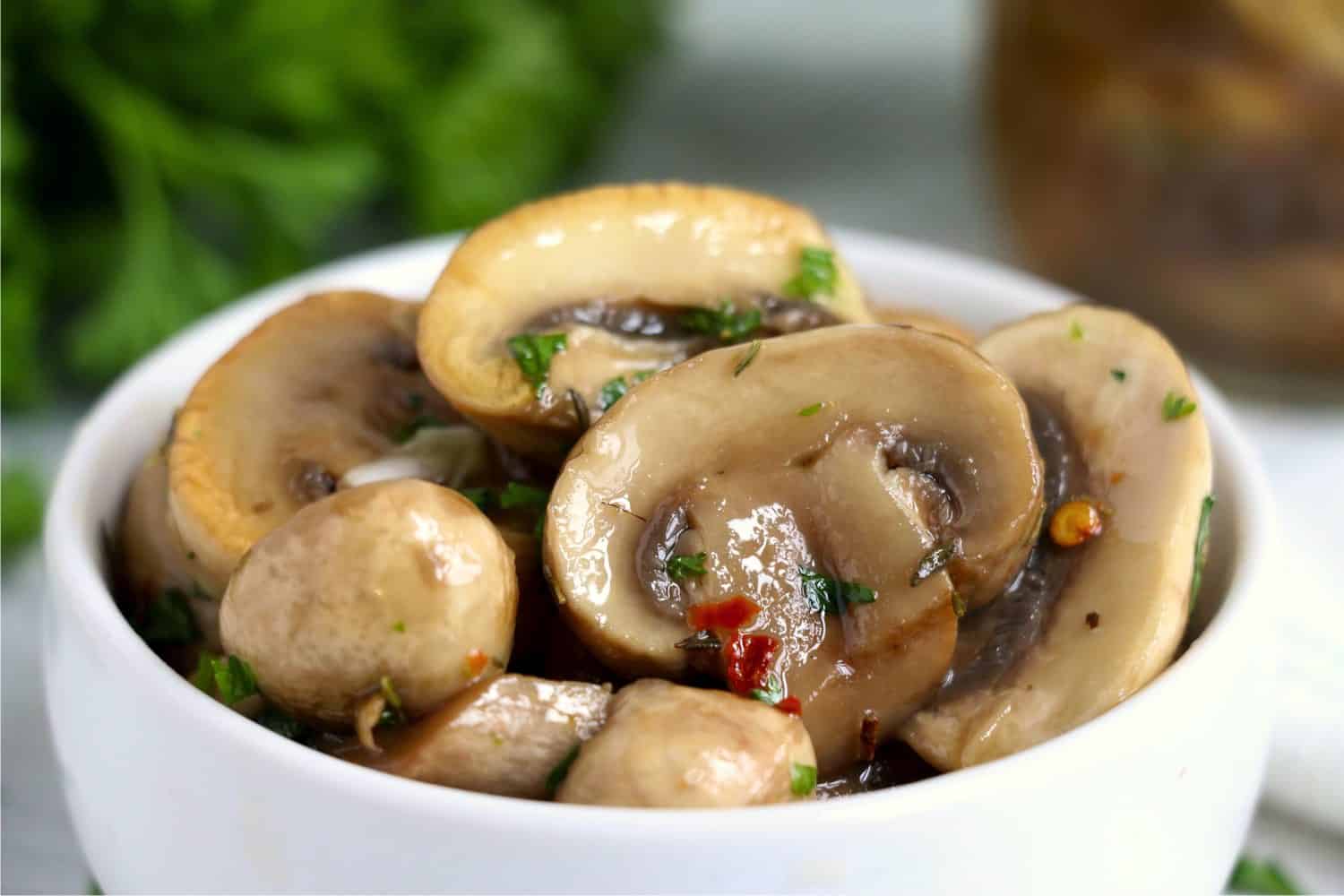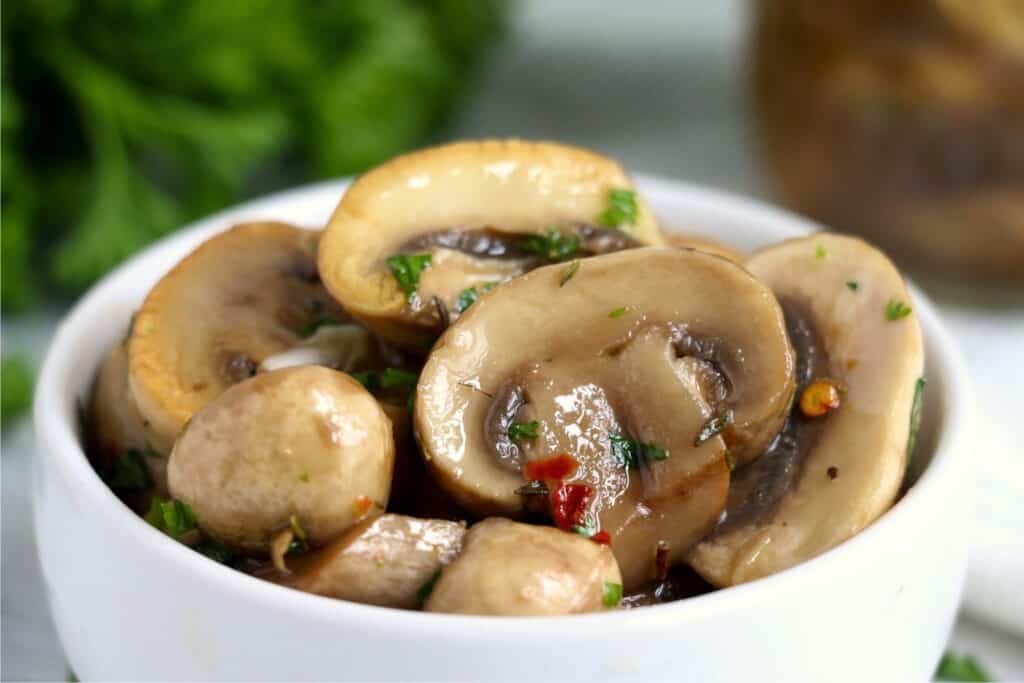 How Long will this Marinated Mushrooms Recipe Keep For?
If you keep your marinated mushrooms in a sealed jar and keep it in the refrigerator, with liquid covering the top of the garlic mushrooms, then you can expect them to keep for up to 45 days.
You will want to keep your marinated mushrooms refrigerated both during and after the marinating process. This both extends their shelf life and prevents spoilage.
Can you Freeze Marinated Mushrooms?
If by some off chance you have enough garlic mushrooms left to freeze, this is a great option! You can keep marinated mushrooms in your freezer for up to a year. You can, for up to one year! When you're ready to use them, allow them to thaw in the refrigerator.
Marinated Mushrooms Canned Recipe
If you want to try making marinated mushrooms canned, skip the sauteing step, and instead prepare your liquid brine and pour it into hot, sterilized jars.
Pack with mushrooms, leaving half an inch of space below the rims.
Seal the jars using your preferred method and leave for 24 hours. Flavor will be fully developed within six weeks.
Love what you see? Find more of my fun creations on Facebook, Instagram & Pinterest! You can also sign up for my weekly newsletter below and never miss any of my inspirations!
Can't get enough? Check out more of my favorites!
Marinated Mushrooms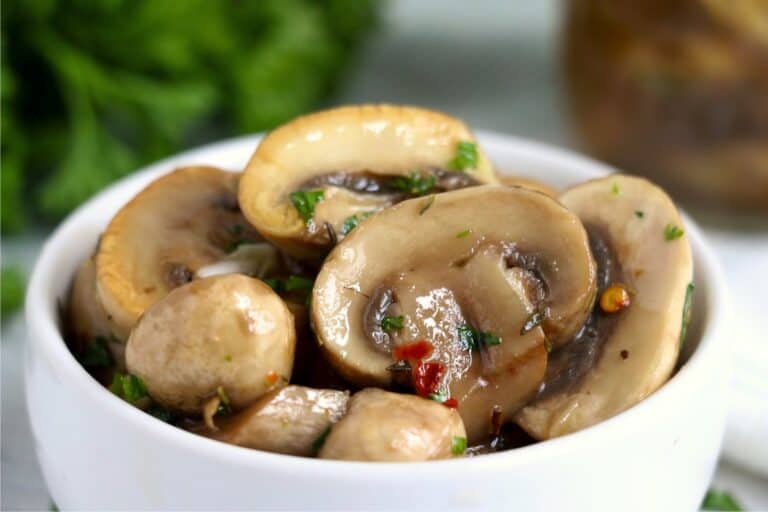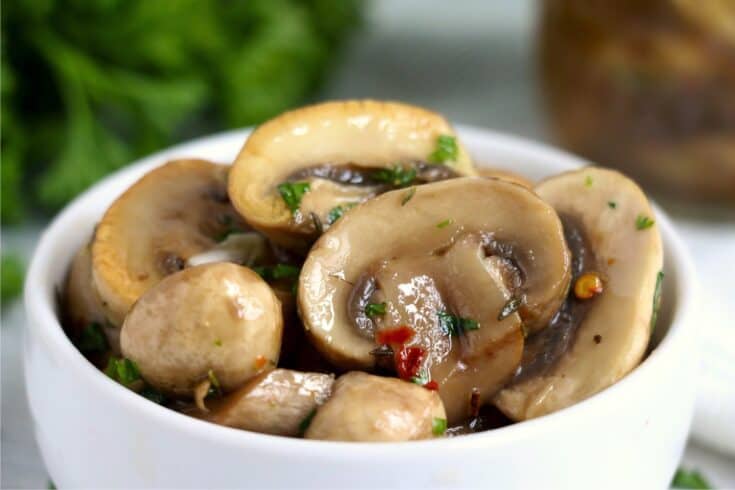 Marinated Mushrooms are easy to prepare and packed with delicious flavors. Enjoy them as appetizers or on pasta, pizza, or burgers.
Total Time
1 day
5 minutes
Ingredients
16 oz mushrooms, thickly sliced
1/4 cup olive oil
1/3 cup apple cider vinegar
2 garlic cloves, minced
1 tbsp honey
1/4 tsp thyme
1 tsp salt
1/4 tsp red pepper flakes
2 tbsp fresh parsley, chopped
Instructions
THIS STEP IS RECOMMENDED BUT NOT REQUIRED: Sauté mushrooms in a greased skillet on medium heat for about 8-10 or until they are tender.
In a mixing bowl, combine all ingredients EXCEPT mushrooms. Stir well.
Add mushrooms and stir until they are coated.
Pour everything into a jar.
Cover and refrigerate for at least 24 hours to allow the flavors to marinate.
Get Inspired!
Never miss my delicious recipes, cute creations, or household tips!