Pumpkin zucchini muffins are everything you can ask for in a muffin recipe. These muffins have the moist, tender texture that zucchini always gives to baked goods with delicious pumpkin and a crumble topping!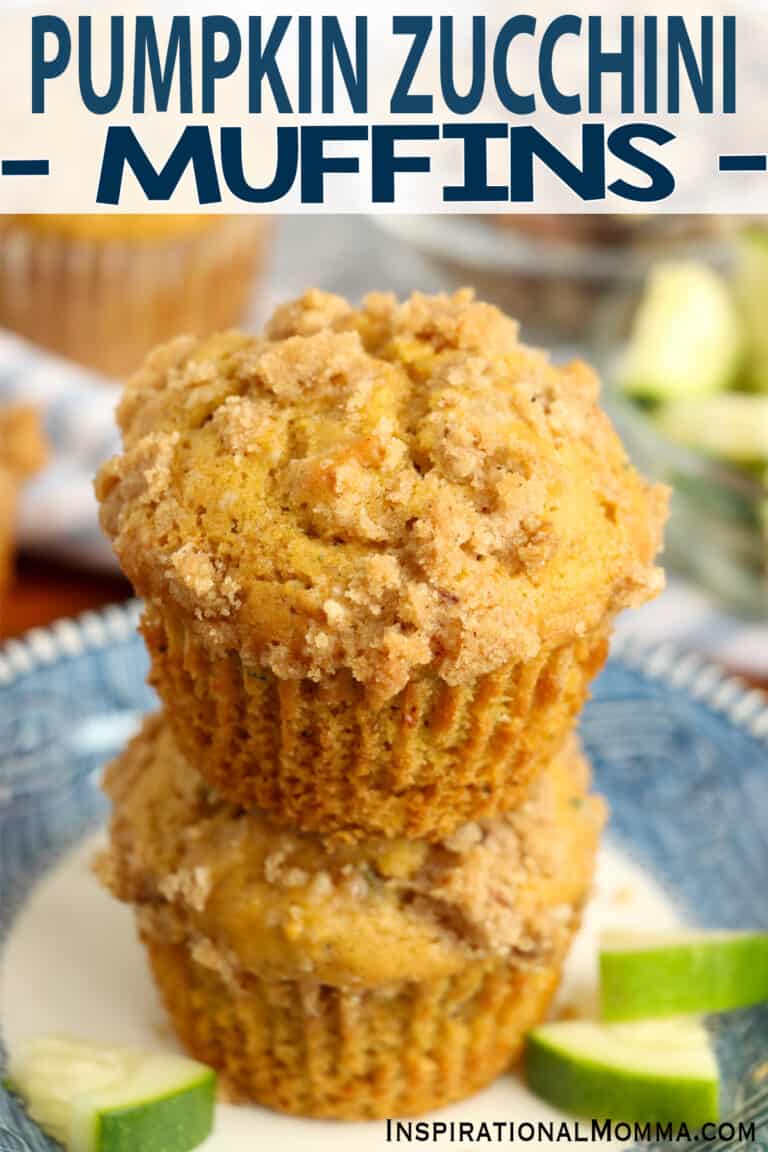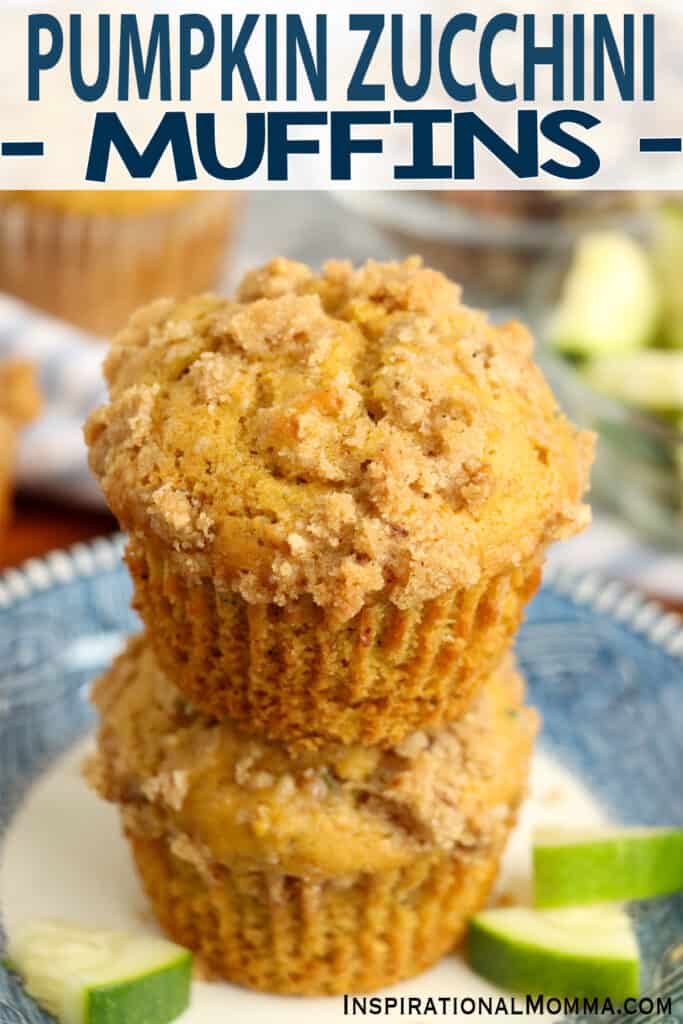 I'm a big fan of the extra moisture and tender texture that baking with zucchini gives to almost any baked good. I also love, love, love pumpkin. So I combined them to create a muffin full of zucchini, pumpkin puree, and a sweet crumble topping. Is it a muffin? Is it a quick bread? It's a little bit of both!
Why You'll Love This Recipe
It's so moist and tender thanks to the grated zucchini.
It's full of classic pumpkin flavor.
The crumble topping adds extra sweetness.
It makes a great sweet breakfast or afternoon snack.
It's so easy!
Top Tip
Be sure you buy pumpkin puree and not pumpkin pie filling. It's easy to get them confused because they're often right next to each other.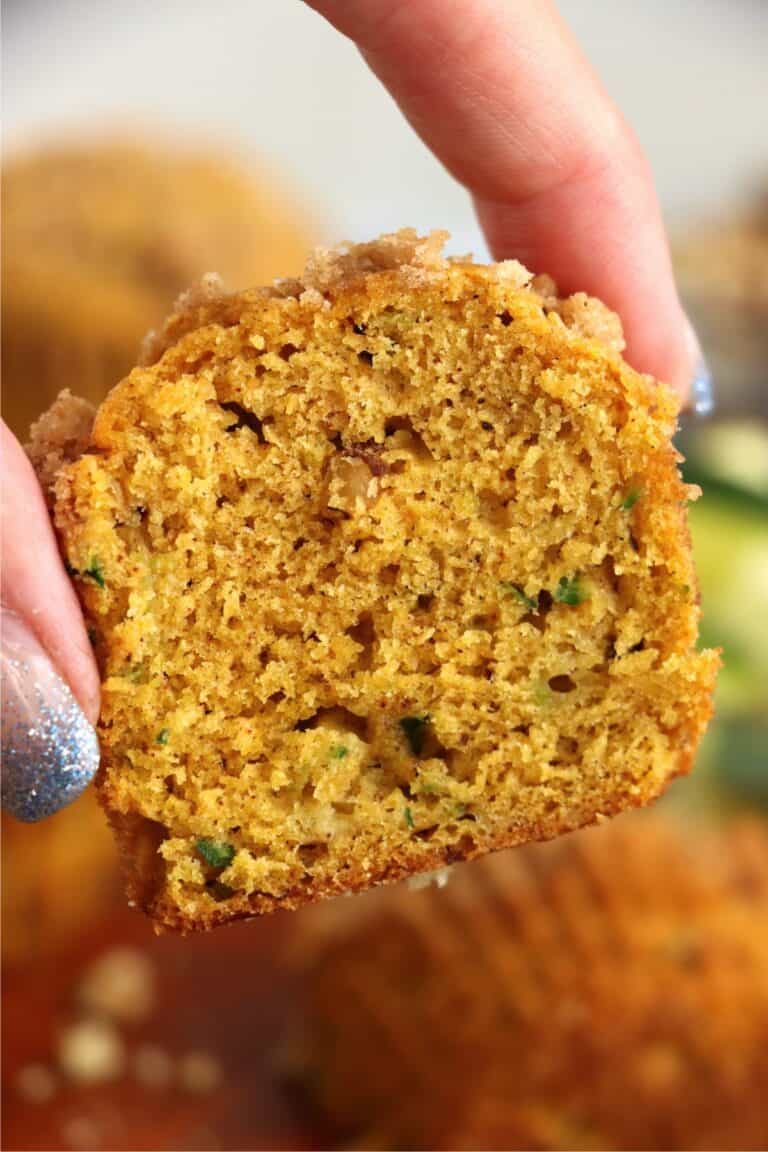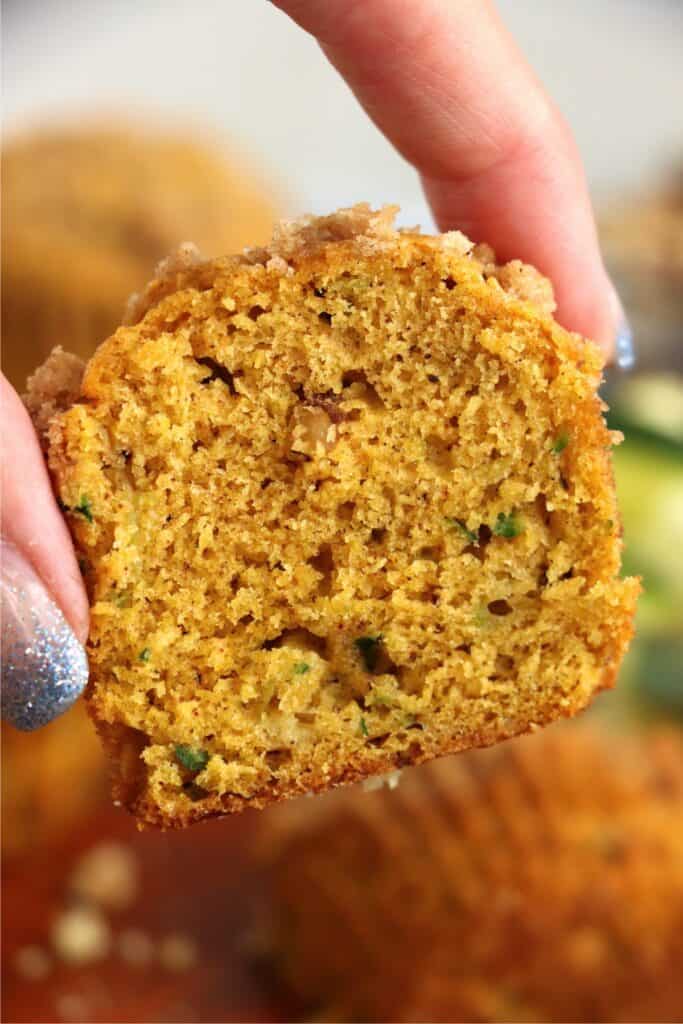 Ingredients
Along with pumpkin puree and grated zucchini, this recipe uses basic baking ingredients that you most likely have in your kitchen already. Heck, you might even have the zucchini and pumpkin already, too! Be sure to check the recipe card at the end of the post for exact quantities.
For the Muffins
Eggs
Pumpkin puree
Vegetable oil
Sugar
Flour
Baking soda
Ground cinnamon
Baking powder
Salt
Ground nutmeg
Grated zucchini
Chopped walnuts
For the Topping
Butter, melted
Brown sugar
Flour
Ground cinnamon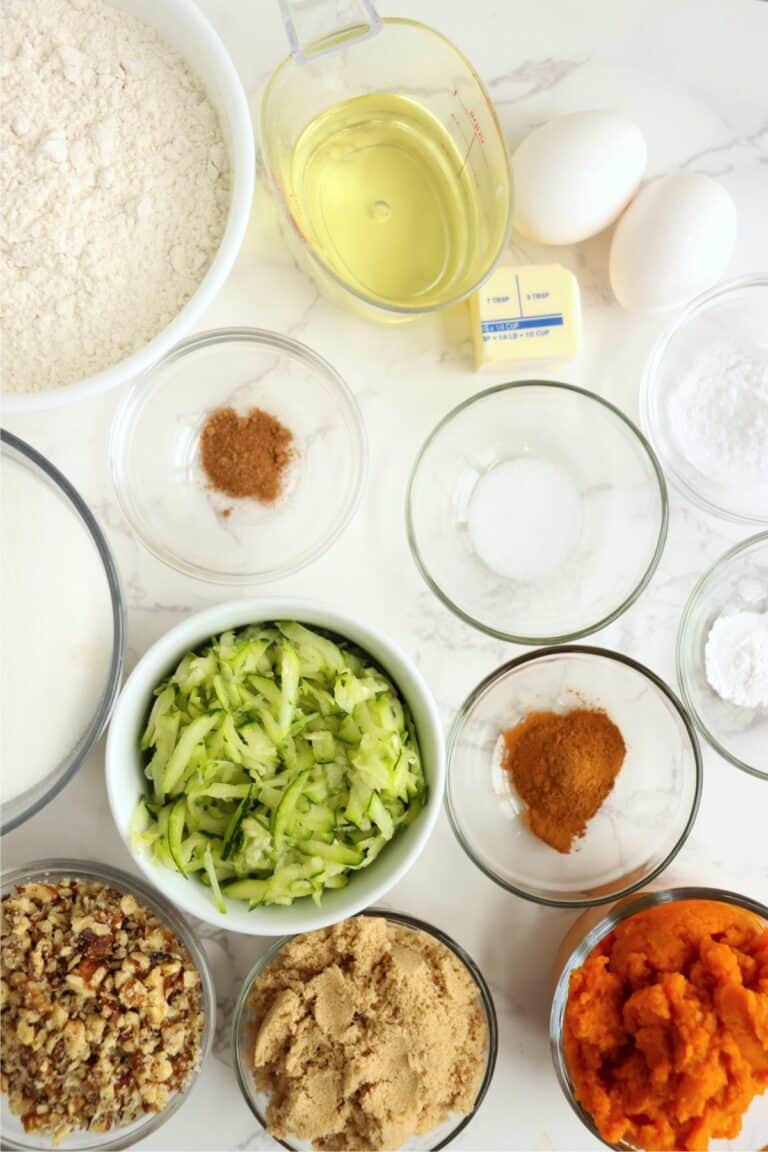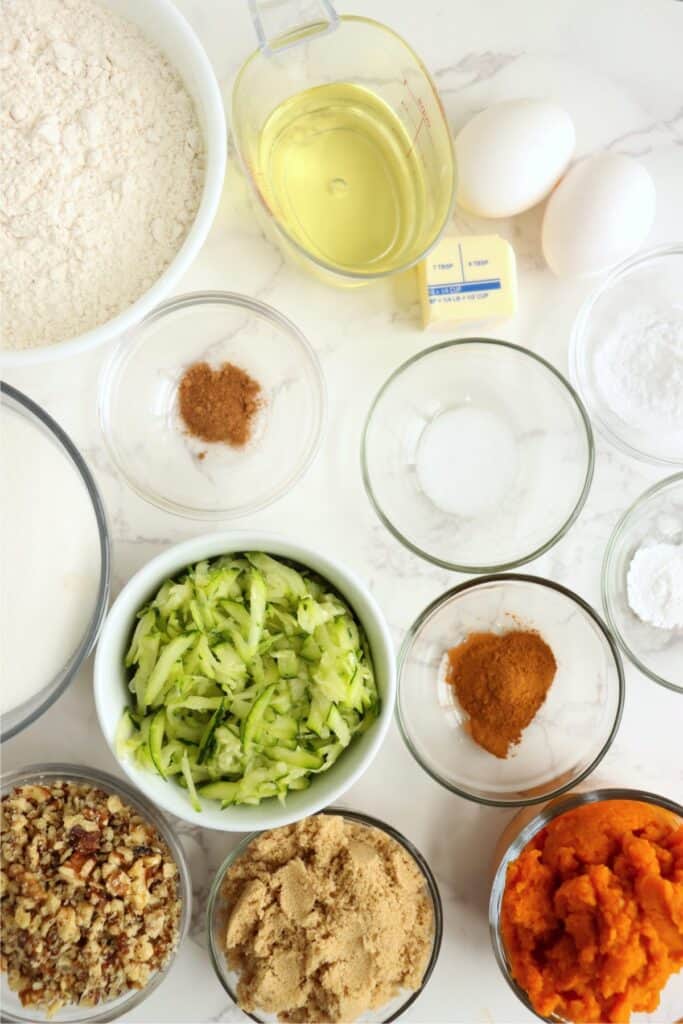 Instructions
Like any other muffin recipe, this easy recipe consists mainly of mixing and baking. You will have to grate the zucchini, of course, but that only takes a few minutes. The highlights are here, but you'll find the exact instructions in the recipe card at the end of the post.
1: Combine the dry ingredients.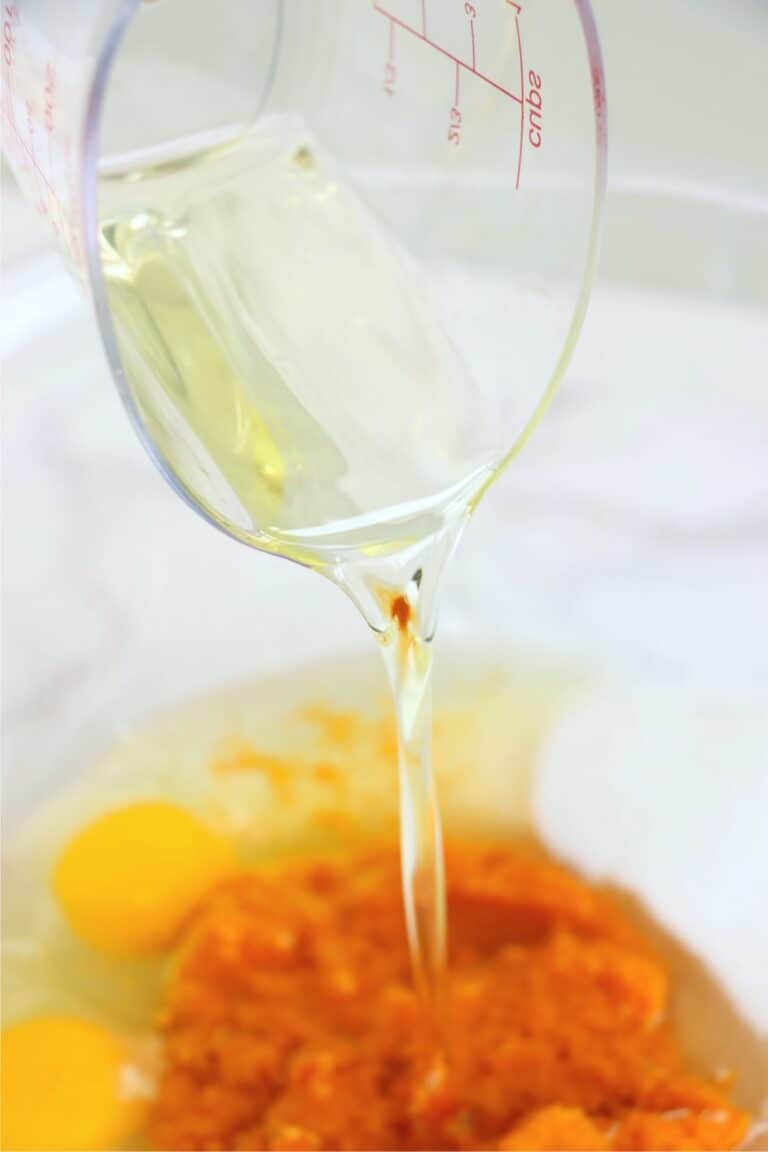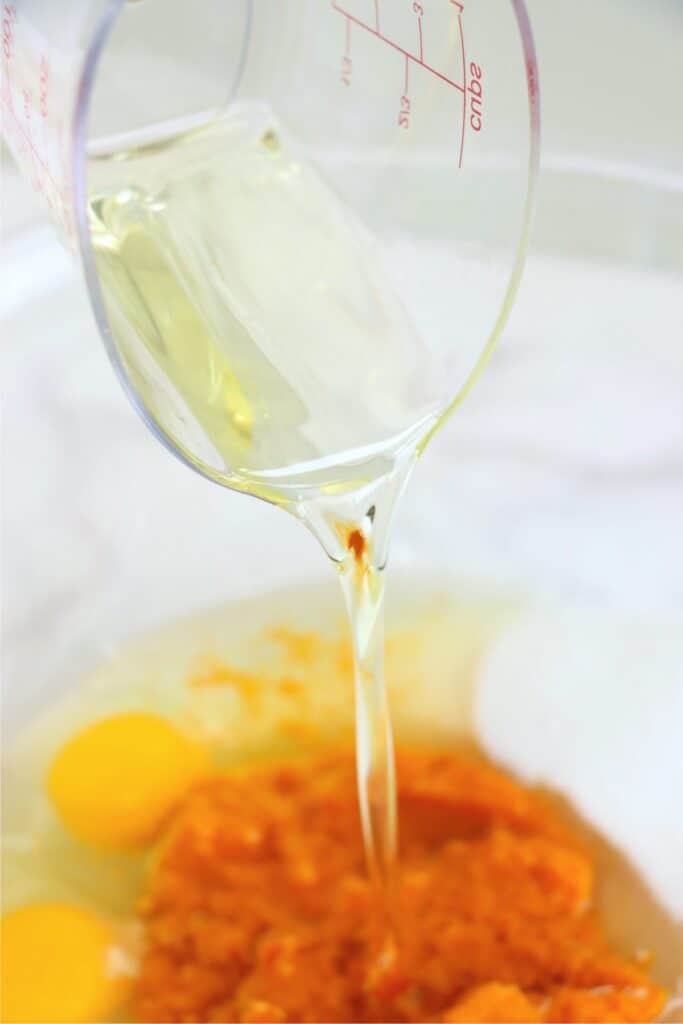 2: Mix in the dry ingredients.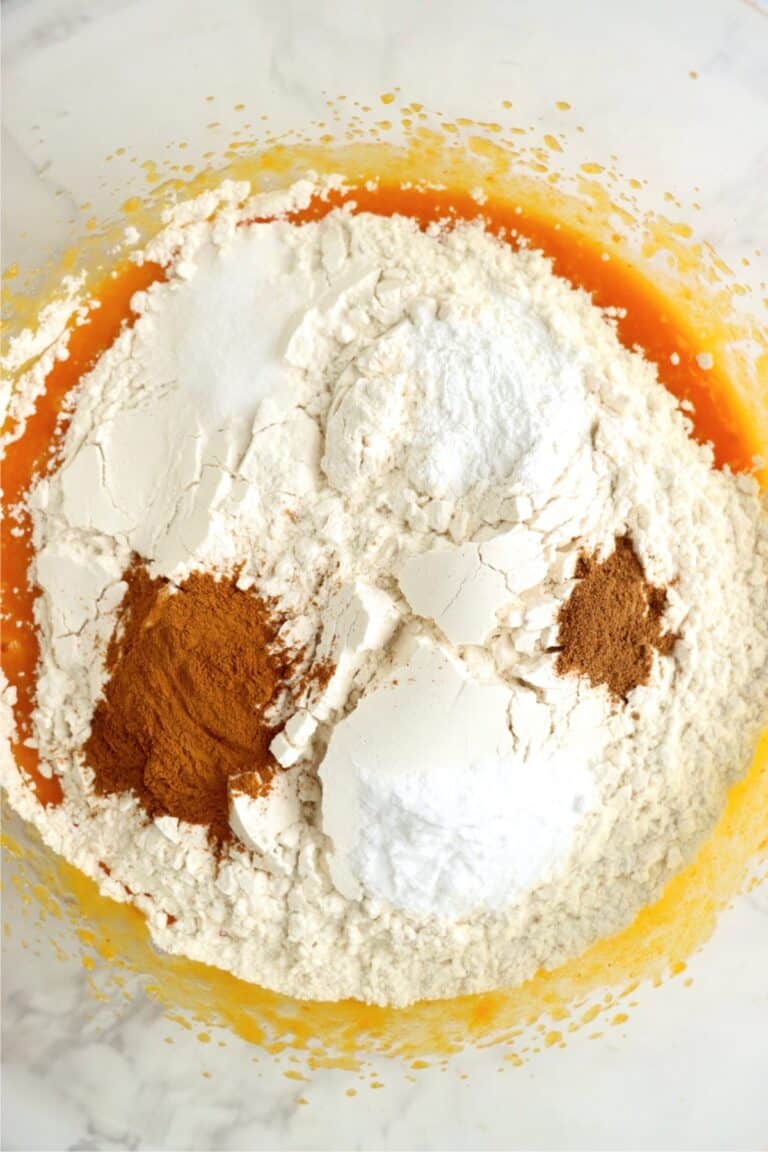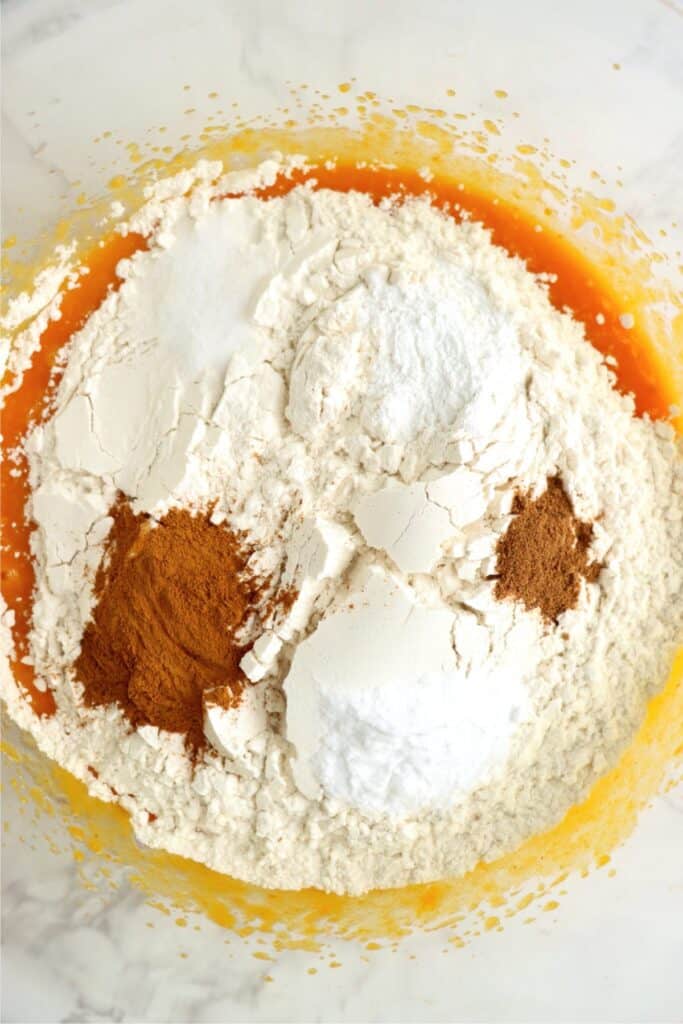 3. Mix in the zucchini and walnuts.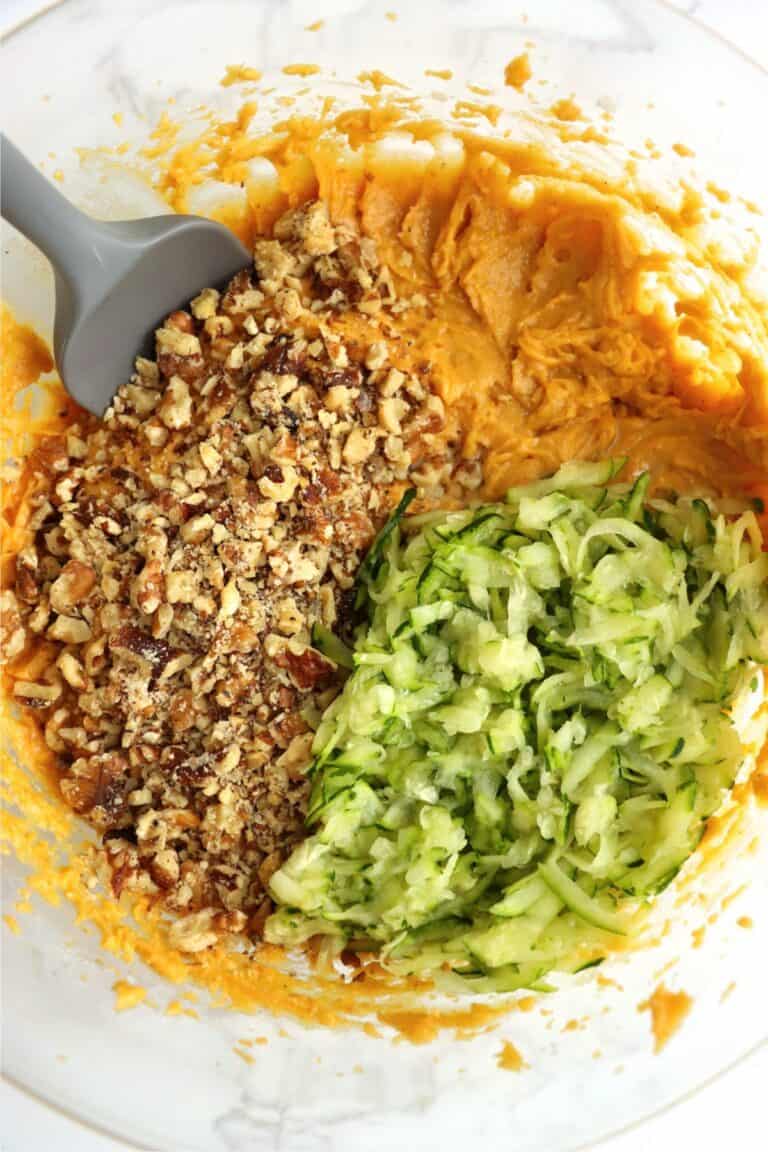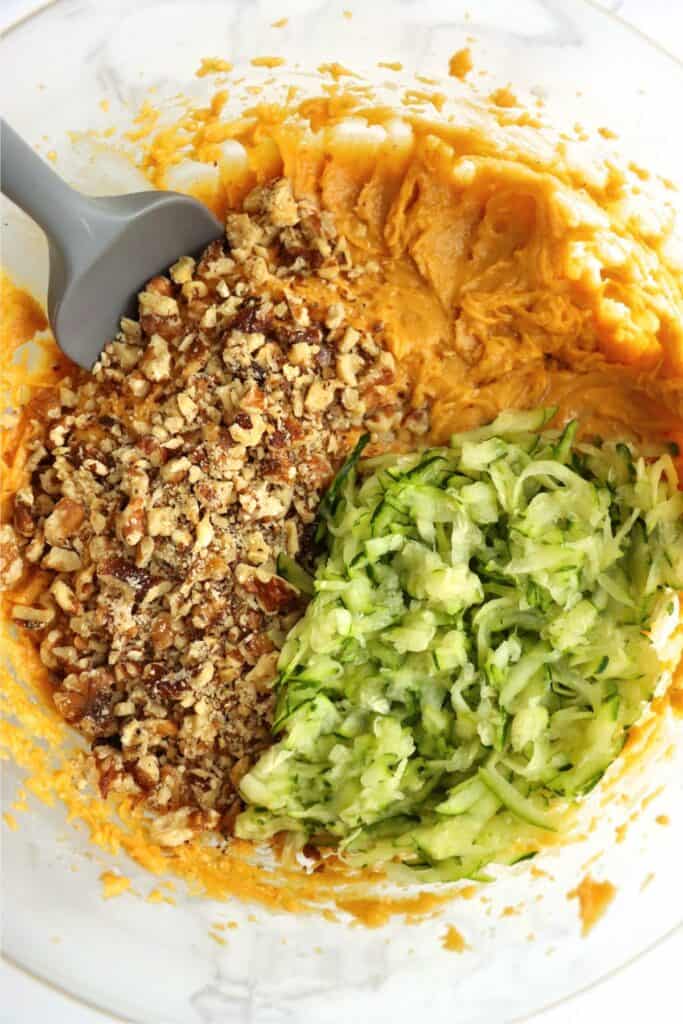 4. Add to muffin tin.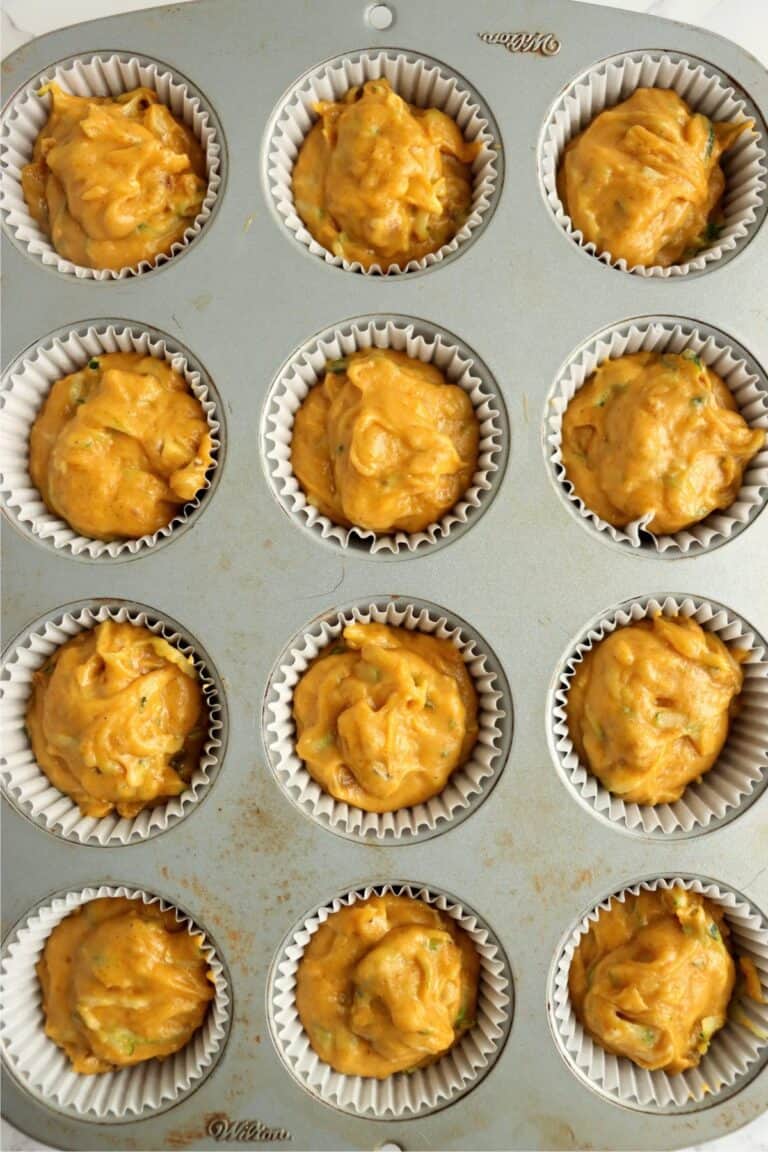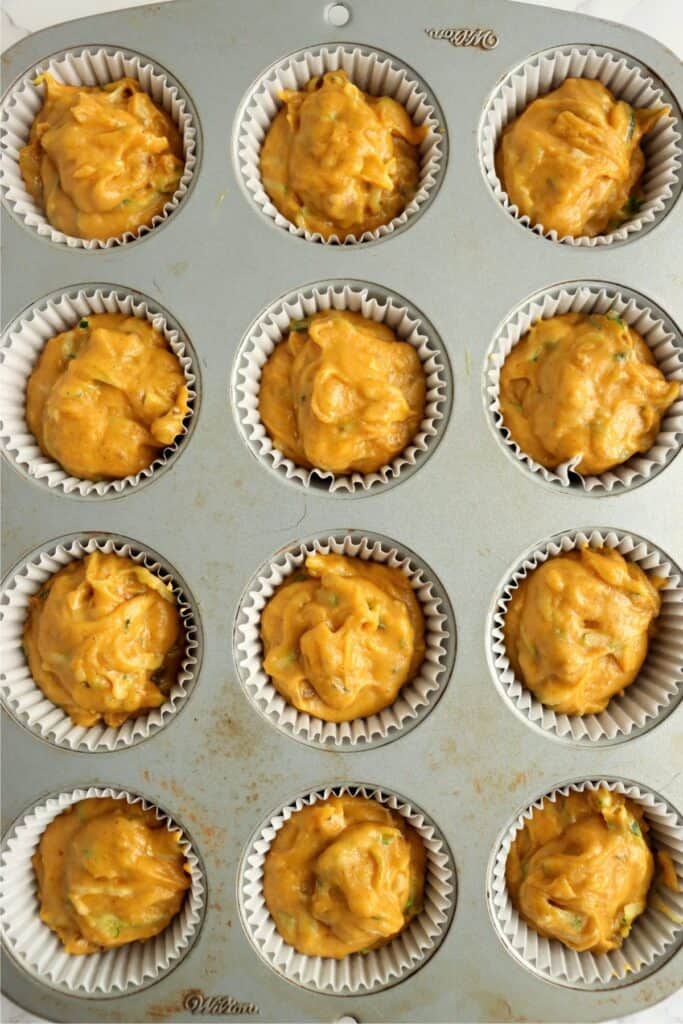 5: Combine all crumble ingredients.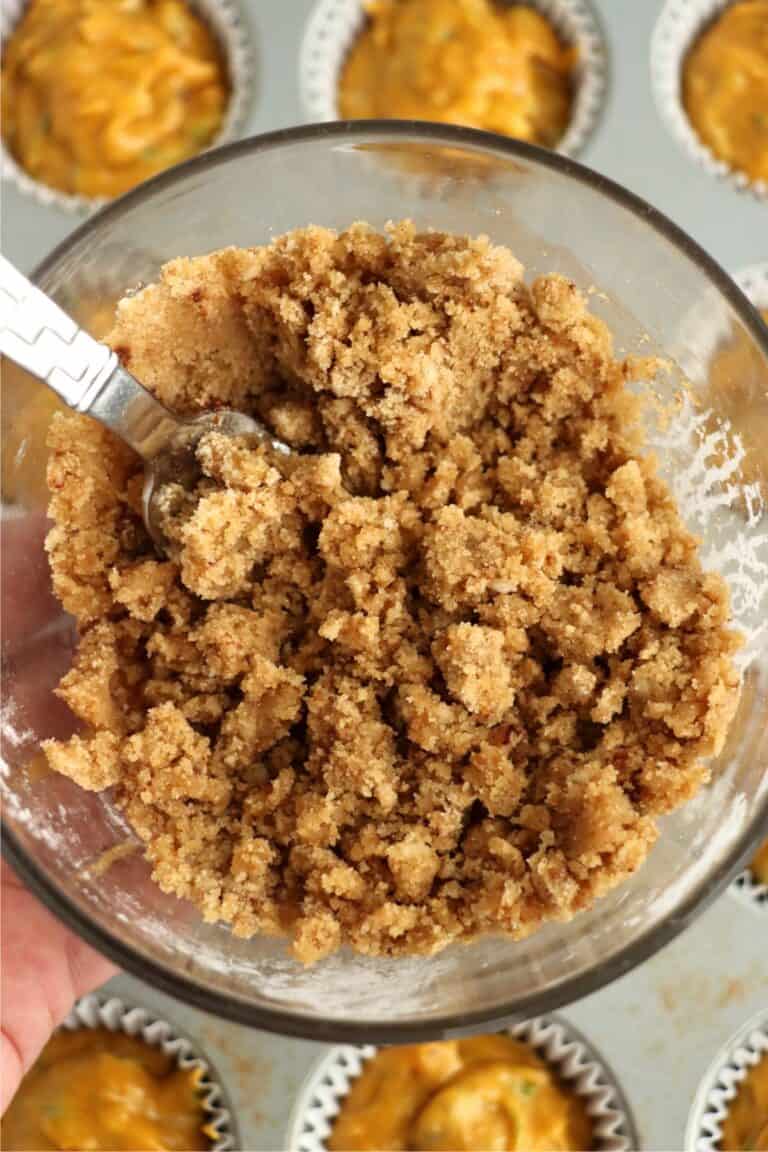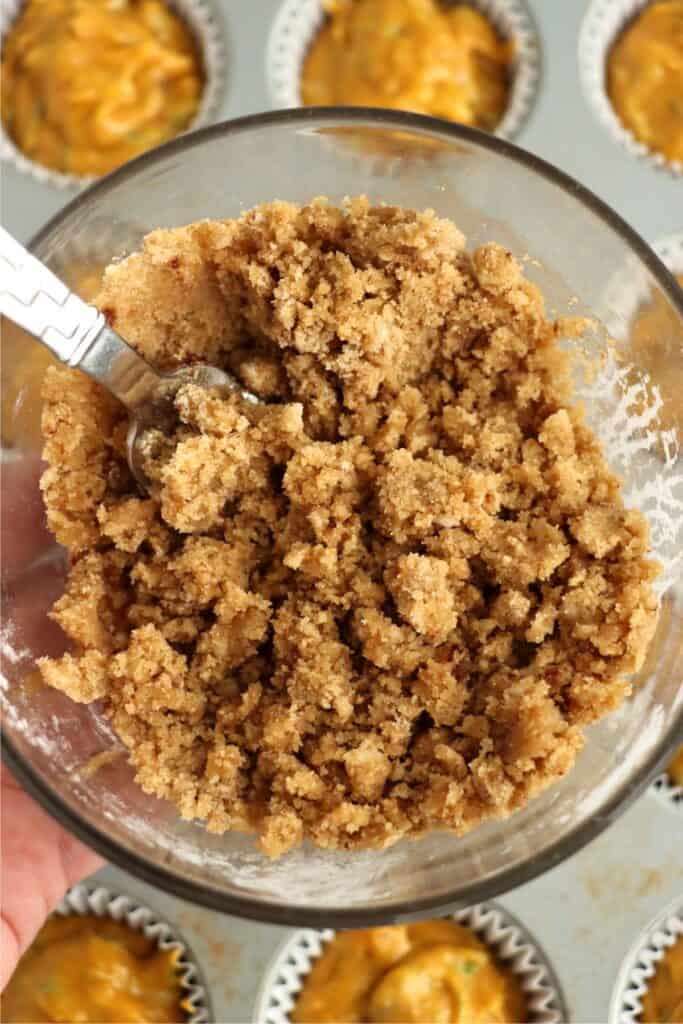 6: Top the muffins and bake.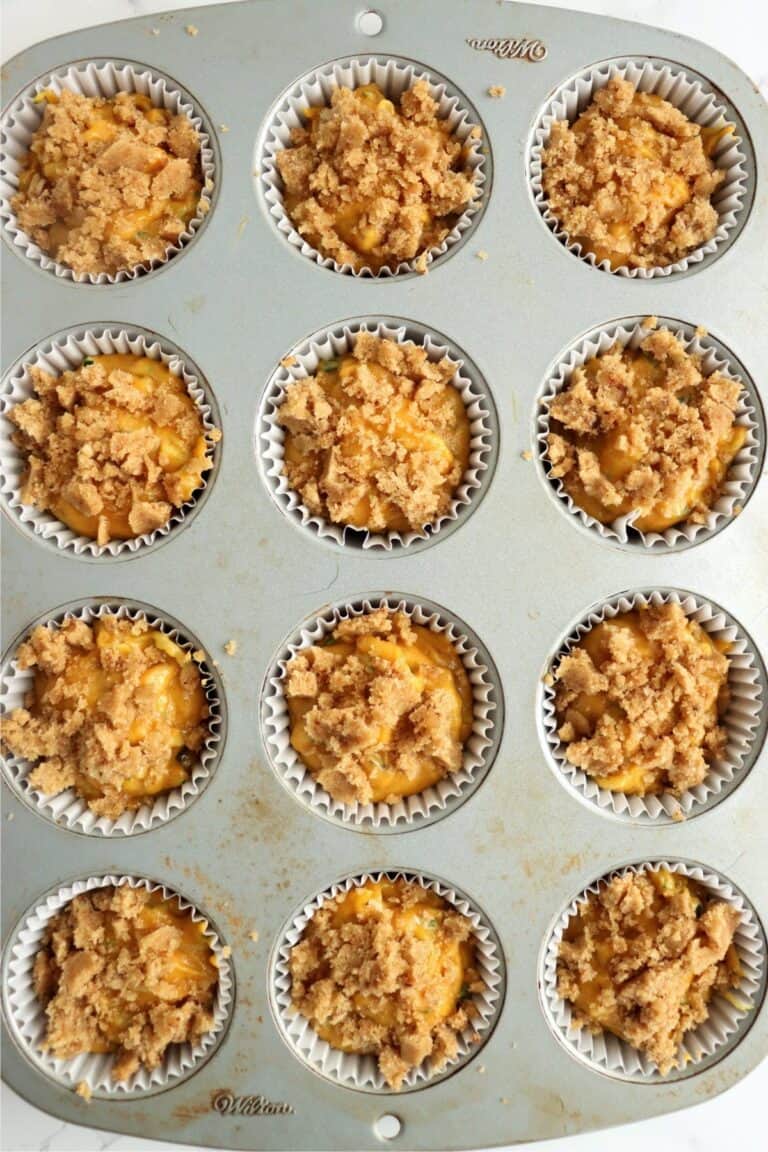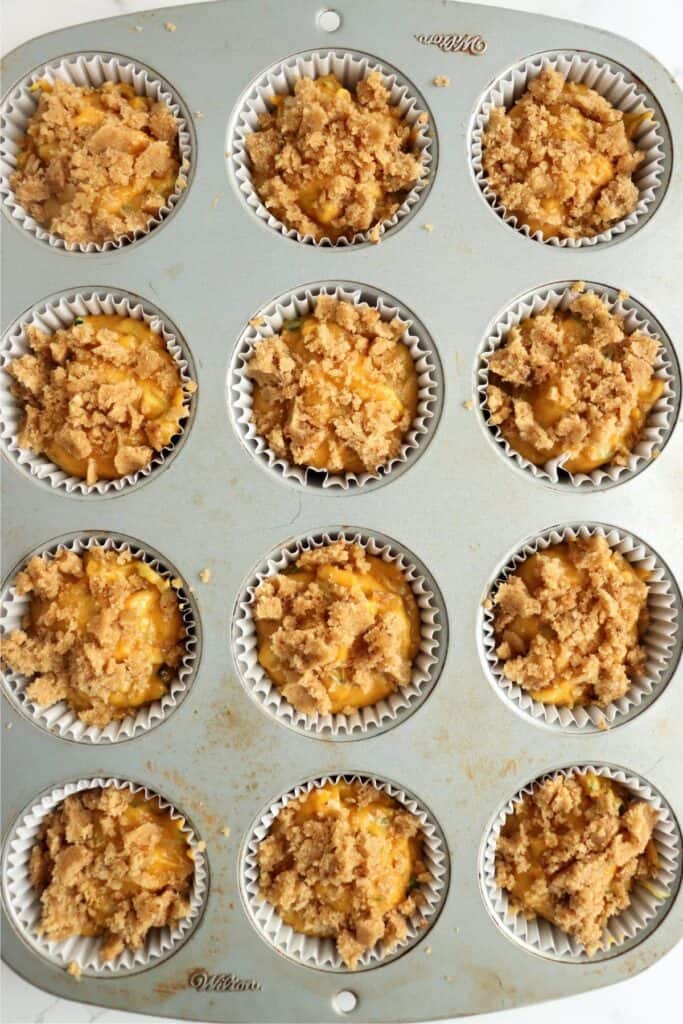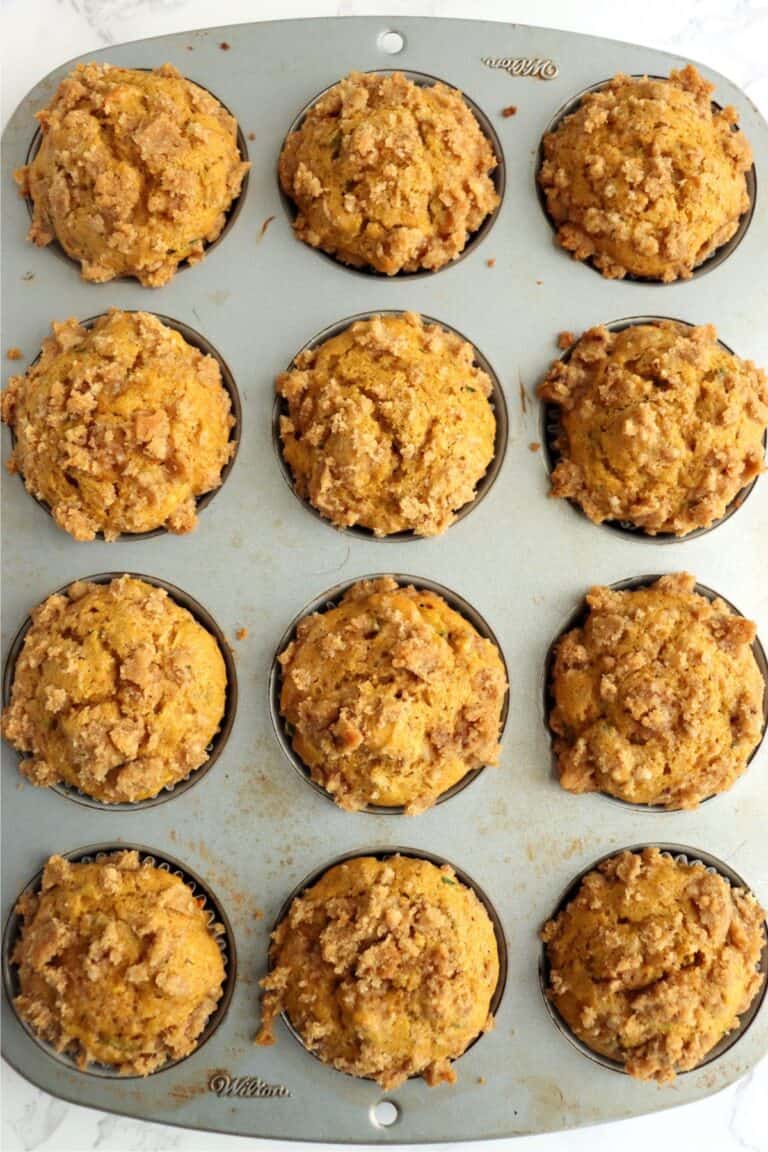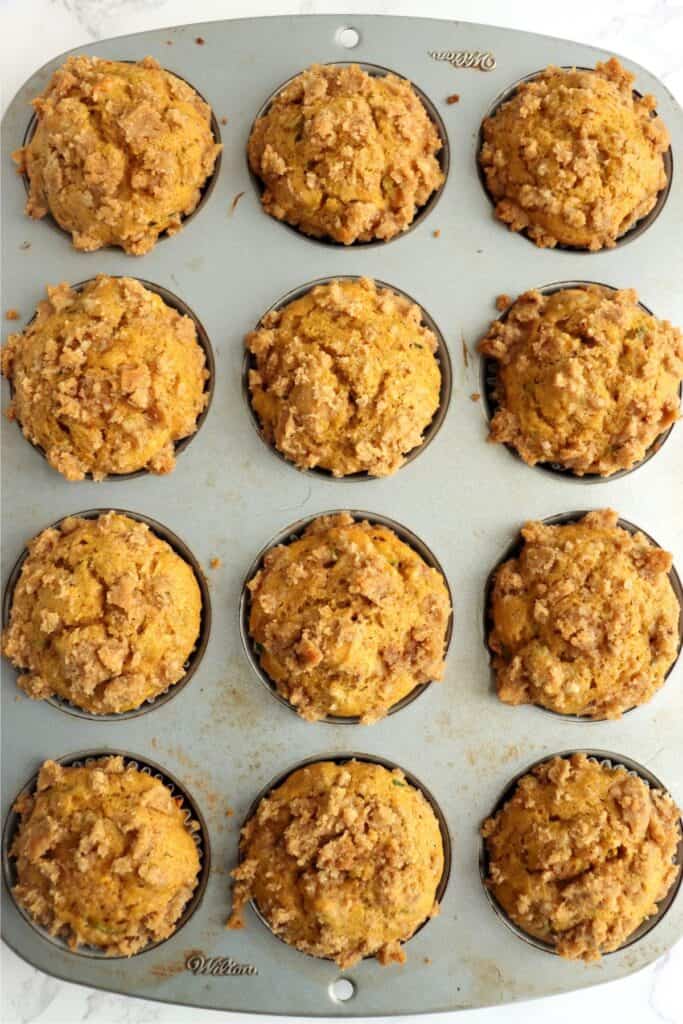 Substitutions and Variations
Pecans will work well in place of walnuts.
If you don't like nuts, simply leave them out.
Try adding cinnamon baking chips for an extra shot of cinnamon flavor.
Make pumpkin zucchini muffin quickbread by adding the batter to a loaf pan, topping with the crumble, and baking at 350 for 45 to 60 minutes.
Equipment
Food grater
Measuring cups and spoons
Mixing bowls
Spoon or spatula
Muffin tin
Paper muffin cups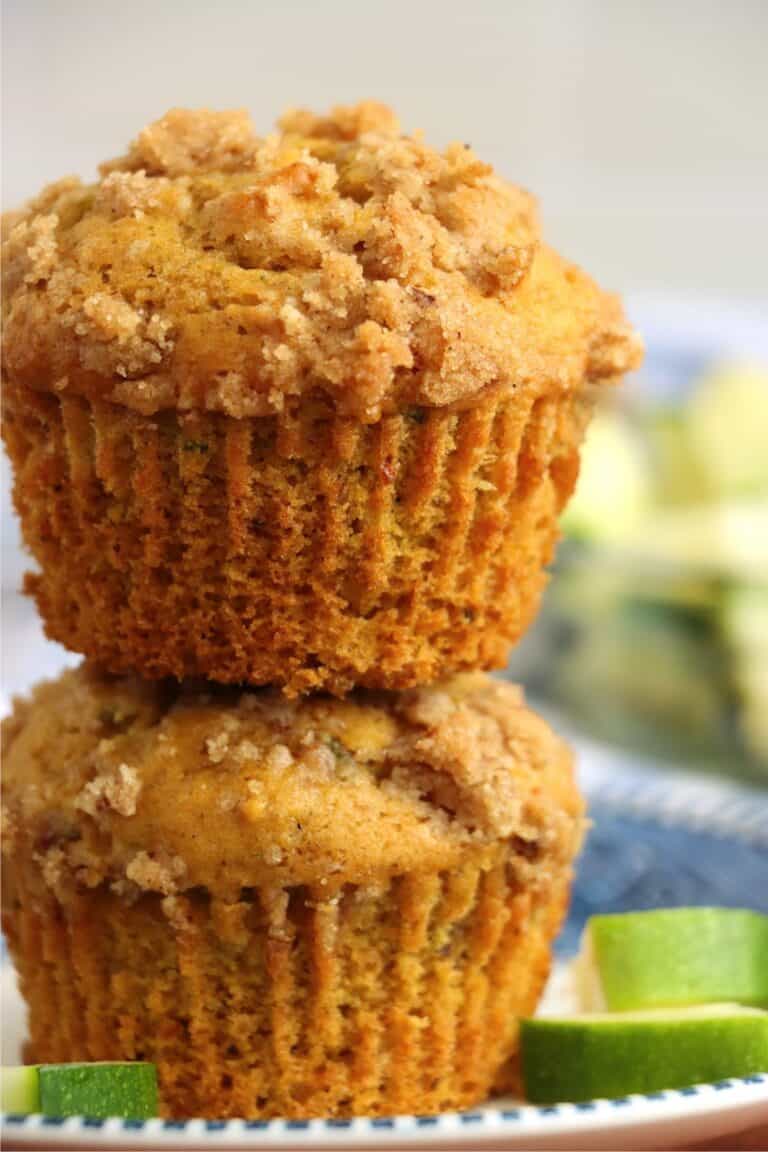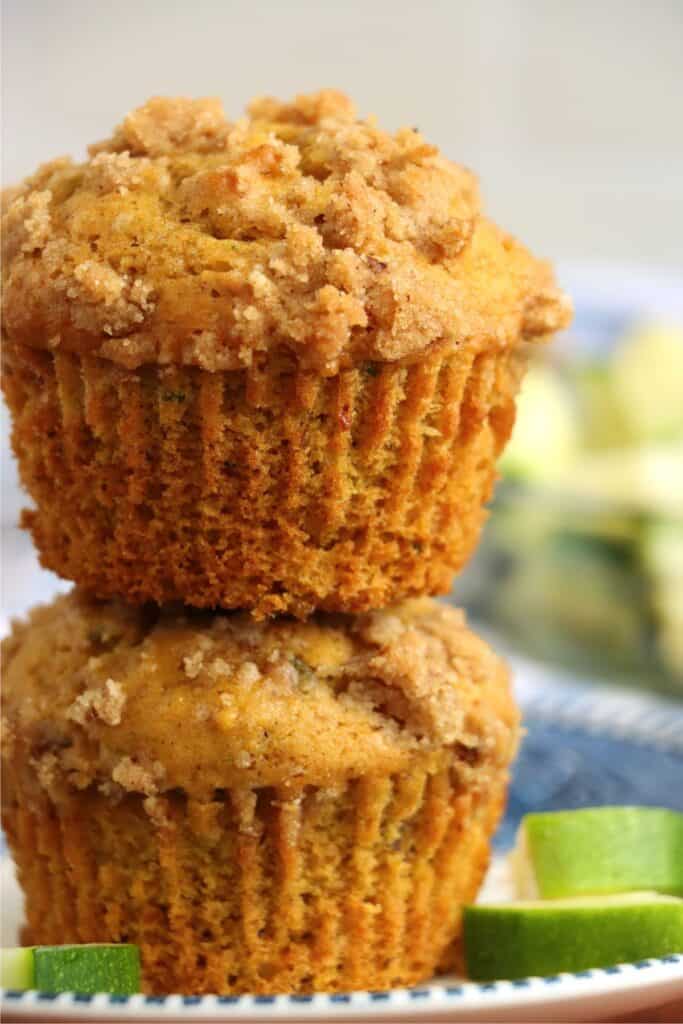 Storage
Room Temperature: Store for up to 2 days in an air-tight container.
Refrigerator: Store for up to 5 days in an air-tight container. Note that refrigerating the muffins will dry them out a bit.
Freezer: Store wrapped in plastic wrap in an air-tight, freezer-safe conatiner for up to 3 months.
Make Ahead: These muffins are just as good the next day!
What to Serve with Muffins
These muffins make a great breakfast or snack when served with a cup of coffee or tea or a glass of milk. You can also pair them with butter, honey butter, or cream cheese.
Tips:
Always use muffin liners. Spraying the tins with nonstick spray may not be effective if you miss a spot.
Mix this batter until thoroughly combined. Unlike other baked goods, you can't overmix this batter.
Use the smallest shredding option possible when shredding the zucchini for the best texture.
Be certain that you buy pumpkin puree, not pumpkin pie mix. They are routinely shelved next to one another.
Squeeze the excess moisture out of the shredded zucchini before mixing it into the batter.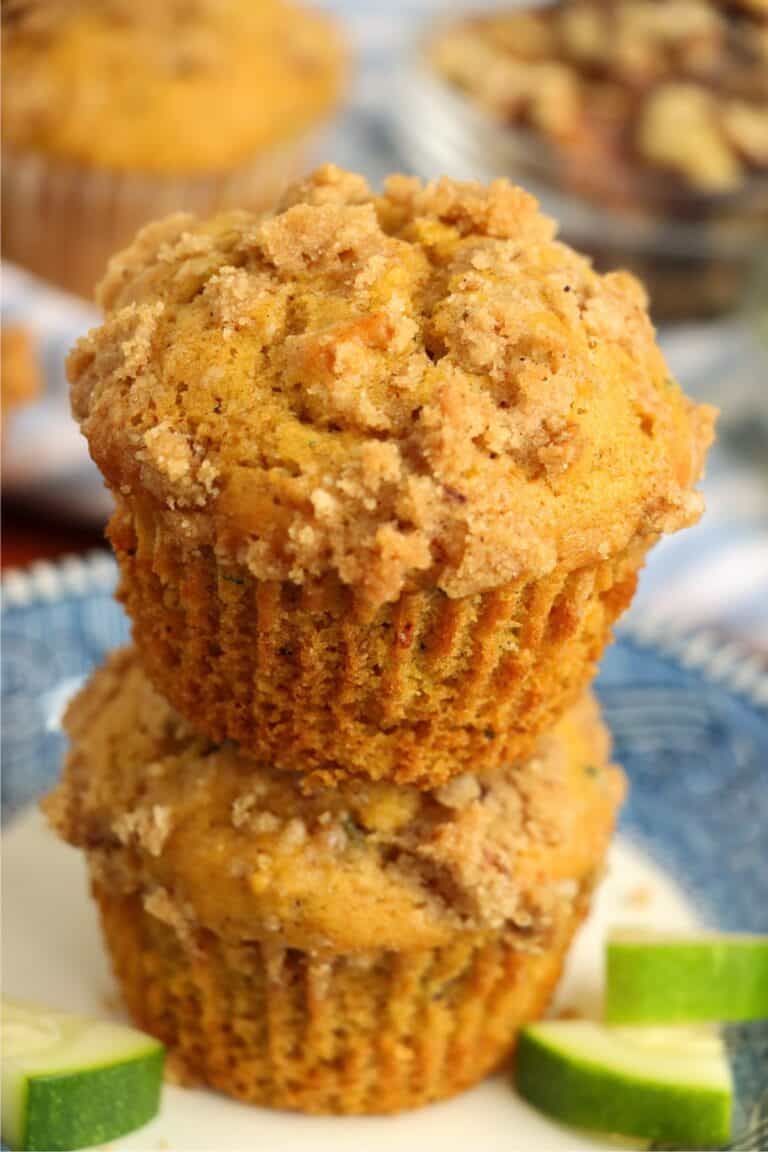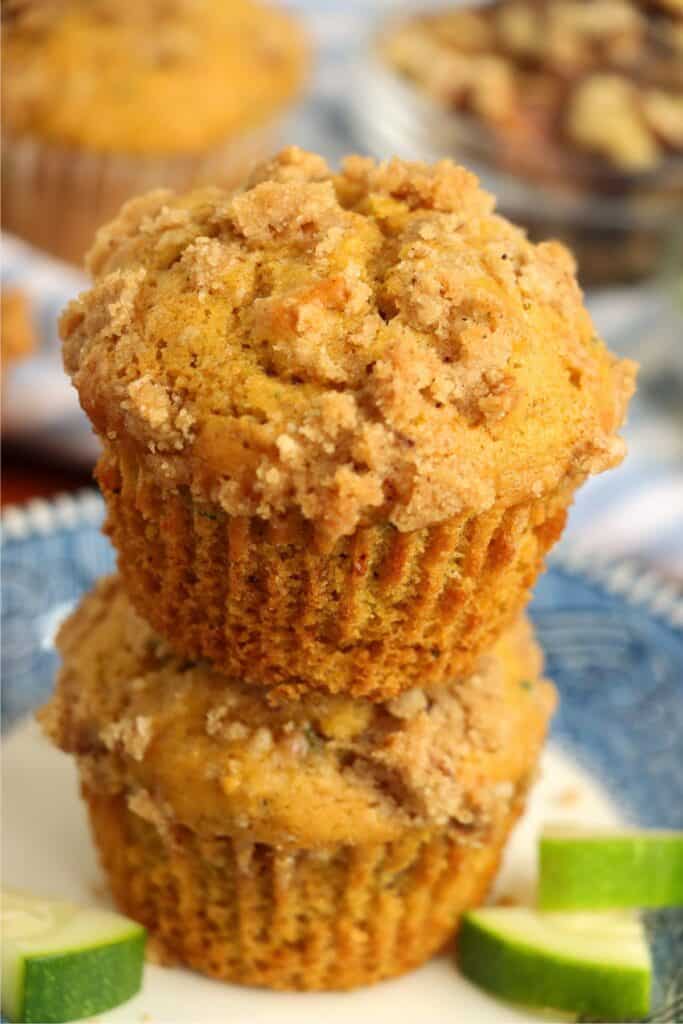 FAQ
Why is zucchini used in baking?
Grated zucchini adds extra moisture and bulk to baked goods, making them extra moist and full of body without being soggy or overly dense. The mild flavor also doesn't interfere with the other flavors in the baked goods.
Do you peel zucchini before grating?
There is no need to peel zucchini before grating it. As the zucchini shreds bake, the skin will get just as soft as the rest of the zucchini.
Why are my zucchini muffins soggy?
If you don't squeeze as much moisture as possible out of the grated zucchini, it will make your muffins or bread soggy.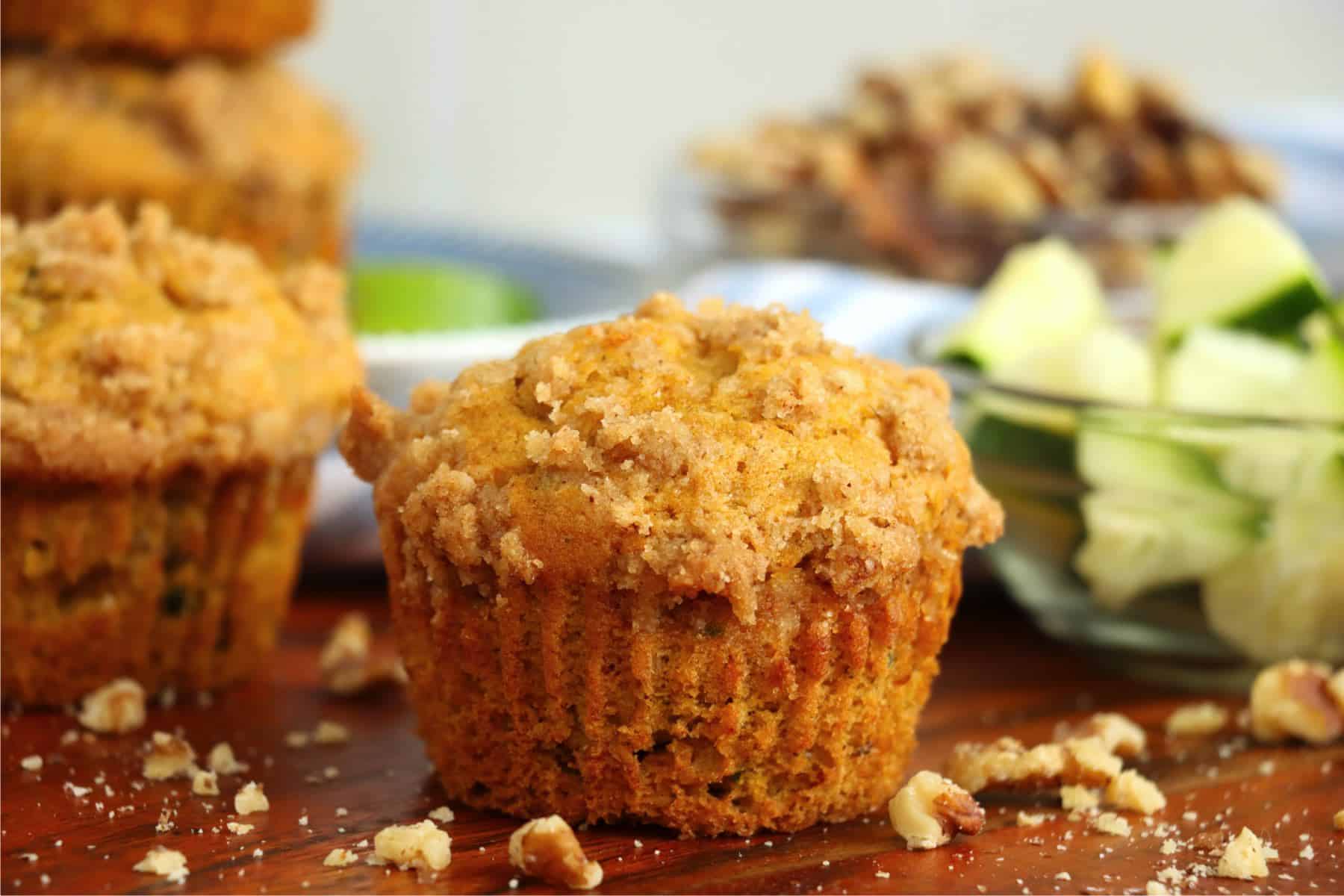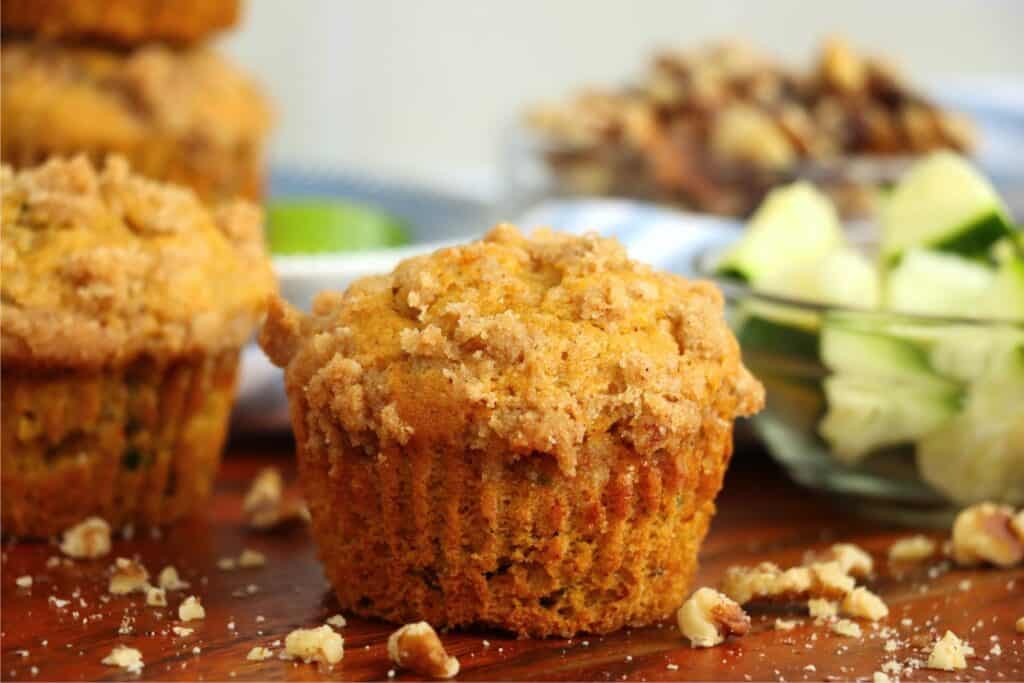 Look for more zucchini recipes?
Yield: 15 muffins
Pumpkin Zucchini Muffins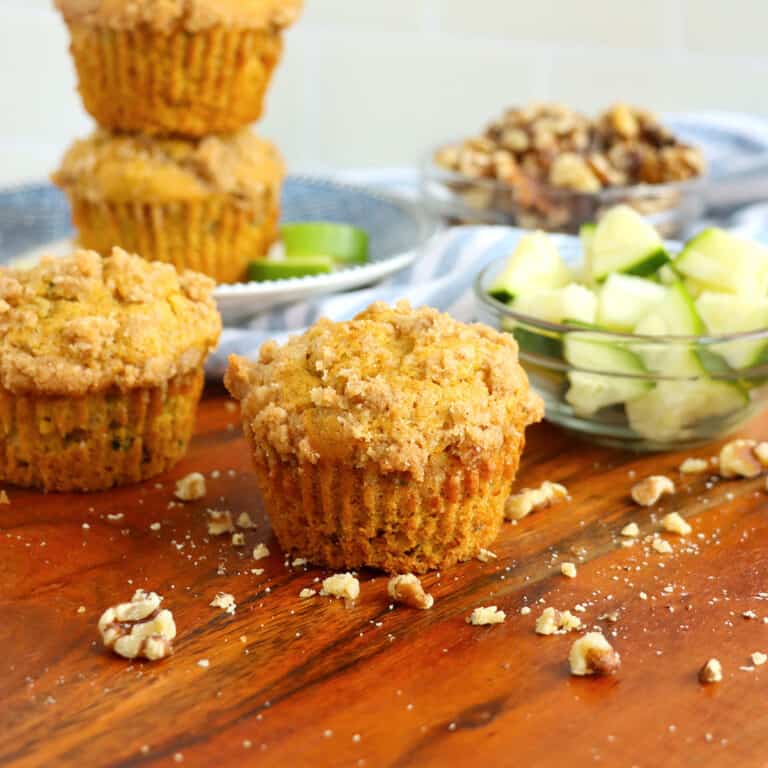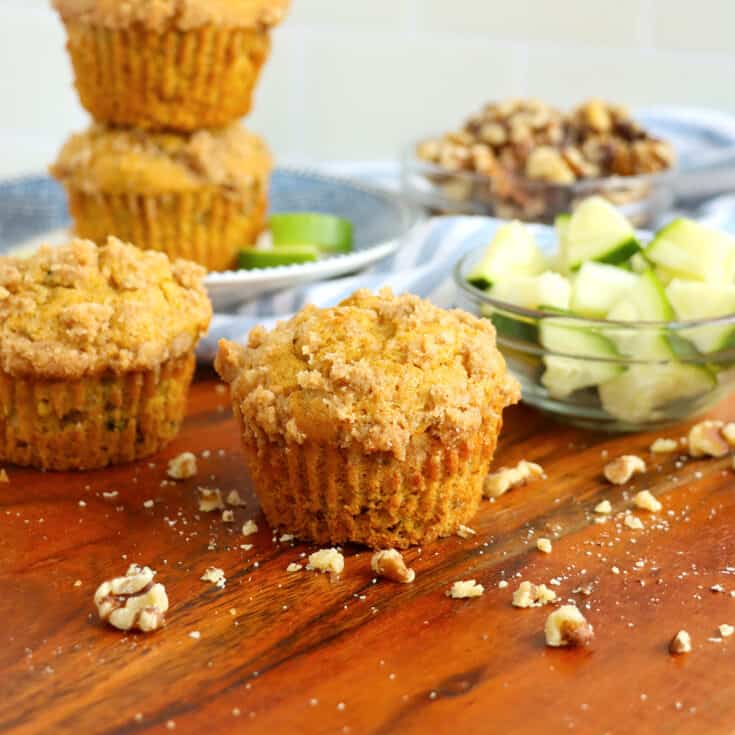 Pumpkin zucchini muffins combine the moist, tender texture of zucchini muffins and the delicious flavor of pumpkin.
Ingredients
Muffin Ingredients:
2 eggs
1 cup pumpkin puree
½ cup vegetable oil
1 ½ cups sugar
2 ½ cups flour
1 tsp baking soda
1 tsp ground cinnamon
½ tsp baking powder
½ tsp salt
¼ tsp ground nutmeg
1 cup grated zucchini
½ cup chopped walnuts
Topping Ingredients:
2 tbsp butter, melted
½ cup brown sugar
¼ cup flour
½ tsp ground cinnamon
Instructions
Preheat oven to 350ºF.
In a large mixing bowl, beat eggs, pumpkin puree, vegetable oil, and sugar together until smooth.
Add flour, baking soda, cinnamon, baking powder, salt, and nutmeg. Beat again until well-combined.
Add grated zucchini and walnuts. Stir until incorporated.
Scoop batter into greased muffin pans or into muffin pans that have paper liners. Fill about ⅔ full.
In a small mixing bowl, combine butter, brown sugar, flour, and cinnamon with a fork.
Sprinkle topping over batter.
Bake for 20 minutes or until a toothpick comes out clean.
Nutrition Information
Yield
15
Serving Size
1
Amount Per Serving
Calories

334
Total Fat

14g
Saturated Fat

2g
Trans Fat

0g
Unsaturated Fat

11g
Cholesterol

31mg
Sodium

228mg
Carbohydrates

50g
Fiber

2g
Sugar

29g
Protein

5g
Get Inspired!
Never miss my delicious recipes, cute creations, or household tips!