This Raspberry Poke Cake is a decadent dessert that will definitely impress your guests. The best part is that you only have to pick up a white cake mix, jello, and whipped topping. It is a great choice if you are looking for something simple to make that is moist, delicious, and filled with amazing flavor!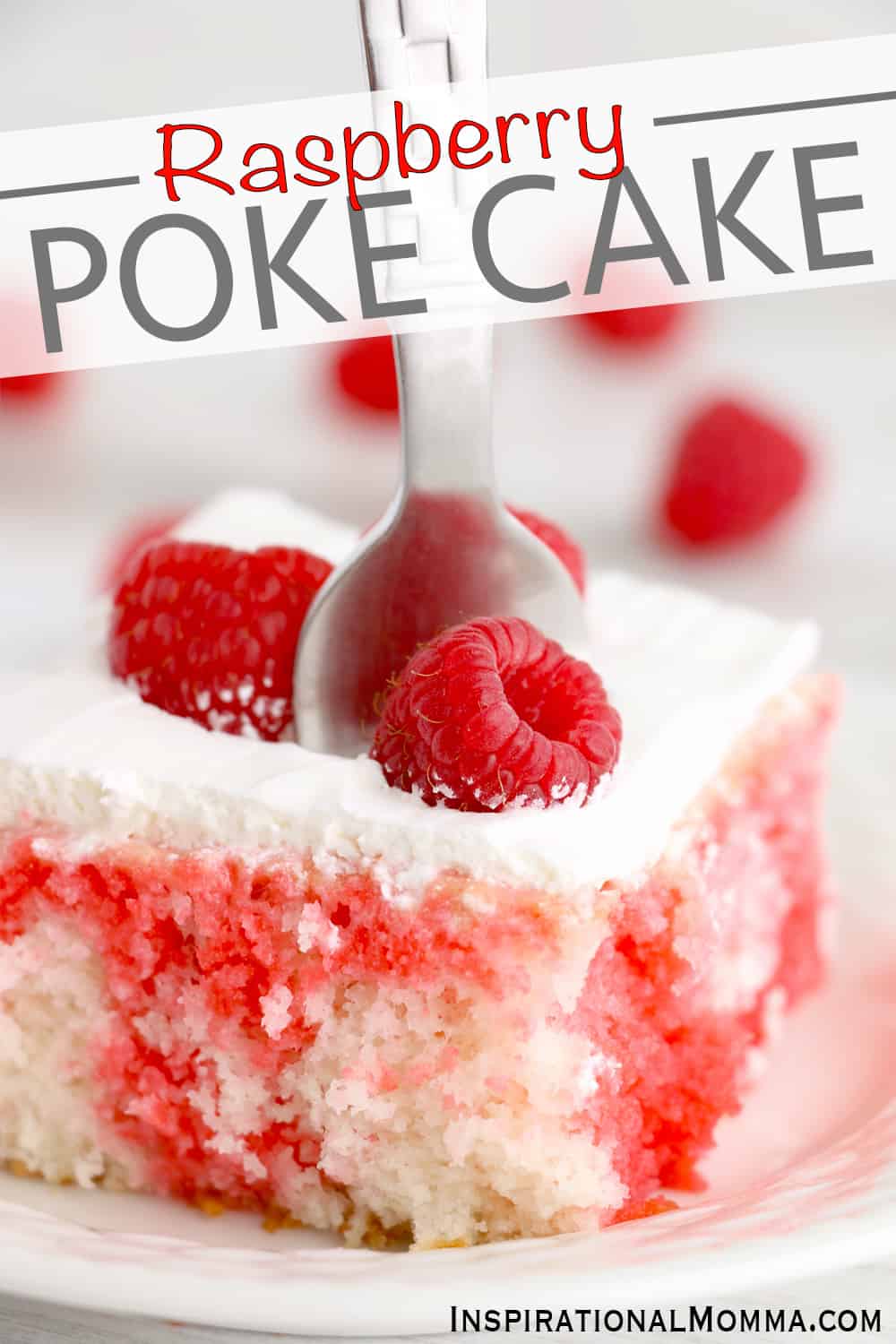 Flavored Jello Cake
Talk about cake perfection! This Raspberry Poke Cake is simply sensational. Made with only 5 ingredients, it comes together quickly and is always the talk of the party. It will quickly become one of your favorites. Looking for another party pleaser? Be sure to check out my Strawberry Angel Food Dessert!
We all have those go-to recipes that never fail and are always sure to satisfy. One that I can never go wrong with is a jello poke cake. When the jello is allowed to soak into an already amazing cake, great things happen. The flavor is taken to the next level and the cake becomes so moist it basically melts in your mouth.
One of my favorite parts about this raspberry jello cake is that the possibilities are endless. Just think of the sheer variety of jello flavors at the grocery store. Each one will create a unique look and taste when used in this easy recipe.
Stuck for ideas? My Patriotic Jello Poke Cake is a perfect way to show your American pride at your next 4th of July party. Or grab a box of lime jello and get ready to celebrate St. Patrick's Day in a sweet way! And your Halloween party will be sure to leave an impression when you use orange jello in your next flavored jello cake.
With this particular recipe, sweet raspberry flavor from the jello mixture is drizzled throughout your cake before topping it off with whipped topping and fresh raspberries. It is truly a delicious dessert for any special occasion or just because. Check out my simple raspberry poke cake recipe below. And if you are feeling adventurous, mix it up with a different jello flavor to create something fun and fantastic.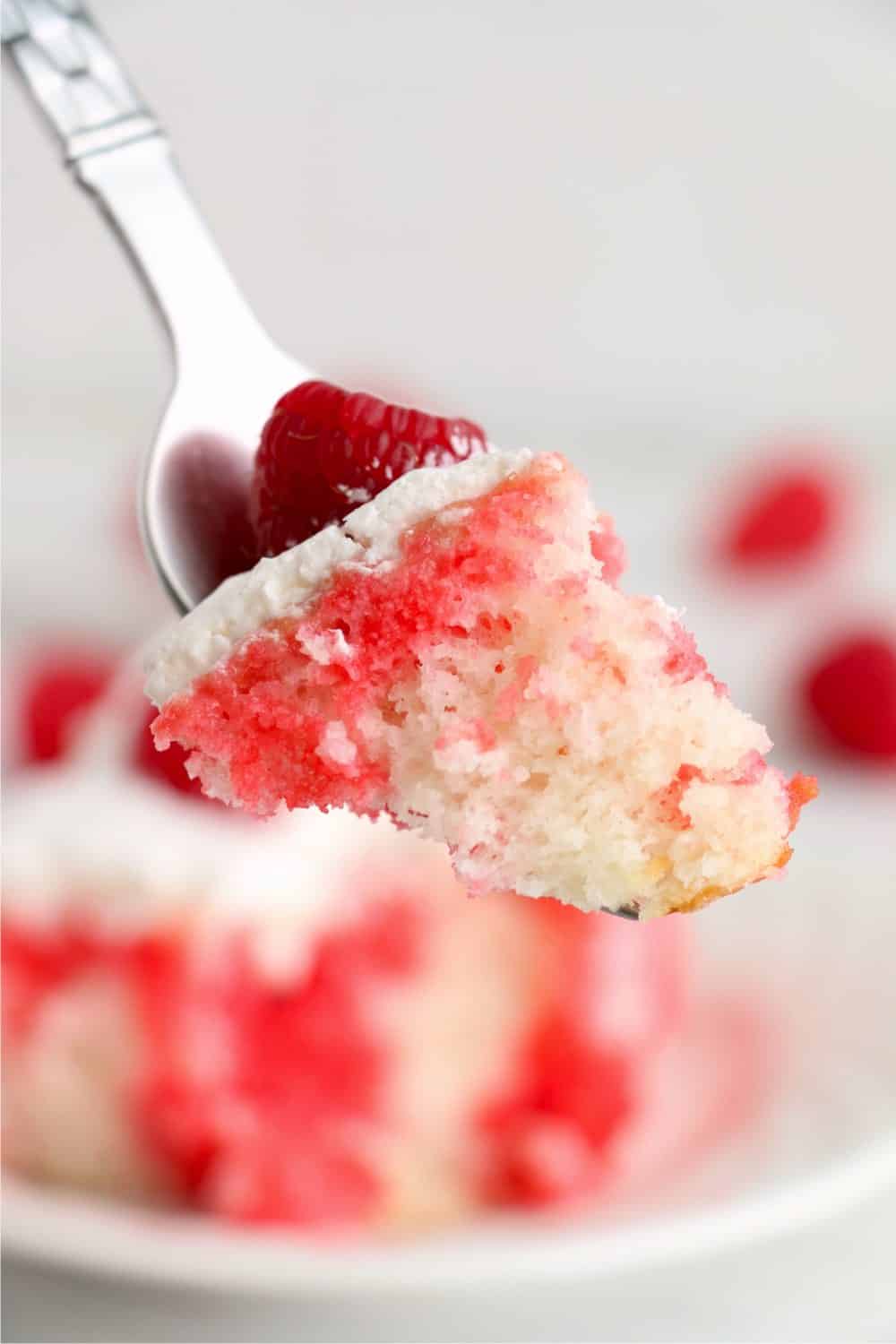 Ingredients for Jello Poke Cake
white cake mix
raspberry jello
water
whipped topping
raspberries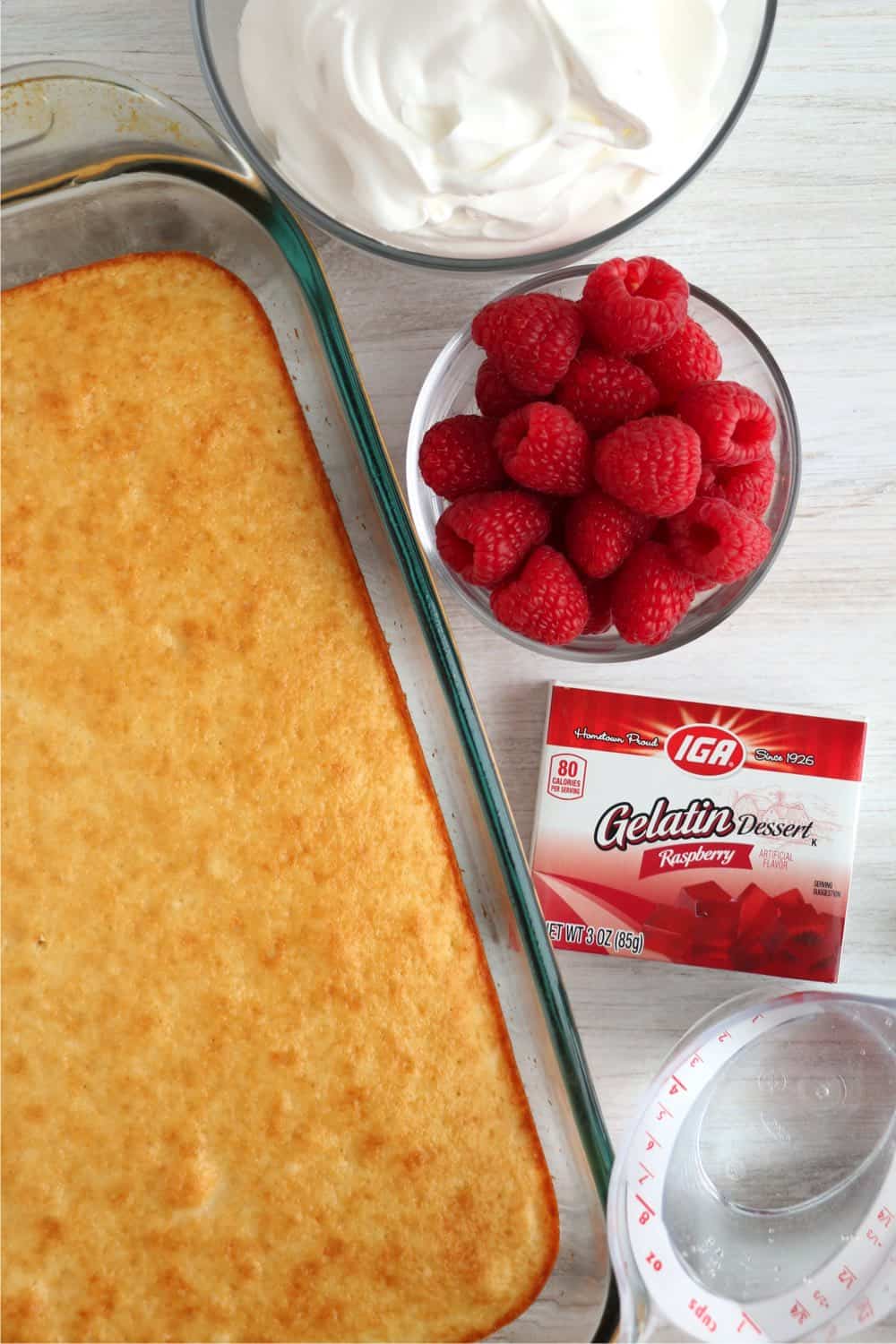 How to Make Raspberry Poke Cake
To get things started, you need to prepare your white cake according to the box directions. The great thing about this recipe is that it doesn't matter which brand you choose. As long as you follow the directions on the cake mix box, the final product will turn out to be delicious.
After baking, allow your cake to cool for about 10 minutes. Then using the end of a wooden spoon, poke holes all over the cake. Set it aside as you get your jello ready.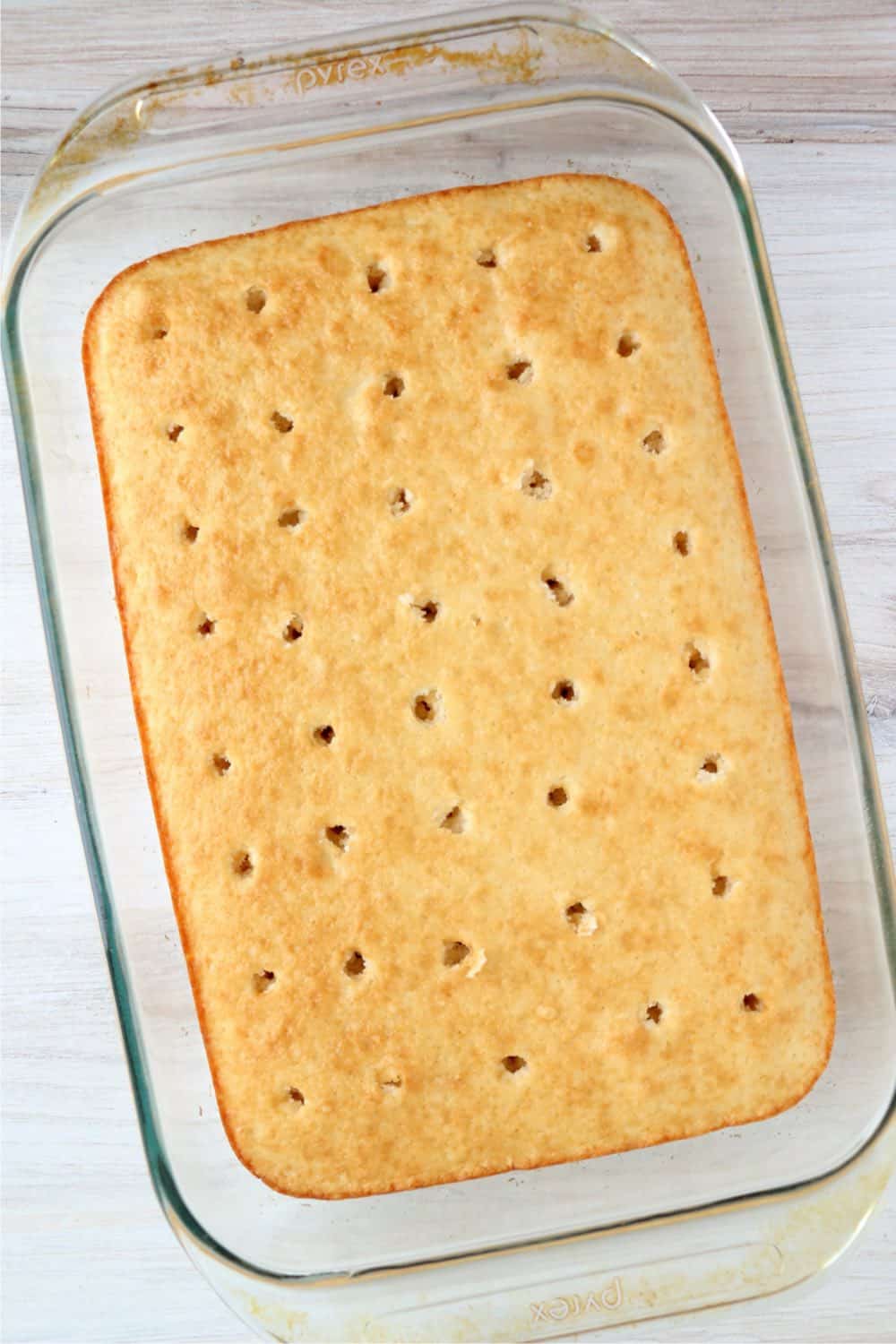 Our next step is to prepare the jello. In a small pot, bring one cup of water to a boil. Remove the pot from the heat and quickly stir in the jello powder. Stir until it is completely dissolved. While the mixture is still hot, pour it over the cake, being sure to get it into all of the holes that you have poked.
This is where the magic happens. The sweet jello seeps perfectly into the cake to create a moist, flavorful dessert that will steal your heart!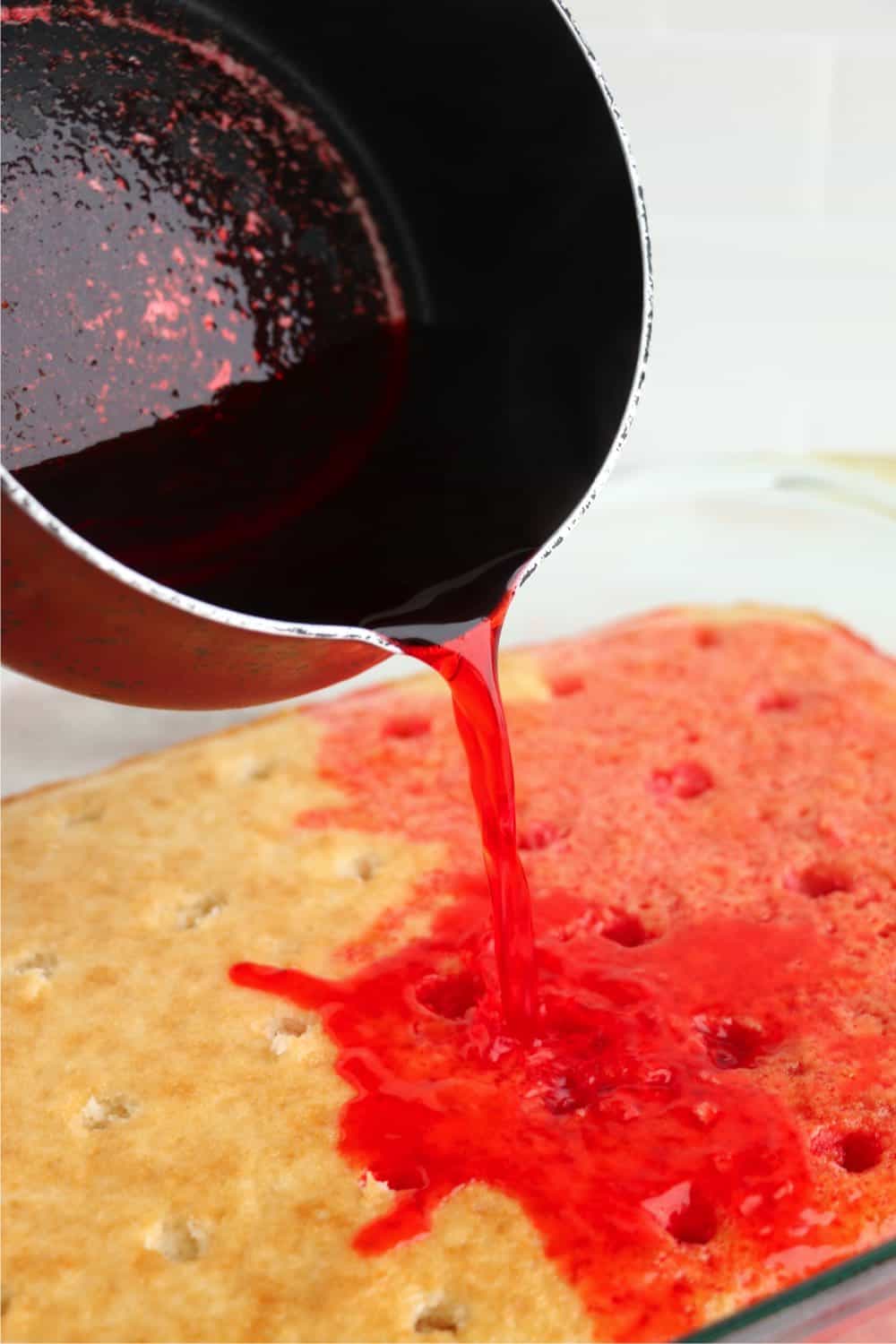 Before frosting the cake, you have to be sure it is completely cool. If you skip this step and try to frost the cake when it is warm, the whipped topping will dissolve and literally disappear. To be sure this does not happen, put your cake in the refrigerator for about 30 minutes once you've poured the jello overtop. When it is cooled, you can frost it with whipped topping and finish things off with fresh raspberries.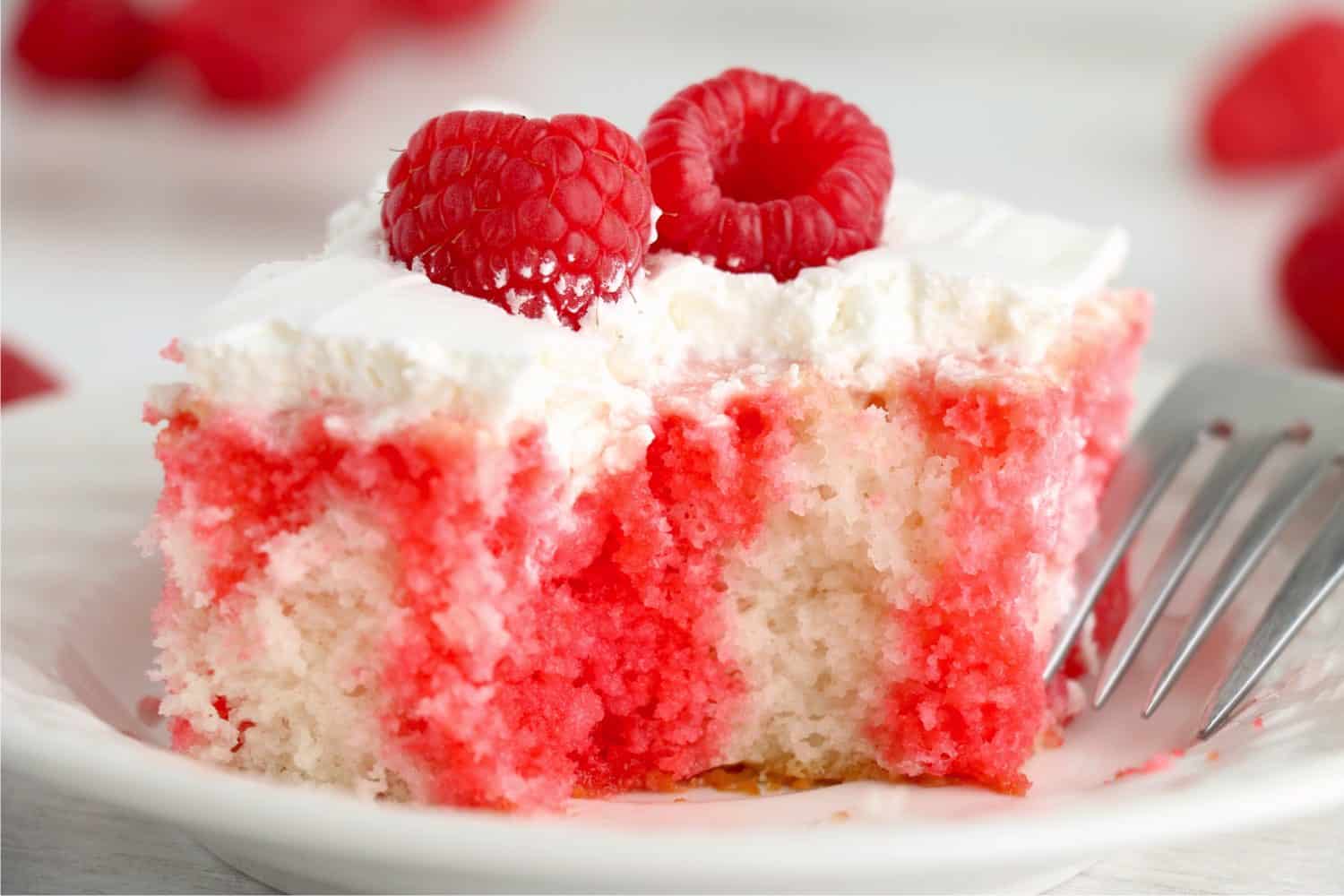 Storing Leftover Cake
Your frosted and decorated jello poke cake will be ready to eat right away, and you can store any leftovers in an airtight container for up to two days in the refrigerator. If you need to store your cake for longer, you can freeze your jello poke cake without affecting the flavor. Just make sure to wrap it tightly with plastic wrap before freezing.
How to Poke Holes in Cake
The big idea behind poking holes in your cake is so you can get that delicious jello mixture into every bite. The holes ensure the liquid seeps into the cake, but you may be wondering how many holes you need in a poke cake, and how far apart the poked holes should be. While there is no official rules, aim to space your holes evenly throughout your cake about one inch apart. If the holes are too close together then your cake may be too moist. If the holes are too far apart then there may not be enough liquid throughout.
Love what you see? Find more of my fun creations on Facebook, Instagram & Pinterest! You can also sign up for my weekly newsletter below and never miss any of my inspirations!
Can't get enough sweets? Check out more of my favorites!
Yield: 20 servings
Raspberry Poke Cake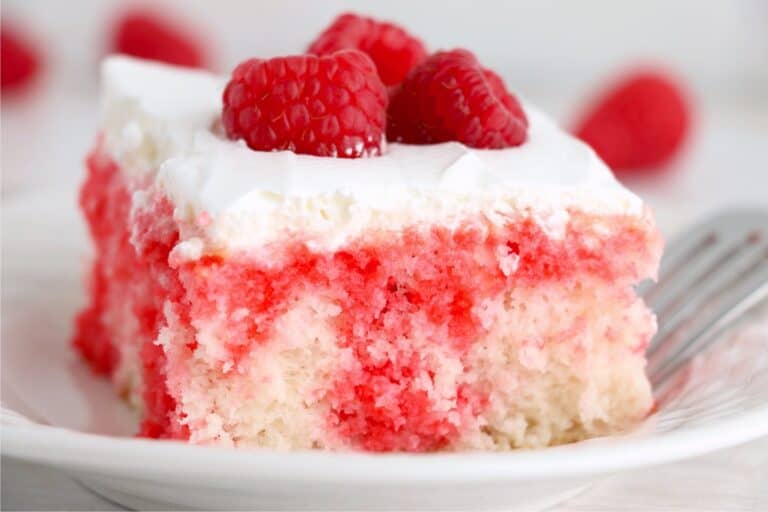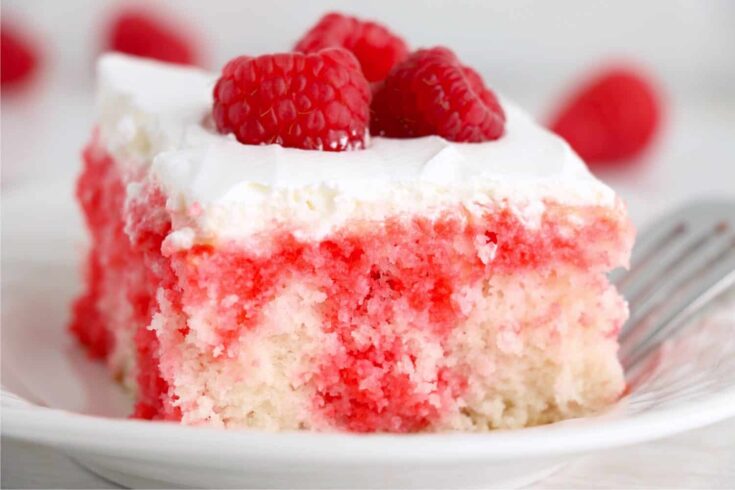 This Raspberry Poke Cake is made with a white cake mix, jello, and whipped topping. Easy to make, moist, and delicious!
Ingredients
white cake mix (prepared according to box directions)
3 oz box raspberry jello
1 cup boiling water
8 oz whipped topping
1 cup fresh raspberries
Instructions
Prepare cake according to box directions.
When cake is cooled, combine boiling water with the raspberry jello.
Stir until dissolved.
Using a wooden spoon, poke several holes in the cake.
Pour jello mixtures into the holes and over cake.
Place cake in the refrigerator for 30 minutes to allow jello to soak in.
Frost with whipped topping and finish things off with fresh raspberries.
Nutrition Information
Yield
20
Serving Size
1
Amount Per Serving
Calories

23
Total Fat

1g
Saturated Fat

0g
Trans Fat

0g
Unsaturated Fat

0g
Cholesterol

0mg
Sodium

18mg
Carbohydrates

4g
Fiber

1g
Sugar

3g
Protein

0g
Get Inspired!
Never miss my delicious recipes, cute creations, or household tips!