This air fryer carrot cake features all the flavors and textures we love in this classic dessert, but it's baked up in the air fryer. It's delicious and perfect every time!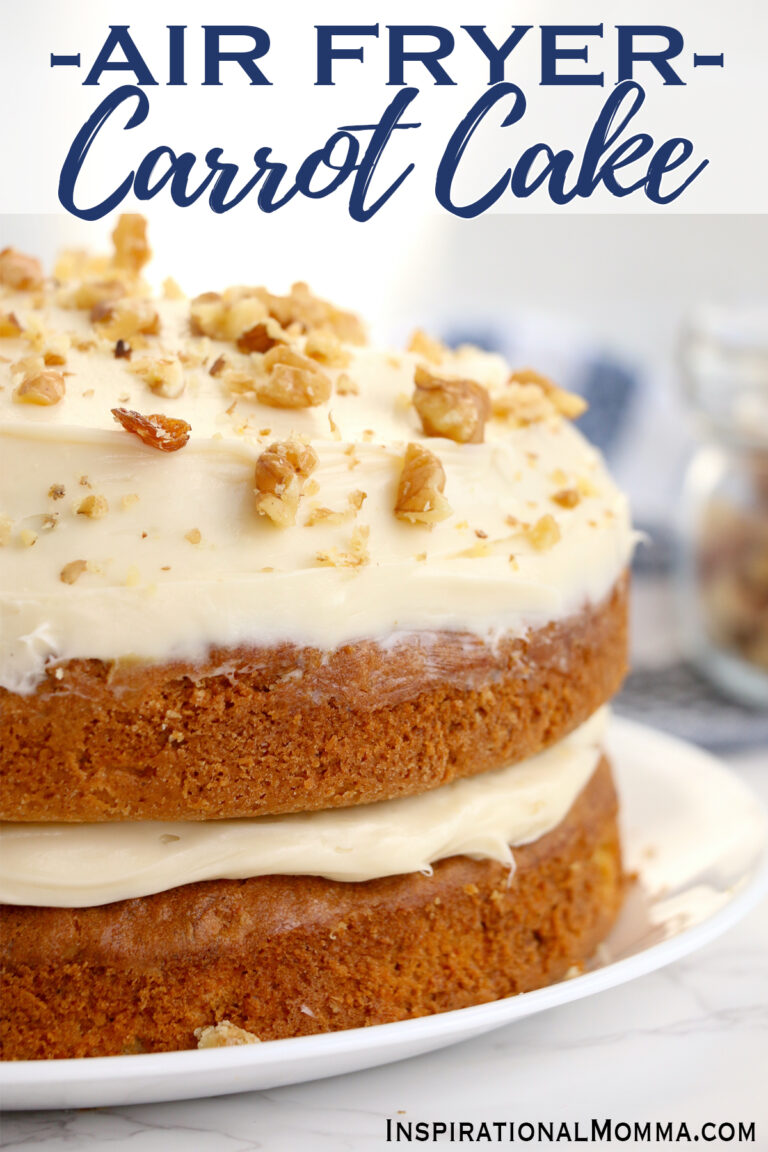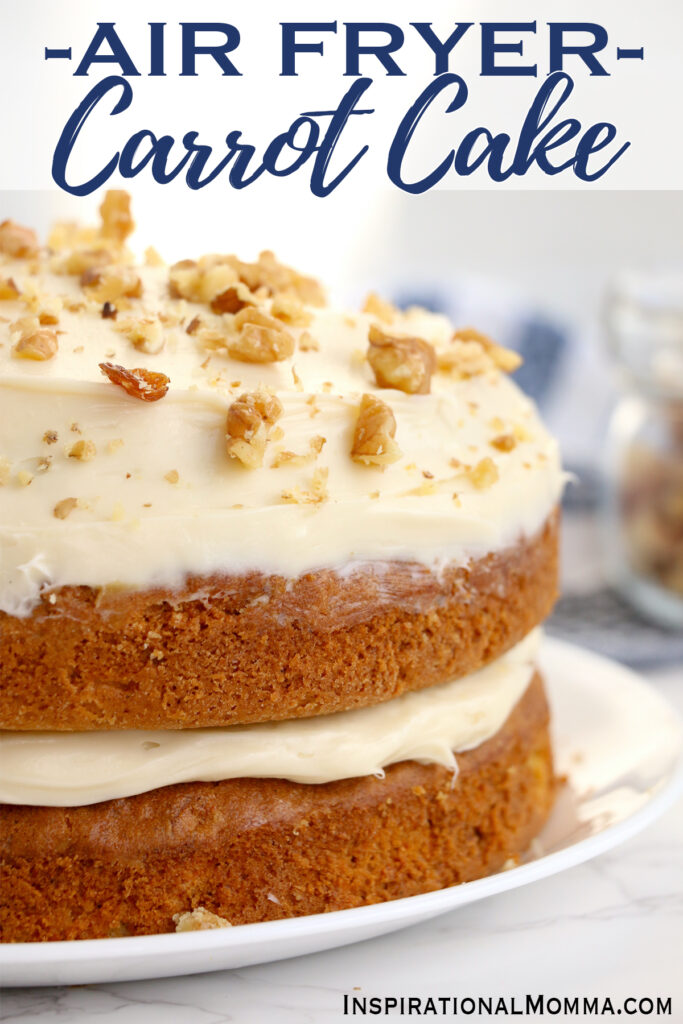 This delicious cake is the perfect example of how modern appliances can make old favorites so much better. This delicious cake uses a traditional carrot cake recipe and then bakes it in an air fryer. The constant air flow makes a cake that's perfectly baked, moist, and tender each and every time.
Why You'll Love This Recipe
It's full of all your favorite carrot cake flavors from shredded carrots to nuts and cream cheese frosting.
Air frying makes the cake perfectly moist and tender every single time.
Carrot cake is a classic dessert that everyone loves.
This cake is the perfect dessert or addition to any potluck or holiday get-together.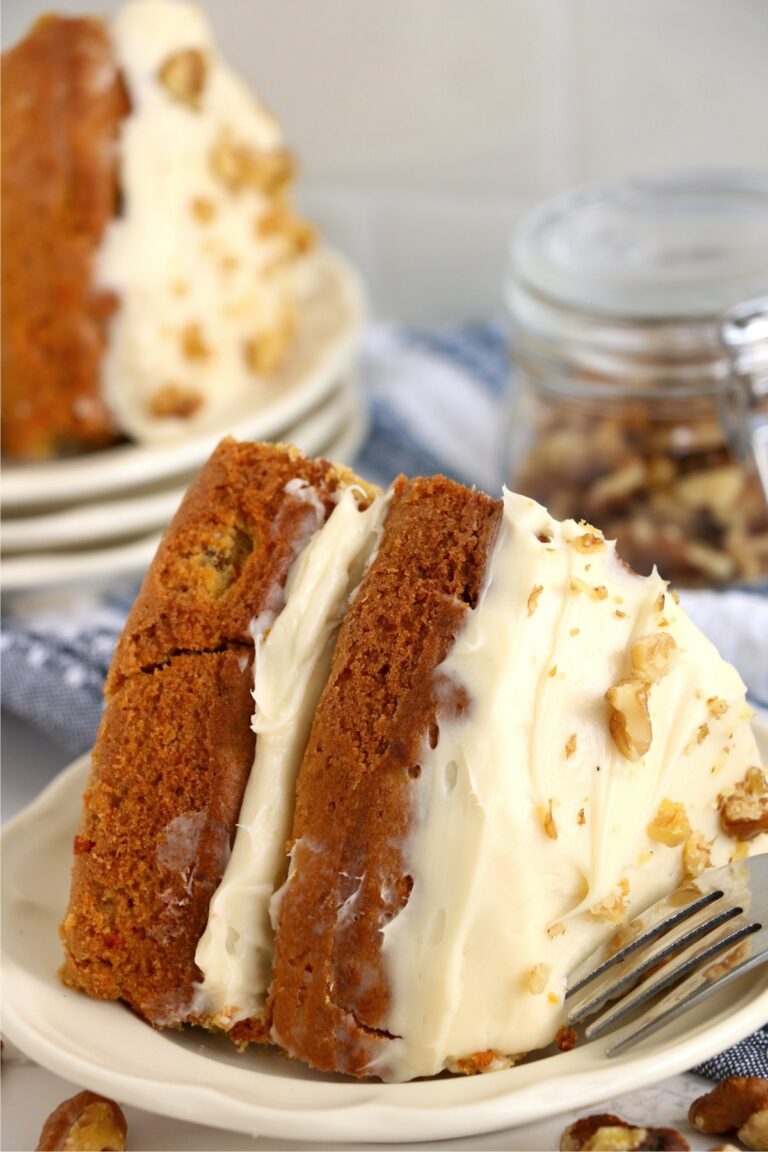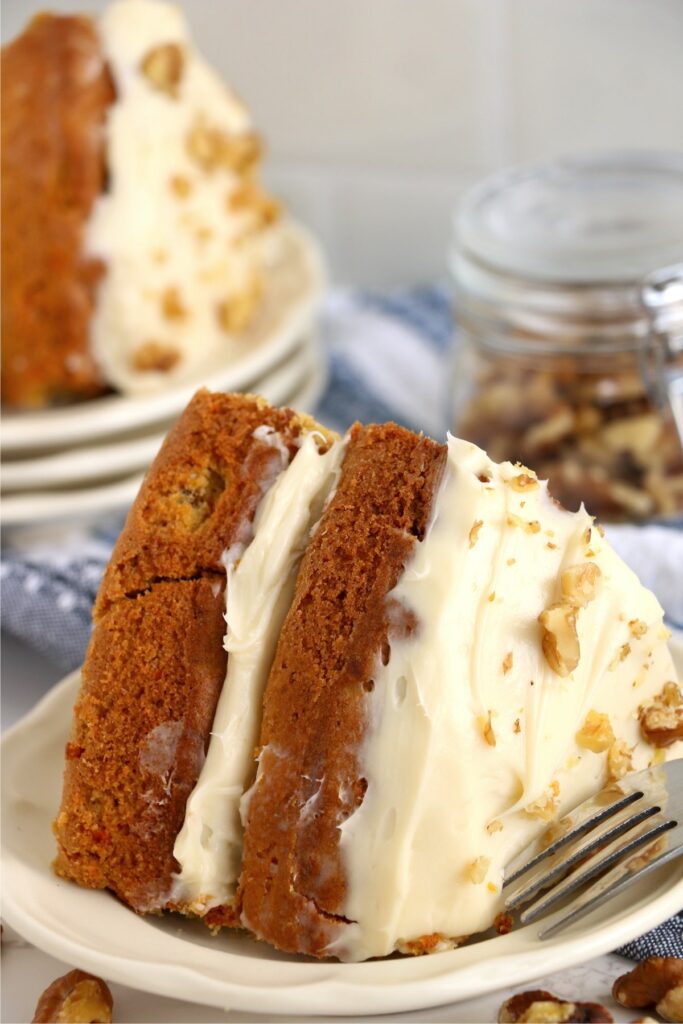 Ingredients
This carrot cake only uses simple pantry staples. You'll have most if not all of them in your kitchen right now, and the ones you don't are all easily found at your local grocery store.
The ingredients below are what gives this cake its delicious flavor. You'll find the complete list of ingredients along with amounts in the recipe card at the end of the post.
Shredded carrots
Chopped walnuts
Cream cheese
Butter
Cinnamon
Cloves
Nutmeg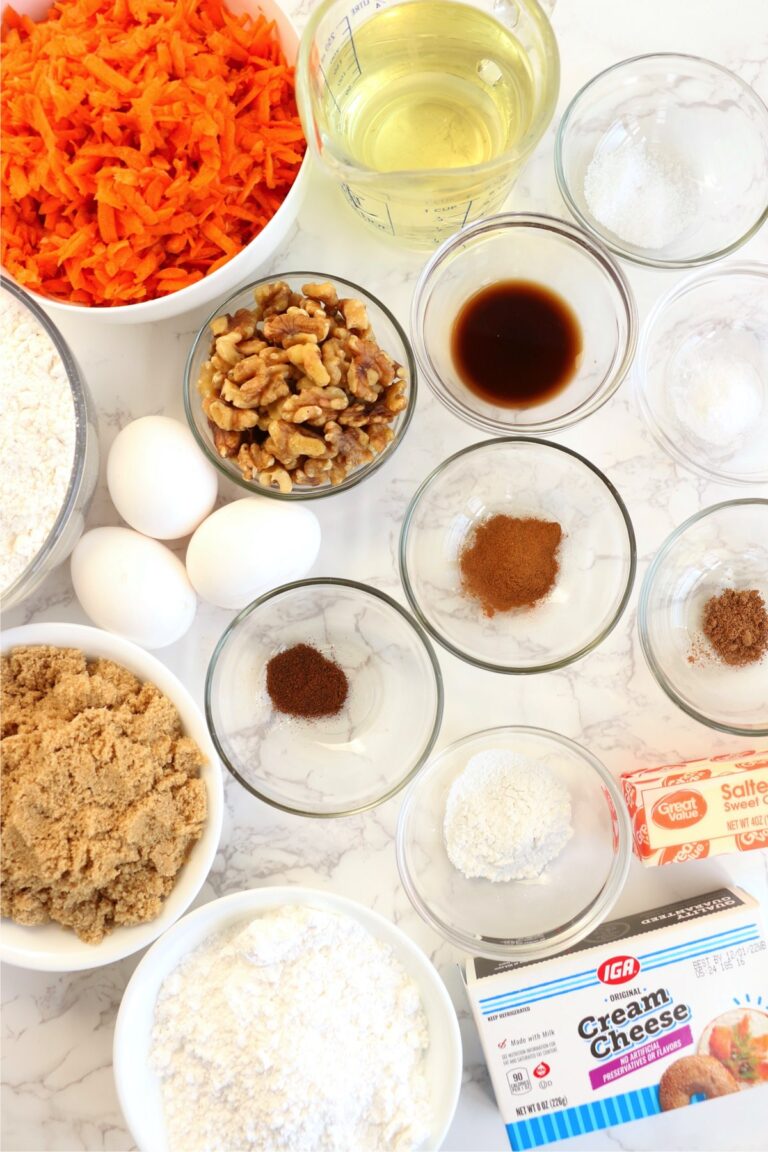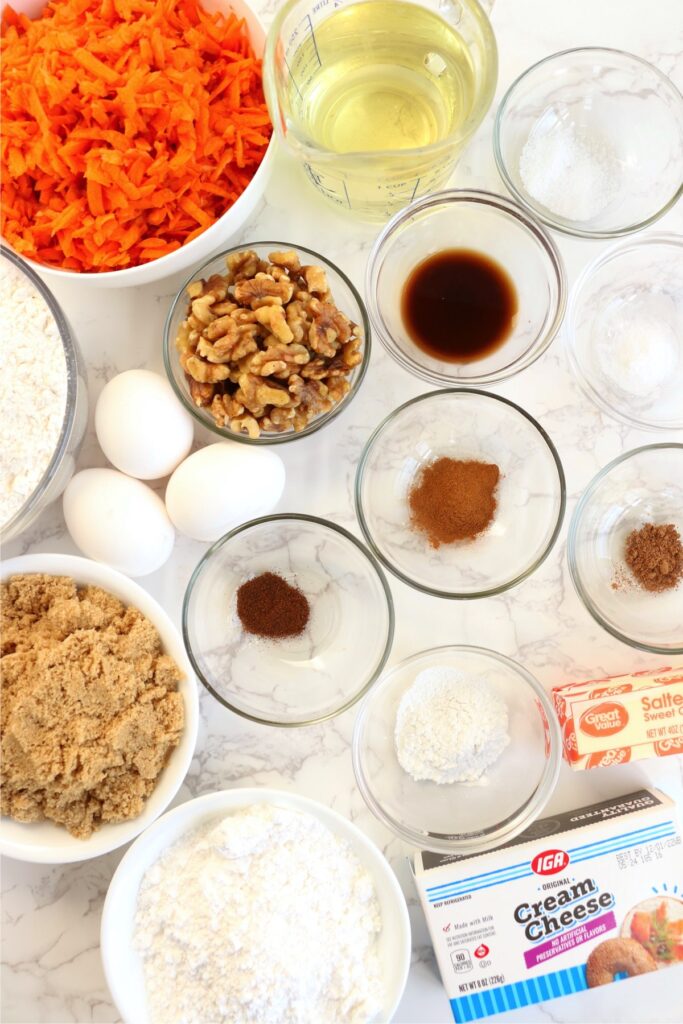 Instructions
This is a simple cake recipe that only takes a few simple steps to make. The highlights are below, but you'll find the complete instructions in the recipe card at the end of the post.
1: Beat the sugar and wet cake ingredients together.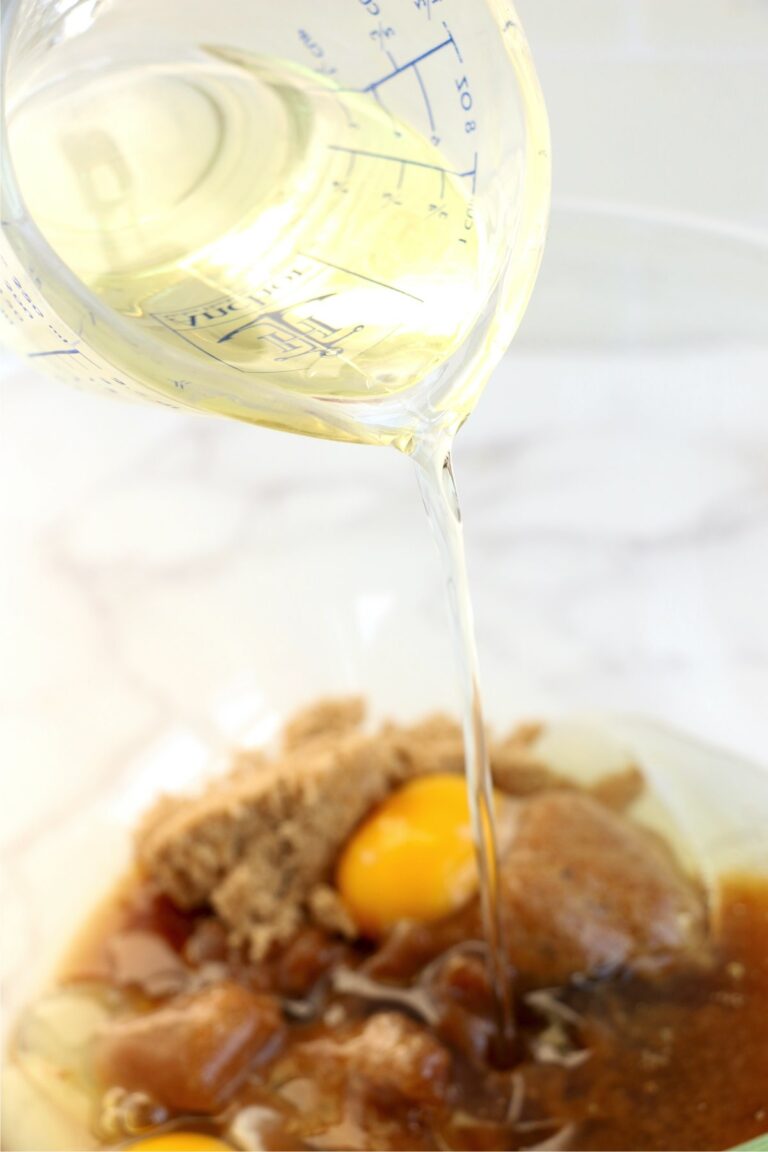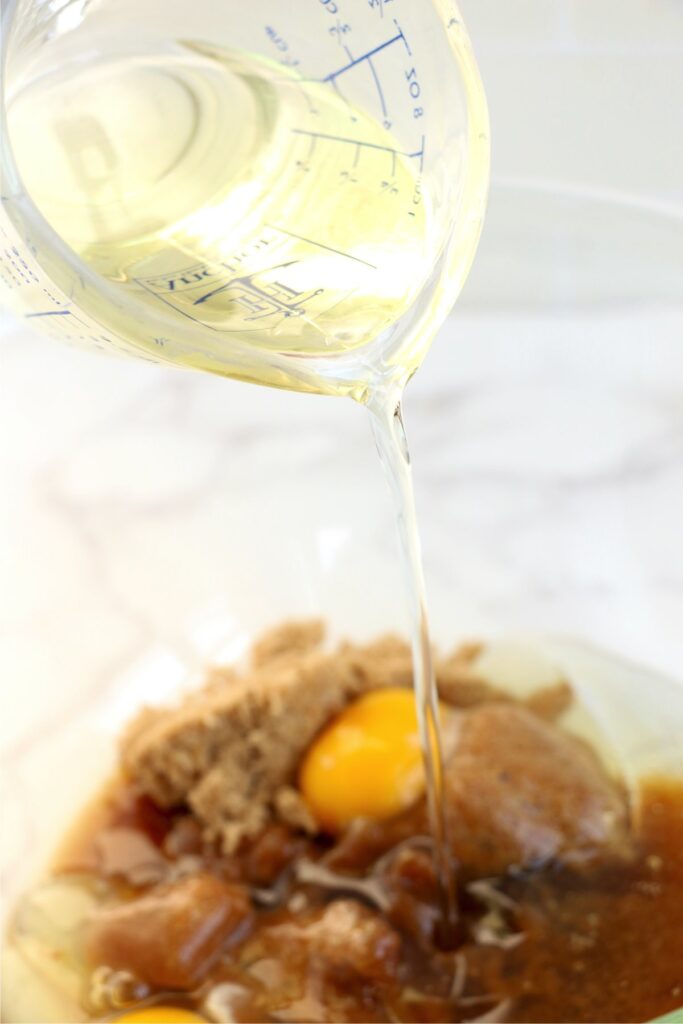 2: Add all dry ingredients except carrots and nuts and mix until combined.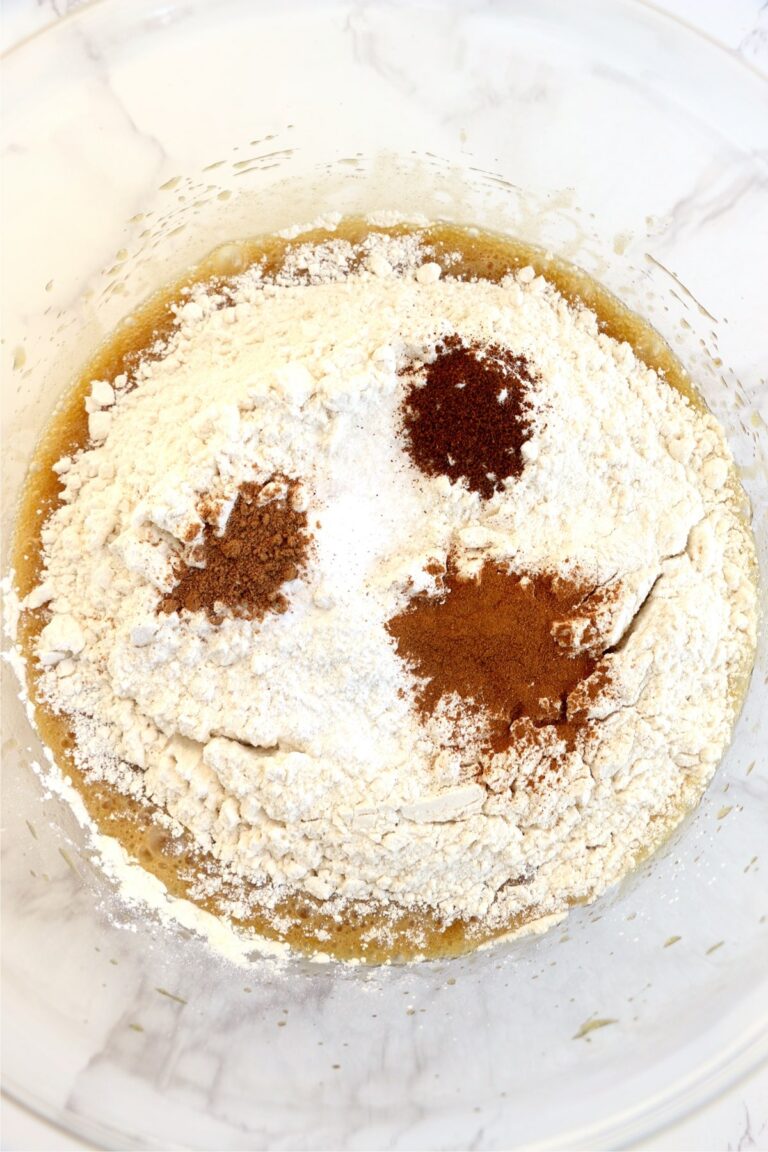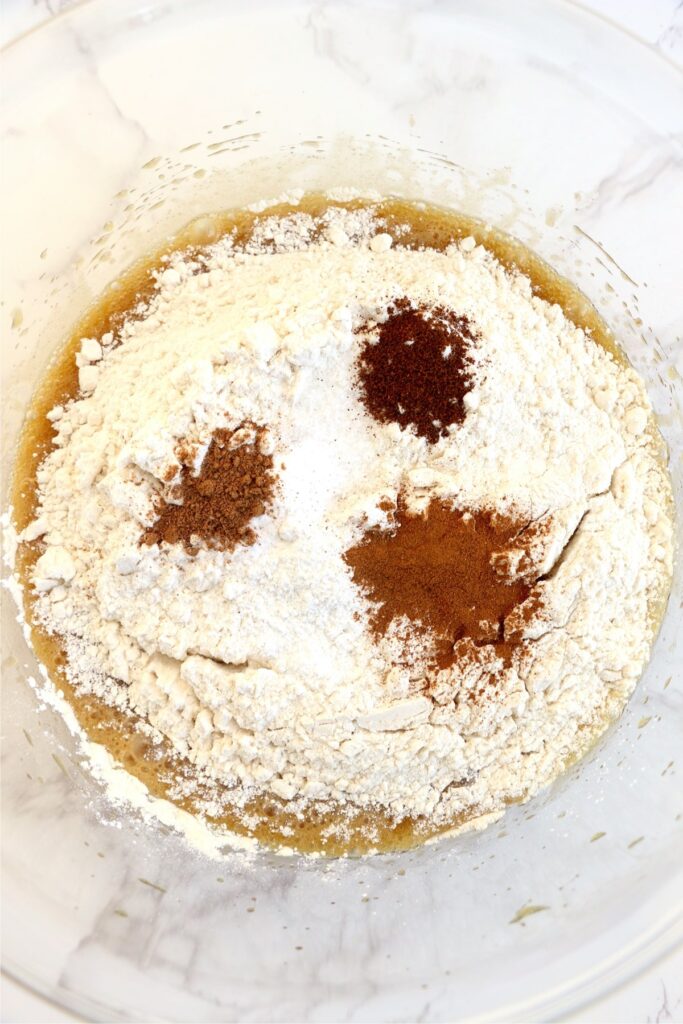 3: Mix in the carrots and the nuts.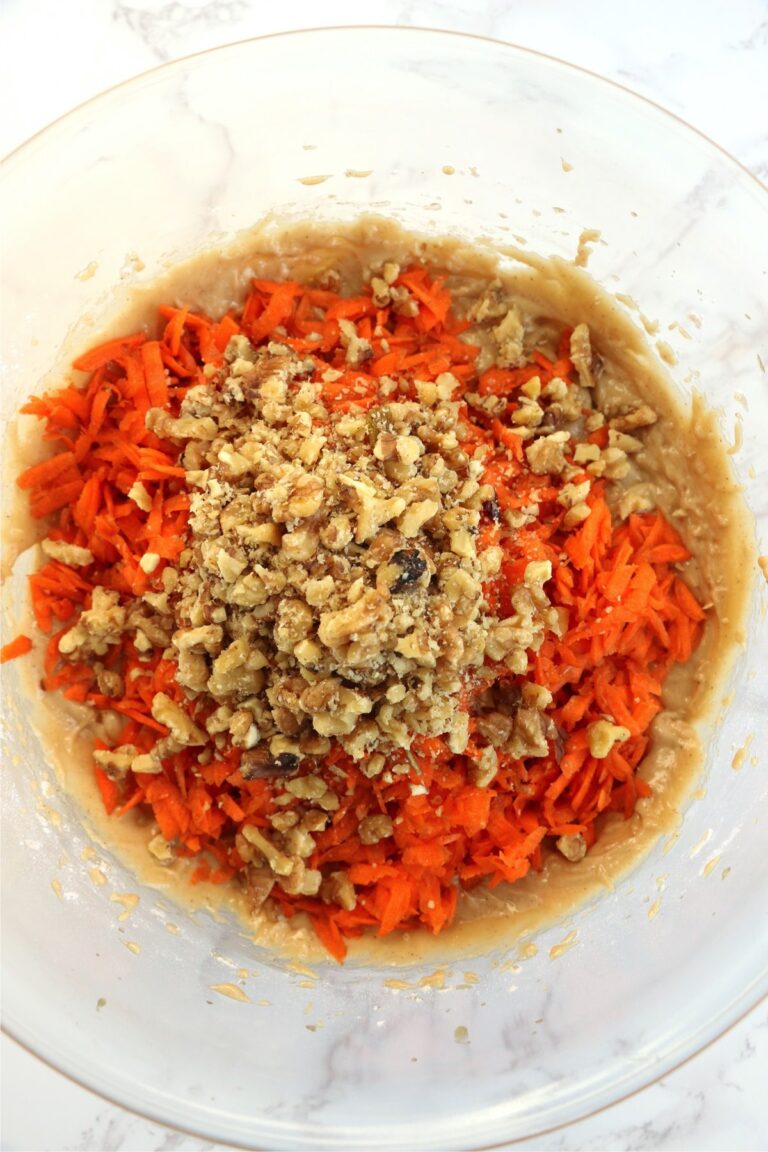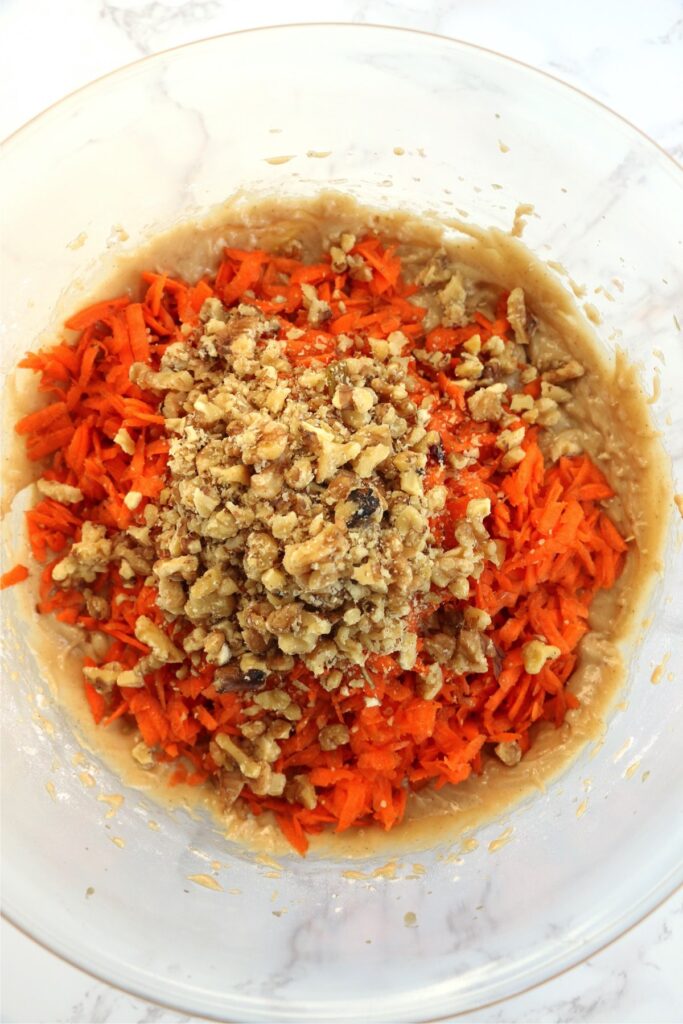 4: Pour batter into pan and air fry. Let it cool completely.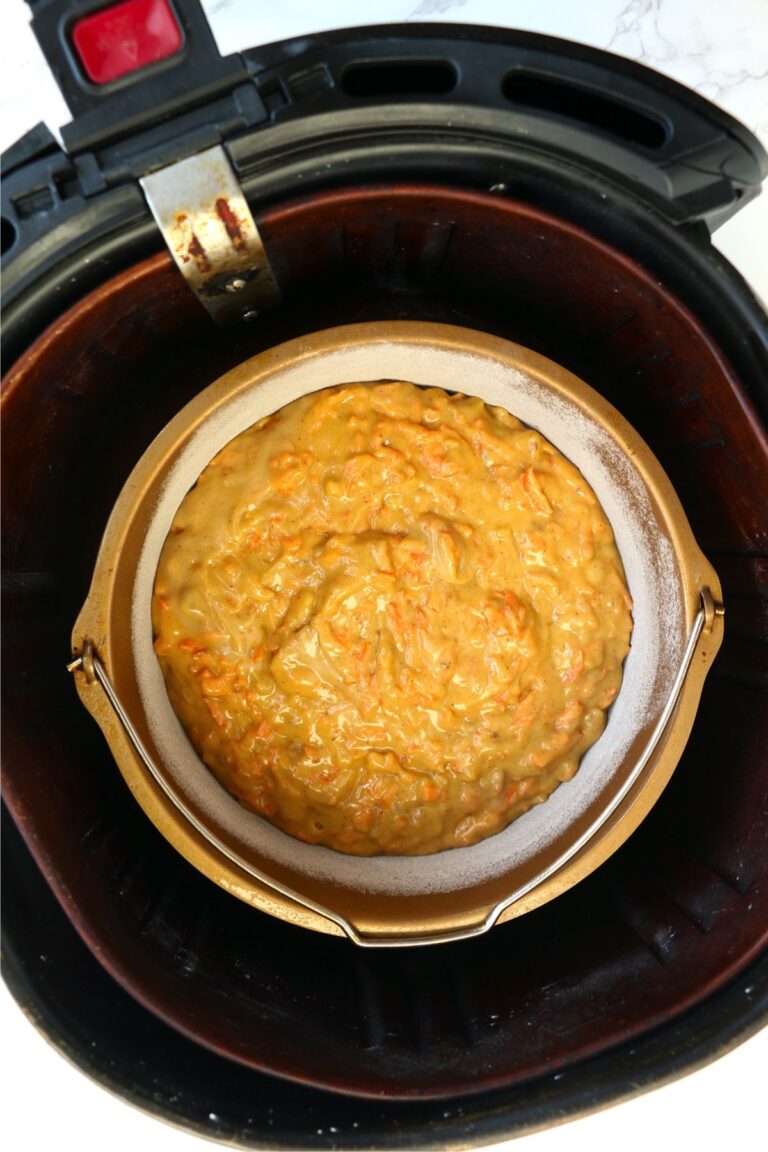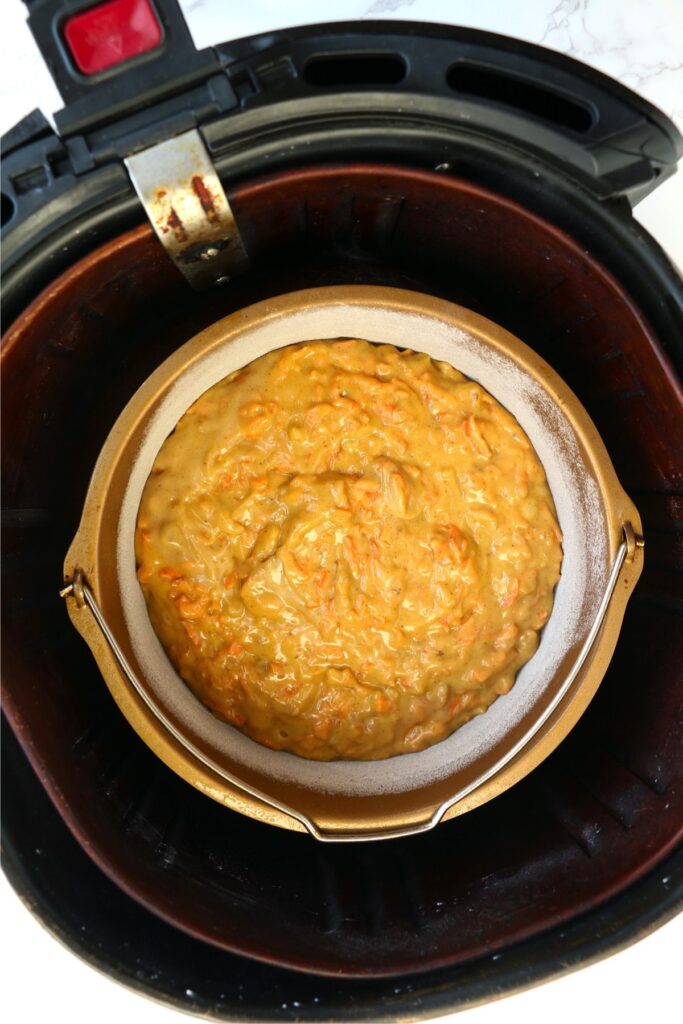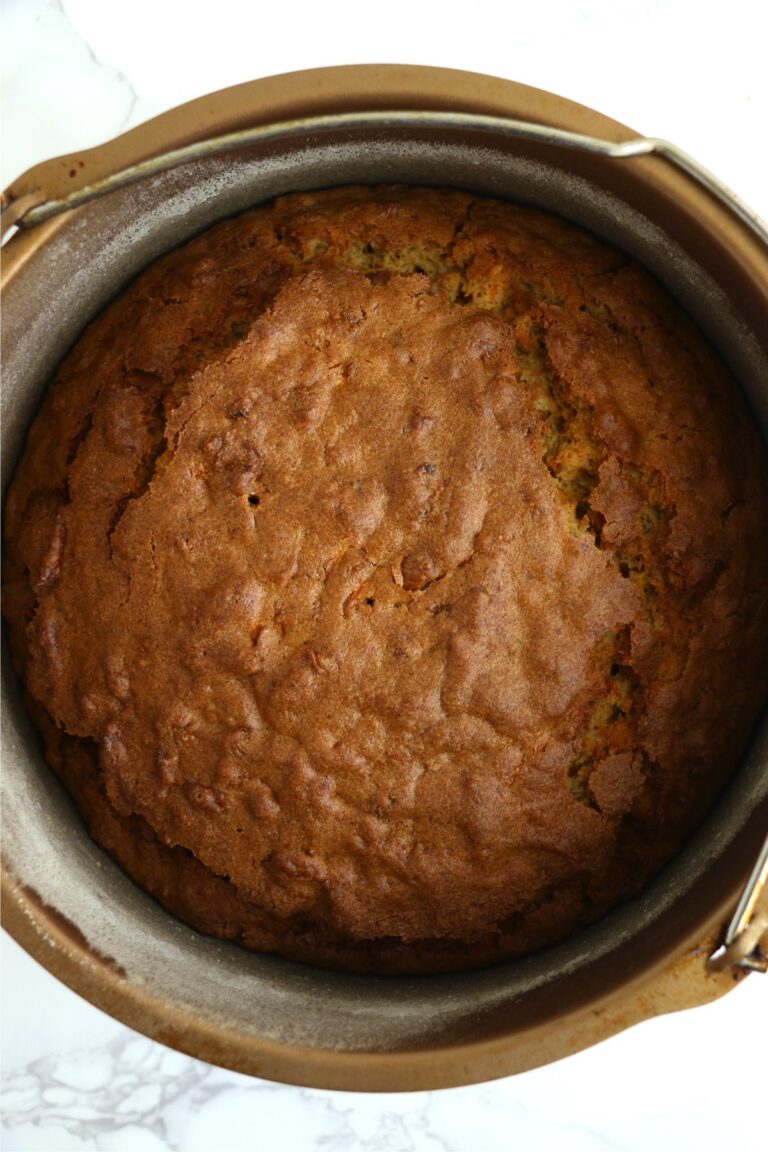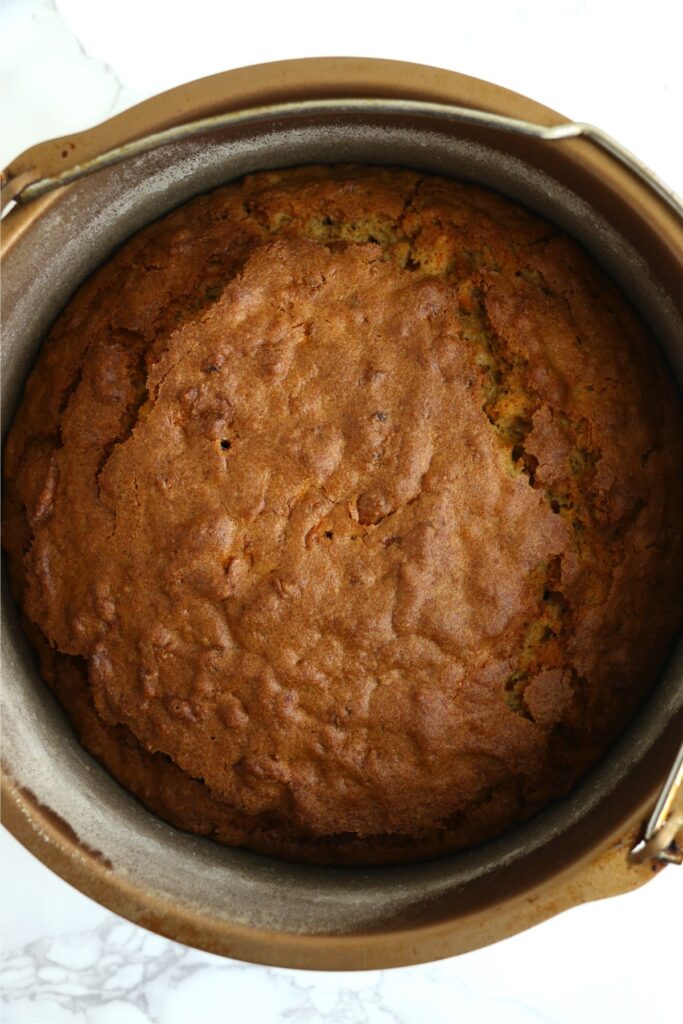 5: Beat all frosting ingredients together until smooth.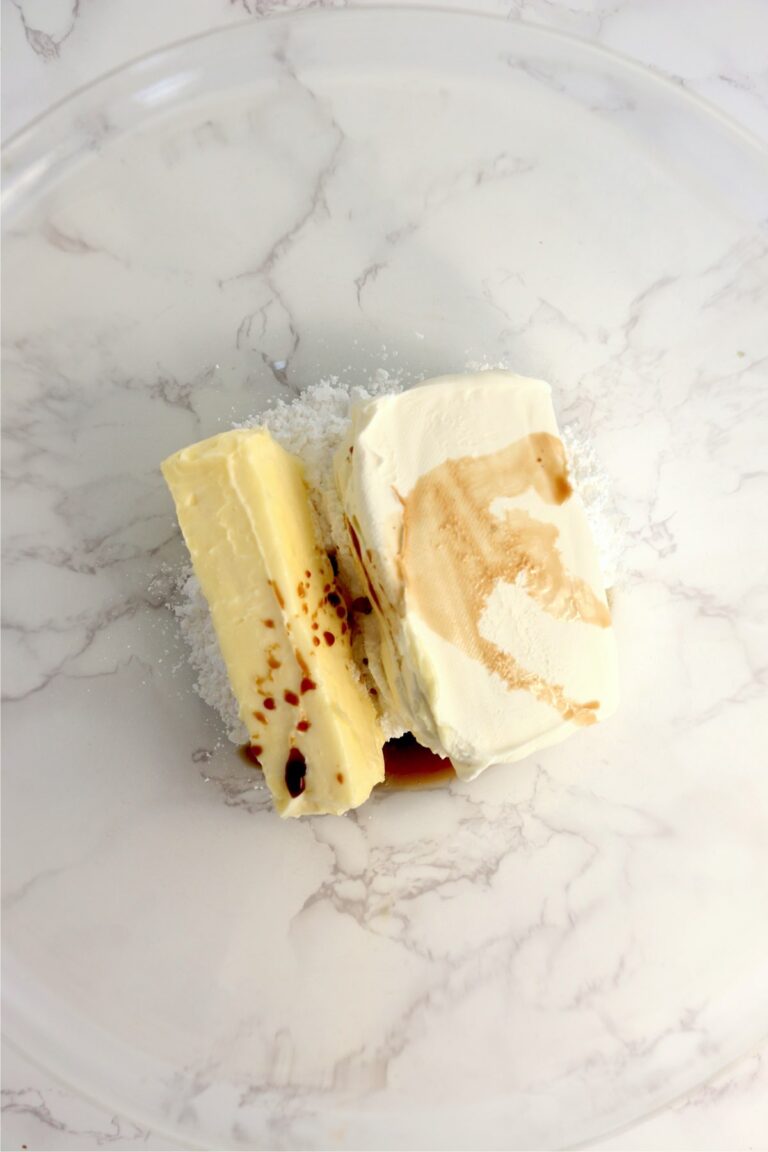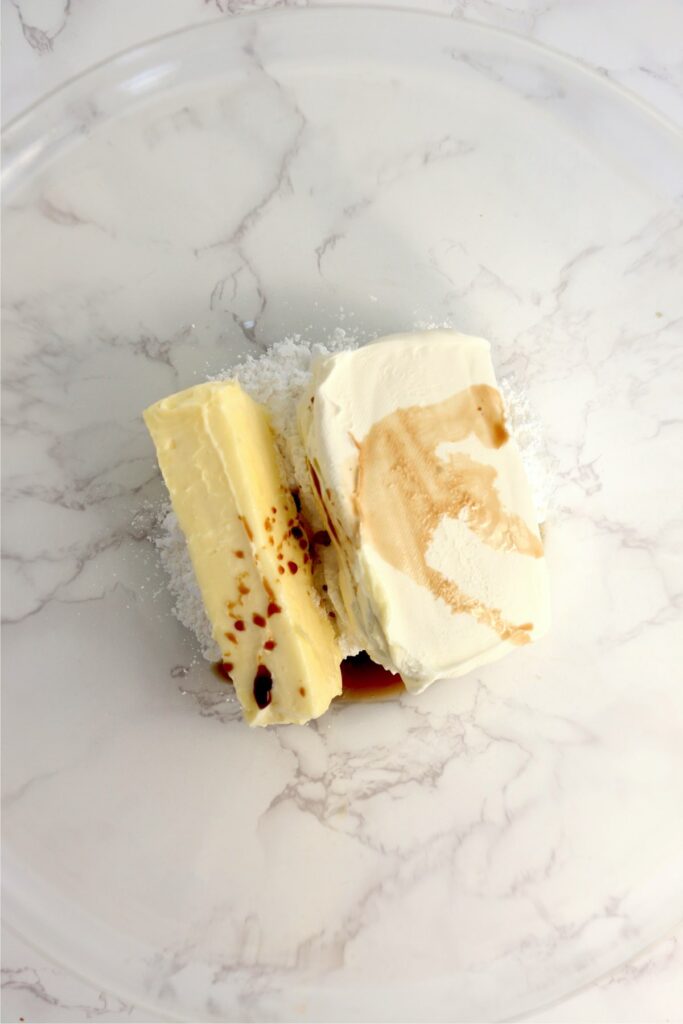 6: Frost generously between layers and on the top of the cake. Top with nuts and enjoy!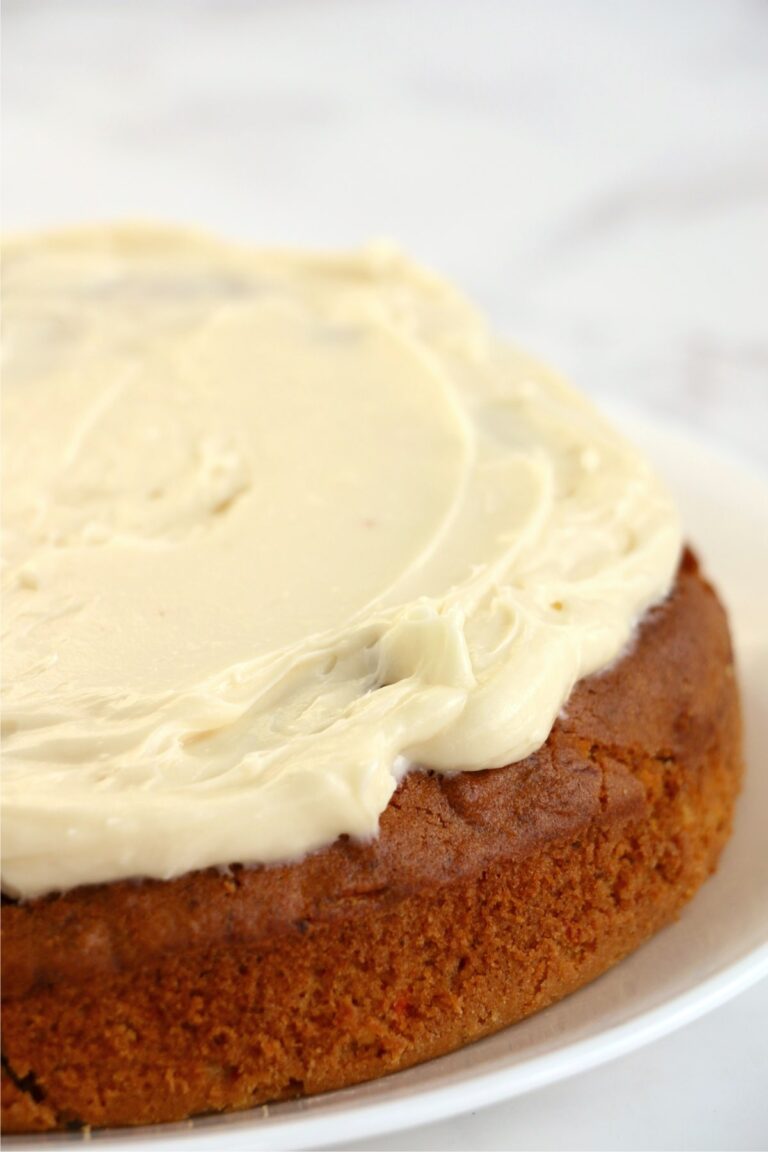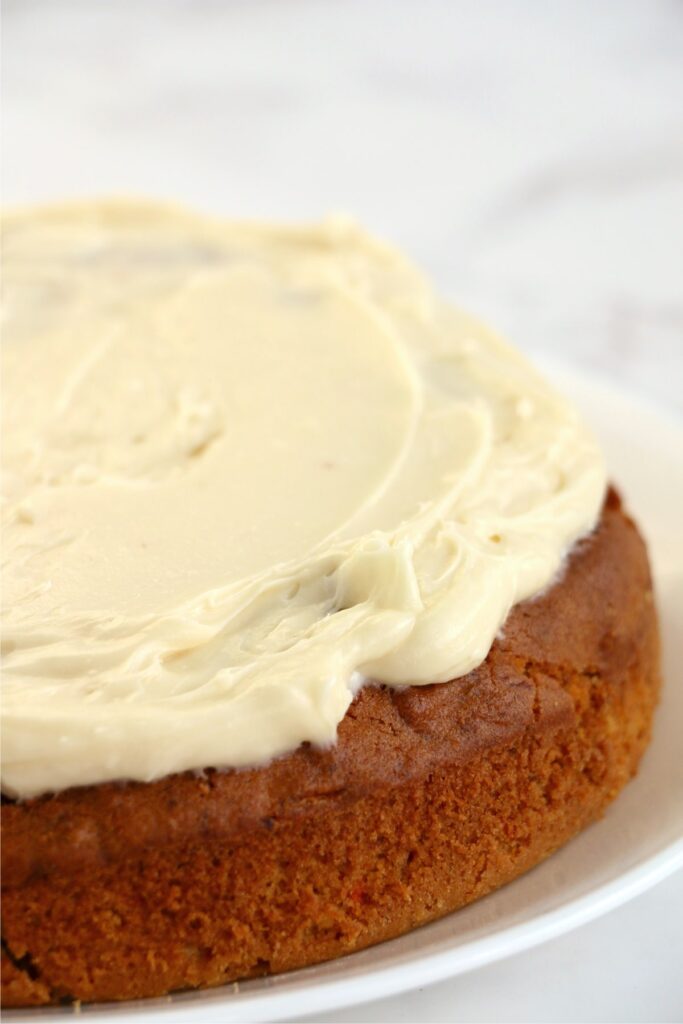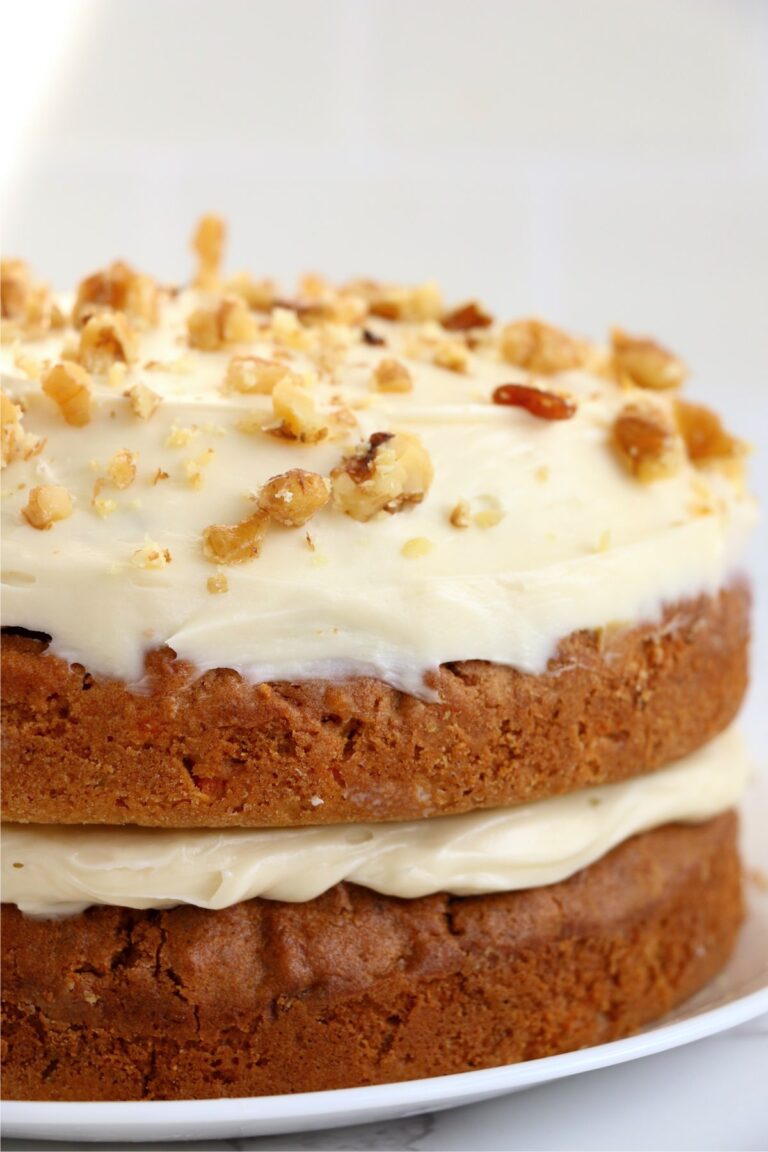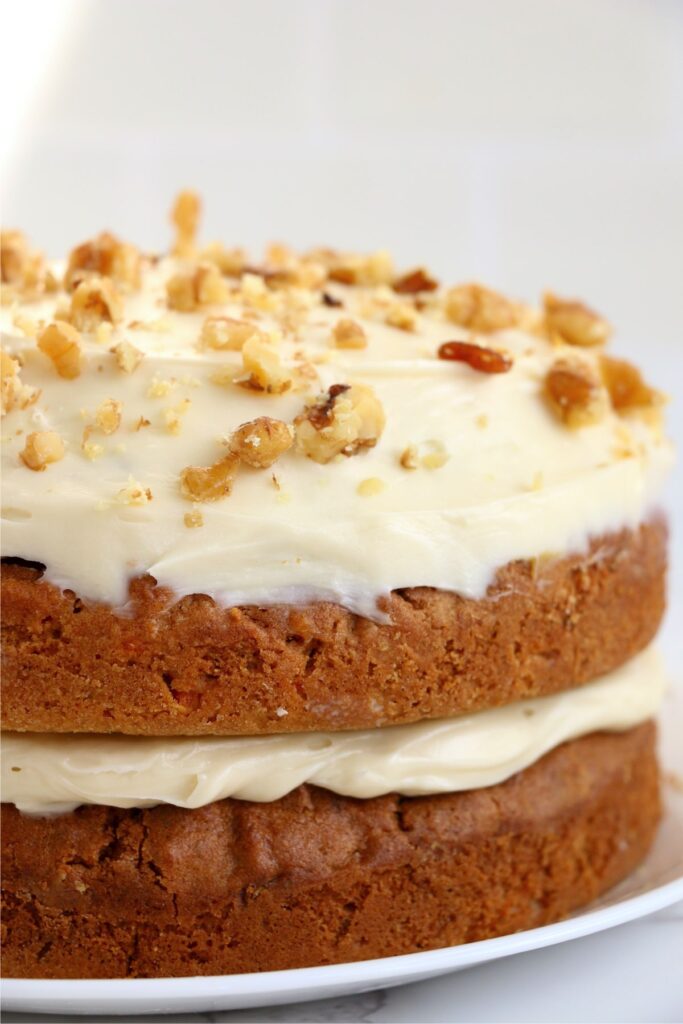 Top Tip
Do not overmix this batter. For a tender cake with a nice crumb, you want to limit the gluten development, which means limiting the amount of mixing you do.
Substitutions and Variations
You can use cake flour in place of all-purpose flour for an even tenderer cake.
Any oil with a neutral flavor will work in this recipe.
For a sweeter take on this classic, frost it with buttercream frosting.
If you think this carrot cake looks good, then check out my naked carrot cake recipe. You'll love it!
What to Serve with Carrot Cake
Carrot cake is a classic sweet treat that's perfect for dessert or afternoon snacking. A classic like this pairs very well with all our favorite classic mains. Consider recipes like: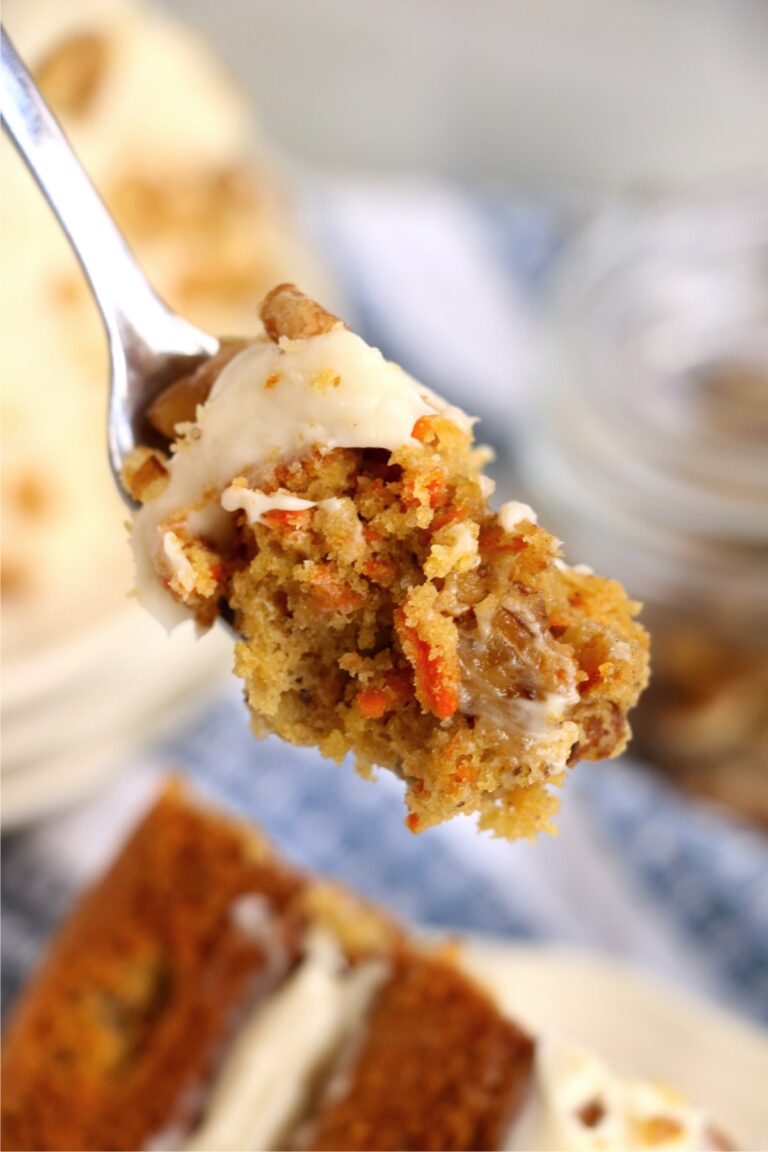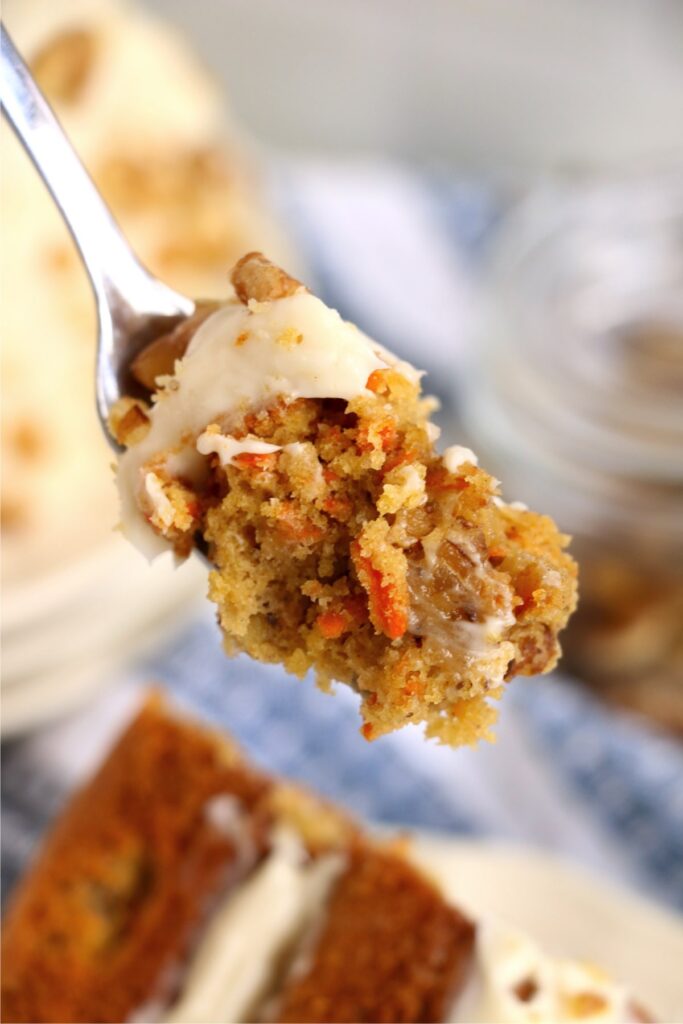 Equipment
Measuring cups and spoons
Food grater
Mixing bowls
Cake pan
Whisk
Spoon
Frosting spatula
Storage
Refrigerator: Store this cake in an air-tight container in the refrigerator for up to 5 days.
Freezer: Open-air freeze until firm. Then, wrap in a double layer of cling wrap and a layer of foil and freeze for up to 1 month.
Defrost: Leave the cake in the refrigerator overnight.
Tips:
Don't overmix your batter. Less mixing means less gluten, which translates to a more tender cake.
Be sure your cake layers are completely cool before frosting.
Fully soften your cream cheese and butter for best creaming and to avoid any lumps of raw butter or cream cheese in the frosting.
DO NOT try to grate your carrot down to a nub. Stop when the carrot is about 2-inches long for safety.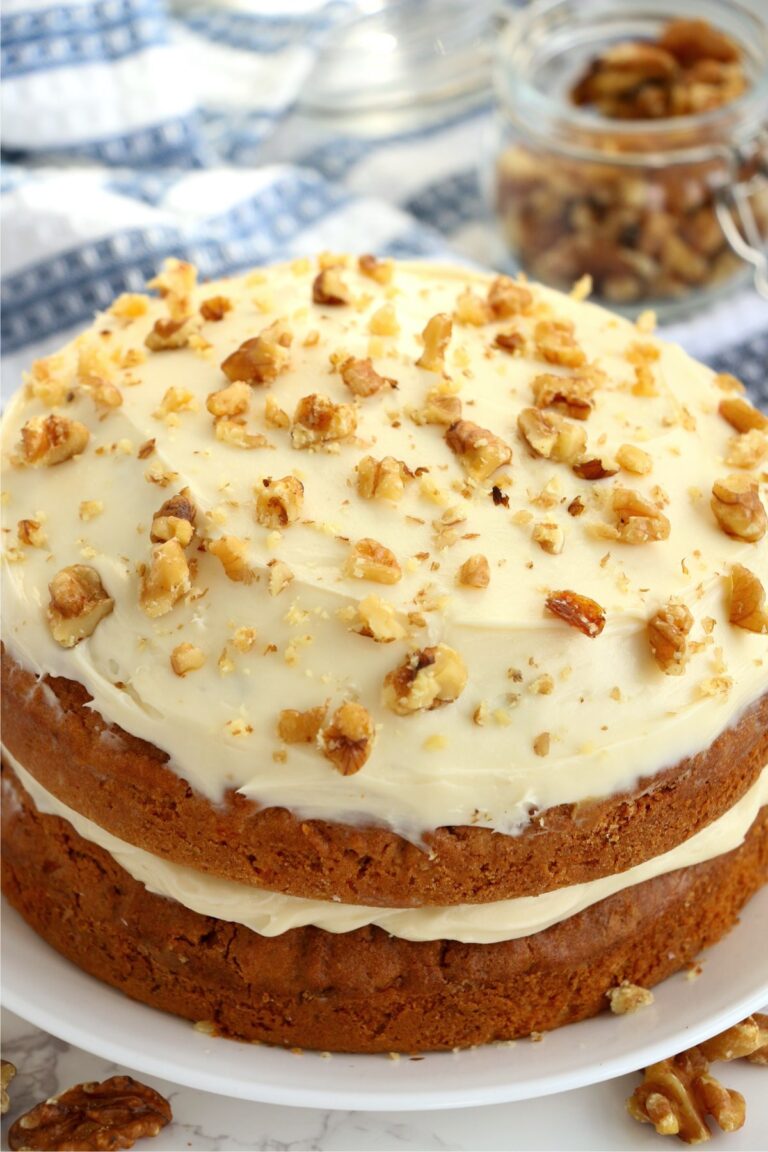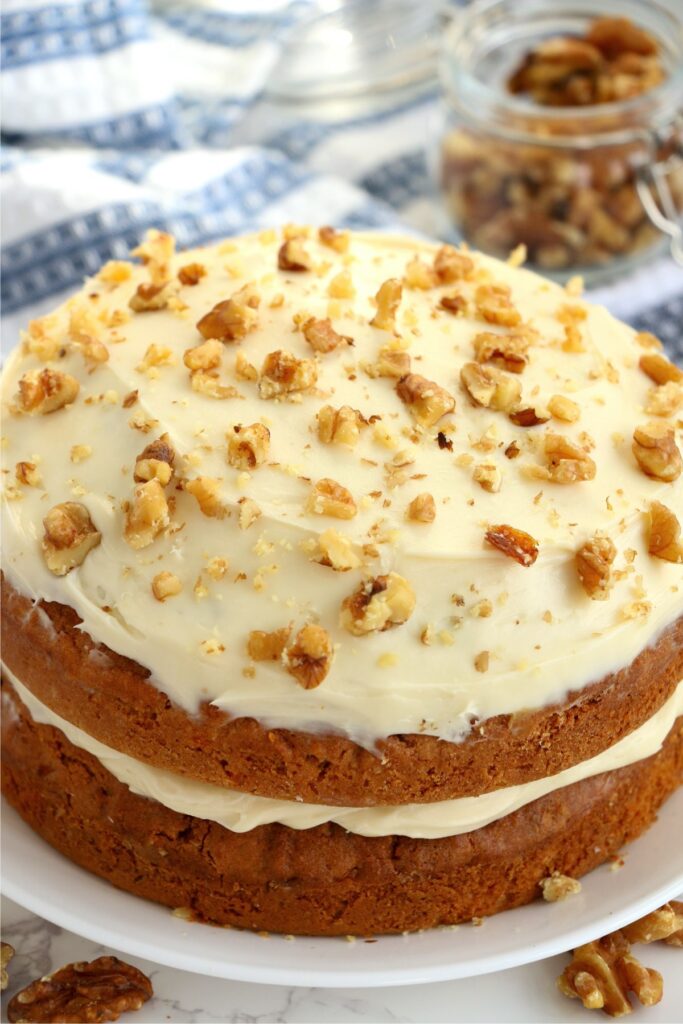 FAQ
Where does carrot cake come from?
It's generally considered to be a product of World War II. Housewives in England used sweet products like carrots to naturally sweeten their baked goods when supplies were limited.
How long will carrot cake last?
A carrot cake with cream cheese frosting like this one will last for about 5 days in the refrigerator or up to a month in the freezer.
Why can't I freeze this cake longer than a month?
After about a month, ice crystals begin to form in the cream cheese frosting, changing the texture.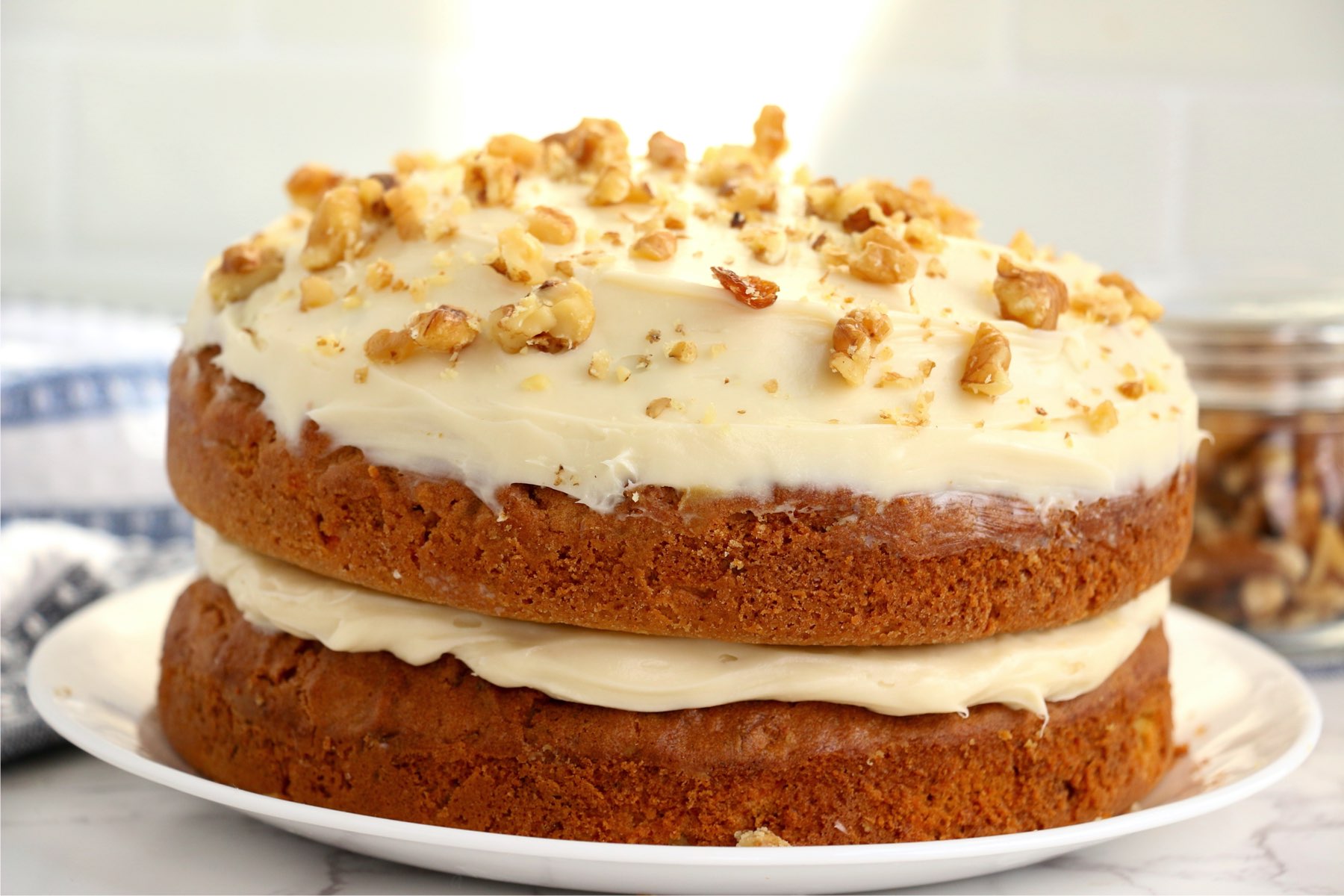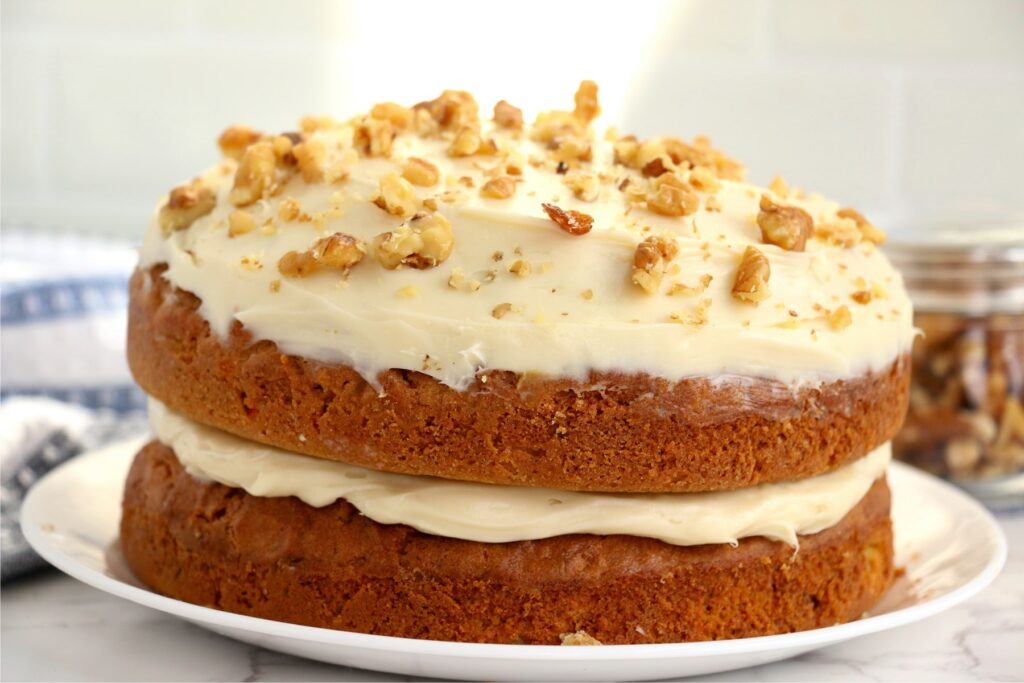 More Air Fryer Recipes
Yield: 8 servings
Air Fryer Carrot Cake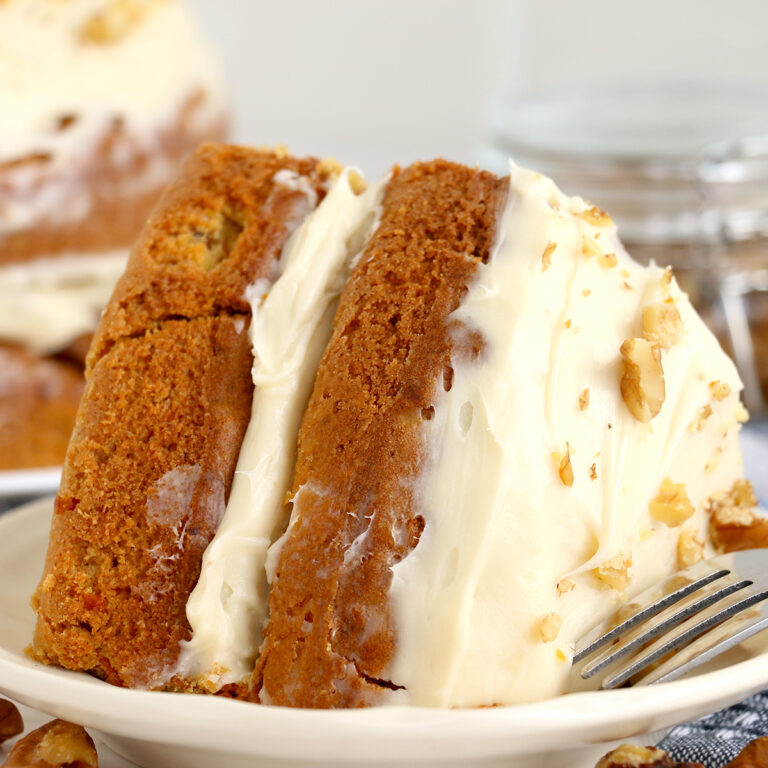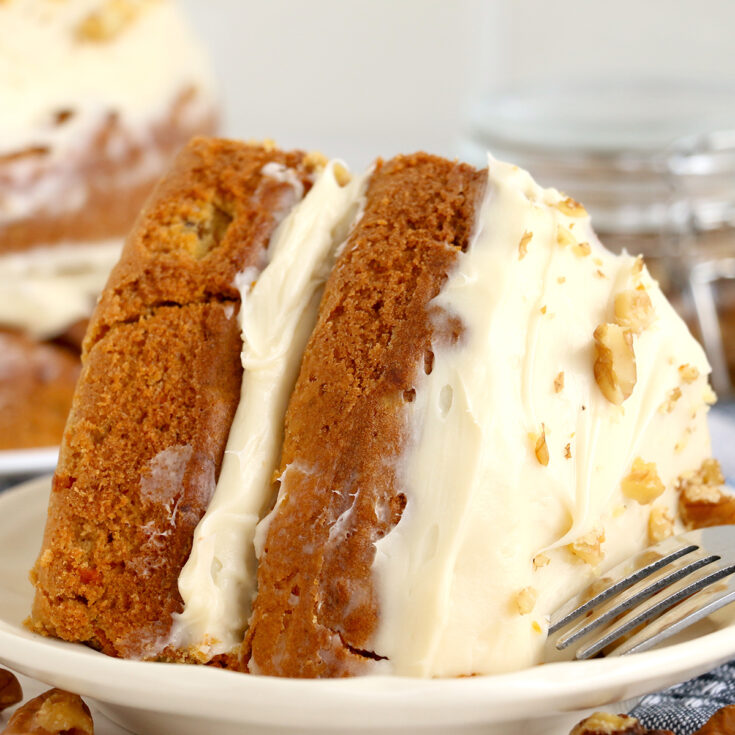 Air fryer carrot cake takes the classic cake and bakes it to perfection using everyone's favorite kitchen gadget. It's easy and delicious.
Additional Time
30 minutes
Ingredients
3 eggs
1 ¼ cup brown sugar
1 cup vegetable oil
2 ½ cups flour
1 ½ tsp baking powder
1 tsp salt
½ tsp baking soda
1 tsp ground cinnamon
½ tsp ground cloves
½ tsp ground nutmeg
2 cups grated carrots
1 ½ cup chopped walnuts, divided
8 oz cream cheese, softened
½ cup butter, softened
1 cup powdered sugar
1 tsp vanilla
Instructions
Prepare a 7-inch round pan by spraying it with cooking spray and coating it lightly with flour.
In a large mixing bowl, beat eggs, brown sugar, and oil together until smooth.
Add flour, baking powder, salt, baking soda, cinnamon, cloves, and nutmeg. Beat again until smooth.
Add carrots and 1 cup walnuts. Beat until batter is consistent.
Transfer half of the batter into your prepared pan.
Preheat air fryer at 330ºF for 4 minutes.
Place pan in air fryer basket.
Air fryer for 20-25 minutes or until toothpick comes out clean.
Allow cake to cool for 15 minutes before gently flipping it out onto a surface it can cool on.
Repeat the air frying process with the remaining batter.
To prepare frosting, beat cream cheese, butter, powdered sugar, and vanilla together until smooth.
Allow cake layers to cool completely before frosting.
Assemble cake by spreading a layer of frosting in between cake layers and on top.
Finish things off by sprinkling the remaining ½ cup of walnuts on top.
Nutrition Information
Yield
8
Serving Size
1
Amount Per Serving
Calories

935
Total Fat

65g
Saturated Fat

17g
Trans Fat

1g
Unsaturated Fat

44g
Cholesterol

129mg
Sodium

697mg
Carbohydrates

80g
Fiber

4g
Sugar

44g
Protein

12g
Get Inspired!
Never miss my delicious recipes, cute creations, or household tips!