Air Fryer Donuts from Biscuits - Easiest Donuts Ever
Air Fryer Donuts from Biscuits are the easiest, tastiest treats ever! They are light, fresh, and have less fat than deep-fried donuts. Who knew that you can have donuts at home in just a few simple steps?!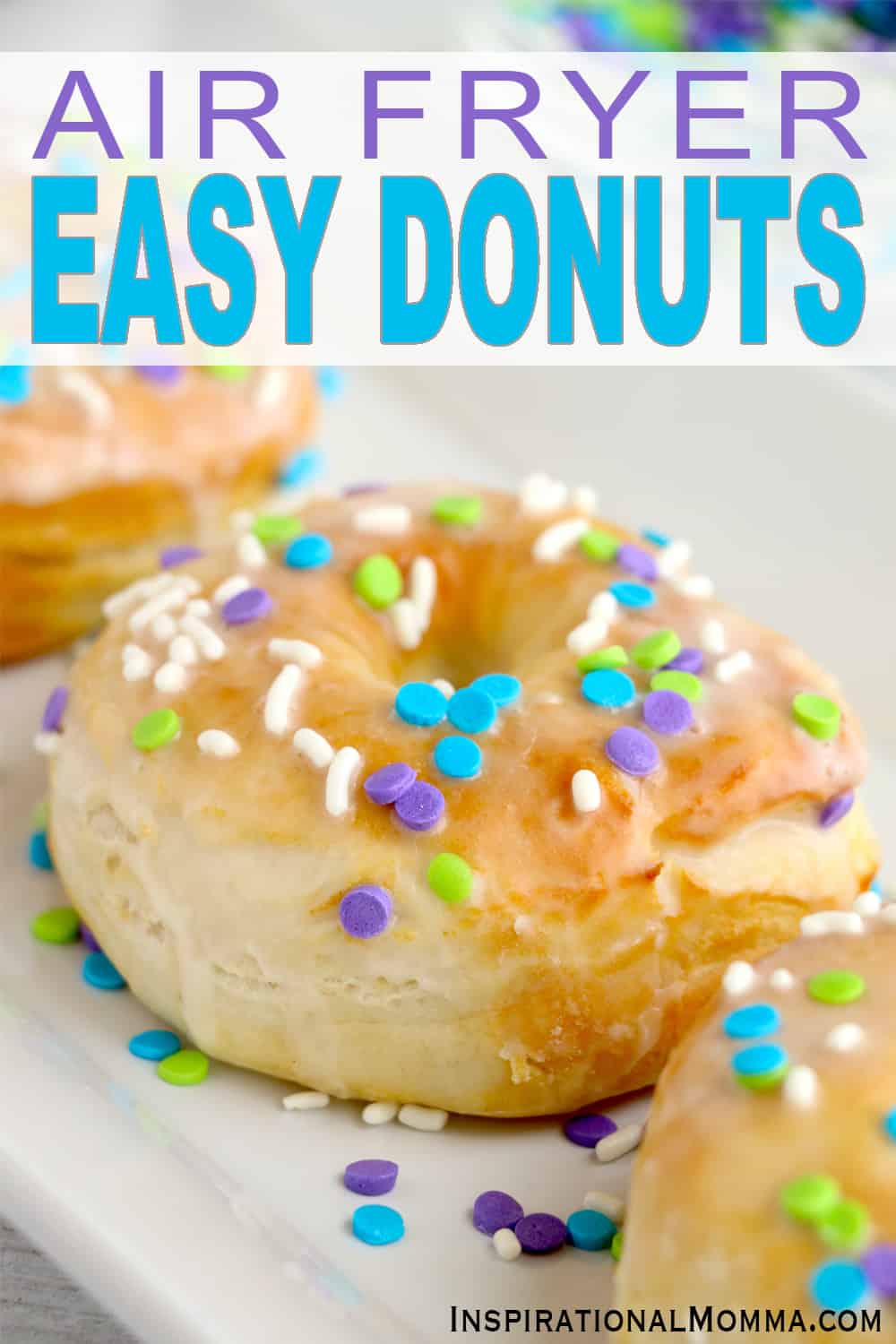 Air Fryer Donuts from Biscuits
Get ready to be impressed with the easiest, most sensational donuts you have ever tasted! You will find yourself making them again and again. Looking for another quick, irresistible treat? Check out my Homemade Easy Pop Tarts!
I'm a donut hound. I love them all—they're delicious. But to be honest, I don't like waking up and running out the door to go buy them at the store. But do you know what I do love?
Being able to wake up and walk to my kitchen and make these donuts at home. There's nothing quite like the warm flavor and taste of donuts, straight from the air fryer. Nothing at all.
I can't tell you how many times I've been craving a donut and literally within five minutes, I'm sitting at the table and eating them. To say that this biscuit donut recipe is easy is an understatement.
It's a simple recipe that I can whip up without even having to have my coffee first (and that's really saying something!).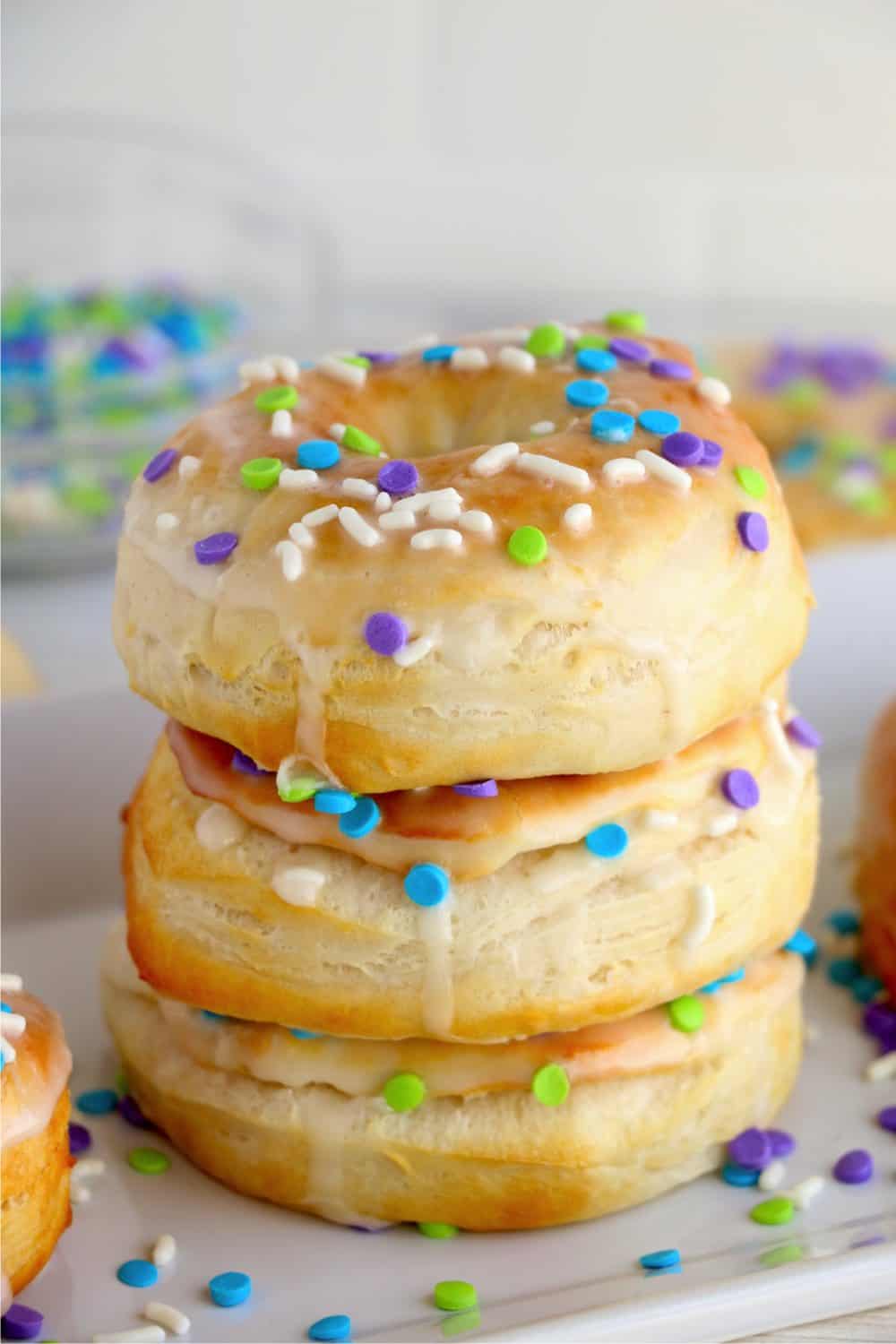 Ingredients Needed to make Donuts in the Air Fryer
All you need to make these "fried" air fryer donuts from biscuits are listed below.
refrigerated biscuits
powdered sugar
milk
vanilla
sprinkles
I told you that this recipe was simple, right? More than likely, you have all these ingredients in your house, waiting to be used.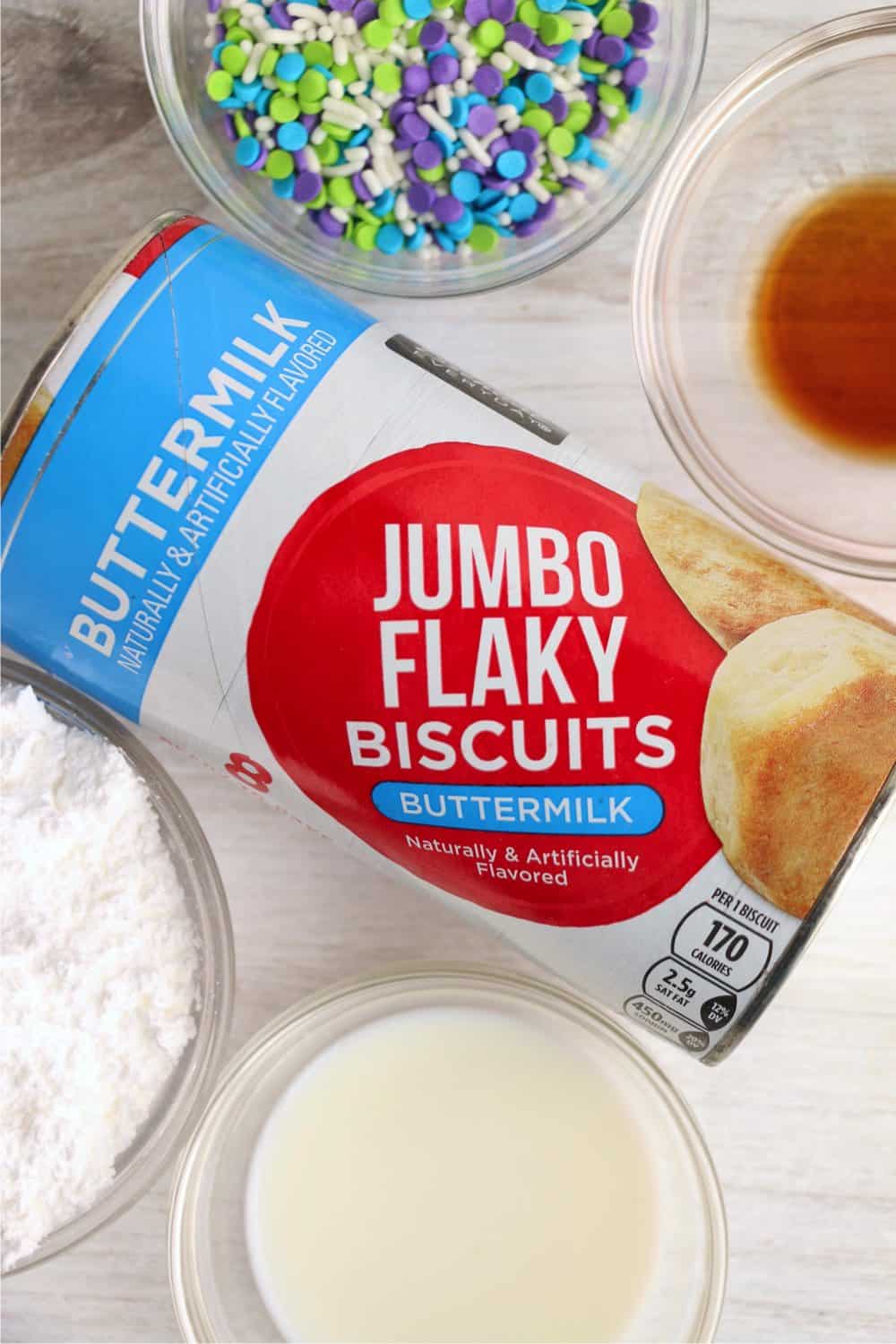 How to Make Air Fryer Donuts
While this recipe is simple and easy to make, there are a few things that you'll want to be aware of.
Grease your air fryer basket
Trust me on this one. Grease that basket so you don't have any morsel of these delicious donuts sticking to the basket. A little bit of nonstick cooking spray will go a very long way.
Give your biscuits space in the air fryer
You'll only be able to add four biscuits into the air fryer basket to give enough room. You'll want to make certain that there is space between all the biscuits so that the air can circulate and cook them thoroughly and also allow them to plump up as well.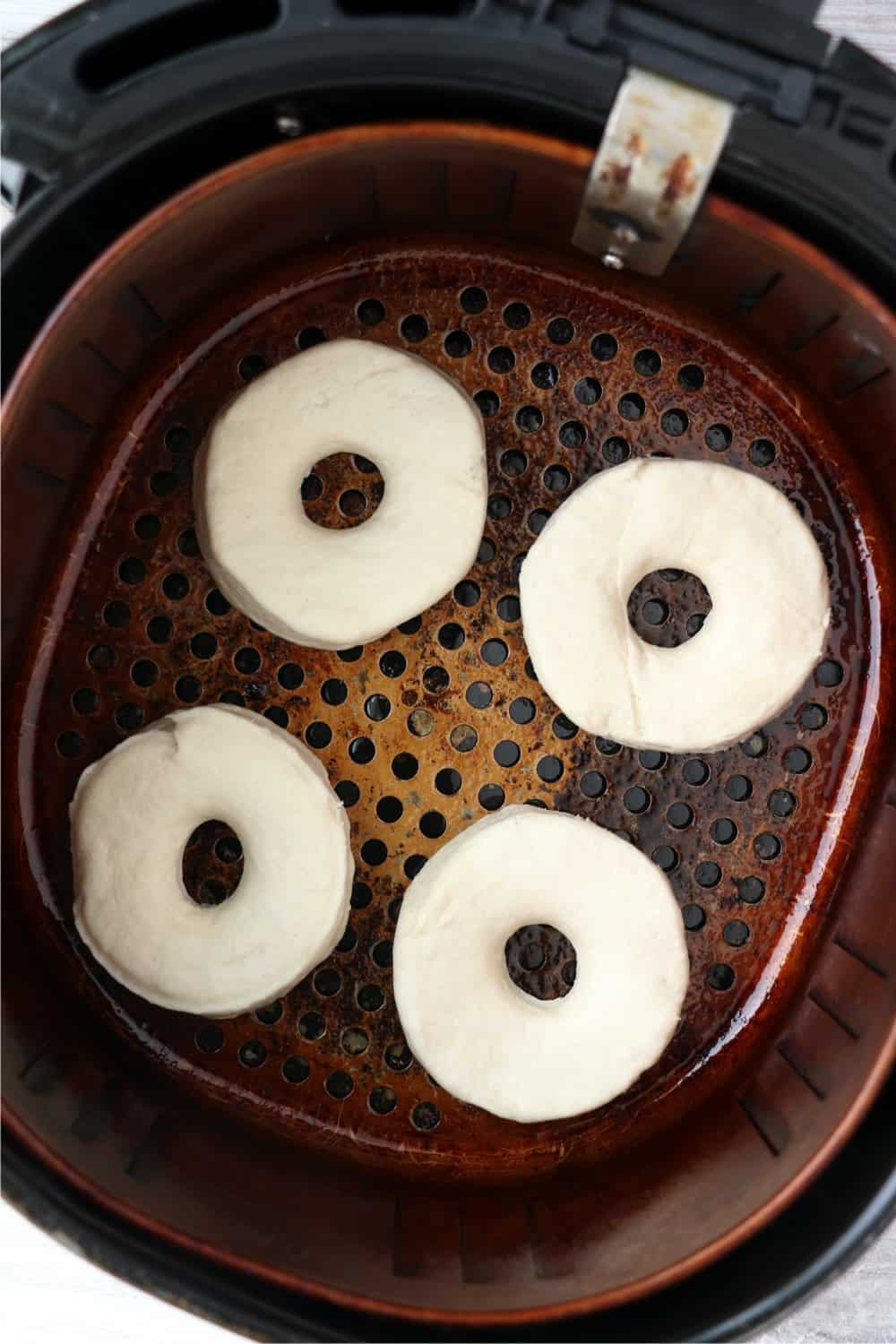 Pay close attention to them being done
These donuts don't take long to cook. You're going to be looking at five minutes, tops. Pay attention to the coloring of the outside of the biscuits and once they turn golden-brown, they're ready to be pulled from the air fryer.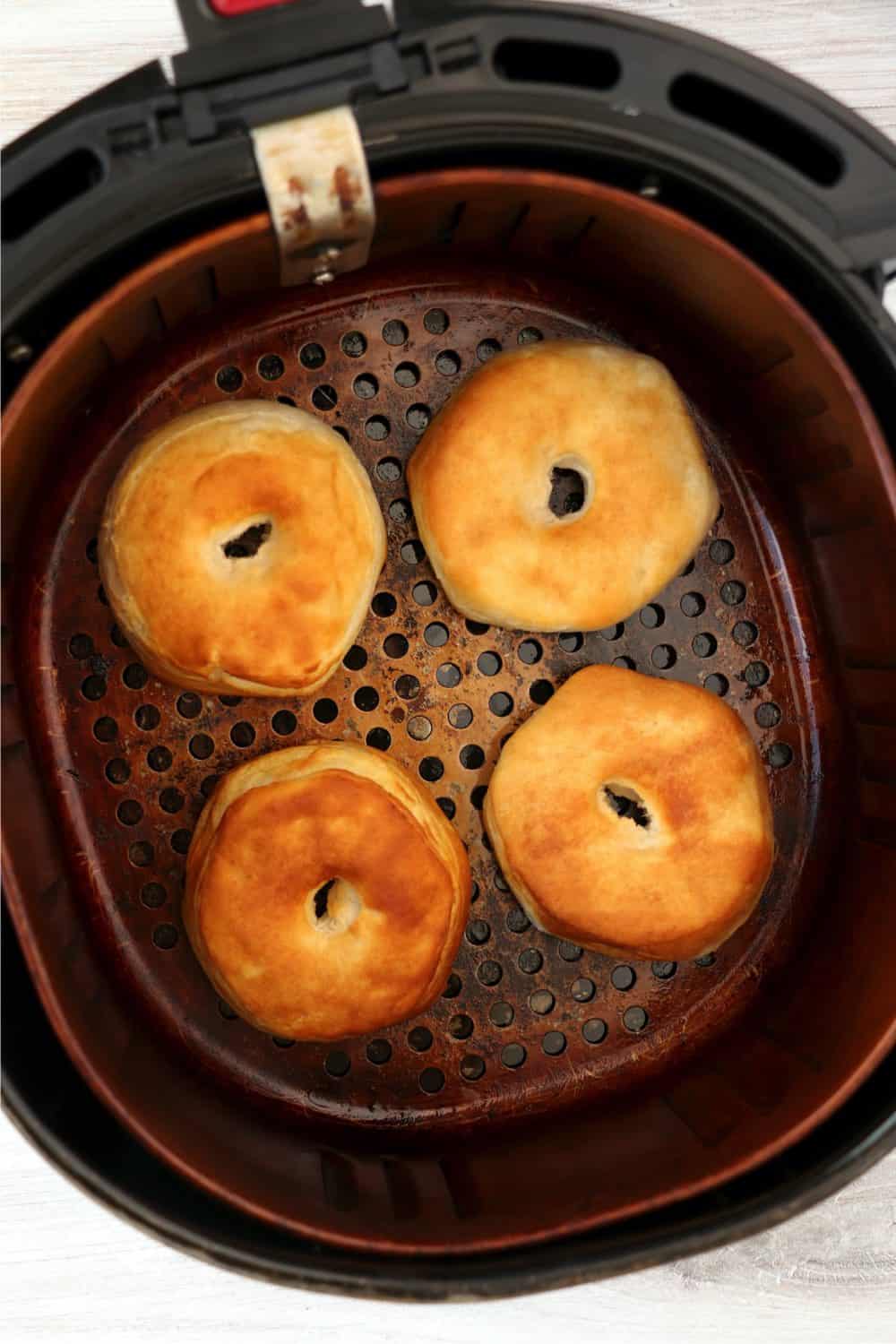 Applying the glaze
You might notice that the glaze is a different consistency than what you thought. If it's too thick, just add in a bit more milk. If it's too thin, add in a little bit more powdered sugar. Once you've added the glaze, it's time to then have fun adding the sprinkles.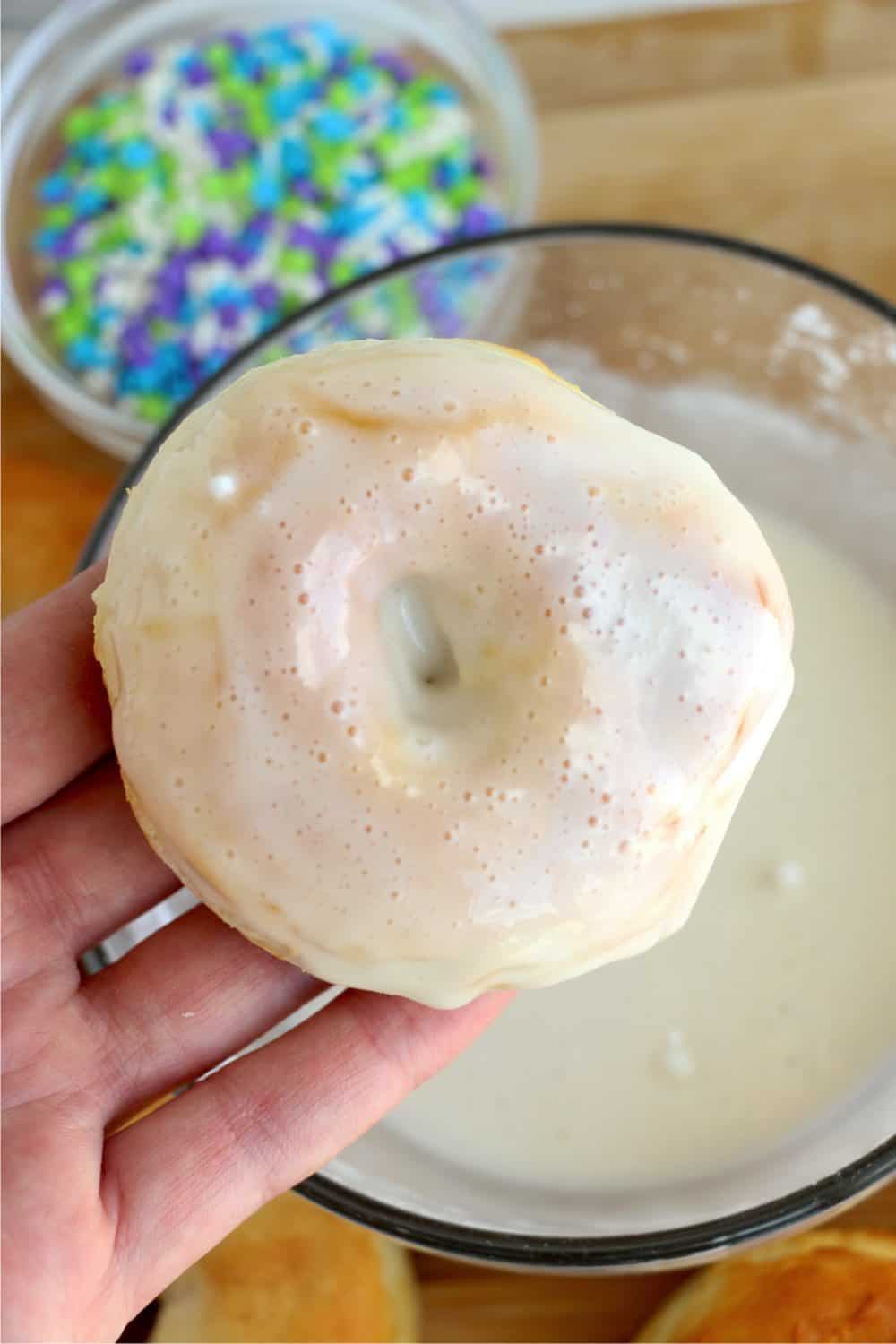 How do you get the hole in the middle of the biscuit?
There are a few ways to accomplish this but the easiest is to use an apple corer and just cut out the middle. (You can then try and make your own little donut hole with that piece if you want!)
If you don't have an apple corer, you can use a knife to just cut it out and make the best of it as well. It doesn't have to be perfect because it won't affect the flavor or taste at all.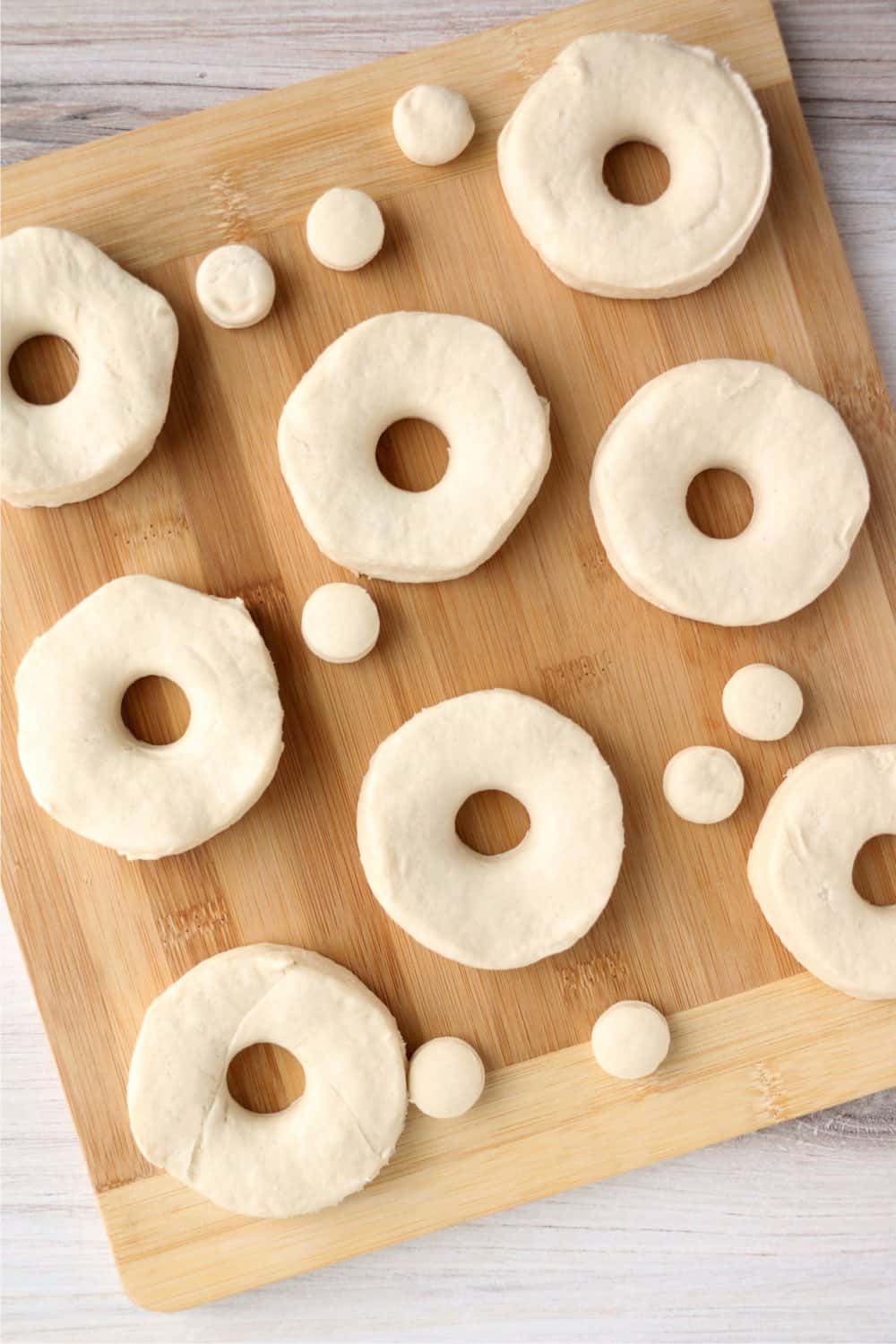 How to store leftover donuts
If you're lucky enough to have any of these donuts leftover, you just need to store them in an airtight container for later. This will keep them fresh for as long as possible. You don't have to keep them in the fridge, but you can if you want to.
How to reheat leftover donuts
If you notice that your donuts are hard, you can reheat them to make them soften up a bit. Just pop them in the microwave for a few seconds of time to bring that softness right back to life!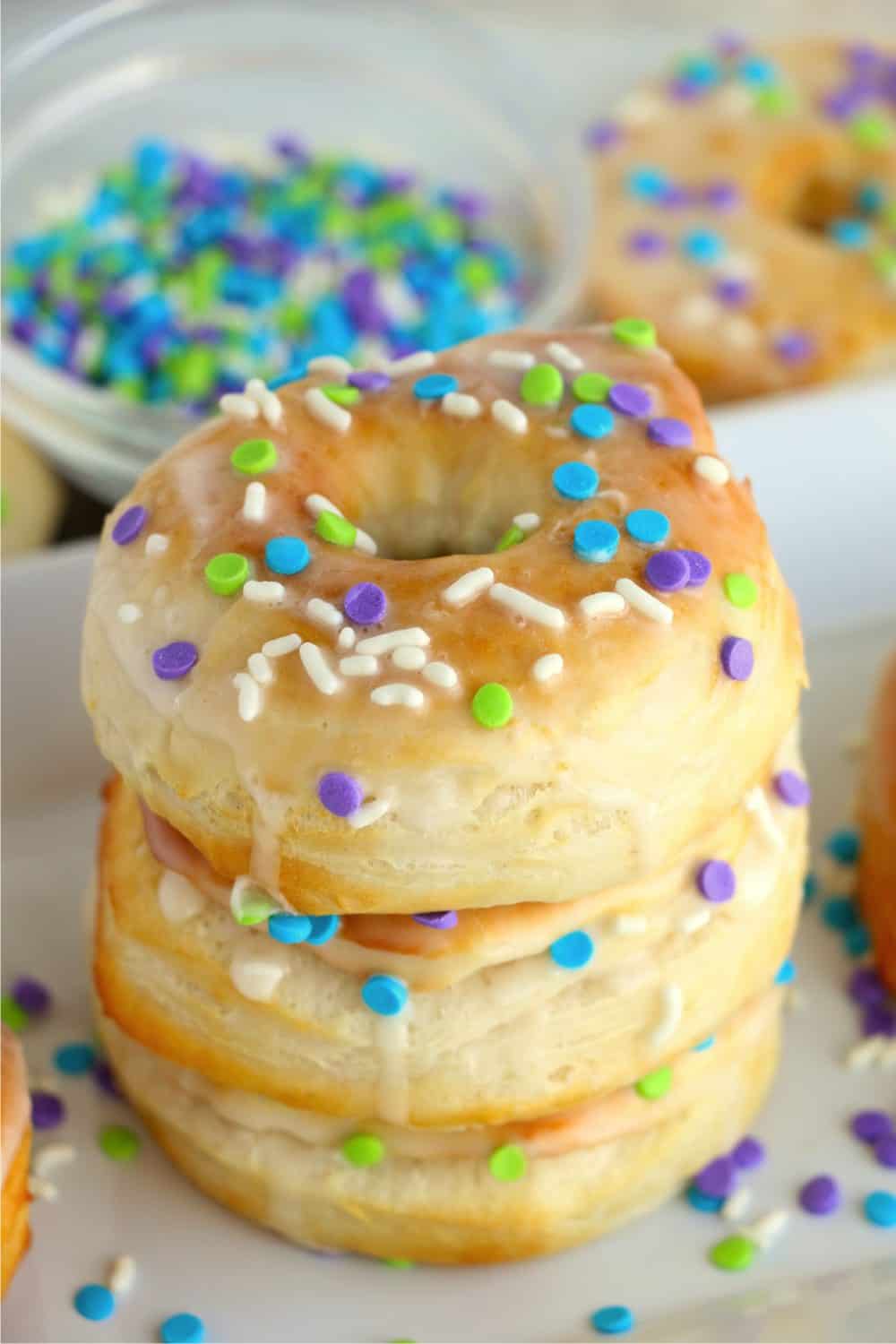 Toppings for Donuts Made From Biscuits
I'm a big fan of using sprinkles on donuts but there are a lot of other topping choices as well. One of the easiest ways to make the donuts taste differently is to vary up the type of toppings that you add. Some other donut toppings include:
crushed nuts
shredded coconut
mini chocolate chips
drizzled chocolate
melted caramel
powdered sugar
And the list could go on and on. Some people even just like to add a bit of cinnamon and sugar to their donuts which sounds just as delicious, too.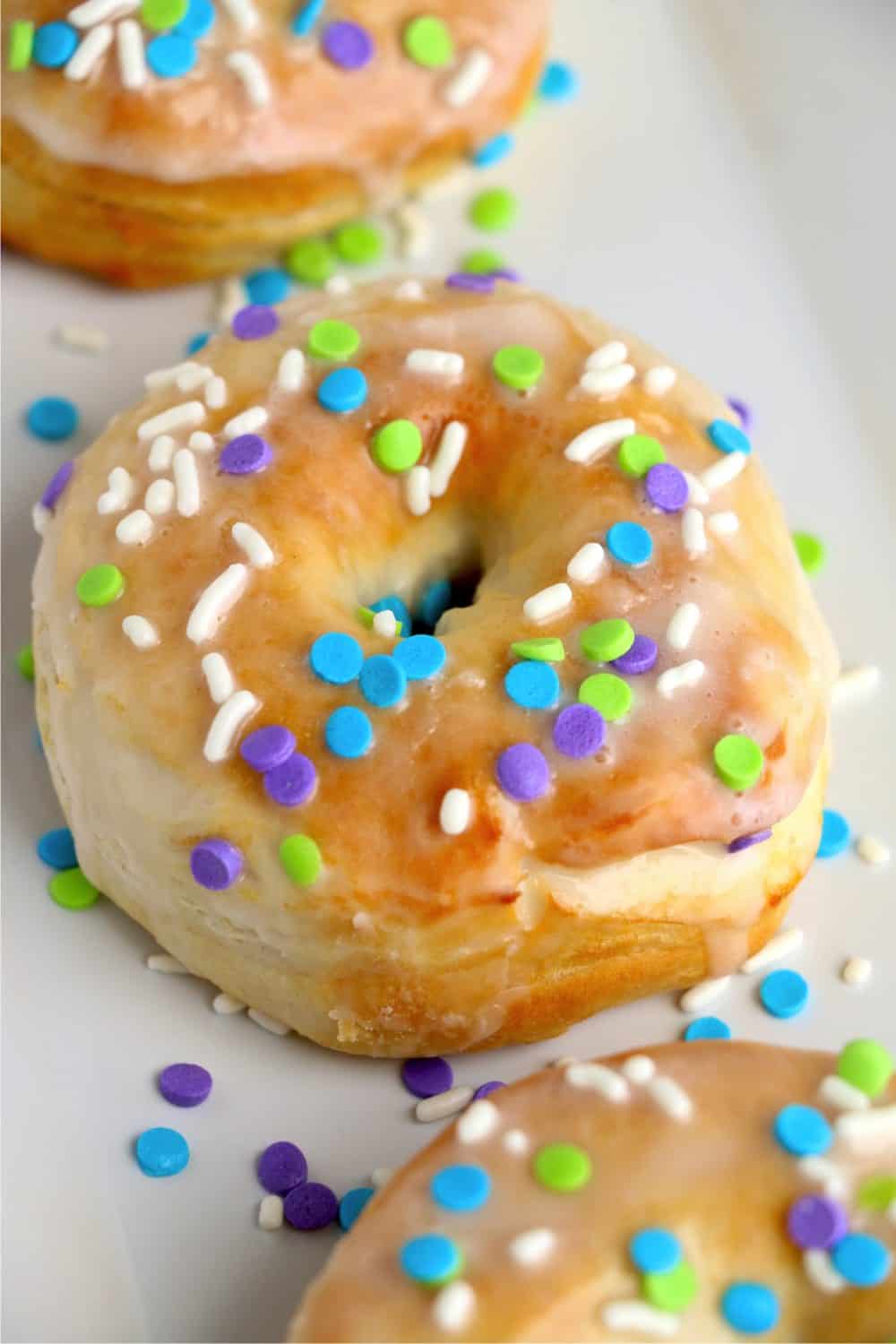 Fun Ideas To Make These Donuts
While these donuts are perfect for breakfast or brunch, don't forget that they're great for other times of the day, too. Who doesn't love an afternoon snack of donuts? There is nothing wrong with cooking up these donuts any time that you want them.
You can also make these donuts for birthday celebrations, holiday treats, and more. Change up the color of the frosting or the sprinkles to make them holiday-related as well.
Red and green sprinkles are great for Christmas and black and orange sprinkles are super fun for Halloween. Don't forget that you can even get shapes in sprinkle form that are like stars, zig-zags, or even fun unicorn-shaped sprinkles, too!
The main thing to remember when you're cooking donuts in the air fryer is that it's supposed to be fun! As long as you're following the simple directions below, you're going to get perfectly cooked donuts every single time. All that is left is to add the toppings and enjoy!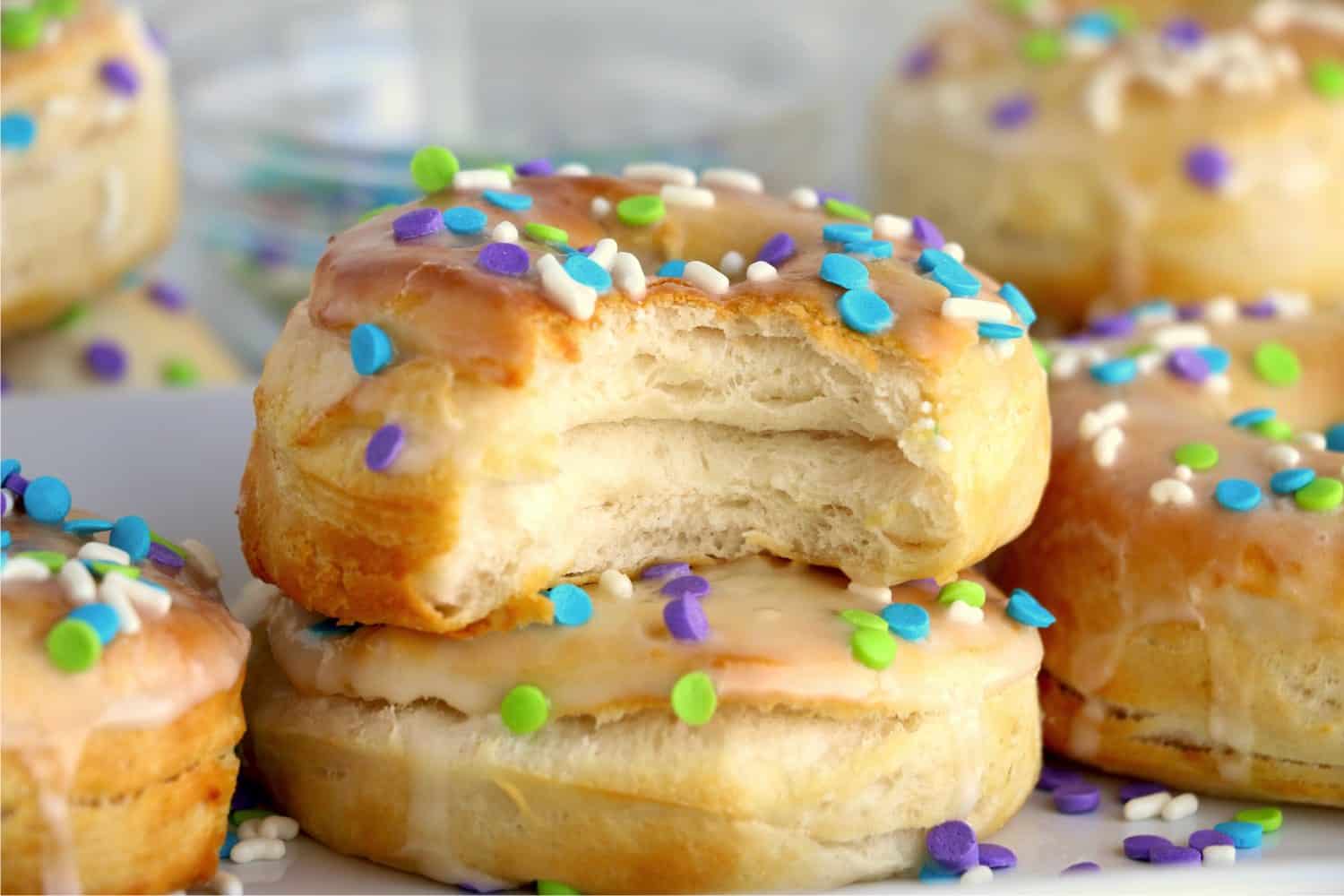 Love what you see?
Find more of my fun creations on Facebook, Instagram & Pinterest! You can also sign up for my weekly newsletter below and never miss any of my inspirations!
Can't get enough? Check out more of my favorites!
Yield: 8 servings
Air Fryer Donuts from Biscuits - Easiest Donuts Ever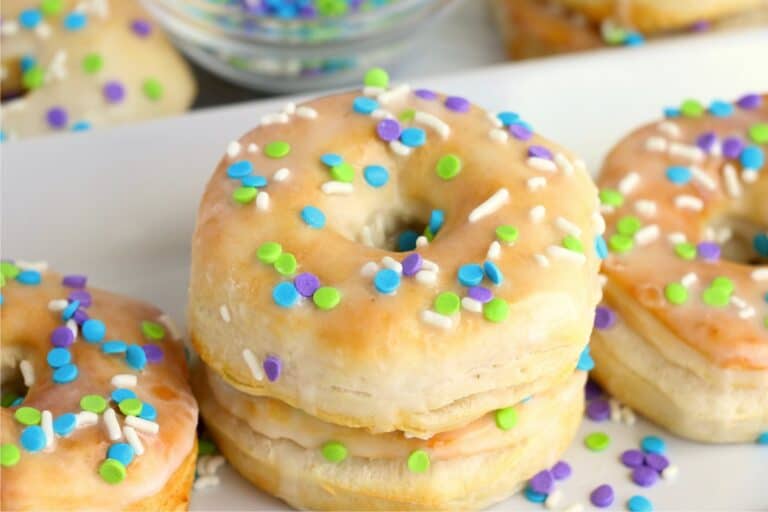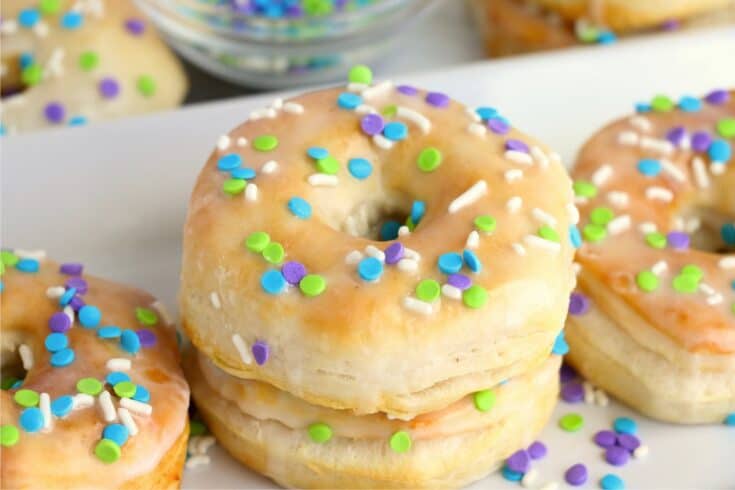 Air Fryer Donuts from Biscuits are the easiest, tastiest treats ever! They are light, fresh, and have less fat than deep-fried donuts.
Ingredients
1 can refrigerated biscuits (8 count)
1/2 cup powdered sugar
1-2 tbsp milk
1 tsp vanilla
sprinkles (optional)
Instructions
Place biscuits on a nonstick surface and cut middles out. I use an apple corer.
Place 4 prepared biscuits in your greased air fryer basket.
Air fry at 350ºF for 5 minutes or until they are cooked through.
Prepare glaze by combining powdered sugar, milk, and vanilla in a small bowl. If it is too thick, add more milk. If it is too thin, add more powdered sugar.
Add sprinkles if you choose.
Nutrition Information
Yield
8
Serving Size
1
Amount Per Serving
Calories

59
Total Fat

1g
Saturated Fat

0g
Trans Fat

0g
Unsaturated Fat

1g
Cholesterol

1mg
Sodium

46mg
Carbohydrates

11g
Fiber

0g
Sugar

7g
Protein

1g
Get Inspired!
Never miss my delicious recipes, cute creations, or household tips!