This Easy Homemade Meatloaf will become a family favorite. The sensational flavors will put a smile on everyone's face! Easy to make and perfectly tender!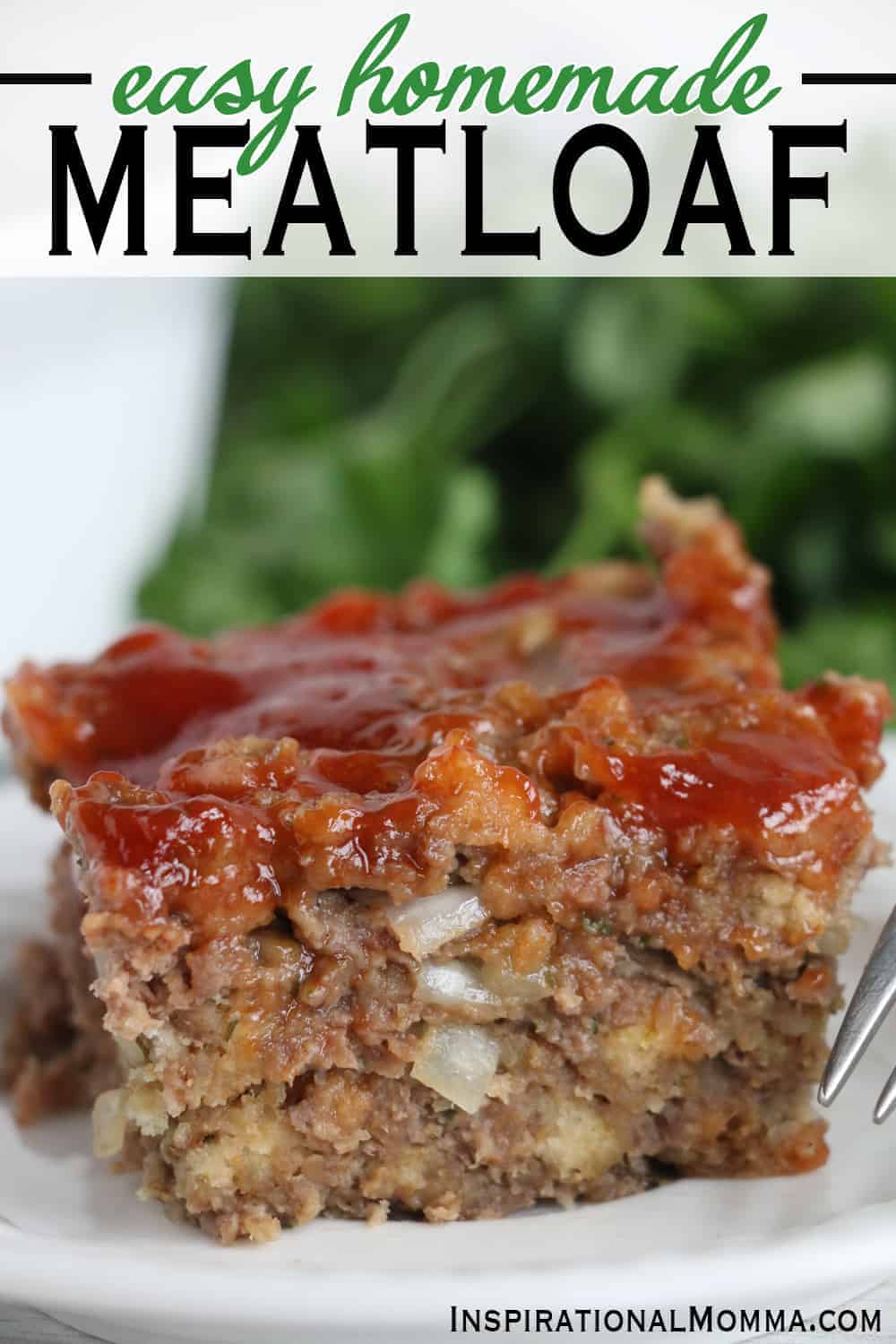 Quick Meatloaf Dinner
I can't believe I am saying this, but I have finally found a meatloaf recipe that I am in love with! It is an easy weeknight dinner that my whole family loves! If you are looking for another crowd-pleasing recipe, be sure to check out my 5-Ingredient Crock Pot Chicken and Stuffing.
About three months ago, I had my fourth...yes I said FOURTH...shoulder surgery. My first injury occurred when I was playing college volleyball. I had a minor tear in my rotator cuff and the recovery was pretty minimal. Just over two years ago, I tore my labrum and detached my bicep tendon. That surgery was a bit more involved and required a much longer rehab time. One year after that, I tore a different muscle in my rotator cuff. Because it had only been a year since my previous surgery, my recovery was much more challenging. My pups even stepped up and took on some of the nursing duties.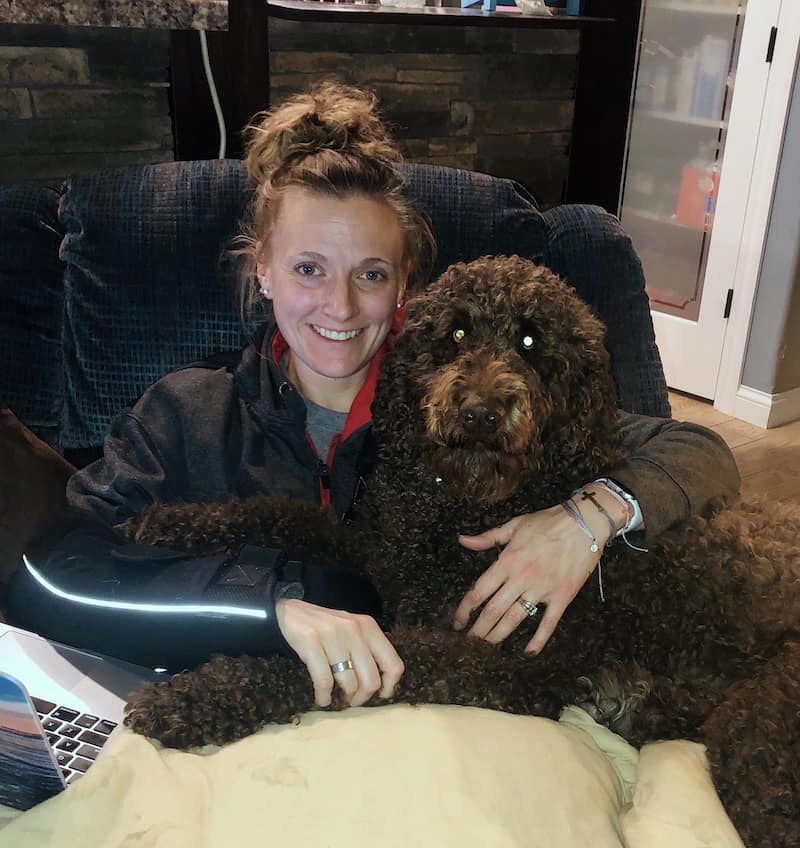 At that point, I made a vow that that would be my last shoulder surgery EVER. I was simply sick of dealing with the everyday struggles. Volleyball is a huge part of my life, but something had to change. I played very little and was very careful when I did. Things seemed to be going well, until I attended my cousin's baby shower. I know what you are thinking! A baby shower? What can happen at a baby shower? Well, let me tell you. While reaching for my glass, my elbow perfectly caught on the table, and I felt something go.
Sure enough! That simple motion completely tore my back two rotator cuff muscles. This injury was so extensive that cadaver tissue was needed to repair it. And as you could guess...extreme injuries require extreme recovery! Now, I am a person that always looks for the silver lining. And each of these challenging times in my life reminded me of the awesome friends and family that I have. Between lasagna, chicken dumpling soup, pizza, and meatloaf, we were fed like royalty!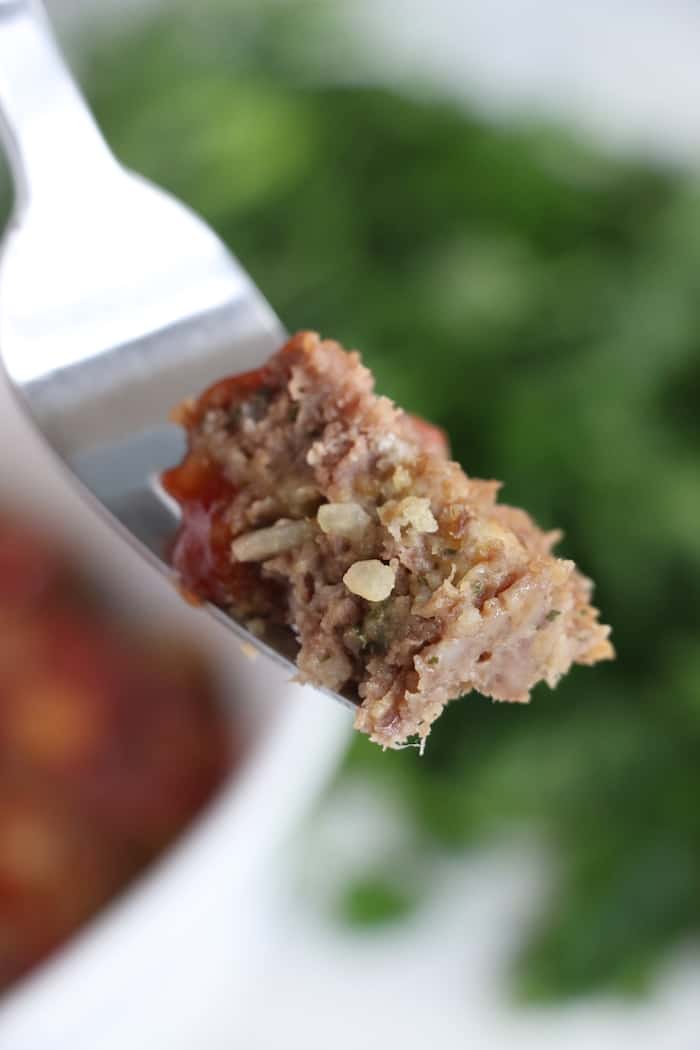 And that is exactly how I was introduced to this amazing meatloaf. My mother-in-law brought it for supper one night with some creamy mashed potatoes. After taking a bite and hearing the rave reviews from my family, I called her immediately and requested the recipe. Of course, she chuckled a bit and told me she had just "thrown" it together. I demanded to know exactly what created this delicious meal. Since then, I have made it several times, and it is finally time to share! I hope you enjoy it as much as we do!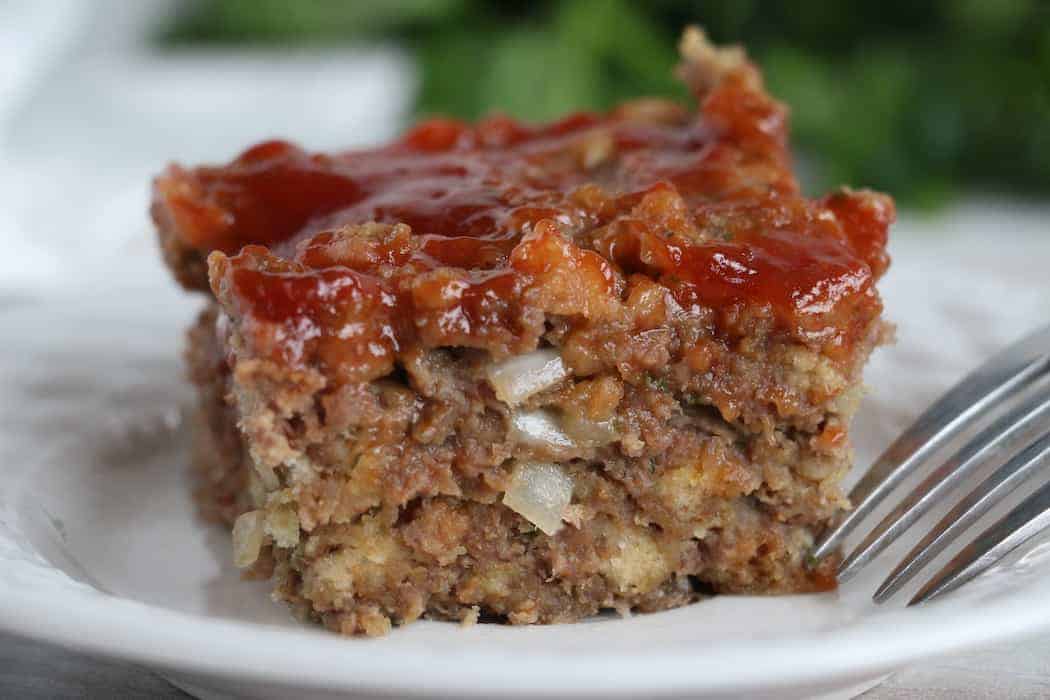 How to Make Easy Homemade Meatloaf
ground beef
breadcrumbs
yellow onion
chicken stuffing mix
milk
egg
ketchup
Worcestershire sauce
salt
pepper
parsley flakes
garlic powder
brown sugar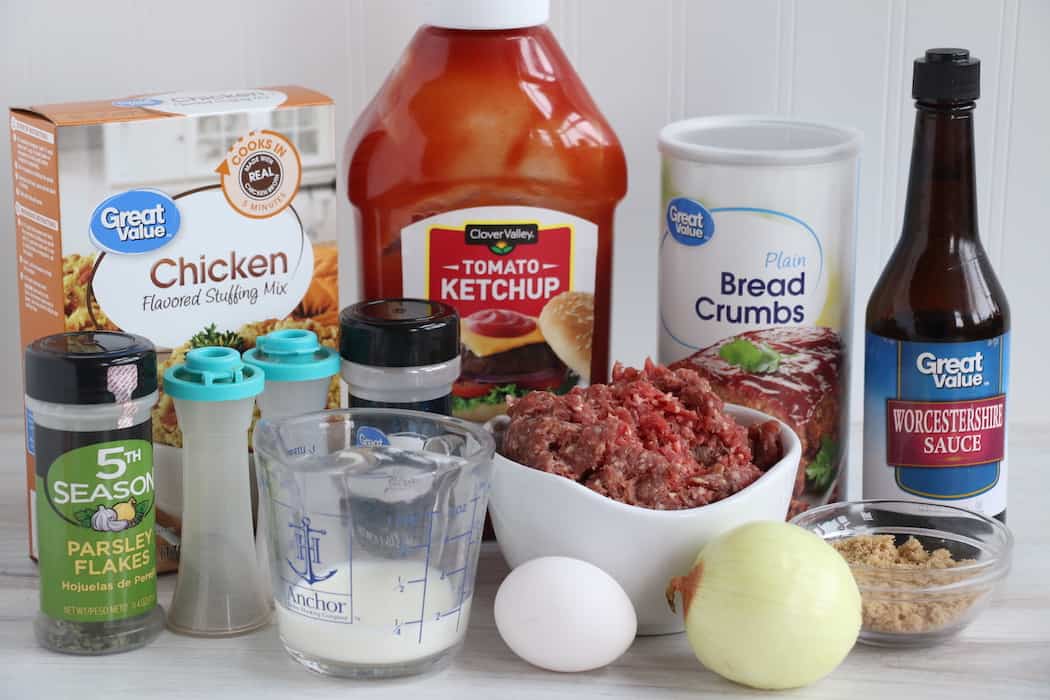 In a large mixing bowl, add all the ingredients for the meatloaf. This includes the ground beef, chicken stuffing mix, breadcrumbs, ketchup, egg, milk, onions, Worcestershire sauce, and seasonings. I know that some use a spoon, but I prefer using my hands. I just find that it is much easier to get everything mixed well.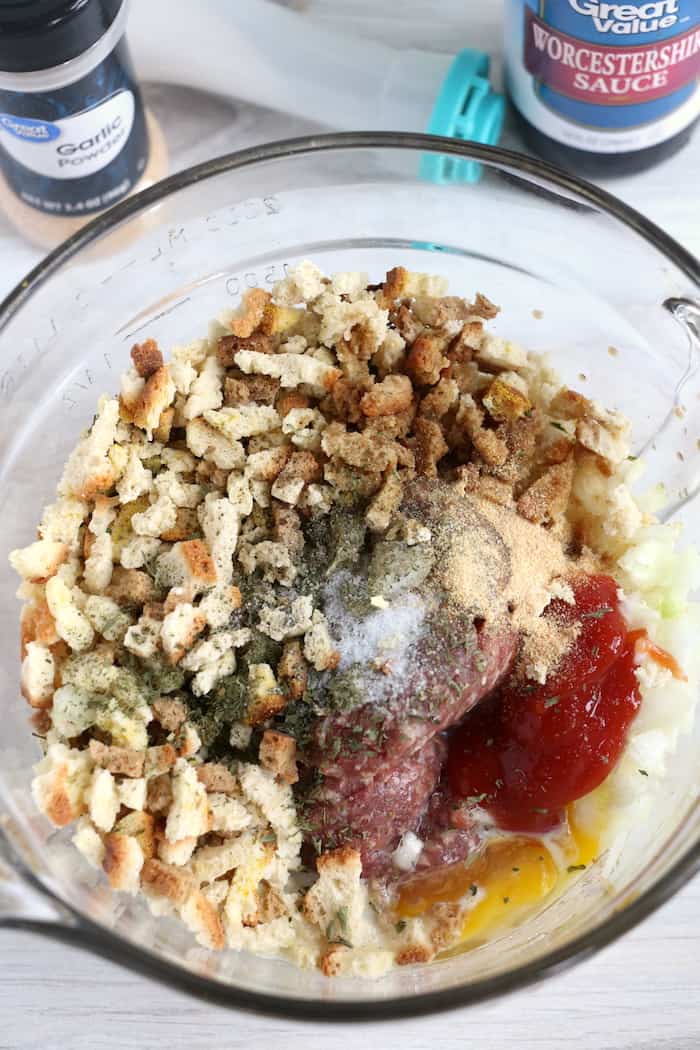 When everything is mixed well, put it in a greased 1.5 quart baking dish.
Next, we need to mix the topping. In a small bowl, combine the ketchup and brown sugar. This can be poured over top of the meatloaf and spread out evenly. Get the baking dish covered with aluminum foil and bake it for 45 minutes.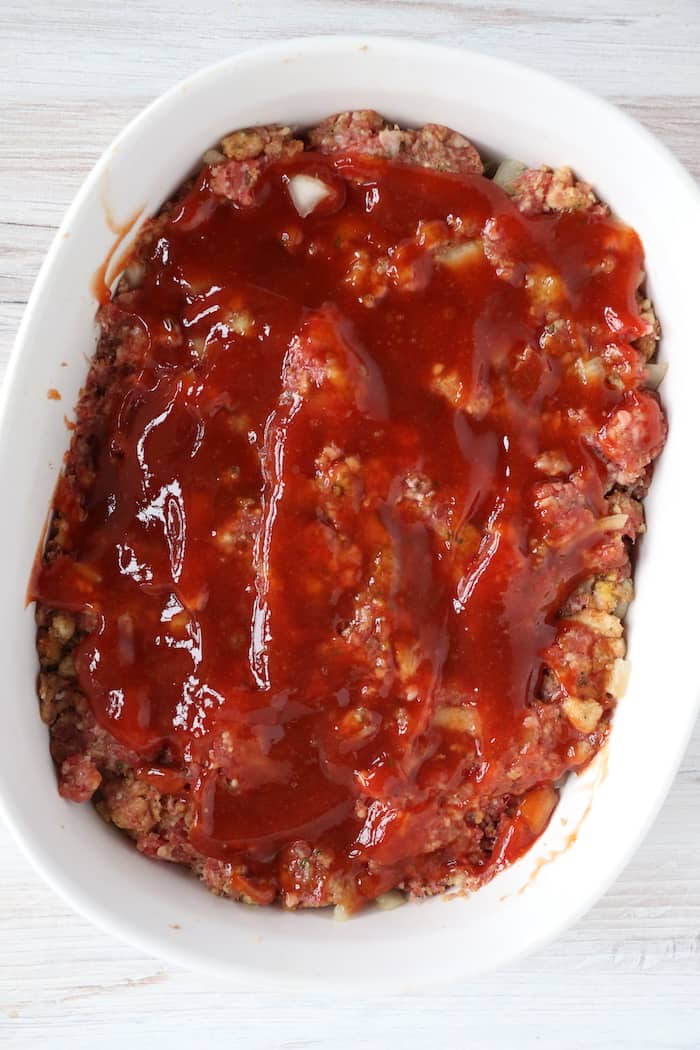 Now get ready to enjoy! This is by far, the BEST meatloaf that I have ever tasted. And I was 100% blown away when my children gave me "permission" to make it often. When I was young, meatloaf had a pretty negative reputation. However, I have put that to rest and started a new trend! Meatloaf is back and better than ever!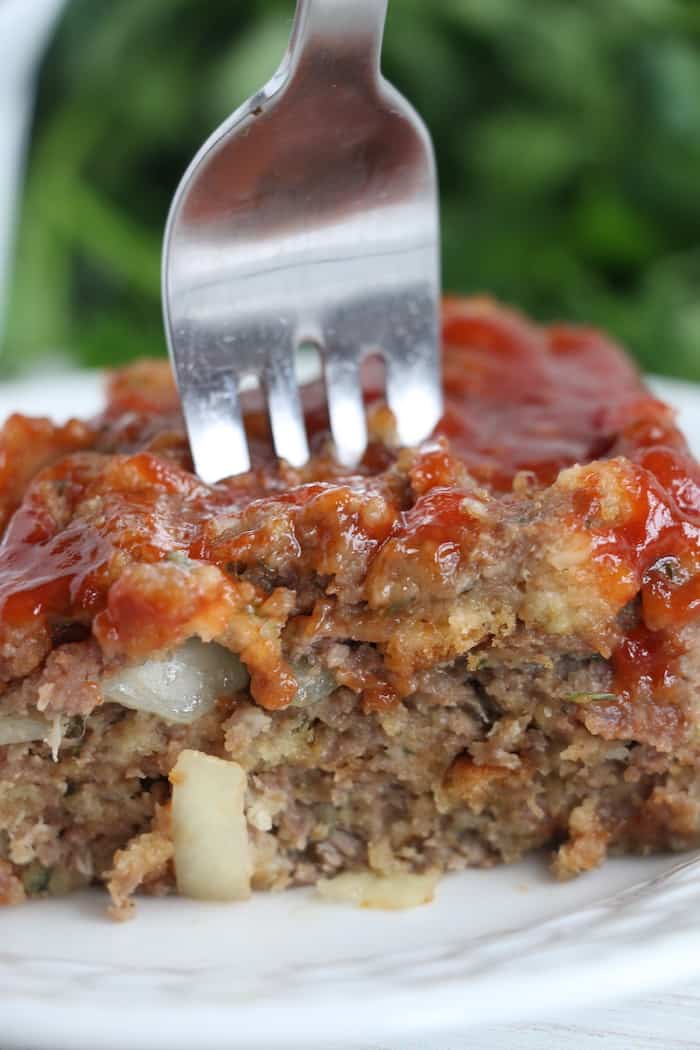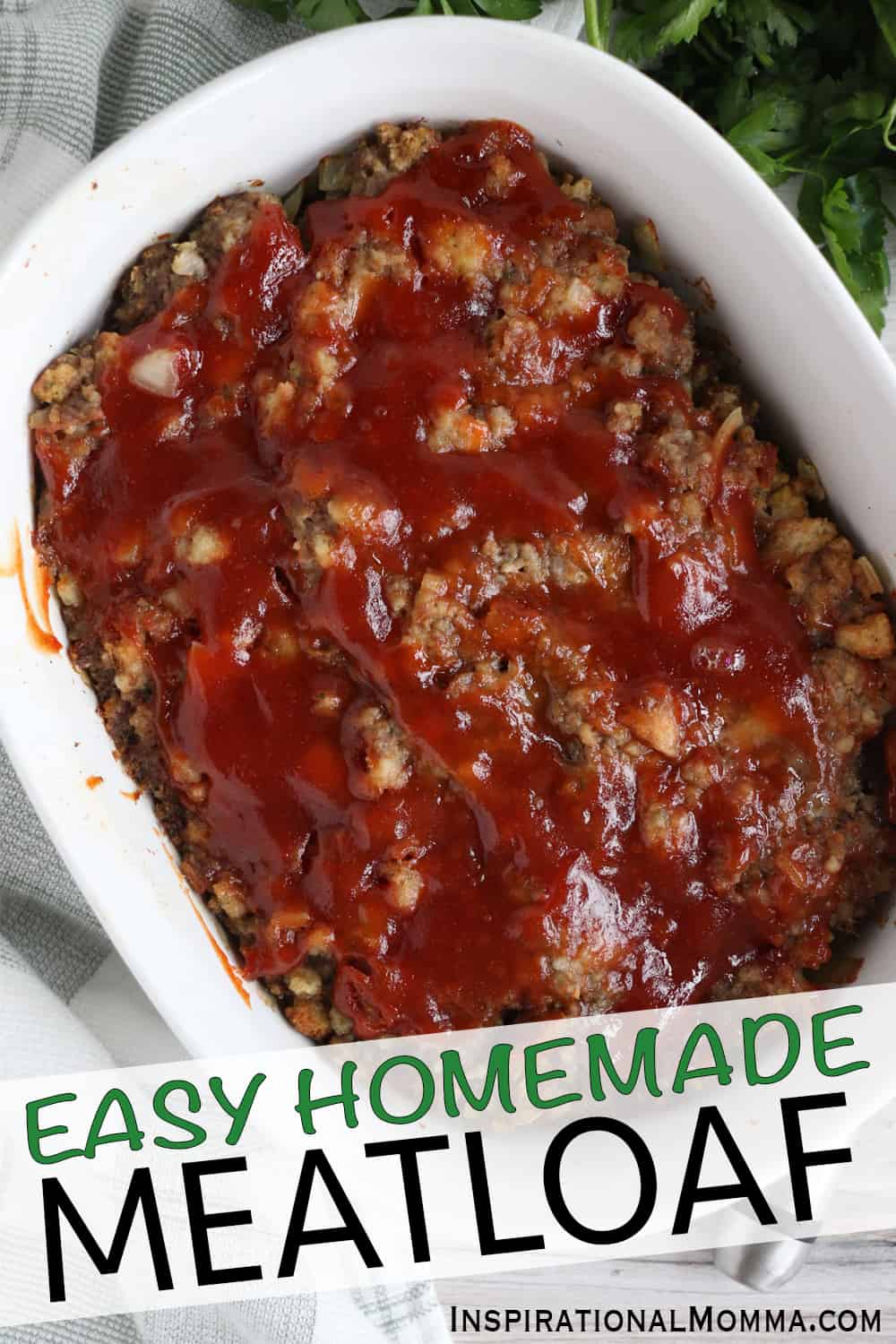 Love what you see? Find more of my fun creations on Facebook, Instagram & Pinterest! You can also sign up for my weekly newsletter below and never miss any of my inspirations!
Can't get enough? Check out more of my favorites!
Yield: 16 servings
Easy Homemade Meatloaf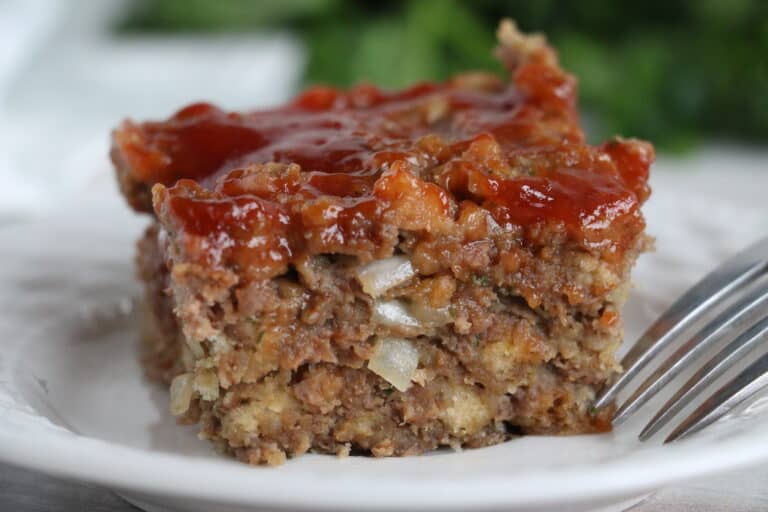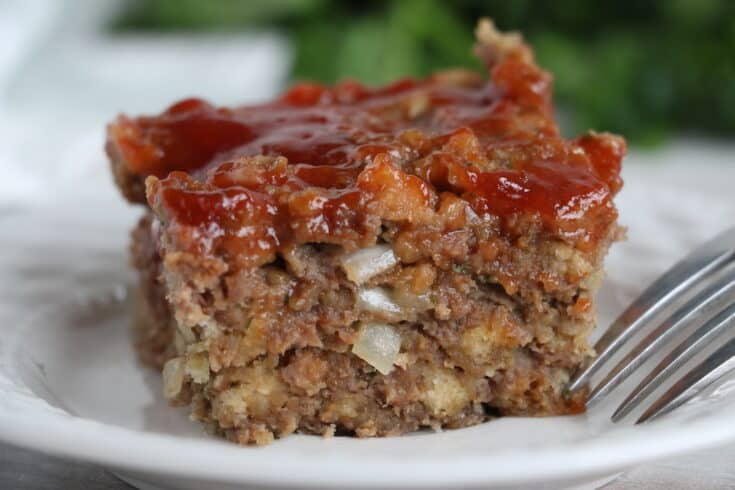 This Easy Homemade Meatloaf will become a family favorite. The sensational flavors will put a smile on everyone's face! Easy to make and perfectly tender!
Ingredients
2 lbs ground beef
1 cup dried breadcrumbs
1 medium yellow onion, diced
1 package chicken stuffing mix
1/2 cup milk
1 egg
3/4 cup ketchup, divided
2 tbsp Worcestershire sauce
1 tsp salt
1/2 tsp pepper
1 tsp parsley flakes
1 tsp garlic powder
4 tbsp brown sugar
Instructions
Combine ground beef, breadcrumbs, onions, stuffing mix, milk, egg, 1/4 cup ketchup, Worcestershire sauce, salt, pepper, parsley flakes, and garlic powder. Combine them thoroughly. I do this with my hands.
Place mixture in a greased 1 1/2 quart baking dish.
In small mixing bowl, combine 1/2 cup ketchup and brown sugar for topping. Spread over meatloaf.
Cover with aluminum foil.
Bake at 350ºF for 45 minutes or until internal temperature reaches 160ºF.
Nutrition Information
Yield
16
Serving Size
1
Amount Per Serving
Calories

237
Total Fat

12g
Saturated Fat

5g
Trans Fat

0g
Unsaturated Fat

5g
Cholesterol

70mg
Sodium

415mg
Carbohydrates

14g
Fiber

1g
Sugar

6g
Protein

18g
Get Inspired!
Never miss my delicious recipes, cute creations, or household tips!