Air Fryer Monster Cookies
Air Fryer Monster Cookies are soft, chewy, and packed with sensational flavors. Made in your air fryer, they are an easy, sweet treat!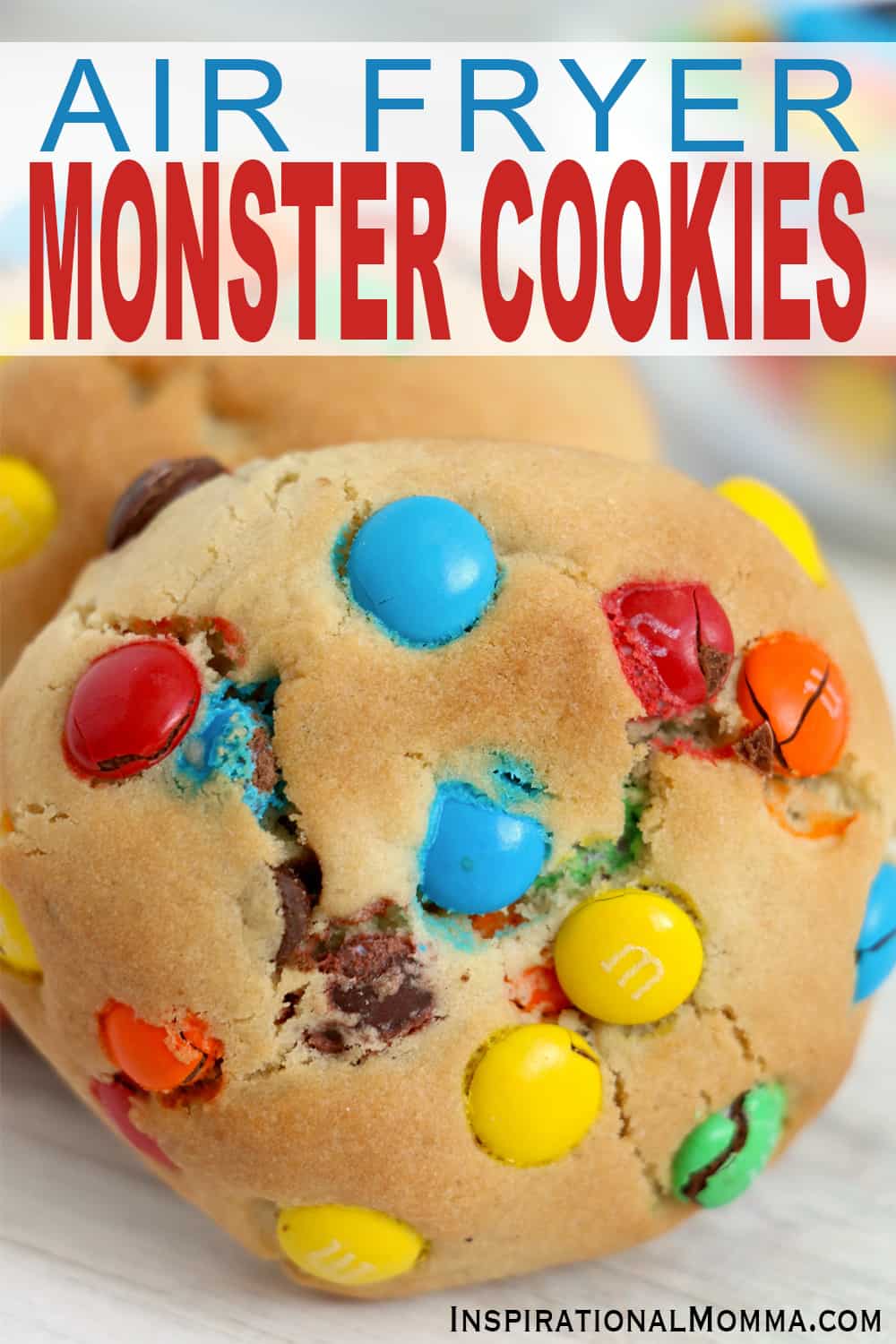 Easy M&M Cookies
This recipe is one of the tastiest cookie recipes, ever. Full of flavor and fun ingredients, there really is something for everyone in this recipe. If you're new to the monster cookie world, welcome. It's a great place to be. Looking for more delicious desserts? Check out my Tie Dye Vanilla Roll Cake and this amazing Raspberry Poke Cake...two guaranteed crowd favorites.
I remember getting my first air fryer a few years ago. I was so excited to be able to cook all the frozen things that we love (chicken strips, cheese curds, french fries, etc.) in a fraction of the time. And let me tell you, it didn't disappoint. We still use it for those exact things often. However, my mind was blown when I started experimenting with other things that we love.
These Air Fryer Brown Sugar Roasted Carrots quickly became a family favorite! Who knew my children would be asking for another helping of vegetables?!? And let's not forget my Air Fryer Fried Chewy Chocolate Chip Cookies! Talk about mouth-watering deliciousness! The possibilities are endless! If you are ready for more air fryer magic, these monster cookies are just what you need!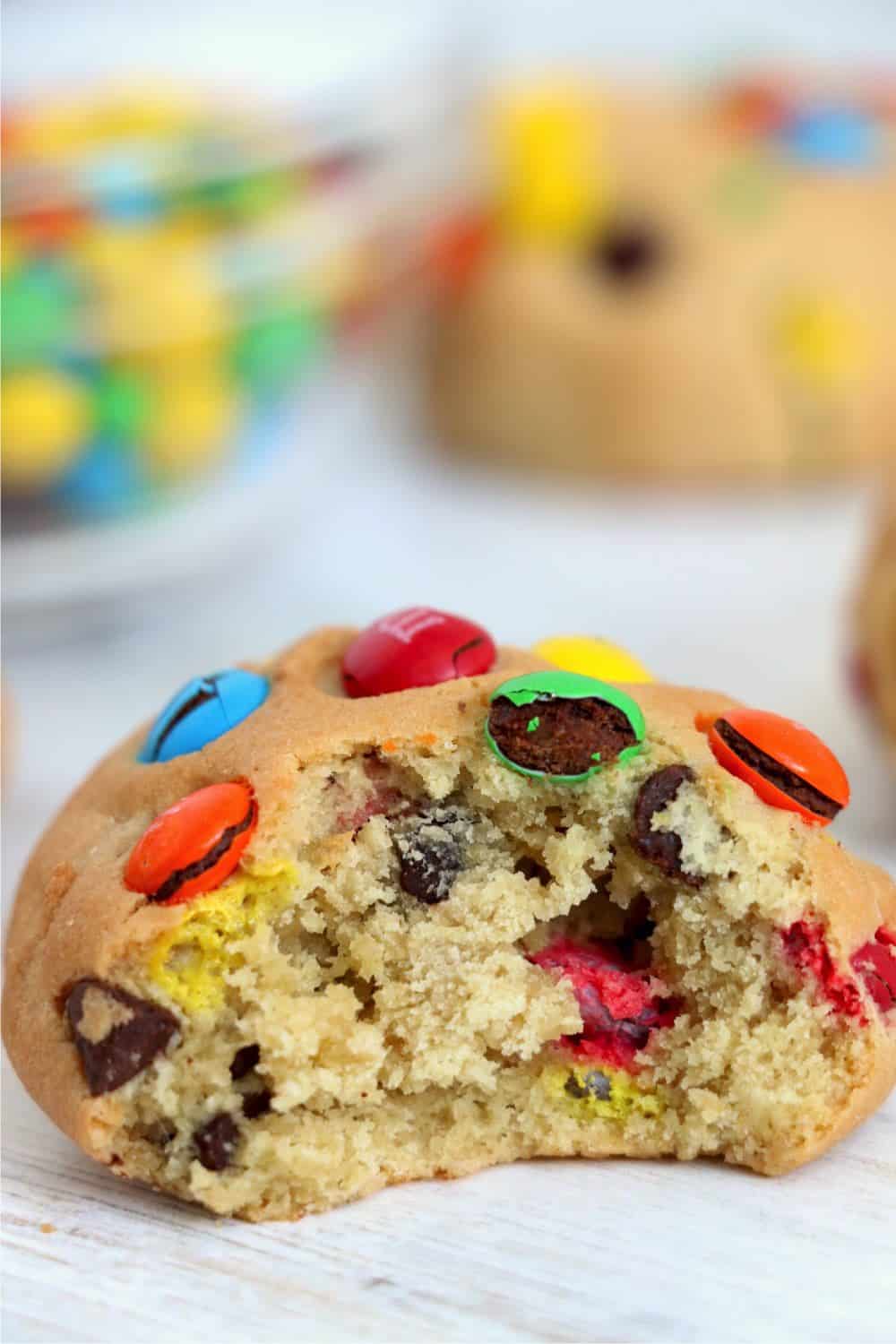 Are Monster Cookies a Midwest thing?
When I tell people that I love monster cookies, they stare at me and sometimes wonder what I'm even talking about. It never occurred to me that Monster cookies aren't a thing everywhere, but I am learning that this is true.
I don't know if it's that cut and dry but I do think that more people from the Midwest know what monster cookies are. Everyone seems to know someone who has their own monster cookie recipe to share.
What are monster cookies made of?
A little of this, a little of that - and each Monster cookie recipe is going to be 100% different. Truth be told, this is what makes monster cookies so much fun to bake and eat. No matter if you THINK you've tried every type of monster cookie out there, there seem to be endless recipes waiting to be eaten.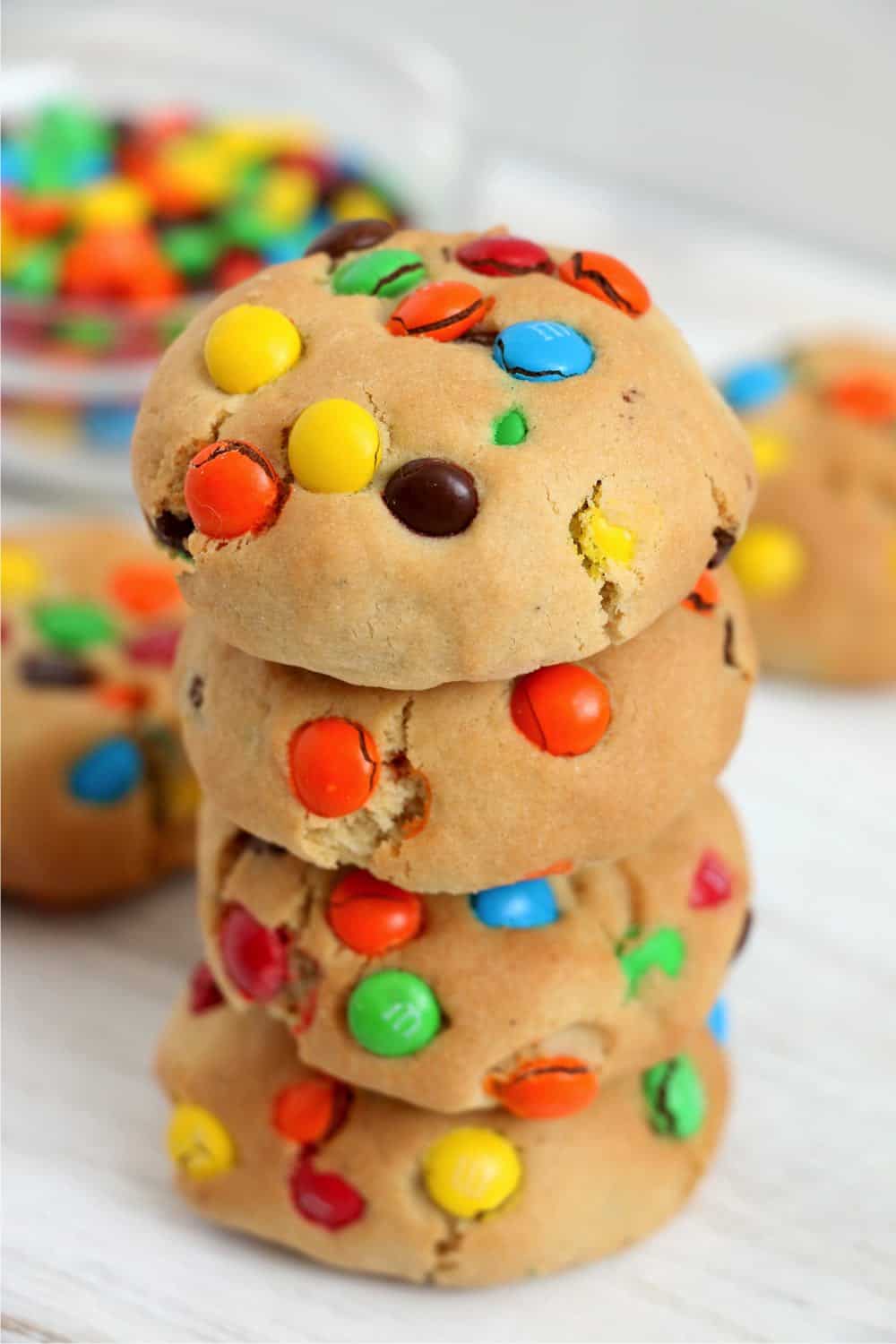 Ingredients in Thick Monster Cookies
Since we're cooking these up in the air fryer, these cookies are gonna be plump! This makes the texture quite addictive and really fun to eat. Below are the simple ingredients that you'll find in this monster cookie recipe.
butter
sugar
brown sugar
egg
vanilla
flour
baking soda
salt
mini M&Ms
mini chocolate chips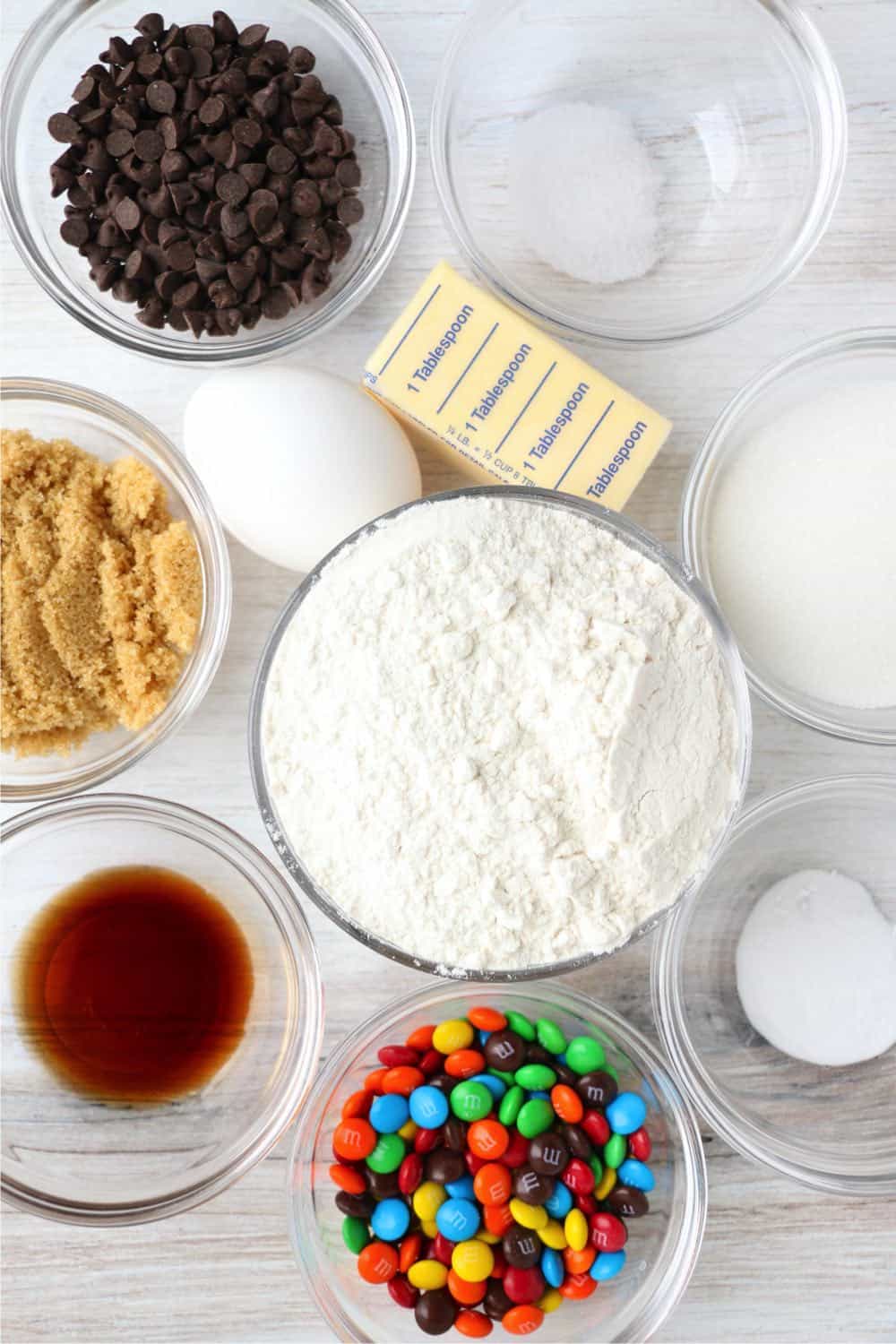 As you can see, there's a little of this, a little of that, a lot of chocolate, and an amazing flavor just waiting to be fried up and enjoyed.
Can you make this simple cookie recipe in advance?
You can absolutely make the dough up in advance. I like to do this on days that I know I'm not going to have a ton of prep time to cook this recipe up. Once you mix the dough, just cover it and keep it stored in the fridge.
When it's time to put the cookies in the air fryer, just let the dough come to room temperature before cooking. For the cookies to plump up, they need to be at room temp before adding them into the air fryer.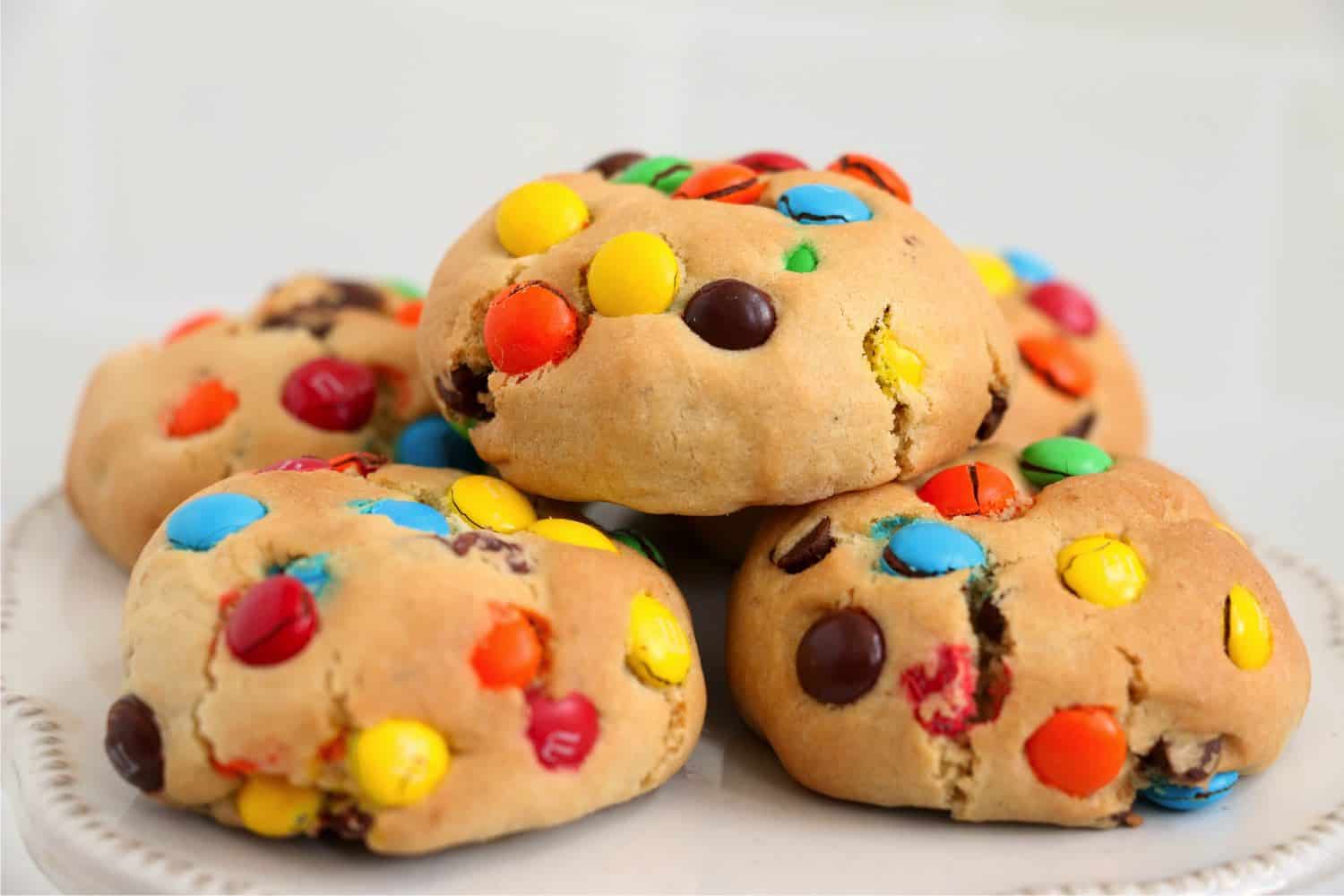 How to Make Air Fryer Cookies
The full printable recipe can be found below but here are just a few steps to keep in mind as you're making and cooking these cookies.
Don't forget to line the air basket
The last thing that you want to have happened is to have the cookies stick in the air basket! Just line the air basket with parchment paper so that you don't miss a crumb.
Fold in the yummy chocolate
Since you'll be mixing the other ingredients with a mixer, you'll want to be a bit more gentle on the chocolate ingredients. Just fold them in by hand using a spatula or spoon.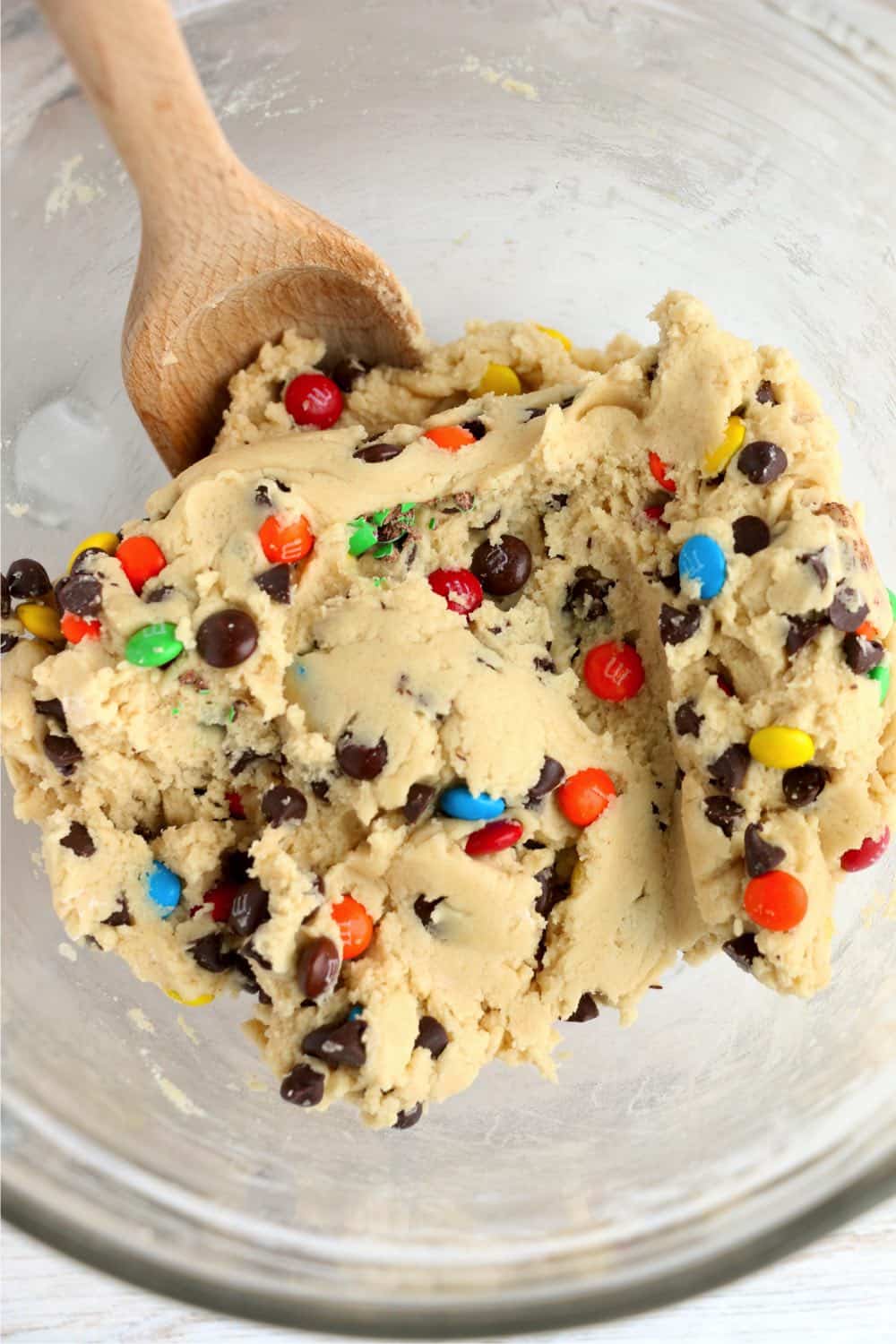 Making the cookie dough balls
If you're wanting uniform cookies that are all the same size, an ice cream scoop to scoop out the dough is going to be the best bet. They should all be very similar in size.
Add the cookie dough to the air fryer
The biggest thing to keep in mind when you're cooking up the cookies in the air fryer is that you need to give them space. They should all be about 1 inch apart so that the air will circulate correctly and also to give the cookies space to "grow".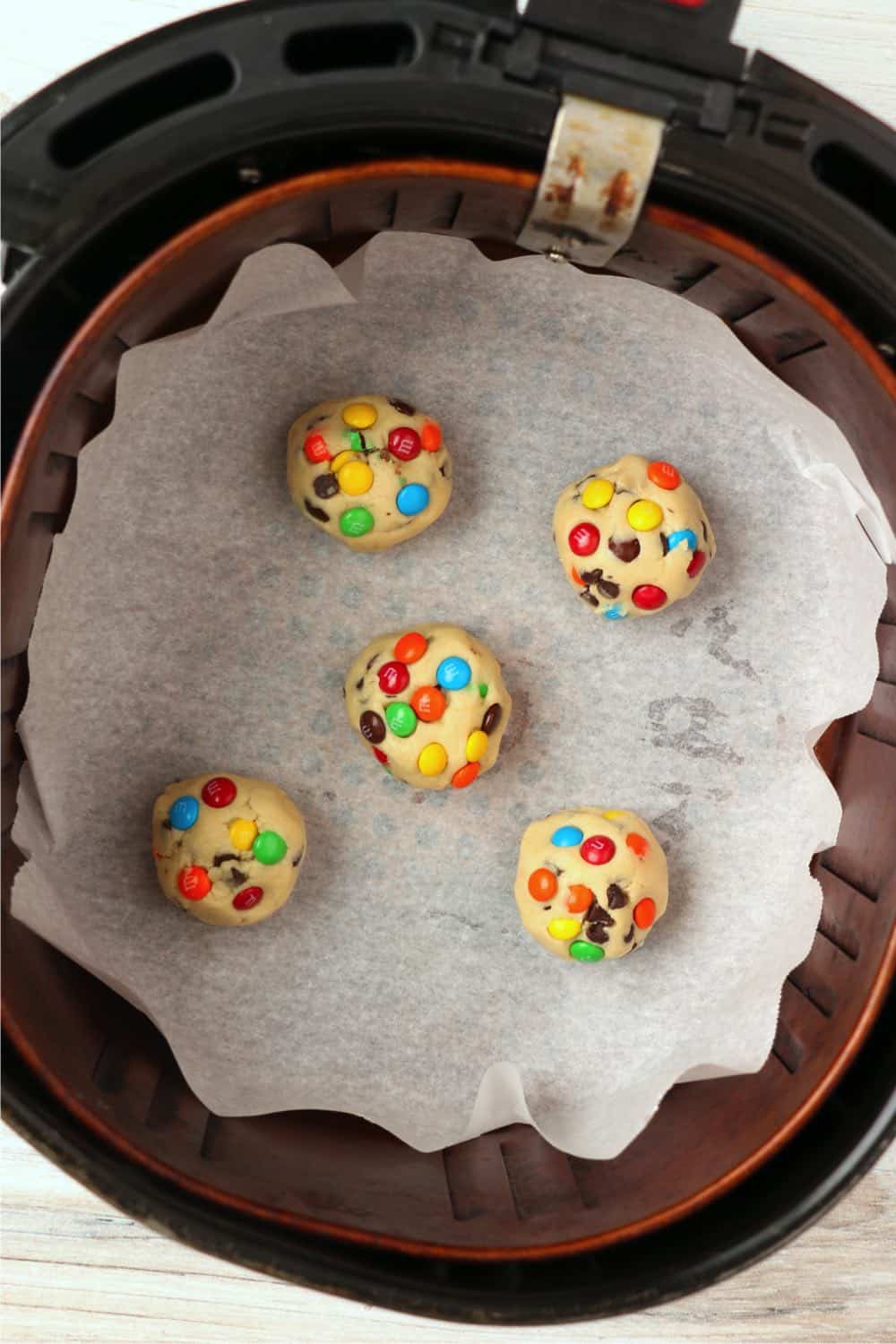 How to know when monster cookies are done baking in the air fryer
These cookies don't take long to cook at all! We're talking about 8 minutes top, per batch. Keep an eye on them but the biggest indicator that they're done cooking is that they're going to start to turn a golden-brown coloring in the air fryer.
This is your clue to pull them from the air fryer and start the cooling process.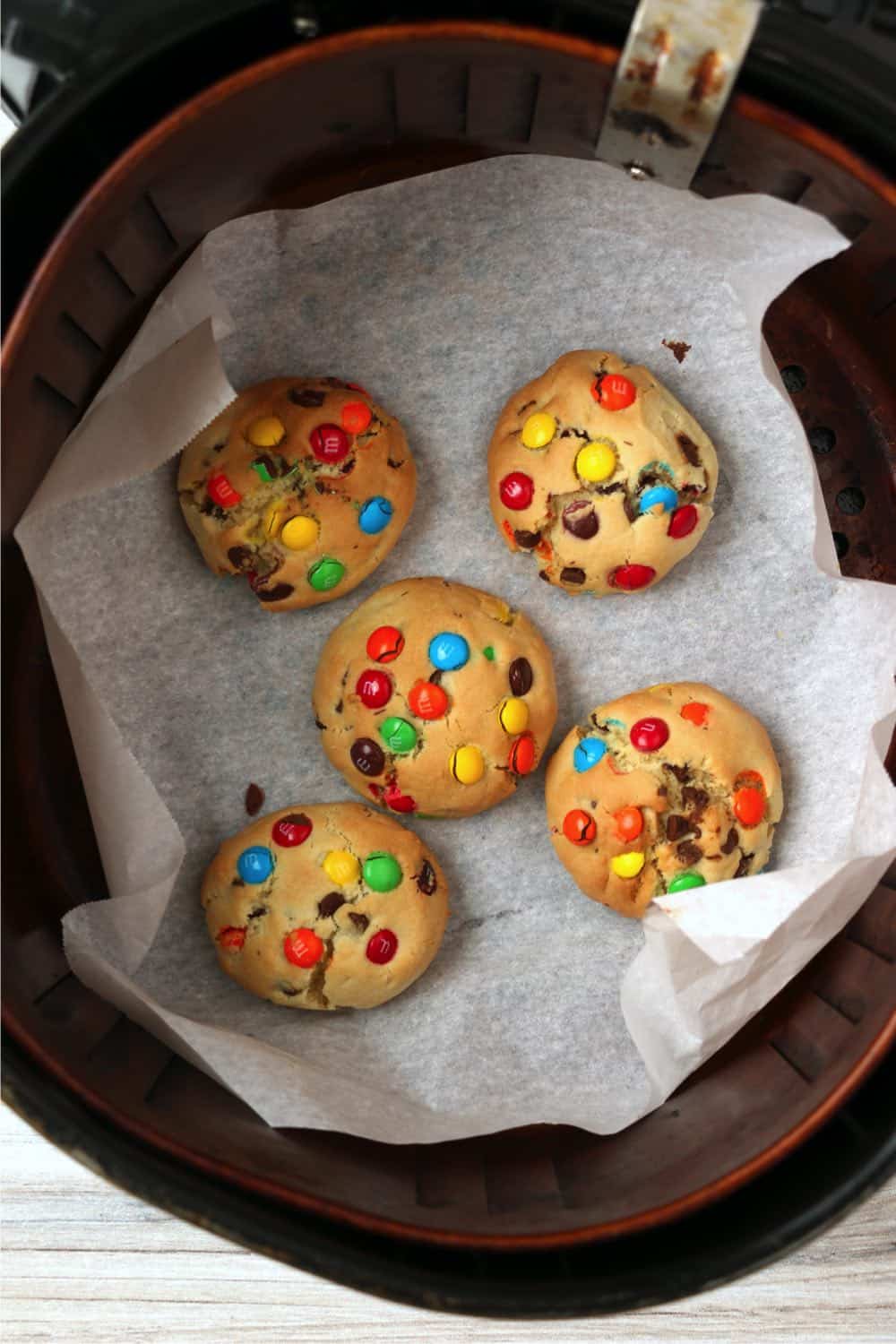 How to store leftover cookies with M&M's
If you're lucky enough to have any cookies left over after making them, you're going to want to store them in an airtight container. They don't have to be kept in the fridge, but you can if you want.
You can also freeze these cookies to enjoy later as well. Simply add them to a freezer-proof container or freezer-safe bag to keep the air away from them as best possible.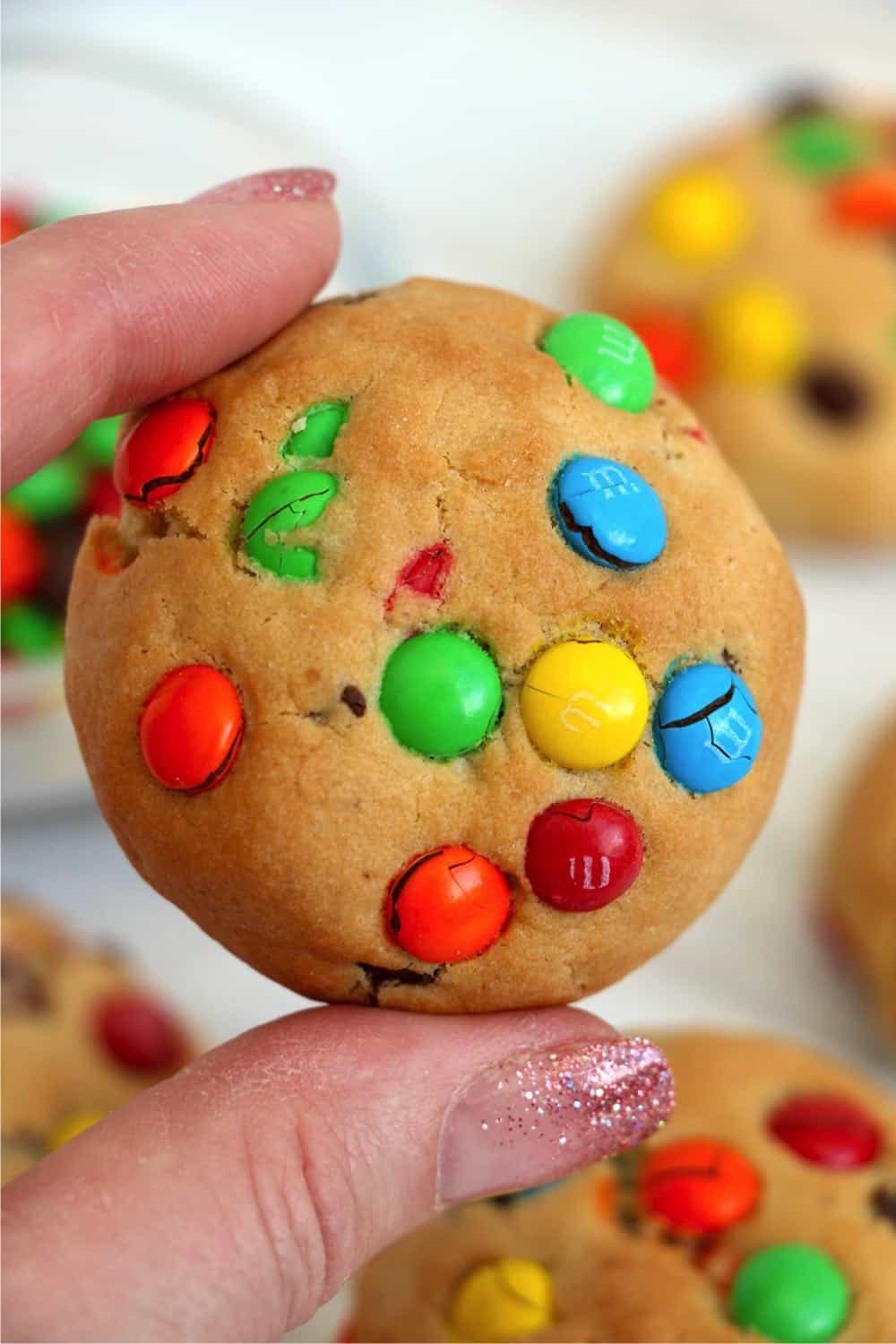 Tips for Storing Homemade Cookies
Since I've been cooking cookies for a long time, I've learned a few tricks along the way of storing cookies. One of the best tips that work really well is that I like to freeze cookies in smaller bags of just 1 or 2 cookies. (I know it's not really saving much when it comes to waste, but it's saving a lot when it comes to my waistline!)
When I freeze the cookies in smaller portions, it means that I only have to unthaw the cookie or cookies that I want to eat right then and there. I can leave the others for another time and another day. This is also super helpful for portion control so I don't eat 5 cookies at once.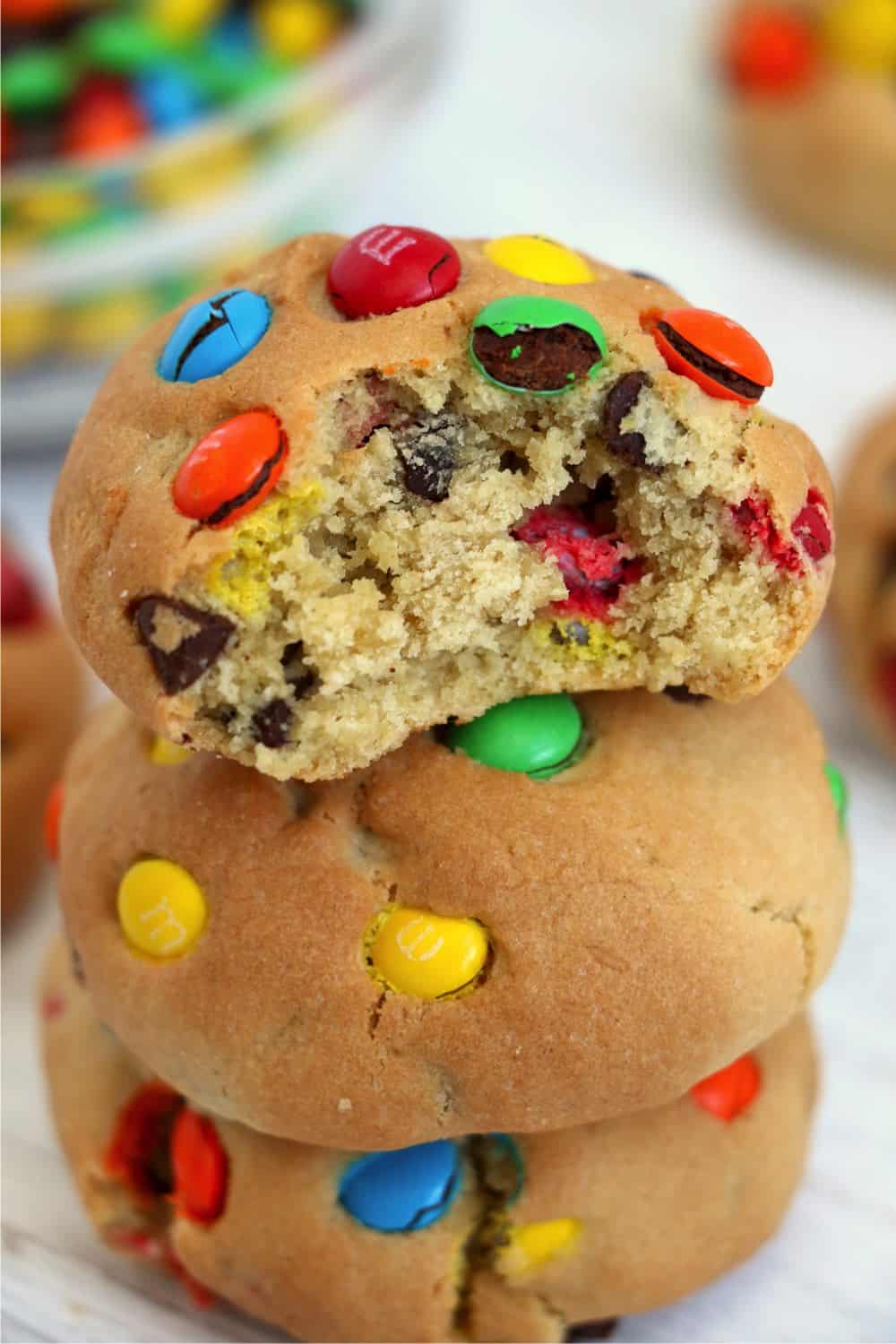 What other ingredients can you add to this monster cookie recipe?
This cookie recipe is actually really forgiving. It can be made using pretty much anything that you'd like. Some people even add in oatmeal as one of the main ingredients, too. (This will really change the texture but it's good!)
Other additions that could taste great could be:
Raisins
Chopped pecans/walnuts
Shredded coconut
Different flavored chocolate chips
And really anything else that you're craving or that you would like. I think you'll find that the more you make this air fryer dessert recipe, the more additions that you'll find and want to try.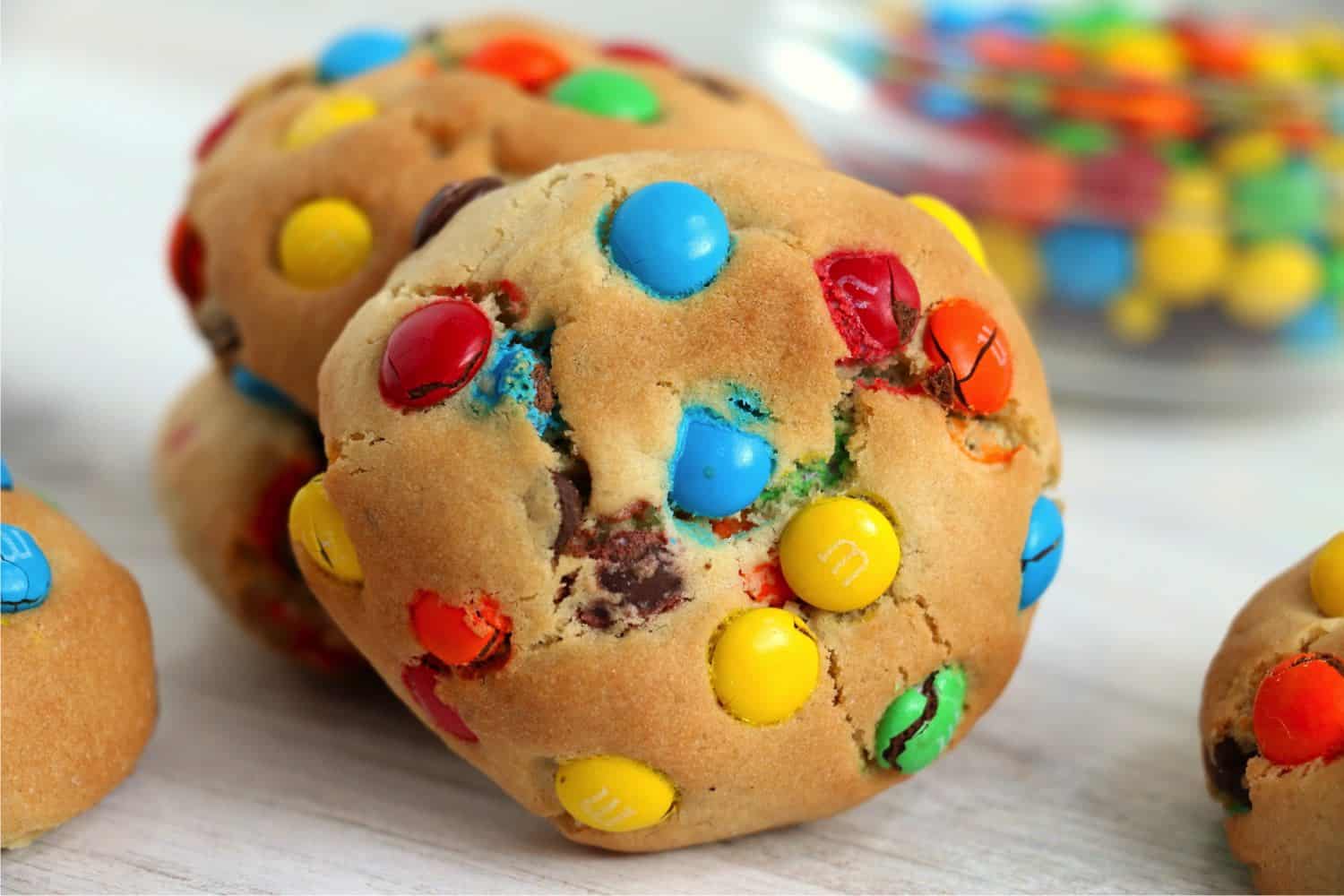 Love what you see?
Find more of my fun creations on Facebook, Instagram & Pinterest! You can also sign up for my weekly newsletter below and never miss any of my inspirations!
Like this fun and simple cookie recipe? Here are some other easy desserts to make!
Yield: 15 cookies
Air Fryer Monster Cookies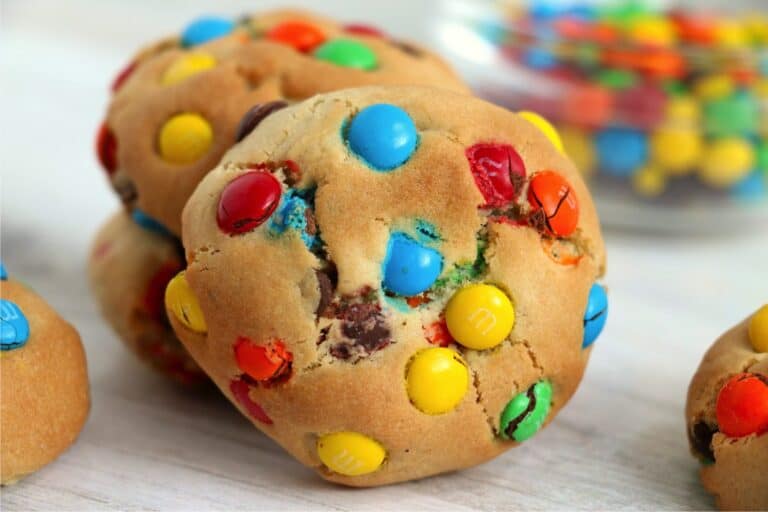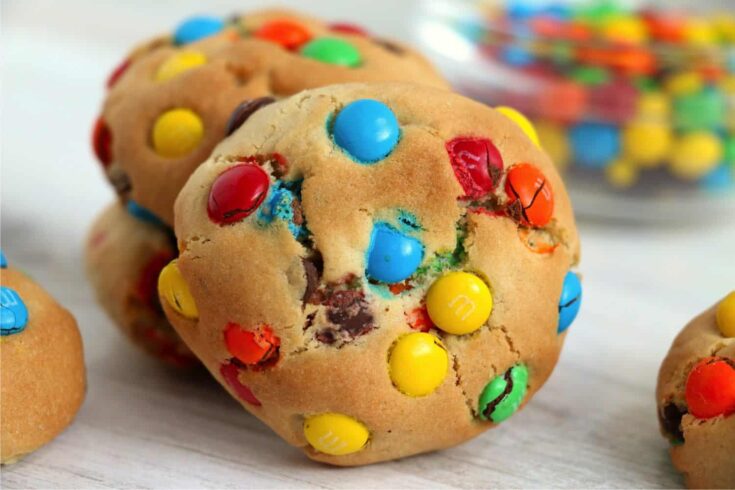 Air Fryer Monster Cookies are soft, chewy, and packed with sensational flavors. Made in your air fryer, they are an easy, sweet treat!
Ingredients
4 tbsp butter, softened
1/4 cup sugar
1/4 cup brown sugar
1 egg
1 tsp vanilla
1 1/3 cups flour
1/4 tsp baking soda
1/4 tsp salt
1/4 cup mini M&Ms
1/4 cup mini chocolate chips
Instructions
Line your air fryer basket with a piece of parchment paper that just covers the bottom.
In a medium mixing bowl, beat butter and sugars together until creamy.
Next, beat in egg and vanilla.
Add flour, baking soda, and salt, and mix again until uniform dough forms.
Stir in mini chocolate chips and mini M&Ms.
Using a 1-tablespoon scoop, form balls of dough. Place them in your air fryer basket at least 1 inch apart.
You may have to bake in a few batches, depending on the size of your air fryer.
Bake at 330ºF for 7-8 minutes or until cookie begin to brown.
Nutrition Information
Yield
15
Serving Size
1
Amount Per Serving
Calories

129
Total Fat

5g
Saturated Fat

3g
Trans Fat

0g
Unsaturated Fat

2g
Cholesterol

21mg
Sodium

92mg
Carbohydrates

19g
Fiber

1g
Sugar

10g
Protein

2g
Get Inspired!
Never miss my delicious recipes, cute creations, or household tips!