Air Fryer Snickers are perfectly air fried inside light, flaky crescent dough. Made in just minutes, you won't have to wait long!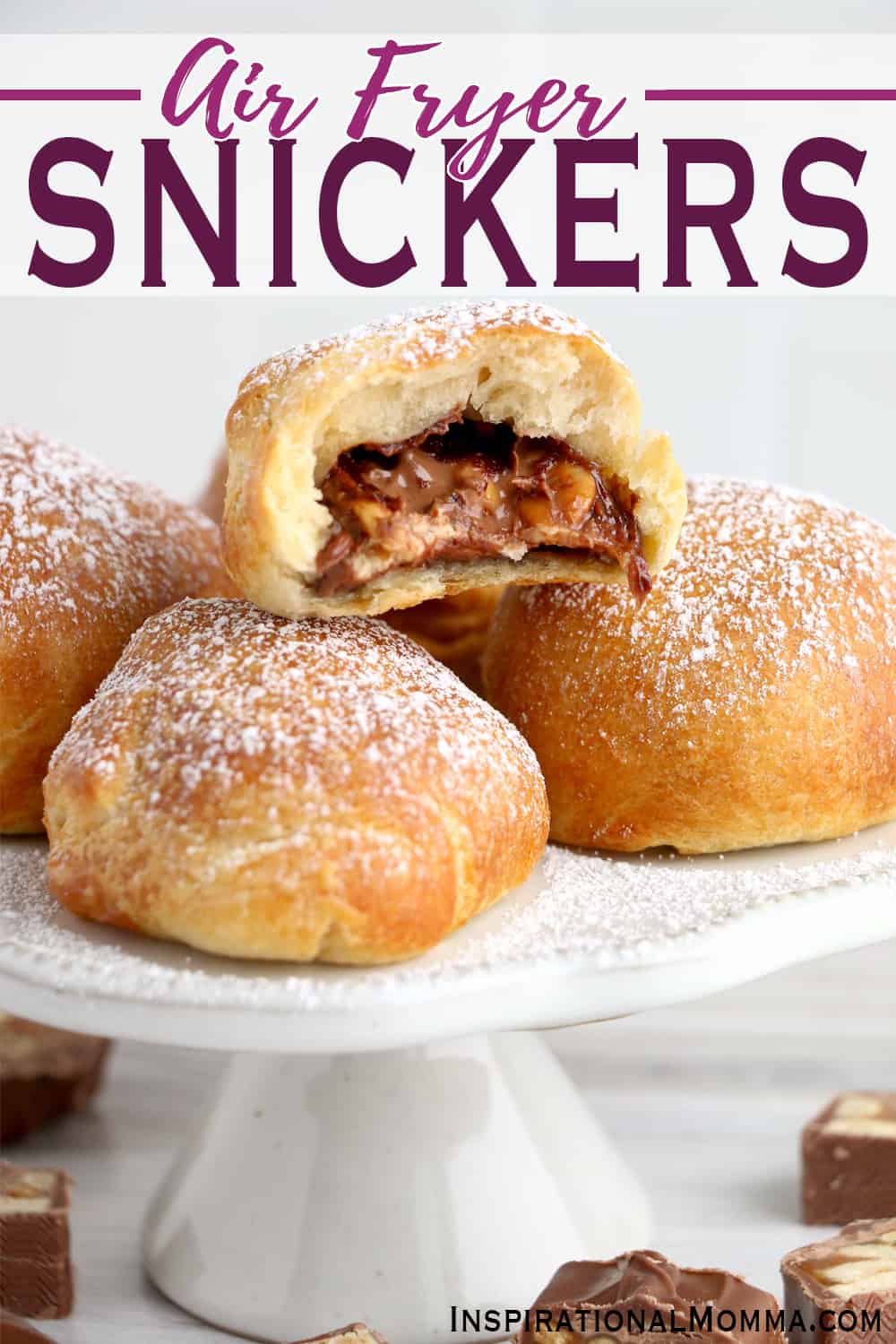 Air Fryer Snickers
Just saying those three little words brings a smile to my house. Who would have thought that we'd live in a world where we can take an already awesome candy bar and make it even better. This delicious recipe is perfect for cooking up Snickers into bite-sized perfection. And if you love these, you have to check out my Air Fryer Monster Cookies!
While this might sound like a treat that you get at the carnival, I can assure you that this dream dessert is about to become your reality. Not only will the outside of this Snickers dessert be soft and delicious, but the inside will be full of chocolatey goodness as well.
If this is a dream, please don't wake me up. I want to savor this flavor forever.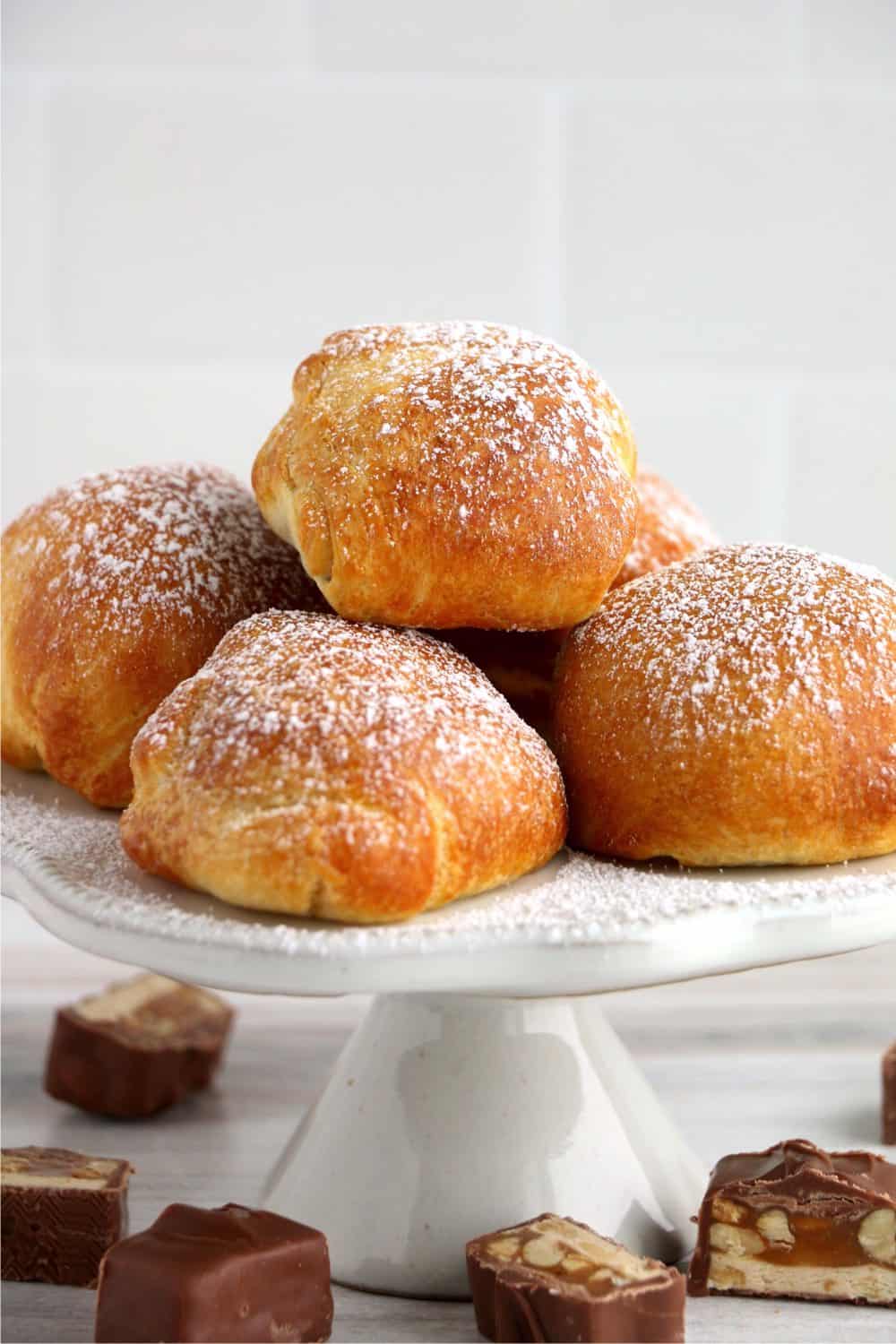 Ingredients needed to cook Snickers in the Air Fryer
I totally failed to mention the best part...that this simple Snickers recipe needs just four easy ingredients, and one of them is optional!
crescent roll sheet
Snickers candy bars
butter
powdered sugar (optional)
You more than likely have all of these items already in your house, ready to use! (Because doesn't everyone have a secret drawer of full-sized Snickers or is that just me?!)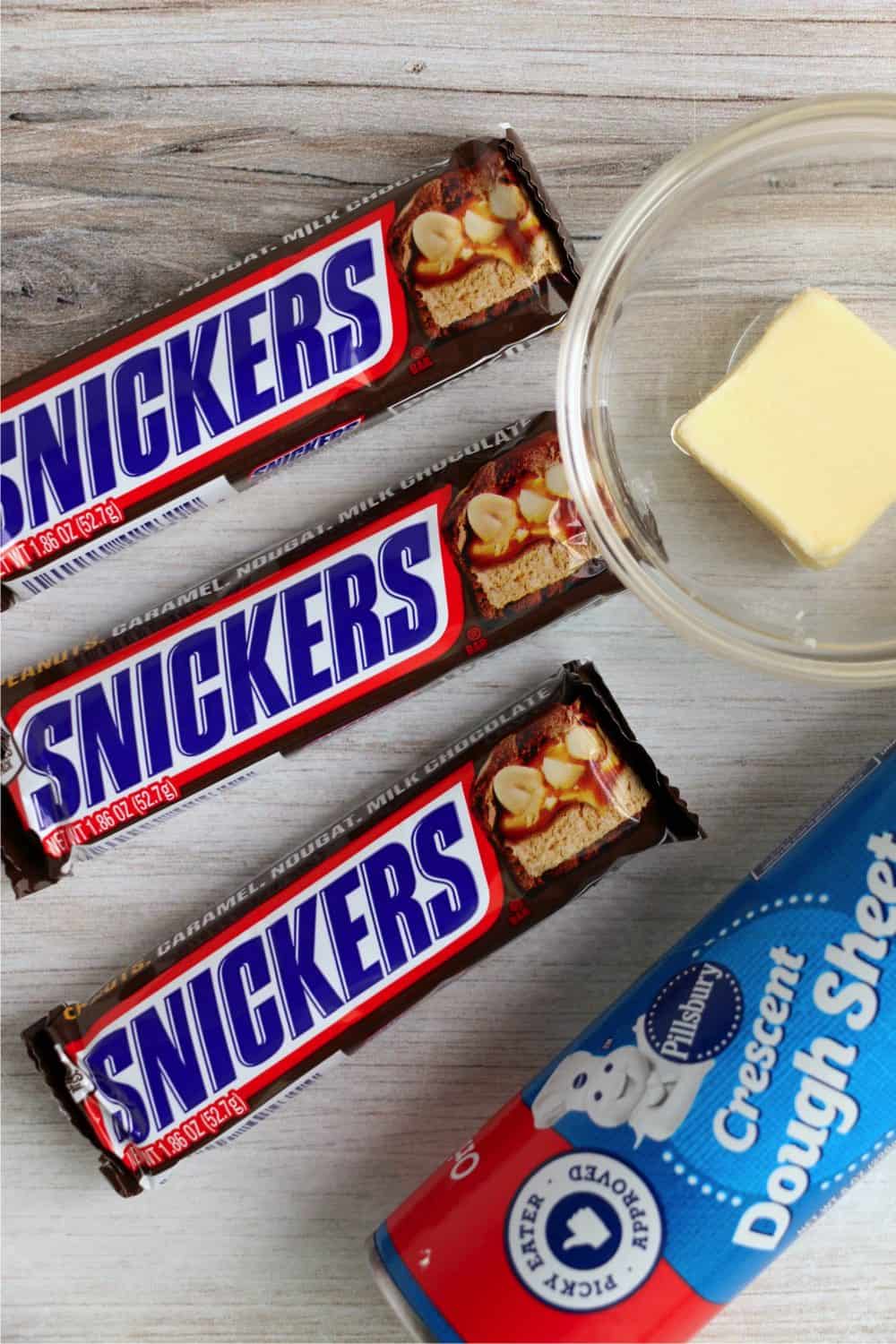 How to make Air Fryer Snickers
You know the drill. Since this recipe only has a few ingredients, you know it's going to be easy to cook up, right?
Make your air fryer basket nonstick
The last thing that you want to have happen is for your Snickers to stick to the basket. Line it with parchment paper and if you don't have any of that on hand, spray it with non-stick cooking spray.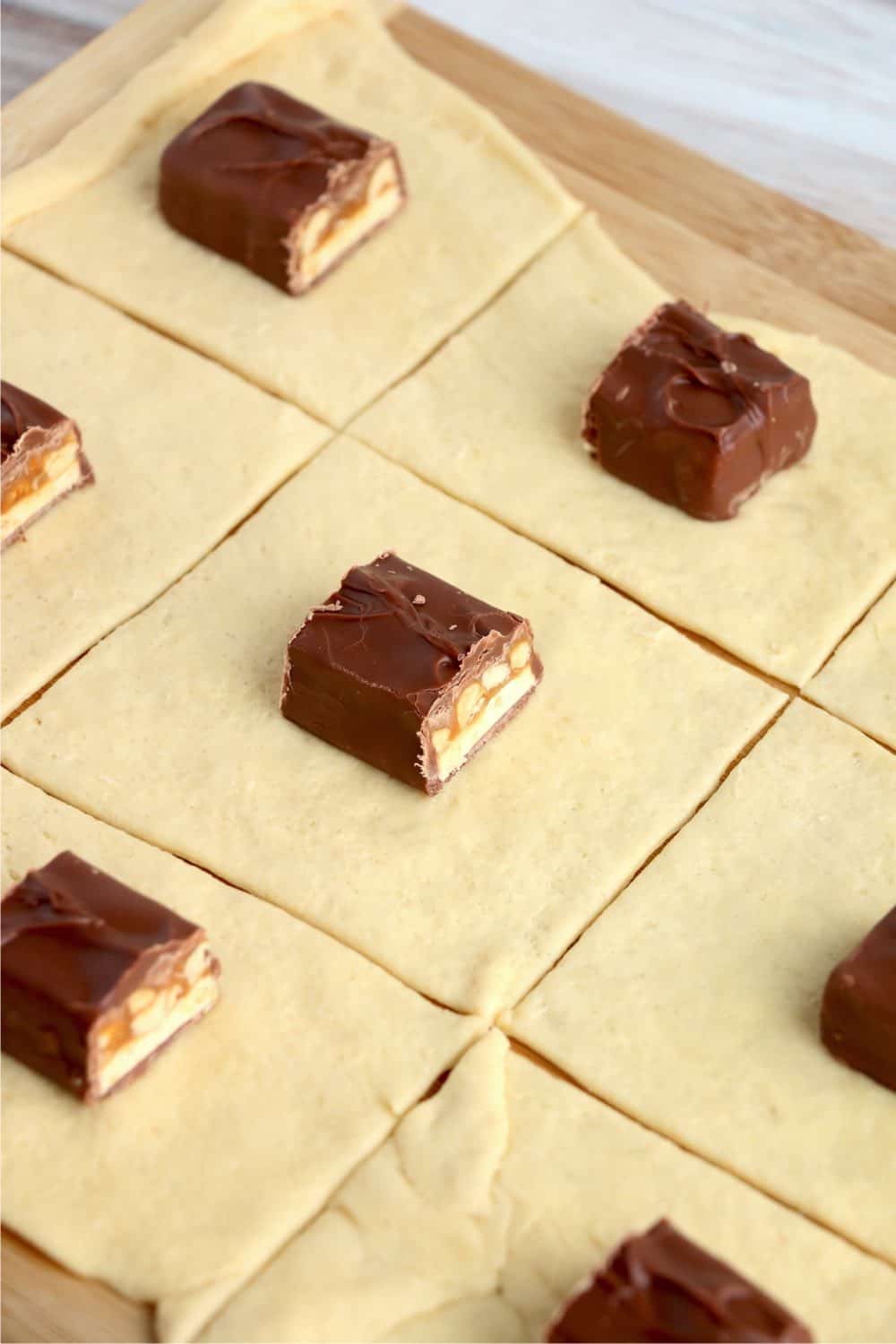 Cut your crescent roll dough into similar sizes
If you're good at eyeballing it, go for it. Otherwise, use a pizza cutter to make crisp, clean cuts on the dough quickly.
Portion the Snickers out evenly
Each full-sized candy bar should be cut into three equal pieces.
Make certain that you pinch the ends of the dough together
Don't make a huge party foul and let your Snickers melt out of the dough! The best way to not let this happen is to pinch the edges and seal the candy bar inside.
A few pinches and squeezes and it should do just fine. Just give it an extra pinch to be certain.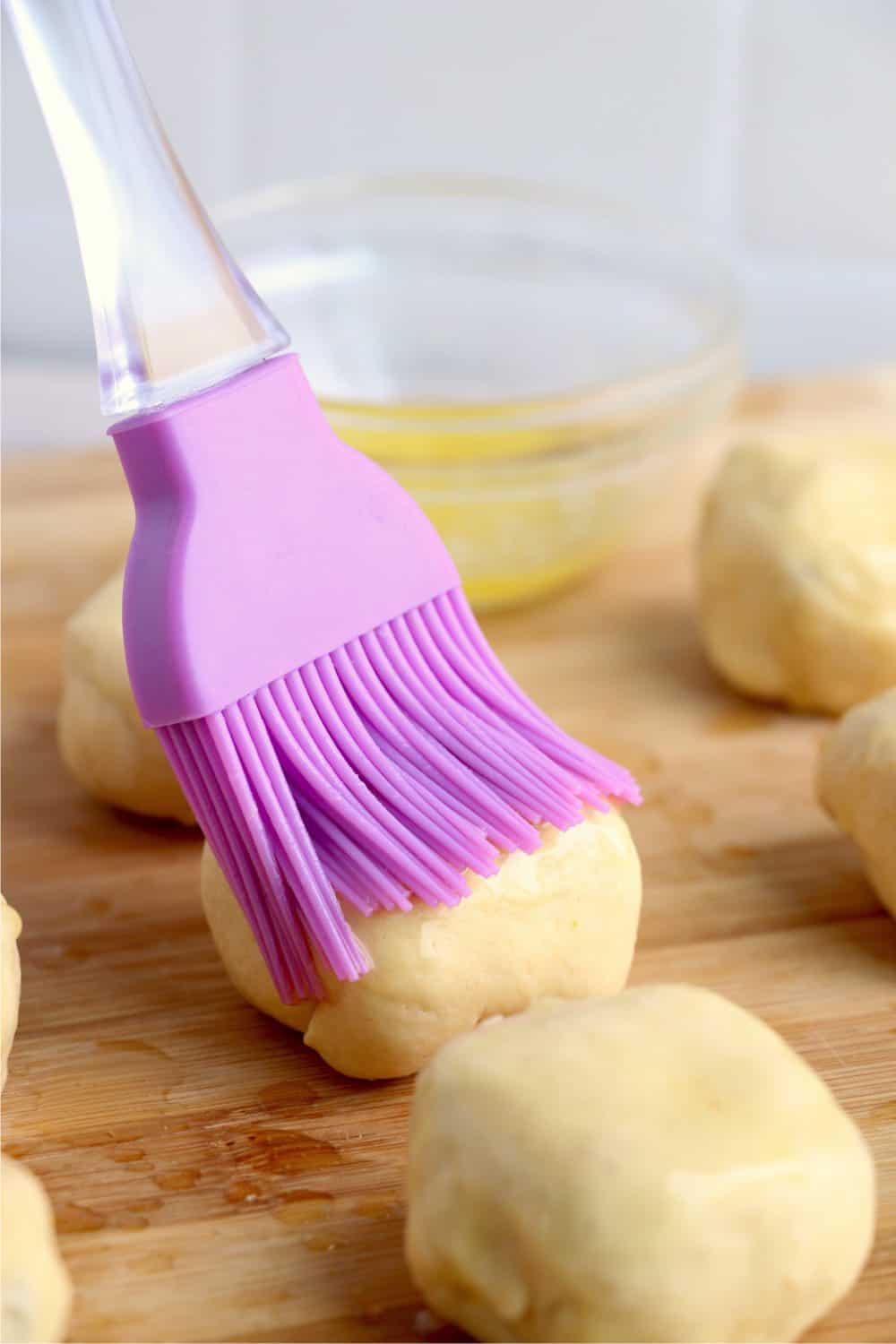 Be prepared to do this in batches
You don't want them to touch or overlap in the air fryer, so you might have to do a few batches to get through them all. (Don't worry - you can snack on the ones that are done while you're waiting for the new ones to cook!)
Tips for Making Air Fried Snickers
Even though I'm confident that this recipe is perfect as is, there are a few tips to keep in mind.
The biggest tip is that you need to give them space in the air fryer. The air circulates and this needs to happen for them to cook. The good news? You don't have to flip them during the process!
Make certain to let them cool as the insides of this sweet treat are going to be HOT. Don't let the outside surface fool you in this process - the middle is going to hold the heat way longer.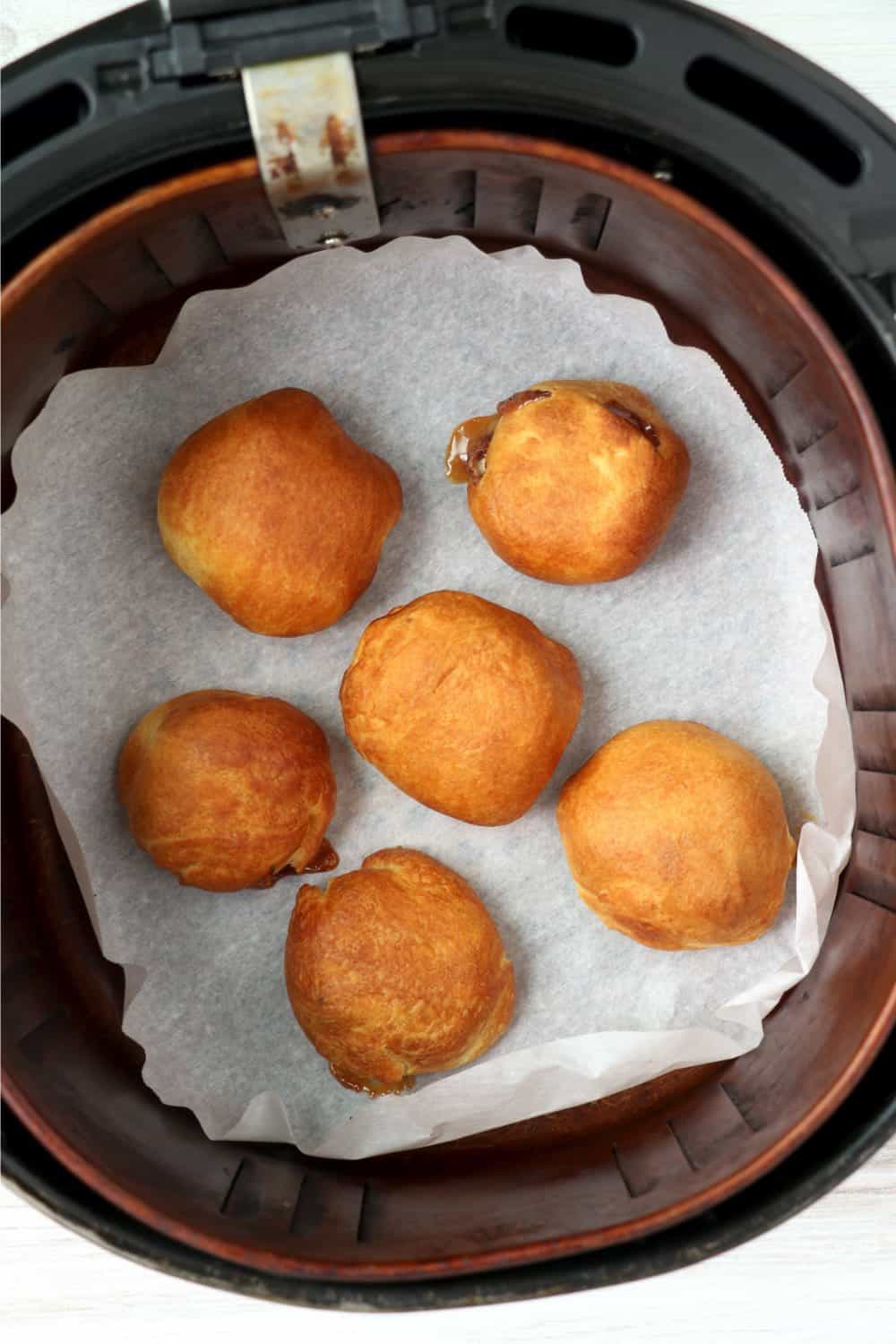 Ways to Vary This Air Fryer Snickers Dessert
I love following recipes but sometimes I like to bend the rules, too. Here are some simple ways that you can change up this recipe for new flavors and taste.
Try changing up the candy bar that you use. Talk about a whole new world! If this works with Snickers, try it with Twix, Butterfinger, or even a Babe Ruth. Your world is literally about to become better in just a few moments of time. Think about how many candy bars that you have to try!
Add on new toppings. Powdered sugar is a great topping choice but why stop there? You can drizzle on melted chocolate or even dip these babies in whipped cream if you want. Toppings are a simple way to make a similar treat taste entirely new!
Use miniature Snickers instead. If you happen to have some miniature Snickers leftover from the holidays, use those! This is a perfect size and will save you a step of prep!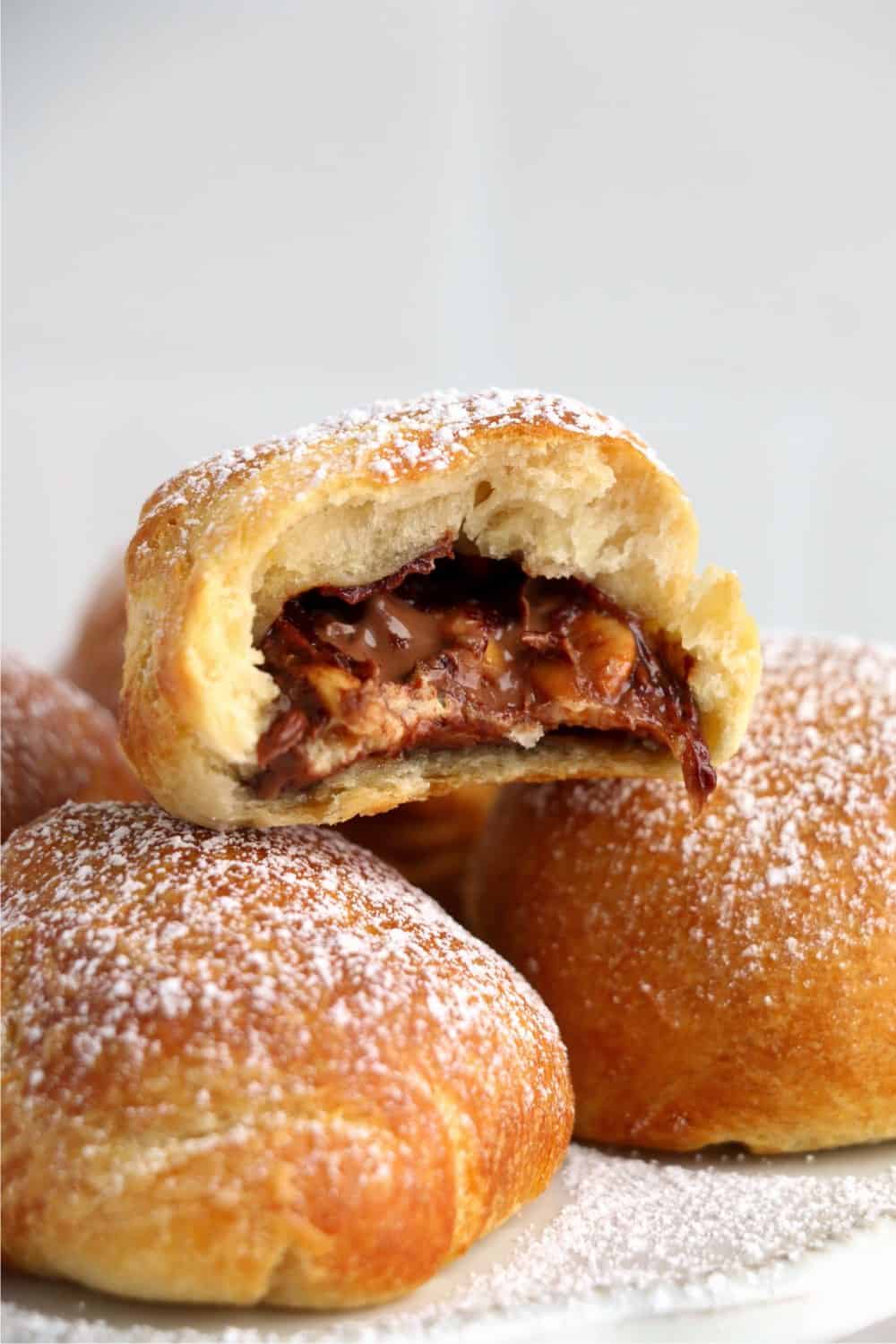 How to Store Leftover Snickers Bites
You can store these dessert bites for later, but I promise you that they're better eaten fresh. If you do have to store a couple, just add them to a container with a lid. This will keep them as fresh as possible for as long as possible.
There is no need to store them in the fridge, either. In a container on the counter is totally fine.
Can you freeze this dessert for later?
No, don't freeze this recipe. This is best served fresh and since it only takes just a few moments of time, you can easily whip it up fast!
I love this simple Snickers dessert because it's such a unique treat. Every time that I've cooked these up for family and friends, they've gobbled them up before I even had one! I take that as a good sign that they love them just as much as I do!
These Air Fryer Snicker bites are perfect for a fun weekend treat or a simple addition to any meal. You can't go wrong making this and enjoying every single bite!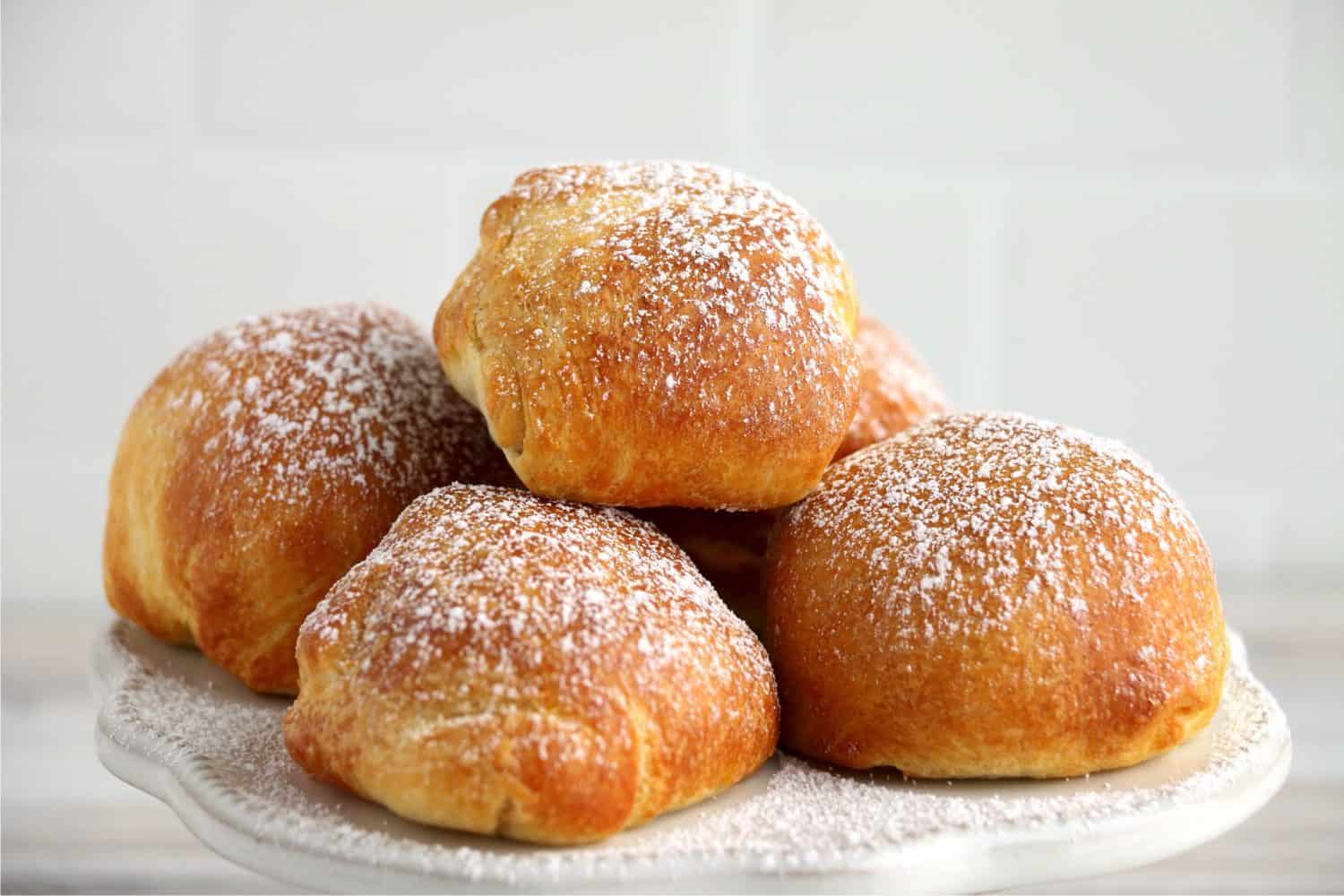 Love what you see?
Find more of my fun creations on Facebook, Instagram & Pinterest! You can also sign up for my weekly newsletter below and never miss any of my inspirations!
Can't get enough? Check out more of my favorites!
Yield: 9
Air Fryer Snickers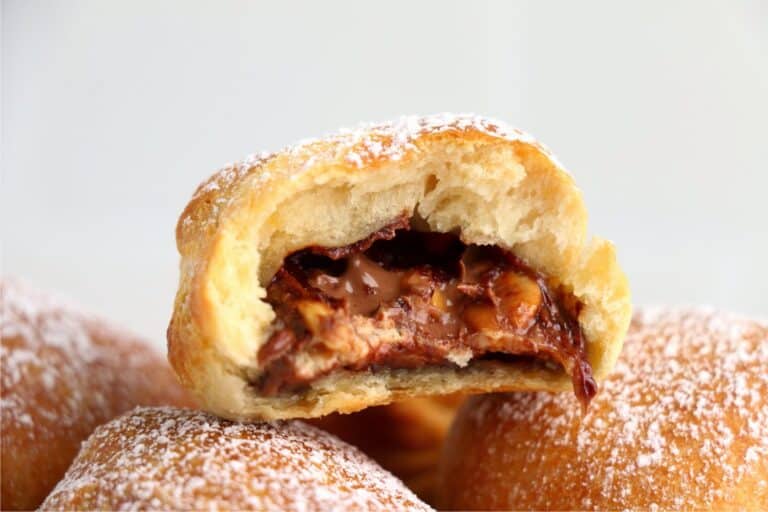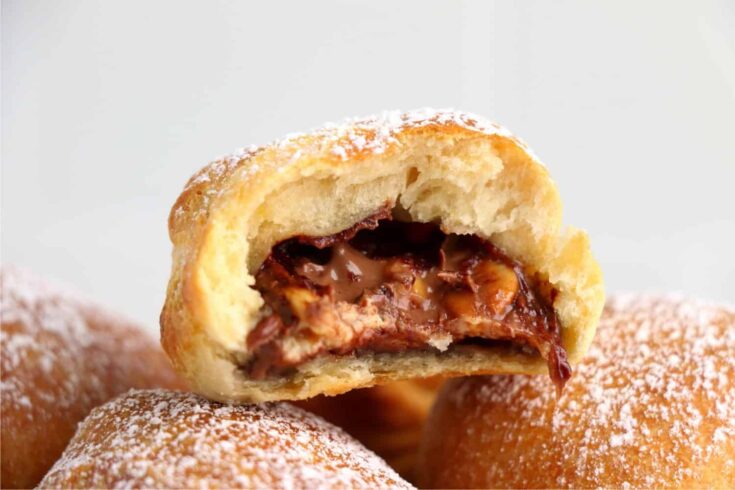 Air Fryer Snickers are perfectly air fried inside light, flaky crescent dough. Made in just minutes, you won't have to wait long!
Ingredients
1 crescent roll sheet
2 full size Snickers candy bars
2 tbsp butter, melted
powdered sugar (optional)
Instructions
Prepare your air fryer basket by lining it with parchment paper.
Lay crescent roll sheet on a flat, nonstick surface. Using a pizza cutter into 9 squares.
Cut each Snickers candy bars into three pieces.
Wrap each piece of Snickers in each square of dough. Pinch the ends together, making sure it is completely sealed.
Place wrapped Snickers in your prepared air fryer. Depending on the size of your air fryer, you may have to cook them in a couple batches.
Brush melted butter on them.
Air fryer at 370ºF for 5 minutes or until they turn golden brown.
Nutrition Information
Yield
9
Serving Size
1
Amount Per Serving
Calories

148
Total Fat

6g
Saturated Fat

3g
Trans Fat

0g
Unsaturated Fat

2g
Cholesterol

10mg
Sodium

64mg
Carbohydrates

22g
Fiber

0g
Sugar

20g
Protein

1g
Get Inspired!
Never miss my delicious recipes, cute creations, or household tips!