Cheesecake Sugar Cookie Cups
Cheesecake Sugar Cookie Cups are sweet sugar cookies shaped into small bowls and then filled with creamy cheesecake filling. You can top these sweet treats any way you like. I like to use fresh berries.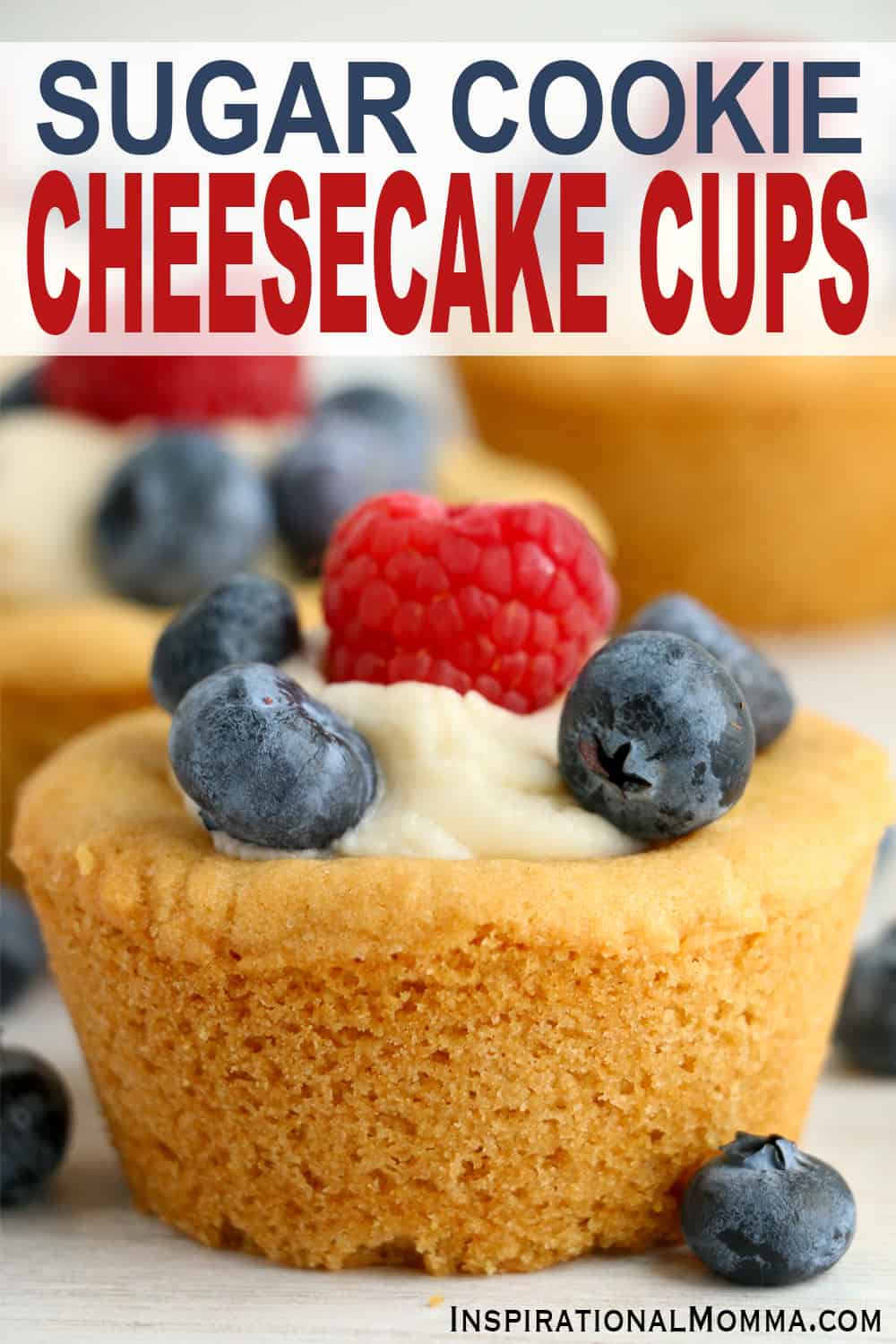 The easiest sugar cookie cups in all the land just got even easier and tastier with Cheesecake Filling! These little treats make great individual desserts.
These sweet sugar cookie cups that are filled with cheesecake are perfect for parties and get-togethers! Or you can be like me and enjoy them any day of the week. No matter when you make them your entire family will love them.
What are cookie cups
Cookie cups are sugar cookie dough that is pressed into a muffin tin to make a bowl shaped cookie. Then the cookie dough is baked. Once baked and cooled you have a bowl shaped cookie crust that you can fill and turn into a handheld sweet cookie cake like dessert.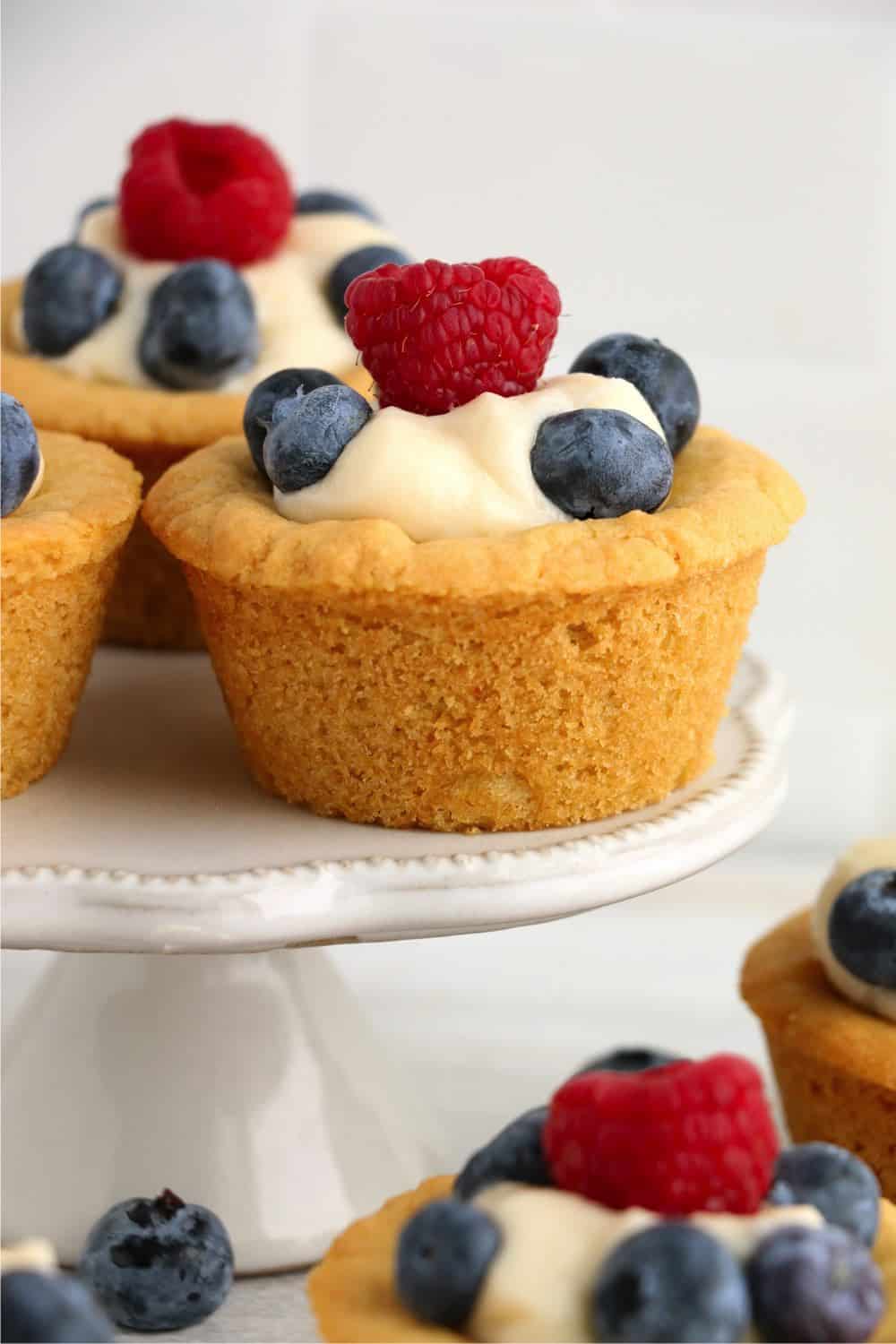 Can I fill these cookies with something beside no bake cheesecake
Yes technically, yes you can. I have to say though, that the no bake cheesecake filling for these cookie cups really makes this dessert. If you really want to fill these cups another way, I have a couple suggestions for you. No matter which way you fill these yummy cups they will still be delicious.
Optional Filling Suggestions
chocolate frosting
vanilla frosting
buttercream frosting
lemon curd
pudding
chocolate ganache
How long can I store cookie cups
You can store Sugar Cookie Cups in a sealed container in the fridge for up to five days or you can freeze them and enjoy later. If I am storing my cookie cups for longer than two days, I like to store them without the cheesecake filling. Leaving the cheesecake filling inside your cookie cups for too long can result in a soggy cookie cup.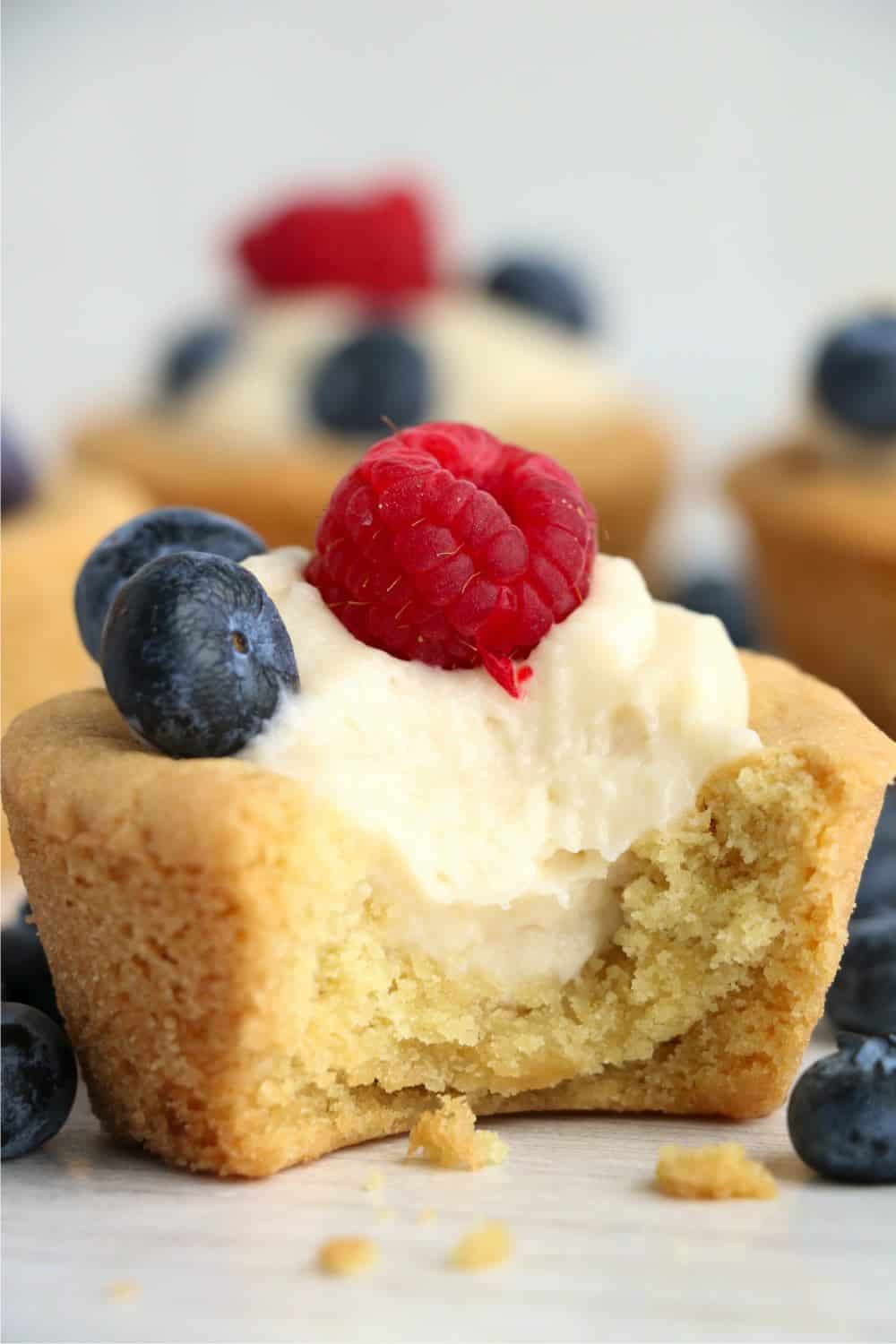 Can I freeze sugar cookie cups
Yes, you can freeze your sugar cookie cups. However, if you are freezing your sugar cookie cups be sure to freeze them unfilled the cheesecake filling will not freeze well inside of your cookie cups. I like to make Sugar Cookie Cups ahead of time so that they are ready when needed. You will want to thaw Sugar Cookie cups before serving, if frozen. To thaw allow your cookie cups to sit on the counter for 4 to 6 hours until they come to room temperature. Once the cookie cups are thawed you can fill per the recipe directions below.
Do I need to bake the cheesecake filling
No, the filling for these cups is a no bake cheesecake filling. Because this creamy and sweet filling does not contain eggs there is no reason to bake it first.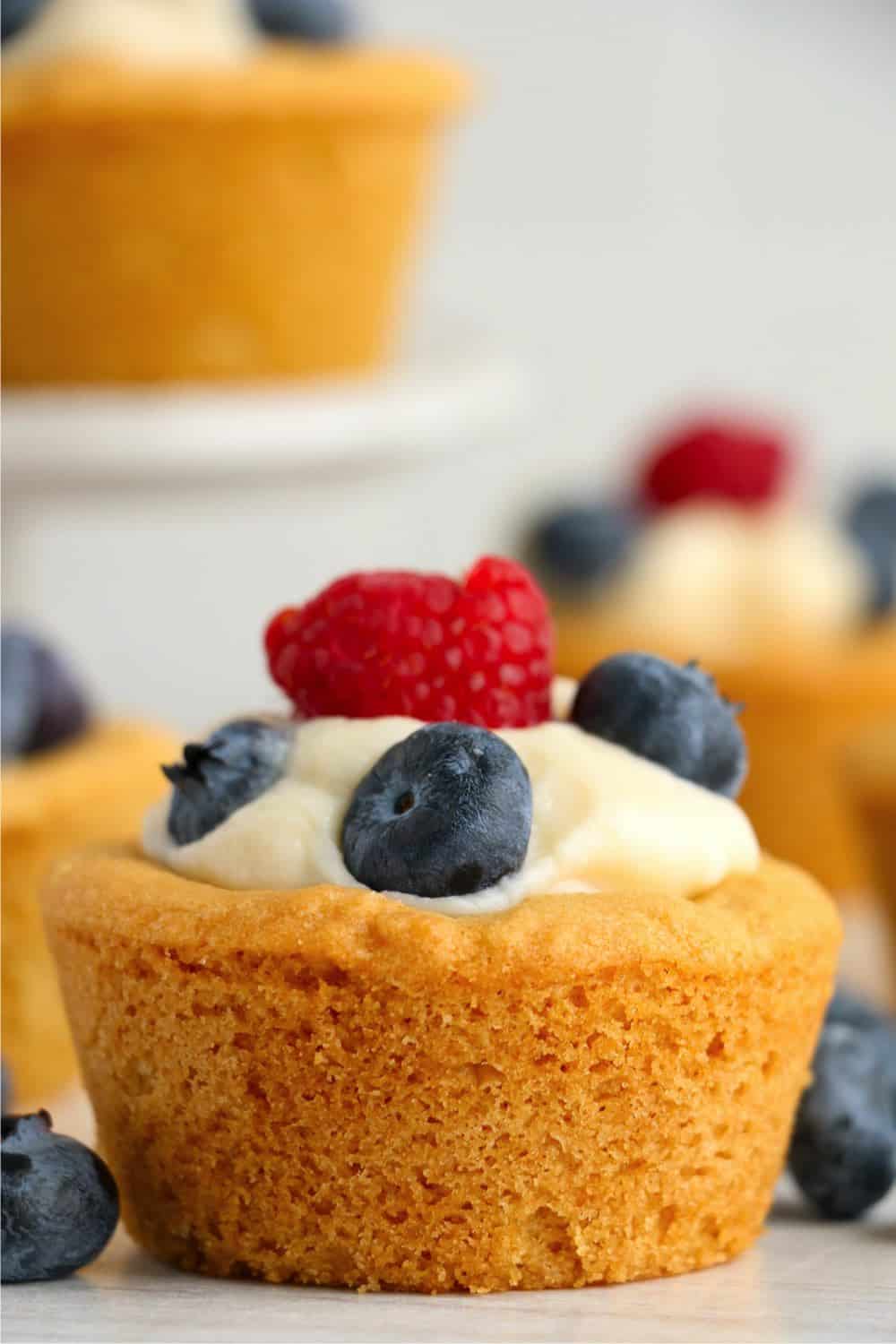 What should I top cookie cups with
I topped my cookie cups with fresh berries. I like to use blueberries, raspberries and even sliced strawberries. You could also sprinkle them with sprinkles or crushed nuts for decoration purposes. Topping Sugar Cookies cups is up to you! One of the best things about these delicious personalized sized desserts is that you can customize your toppings however you prefer.
Can I make these in a mini muffin tin instead
Yes! Sugar Cookie Cups can be made in a mini muffin tin. To do this, you will need to bake your Sugar Cookies for only 12-15 minutes instead of the 20-22 minutes that is instructed on my recipe card. This adjustment should make each Sugar Cookie Cup about two inches wide and one inch tall with a depth of ¾". Using a mini muffin tin makes the perfect bite sized dessert.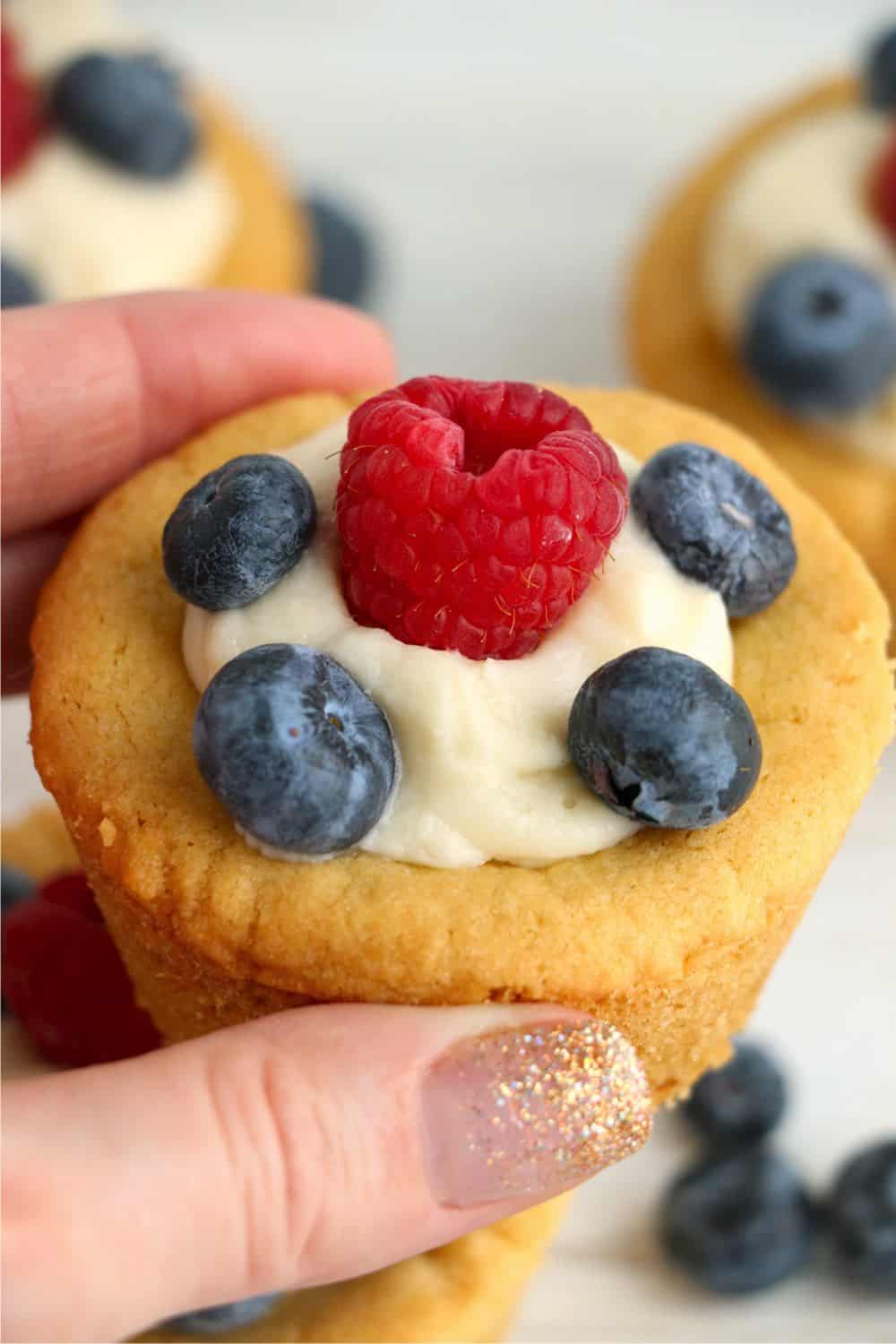 Ingredients for Cheesecake Sugar Cookie Cups
butter
sugar
egg
vanilla
flour
salt
baking soda
cornstarch
Cheesecake Filling Ingredients:
cream cheese
sugar
vanilla
Toppings of your choice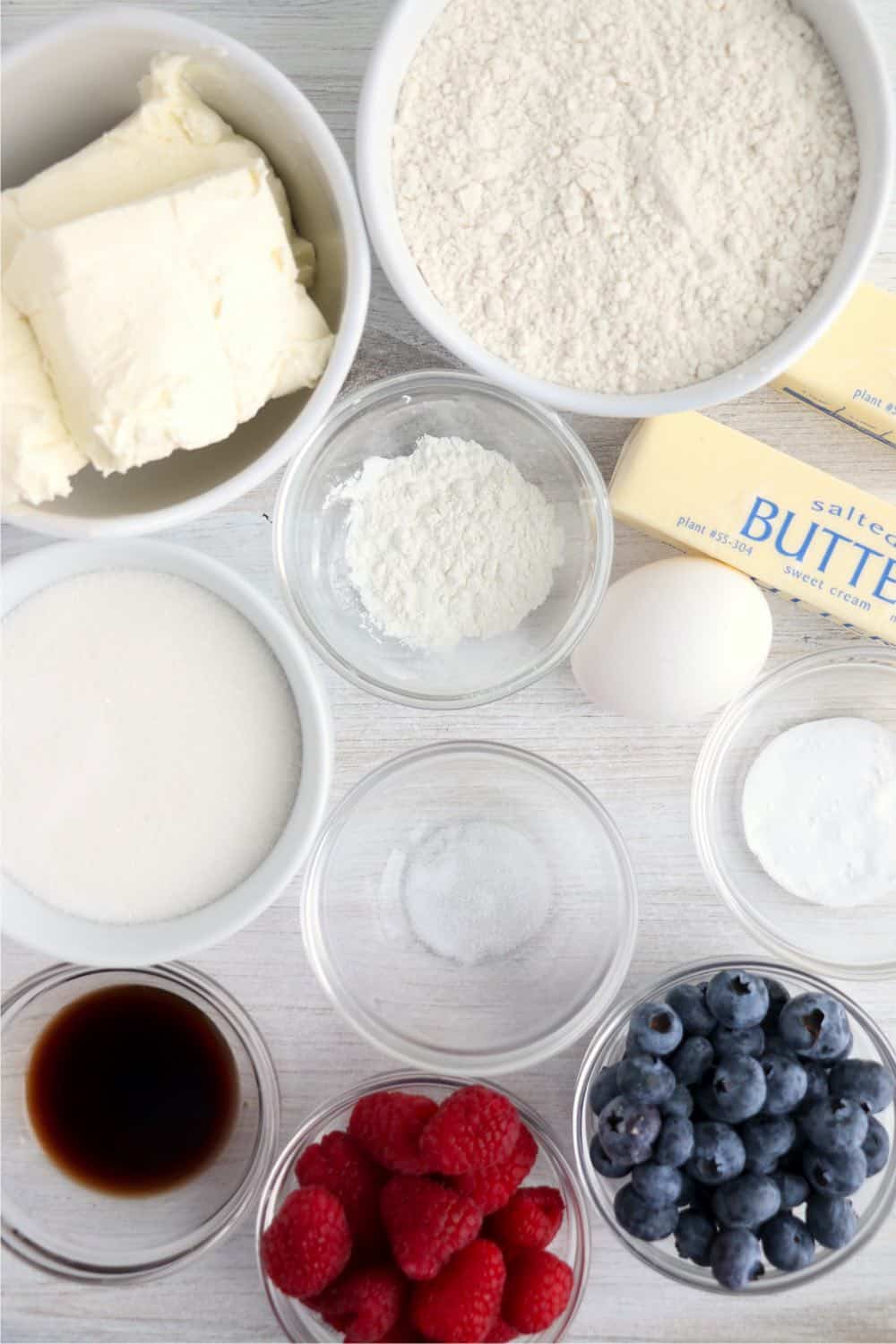 How to Make Cheesecake Sugar Cookie Cups
Sugar Cookie Cups Directions:
Step 1. Preheat the oven to 350ºF.
Step 2. Lightly spray a 12 hole muffin pan with cooking spray, set aside.
Step 3. Cream butter and sugar together until creamy.
Step 4. Beat in the egg and vanilla until well blended.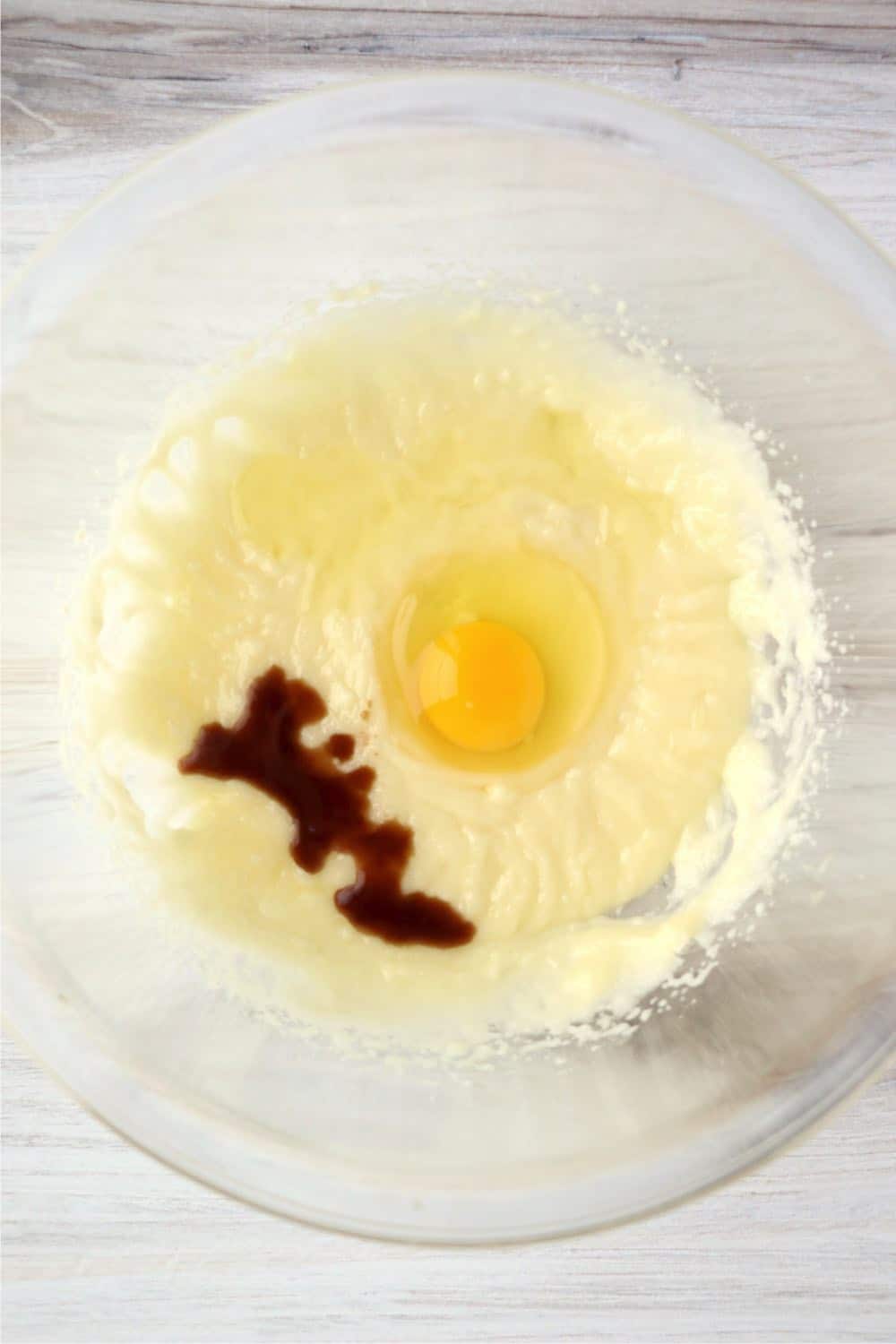 Step 5. In a separate bowl, stir together the flour, salt, baking soda, and cornstarch. Beat the dry ingredients into the wet ingredients until well combined. Dough will be very thick.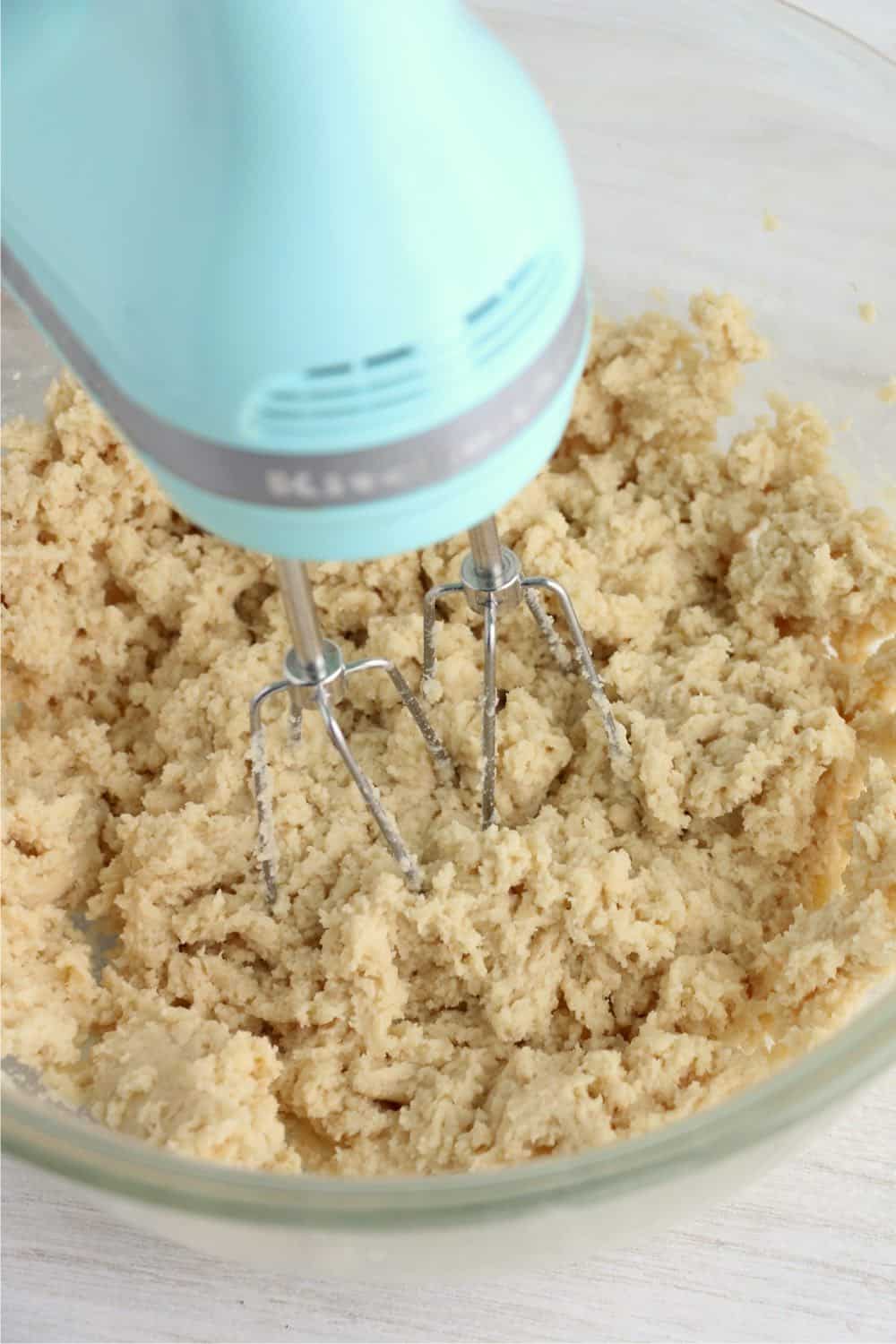 Step 6. Make balls of about 1/4 cup of dough. Press cookie dough in bottom and about 1/2 way up the sides of each muffin tin, forming a cup shape.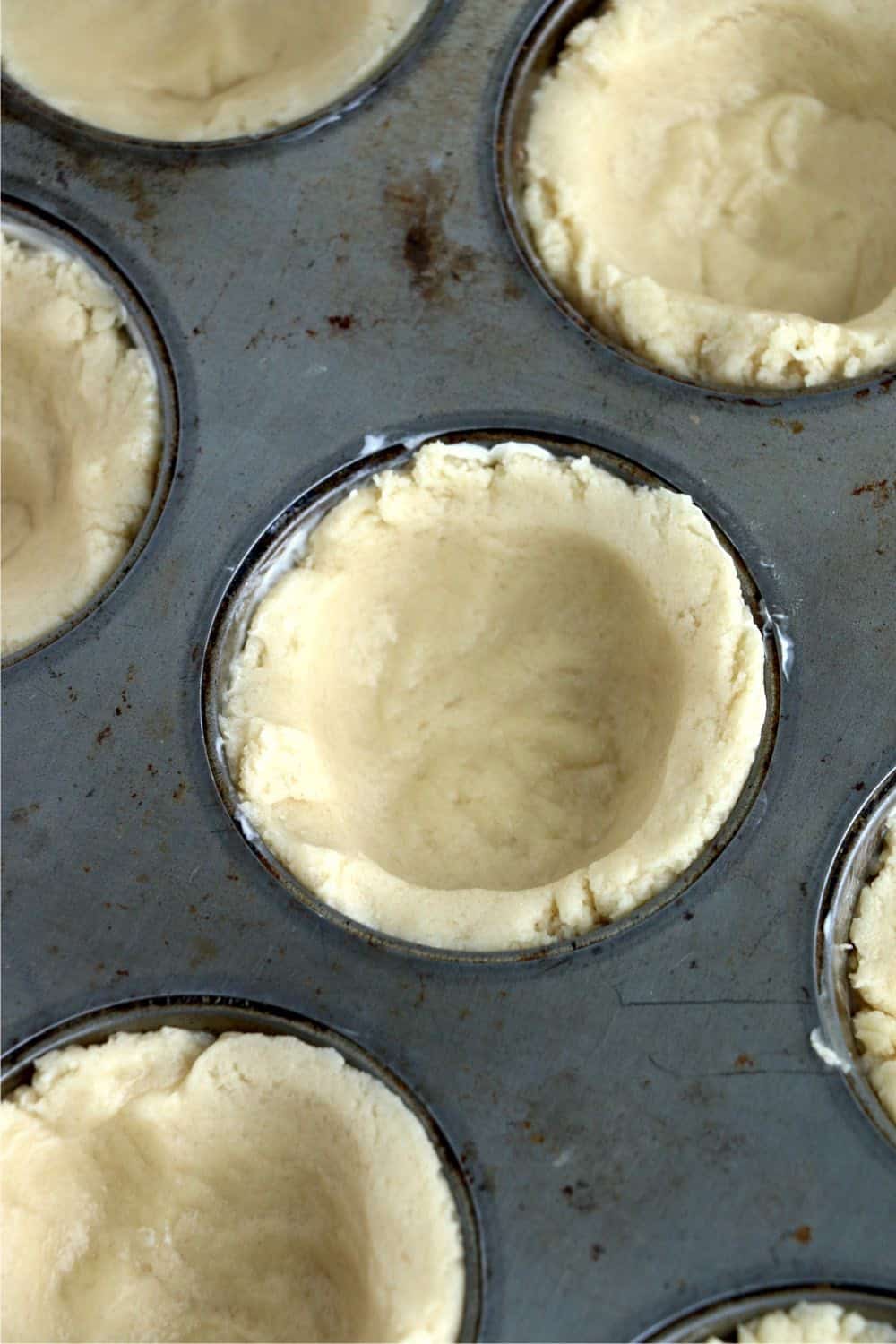 Step 7. Bake for 20-22 minutes or until cups lightly brown.
Step 8. Remove from the oven and let cool for about 5 minutes then transfer to a cooling rack to finish cooling. If the centers have puffed up too much then use the end of a wooden spoon, glass, or the bottom of a spoon to press the center down.
Step 9. Allow to cool completely.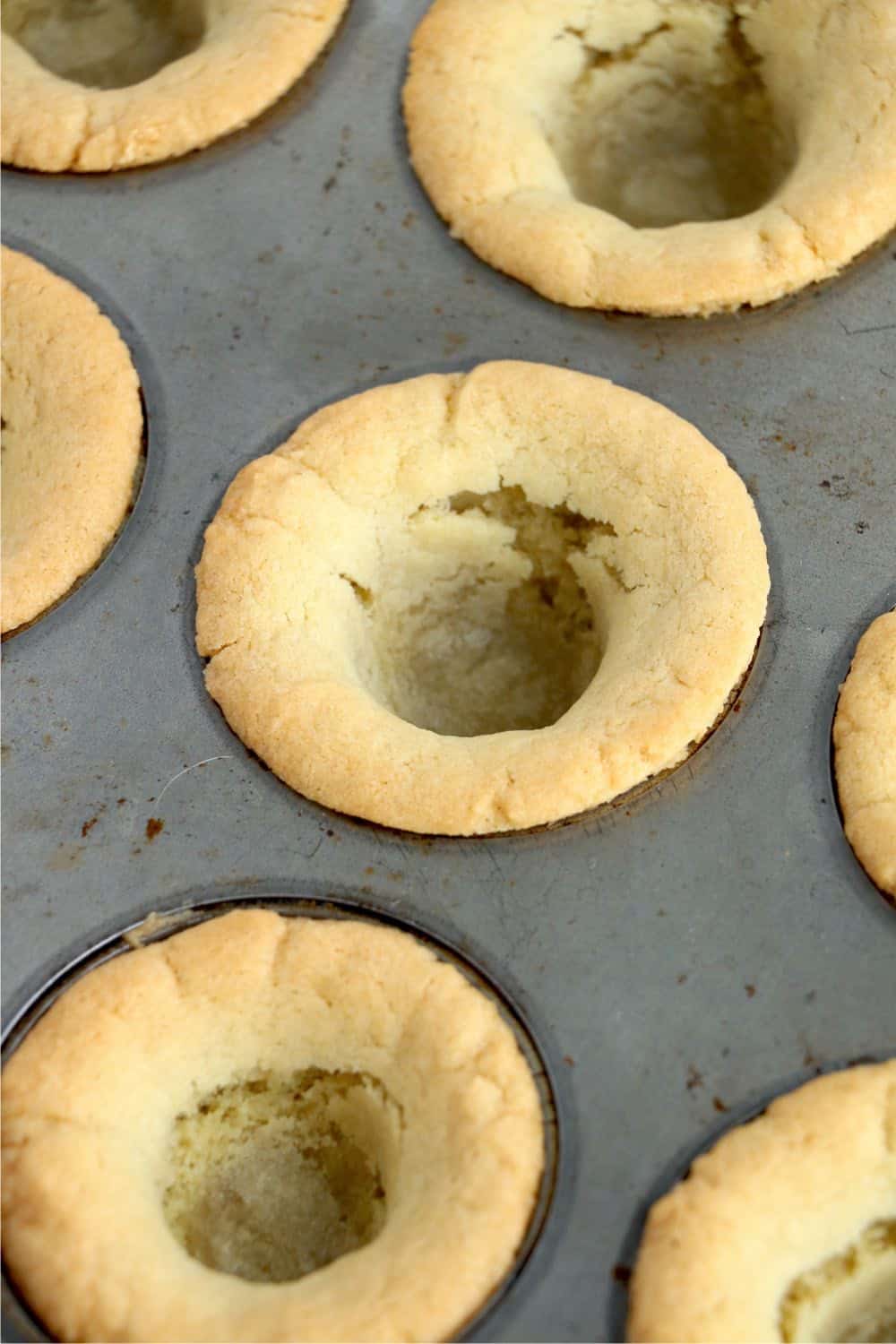 Cheesecake Filling Directions:
Step 10. Beat cream cheese until smooth, scraping down sides as necessary. Gradually beat in the sugar and vanilla until well combined.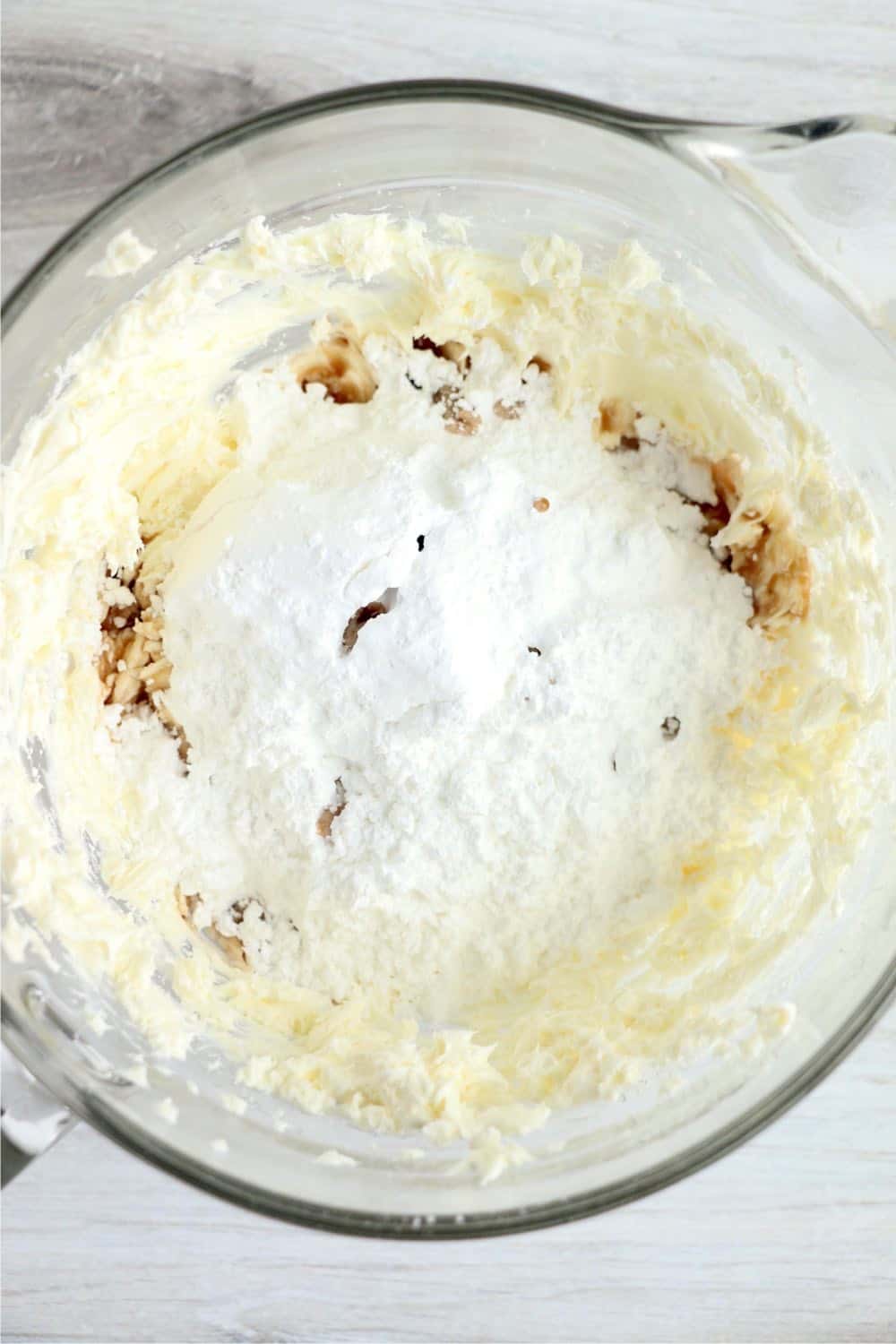 Step 11. Place filling in a large ziploc bag. Cut a small piece of the corner off and pipe the filling into the cups. (You can also spoon it in.)
Step 12. Finish off with toppings of your choice.
Step 13. Chill, covered, until ready to serve.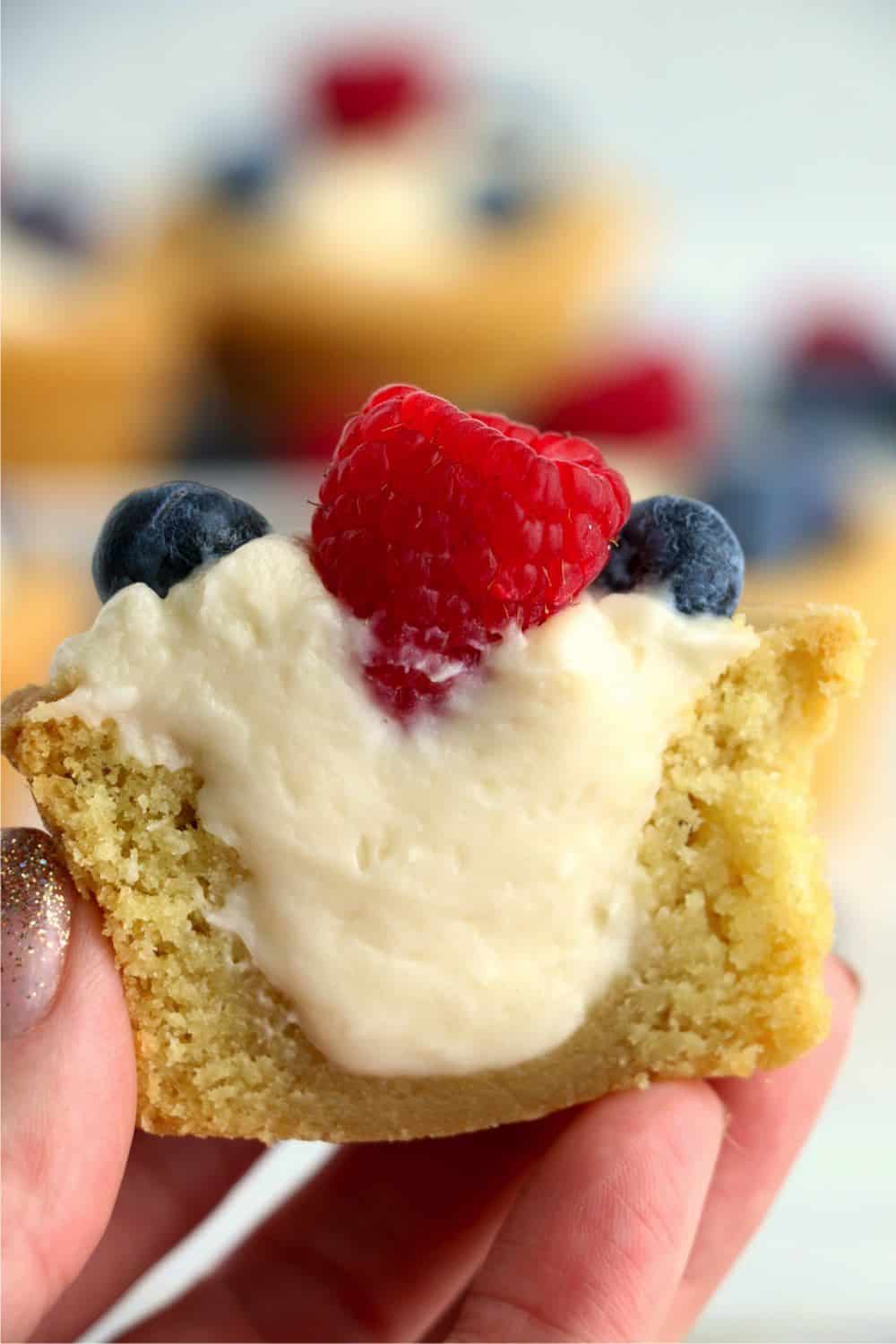 Mini desserts are so fun. I love making individually sized desserts because then it's a like built in portion control. I love how easy this cookie cups are to put together. And they make the perfect dessert to make for any occasion. What topping would you add to these Sugar Cookies Cups?
If you are like me and have a sweet tooth , you will love this recipe. Sugar Cookie Cups are a perfect dessert to make for any occasion, and they are so easy to customize with different toppings. Feel free to get creative and make these handheld desserts your own.
Have you ever tried a cheesecake sugar cookie cup recipe before? I'd love to hear your thoughts and opinions in the comments below. Happy baking!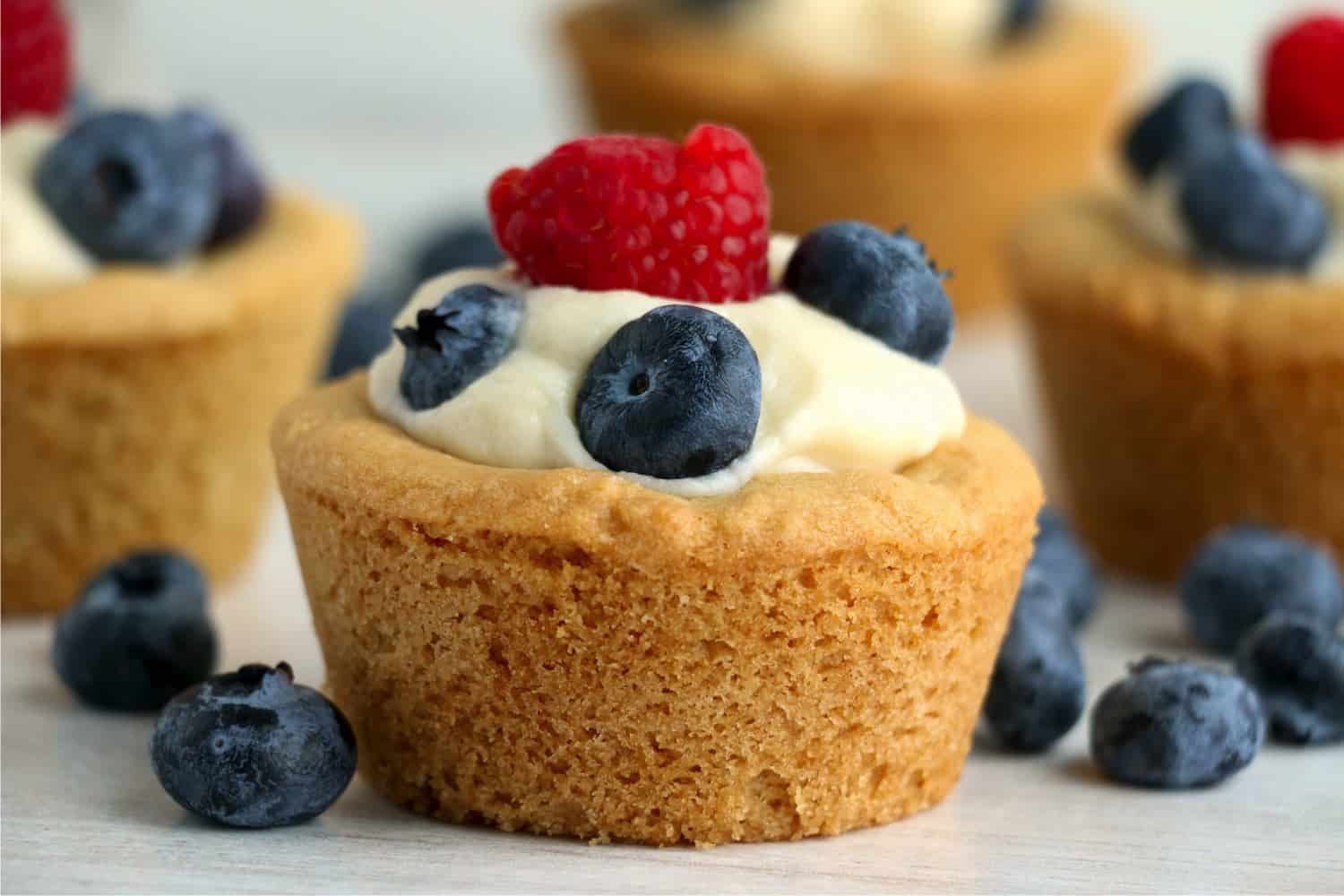 Love what you see?
Find more of my fun creations on Facebook, Instagram & Pinterest! You can also sign up for my weekly newsletter below and never miss any of my inspirations!
Can't get enough? Check out more of my favorites recipes!
Yield: 12 servings
Cheesecake Sugar Cookie Cups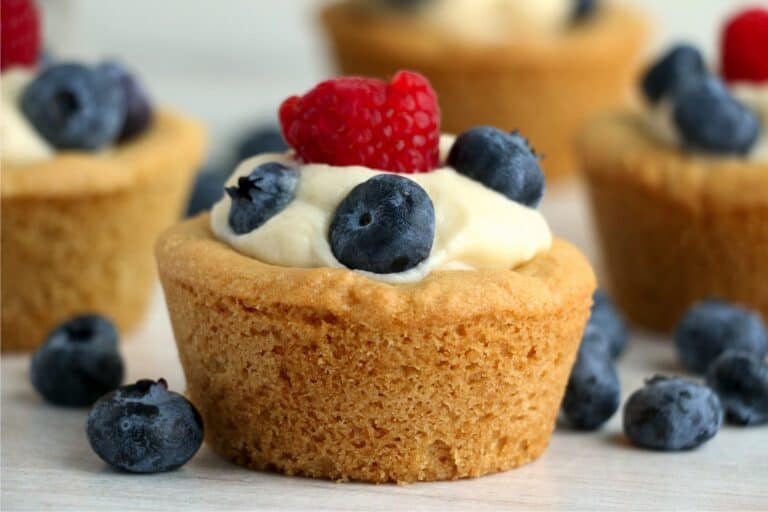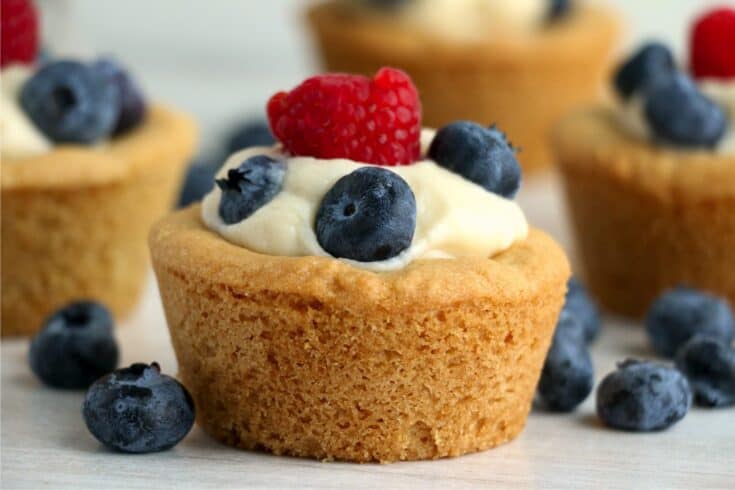 Cheesecake Sugar Cookie Cups are soft sugar cookies that are filled with a creamy and cheesecake filling then topped with fresh berries.
Additional Time
20 minutes
Ingredients
Sugar Cookie Cups Ingredients:
3/4 cup butter
1 cup sugar
1 egg
1 tsp vanilla
2 cups flour
1/8 teaspoon salt
1 tsp baking soda
2 tsp cornstarch
Cheesecake Filling Ingredients:
12 oz cream cheese, softened
1 1/2 cup sugar
2 tsp vanilla
Toppings of your choice
Nutrition Information
Yield
12
Serving Size
1
Amount Per Serving
Calories

575
Total Fat

29g
Saturated Fat

15g
Trans Fat

0g
Unsaturated Fat

11g
Cholesterol

86mg
Sodium

427mg
Carbohydrates

75g
Fiber

1g
Sugar

53g
Protein

6g
Get Inspired!
Never miss my delicious recipes, cute creations, or household tips!