This chicken rice crust pie takes classic chicken and rice and turns it on its head. A rice crust is topped with cheese, a creamy chicken and veggie mix, and even more cheese.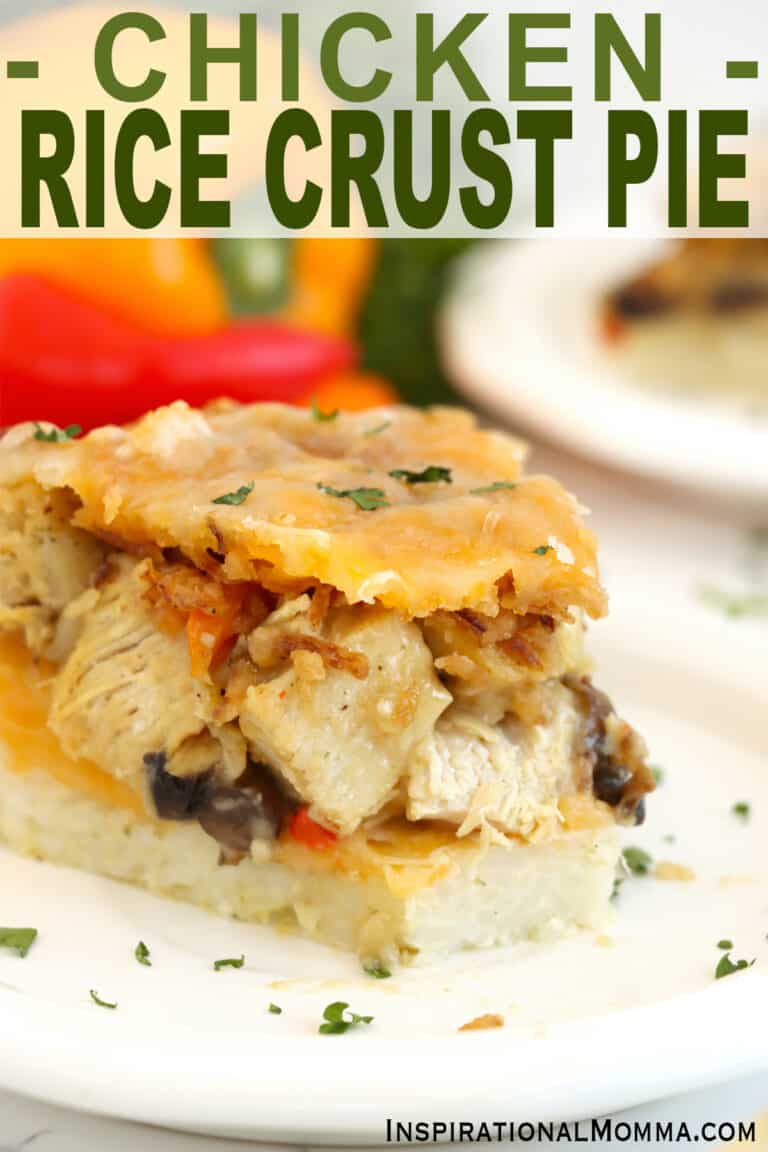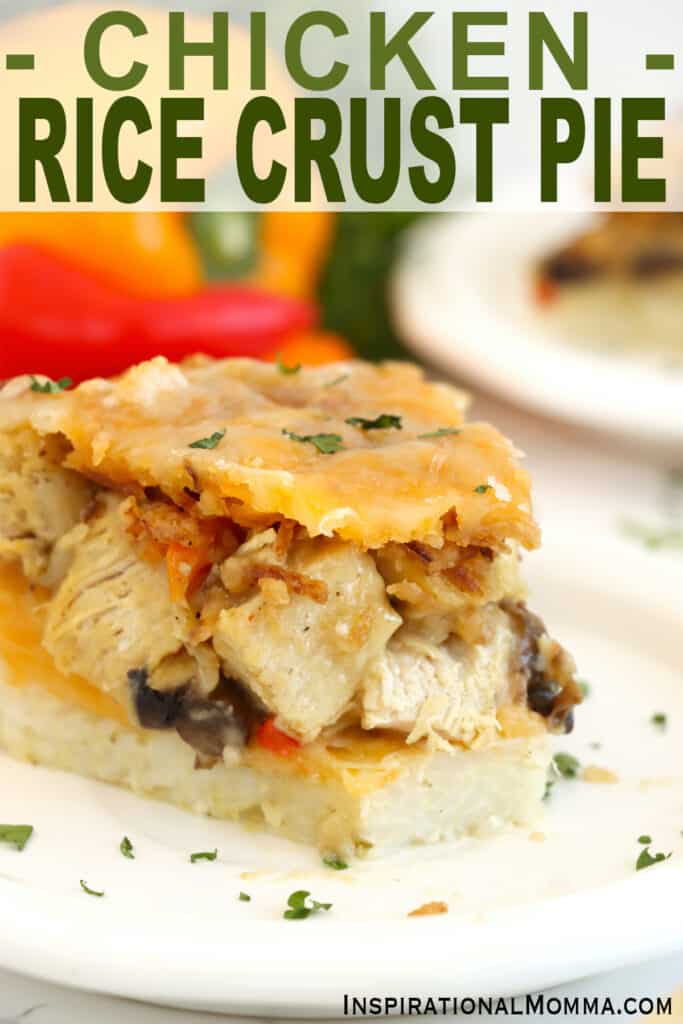 I love chicken and rice. I make it all the time, in fact. But let's face it, it can get boring. That's why I love this variation that turns it into a savory, delicious pie.
Why You'll Love This Recipe
It only uses a few simple ingredients.
It's incredibly easy to make.
It's a fun and delicious twist on a classic dish.
Top Tip
Press your rice crust mixture firmly into the pie plate before baking so that it doesn't break apart when you cut the dish into slices.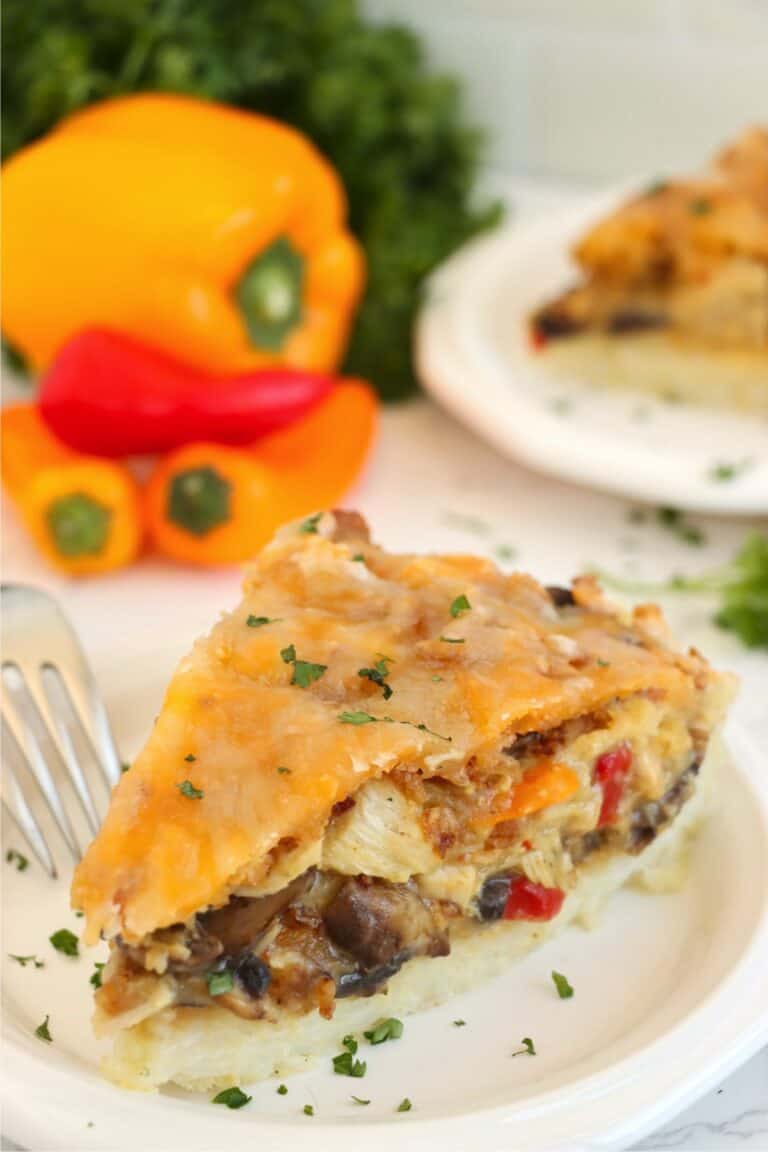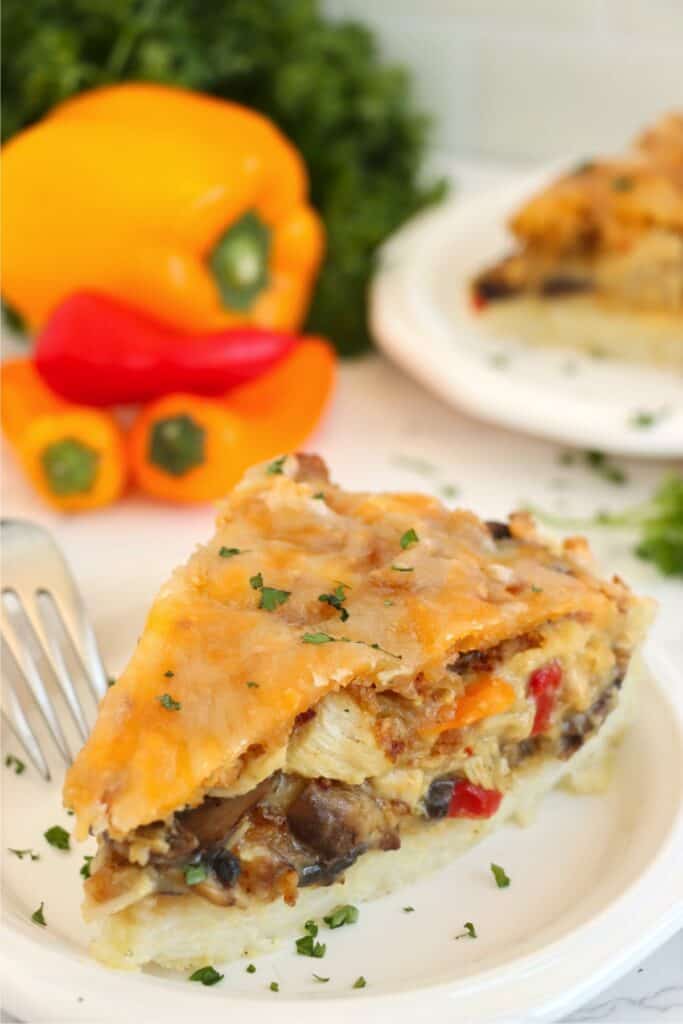 Ingredients
You'll only need a few basic ingredients to make this recipe. You might already have them in your kitchen right now. Anything you don't have is readily available at your local grocery store. The main ingredients are listed here, but you'll find the complete list along with amounts in the recipe card at the end of the post.
Rice Crust Ingredients:
Long grain rice, cooked
Egg, beaten
Shredded cheese
Filling Ingredients:
Chopped boneless, skinless chicken breasts
Fresh mushrooms, sliced
Chopped onion
Sweet bell peppers, chopped
Minced garlic
Italian seasoning
Chicken broth
Shredded Parmesan cheese
Topping
French fried onions
Shredded cheese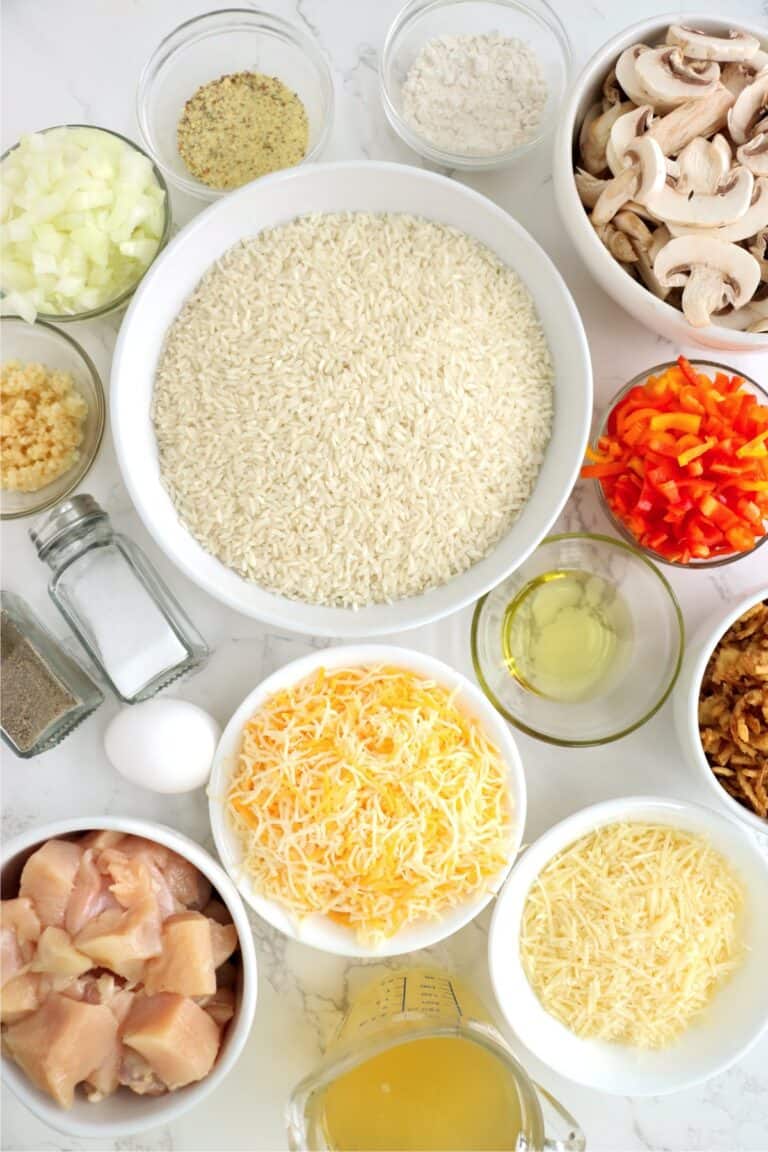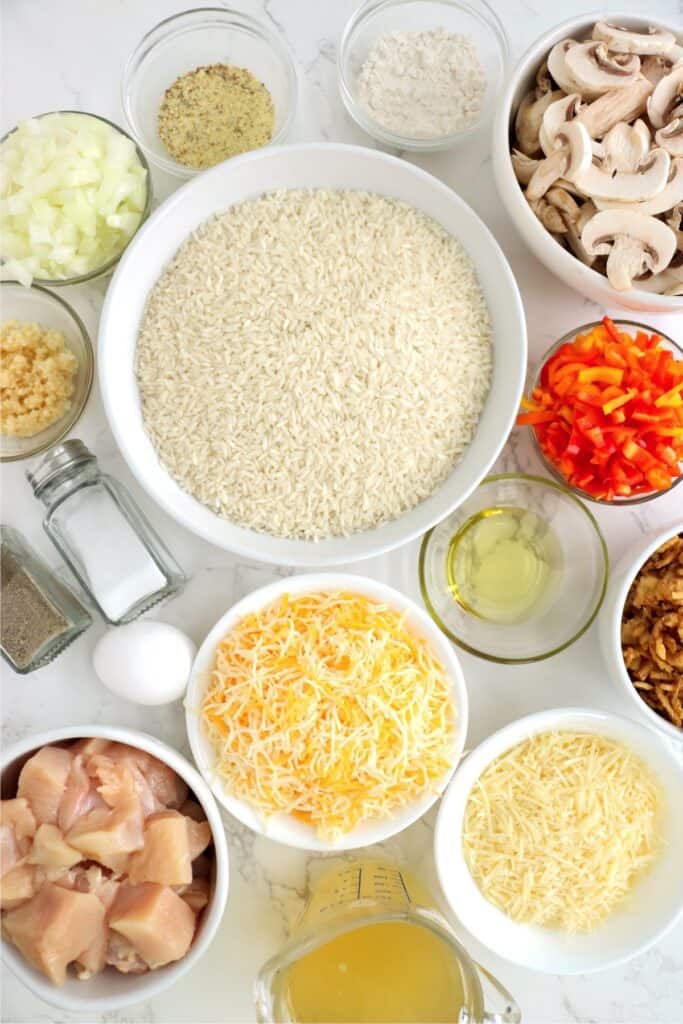 Instructions
This recipe is incredibly easy to make. Even beginners will have no issues with these simple steps. The highlights are below, but you'll find the exact instructions in the recipe card at the end of the post.
1: Thoroughly combine the rice, pepper, and eggs.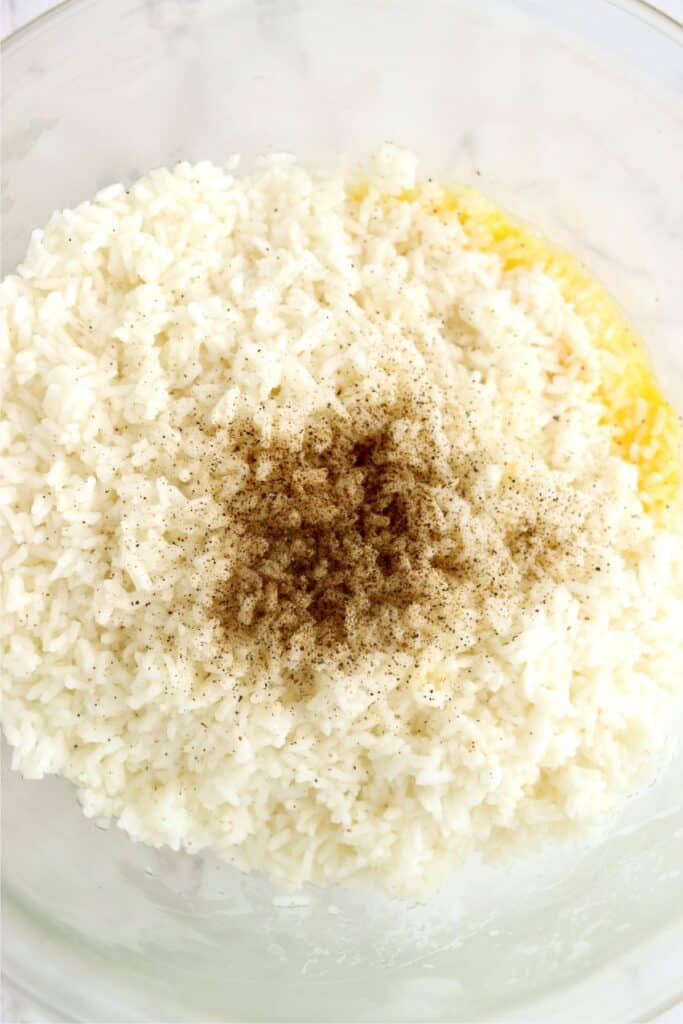 2: Press the rice into the bottom of the pie plate, top with cheese, and bake until melted.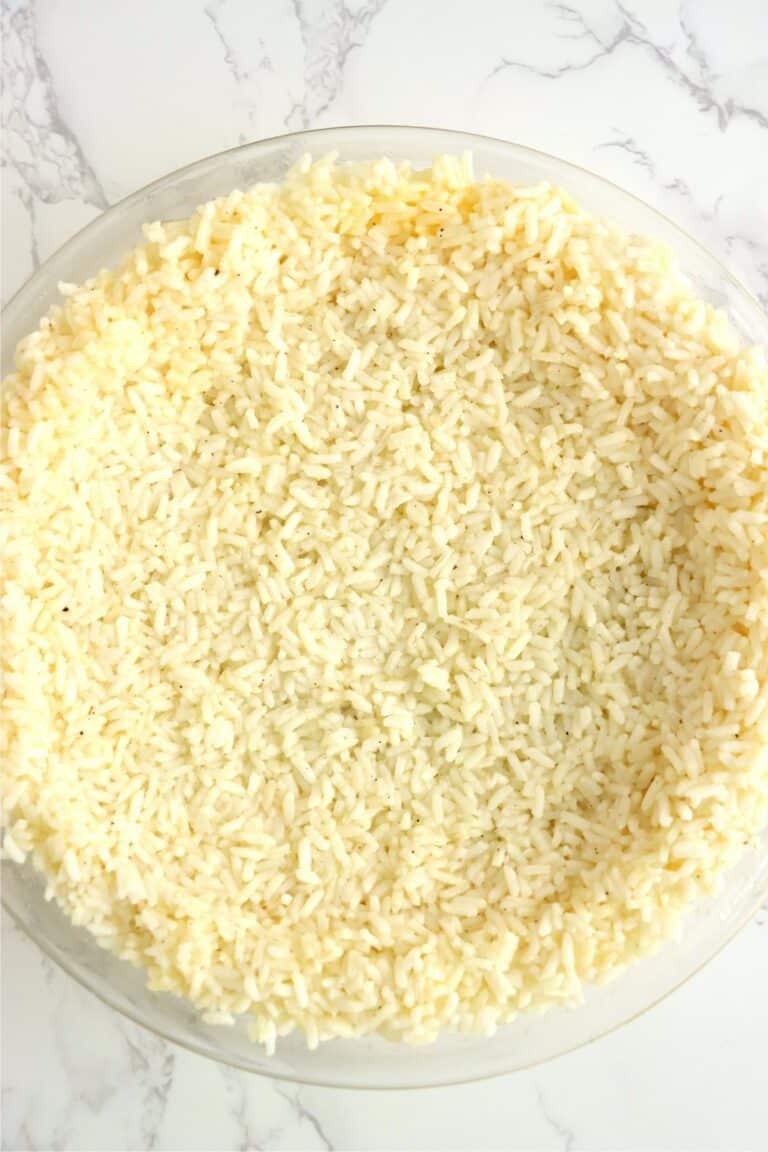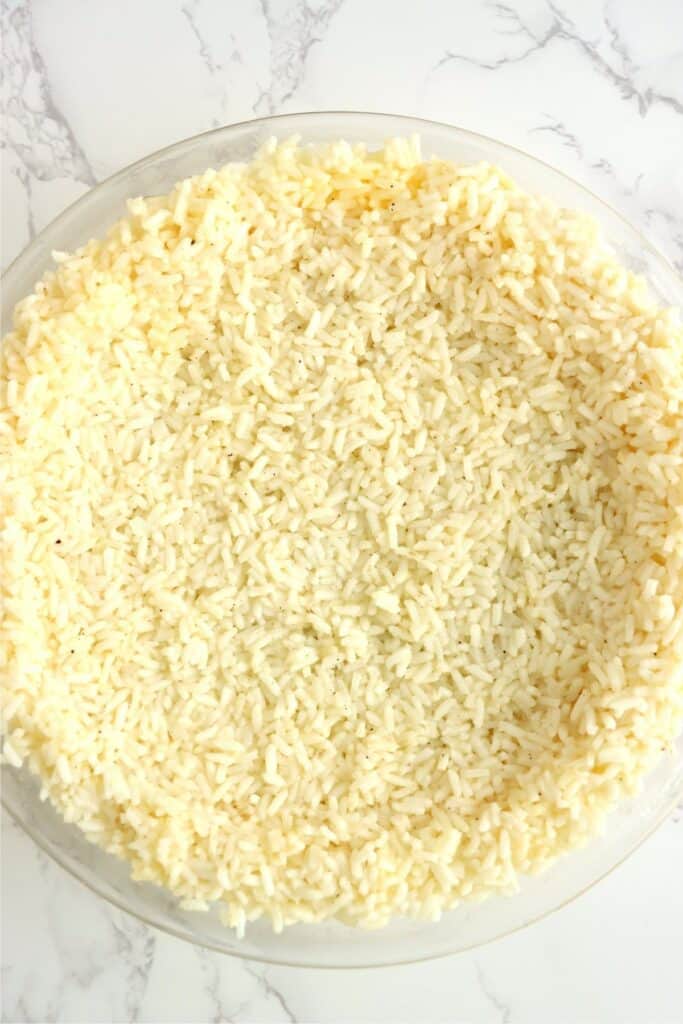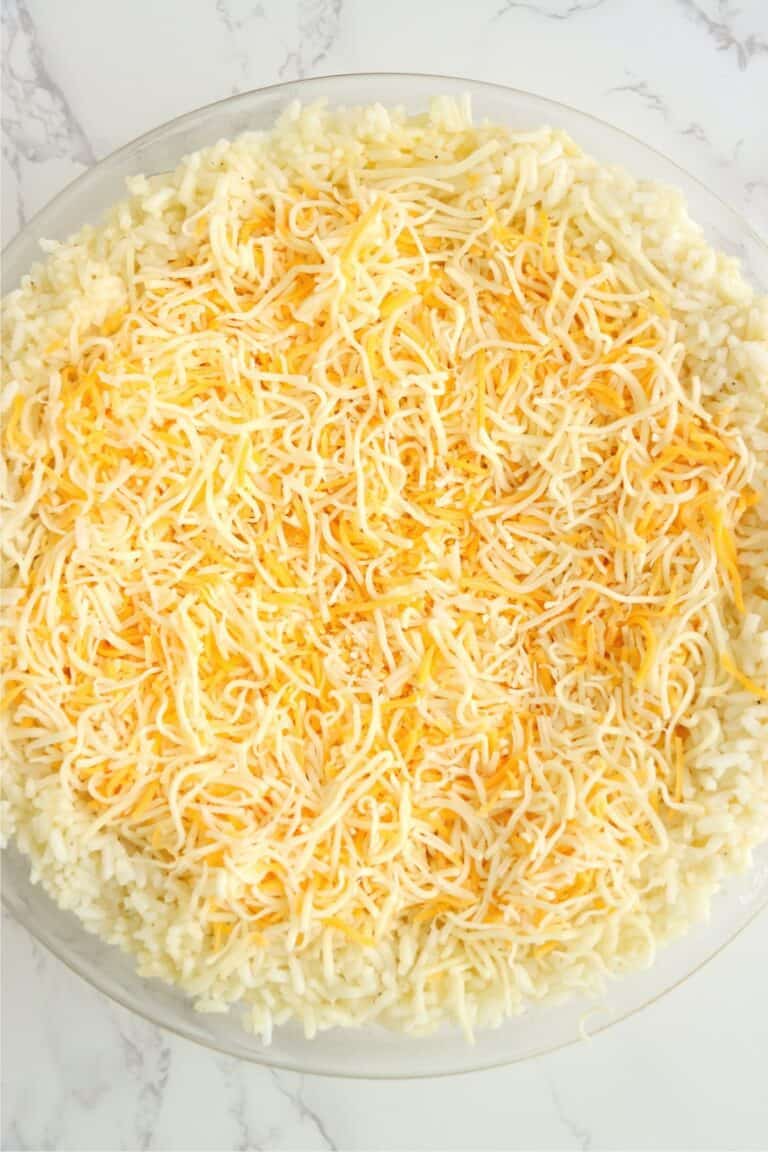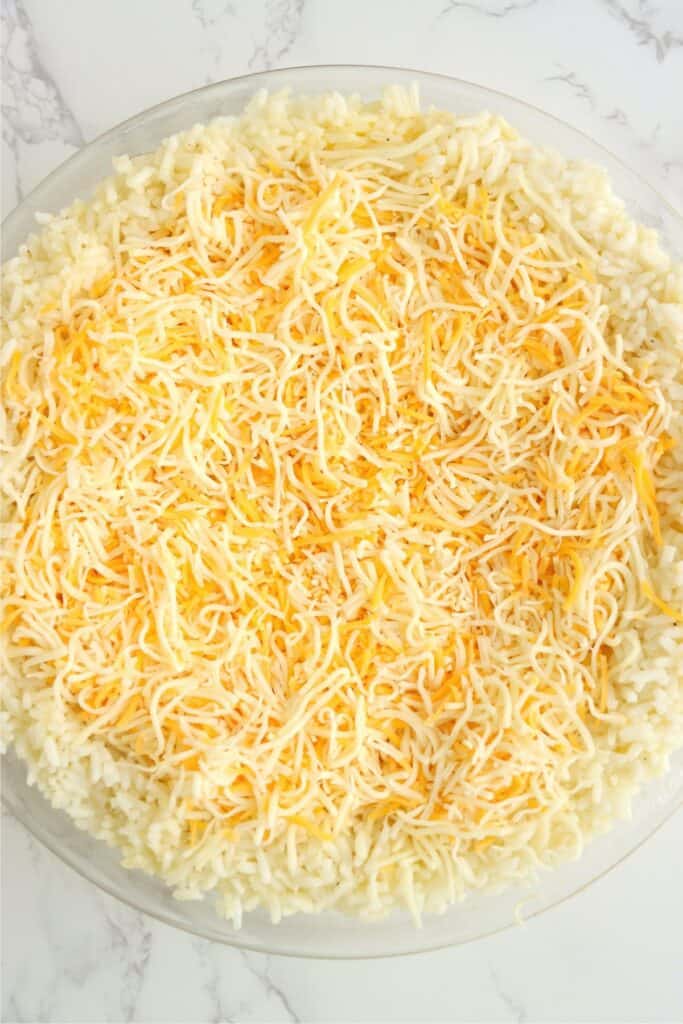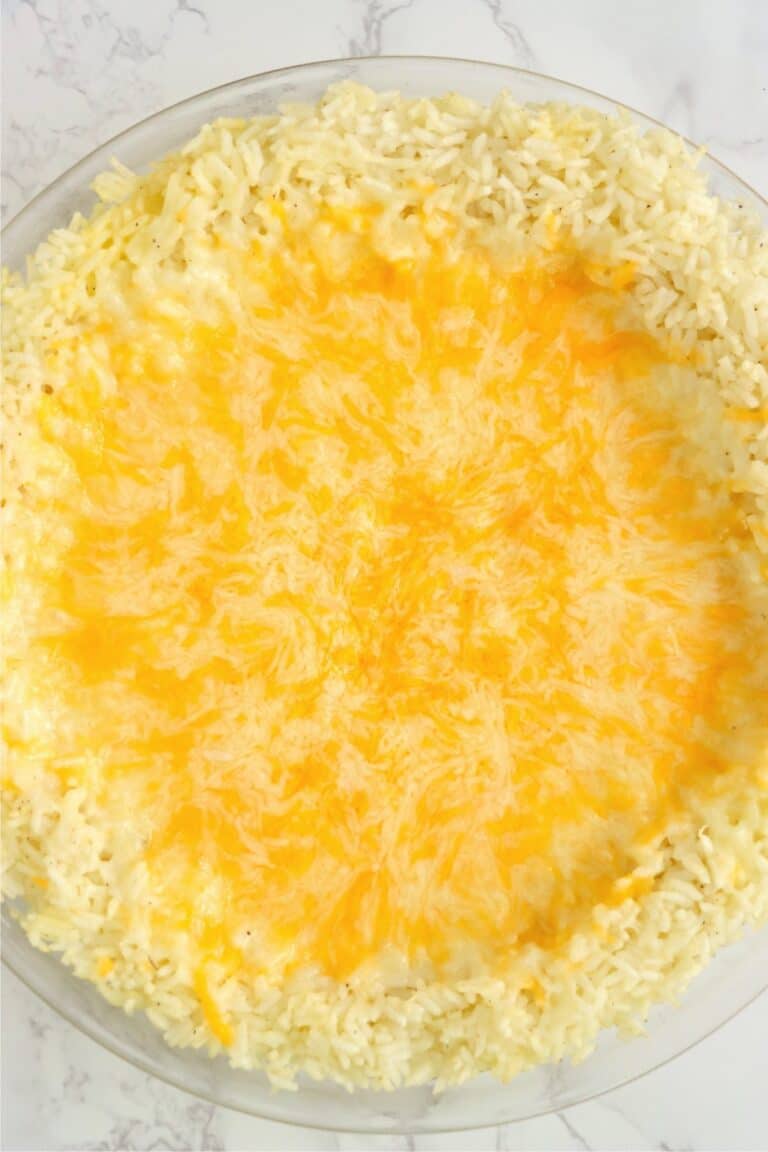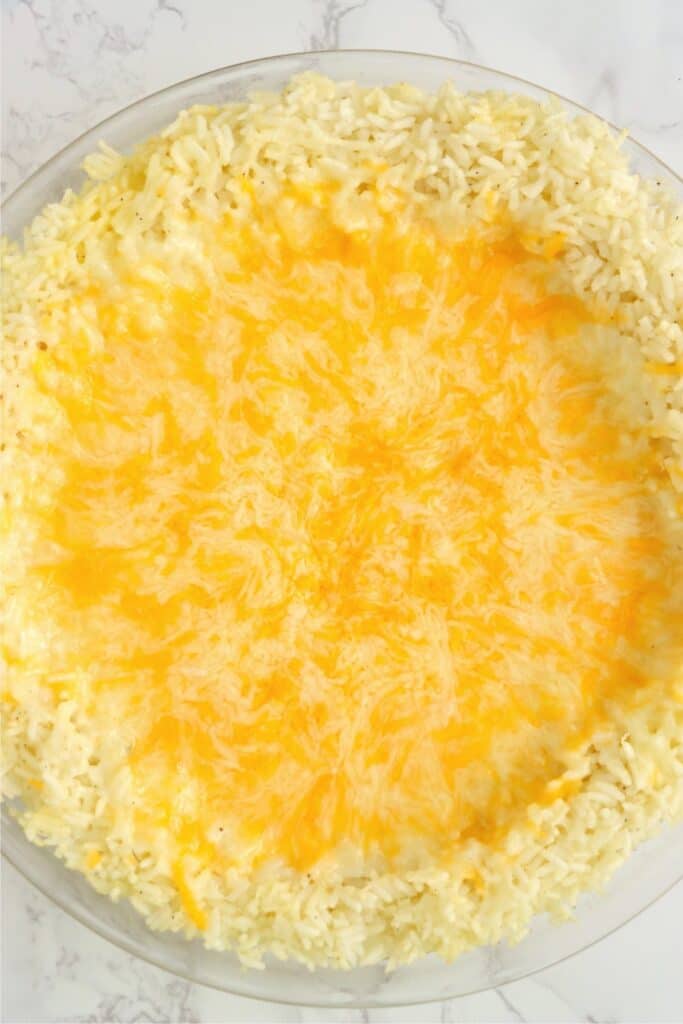 3: Cook the chicken, then remove it from the pan.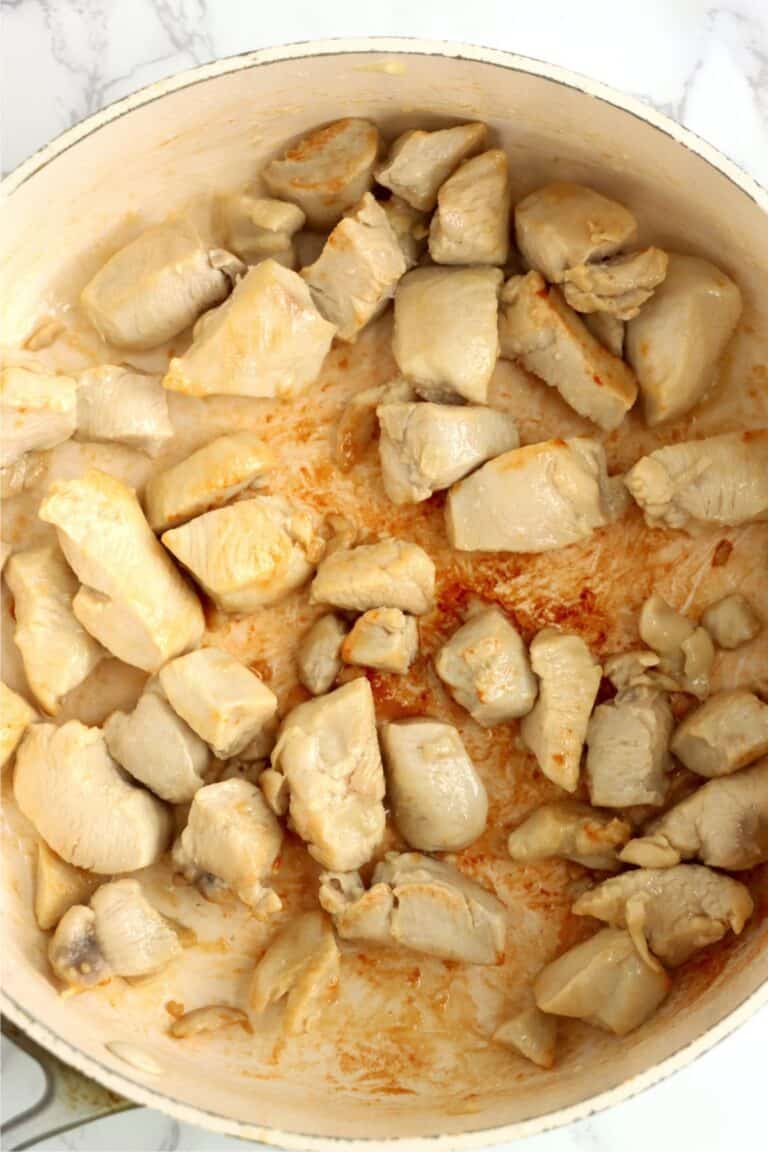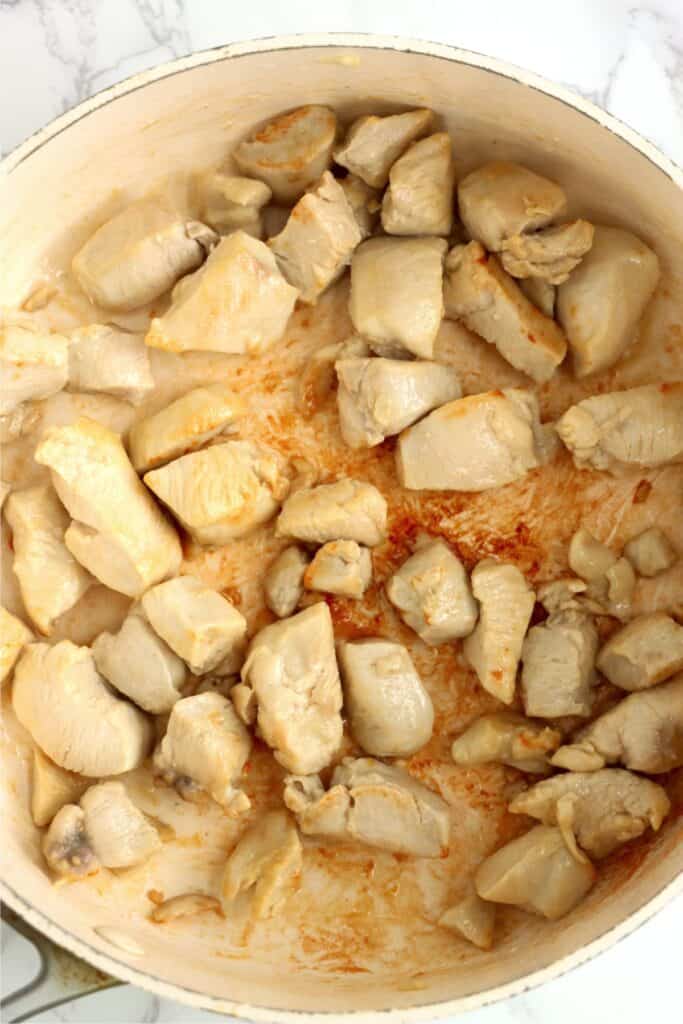 4: Cook the vegetables in the same pan.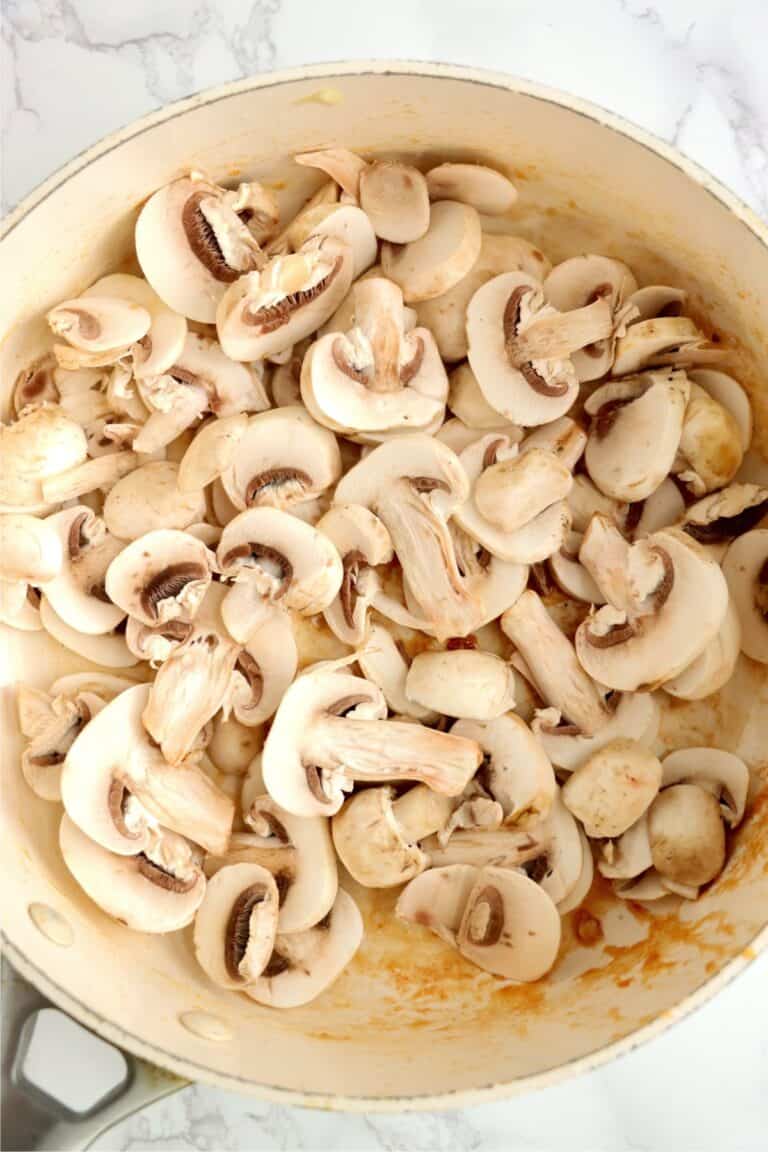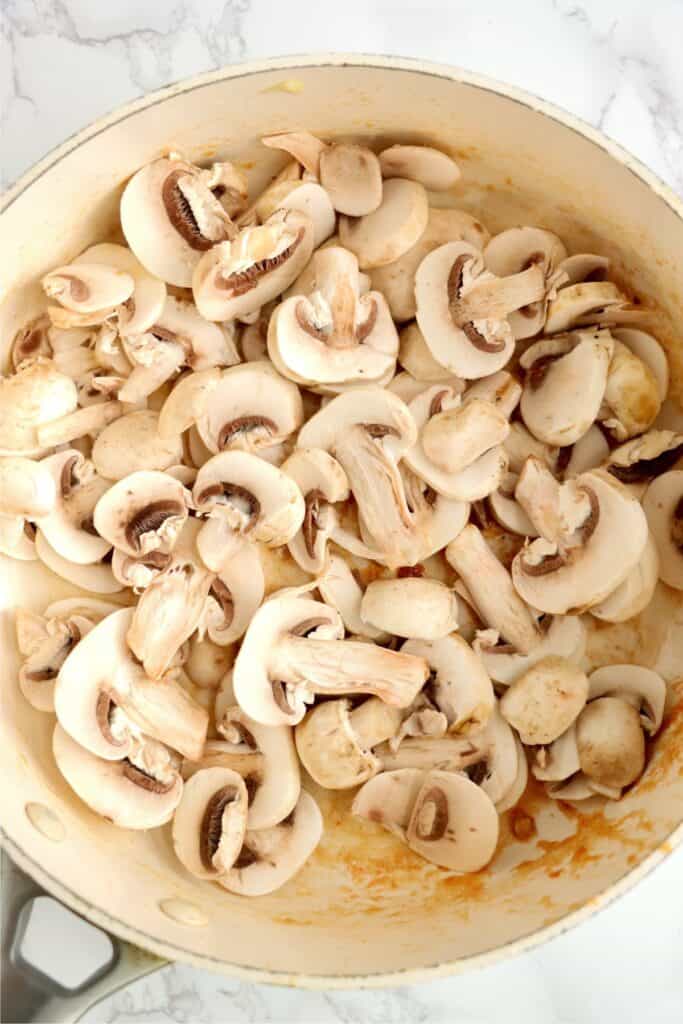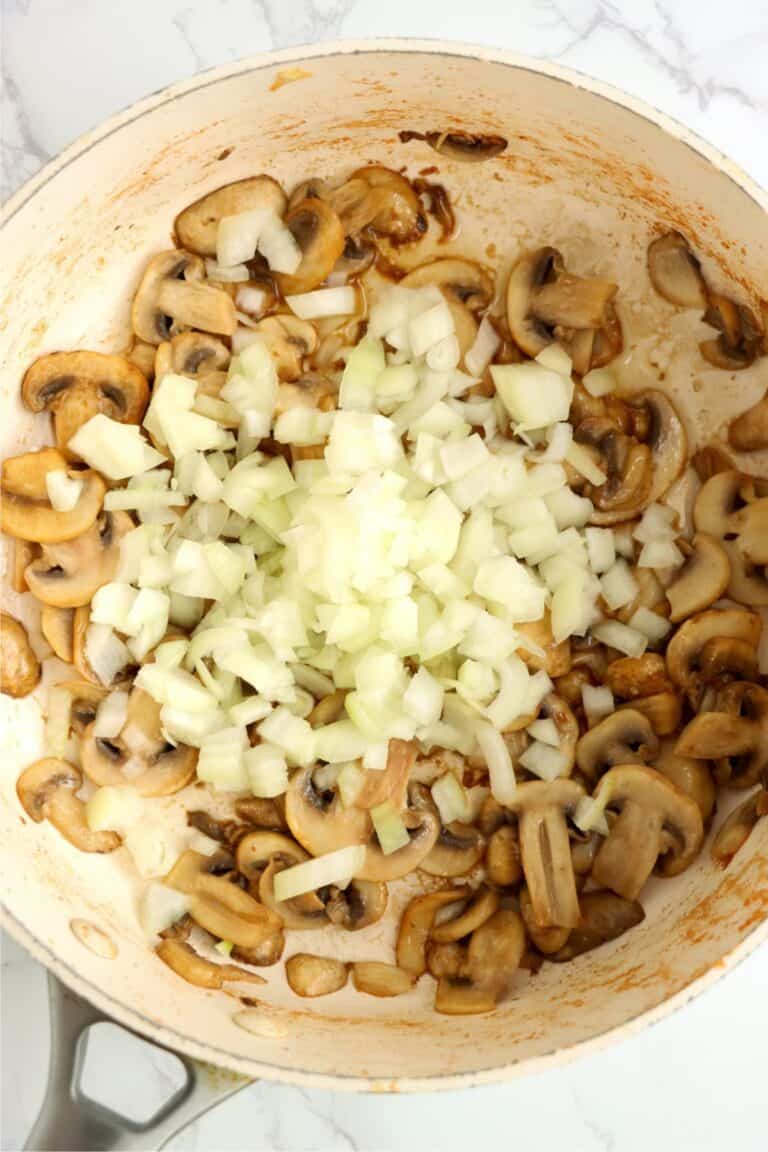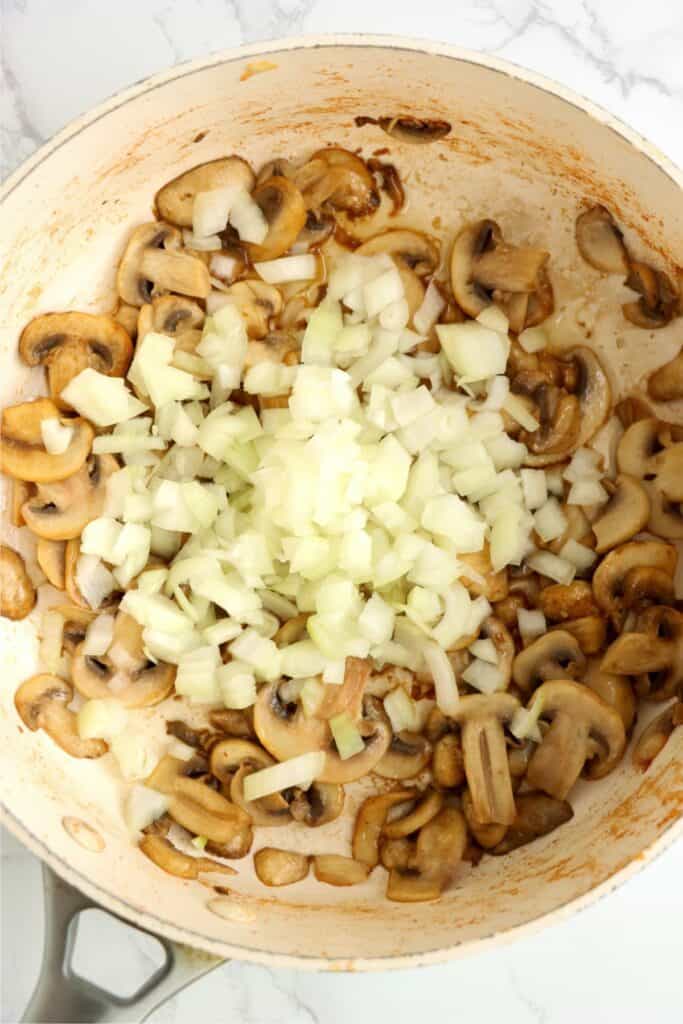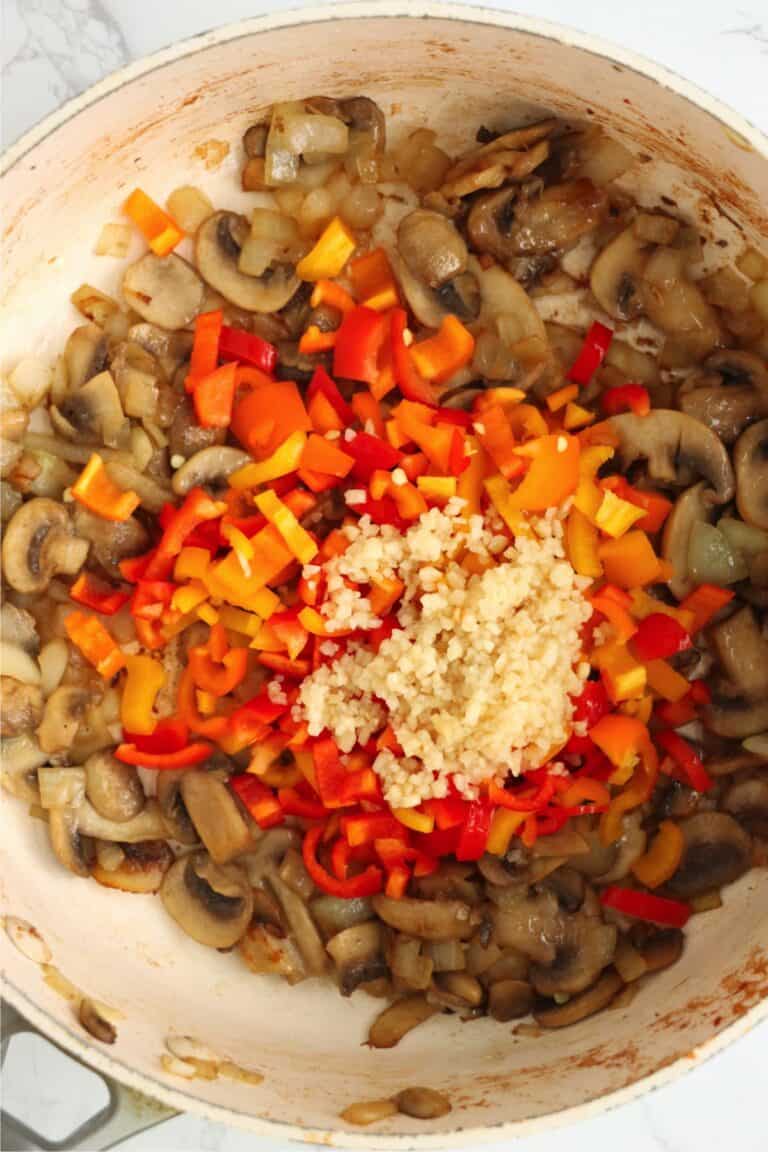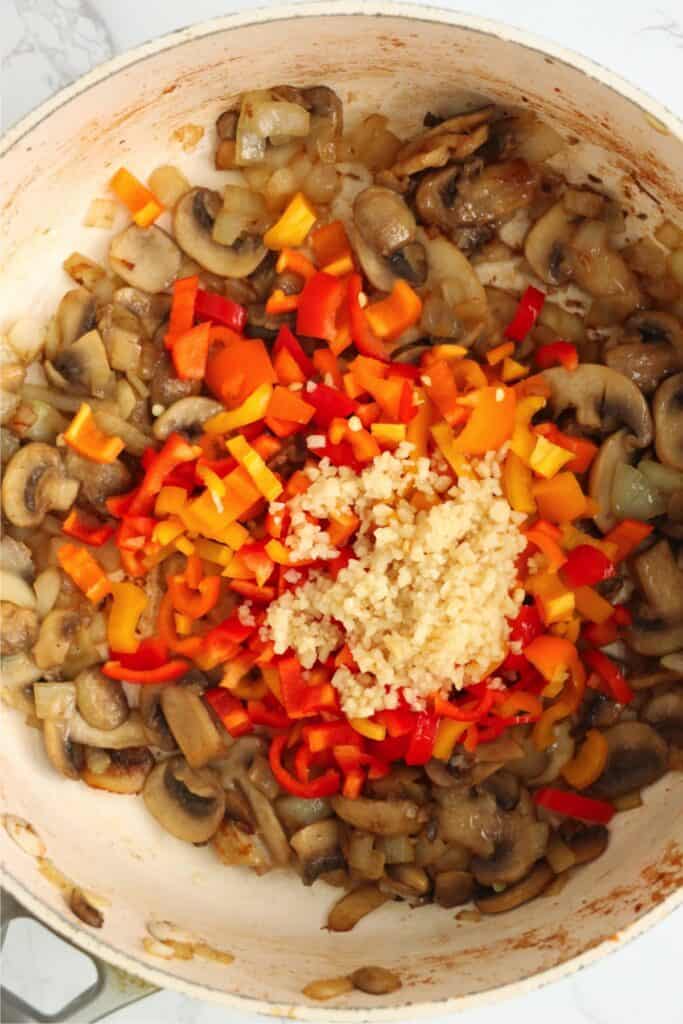 5: Stir in Italian seasoning and flour, then add the broth and chicken and simmer until thickened.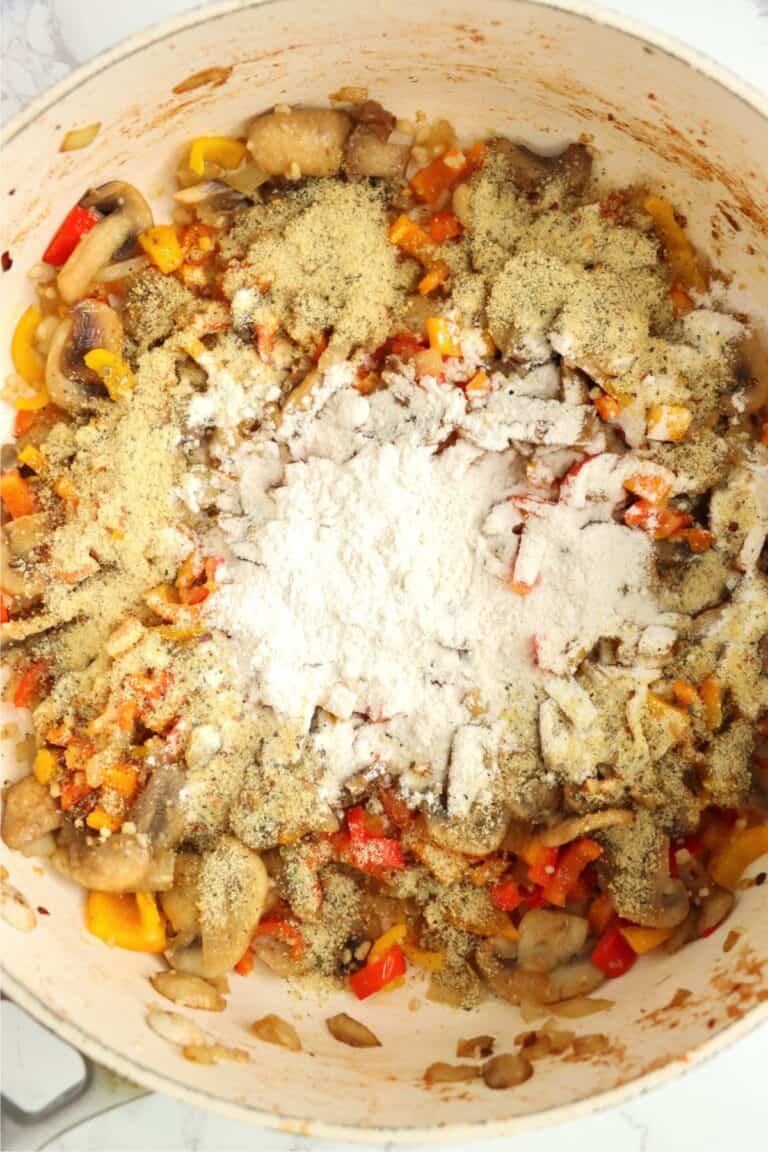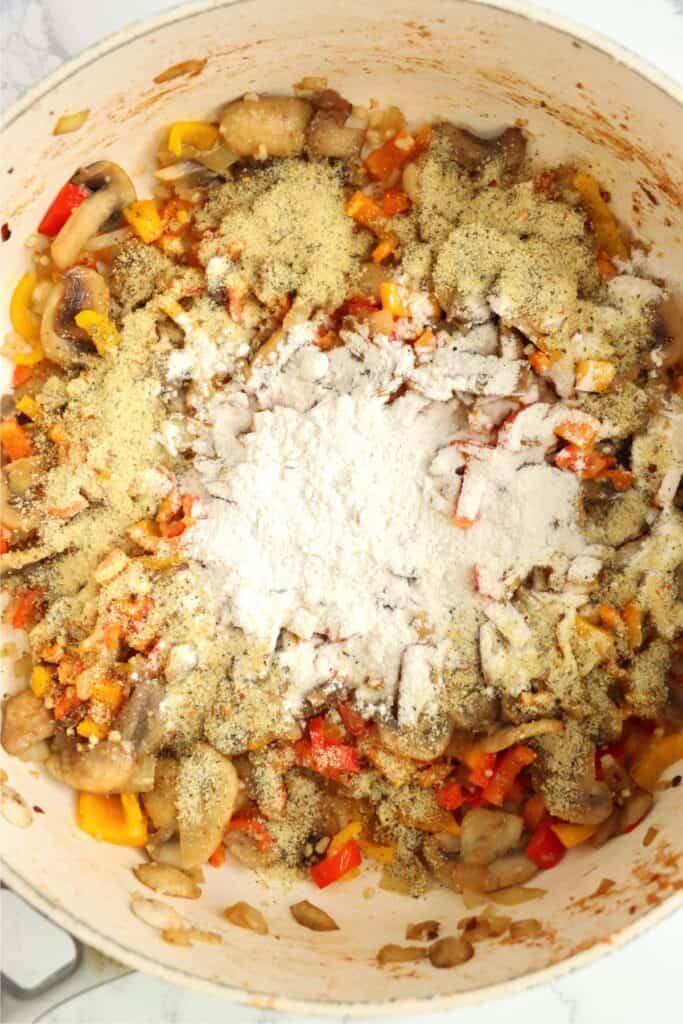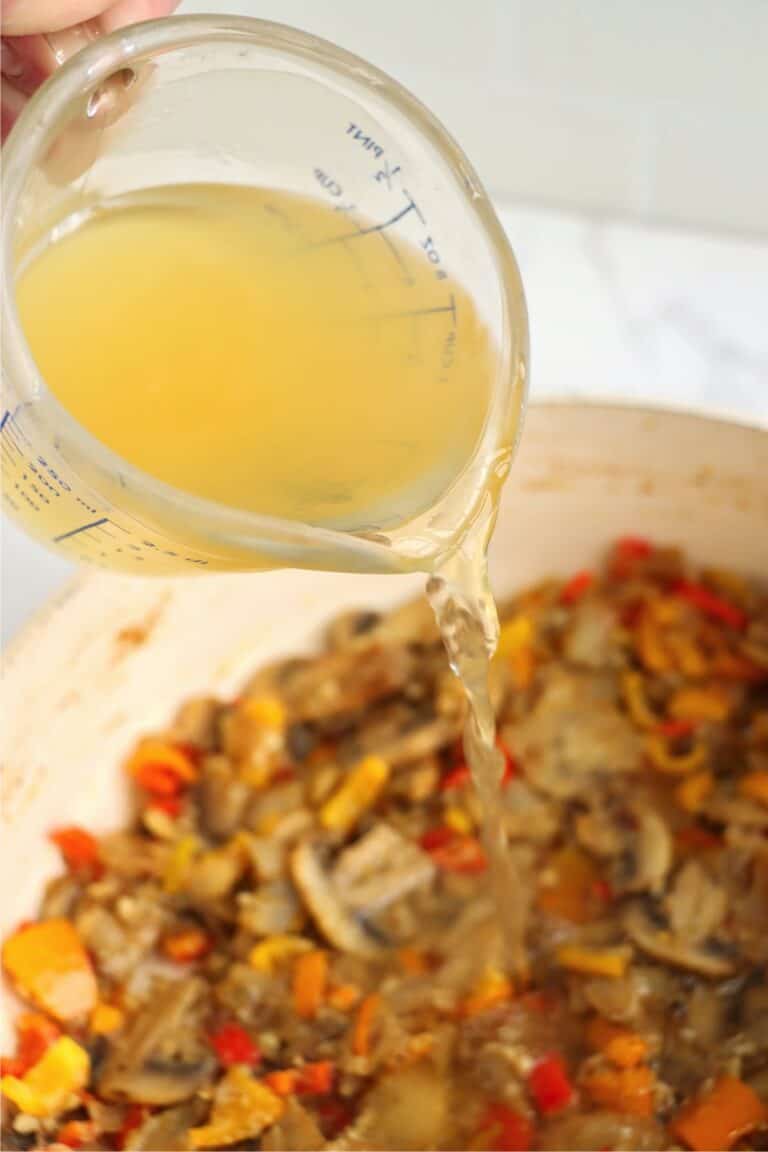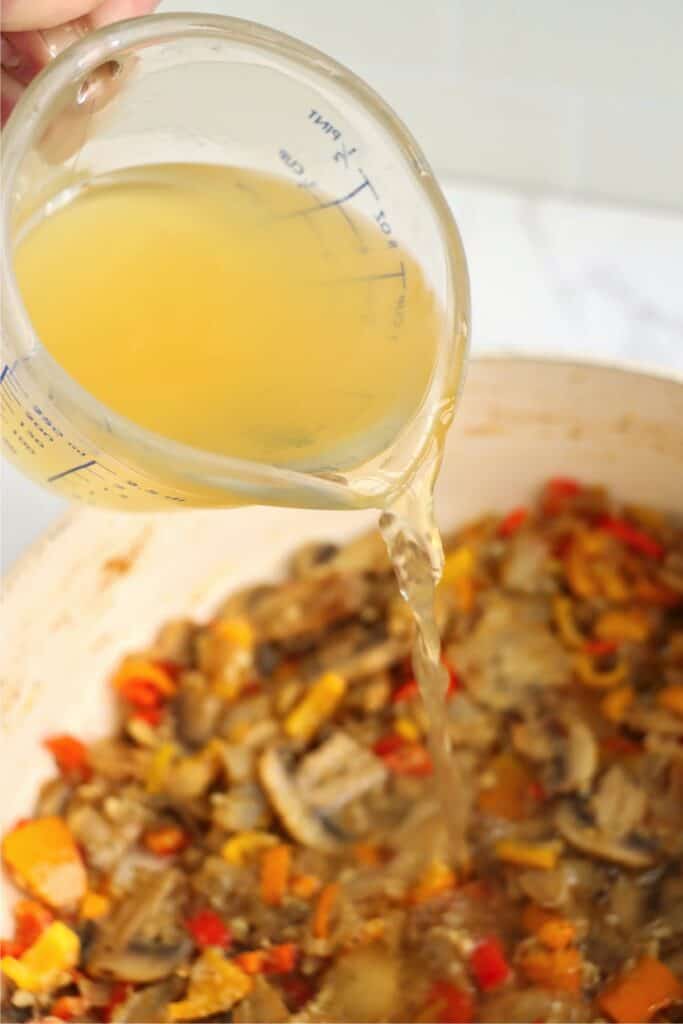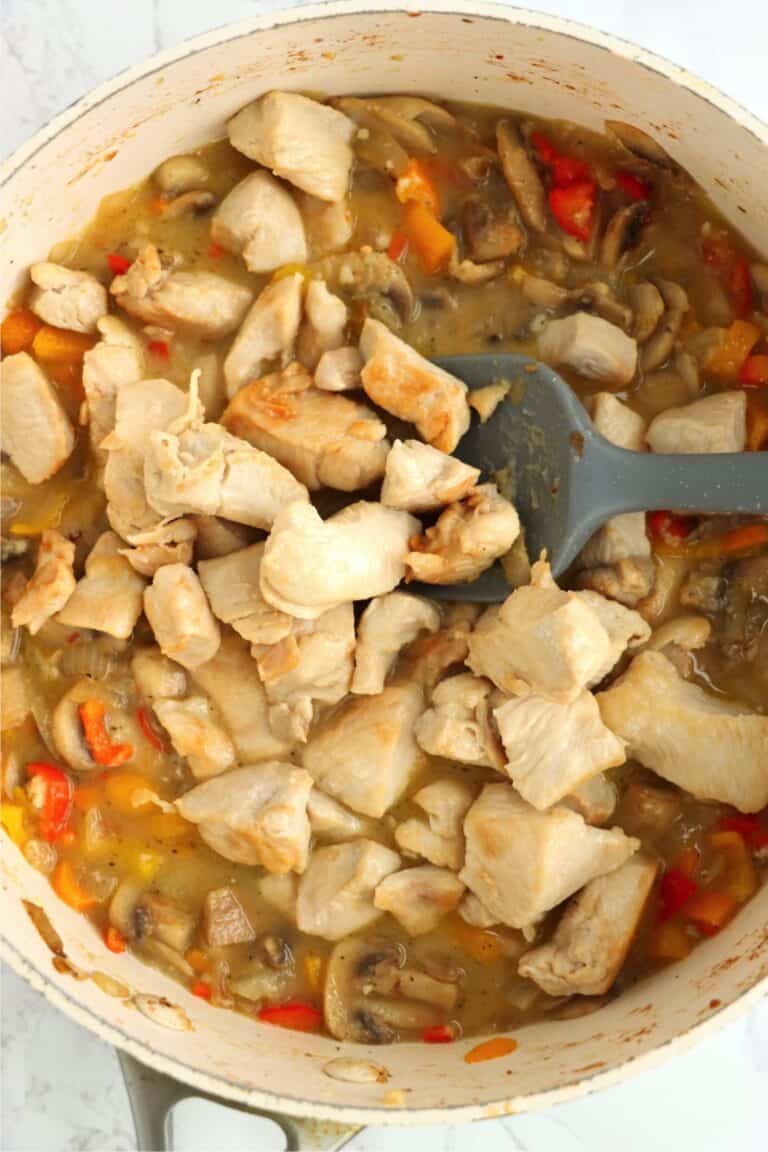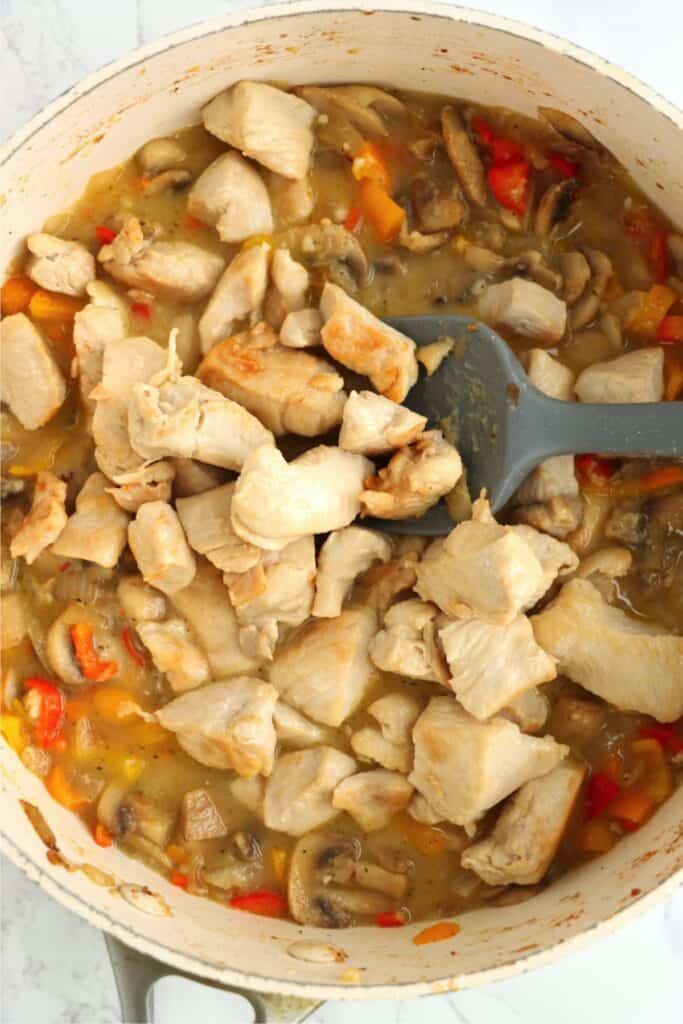 6: Add parmesan cheese and stir until melted.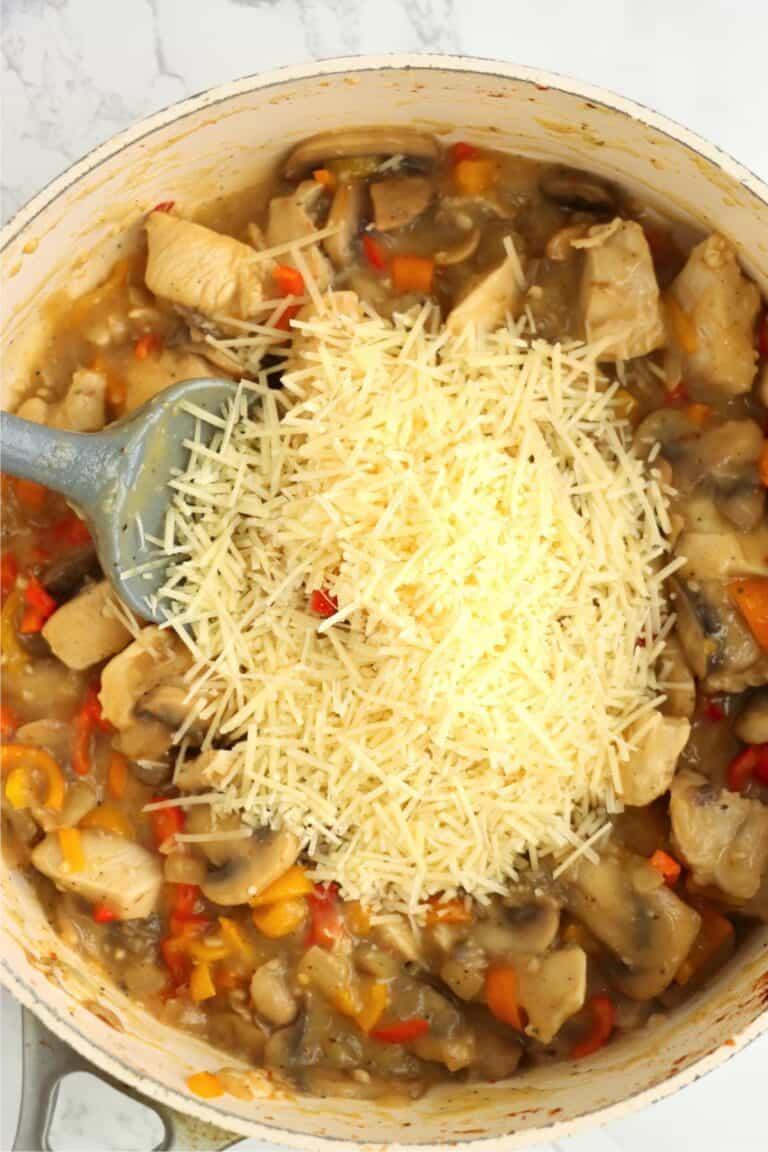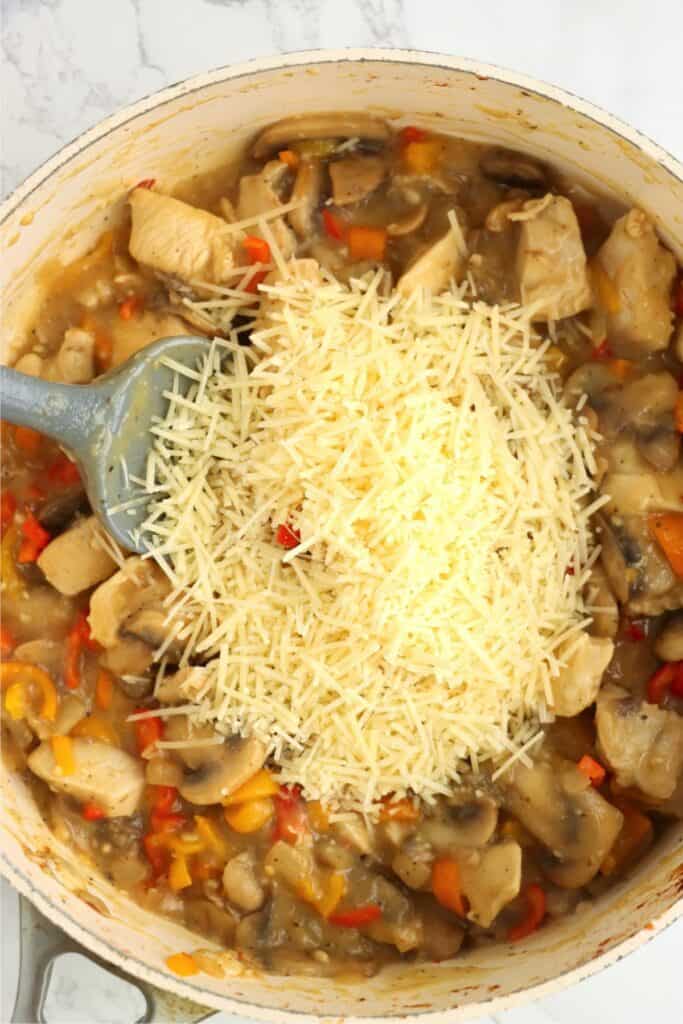 7: Pour the filling into the rice crust, sprinkle with French fried onions, and bake. Then, add shredded cheese and bake until melted.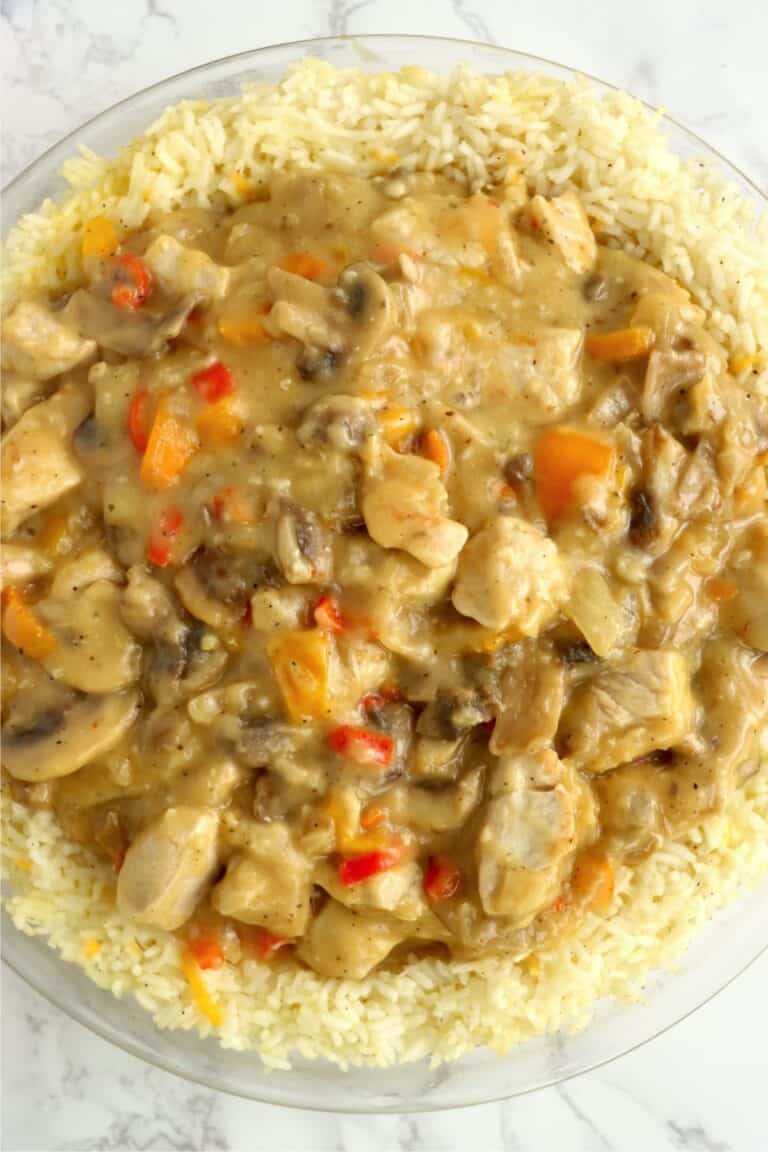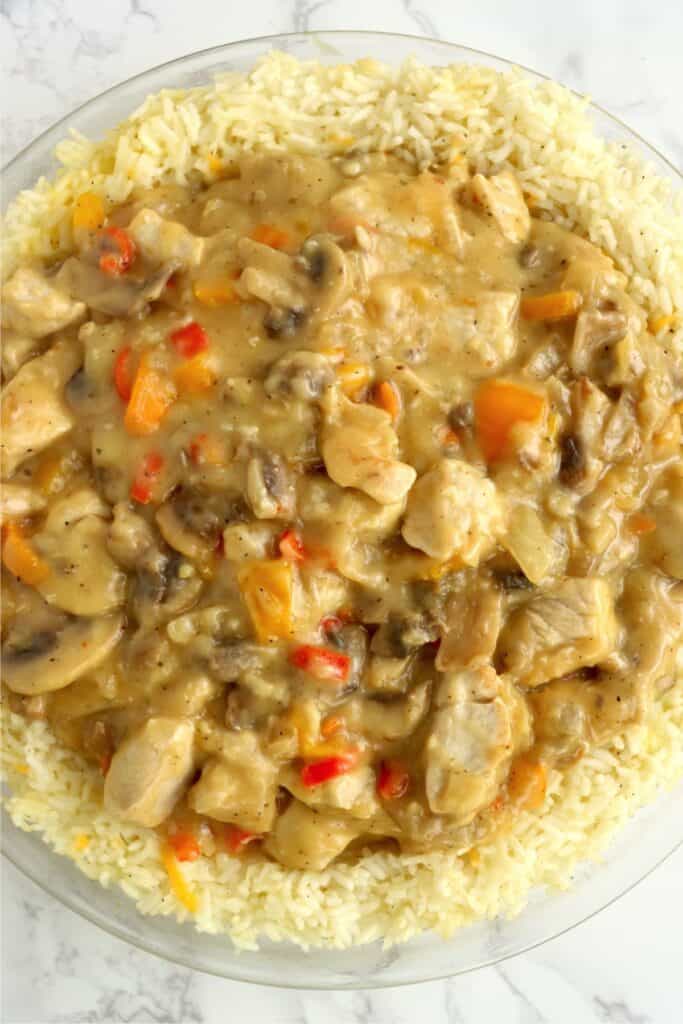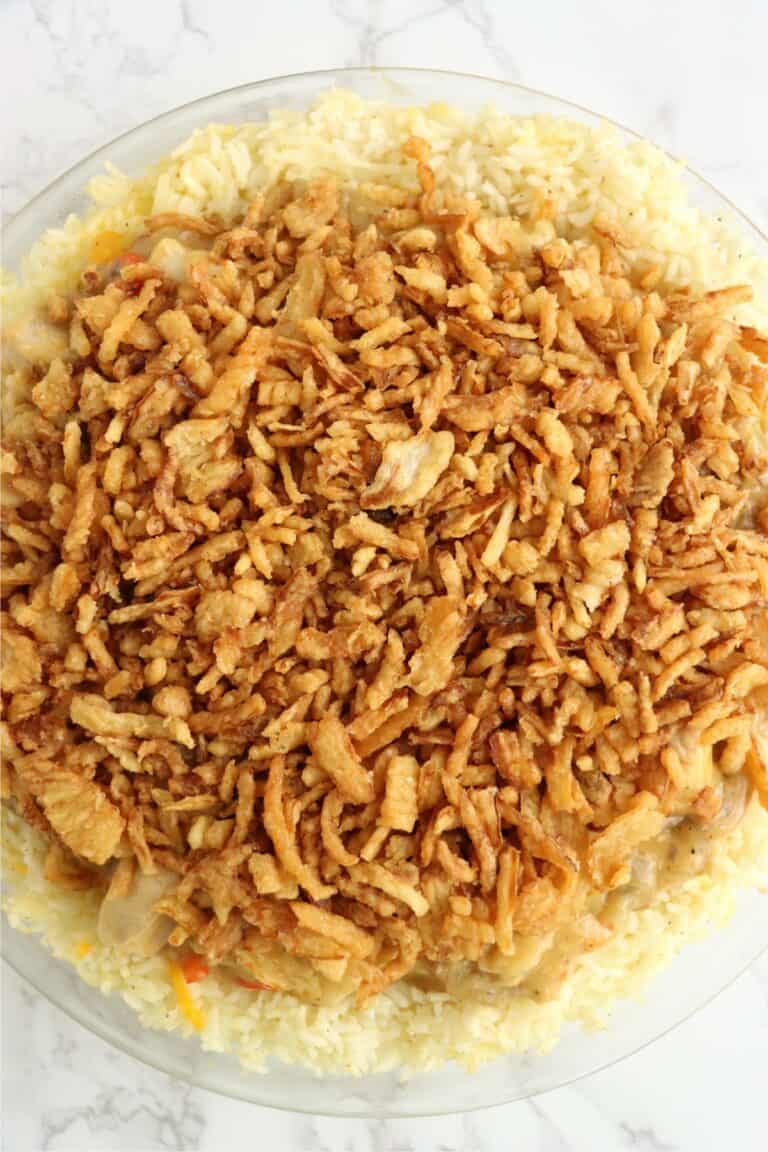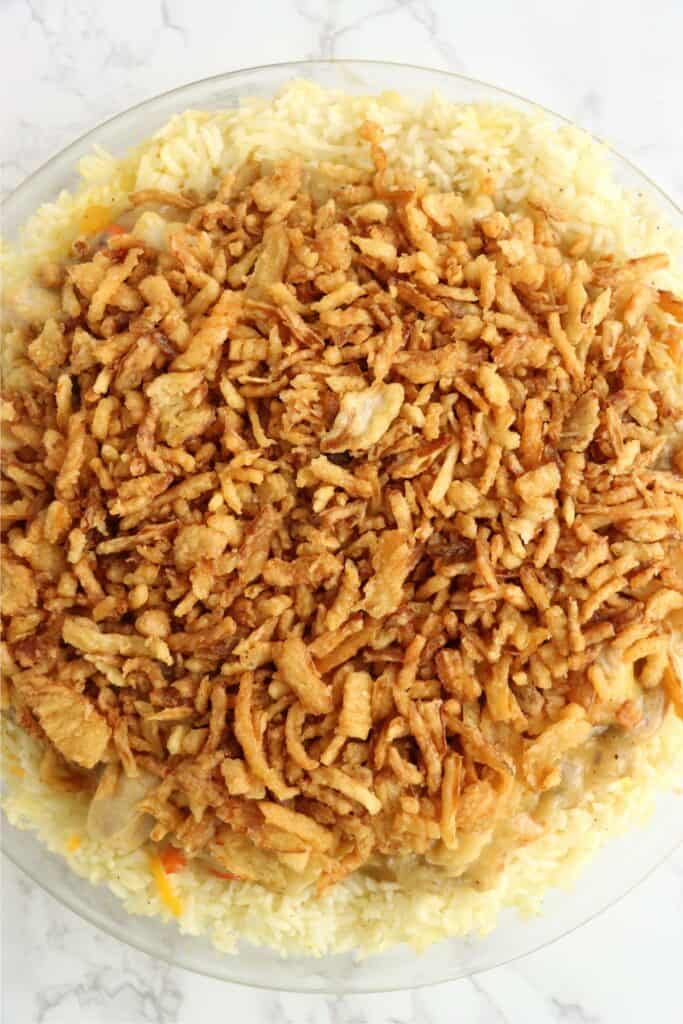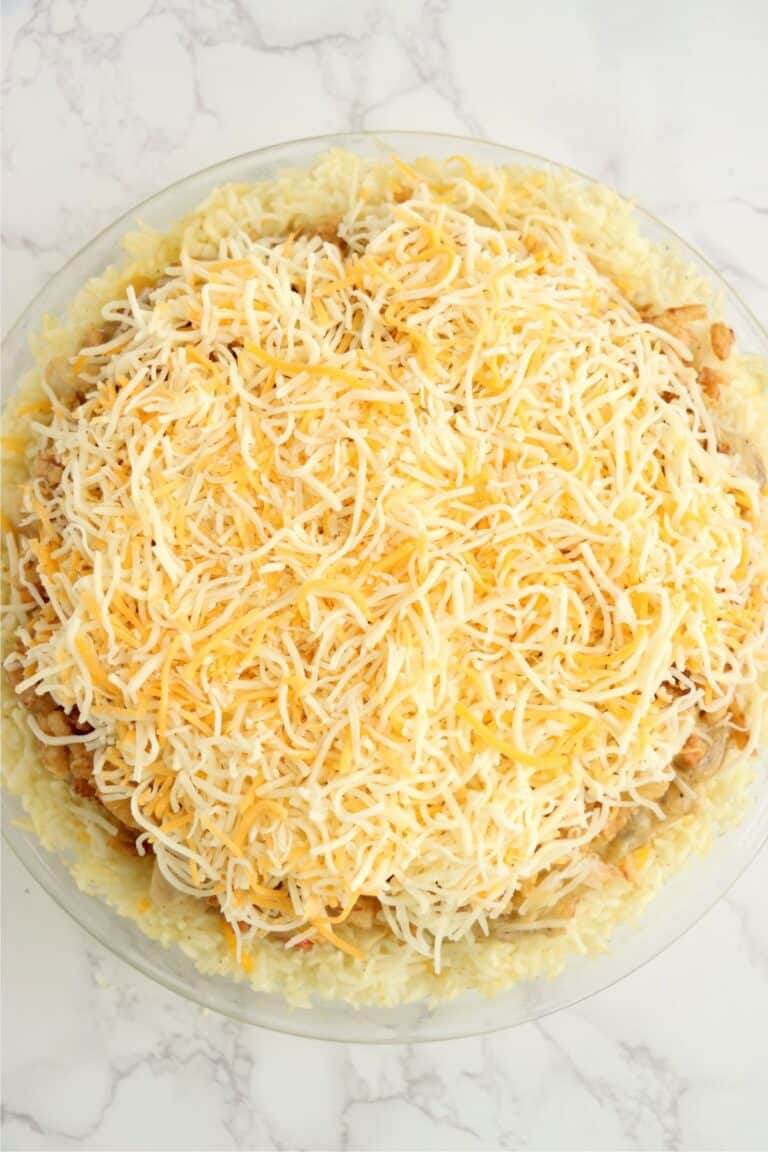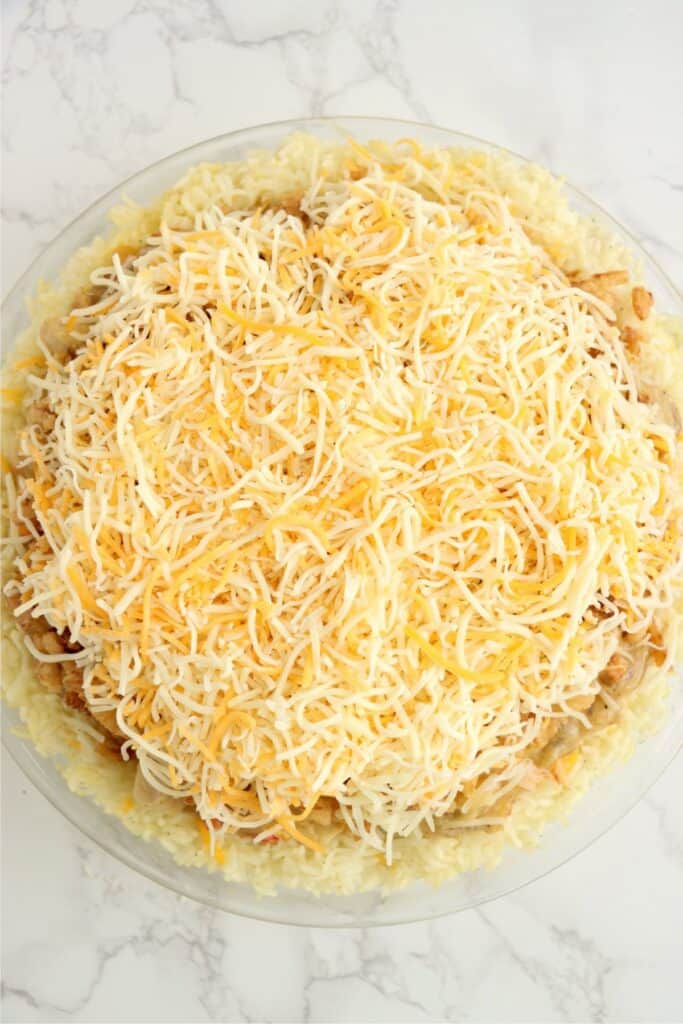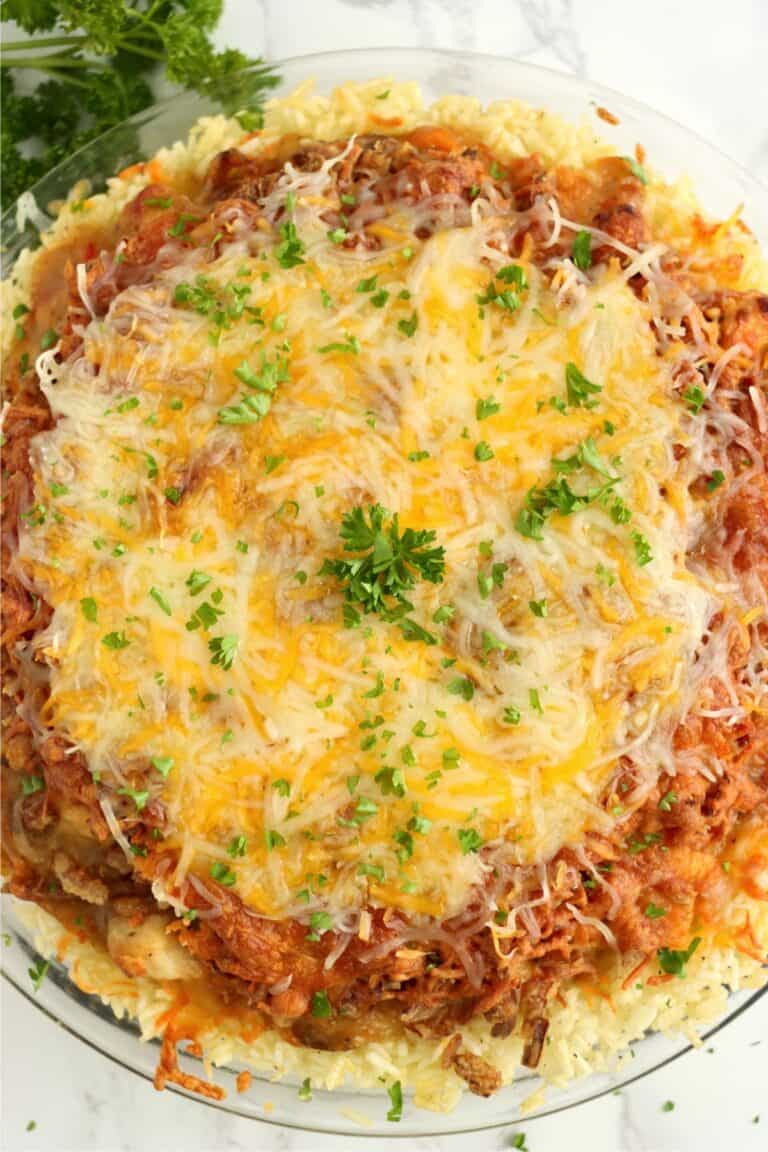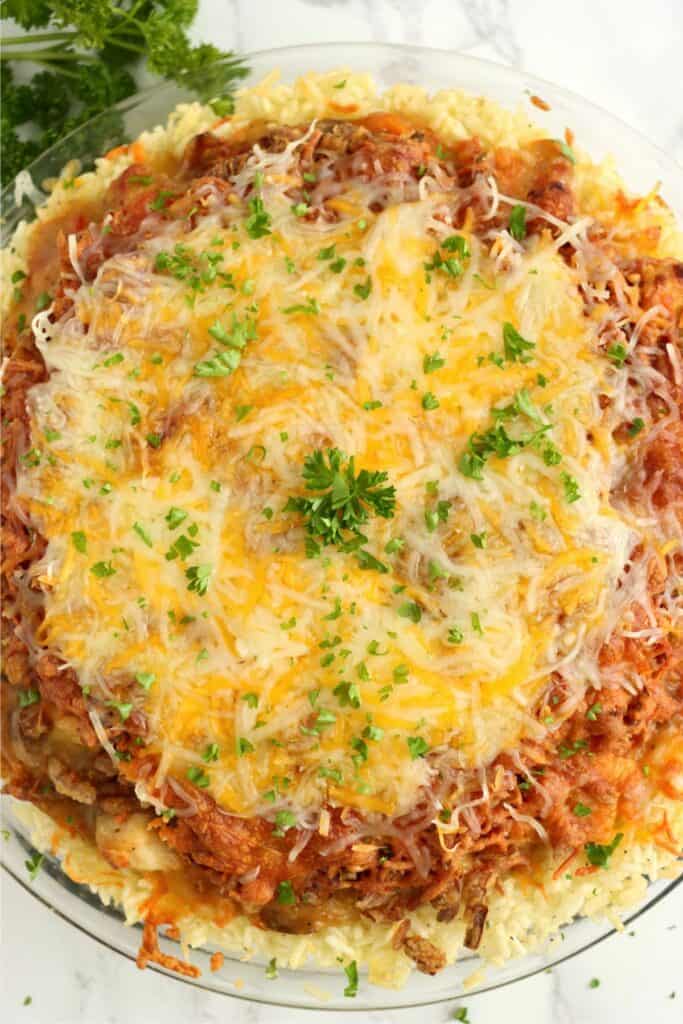 Substitutions and Variations
You can make this with chicken thighs, pork, or beef.
Use your favorite cheese for this recipe.
For a kick of heat, add diced jalapenos to the vegetable mixture.
Equipment
Measuring cups and spoons.
Skillet
Spoon
Pie plate
Mixing bowl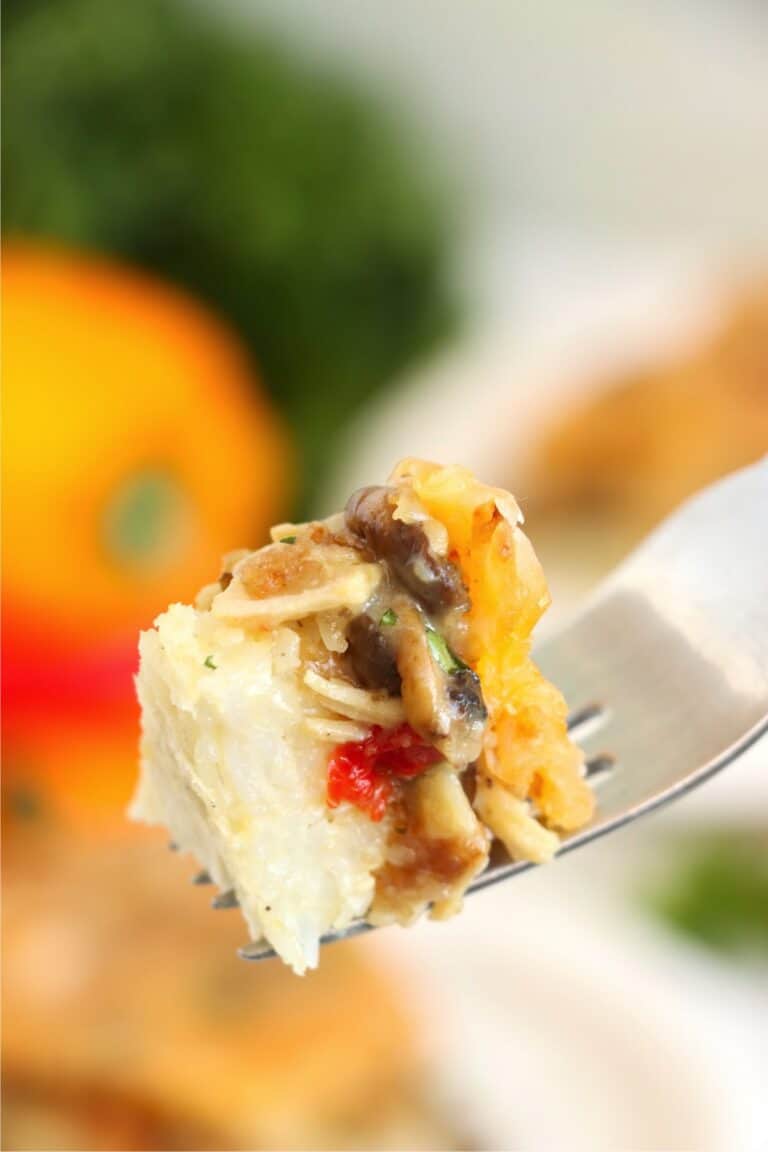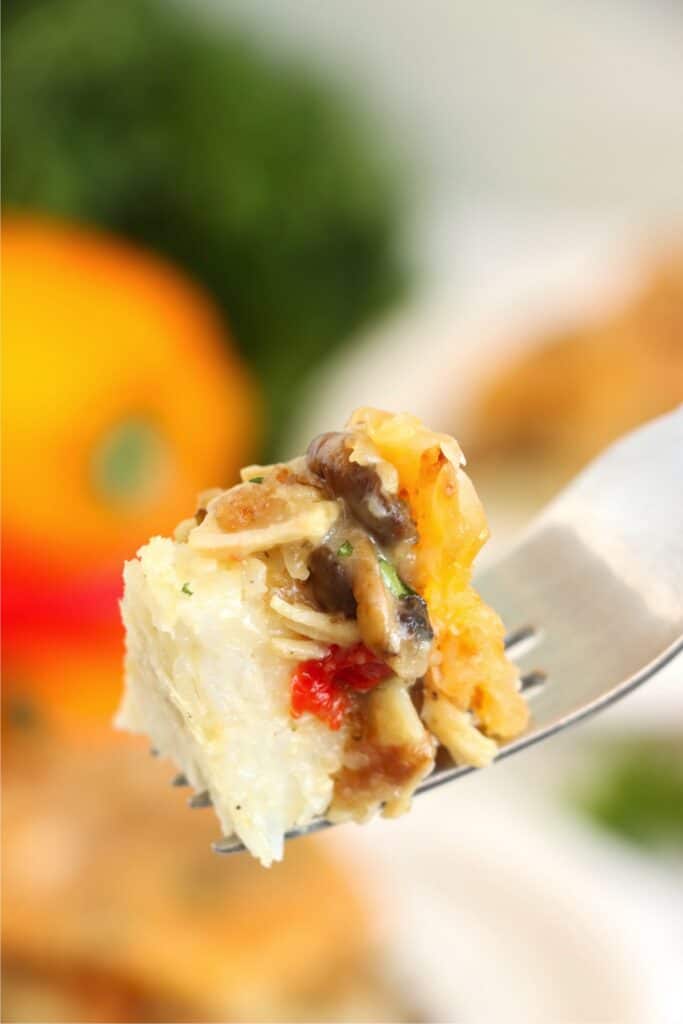 Storage
Refrigerator: Store for up to 3 days in an air-tight container.
Freezer: Store for up to 3 months in an air-tight, freezer-safe container.
Reheat: Place the pie in the oven and bake for 20 minutes at 325 until heated through.
What to Serve with Chicken and Rice
This is a super-hearty meal all on its own, so I recommend keeping things simple. Try a side salad, crusty bread, or garlic bread with this dish.
Tips:
Be sure to press your rice mixture very firmly into the bottom of the pie plate. This will help turn the rice into an actual crust.
For the best flavor get a nice brown sear on your chicken pieces.
Stir your chicken and vegetable mixture constantly while thickening it so nothing sticks or burns.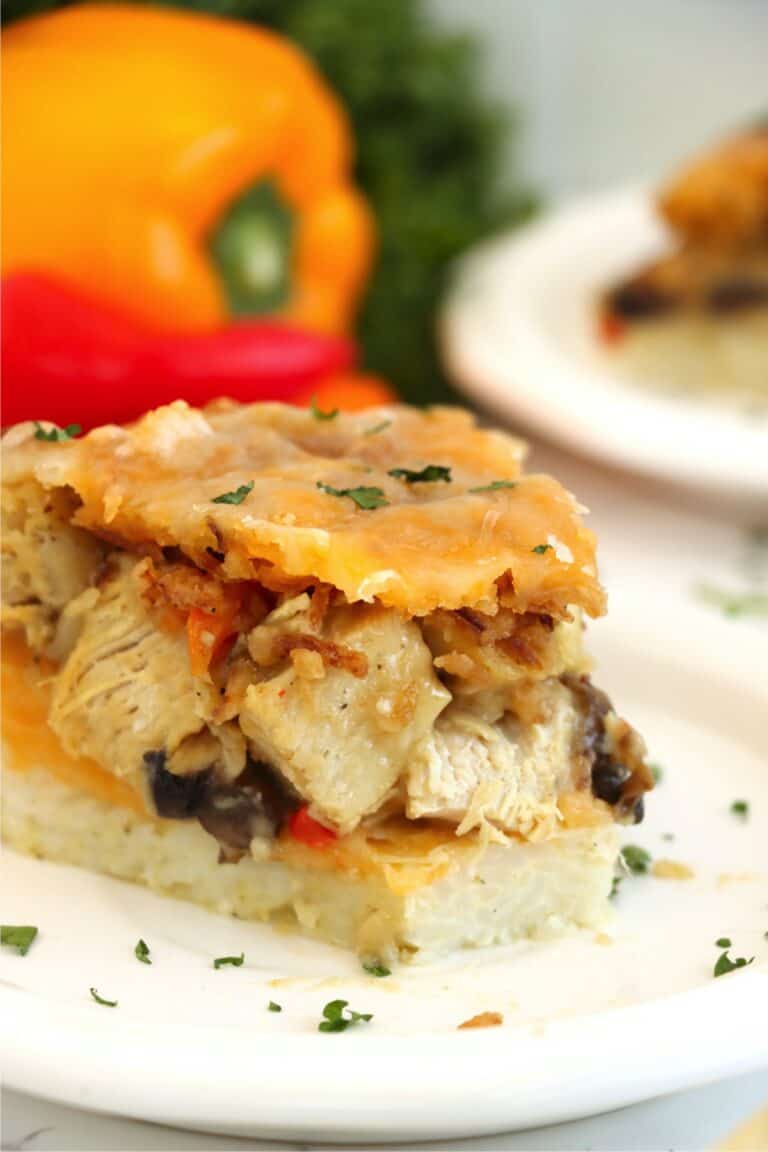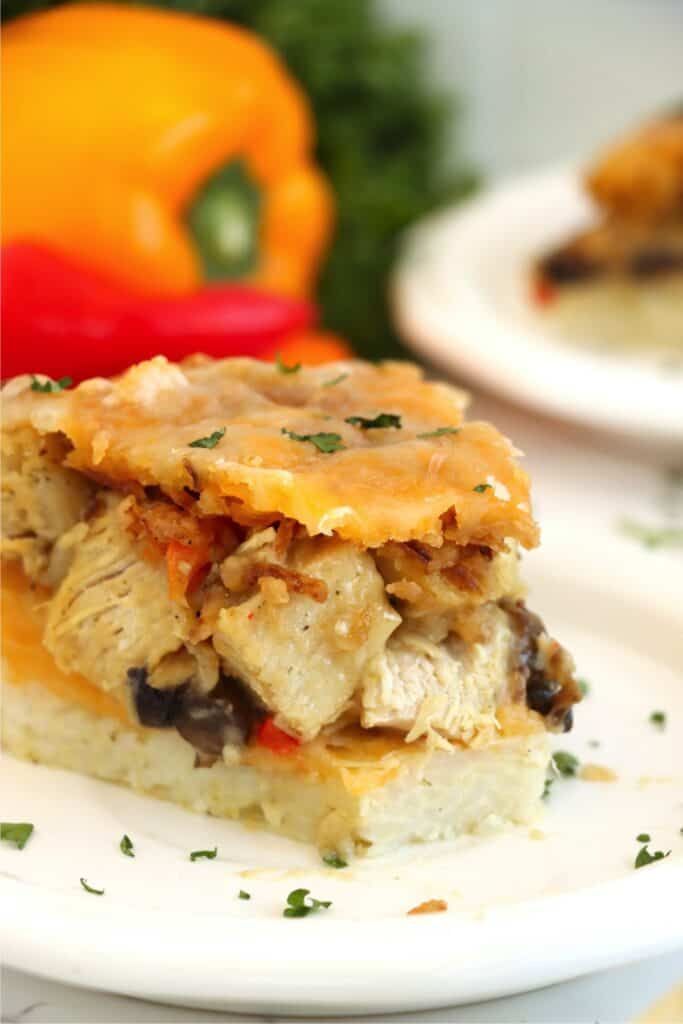 FAQ
How do you know when chicken is done?
When cooking small cubes of chicken like this, cookig it until it has a nice brown exterior should cook it through. For larger pieces of chicken, use a meat thermometer. When it reads 165 degrees, the chicken is fully cooked.
Can fully cooked chicken be pink?
Dark meat chicken can sometimes have a pinkish hue even when it's fully cooked. As long as your meat thermometer reads 165 degrees, you're good.
Can I make this with different meat?
You sure can! Chicken thighs, pork, and beef all work well.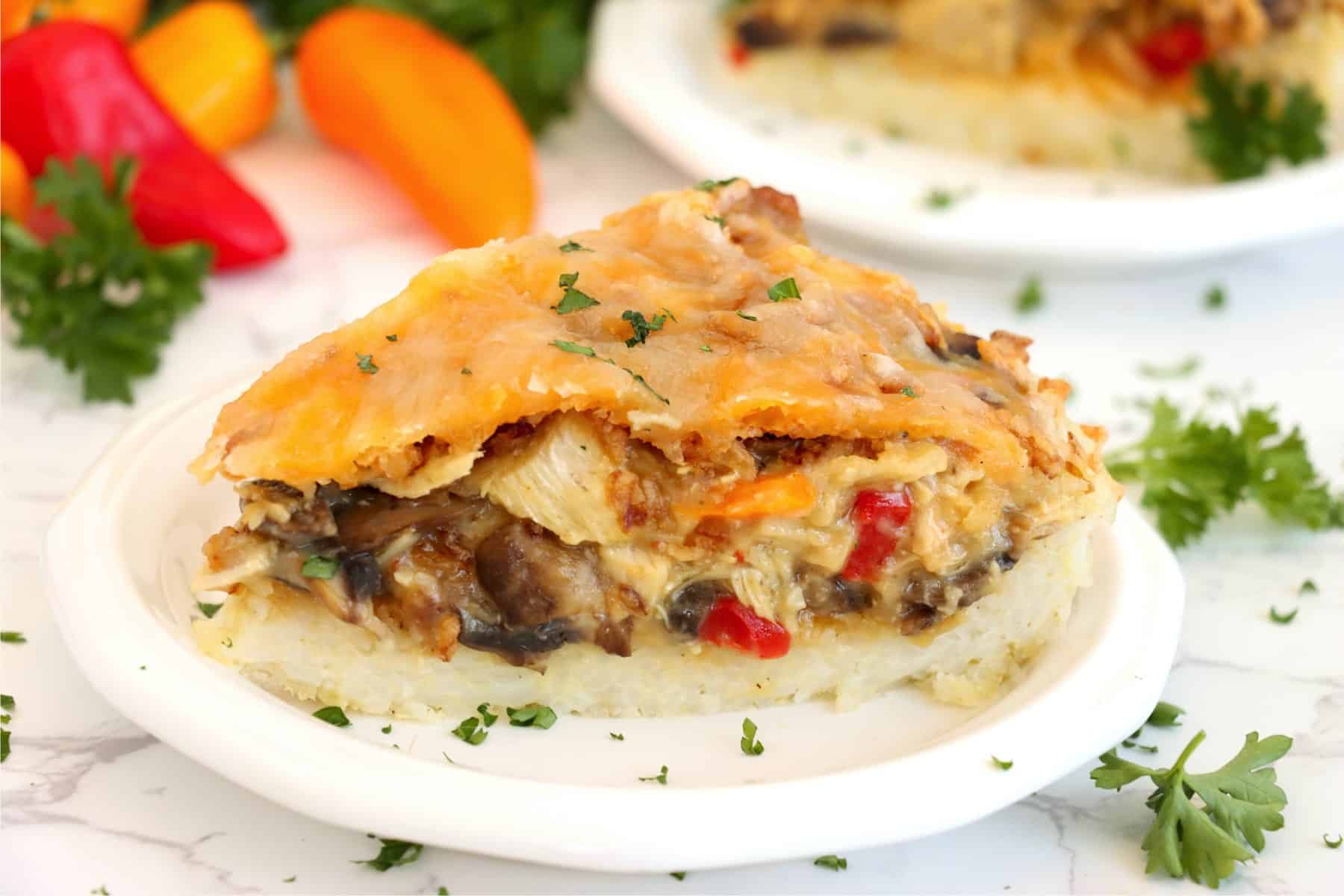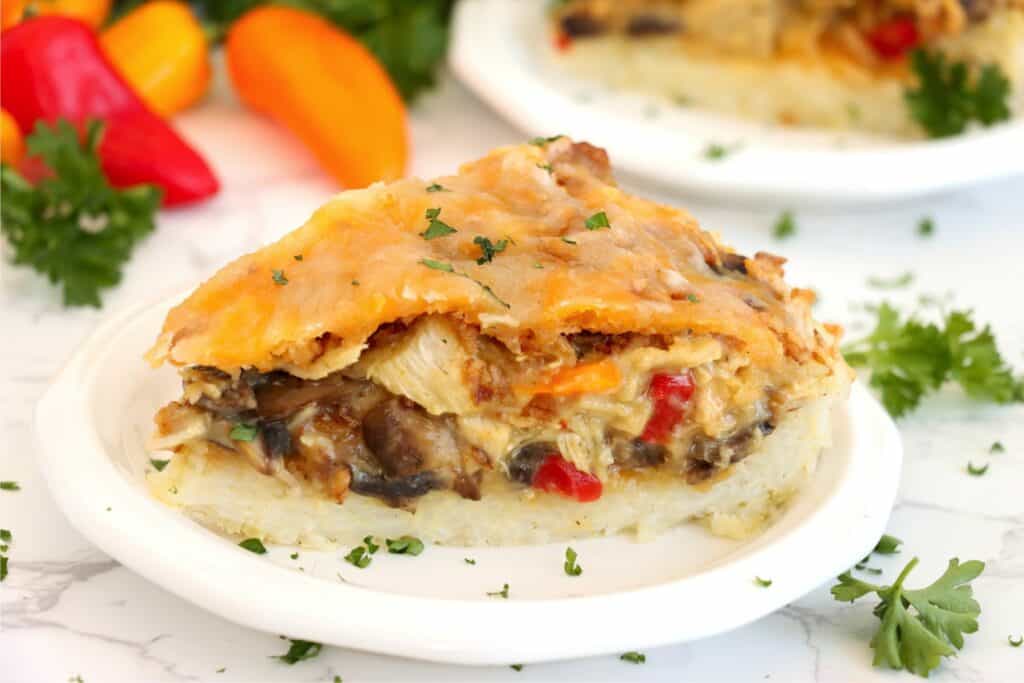 More Delicious Chicken Recipes
Yield: 8 servings
Chicken Rice Crust Pie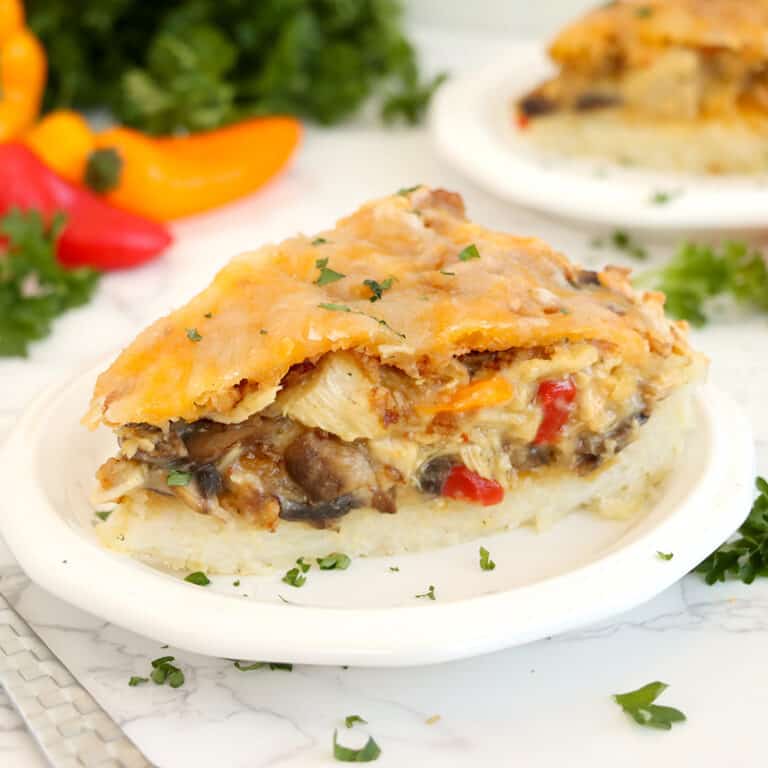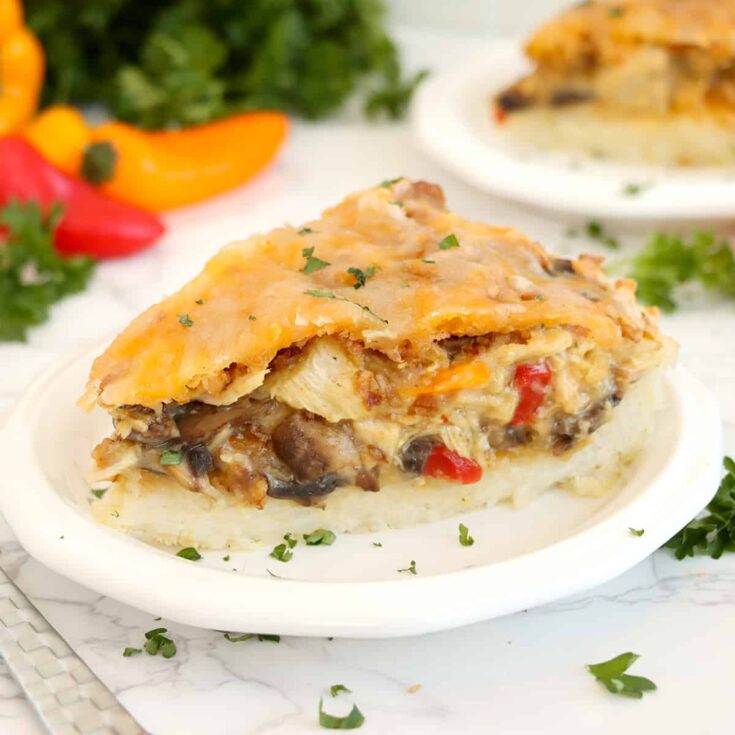 Chicken rice crust pie is a new twist on classic chicken and rice. The crust is rice, and the topping is classic, creamy chicken and cheese.
Total Time
1 hour
15 minutes
Ingredients
Rice Crust Ingredients:
3 cups long grain rice, cooked
3/4 tsp pepper
1 large egg, beaten
1 ½ cups shredded cheese
Filling Ingredients:
2 tbsp olive oil
3 cups chopped boneless, skinless chicken breasts
3 ½ cups fresh mushrooms, sliced
1 cup chopped onion
1 cup sweet bell peppers, chopped
2 tbsp minced garlic
2 tbsp flour
2 tbsp Italian seasoning
1 cup chicken broth
salt - to taste
pepper - to taste
½ cup shredded Parmesan cheese
Topping:
1 cup French fried onions
1 cup shredded cheese
Instructions
Preheat oven to 350ºF.
To make crust, in a large bowl, combine cooked rice, pepper, and beaten egg.
Press rice mixture firmly into a greased 9-inch pie plate, packing it well. Be sure to press it onto the sides also.
Sprinkle shredded cheese over top of rice.
Bake for 20 minutes or until cheese is melted.
To prepare your filling, heat a large skillet over medium heat with olive oil in it.
Add chicken and cook for 4-5 minutes or until chicken is thoroughly cooked. Remove from skillet and set aside.
Reduce heat to low-medium. Add more olive oil if necessary. Add mushrooms and cook for 5 minutes, stirring often.
Add onions and cook until tender.
Add peppers and garlic. Continue cooking and stirring for 2 minutes. Do not allow garlic to burn.
Sprinkle flour and Italian seasoning over mushroom mixture. Stir.
Add cooked chicken and chicken broth. Stir.
Add salt and pepper to taste.
Simmer mixture for 5 minutes while it thickens.
Add Parmesan cheese and stir until everything is blended.
Pour filling into baked rice crust. Level as much as possible.
Sprinkled French fried onions over top.
Bake for 25 minutes.
Remove from oven and add shredded cheese on top. Bake for an additional 10 minutes or until cheese is melted.
Allow to stand for 5 minutes and serve.
Nutrition Information
Yield
8
Serving Size
1
Amount Per Serving
Calories

490
Total Fat

22g
Saturated Fat

9g
Trans Fat

0g
Unsaturated Fat

11g
Cholesterol

107mg
Sodium

643mg
Carbohydrates

40g
Fiber

3g
Sugar

4g
Protein

33g
Get Inspired!
Never miss my delicious recipes, cute creations, or household tips!