This chicken thigh stew is rustic, hearty, and so filling. It's the perfect family meal for the fall and winter, and it's perfectly delicious.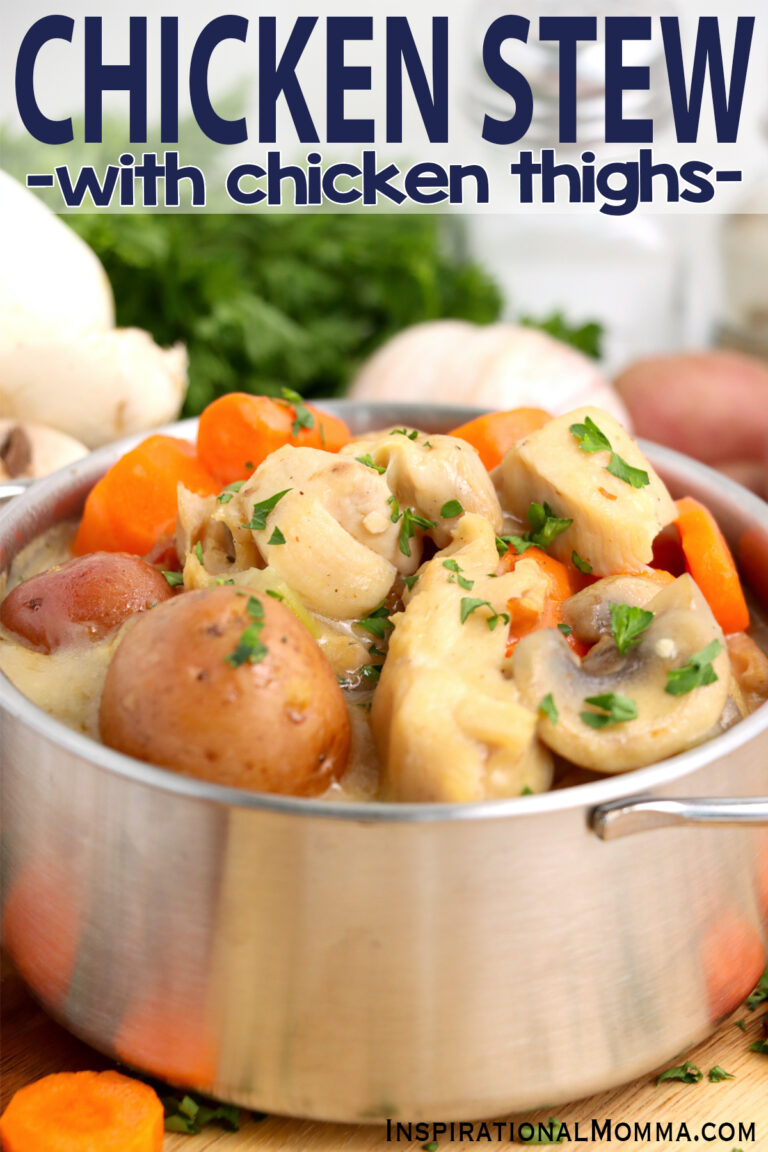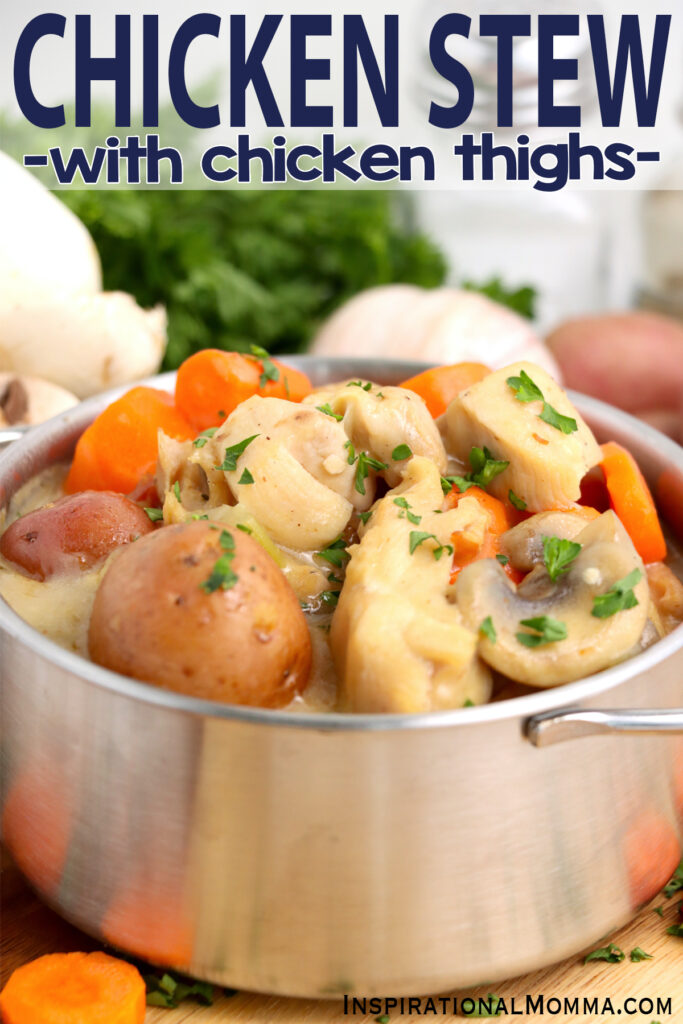 When fall rolls around, I love making rustic, hearty, down-home soups, stews, and chilis. Dishes like my homemade chicken and dumplings make their way to the family table often because they're the perfect way to warm up the body and the spirit on a cold, crisp day.
I think I love making stews like these because they're equal parts deliciousness and nostalgia for me. My mom made soups and stews all the time, and whenever I make them, I remember helping her in the kitchen. I hope my kids have those same memories one day, too. But in the meantime, they'll be eating this stew!
I think you'll enjoy this delicious stew as much as we do for your next dinner. Don't forget to serve it up with a delicious salad or soft rolls to make it a full meal.
Why You'll Love This Recipe
It's hearty, rustic, and loaded with delicious flavor.
It's a healthy stew full of chicken and vegetables.
It's the perfect dinner on a cold fall or winter day.
Chicken stew makes everyone happy!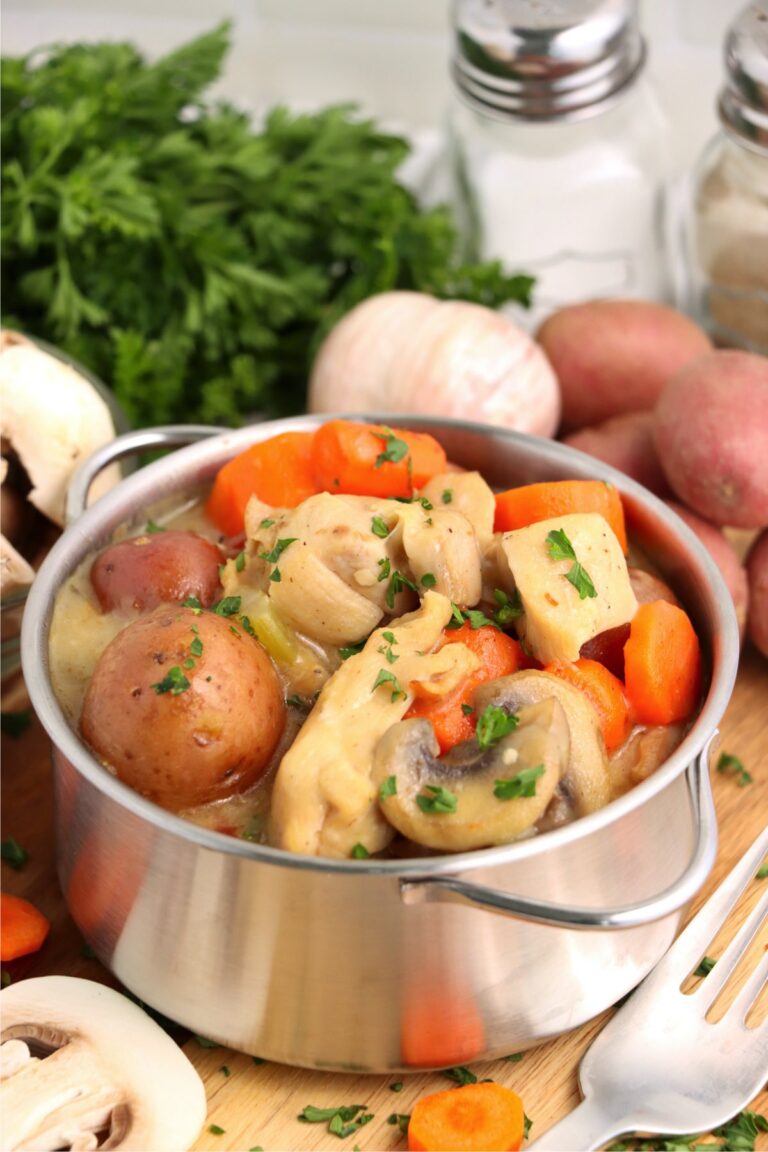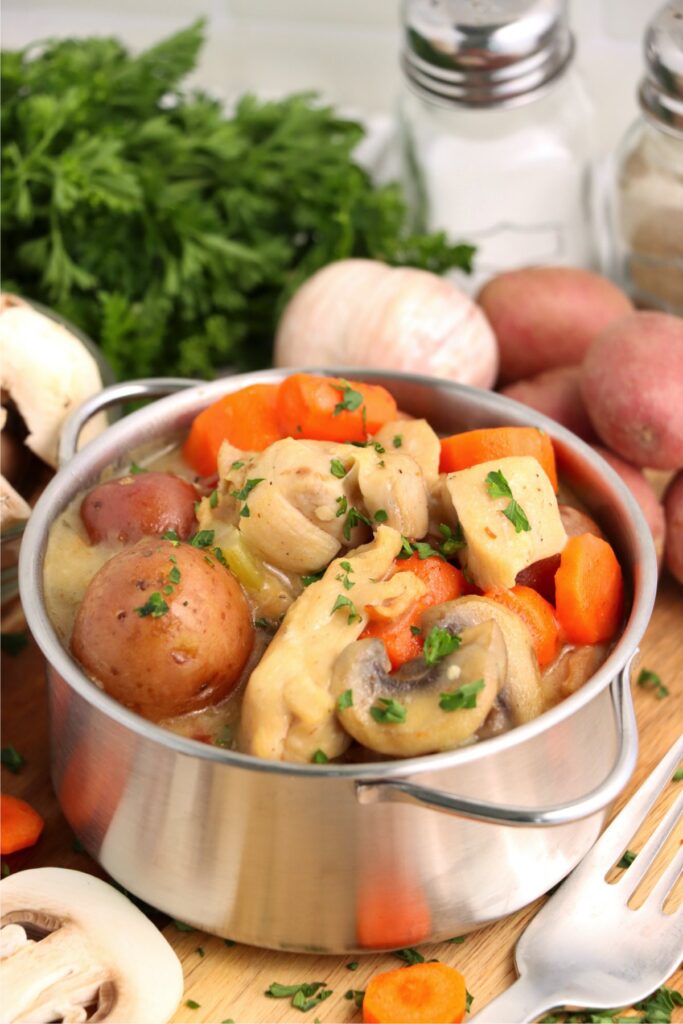 Ingredients for Chicken Thigh Stew
You'll only need simple ingredients to make this delicious stew. You'll find them all at your local grocery store with no problem at all! Below are the ingredients that really make this dish pop, but you'll find the complete ingredient list along with amounts in the recipe card at the end of the post.
Chicken thighs
Chopped bacon
Mushrooms
Celery
Garlic
Chicken broth
Soy sauce
Small red potatoes
Carrots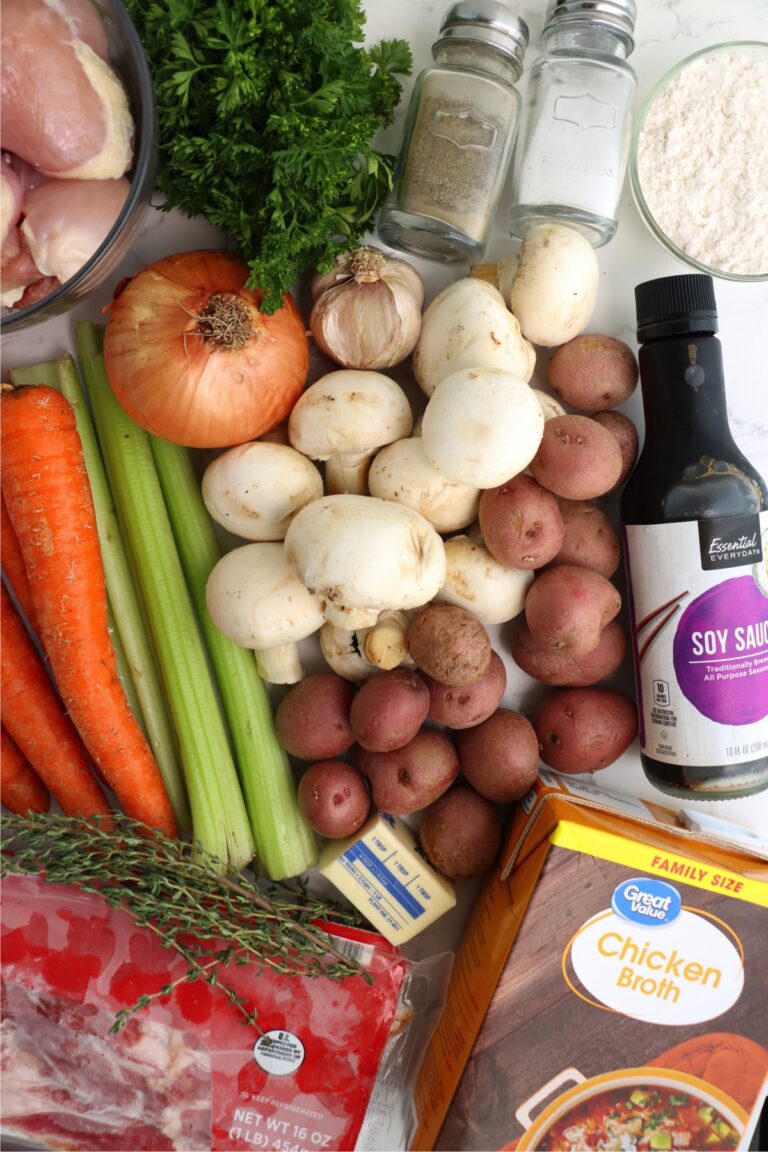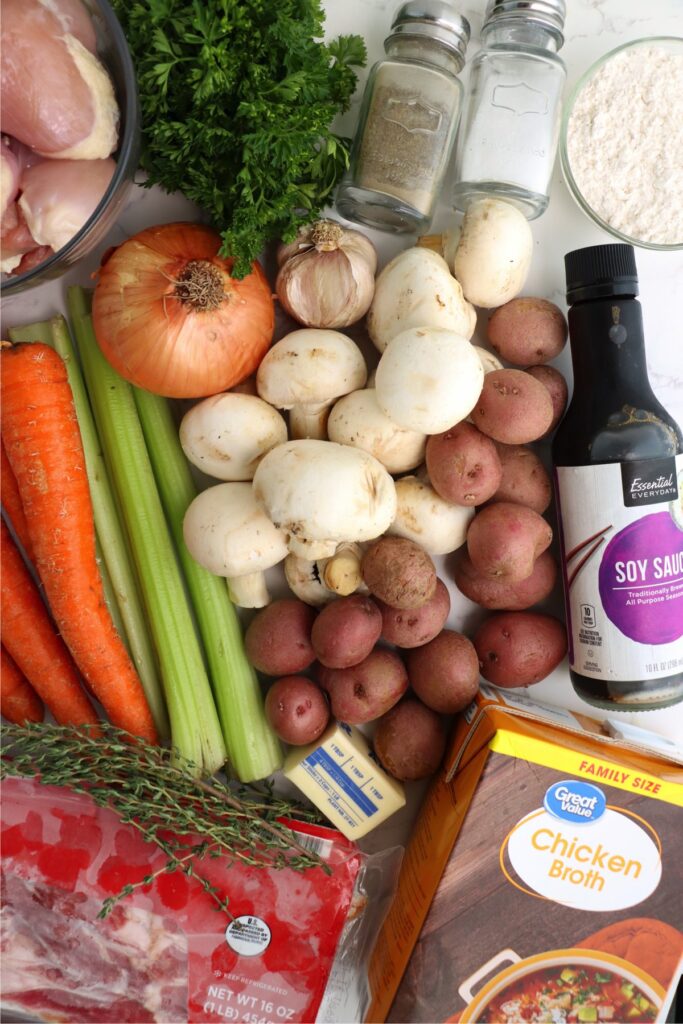 How to Make Chicken Thigh Stew
This is an easy recipe that even beginners can make. It's loaded with flavorful ingredients but it won't leave you feeling overwhelmed. I'm covering the broad strokes below, but you'll find the complete instructions in the recipe card at the end of the post.
1: Season the chicken thighs with salt and pepper and set aside.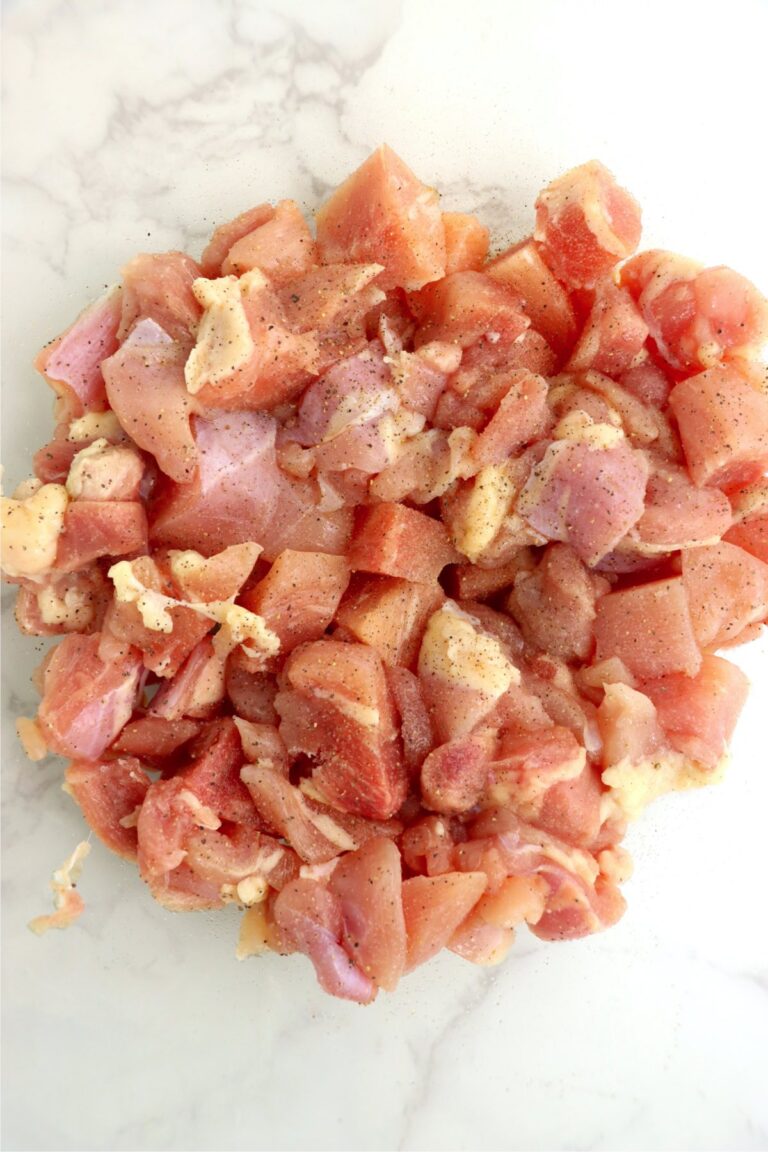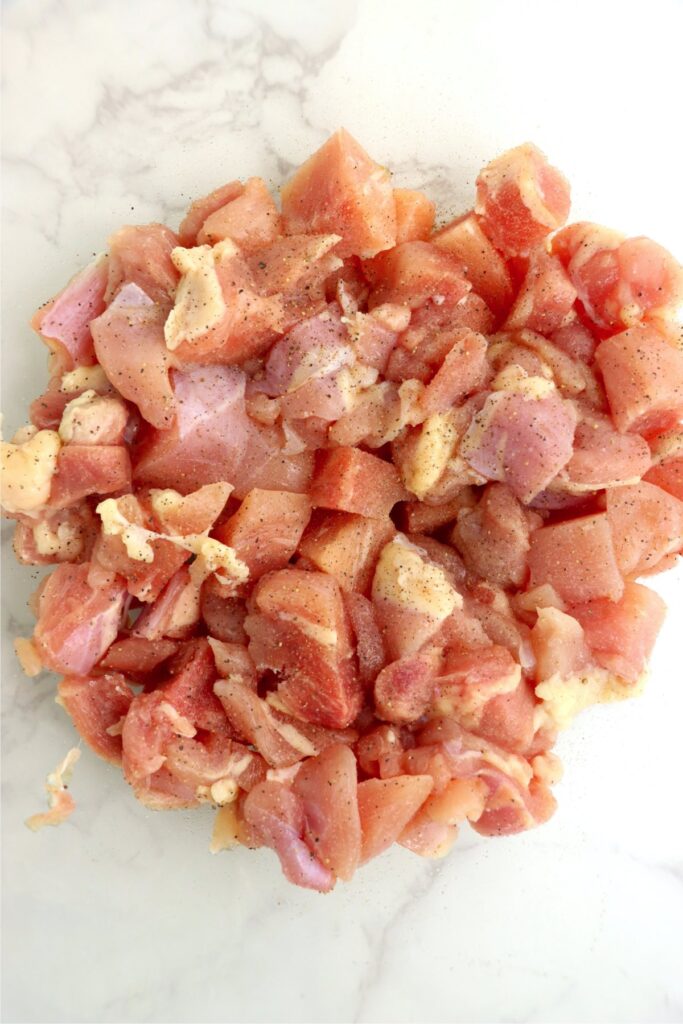 2: Cook the bacon in a pot until crisp. Transfer the bacon to a plate and leave the grease in the pot.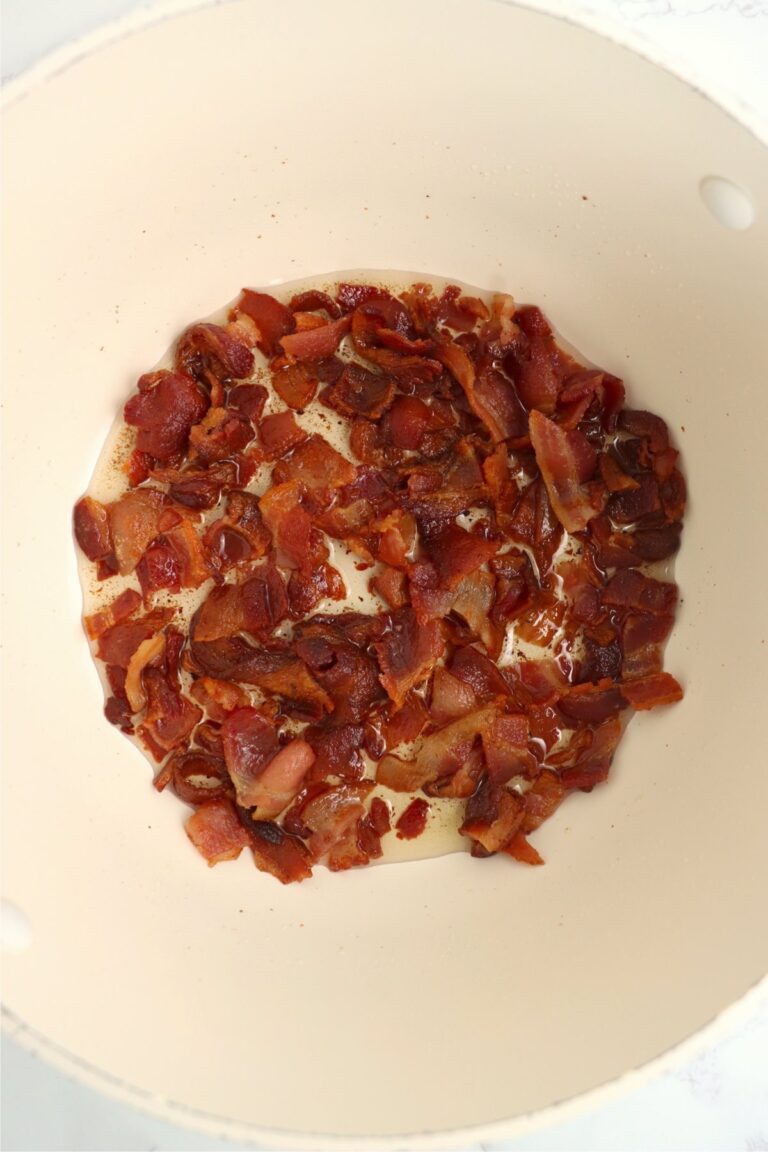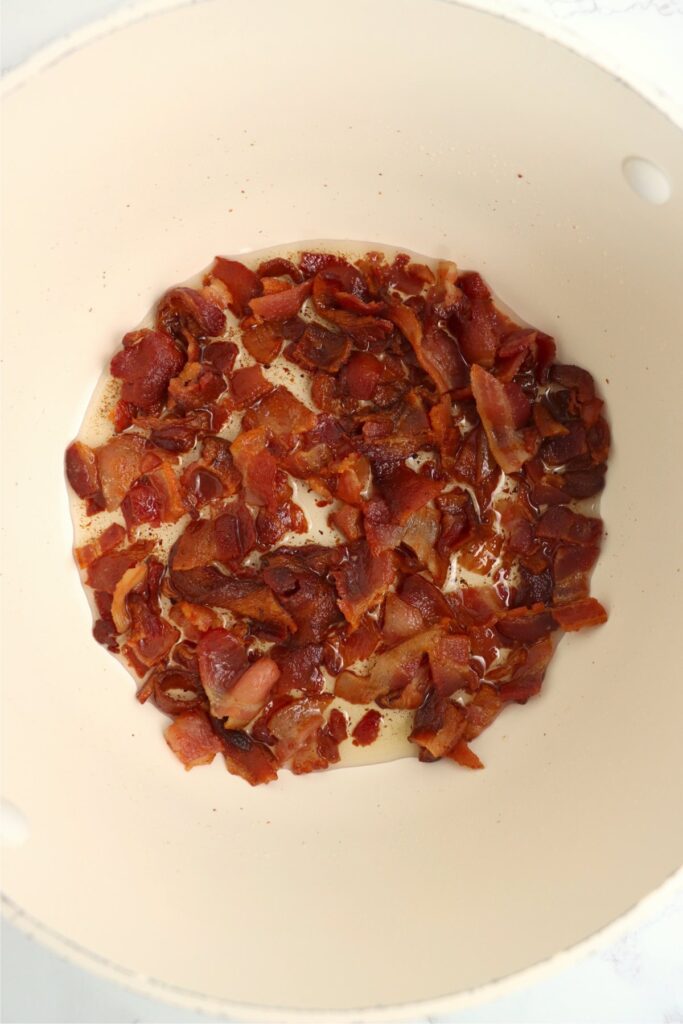 3: Add mushrooms, celery, onions, garlic, and thyme and cook until softened.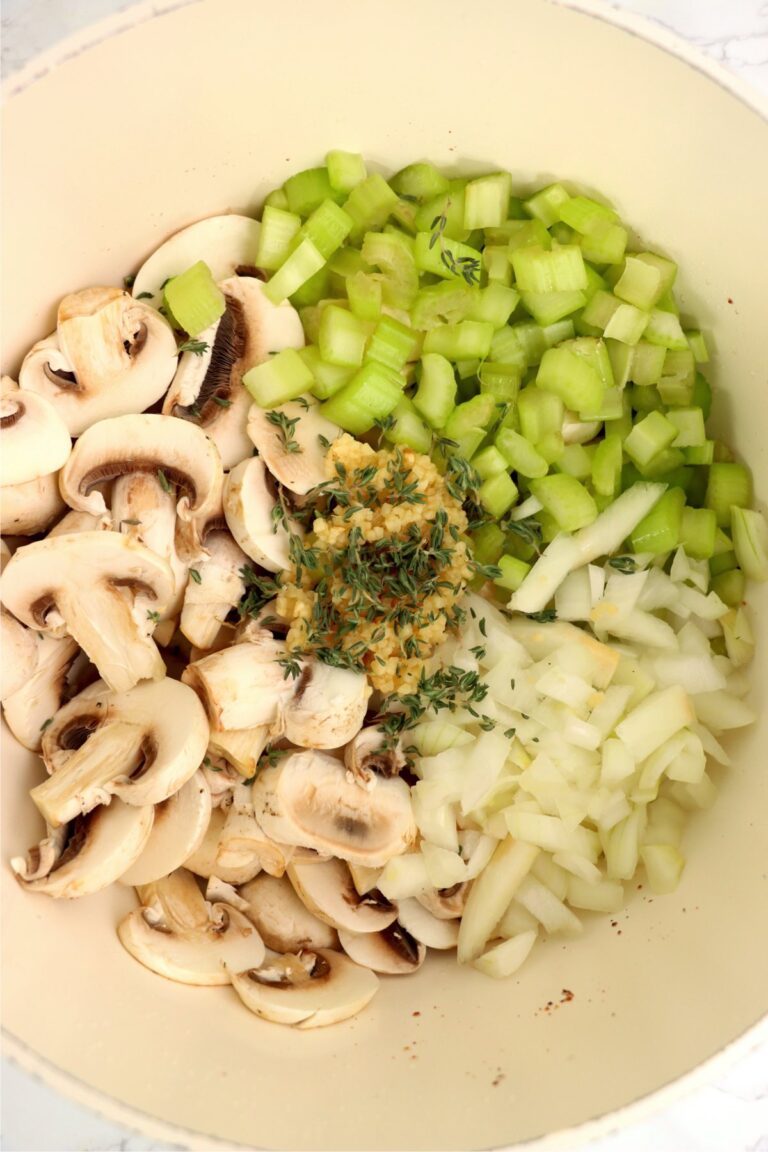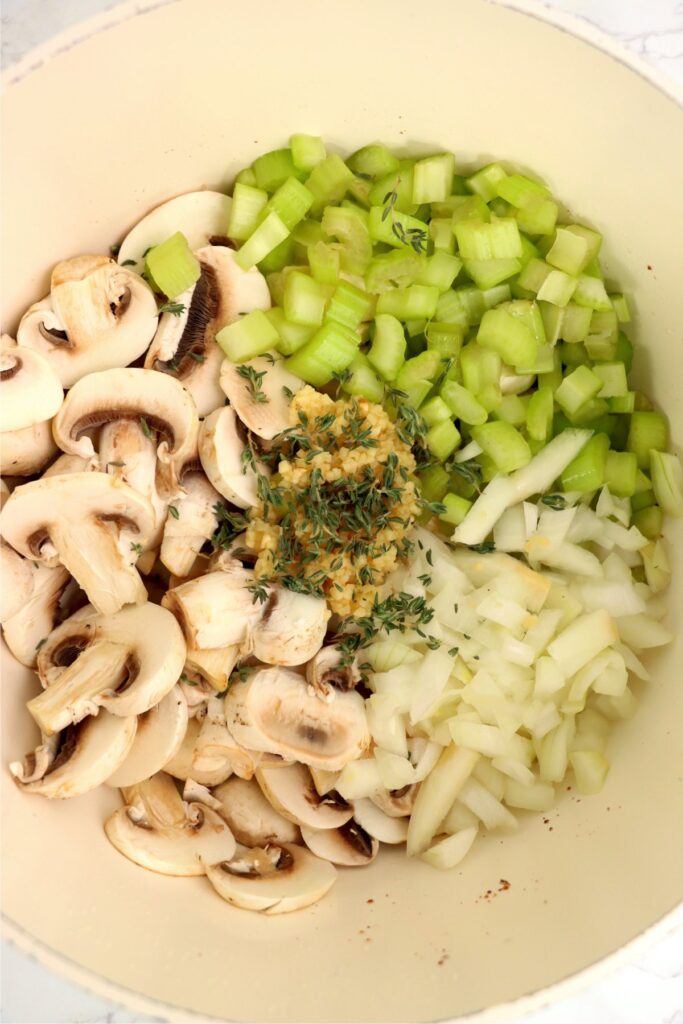 4: Turn the heat to high, add the broth and soy sauce, and scrape all the browned bits off the bottom.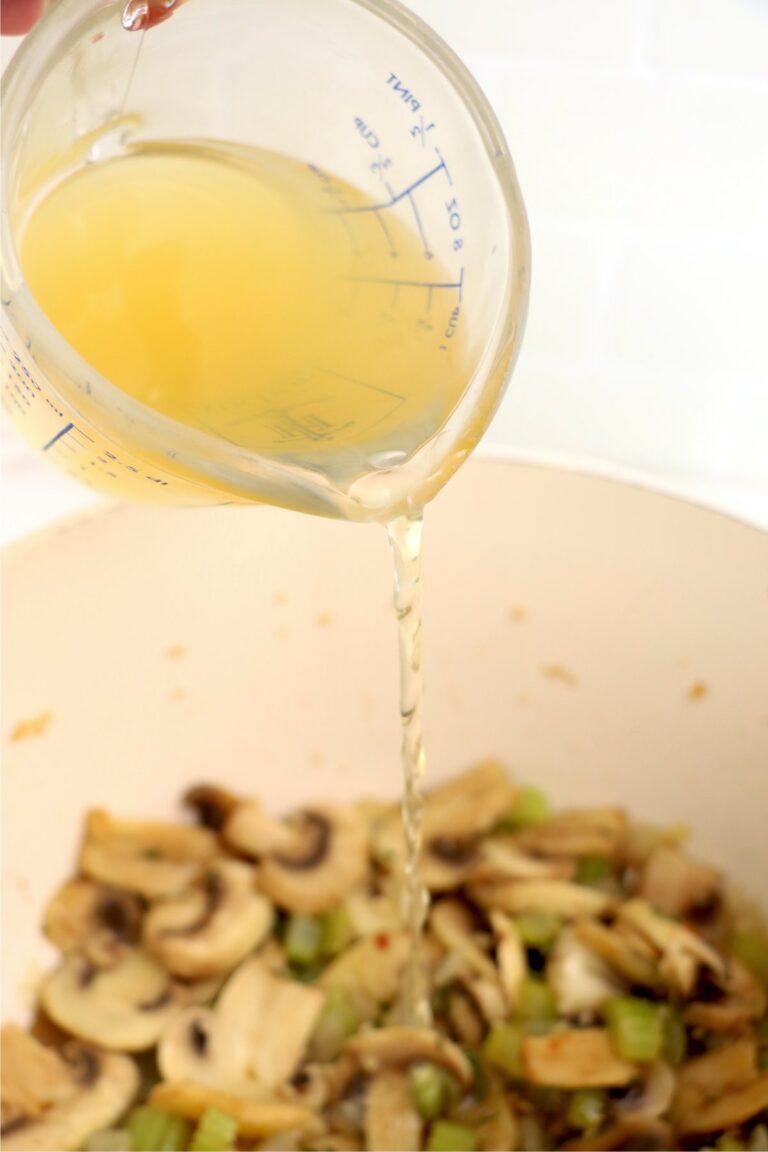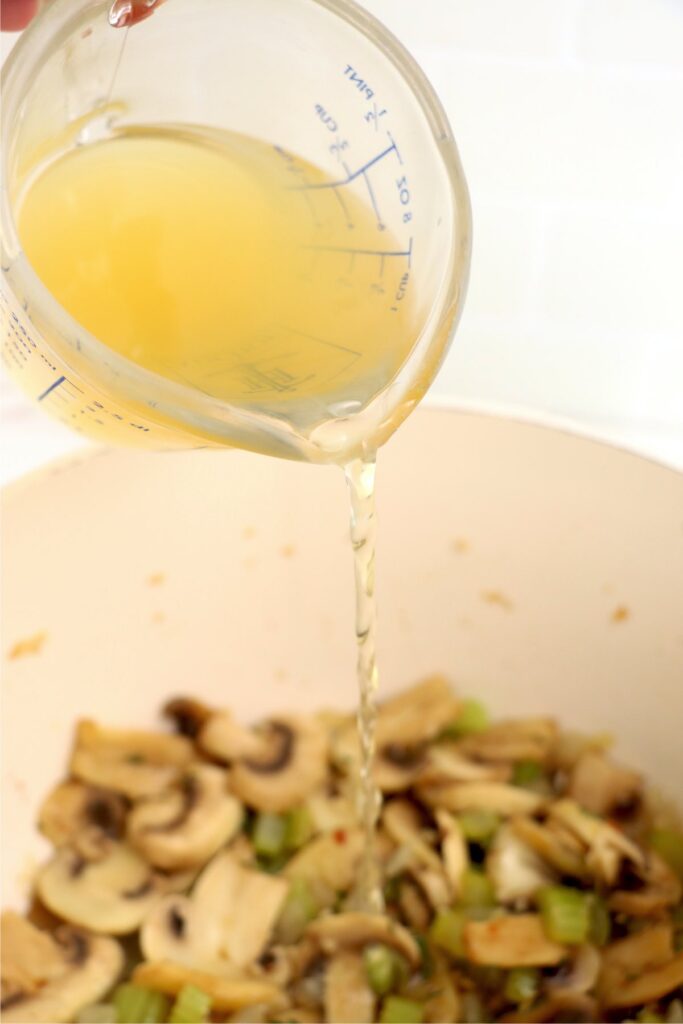 7: Bring to a boil and cook stirring occasionally until the liquid evaporates.
8: Add butter to the vegetables, then add the flour and stir until coated.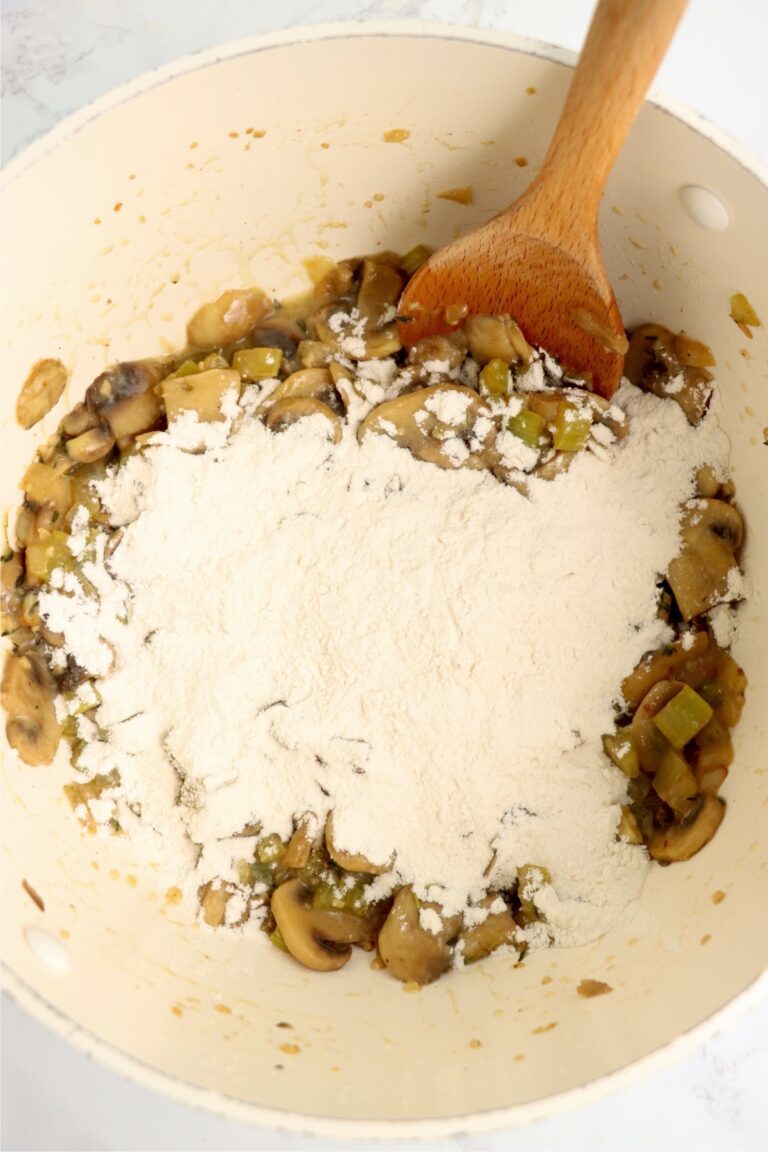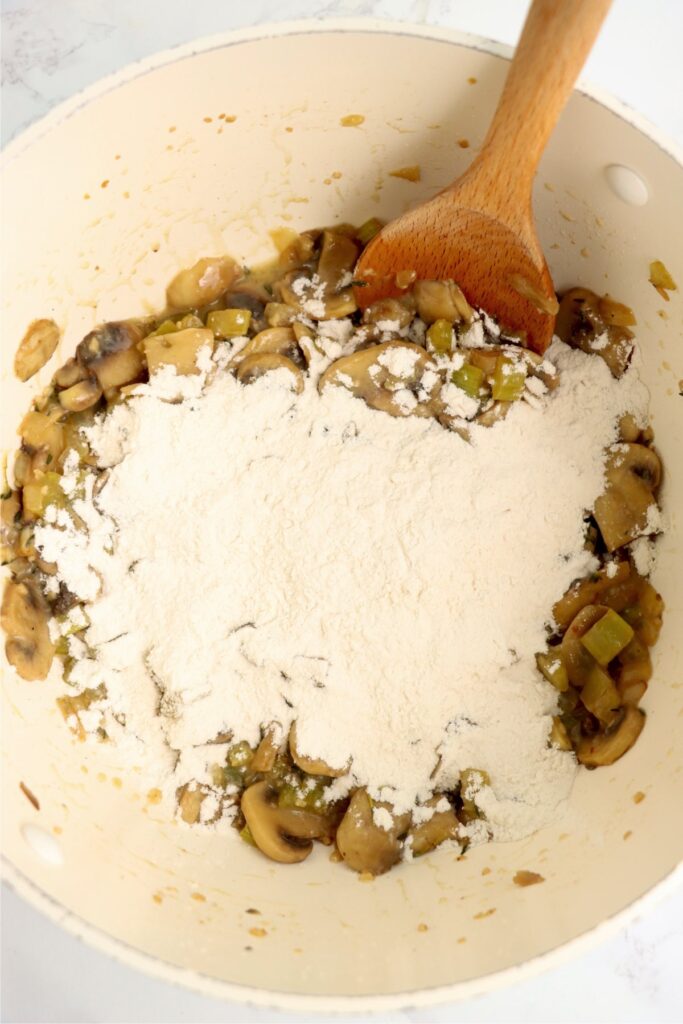 9: Add the rest of the broth, bacon, potatoes, and carrots and stir. Coo for about 30 minutes.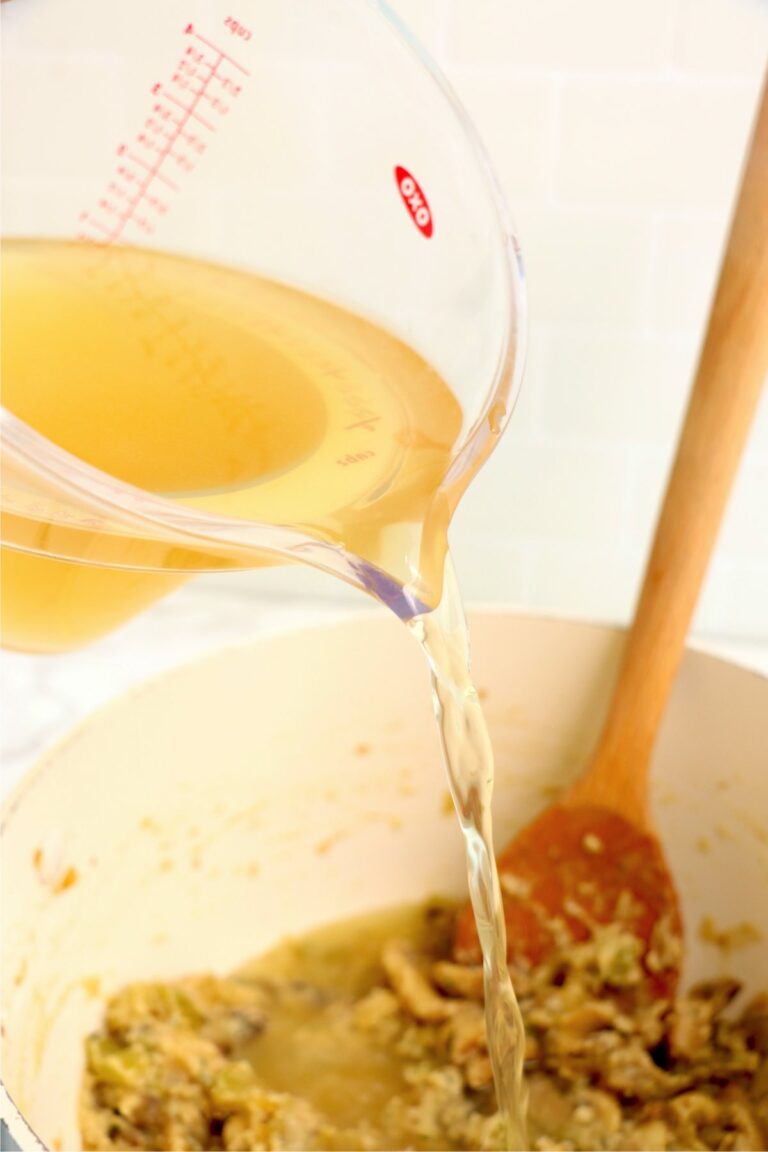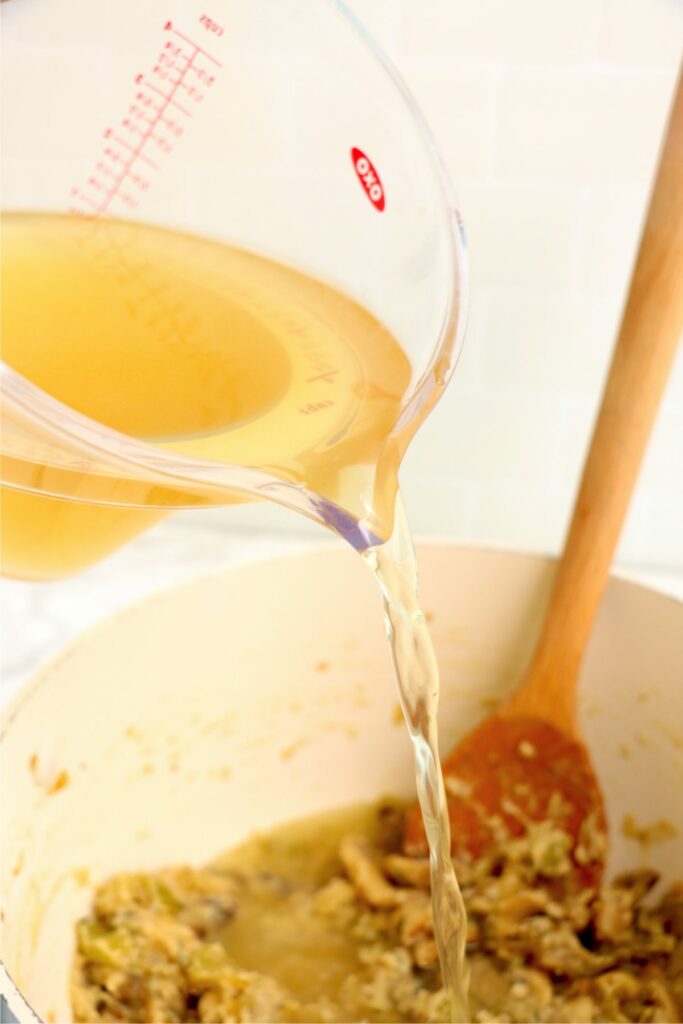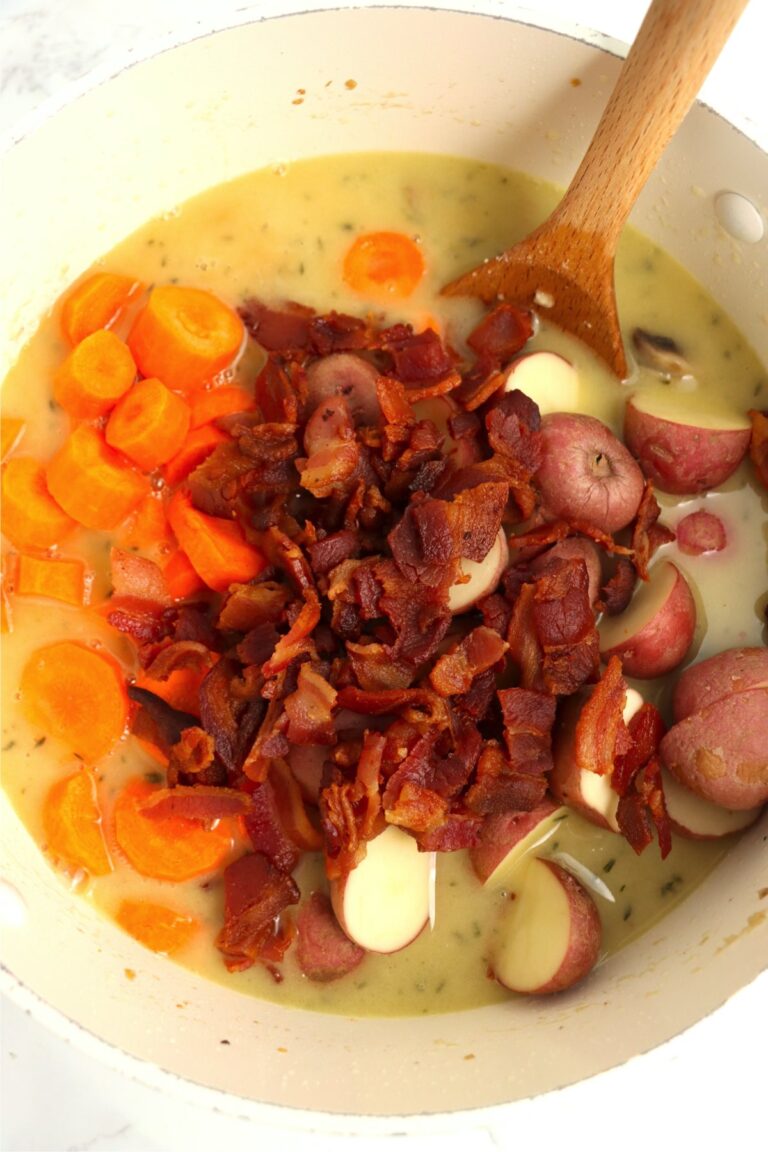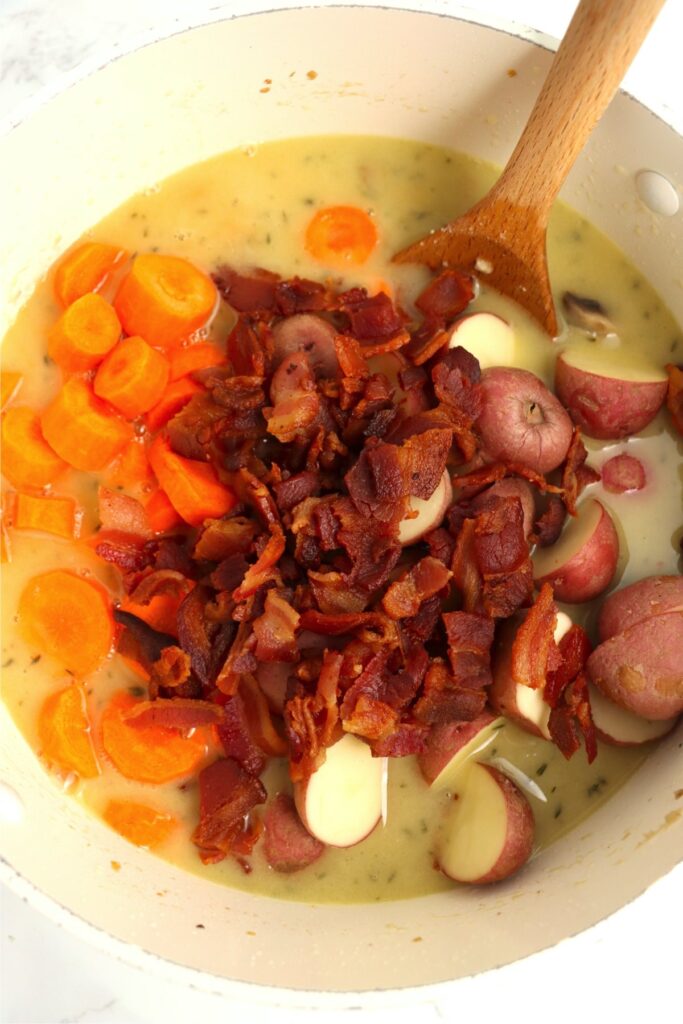 10: Bring to a boil, then stir in the chicken thighs.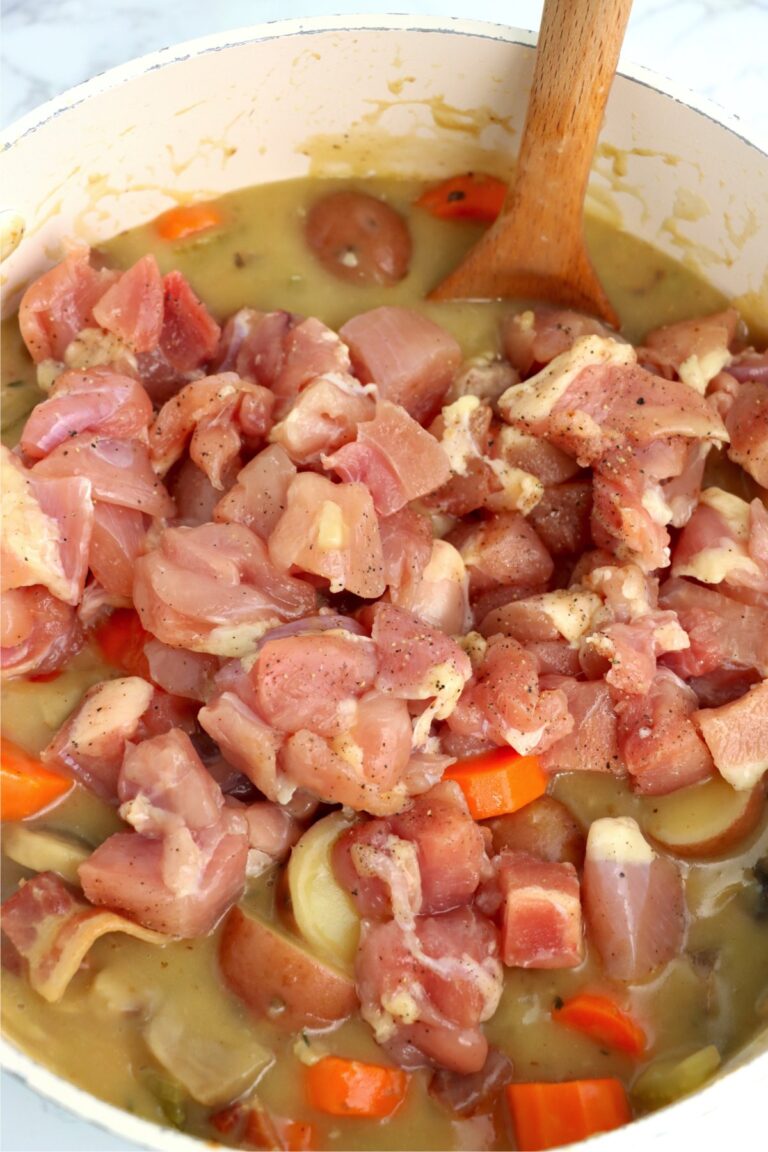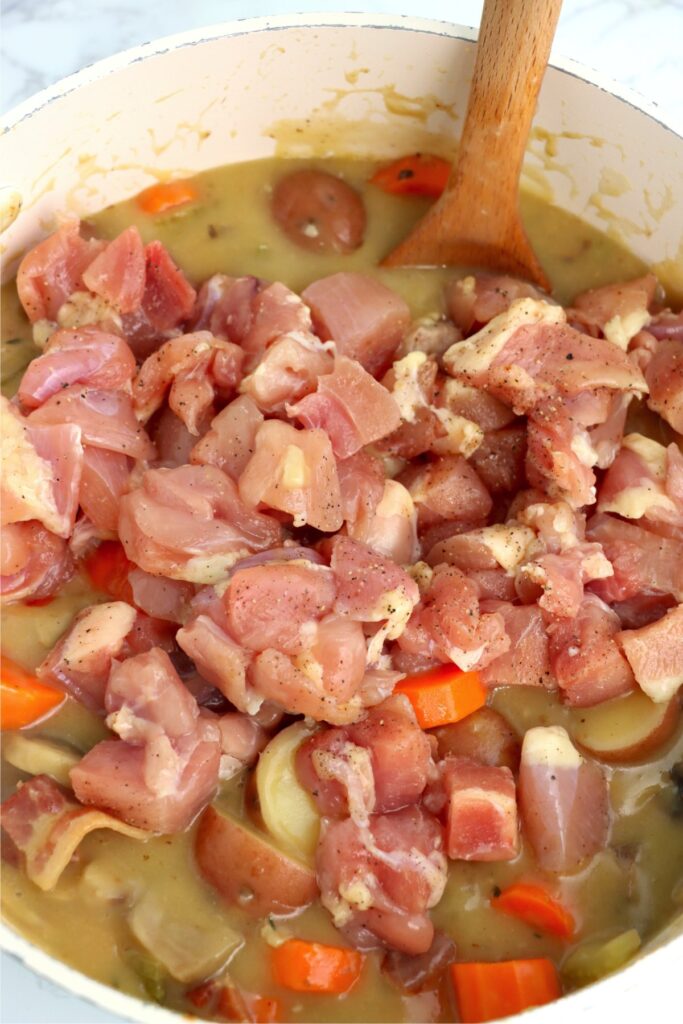 11: Simmer for about 45 minutes. Then, season with salt and pepper to tastes and parsley. Enjoy!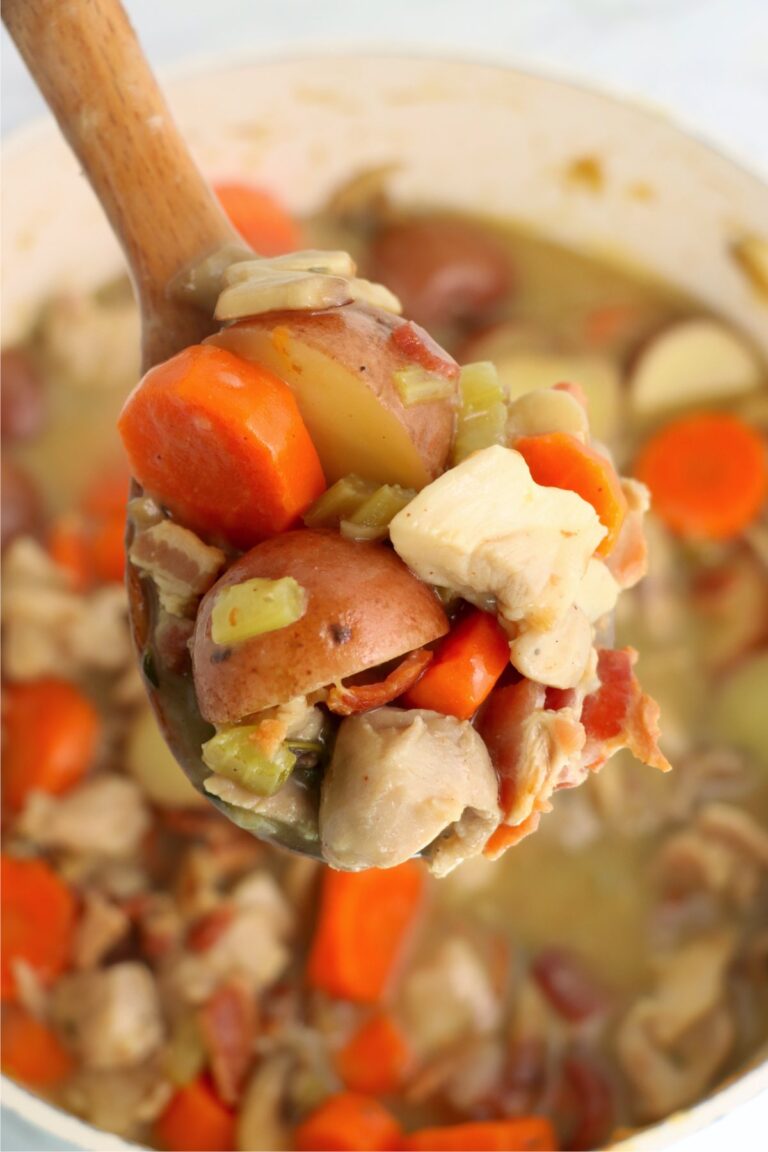 Substitutions and Variations
You can use turkey, pork, or beef in this recipe.
Add any of your favorite vegetables.
Add rice instead of potatoes for chicken and rice stew.
If you like recipes like this, you're going to love this Instant Pot chicken corn chowder.
Equipment
Measuring cups and spoons
Knife
Cutting board
Pot
Spoon
Storage
Refrigerator: Store this stew in an air-tight container for up to 3 days.
Freezer: Pour the stew into an air-tight, freezer-safe container and freeze for up to 3 months.
Reheat: Place the stew - refrigerated or frozen - in a pot and cook over medium-low heat until heated through.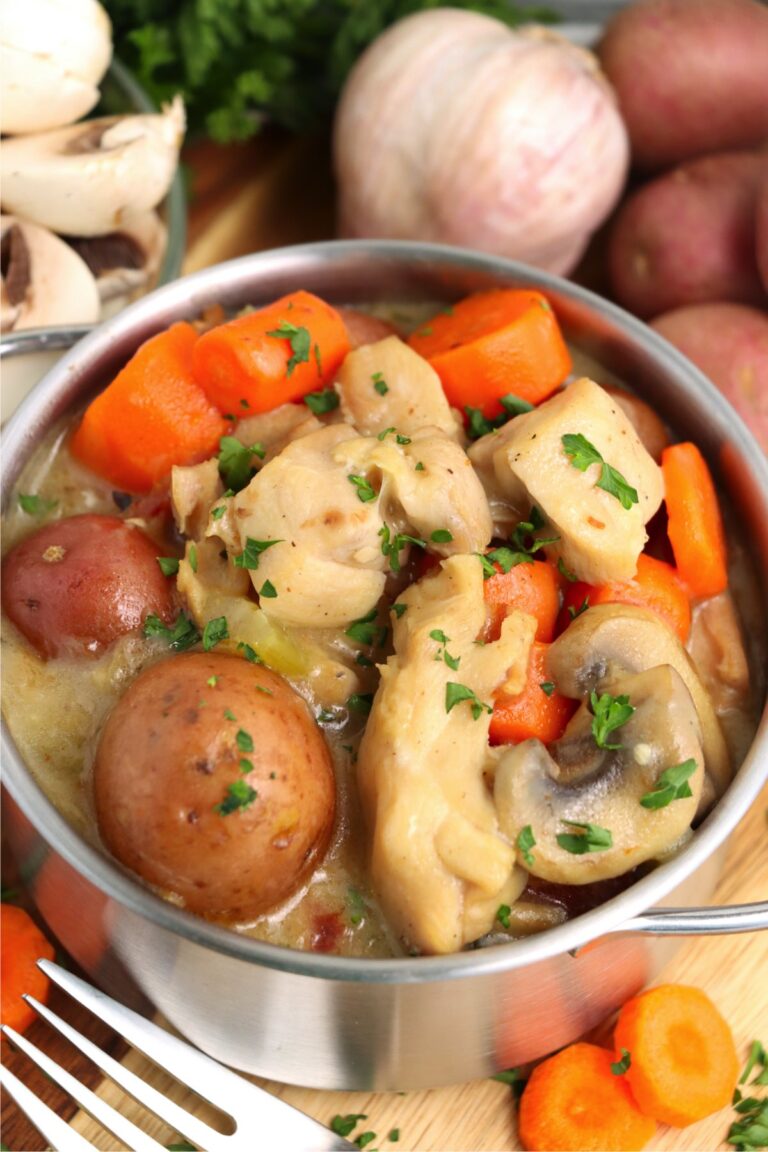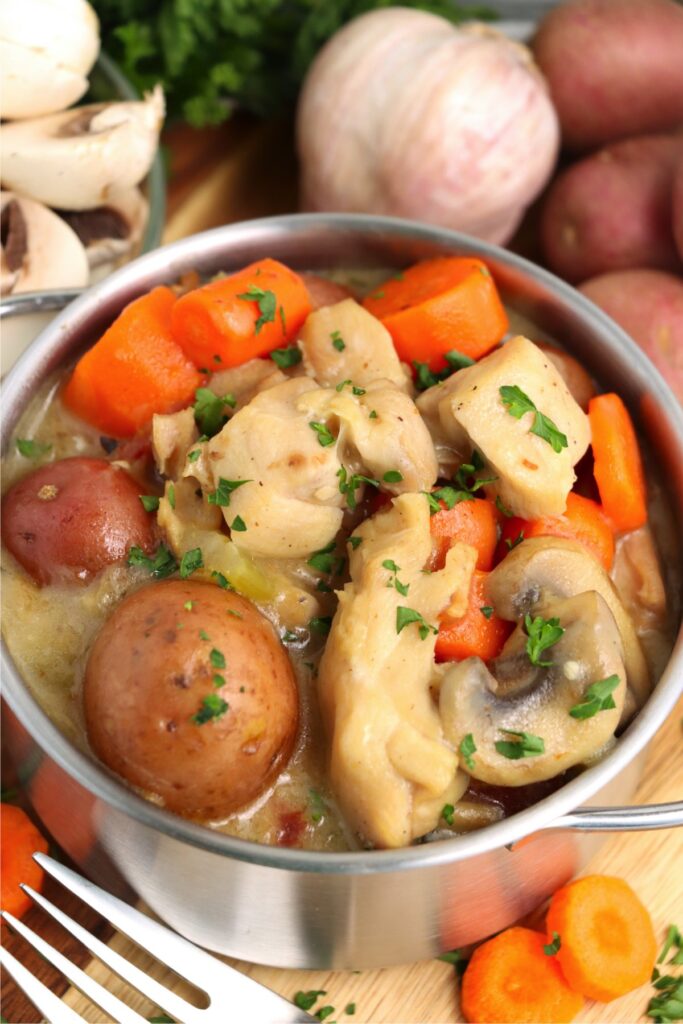 What to Serve with Chicken Stew
This chicken stew is so hearty, it's an entire meal all on its own. That being said, there are some great pairings that you can serve with it to complete the meal.
Tips:
Don't overcook your vegetables. You just want to get them a bit tender. They'll finish cooking in the stew.
Be sure you stir in your flour well, so all the vegetables are coated. This thickens the stew without making tiny little "dumplings".
Cube your chicken thighs into bite-size pieces so it's easy to eat the stew.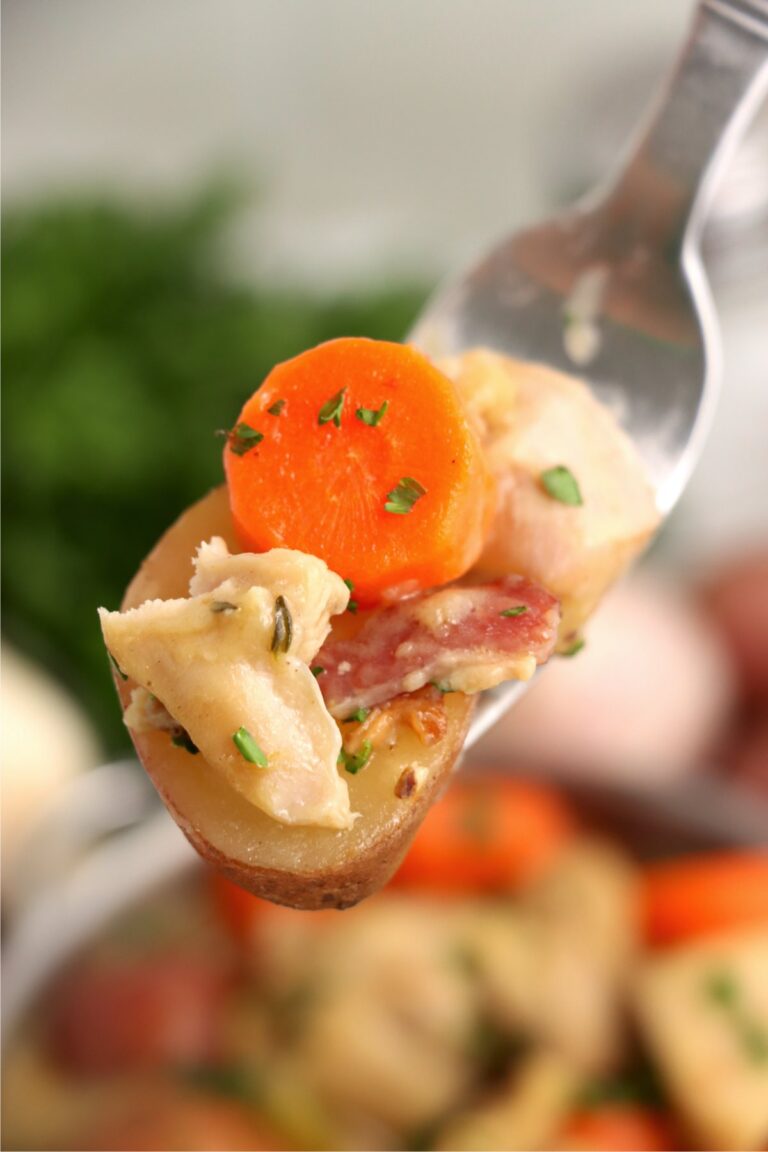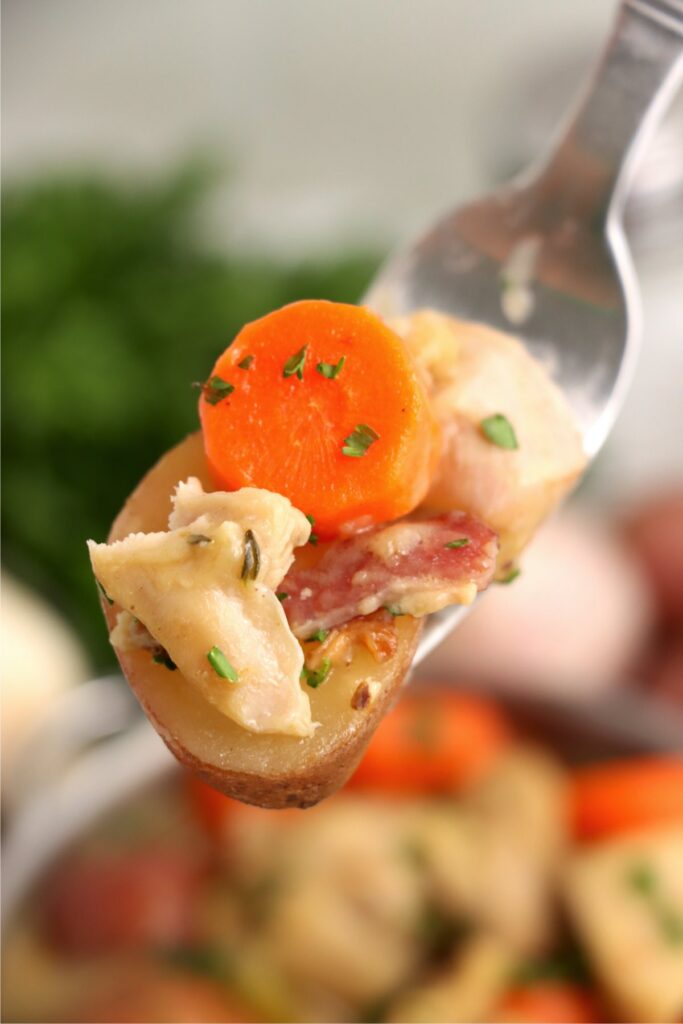 FAQ
What makes stew different than soup?
Stews are generally thicker and chunkier than soups. Generally speaking, ingredients in soups are smaller and fully submerged in a thin liquid, while soup ingredients are large and chunky and only partially submerged in a liquid that's closer to gravy.
Why are chicken thighs used instead of breasts?
Chicken thighs are more tender, juicy, and flavorful than breasts, and they work well in this recipe.
Why is stew called stews?
Stew comes from an Old French word, "estuve" which means, a stove or a cooking cauldron, both of which were used to make the dish known as stew.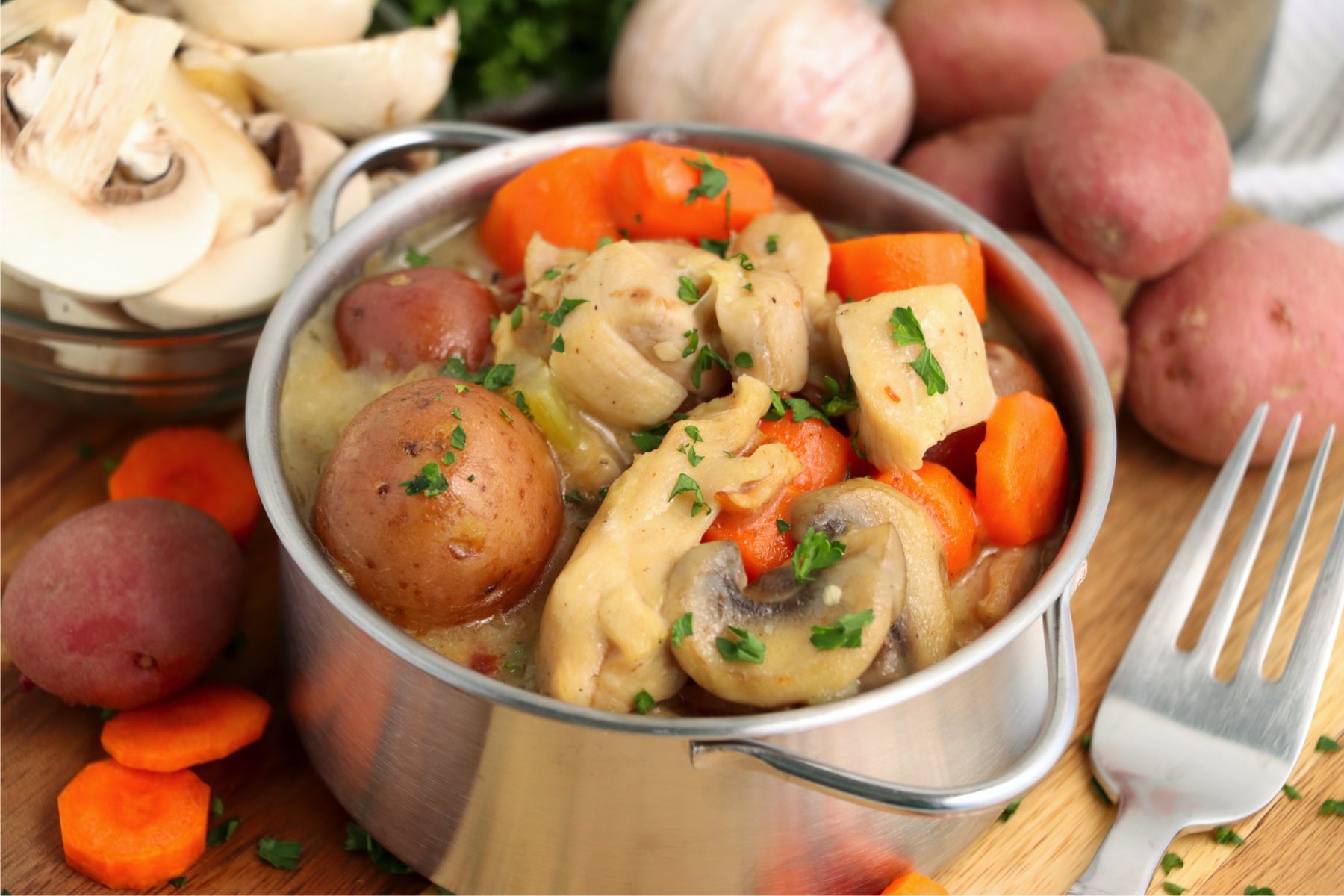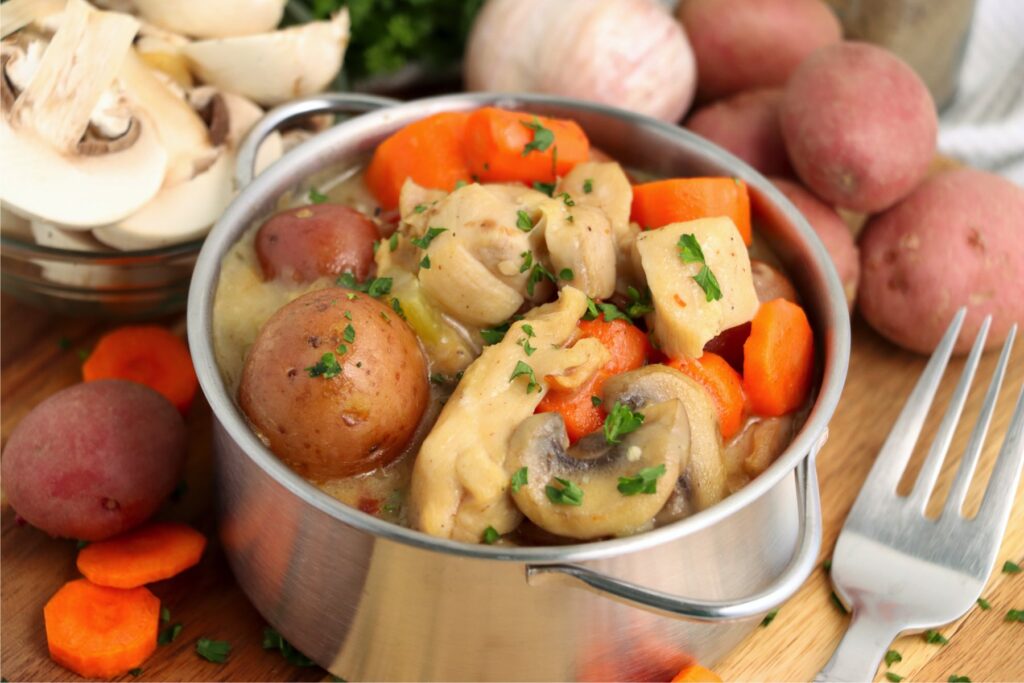 More Chicken Recipes You'll Love
Ready to cook this yummy stew? Then print the recipe card below.
Yield: 12 servings
Chicken Stew with Chicken Thighs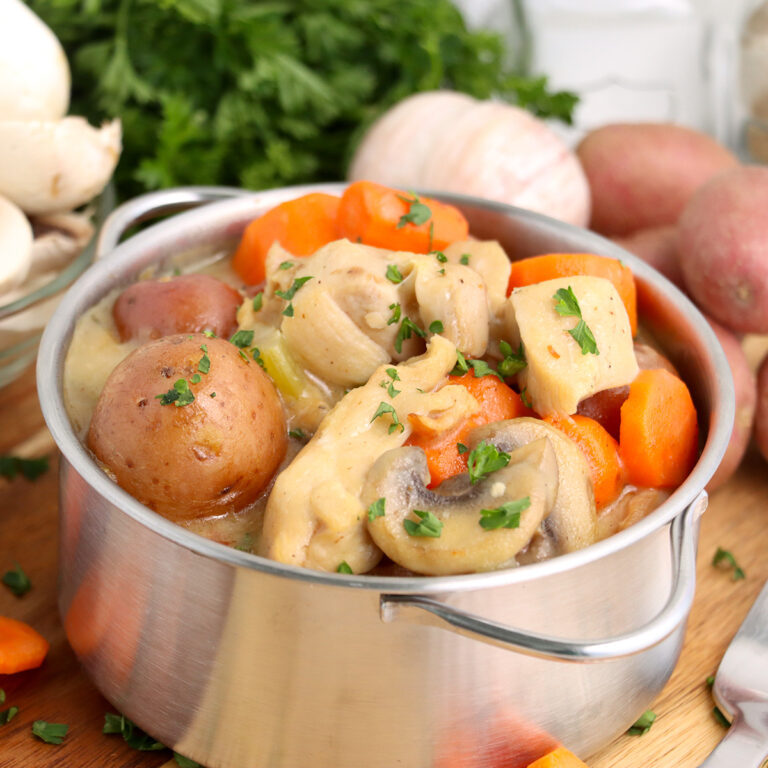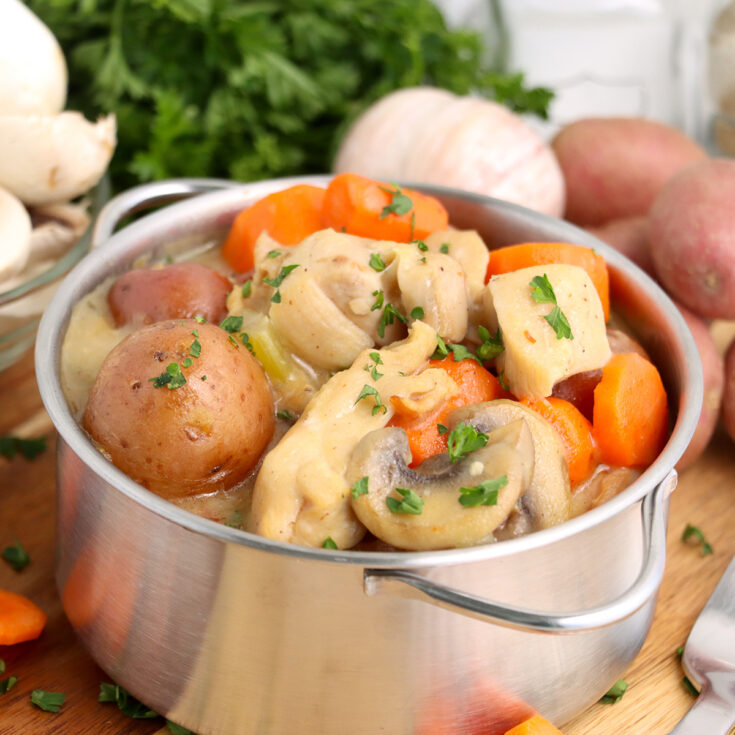 This rustic chicken thigh stew is loaded with tender chicken, vegetables, and bacon. It's easy, delicious, and perfect for the winter.
Cook Time
1 hour
15 minutes
Ingredients
2 pounds chicken thighs, boneless, skinless, cut into bite sized pieces
½ tsp pepper
1 tsp salt
10 slices bacon, chopped
1 onion, chopped
2 cups mushrooms sliced
2 celery ribs thinly sliced
2 tablespoons garlic, minced
1 tablespoon thyme
4 cups chicken broth
1 tablespoon soy sauce
3 tablespoons butter, cut into pieces
1/3 cup all-purpose flour
1 pound small red potatoes, cut in half
4 carrots, peeled and cut into ½-inch pieces
fresh parsley
Instructions
Arrange chicken thighs in a bowl and season with salt and pepper. Set aside.
In a large pot, cook chopped bacon over medium low heat for about 7 or 8 minutes or until bacon is cooked.
Using a slotted spoon, transfer bacon to a plate lined with paper towel. Leave grease in pot.
Add mushrooms, onion, celery, garlic and thyme to pot.
Cook, stirring occasionally for about 5 minutes.
Increase heat to high and add 1 cup broth and soy sauce. Make sure to scrape up any browned bits on the bottom of pot.
Bring ingredients to a boil.
Stir occasionally while cooking until liquid evaporates and vegetables begin to sizzle This will take approximately 15 minutes.
Add butter and stir until melted.
Sprinkle flour all over vegetables and stir until coated.
Slowly whisk in remaining broth until consistency is smooth.
Add bacon, potatoes, and carrots.
Stir until blended.
Cook, uncovered for about 30 minutes, stirring occasionally throughout cooking.
Turn stove up to high.
Using a wooden spoon, scrape down sides while stirring.
Add chicken thighs, and bring to a simmer.
Continue to cook, stirring occasionally for about 45 minutes longer.
Chicken stew can be refrigerated for up to 2 days.
Season with salt and pepper to taste, sprinkle with parsley, and serve.
Nutrition Information
Yield
12
Serving Size
1
Amount Per Serving
Calories

266
Total Fat

13g
Saturated Fat

5g
Trans Fat

0g
Unsaturated Fat

7g
Cholesterol

111mg
Sodium

913mg
Carbohydrates

15g
Fiber

2g
Sugar

3g
Protein

24g
Get Inspired!
Never miss my delicious recipes, cute creations, or household tips!