Strawberry Angel Food Dessert
Strawberry Angel Food Dessert comes together quickly and is filled with a perfect combination of flavors. A great choice for your next party! #InspirationalMomma #StrawberryAngelFoodDessert #angelfood #strawberrydessert #strawberry #dessert #desserts #recipe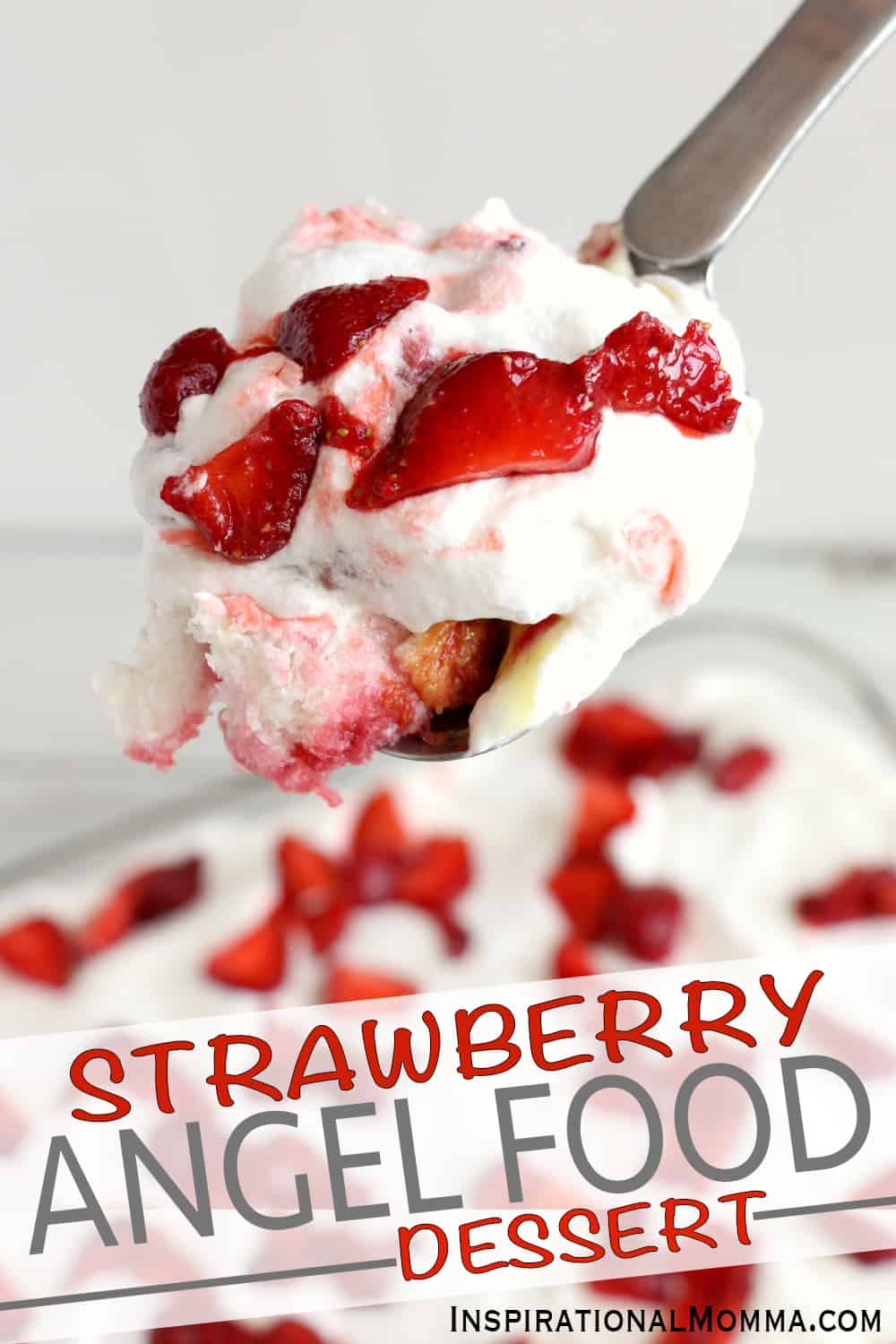 Strawberry Lush Dessert
Anyone out there love desserts that are super easy to make but are 100% absolutely amazing?? If so, this Strawberry Angel Food Dessert is right up your alley! And you should also check out my Creamy Dreamy Banana Split Trifle!
We have all be there. You get invited to a get-together and you are at a loss on what to take. I am definitely someone who loves hanging out on Pinterest and trying something new. But all too often, I am short on time and just need something delicious that can made quickly! This yummy dessert is just that! You will be amazed at how easy it is, and you will fall in love at first bite! Check out the recipe below and prepare to dig in.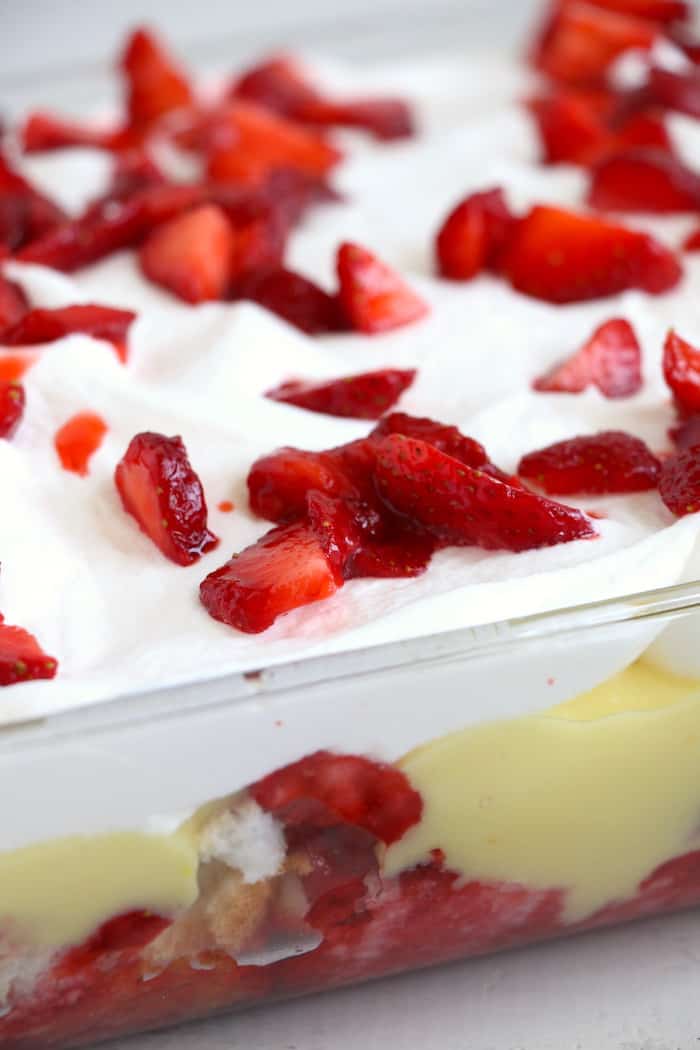 How to Make Strawberry Angel Food Dessert
angel food cake
vanilla pudding
milk
strawberries
sugar
Cool Whip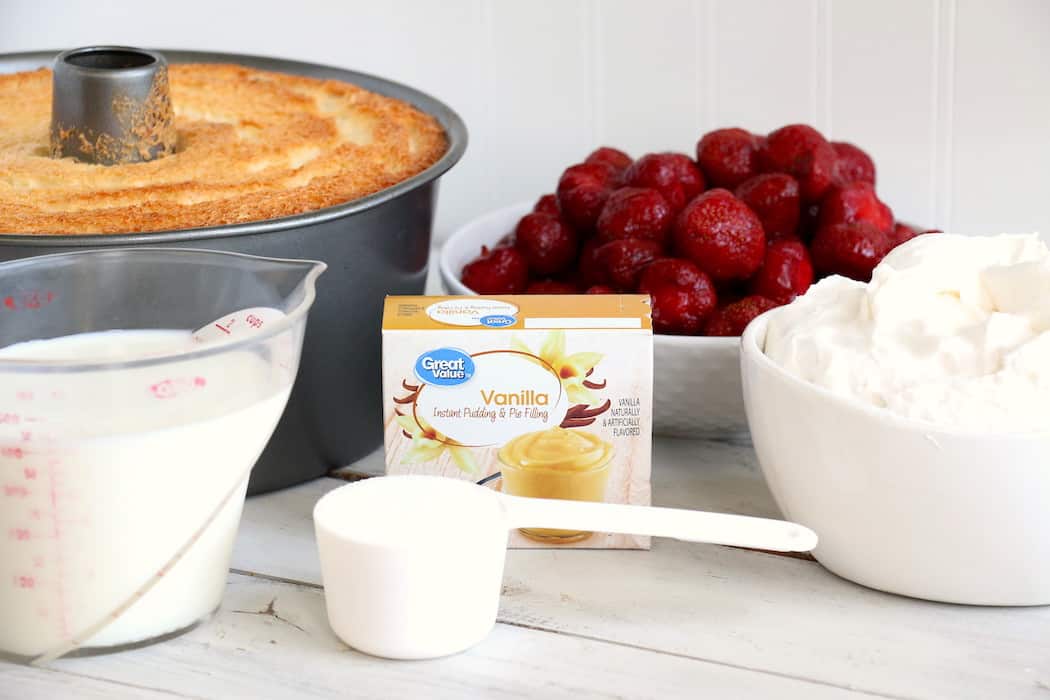 We are going to start things off by preparing the vanilla pudding. Whisk together pudding mix and milk until it becomes thick. Set that aside for a bit.
Our first layer is made with delicious angel food cake. Usually I make mine out of the box, but if I am short on time, there is no shame in buying a baked cake from the store. Just tear your angel food cake into small pieces and place them in a 9×13 baking dish.
In a separate bowl, combine 2 cups of sliced strawberries and sugar. Mash the strawberries well and mixed to combine. This will create a runny strawberry syrup, which is perfect!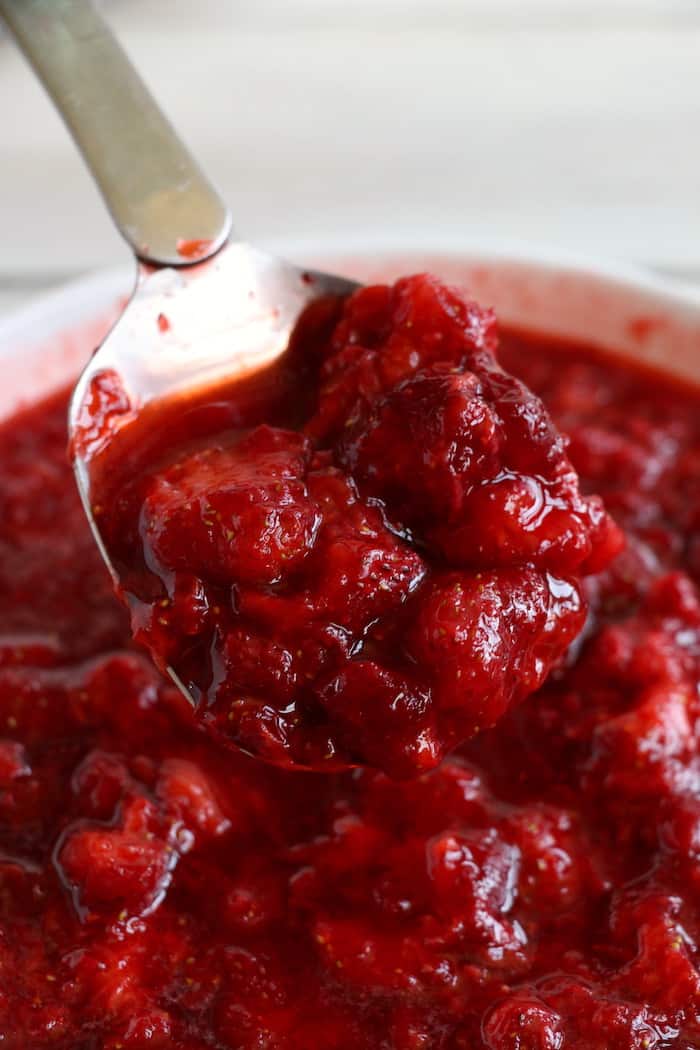 Drizzle the strawberries over the angel food cake.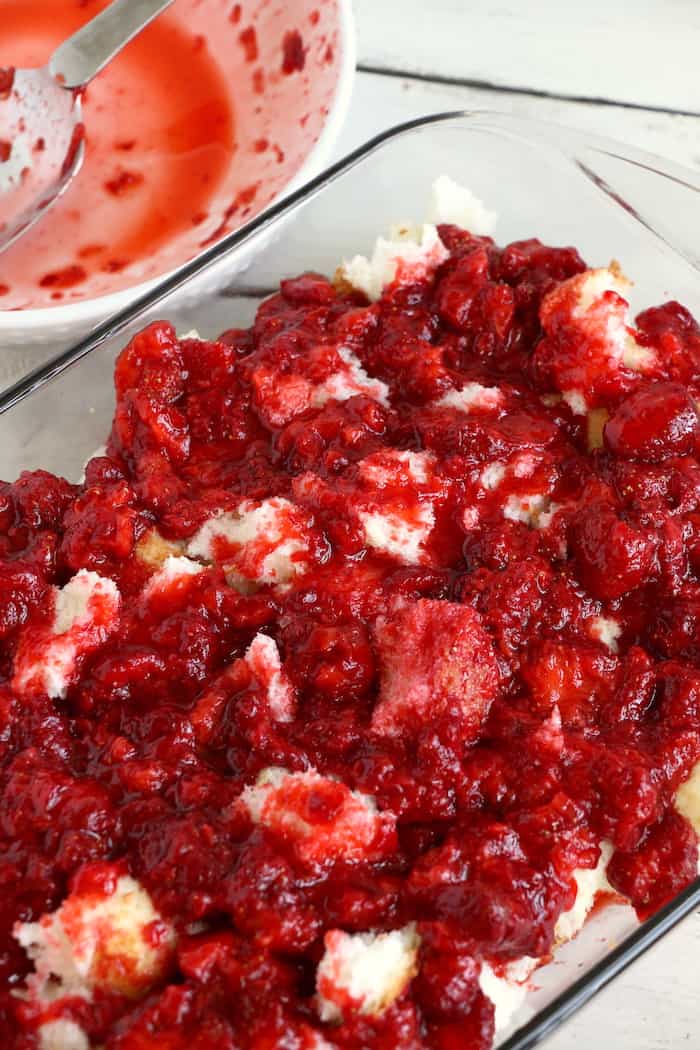 Next up is the pudding! Evenly spread it on top of the strawberries.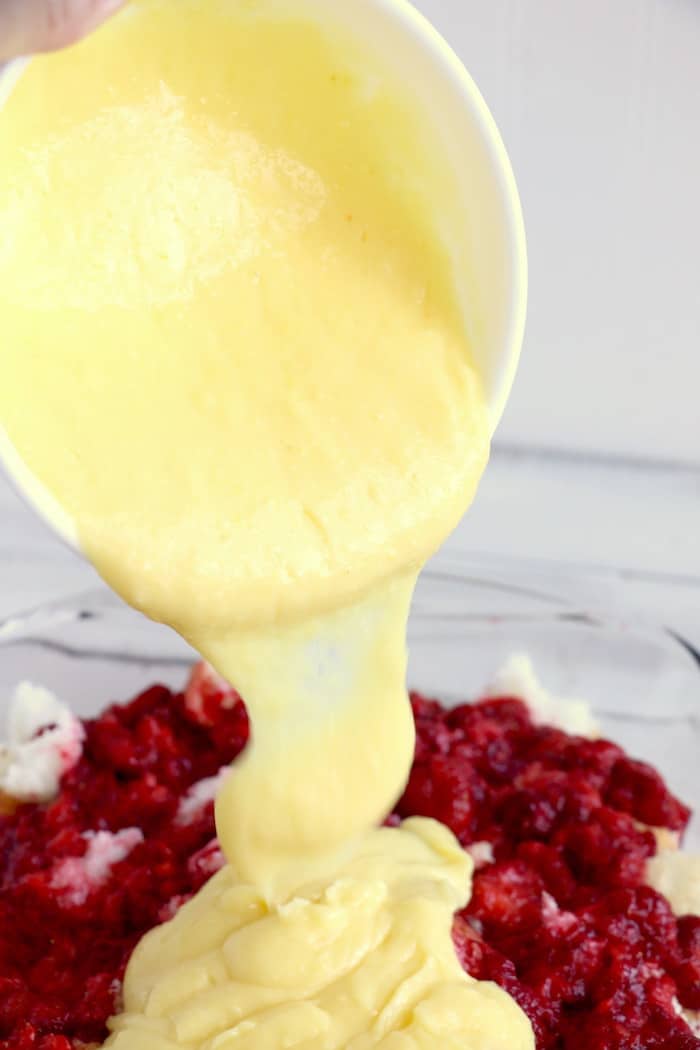 We are almost done! Add a layer of your Cool Whip and finish things off with the remaining sliced strawberries. Now, if you are like me, you will dig in immediately. I have a hard time waiting when something looks SO DELICIOUS. However, I would recommend chilling this masterpiece in the fridge for an hour before serving. This will allow all the layers to kind of melt together and create pure perfection!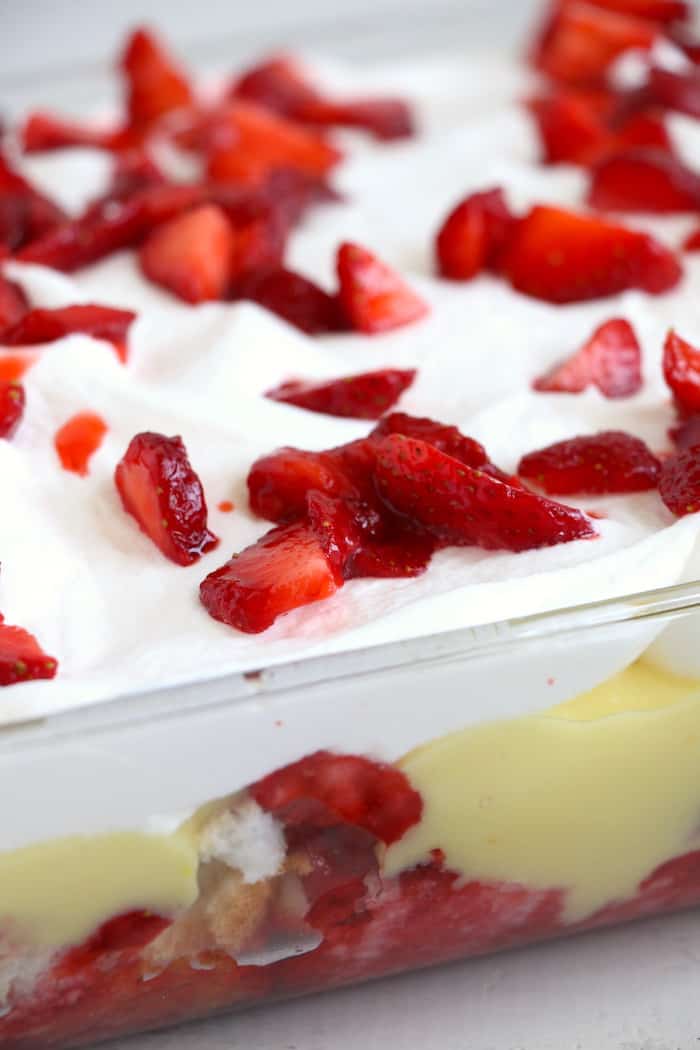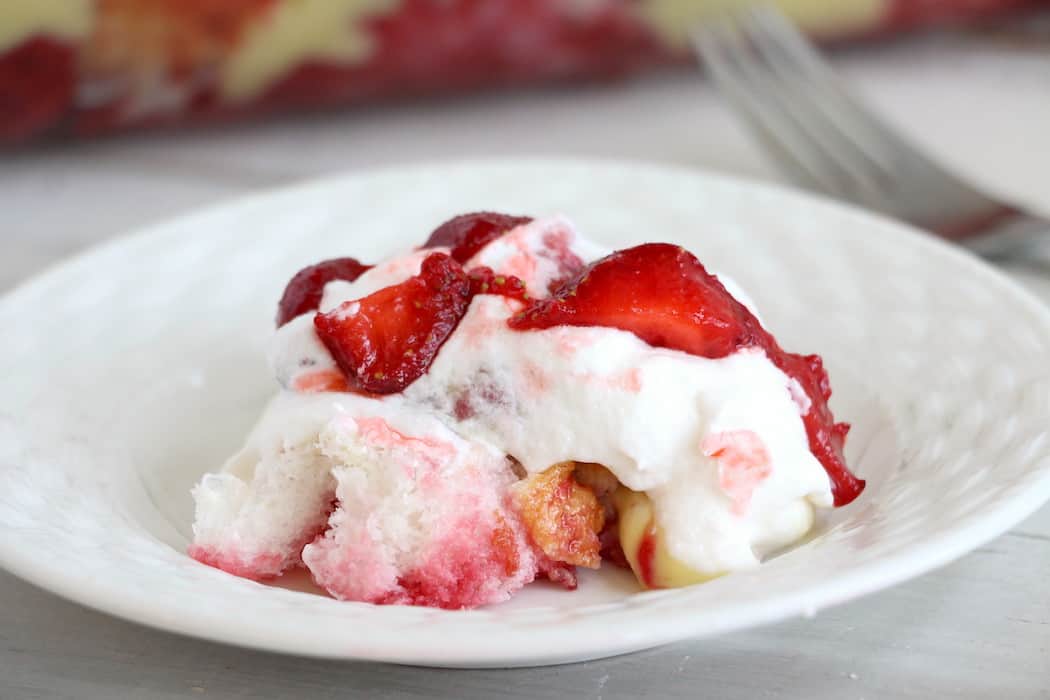 Love what you see? Find more of my fun creations on Facebook, Instagram & Pinterest! You can also sign up for my weekly newsletter below and never miss any of my inspirations!
Can't get enough sweets? Check out more of my favorites!
Yield: Serves 20
Strawberry Angel Food Dessert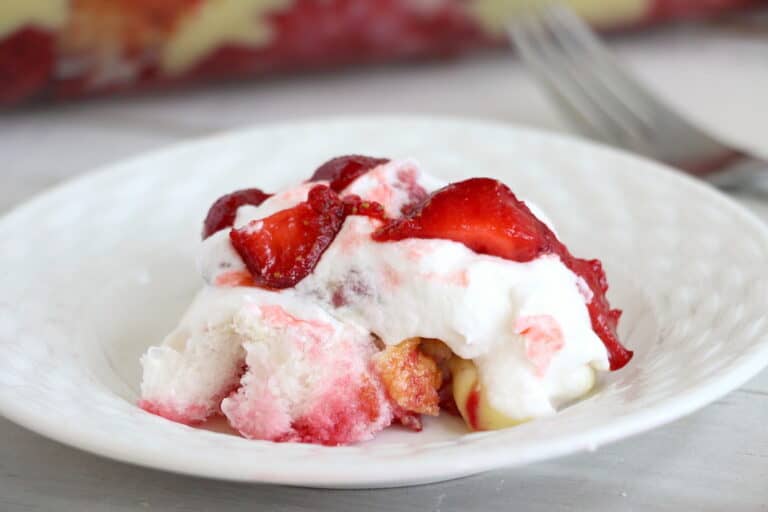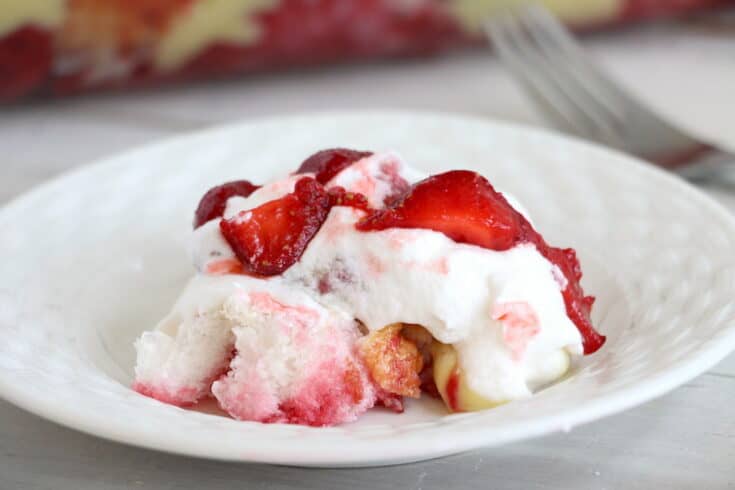 Strawberry Angel Food Dessert comes together quickly and is filled with a perfect combination of flavors. A great choice for your next party!
Total Time
1 hour
15 minutes
Ingredients
angel food cake (store bought or prepared according to box directions)
3.9 oz box instant vanilla pudding
1 3/4 cup milk
3 cups whole strawberries, sliced and divided
1/4 cup sugar
8 oz Cool Whip
Instructions
Prepare vanilla pudding by whisking together pudding mix and milk until thick. Set aside.
Tear angel food cake into small pieces and place them in a 9x13 baking dish.
In a separate bowl, combine 2 cups of sliced strawberries and sugar. Mash the strawberries and mix well.
Pour strawberries over angel food cake.
Evenly spread pudding on top of strawberries.
Spread Cool Whip over top of pudding.
Finish things off with remaining sliced strawberries.
Chill for one hour before serving.
Nutrition Information
Yield
20
Serving Size
1
Amount Per Serving
Calories

76
Total Fat

4g
Saturated Fat

3g
Trans Fat

0g
Unsaturated Fat

1g
Cholesterol

2mg
Sodium

33mg
Carbohydrates

10g
Fiber

1g
Sugar

7g
Protein

1g
Get Inspired!
Never miss my delicious recipes, cute creations, or household tips!