Homemade apple wraps are a fun twist on an old classic. Delicious, homemade apple pie filling is wrapped up in flour tortillas, then they're fried to golden, crispy perfection in a skillet. Yum!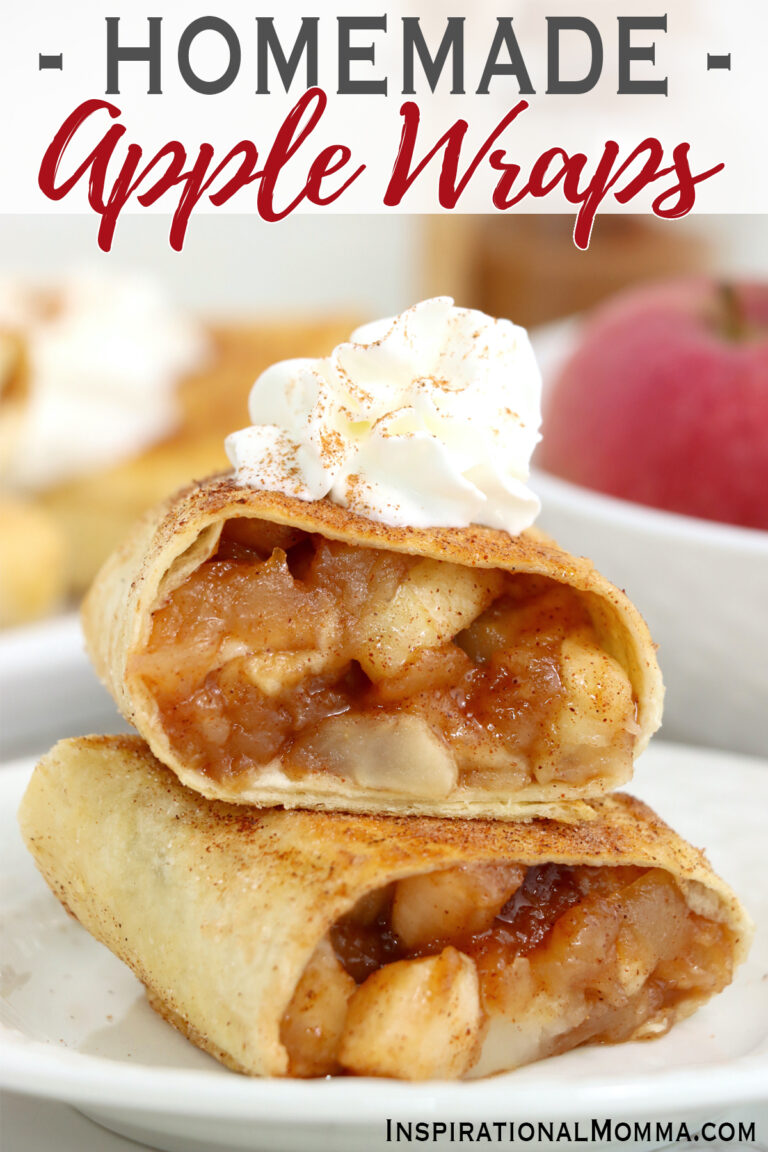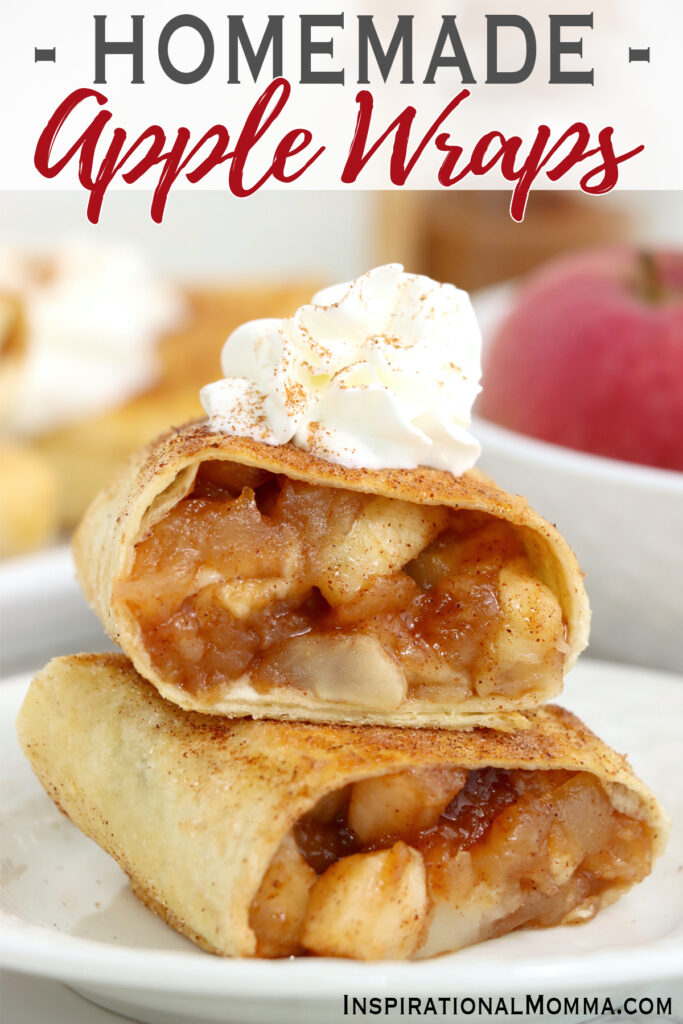 If you love apple pie, then get ready for the dessert you've been waiting for. I love making all kinds of apple pie-based dishes, but these wraps have become one of my all-time favorites. They have all the flavor of apple pie, but you can eat them by hand!
Why You'll Love This Recipe
It only uses a handful of simple ingredients.
It's an easy recipe that even beginners can make.
It's a fun twist on classic apple pie that everyone loves.
Top Tip
Be sure to cook your wraps on medium-low heat so you get a nice, golden brown finish without burning the wraps.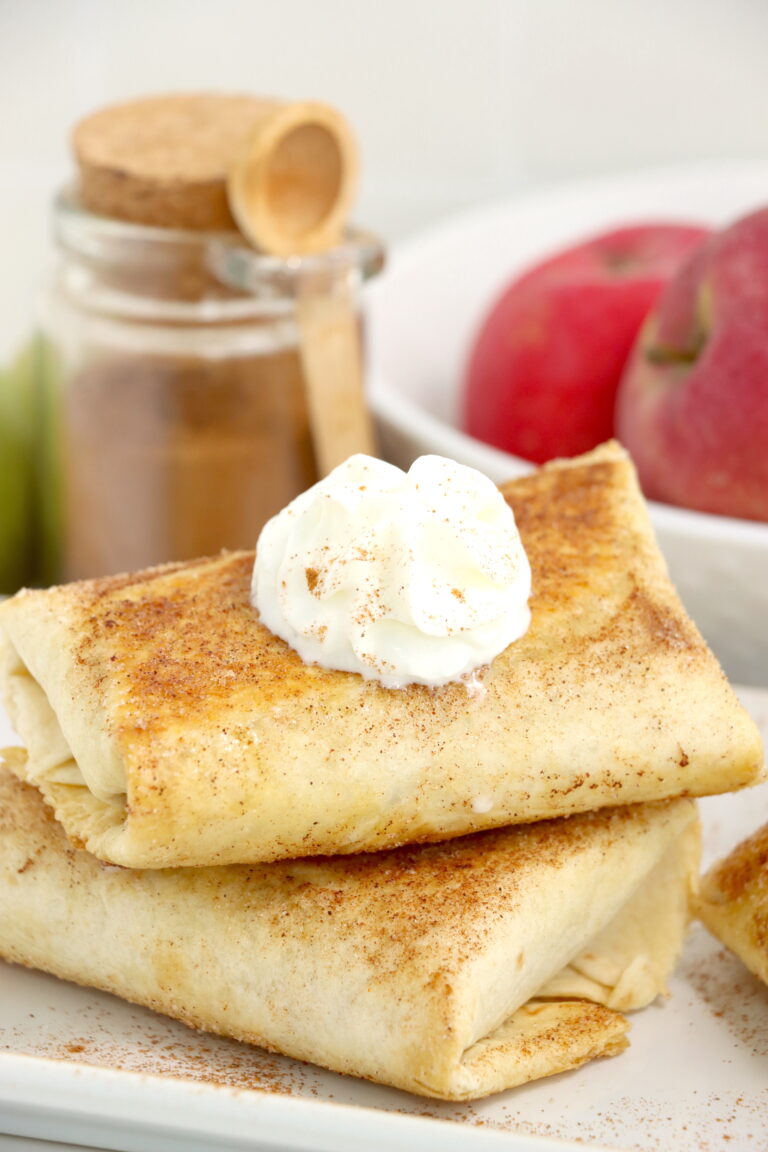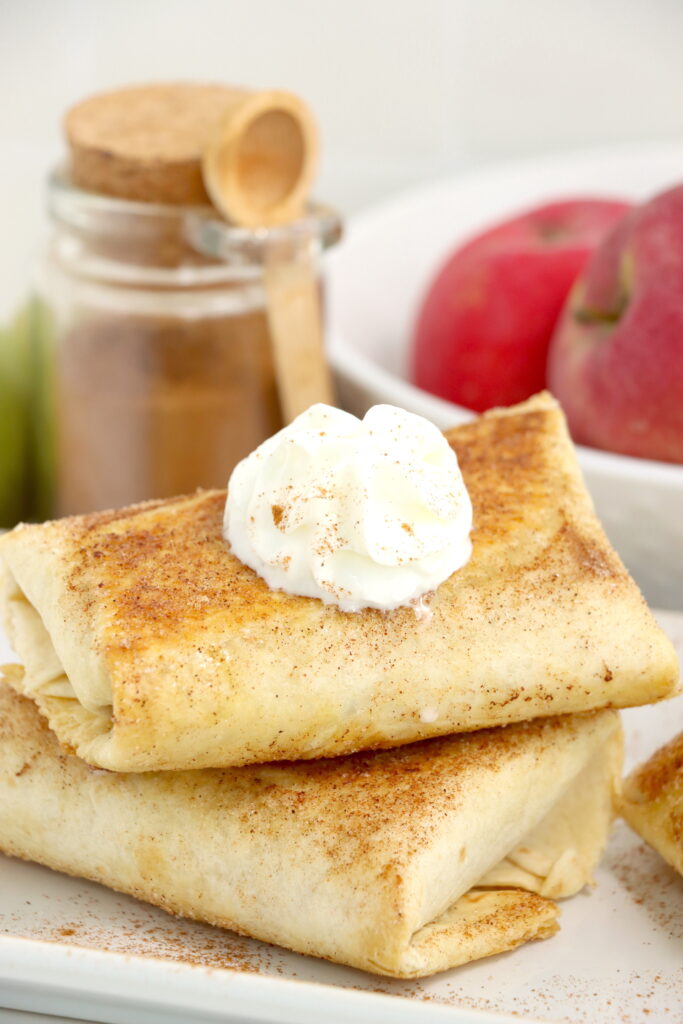 Ingredients
You'll only need a few simple ingredients to make this recipe. You probably have almost all of the ingredients in your kitchen right now! Take a look at the recipe card at the end of the post for exact quantities.
Peeled and diced apples
Butter
Brown sugar
Granulated sugar, divided
Cinnamon, divided
Medium tortilla shells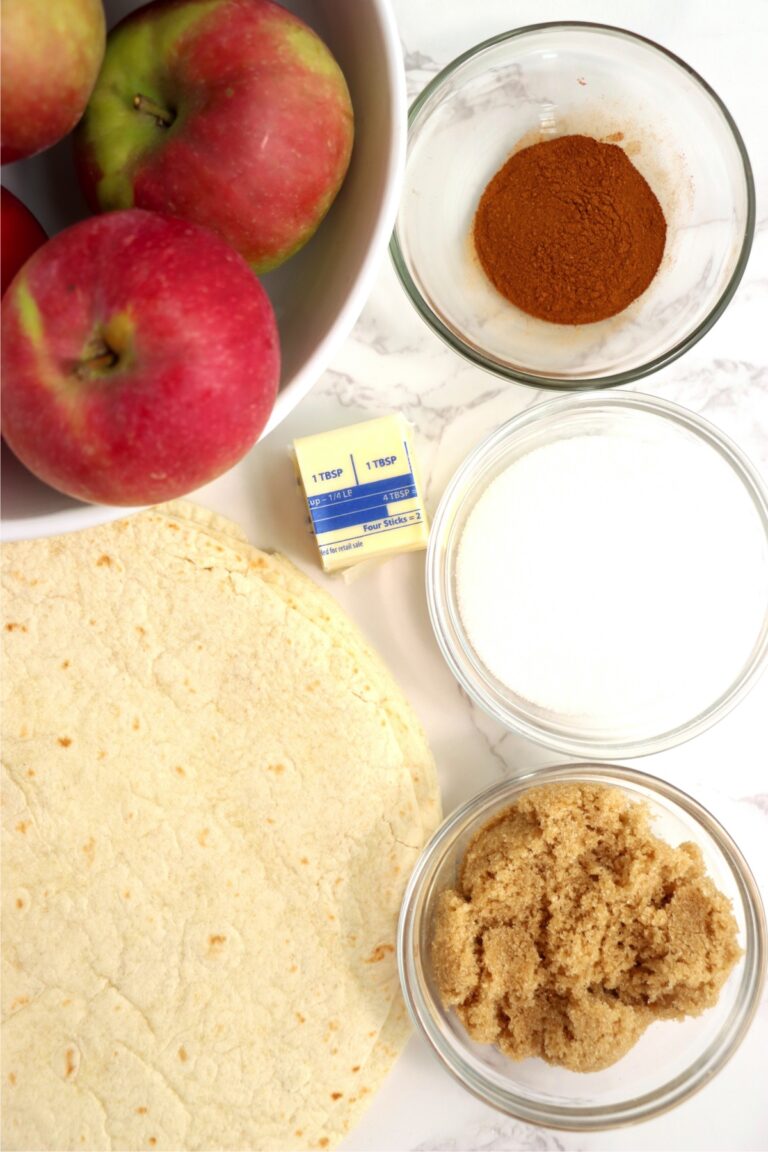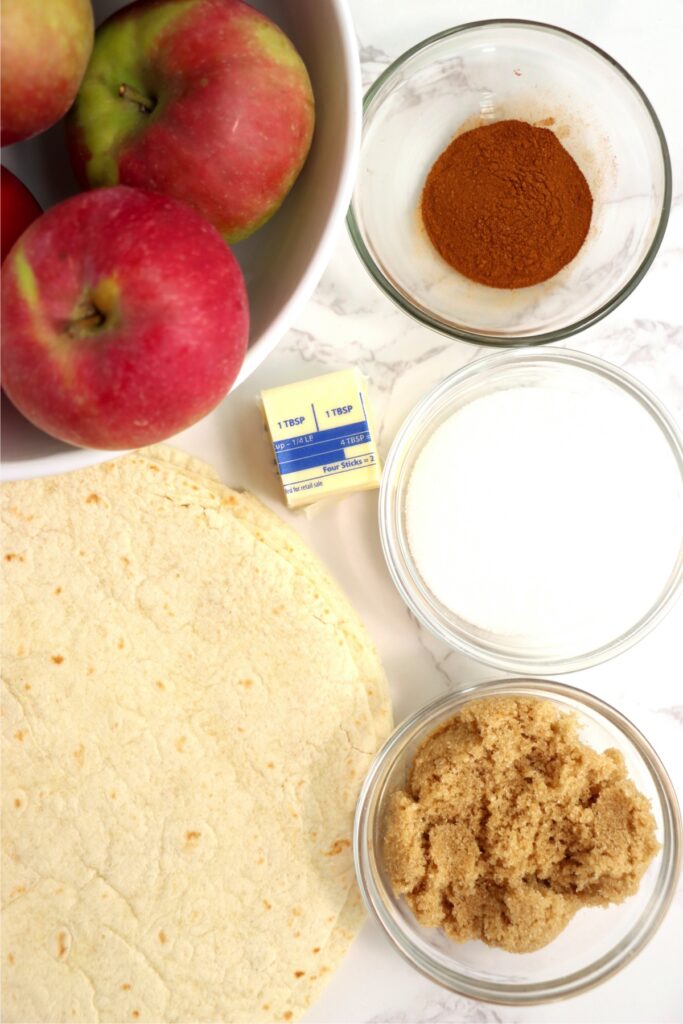 Instructions
This easy recipe is ready in just a few minutes and is so simple even beginners can make it. The overview is below, but you'll find the exact instructions in the recipe card at the end of the post.
1: Add apples, butter, brown sugar, ¼ cup sugar, and 1 tsp cinnamon to a large skillet.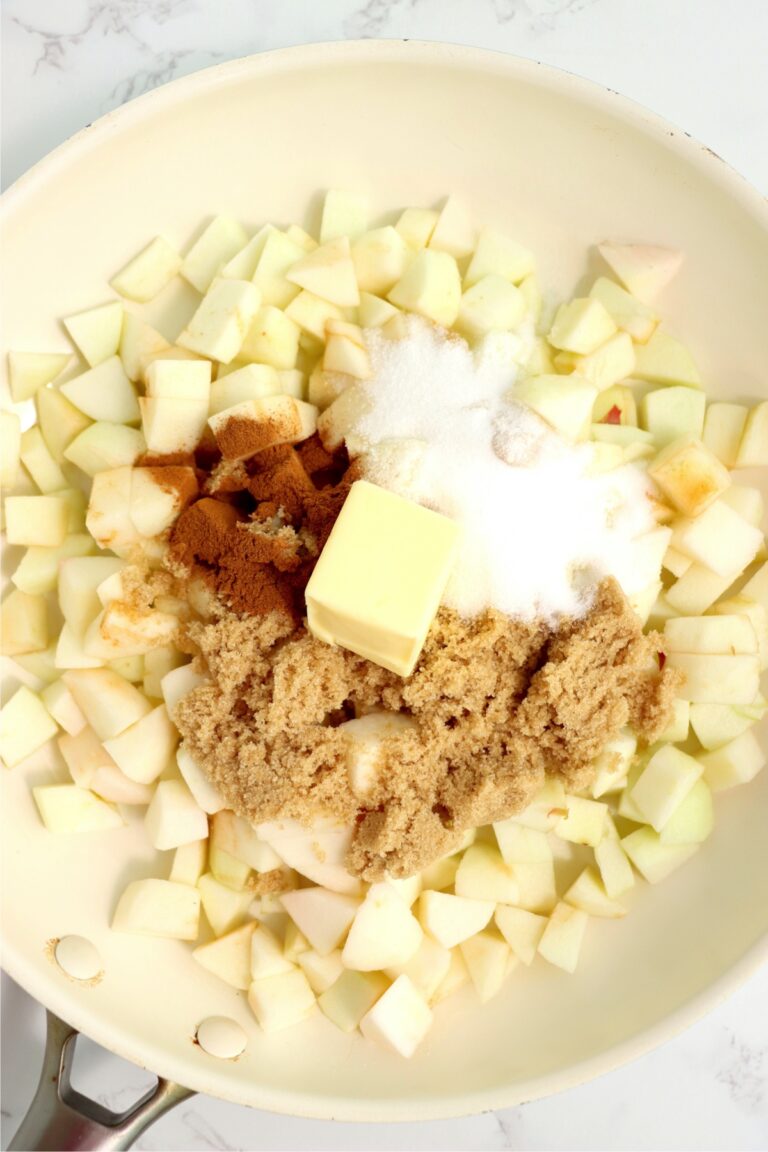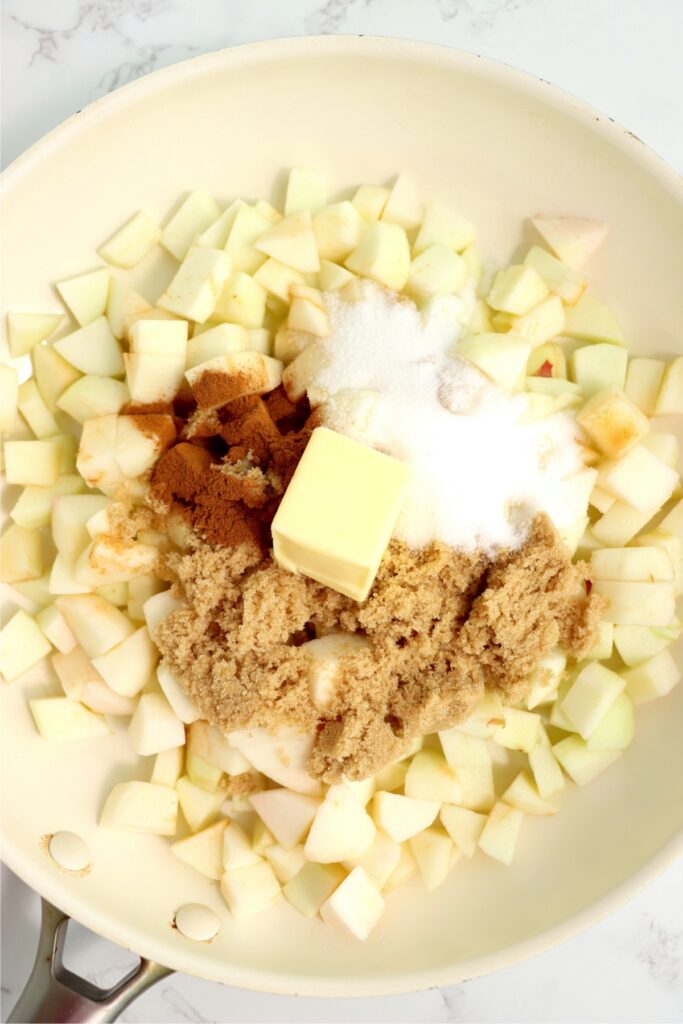 2: Cook the mixture, stirring often until the apples are tender and the mixture is thick.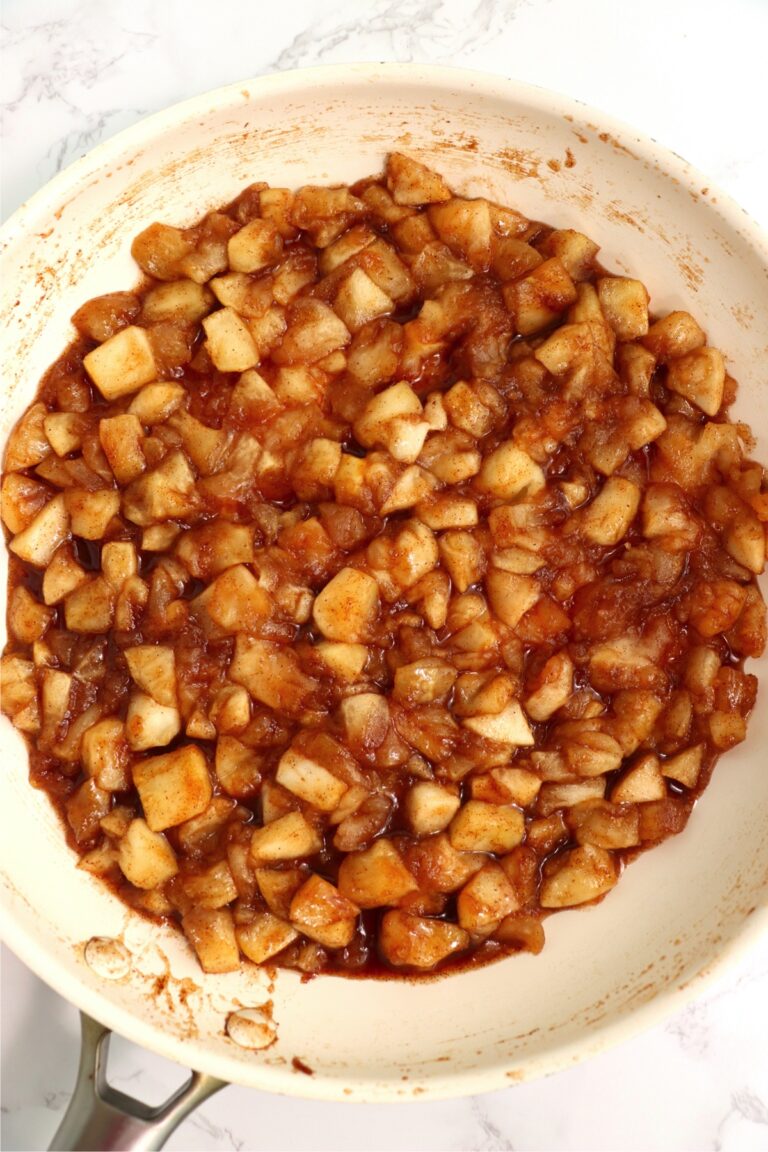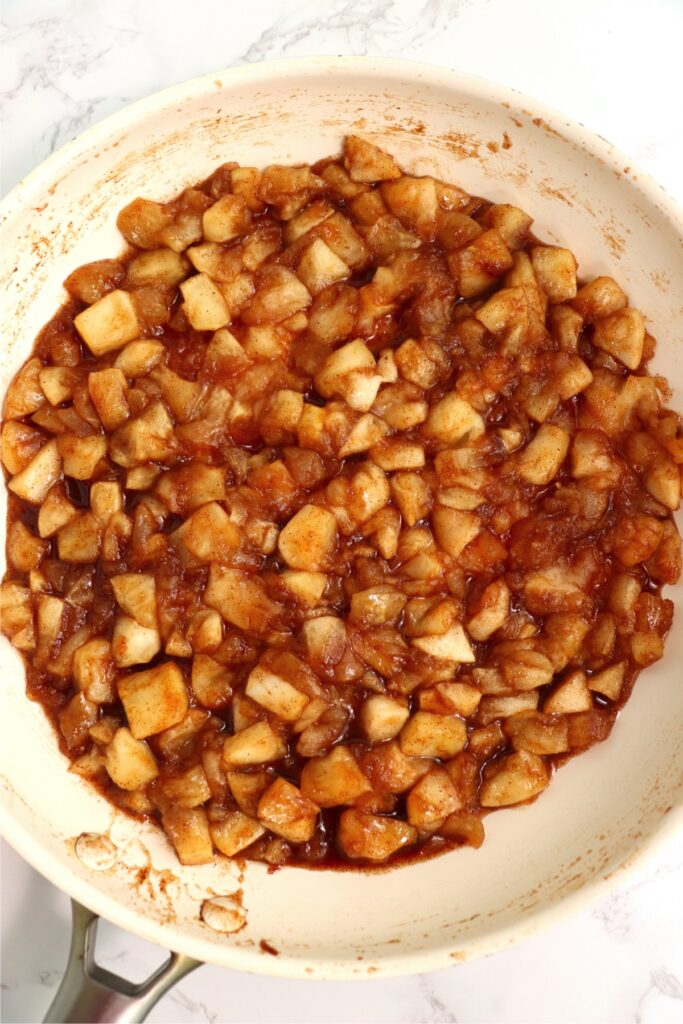 3: Fill the tortillas with the filling and fold them up.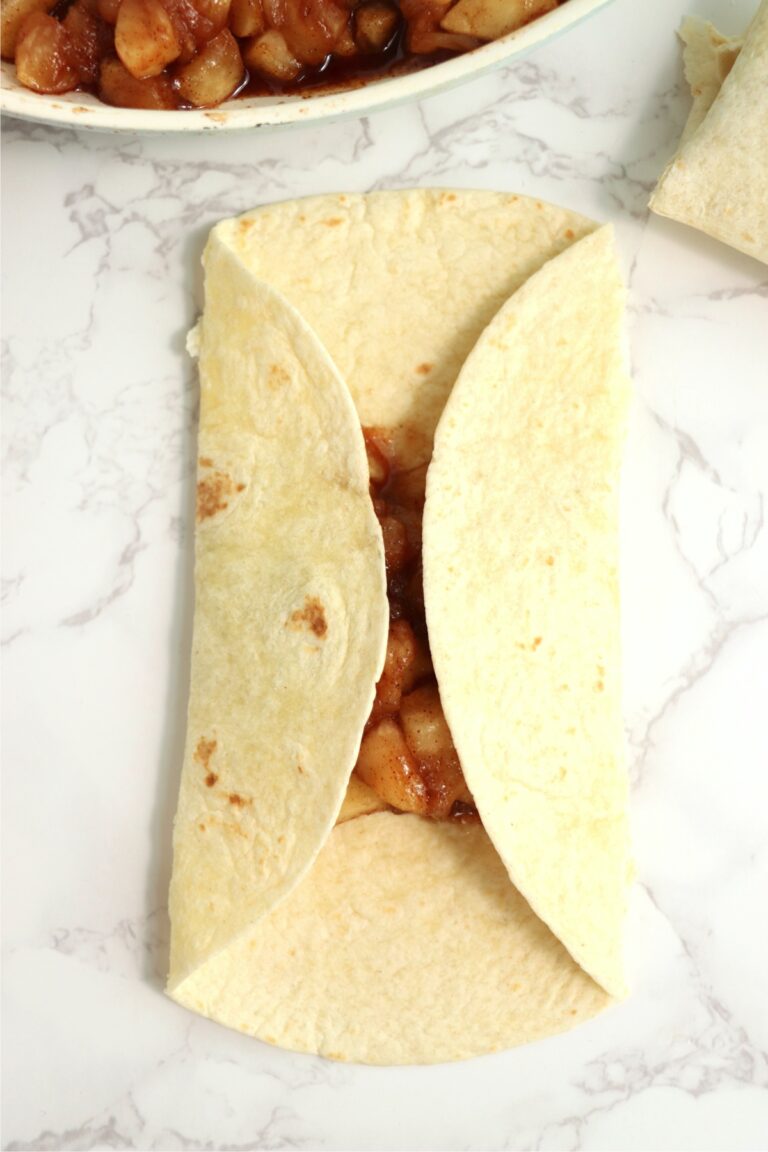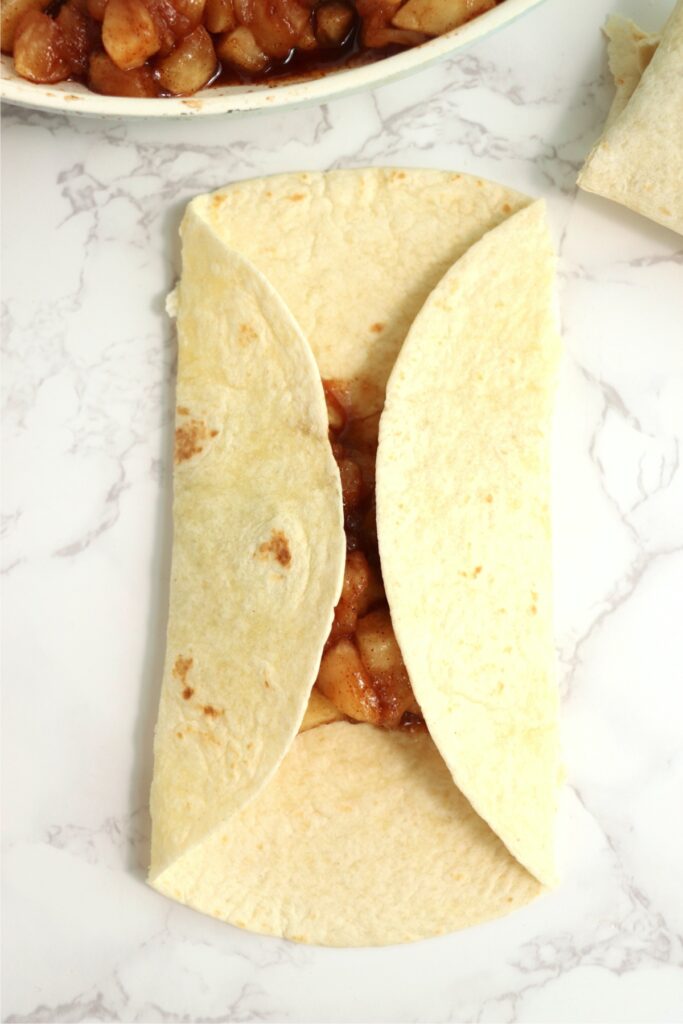 4: Sprinkle the tortillas with cinnamon sugar, spray a skillet with nonstick spray, and cook until golden brown.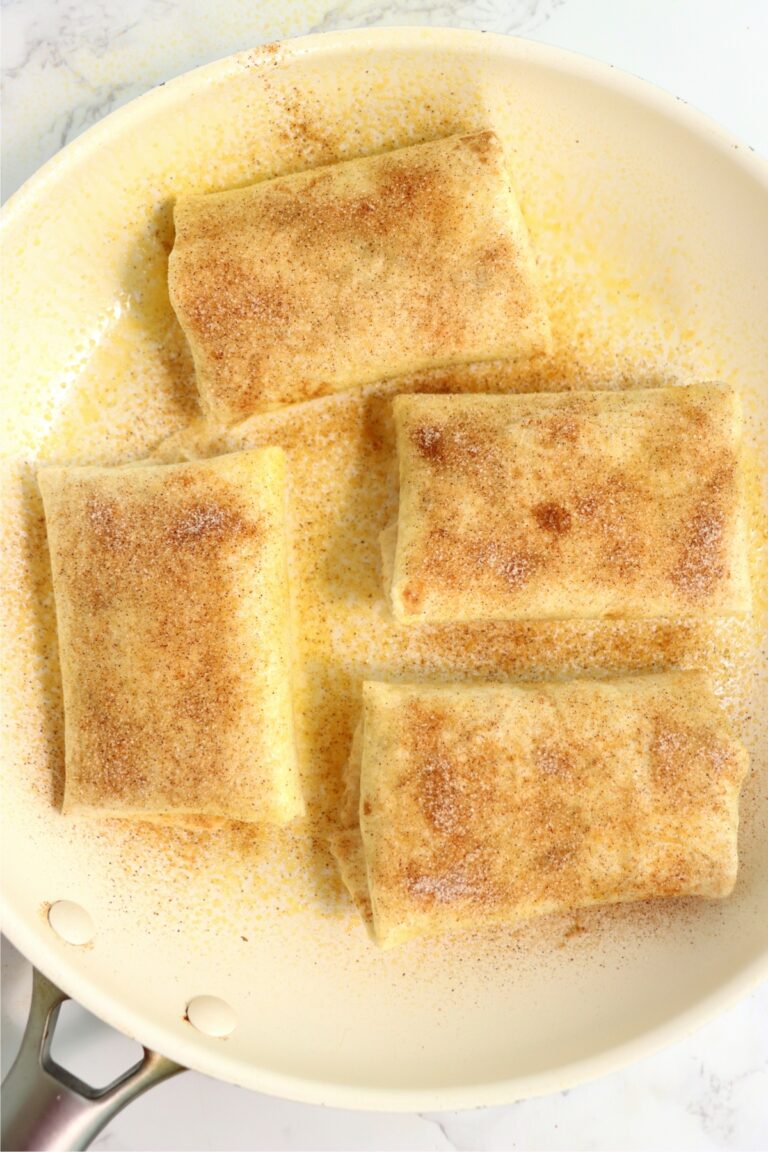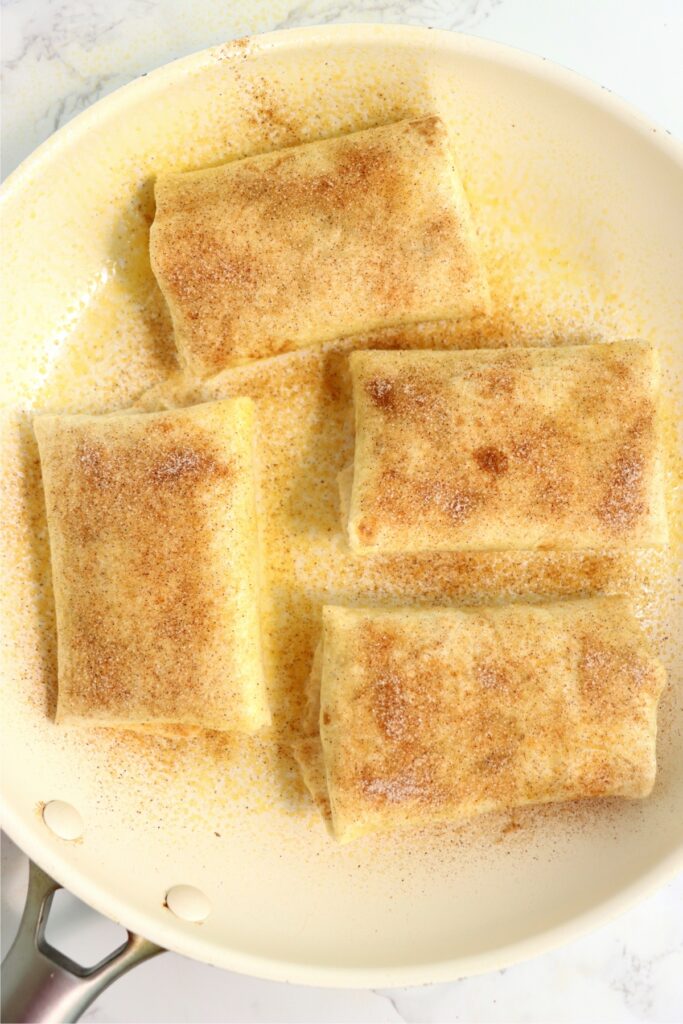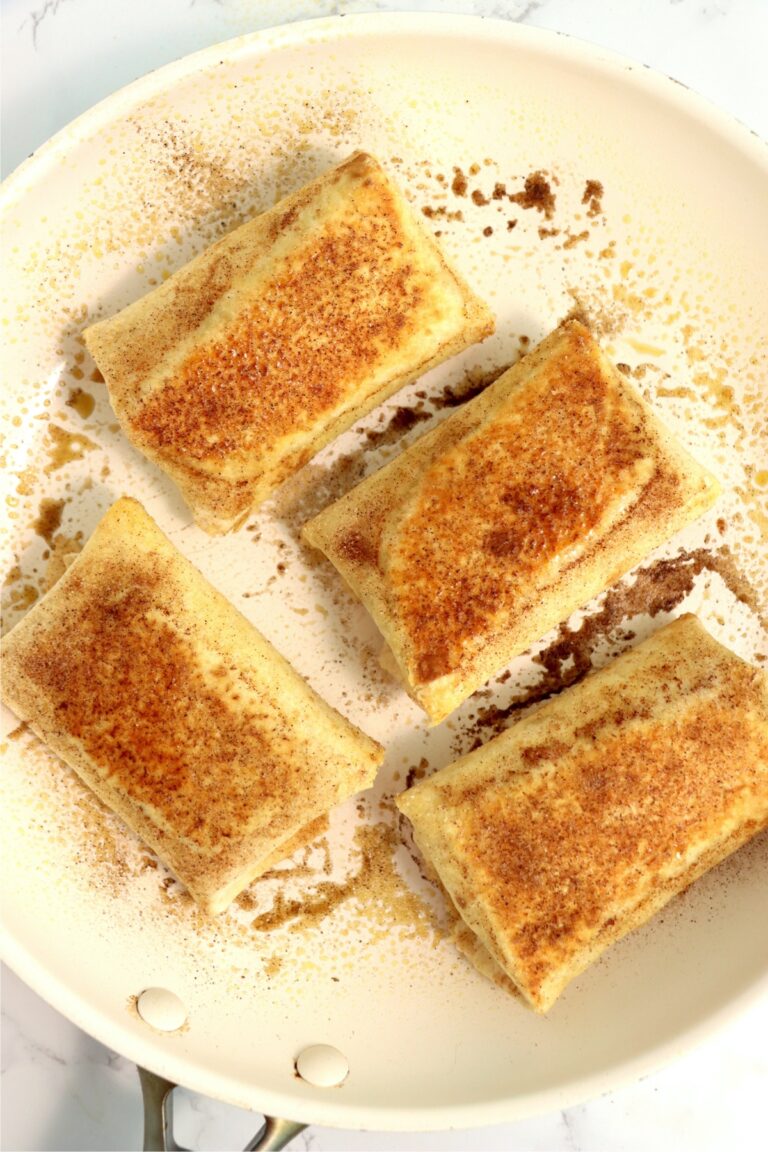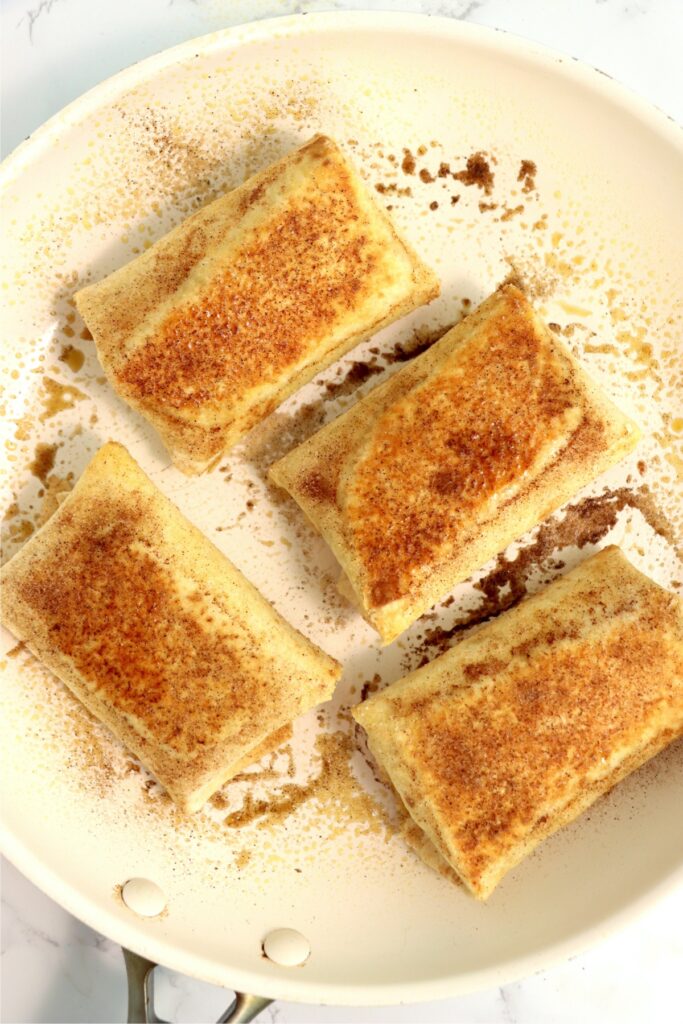 Substitutions and Variations
Try this recipe using diced peaches or pears.
Make a berry filling for berry wraps.
You can use premade apple pie filling or your favorite fruit pie filling for this recipe.
Equipment
Measuring cups and spoons
Knife
Cutting board
Skillet
Spatula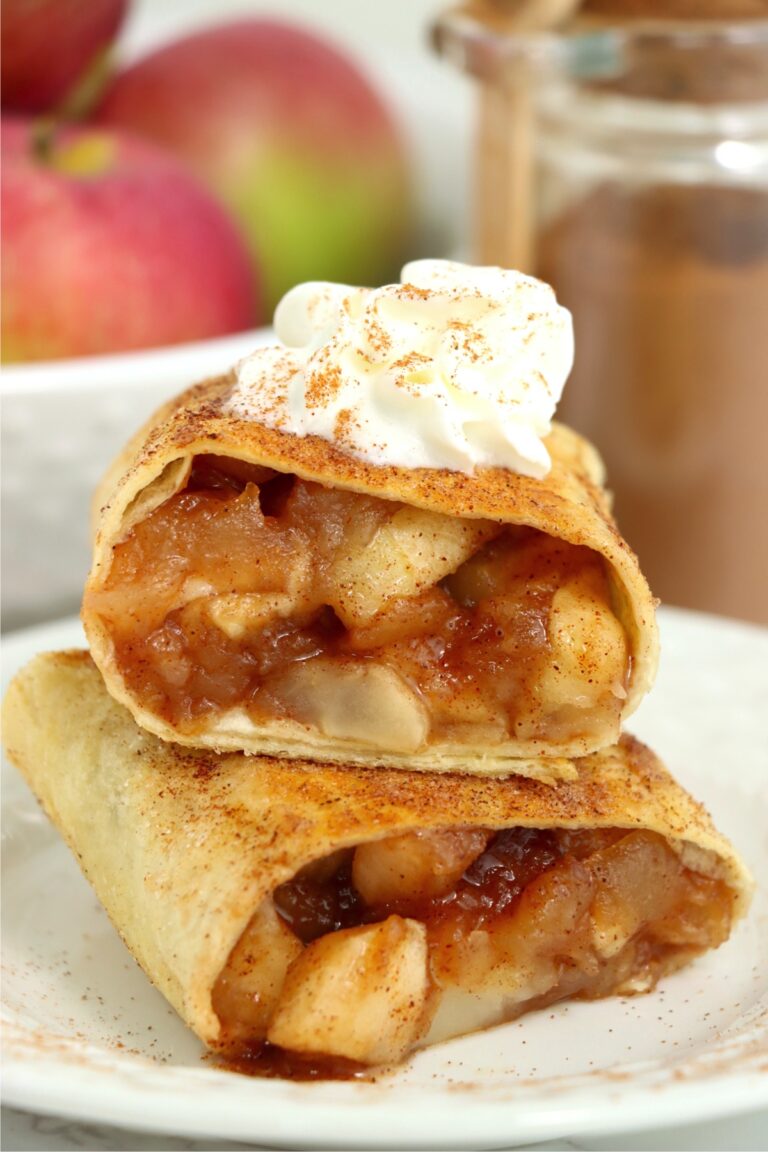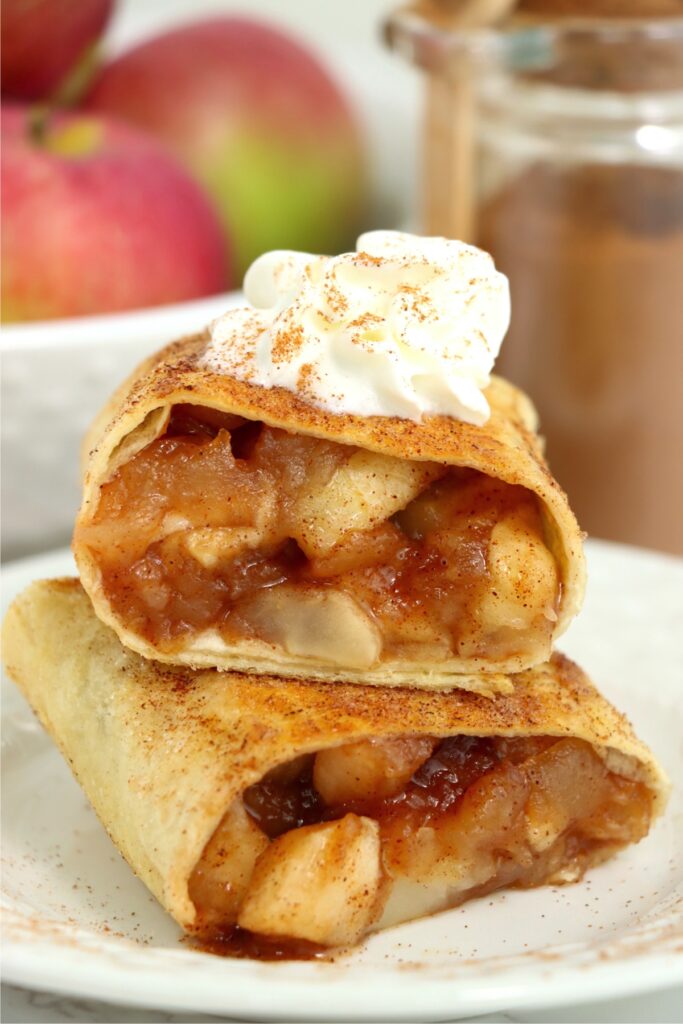 Storage
Refrigerator: Store in an air-tight container for up to 4 days. Remember, the longer they sit, the soggier the tortillas will become.
Freezer: Chill and place in single layers separated by parchment paper in an air-tight, freezer-safe container and store for up to 3 months.
Reheat: Place the apple wraps on a baking sheet and bake for about 10 minutes at 350 degrees.
What to Serve with Apple Wraps
These delicious wraps are perfect with a dollop of whipped cream or a scoop of vanilla ice cream. Their classic apple pie flavor makes them the perfect dessert to serve after a meal of burgers, dogs, steaks, chops, or chicken.
Tips:
Stir frequently when making the apple filling to prevent burning.
Your apple filling will be watery at first. Just keep cooking it until thickened.
Don't use heat that's too high when cooking the wraps. You want them to slowly turn golden without burning.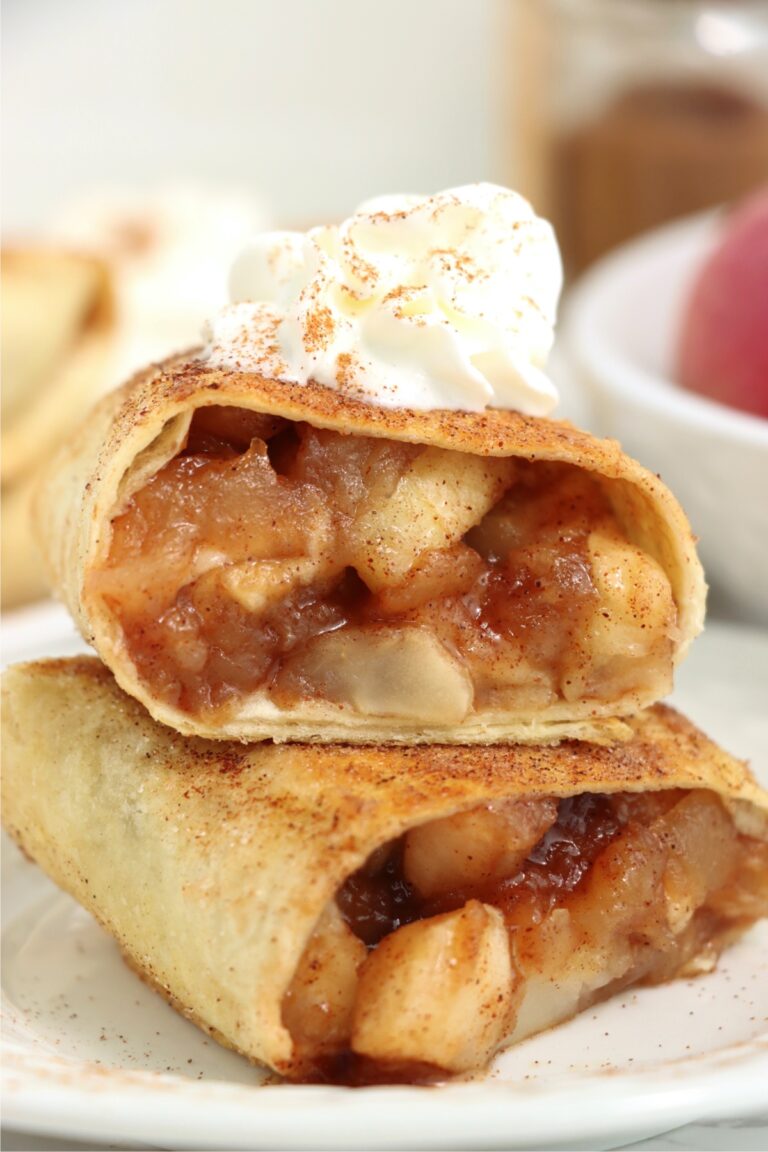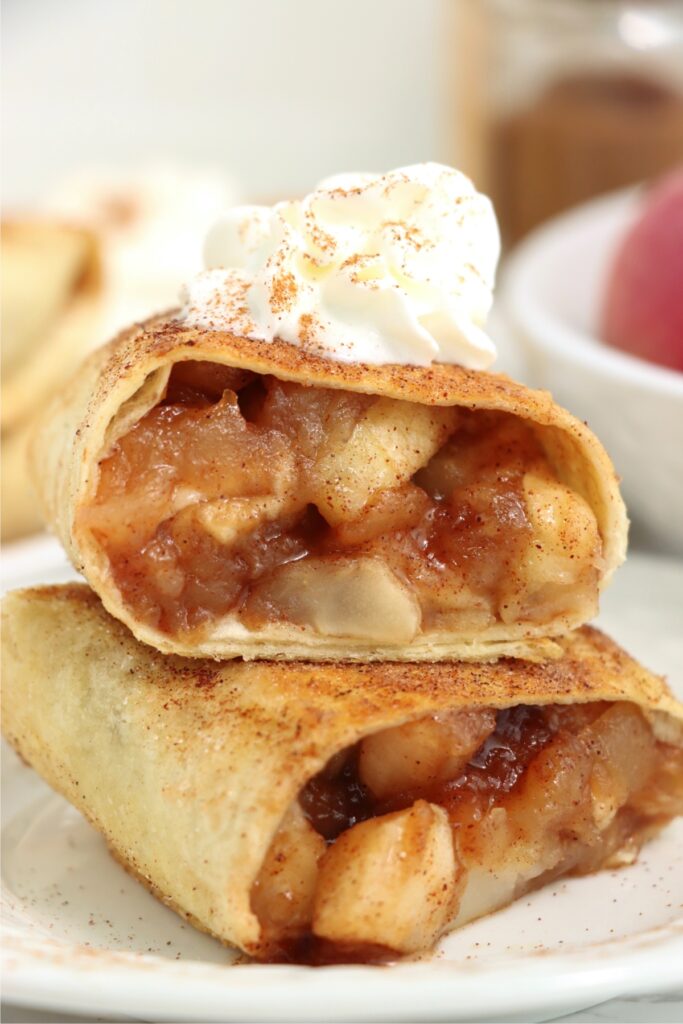 FAQ
What are apple wraps?
Apple wraps are a dessert food made with apple pie filling that's stuffed into a tortilla, then pan-fried to a golden brown.
Why is my apple filling watery?
At first, the apples will release liquid, so the mixture will be watery. Just continue cooking until it thickens.
How do I keep my tortillas from burning?
Keep the heat low. You want the tortillas to slowly brown. If the heat is too high, the tortillas will just burn.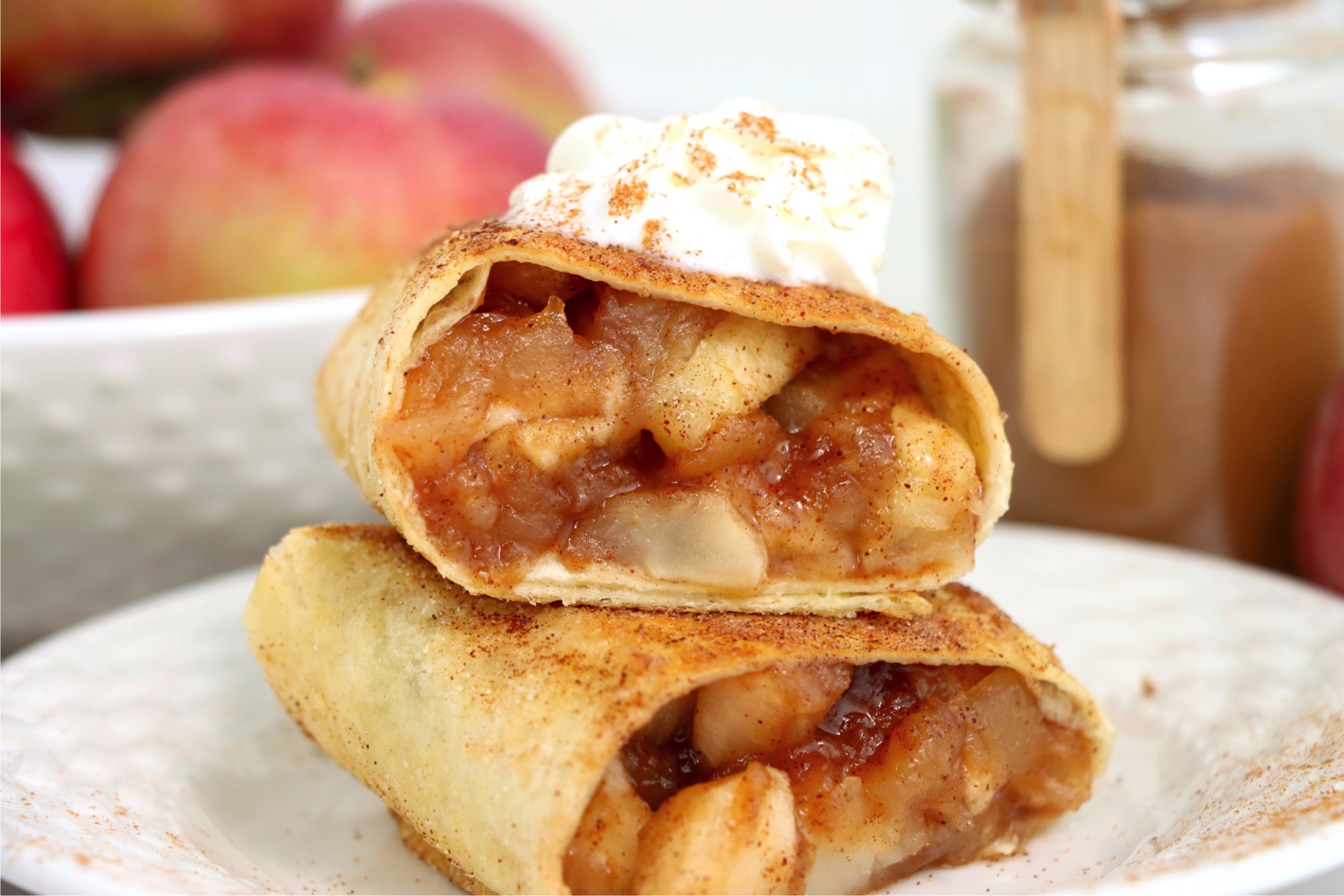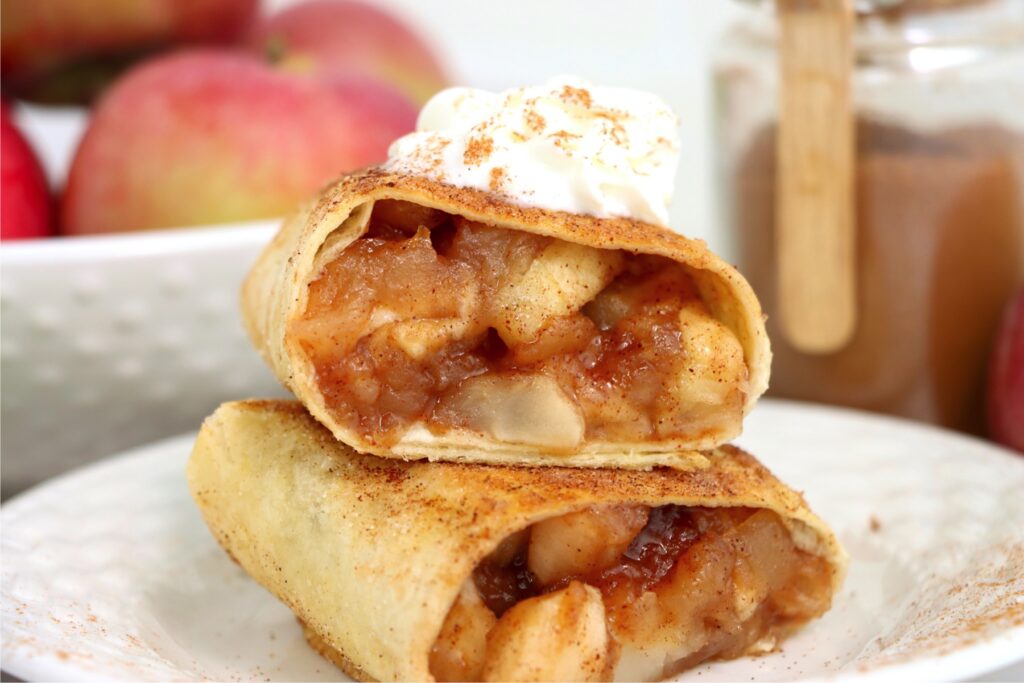 More Delicious Desserts
Yield: 4 wraps
Homemade Apple Wraps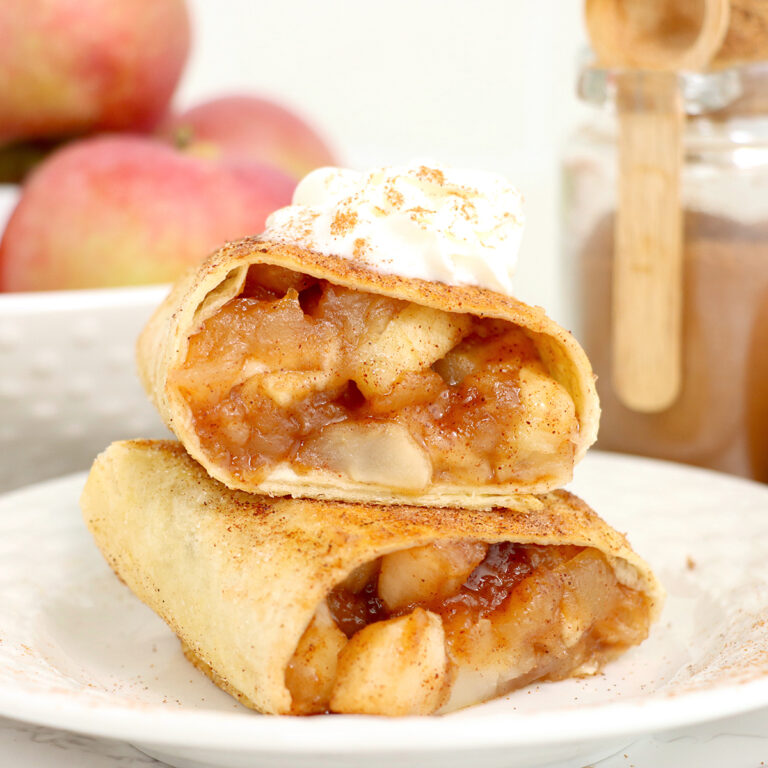 These homemade apple wraps take delicious, homemade apple pie filling, stuff it into tortillas, and pan fry them to golden brown perfection.
Additional Time
5 minutes
Ingredients
4 cups peeled and diced apples
2 tbsp butter
¼ cup brown sugar
⅓ cup granulated sugar, divided
1 ½ tsp cinnamon, divided
4 medium tortilla shells
Instructions
Add apples, butter, brown sugar, ¼ cup sugar, and 1 tsp cinnamon to a large skillet.
Over medium-low heat, heat until apples are tender. Be sure to stir often to avoid burning. The mixture will be runny at first but that extra liquid will cook off.
Spoon one quarter of the apple mixture onto each tortilla shell.
To create wrap, fold sides in, followed by rolling from the bottom up.
In a small bowl, combine remaining sugar and cinnamon.
Spray top and bottom of prepared wraps with cooking spray.
Next, sprinkle cinnamon and sugar on the top and bottom.
Place wraps in a large skillet.
Cook over medium-low heat until both sides are golden brown.
Nutrition Information
Yield
4
Serving Size
1
Amount Per Serving
Calories

377
Total Fat

15g
Saturated Fat

7g
Trans Fat

1g
Unsaturated Fat

7g
Cholesterol

35mg
Sodium

324mg
Carbohydrates

58g
Fiber

6g
Sugar

40g
Protein

7g
Get Inspired!
Never miss my delicious recipes, cute creations, or household tips!