Air fryer bananas are cooked to caramelized perfection in your air fryer. They're loaded with brown sugar and the delicious crunch of chopped pecans.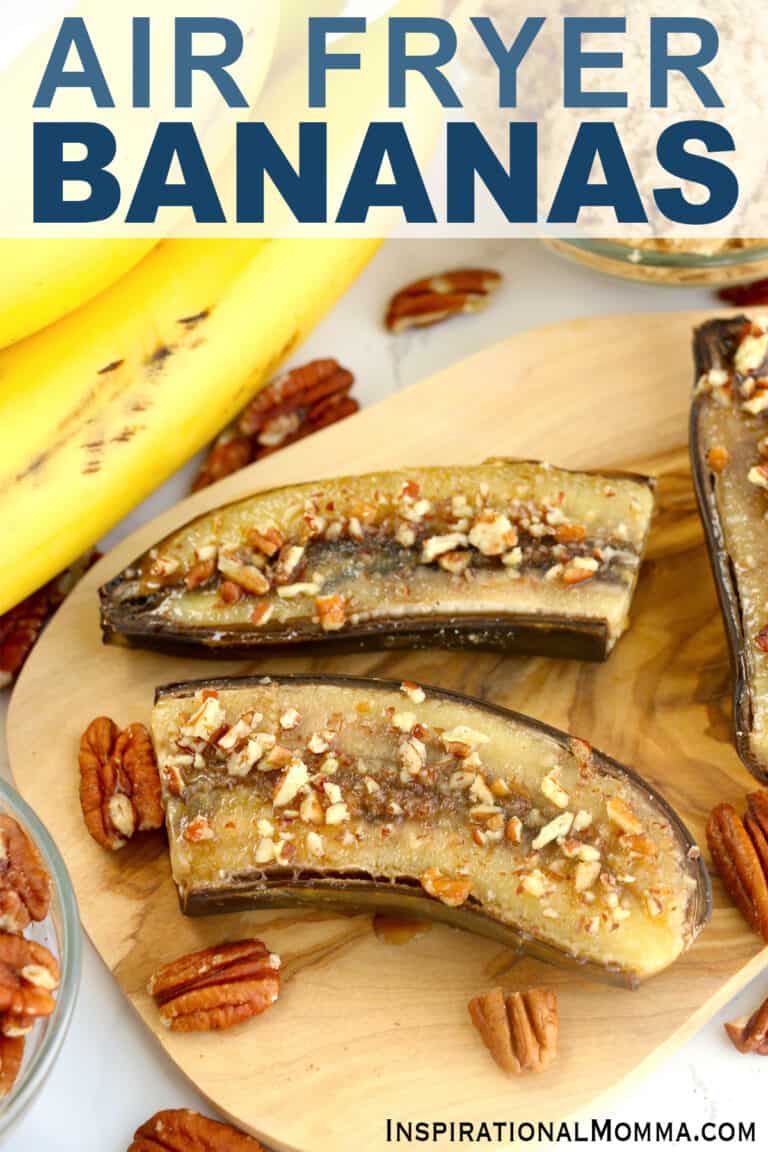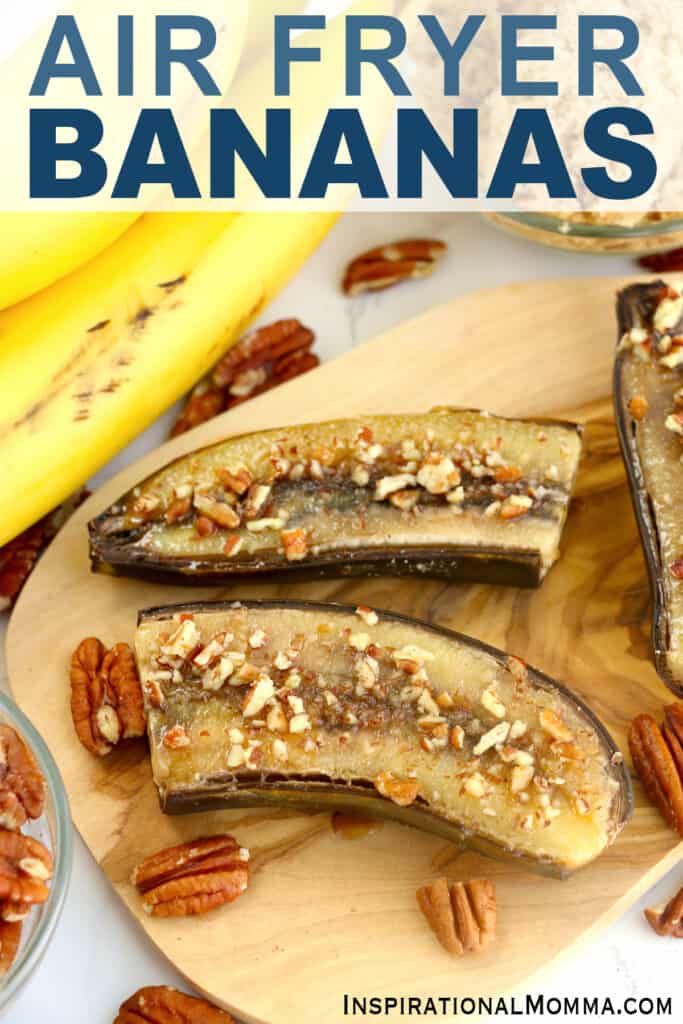 I've always loved making banana treats and desserts. They're so good when they're all cooked and caramelized! This recipe makes getting that delicious flavor so easy because all you need is an air fryer. These are delicious, kid-friendly treats that both young and old adore.
Why You'll Love This Recipe
It only uses 3 ingredients.
They're super easy to make.
They're sweet and caramelized with the crunch of chopped nuts.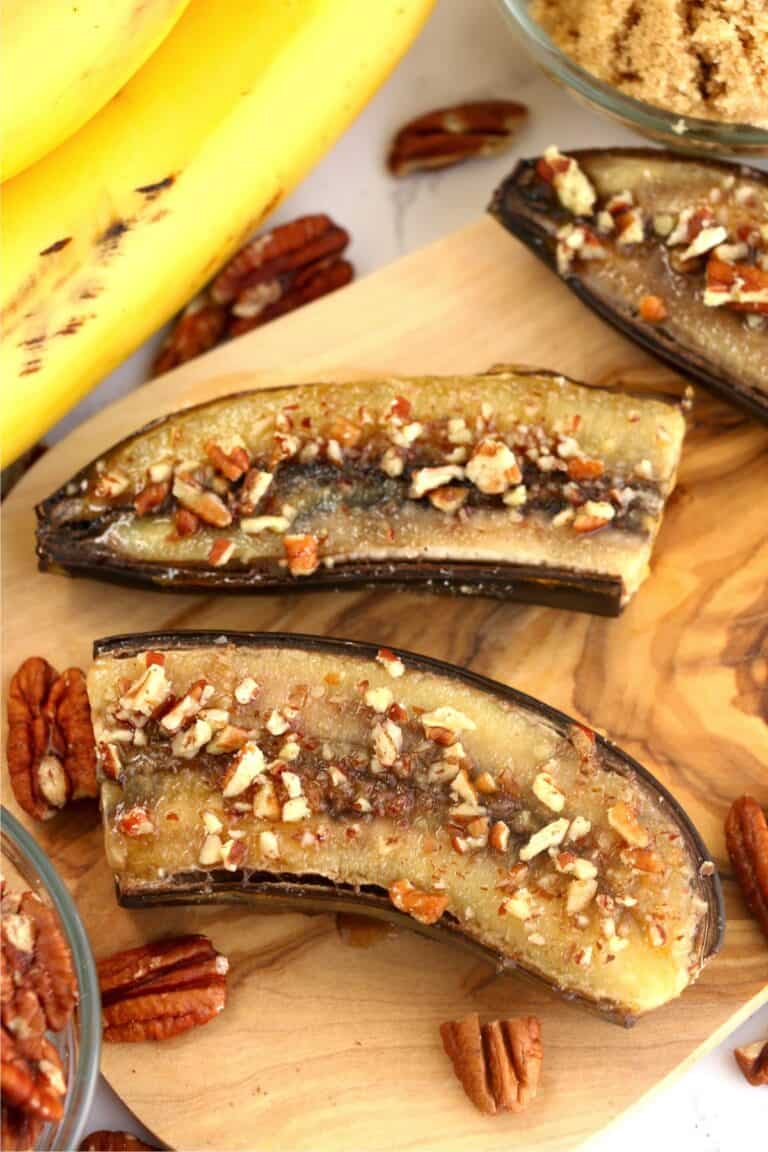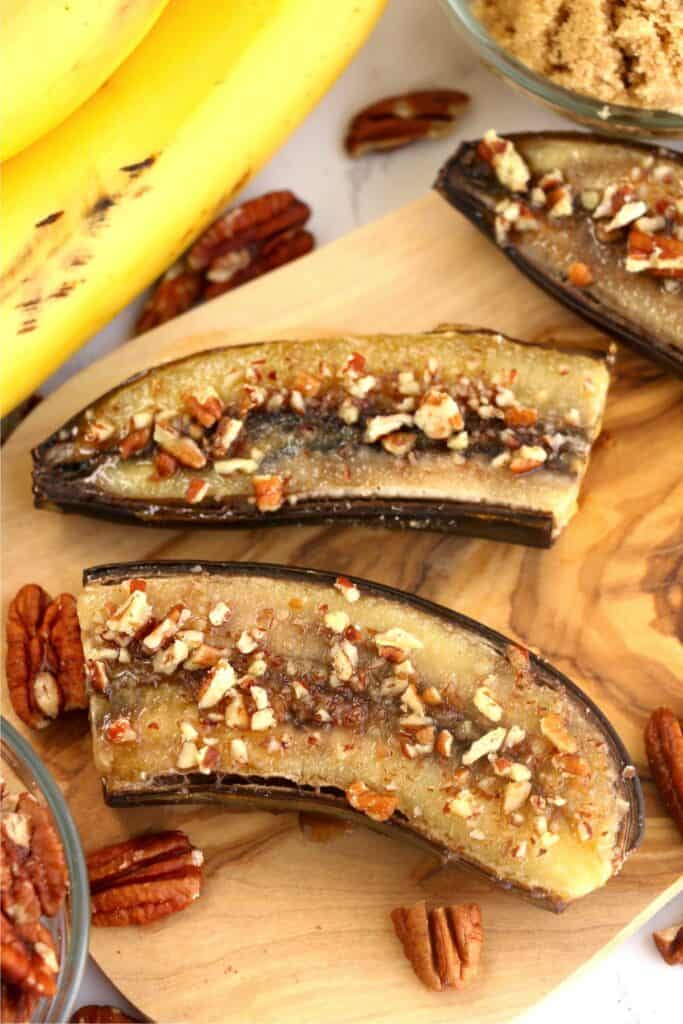 Top Tip:
Always preheat your air fryer for even cooking. That's the biggest tip you need for this recipe.
Ingredients
It only takes 3 ingredients to make this recipe. Not only that, but I wouldn't be surprised if you have every one of them in your kitchen right now.
Bananas
Brown sugar
Chopped pecans
See the recipe card at the end of the post for amounts.
Instructions
It only takes a few simple steps to make this recipe. You'll be in and out of the kitchen in no time. I'm covering the basics here, but you can find the complete instructions in the recipe card at the end of the post.
1: Preheat the air fryer and line the air fryer basket with parchment paper.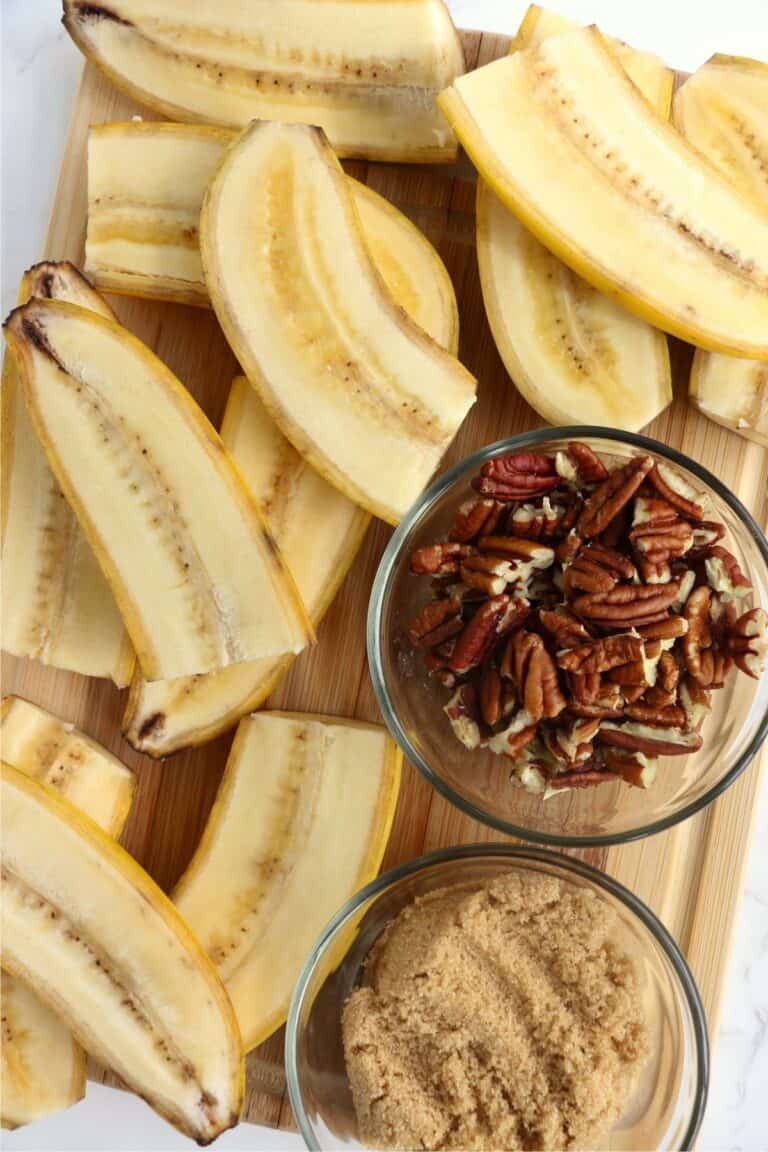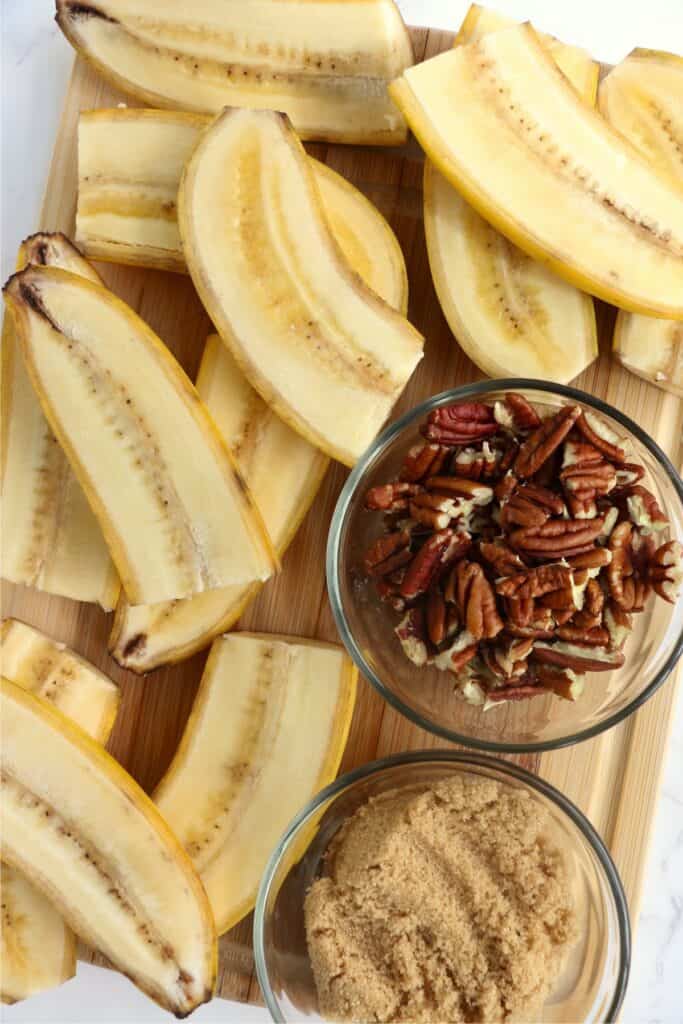 2: Spray the bananas with cooking spray and top with brown sugar.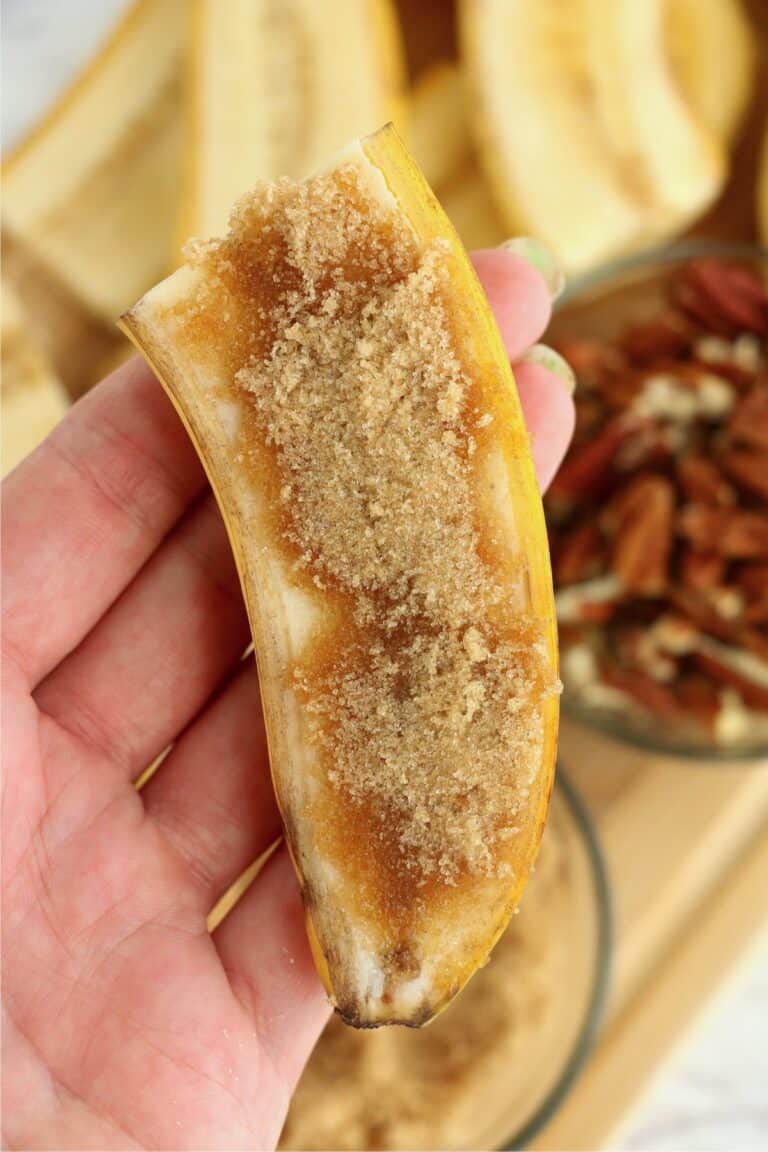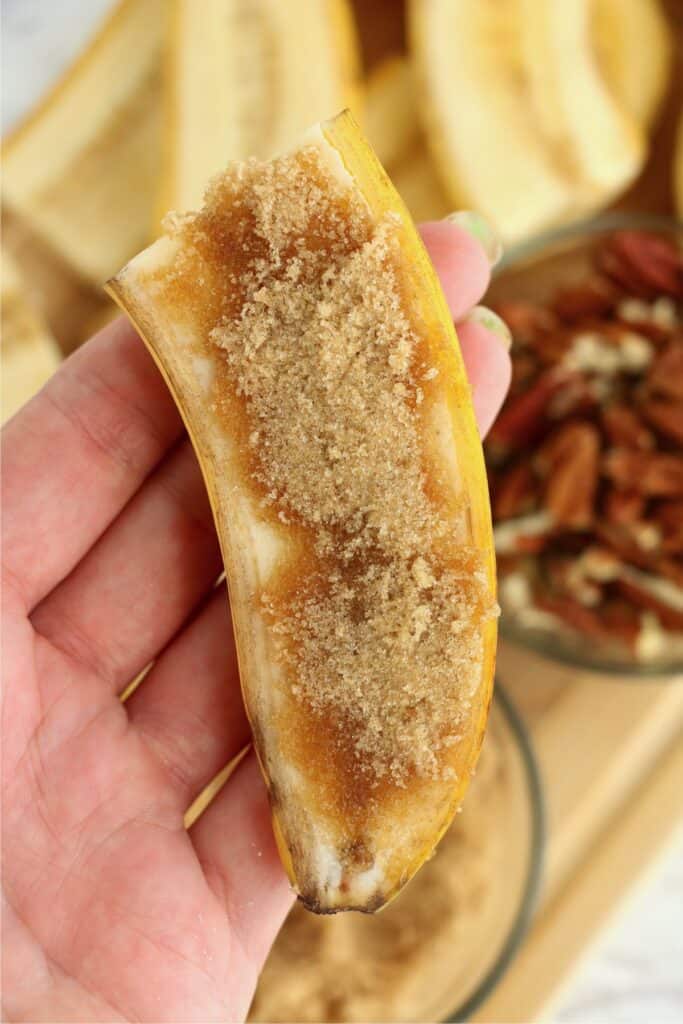 3: Air fry until the brown sugar is melted and crystallizing.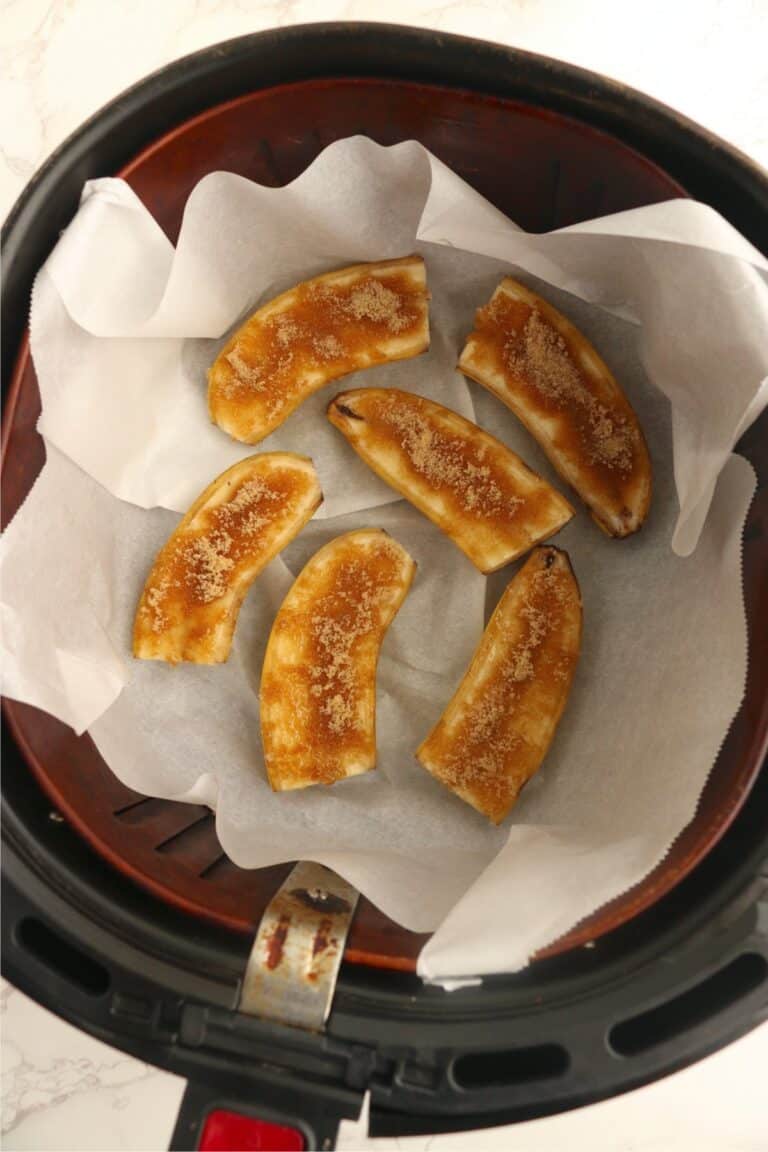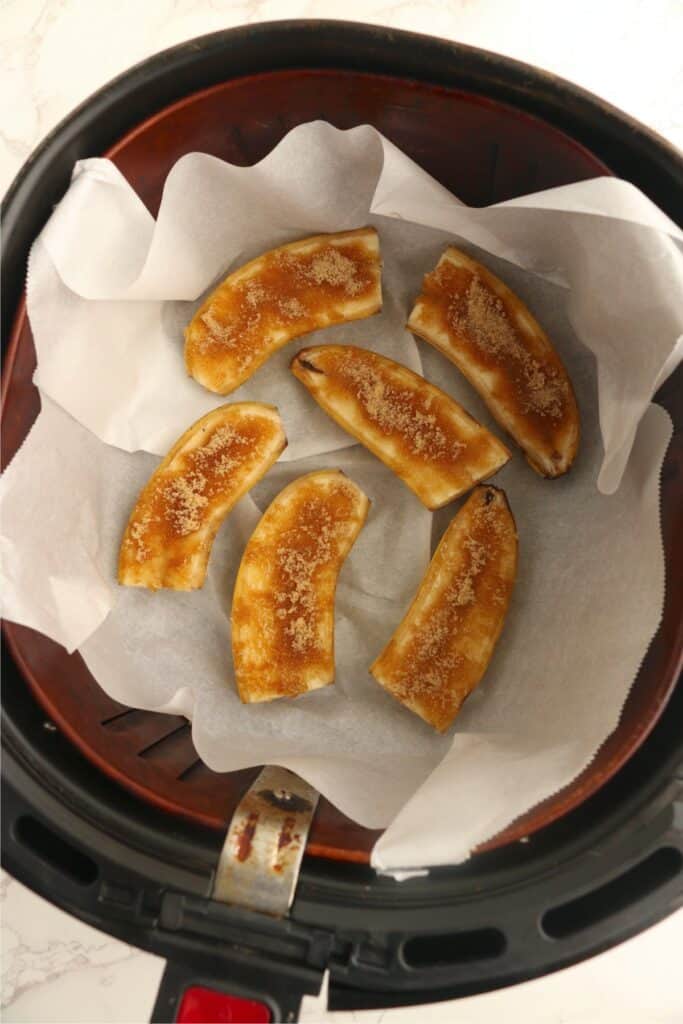 4: Carefully remove the bananas with tongs or silicone oven mitts. They will be HOT.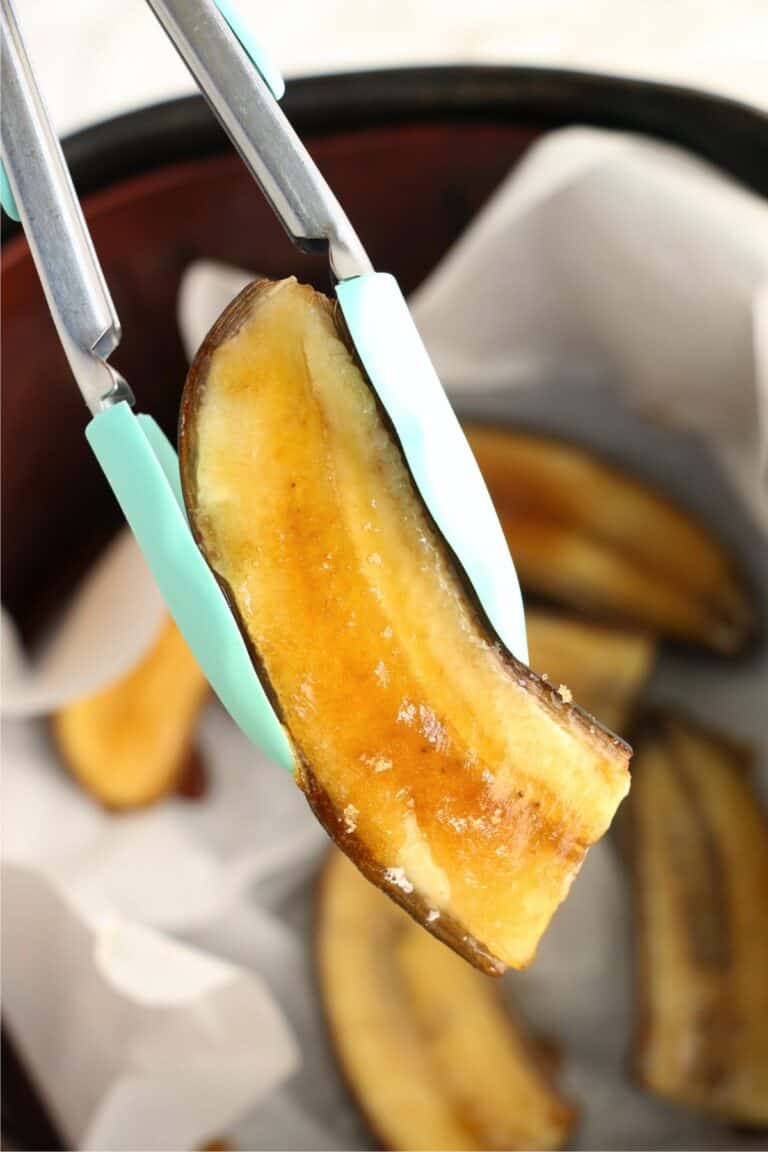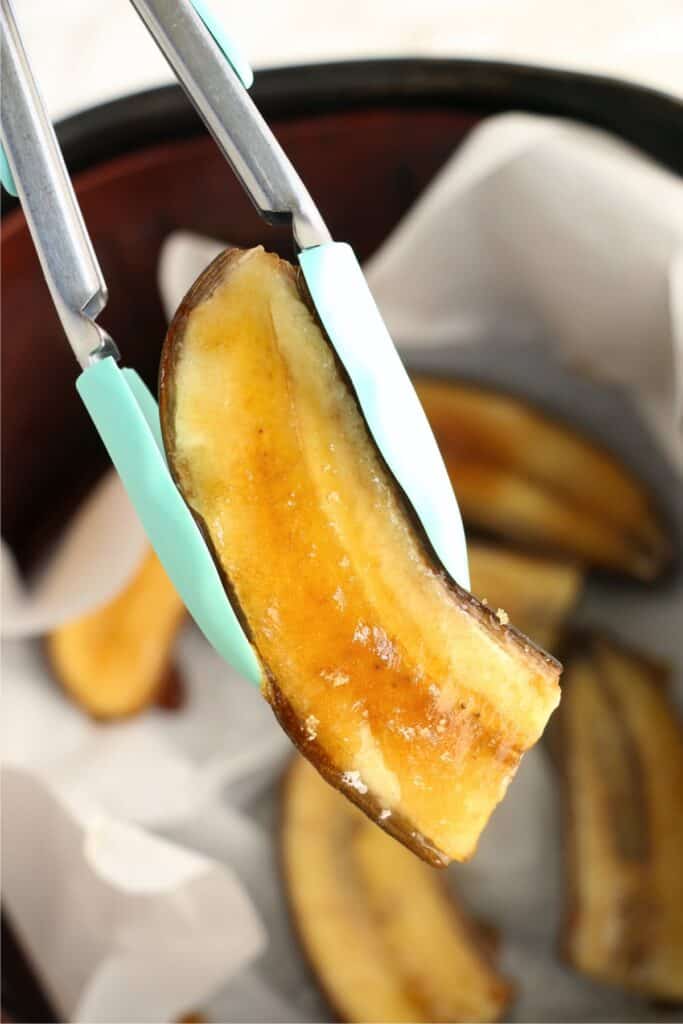 5: Top with pecans. Carefully remove from the skin when ready to serve.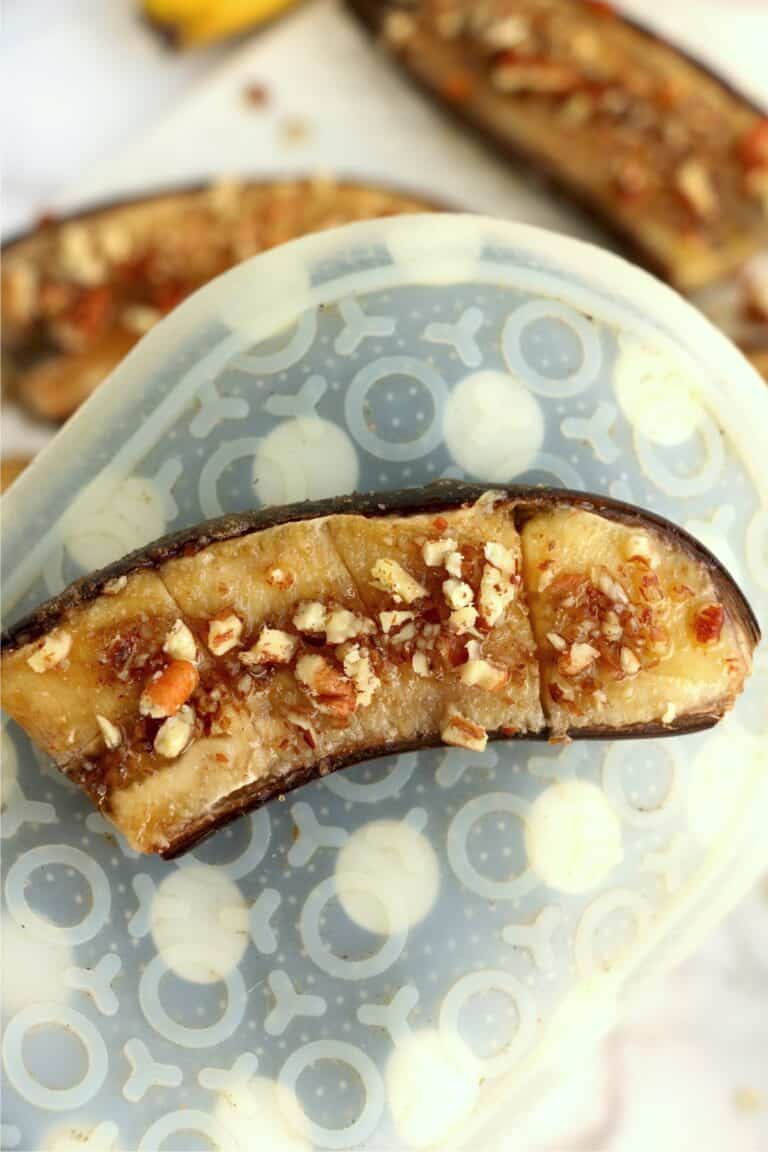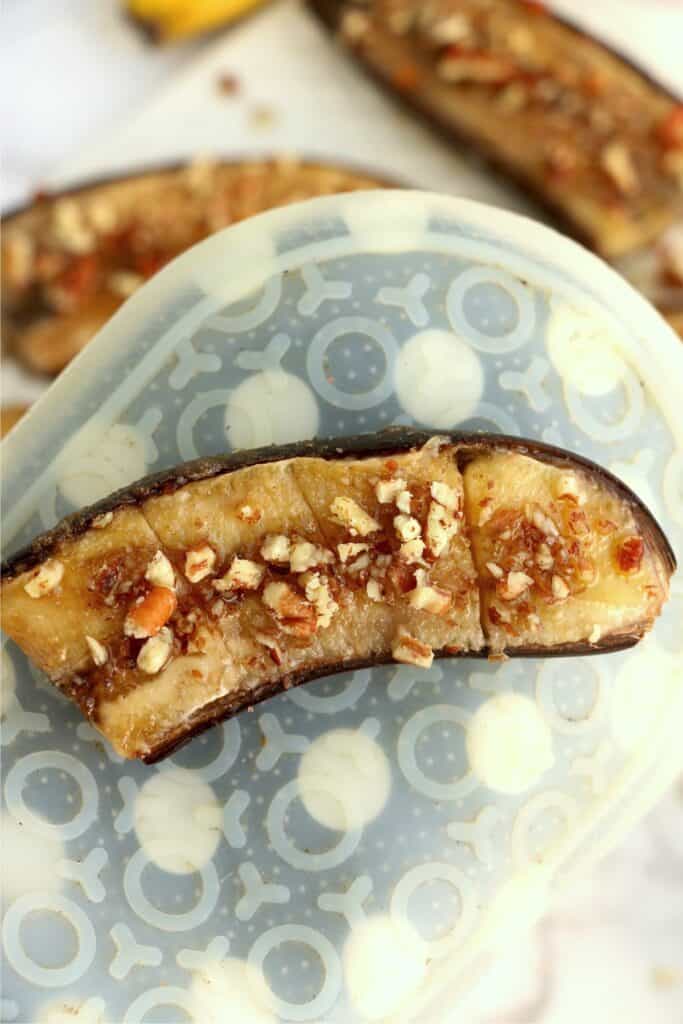 Substitutions and Variations
Use light or dark brown sugar for this recipe.
Try plantains for a new take on fried plantains.
Use any of your favorite chopped nuts.
Equipment
Measuring cups
Knife
Cutting board
Parchment paper
Air fryer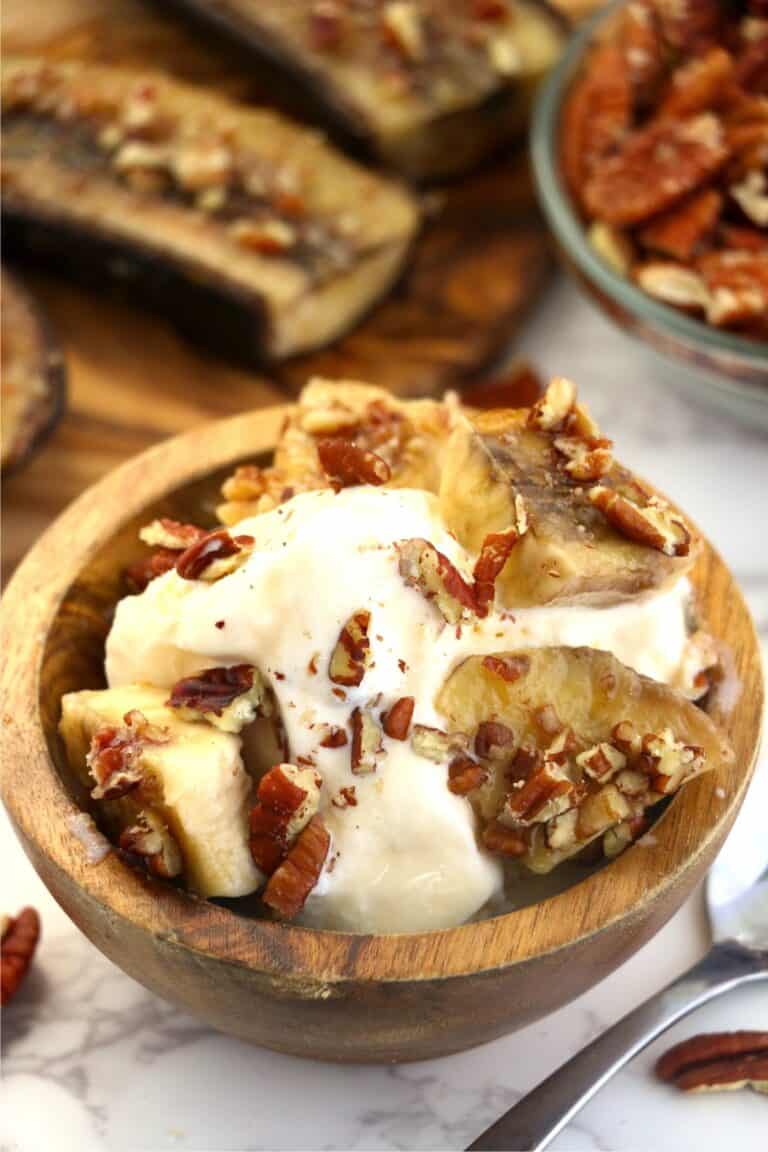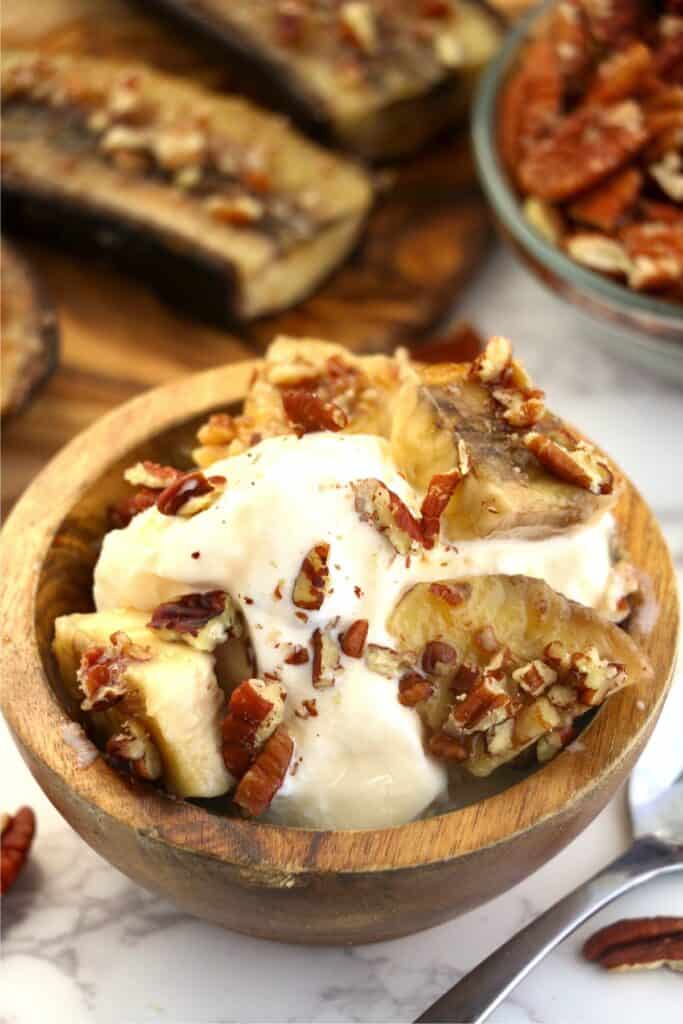 Storage
Refrigerator: Store in an air-tight container for up to 3 days.
Freezer: Freeze for up to 3 months in an air-tight, freezer-safe container.
Reheat: Microwave these bananas at 15-second intervals until hot.
Make Ahead: These bananas are just as delicious when reheated, so feel free to make them a couple of days in advance or make extra to freeze for later.
What to Serve with Fried Bananas
These delicious bananas are so good on ice cream or even when added to something like this ice cream sandwich cake. I also love to serve them as a dessert after my famous air fryer pizza grilled cheese. They're delicious with pretty much anything, honestly.
Tips:
Always preheat your air fryer for even cooking.
It's important to spray your bananas with nonstick spray so the brown sugar sticks.
Be careful when removing the bananas from the air fryer, as they will be very hot.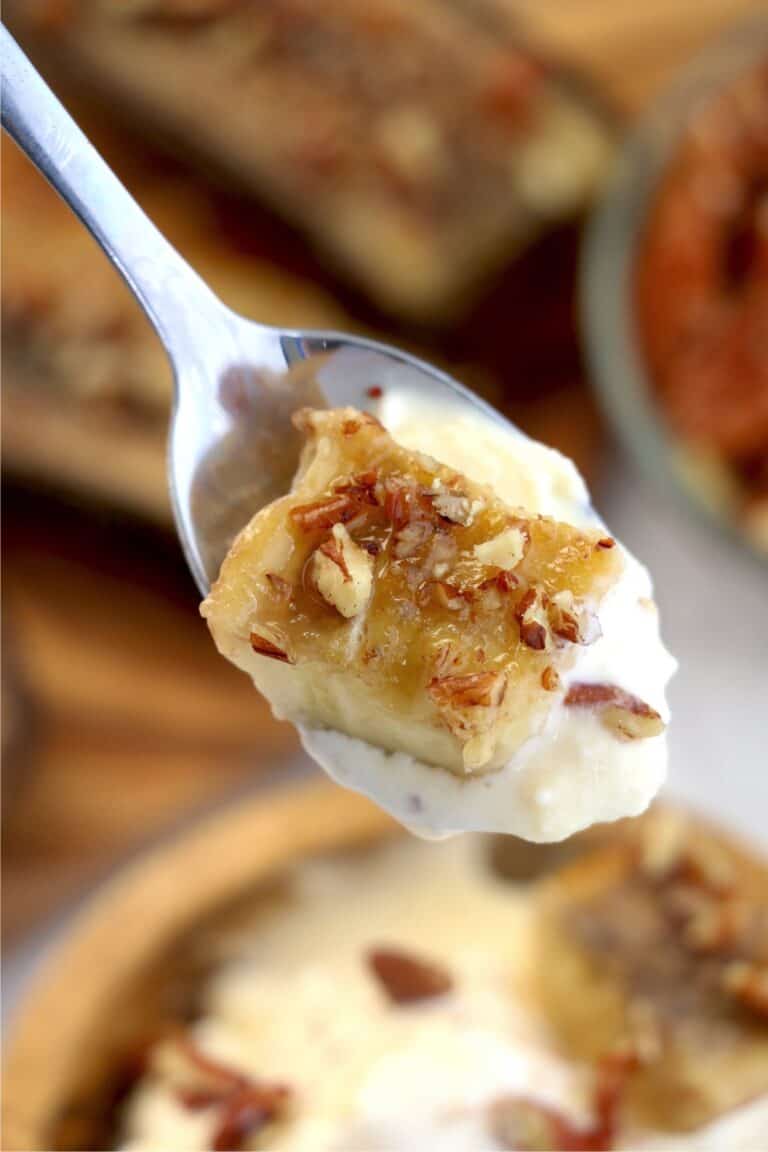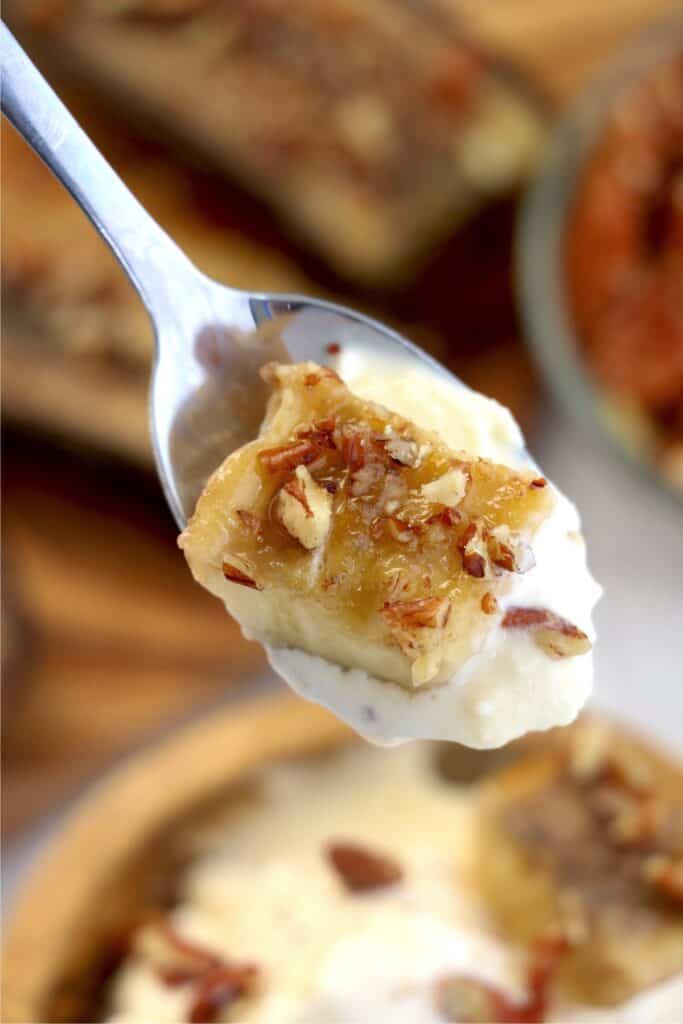 FAQ
Where do fried bananas come from?
They're a product of the Philippines. It's said that bananas were first fried in Philippino communities located near banana trees and crop fields. They fried the extra bananas that were given to locals.
Are fried bananas healthy?
Usually not. They're often fried in oil, and of course, they have extra sugar. Because these are air fried, they're a bit better for you than traditional fried bananas.
Are bananas and plantains the same?
No, although they look similar. Platinas are larger and starchier. When ripe, they're sweeter than bananas. However, they are not sweet at all if they're on the green side, unlike bananas which have a certain amount of sweetness even before they full ripen.
Can you use plantains in place of bananas?
You can, but the flavor will be a bit different, although still good.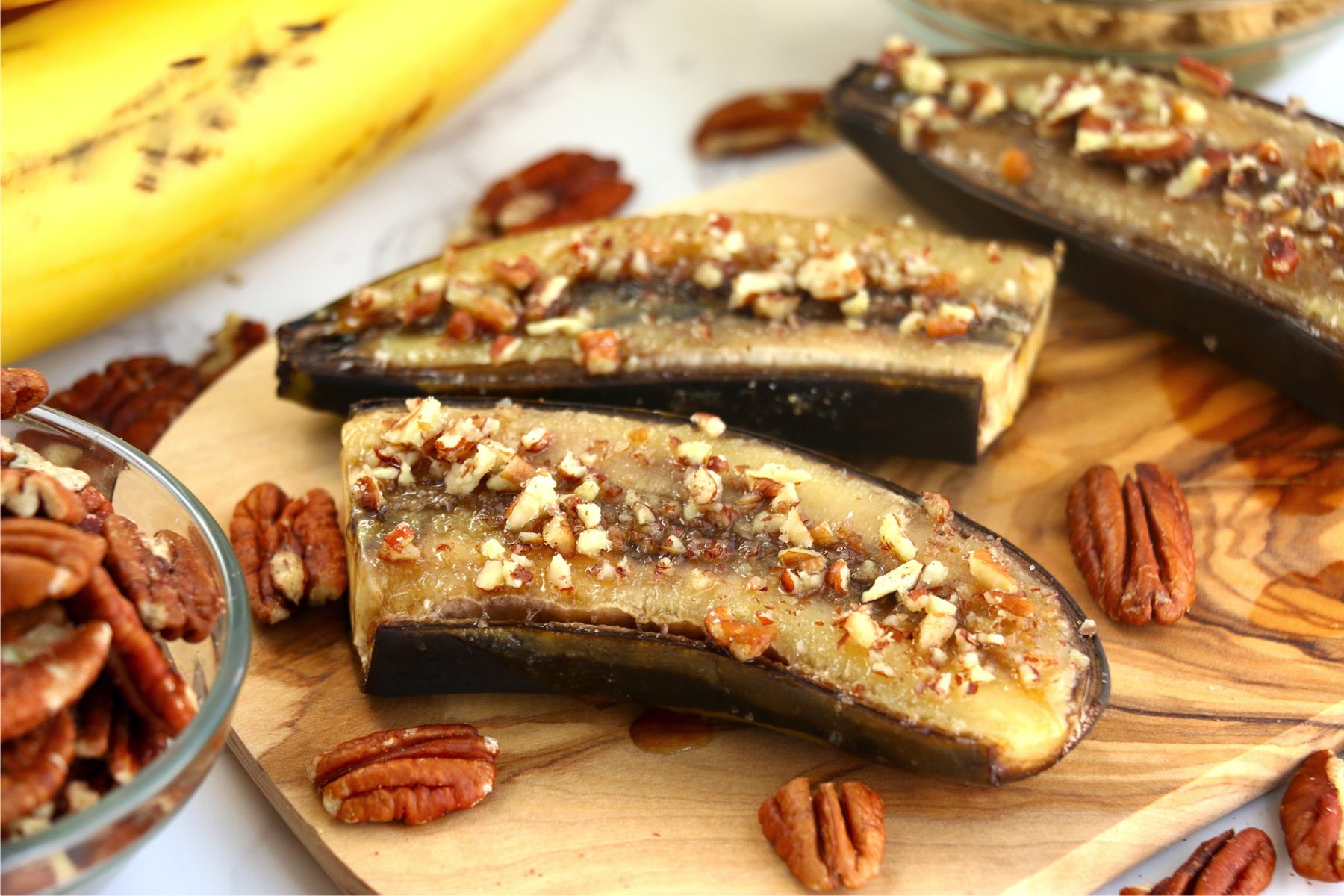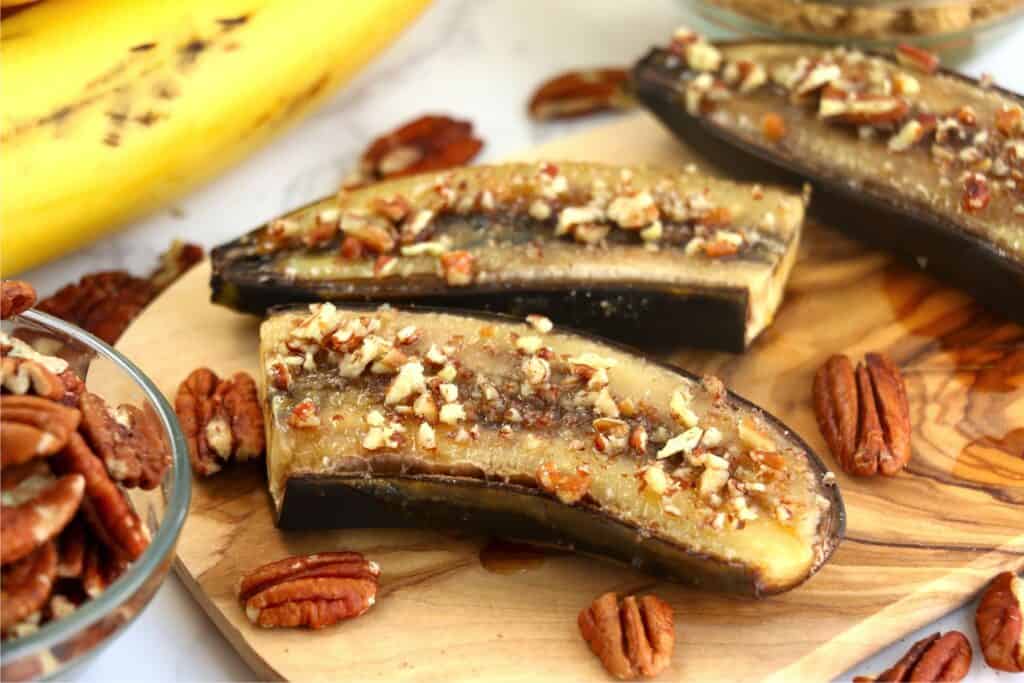 More Sweet Treats
Yield: 8 servings
Air Fryer Bananas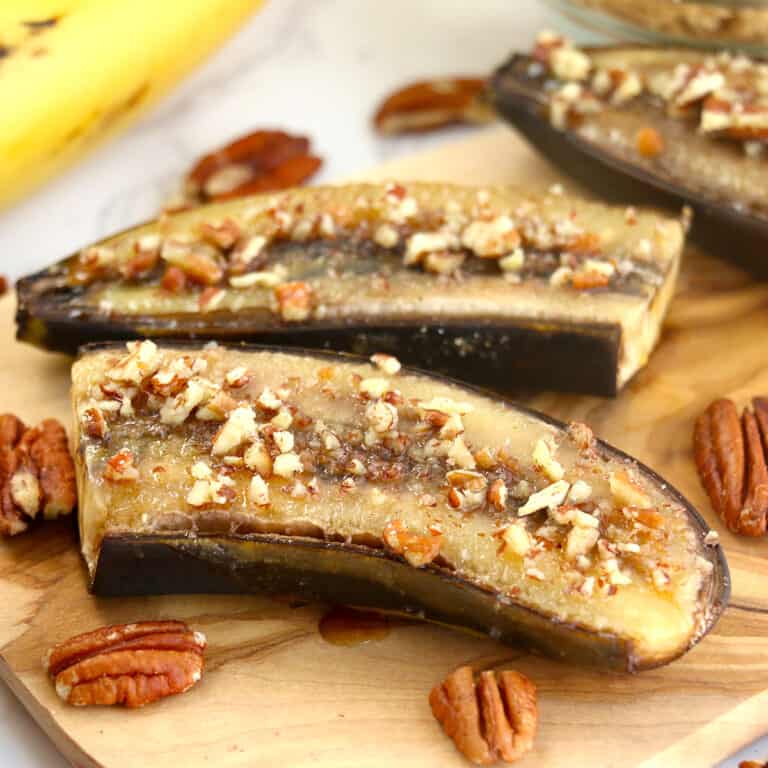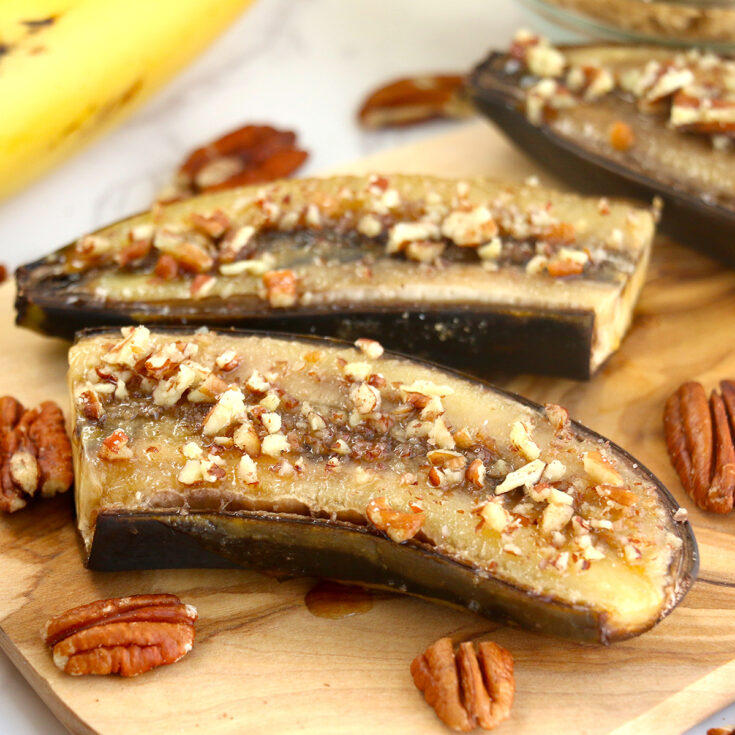 These air fryer bananas are easy to make and so sweet and delicious. Bananas are topped with brown sugar and chopped nuts. Yummy!
Ingredients
3 bananas, sliced in half lengthwise and widthwise while still in the peel
¼ cup brown sugar
¼ cup chopped pecans
Instructions
Preheat air fryer at 350ºF for 5 minutes.

Line air fryer basket with parchment paper and spray it cooking spray.

Spray the bananas with cooking spray.

Press brown sugar onto bananas.

Place prepared bananas in air fryer basket.

Air fry for 7-9 minutes or until brown sugar is melted and beginning to crystalize.

The bananas and brown sugar will be VERY HOT. Carefully use a tongs or silicone oven mitts to remove them from the air fryer basket.

Sprinkle pecans on top.

Carefully remove the bananas from the peel and serve them over ice cream.
Nutrition Information
Yield
8
Serving Size
1
Amount Per Serving
Calories

85
Total Fat

3g
Saturated Fat

0g
Trans Fat

0g
Unsaturated Fat

2g
Cholesterol

0mg
Sodium

2mg
Carbohydrates

16g
Fiber

1g
Sugar

11g
Protein

1g
Get Inspired!
Never miss my delicious recipes, cute creations, or household tips!