Chocolate Pecan Clusters are a sweet, simple dessert made with 4 ingredients. Quickly made in the microwave, they are a perfect treat!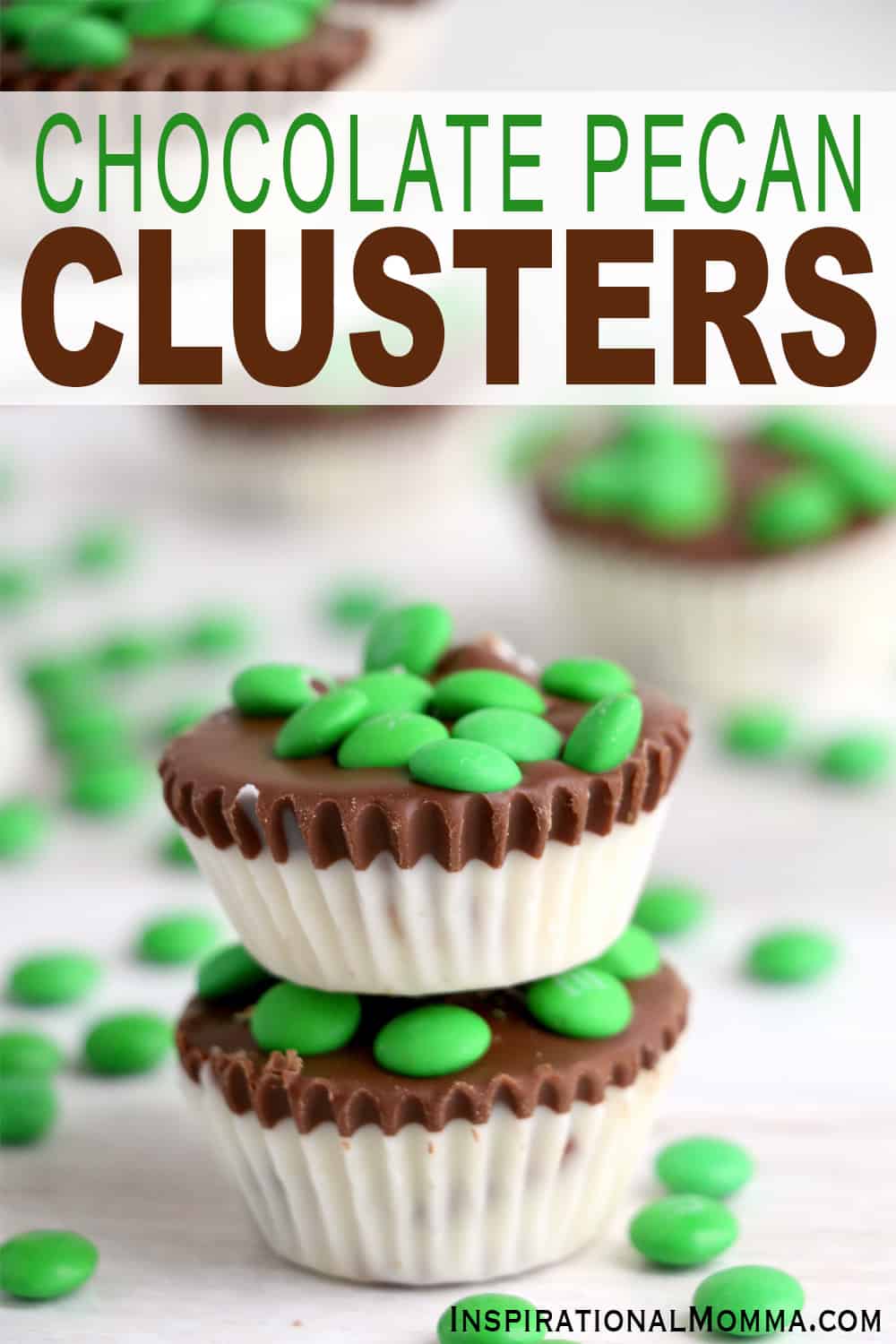 Chocolate Pecan Bites
These are simple, sweet treats that are perfect for any occasion. Made with just 4 ingredients, they come together quickly and are sure to disappear. If you are looking for another easy dessert, check out my Peanut Butter Puppy Chow! Absolutely delish!
In our house, we are all about desserts. Rarely does a day go by that we don't have something sweet on the counter to grab and enjoy. Some of our favorites are Easy Popcorn Balls, Chewy Oatmeal Raisin Cookies, and No Bake Cookie Dough Bites! I will admit that this isn't the best for my diet, but resisting something sweet and delicious is nearly impossible for me.
As a mom and as a teacher, I like to find treats that I can make and take on-the-go easily. These Chocolate Pecan Bites are perfect for this. When I want to treat my students for a special occasion, these are so easy to hand out and they are conveniently individually wrapped in the muffin liners.
It is also fun to mix up the color of M&Ms that you use. The green M&Ms are a cute choice for upcoming St. Patrick's Day. Choose multi-colored for a fun birthday party! And let's not forget about the orange ones for your next Halloween party. The possibilities are endless, which makes this dessert a great choice any time of the year.
White Chocolate Pecan Clusters Recipe
This is such an easy recipe and is a nice twist on the traditional chocolate pecan turtle clusters you've made in the past.
These simple white chocolate pecan clusters hit that sweet spot and are a great treat to make ahead as they store well in an airtight container. You can also swap the nuts or even add raisins, cranberries and other candies. Customize to your heart's content!
Check out my quick, easy recipe below. I hope you enjoy them as much as we do!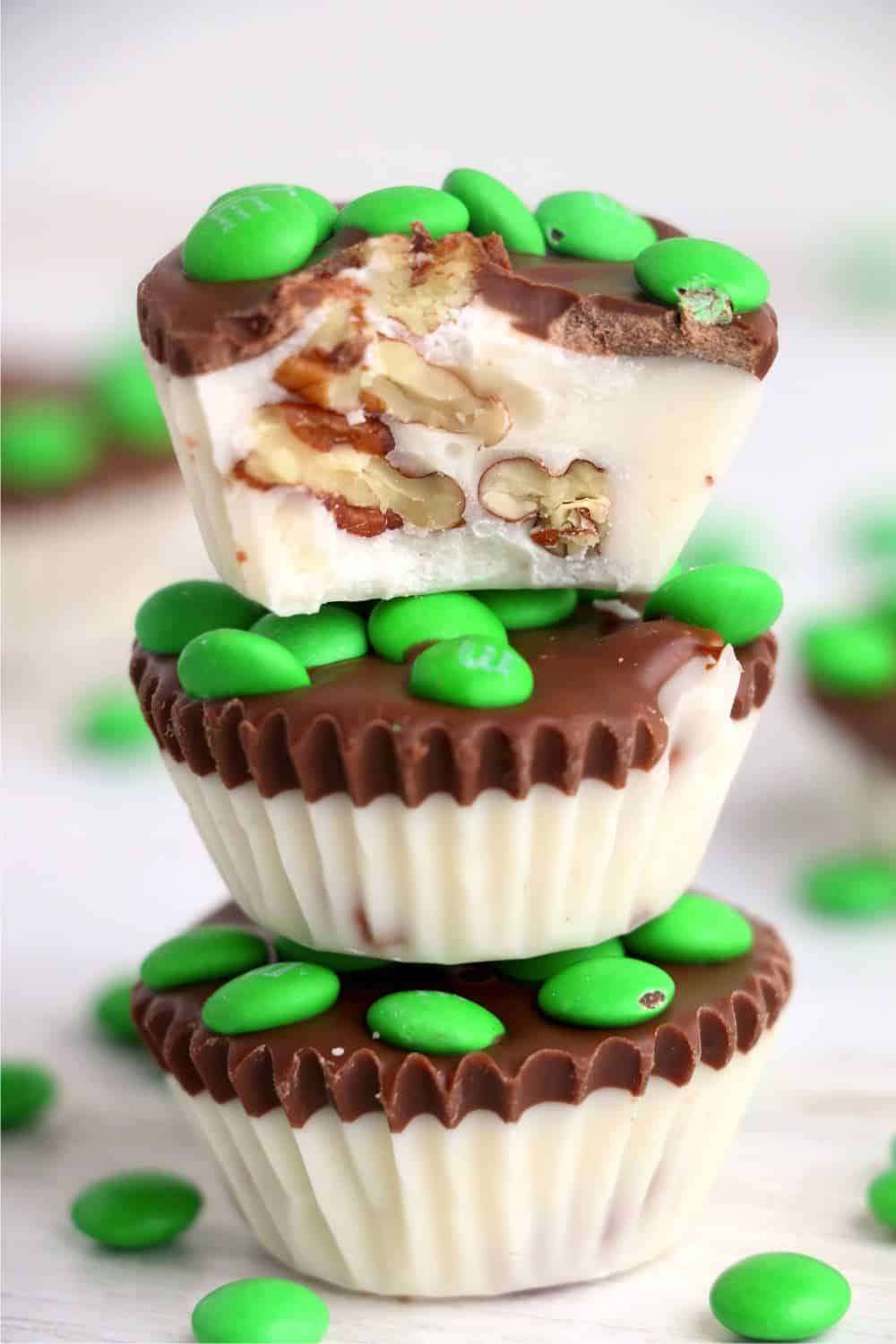 Ingredients for Chocolate Pecan Clusters
white chocolate chips
pecans
milk chocolate chips
M&Ms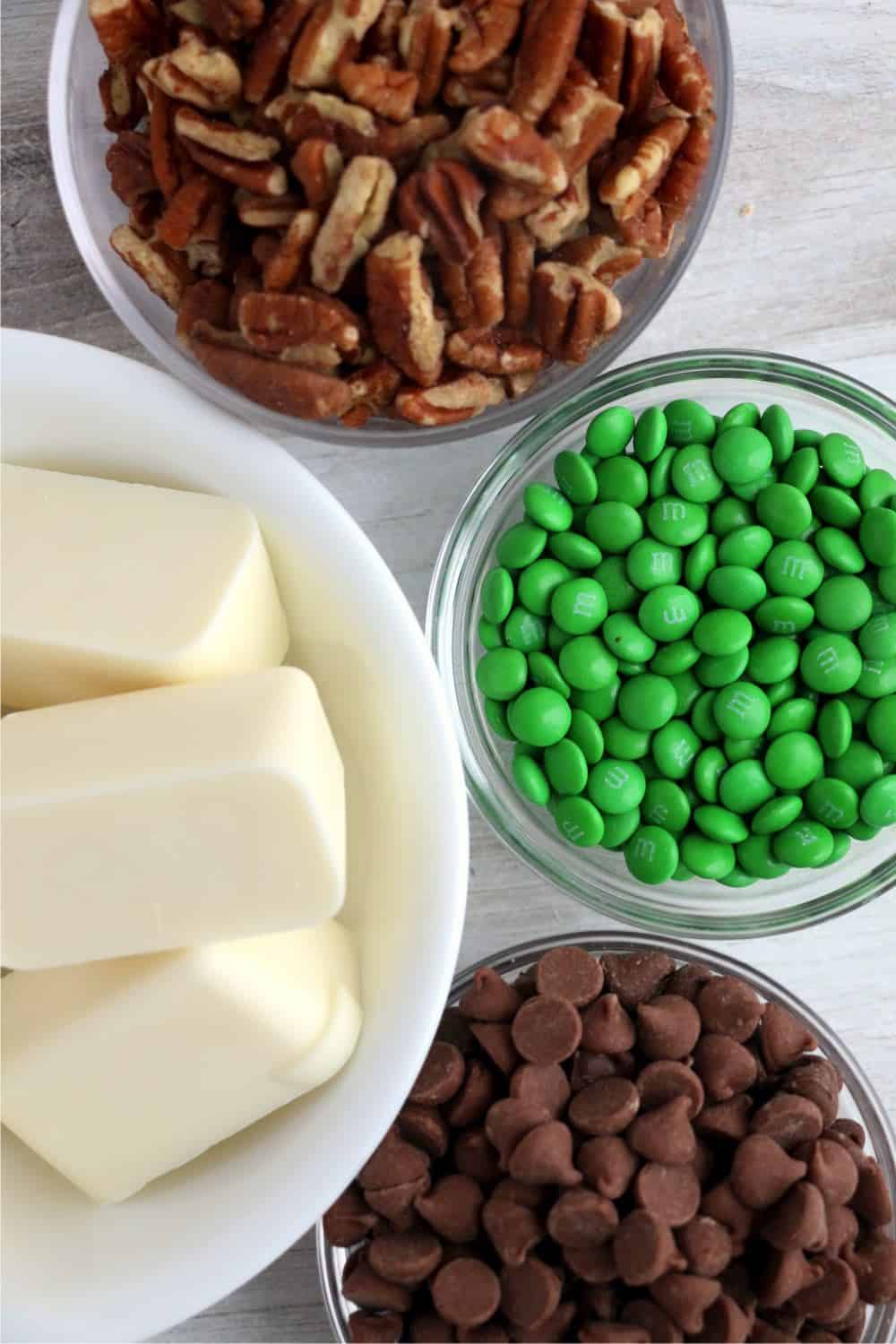 How to Make No Bake Chocolate Pecan Bites
To get things started, we need to prepare our mini muffin tin. Place liners in the tin and set it aside.
Next, we are going to put the white chocolate chips in a microwave-safe bowl. It is important to heat them 30 seconds at a time, stirring in between. Depending on the power of your microwave, you could easily scald them. If this happens, they will not make the smooth, creamy consistency that we need, and they will have a burnt taste.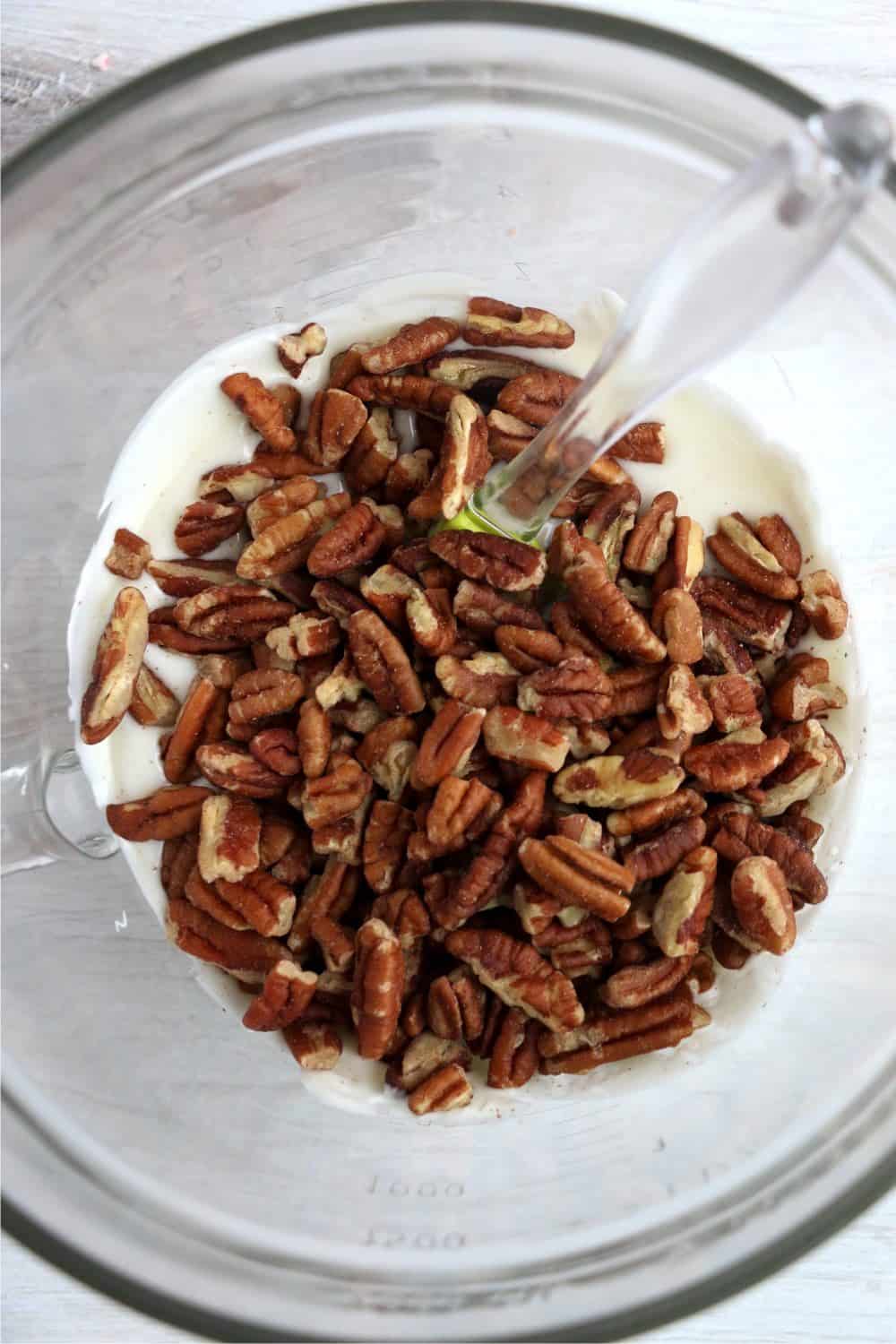 Now let's add those pecans!
Stir them in until they are all coated with the melted white bark.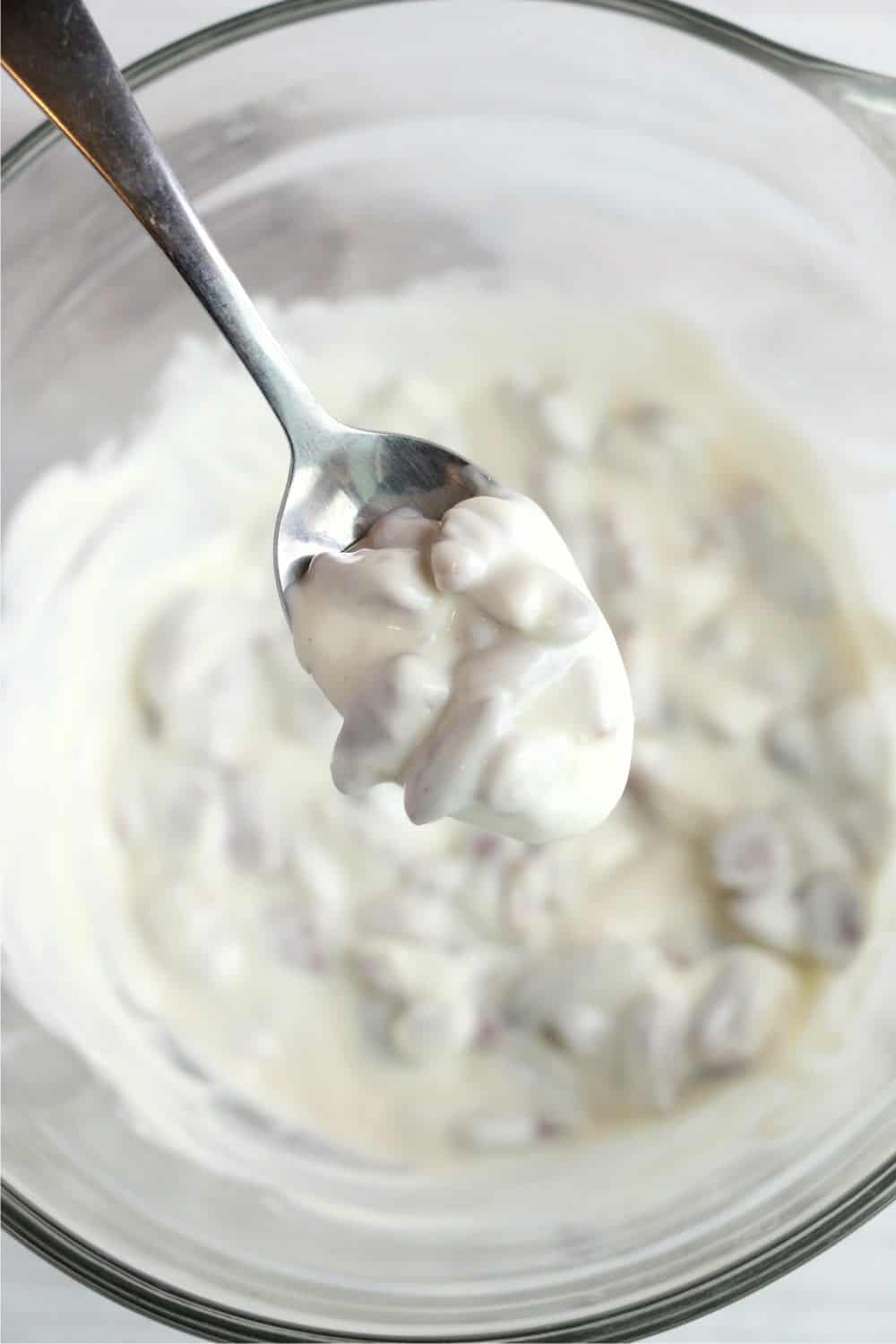 Grab your prepared mini muffin tin, and fill each liner about 3/4 full with the white chocolate pecan mixture.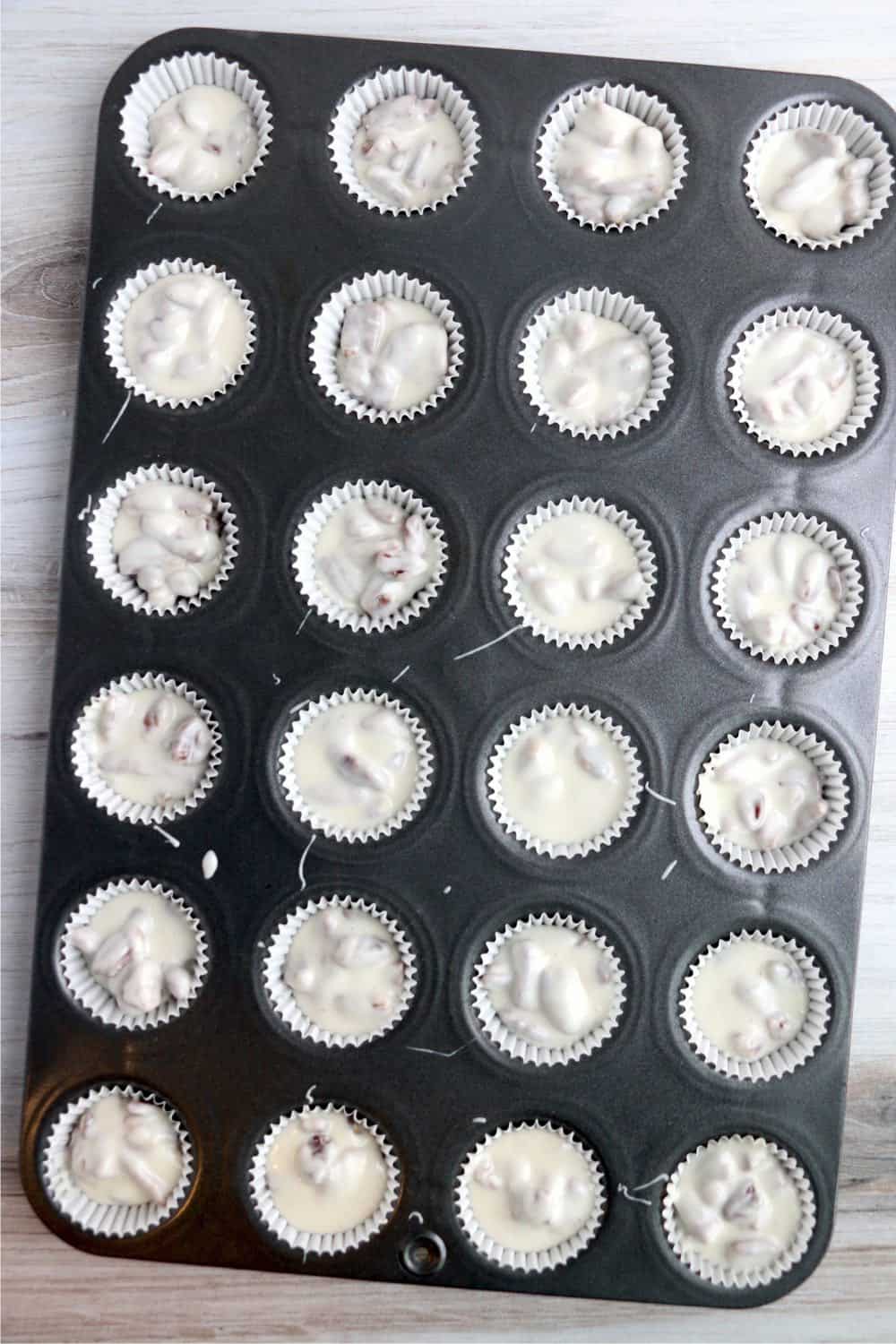 To allow the white chocolate to harden, place the pan in the refrigerator for about an hour. If you are running short on time, don't be afraid to use your freezer. Just keep checking to see if they are set. And if you are like me, in the middle of a Wisconsin winter, it is always convenient to use God's refrigerator...the good old outdoors!
When the bottom layer is hardened, it is time to prepare your chocolate chips. In a small microwave-safe bowl, melt milk chocolate chips in 30-second intervals, stirring often.
Using a spoon, spread a thin layer of milk chocolate over the pecan bites.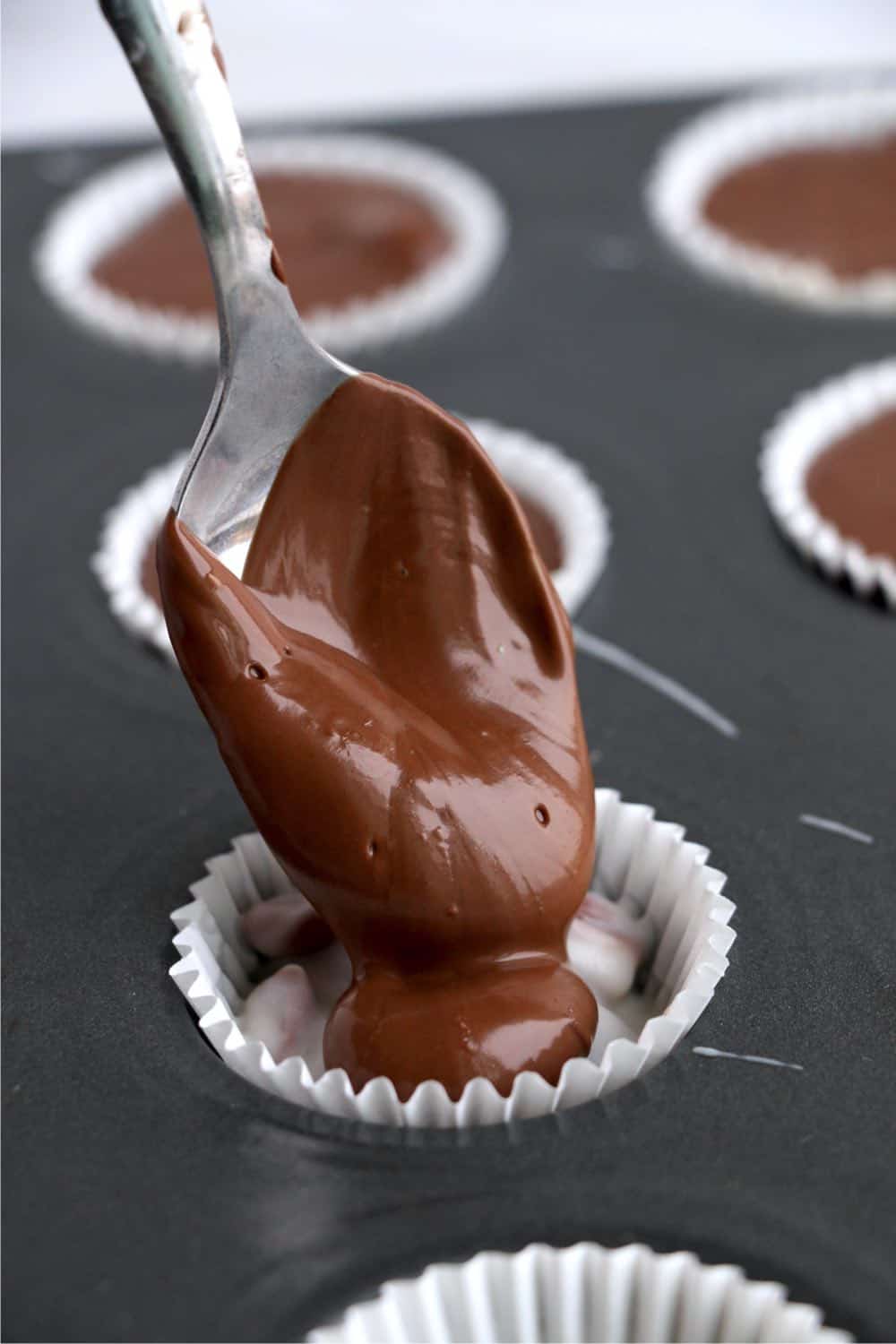 Chances are, they won't be covered completely. Gently shaking the pan should even out the chocolate perfectly.
And now for the finishing touch! Sprinkle M&Ms on top, creating bite-sized delicious masterpieces!
Once again, chill until the chocolate is hardened using your refrigerator, freezer, or that wonderful winter weather!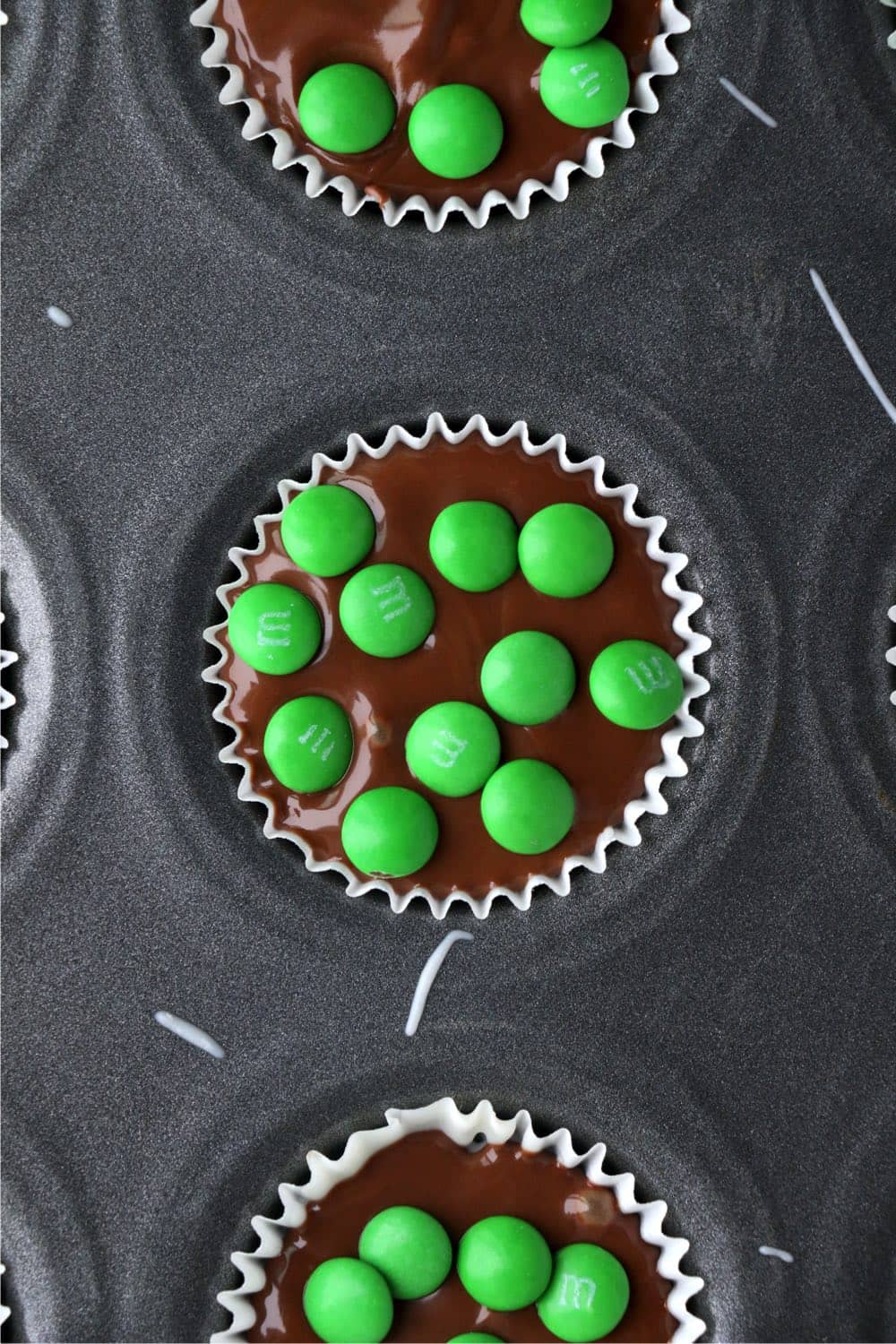 Once your Chocolate Pecan Clusters are set, gently pop them out of the muffin tin. These sweet treats travel well and are a perfect dessert to serve for an occasion!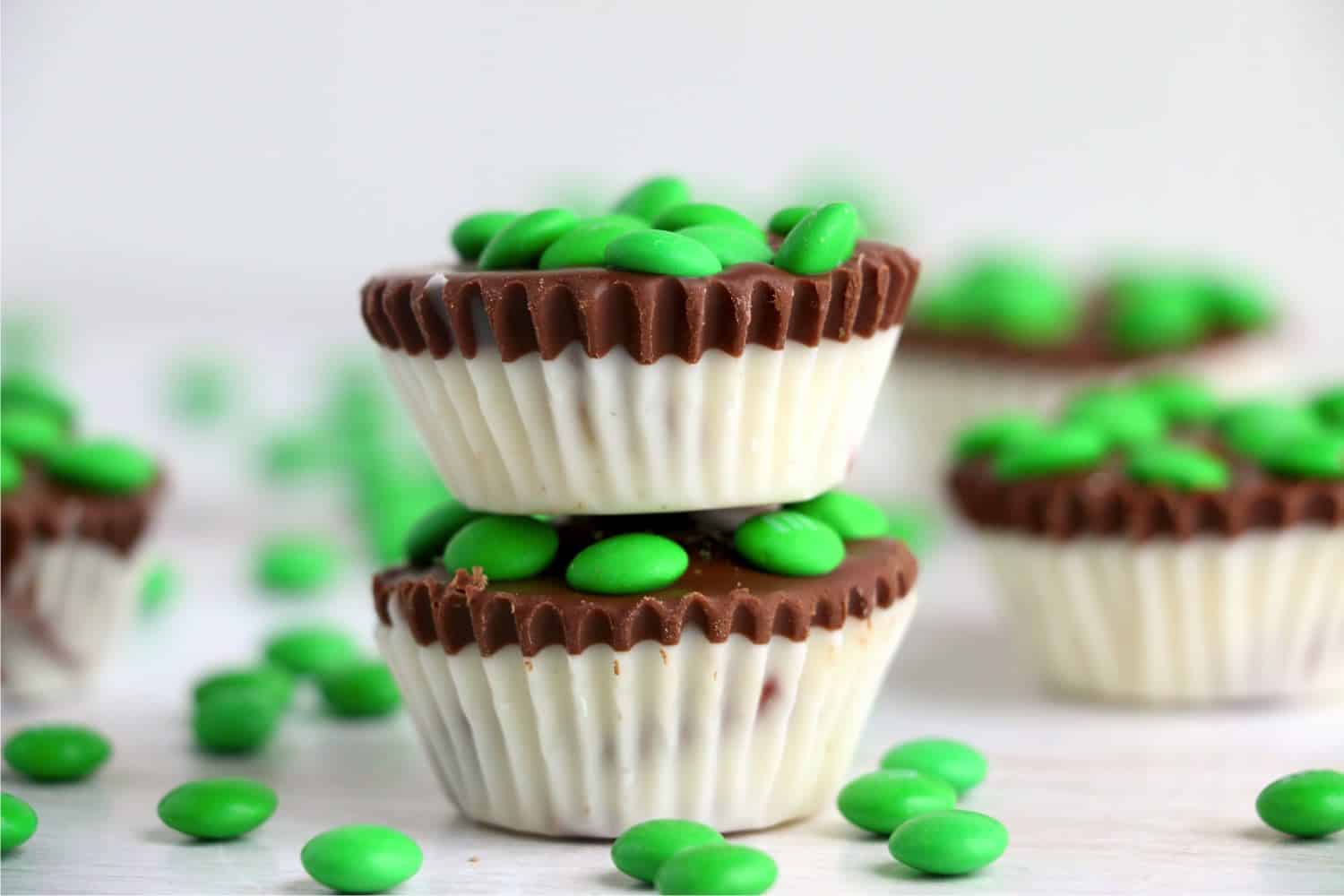 Love what you see?
Find more of my fun creations on Facebook, Instagram & Pinterest! You can also sign up for my weekly newsletter below and never miss any of my inspirations!
Can't get enough? Check out more of my favorites!
Yield: 24
Chocolate Pecan Clusters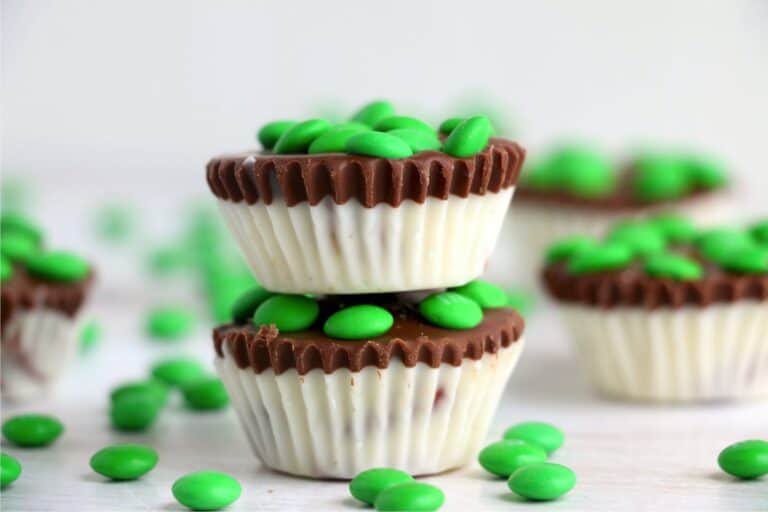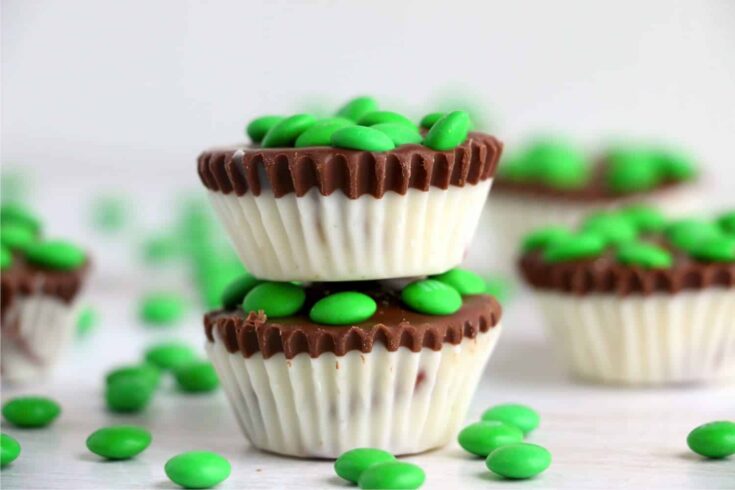 Chocolate Pecan Clusters are a sweet, simple dessert made with 4 ingredients. Quickly made in the microwave, they are a perfect treat!
Additional Time
1 hour
30 minutes
Total Time
1 hour
40 minutes
Ingredients
2 cups white chocolate chips

1 cup pecans

3/4 cups milk chocolate chips

M&Ms
Instructions
In a microwave-safe bowl, melt white chocolate chips in 30-second intervals.

Stir in pecans.

Fill mini muffin liners 3/4 full with mixture.

Chill for an hour and allow to harden.

In a small microwave-safe bowl, melt milk chocolate chips in 30-second intervals.

Spoon a thin layer of chocolate over bites. Shake the pan gently to even out the chocolate.

Add M&Ms on top.

Chill until chocolate is hardened.

Nutrition Information
Yield
24
Serving Size
1
Amount Per Serving
Calories

143
Total Fat

10g
Saturated Fat

4g
Trans Fat

0g
Unsaturated Fat

5g
Cholesterol

4mg
Sodium

18mg
Carbohydrates

13g
Fiber

1g
Sugar

12g
Protein

2g
Get Inspired!
Never miss my delicious recipes, cute creations, or household tips!