Sugar Cone Christmas Trees
Sugar cone Christmas trees are the perfect way to capture the joy of the holiday season. Sugar cones are frosted to look like Christmas trees and filled with delicious candies.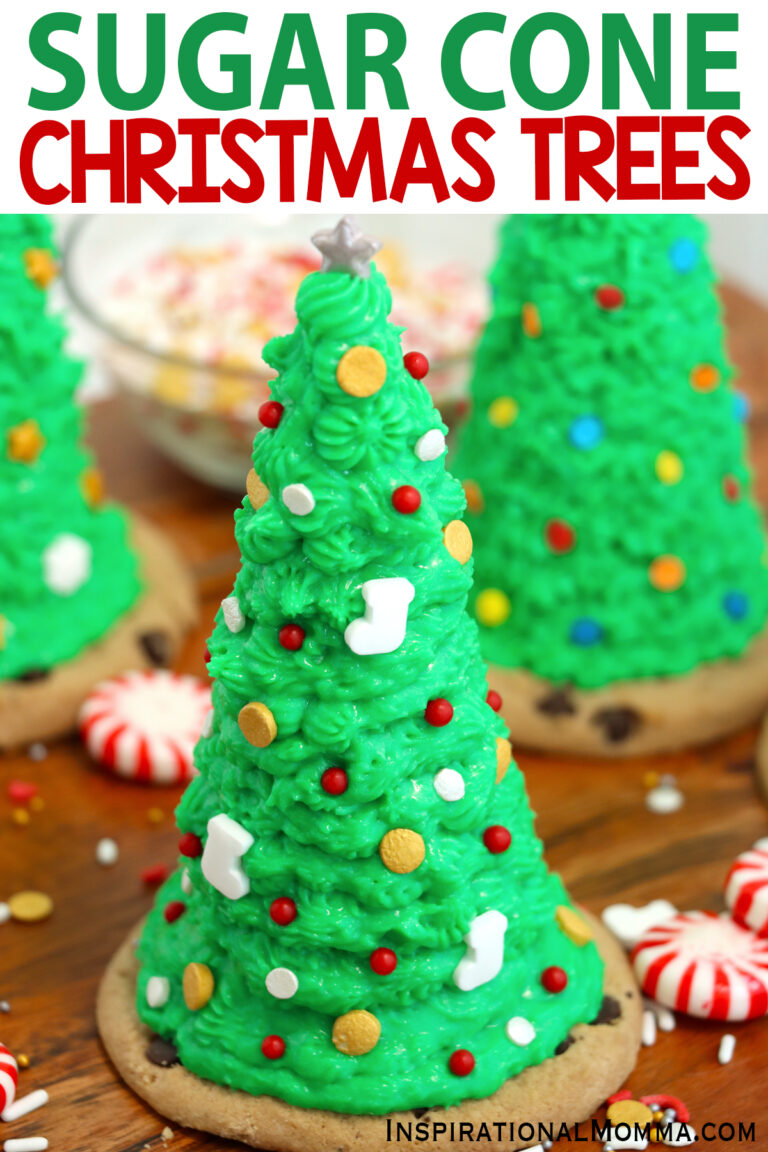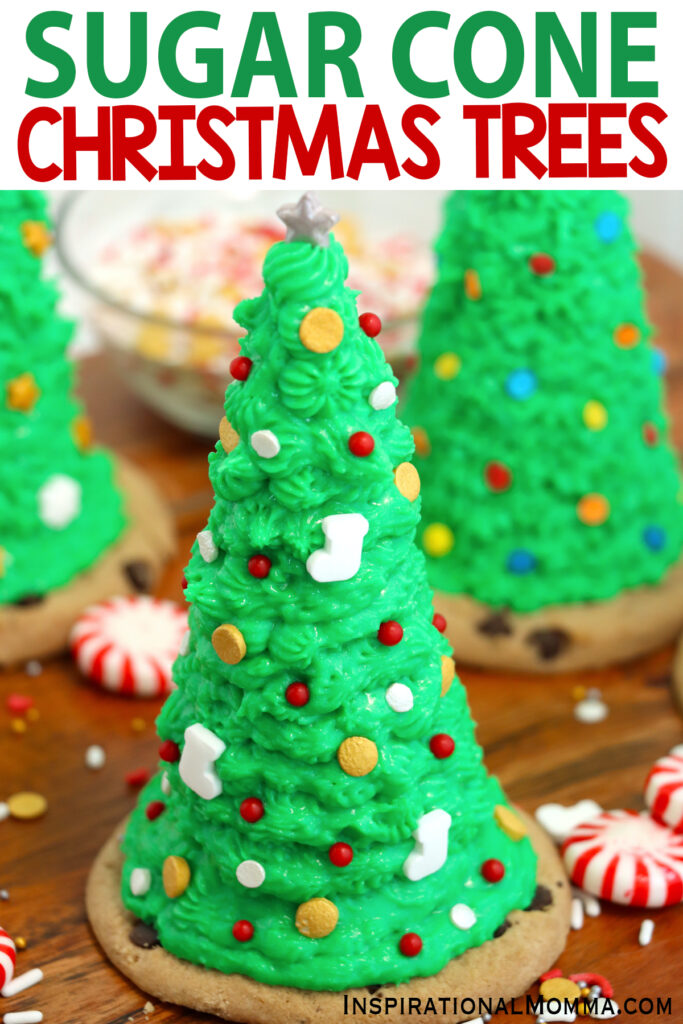 Christmas is my favorite holiday. I love the colors and the joyous vibe that comes with that time of year. And the tasty treats aren't bad, either!
As a child, I remember enjoying all kinds of delicious sweets for the holiday season, from sugar cookies to cakes, punch, and more. When I got older and had kids of my own, I wanted to keep that holiday treat feeling going, so I've always made some kind of special sweets for the season. Lately, these trees have been my favorite.
Easy Sugar Cone Christmas Trees
The thing I love about these trees so much is just how festive they are. I mean, they tick all the boxes. The frosting and sprinkles make them look just like Christmas trees. They sit on a chocolate chip cookie base (always a classic). Of course, they're also filled with candies that are perfect for the season!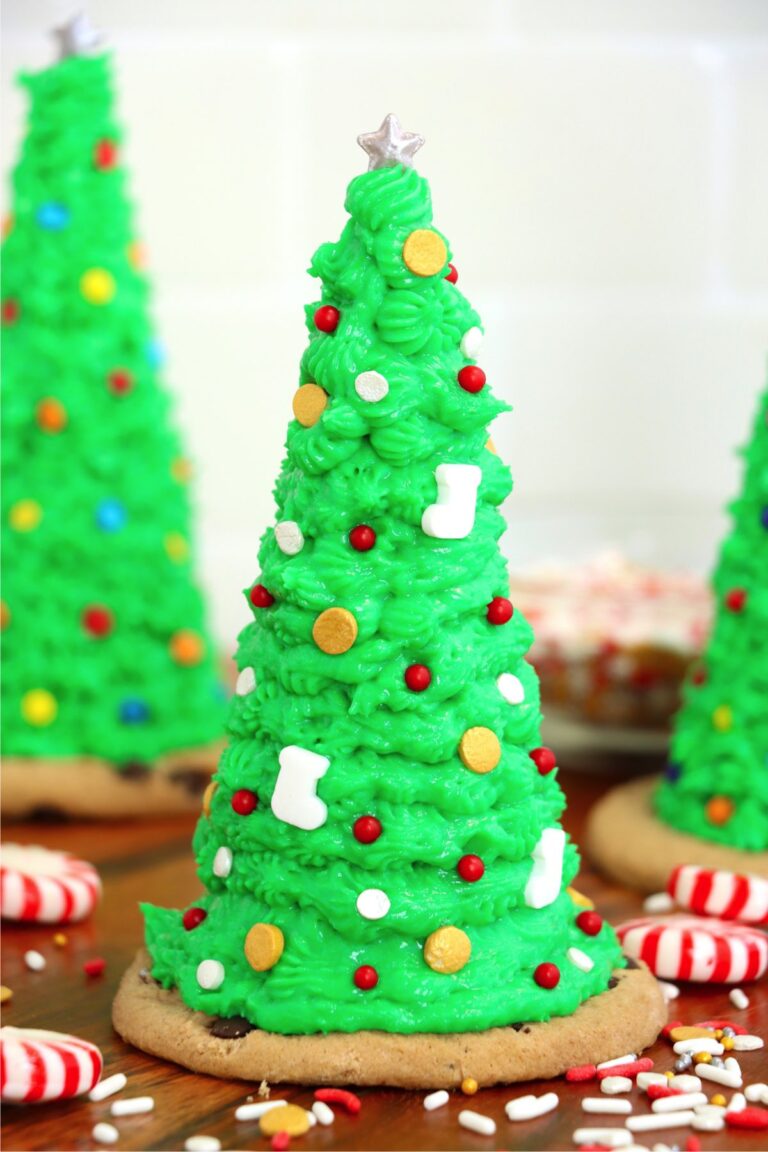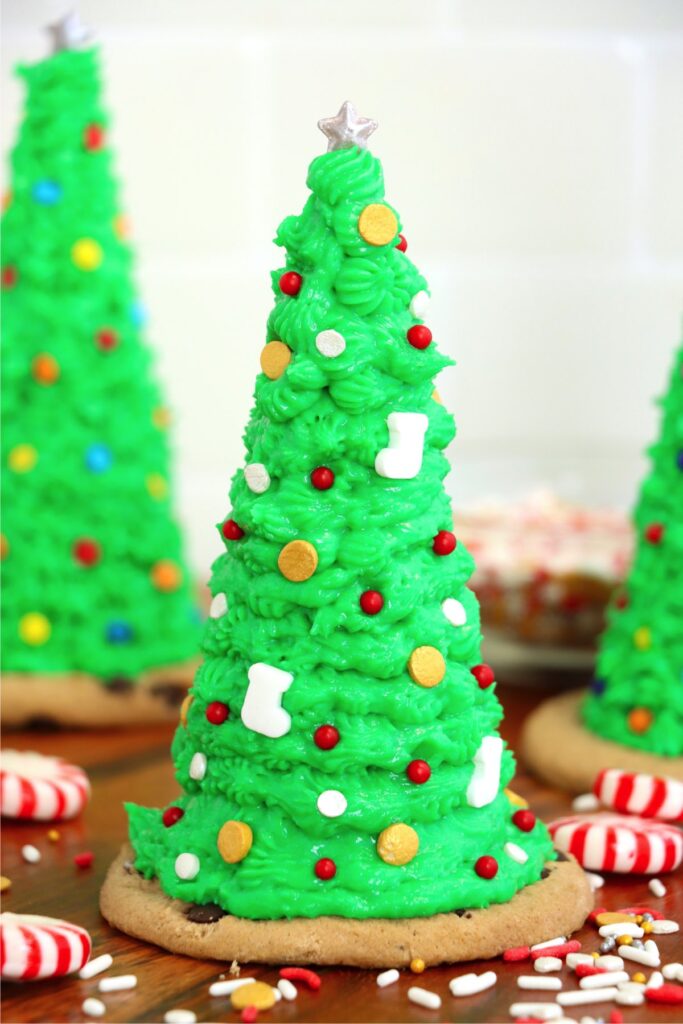 Why You'll Love This Recipe
It's super festive, and it really captures the magic of the season.
It's an easy recipe that comes together quickly.
Kids and adults alike will love it, and the tasty treats stuffed inside it.
Ingredients
This recipe uses simple ingredients that you can find easily at your local grocery store. Most of them are probably in your kitchen already.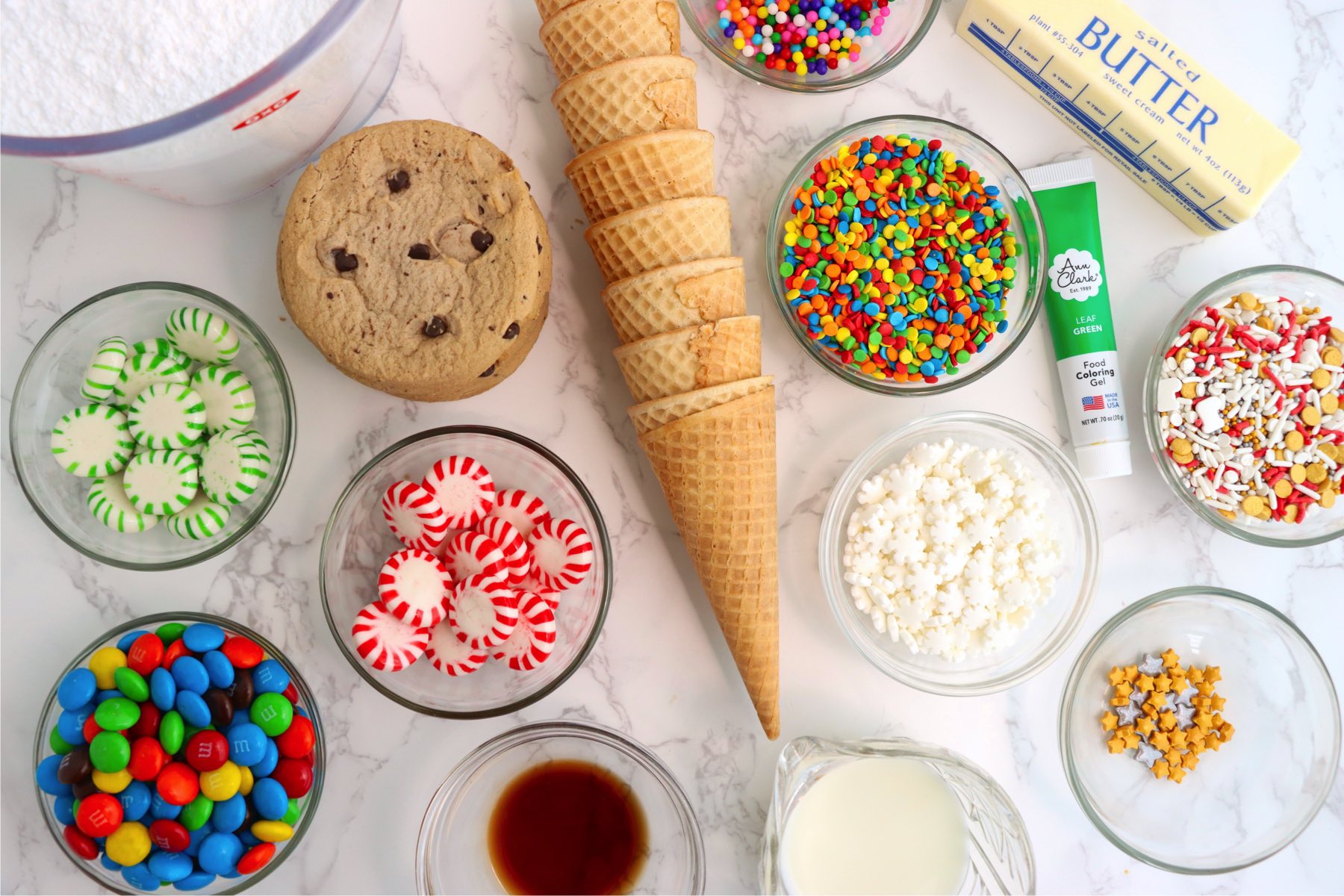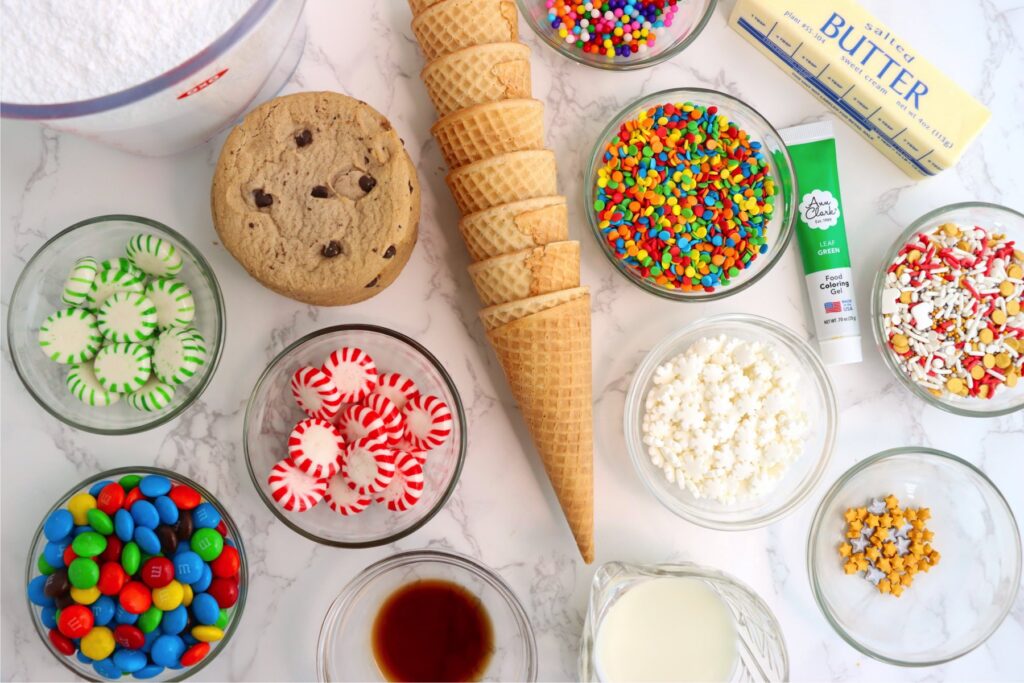 Buttercream frosting ingredients: Powdered sugar, butter, vanilla, and milk.
Sugar Cones: To make the tree body.
Cookies: For the base of the tree.
Candies: To stuff the inside of the tree.
Sprinkles: To make Christmas tree ornaments.
The full ingredient list complete with quantities is in the recipe card at the end of the post.
How to Make Sugar Cone Christmas Trees
Let's take a look at a simple overview of how to make this recipe. The really great thing about these trees is that they're so easy, the overview is pretty much the entire recipe, itself! You can find detailed instructions in the recipe card at the end of the post.
1: Combine the buttercream frosting ingredients and beat until smooth and creamy. Adjust thickness, adding milk to thin or powdered sugar to thicken.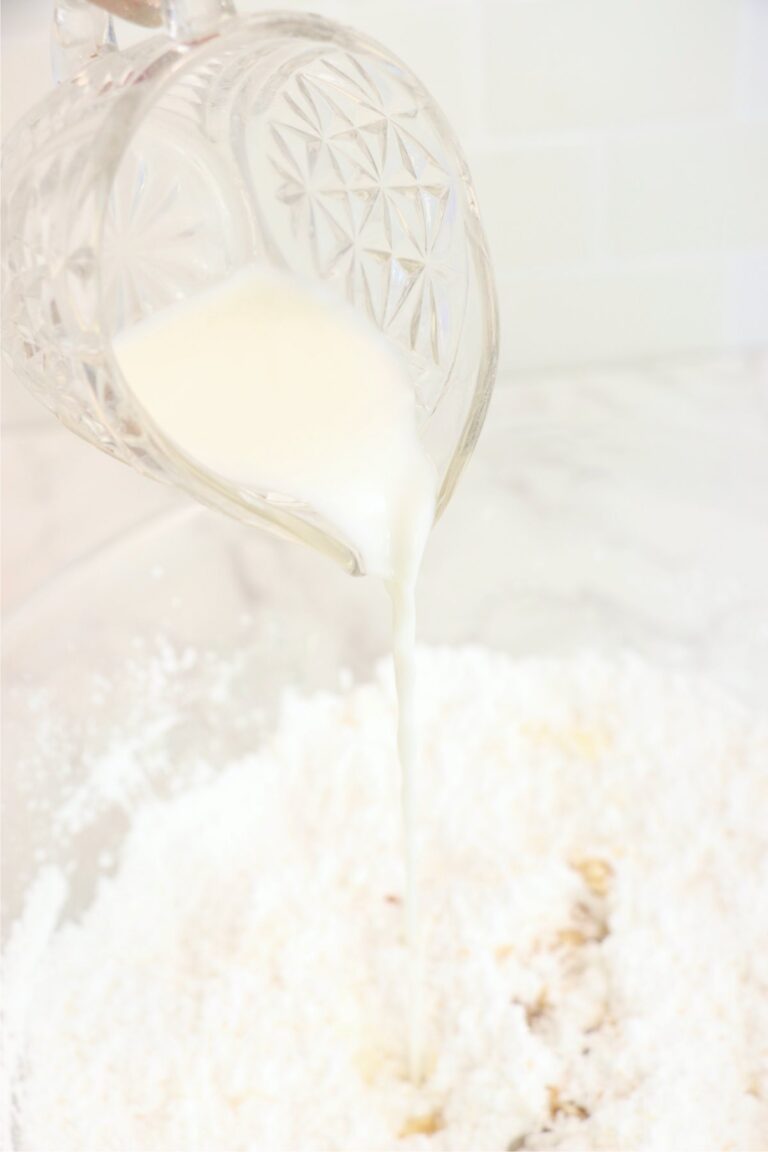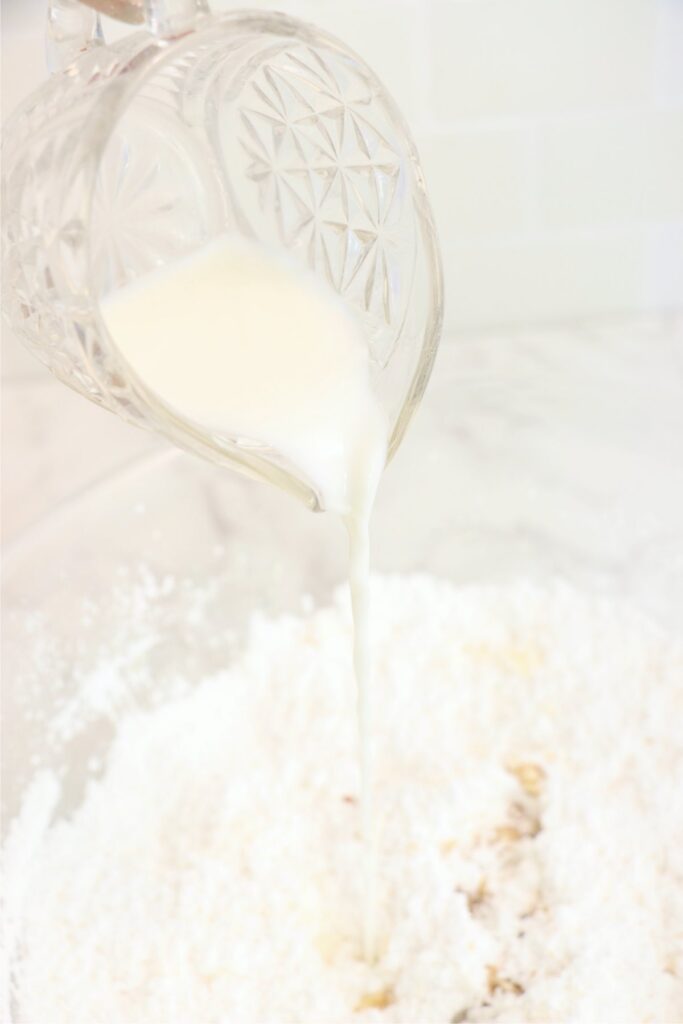 2: Add green food coloring gel to the frosting until the desired color is reached.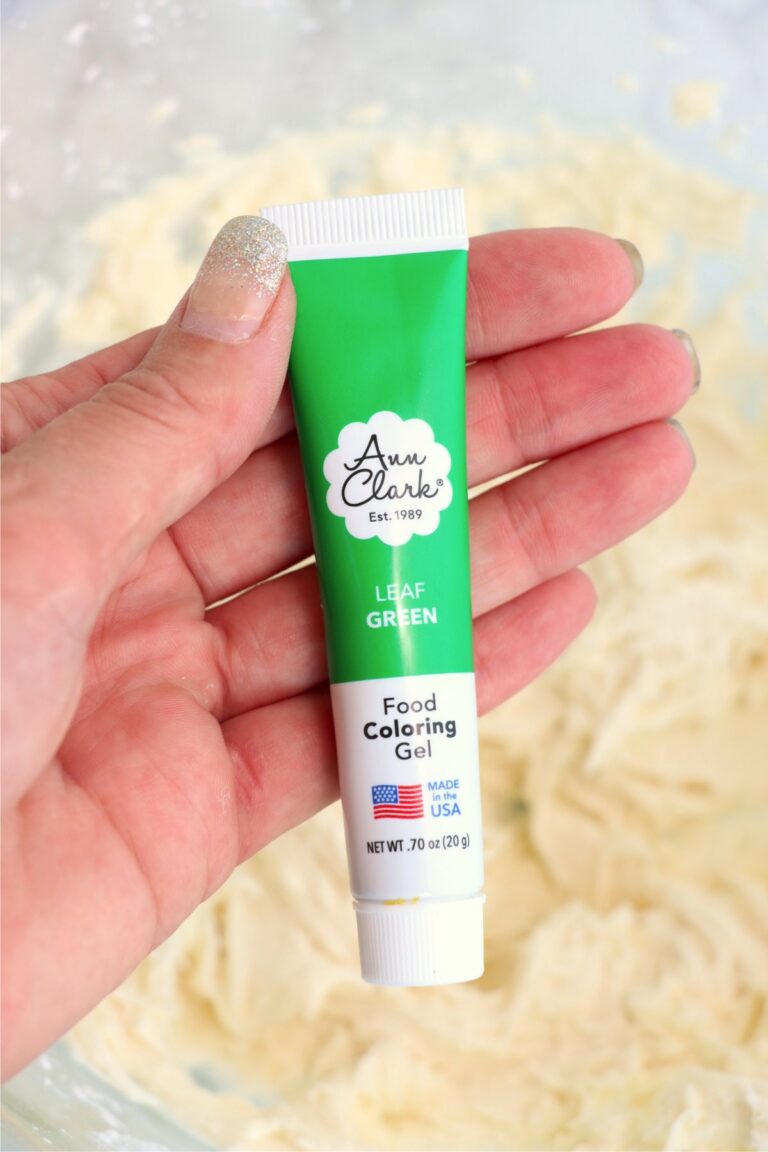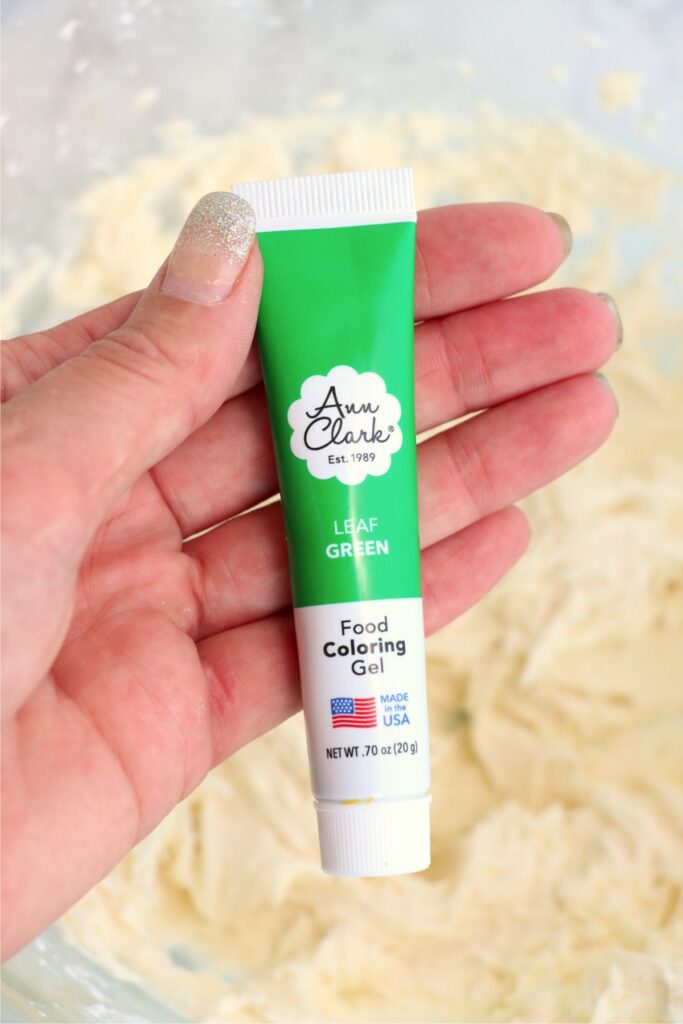 3: Fill each sugar cone with candies.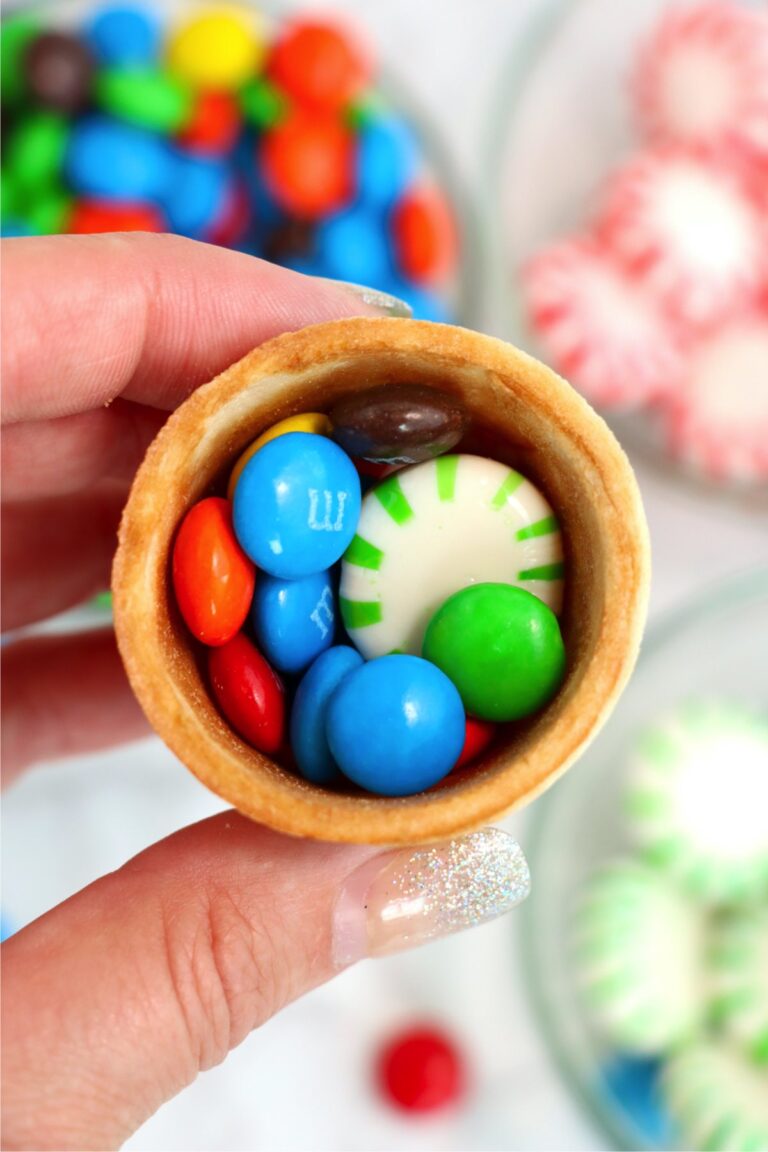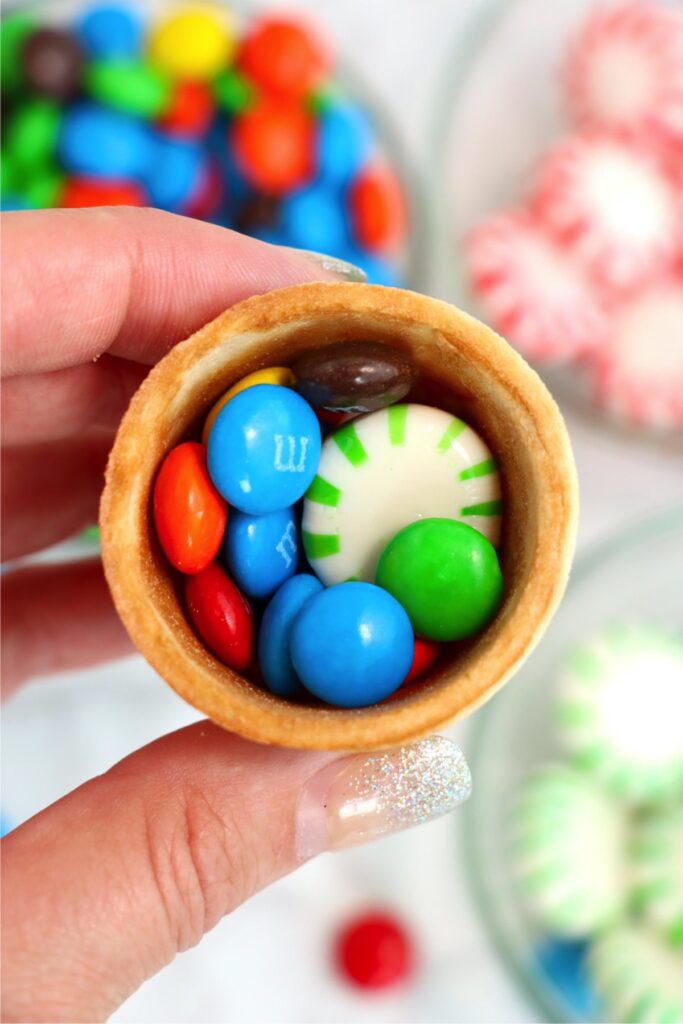 4: Place a cookie on top of the sugar cone, and invert it.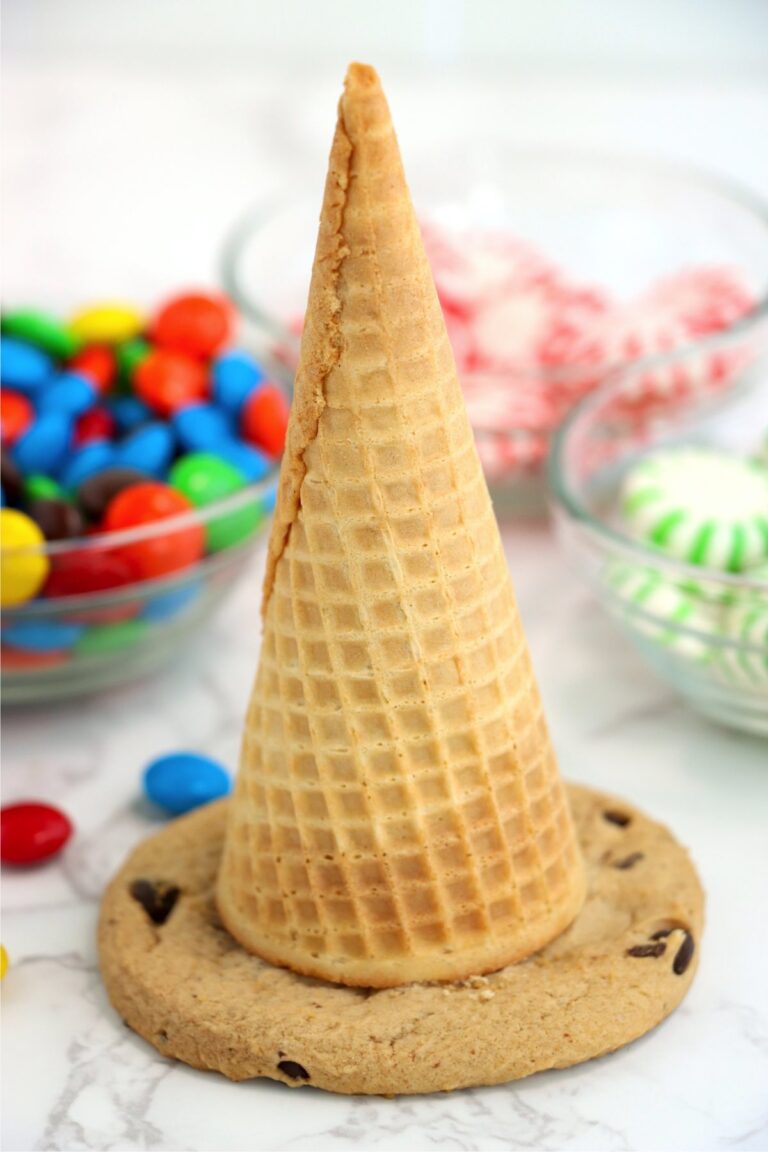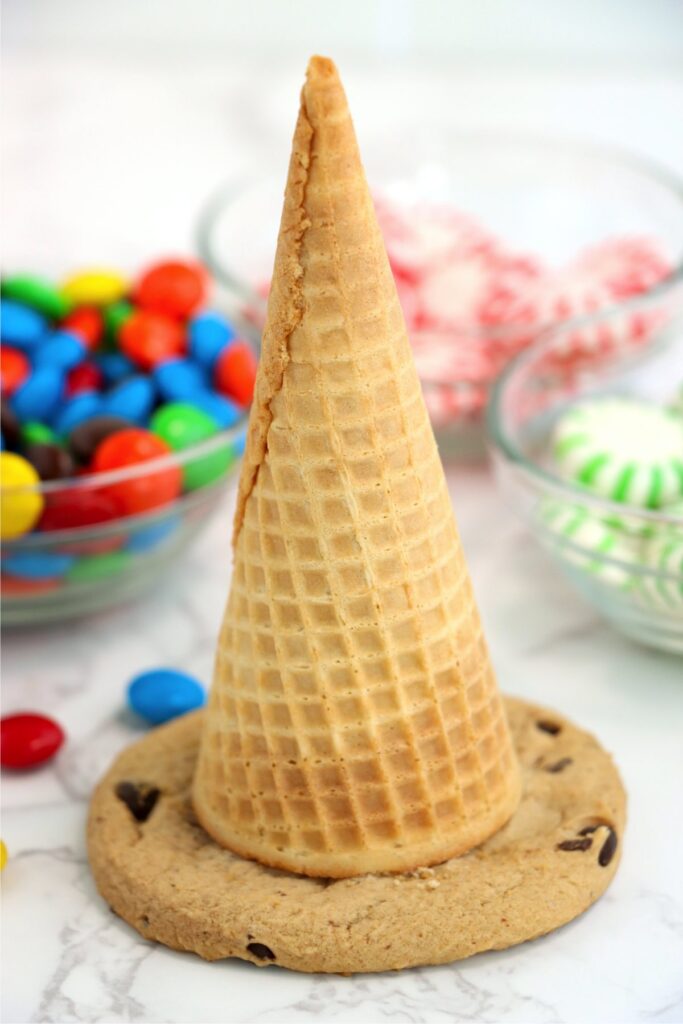 Step 5: Using a pastry bag with a star tip, pipe frosting onto the sugar cone and around the base where it meets the cookie.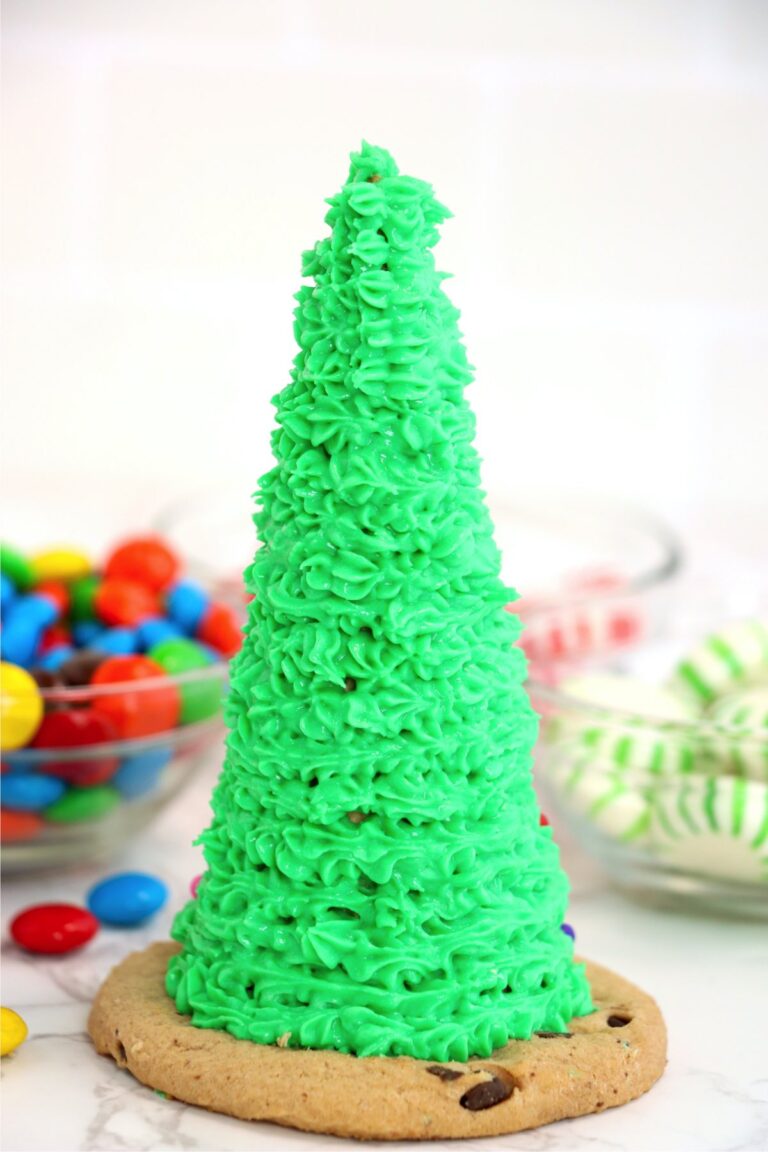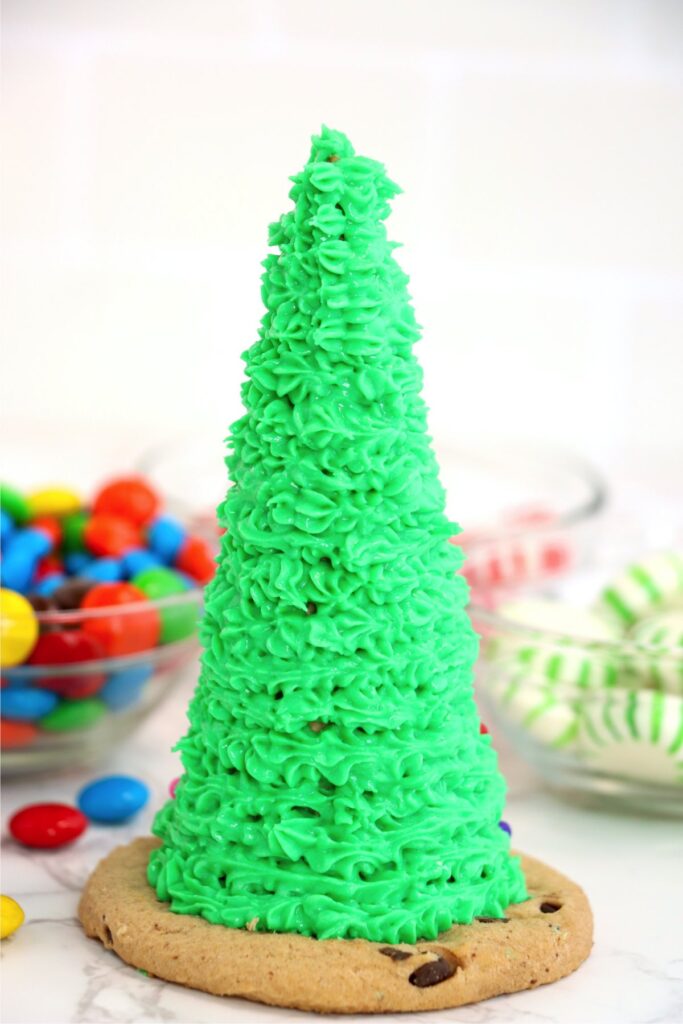 Step 6: Decorate with sprinkles to look like a Christmas tree.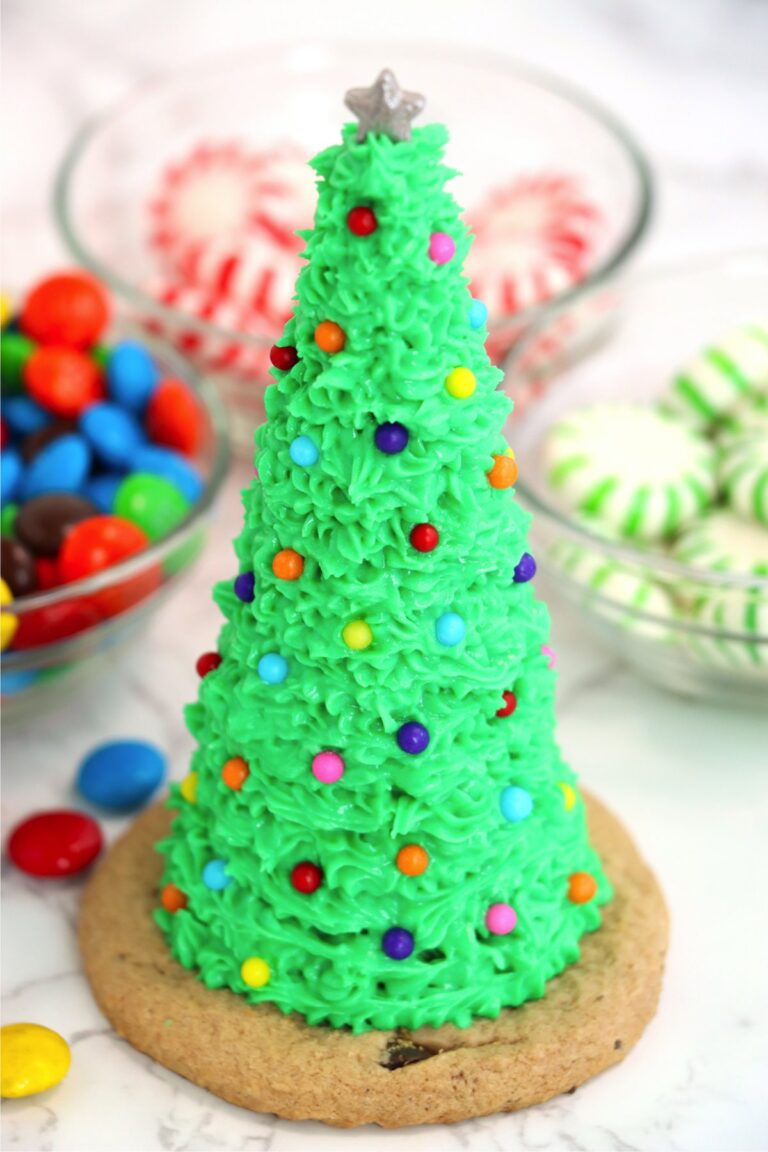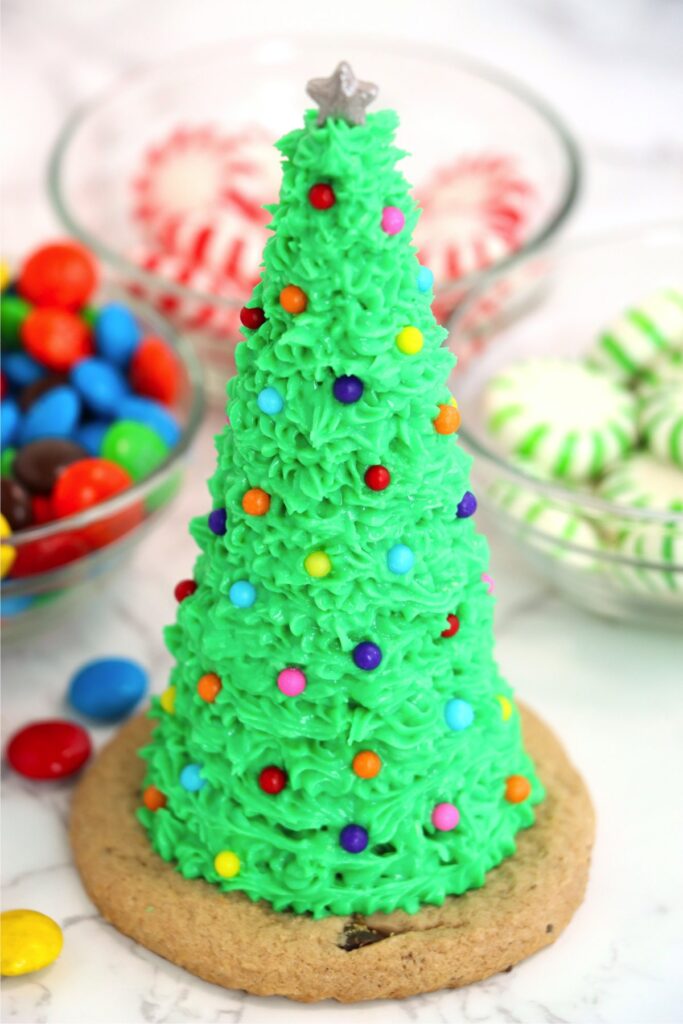 Substitutions and Variations
Cookies: Use your favorite cookies for the base of the trees. They all work.
Candies: Use any of your favorite candies to fill the trees, so long as they fit inside.
Premade frosting: You can use premade frosting if you like. Just add food coloring to it.
If you like this recipe, then check out these air fryer sugar cookies that you can use for their base, as well.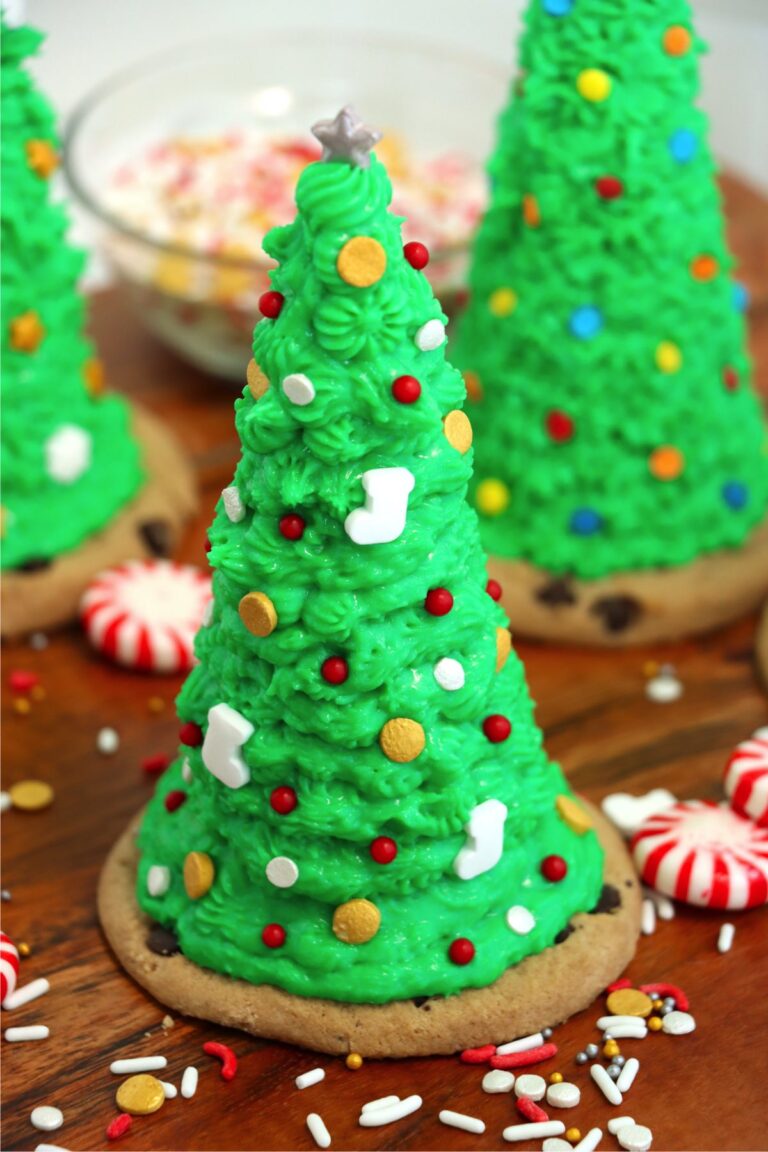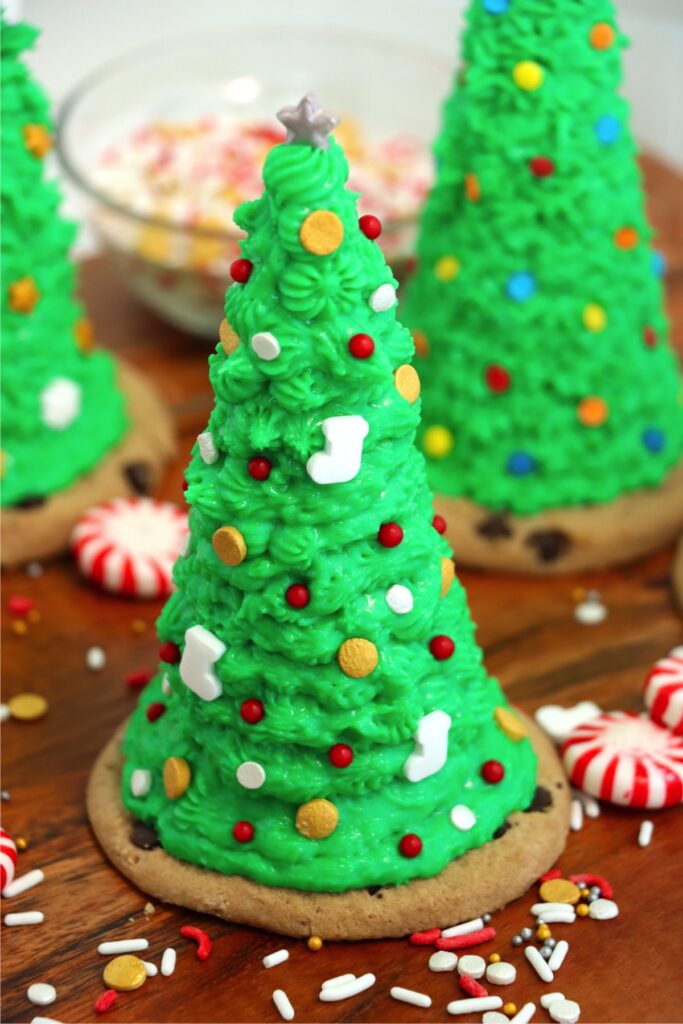 What to Seve with Sugar Cone Christmas Trees
These delicious, candy-filled trees are the perfect treat for any holiday gathering, and they make a great dessert or snack after your main holiday meal. You can also add it to a special dessert table to capture even more holiday festiveness.
Equipment
Measuring cups and spoons
Mixing bowls
Piping bag
Star tip
Storage
Counter: Store these in an air-tight container at room temperature for up to 2 days.
Refrigerator: These can be stored for up to 7 days in an air-tight container in the refrigerator.
Tips:
Begin frosting at the base of the sugar cones to adhere them to the cookies.
Press the sprinkles gently into the frosting. You want them to stick without marring the frosting.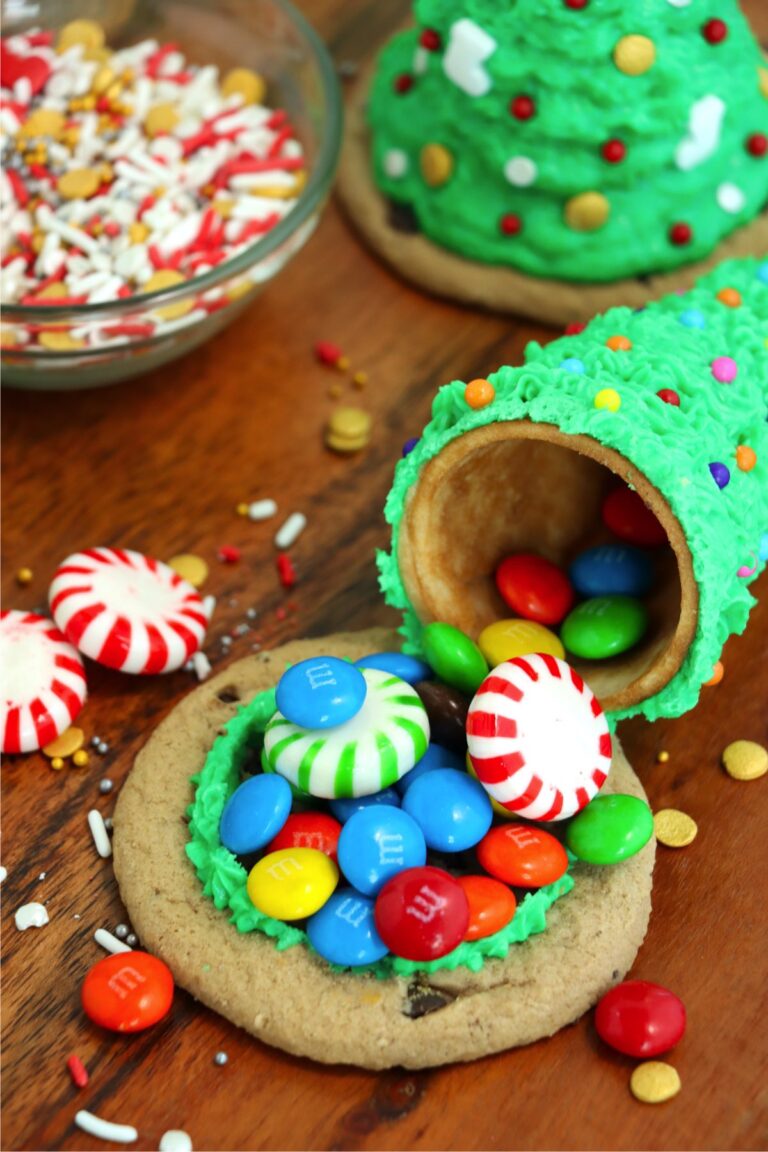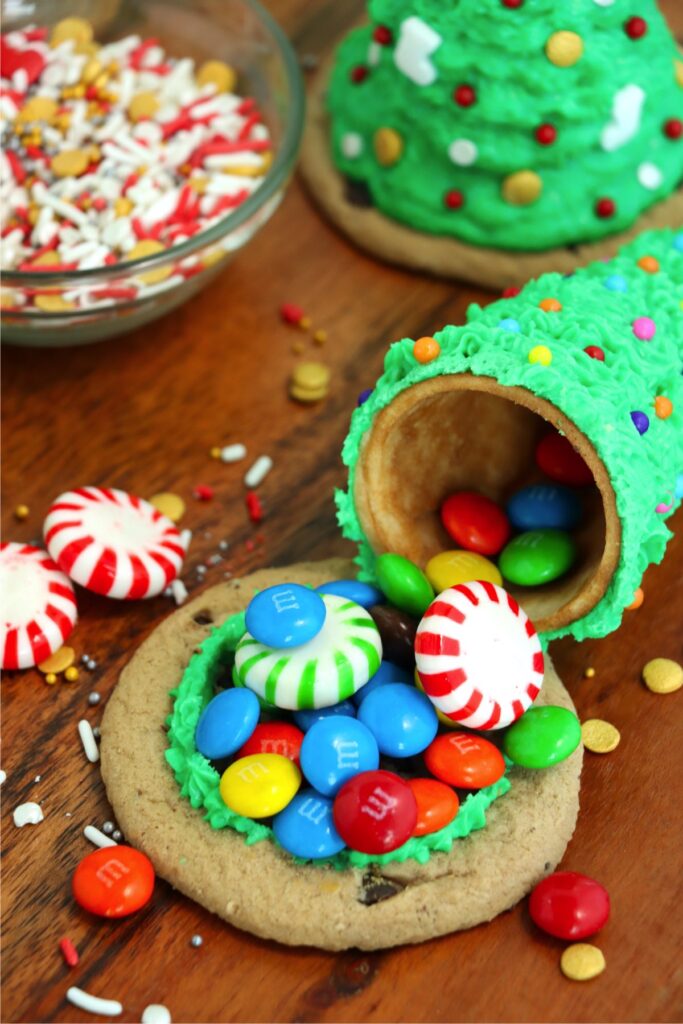 FAQ
Why doesn't buttercream have to be refrigerated?
Although buttercream frosting uses milk and butter, the amount is so small that the very large amount of powdered sugar stabilizes them.
How do you frost these trees?
You can either pipe uniformly while rotating the sugar cones or you can add the frosting in dollops to create a more textured surface.
Can I use other candies with these trees?
Absolutely! If the candies fit in the cones, they'll work.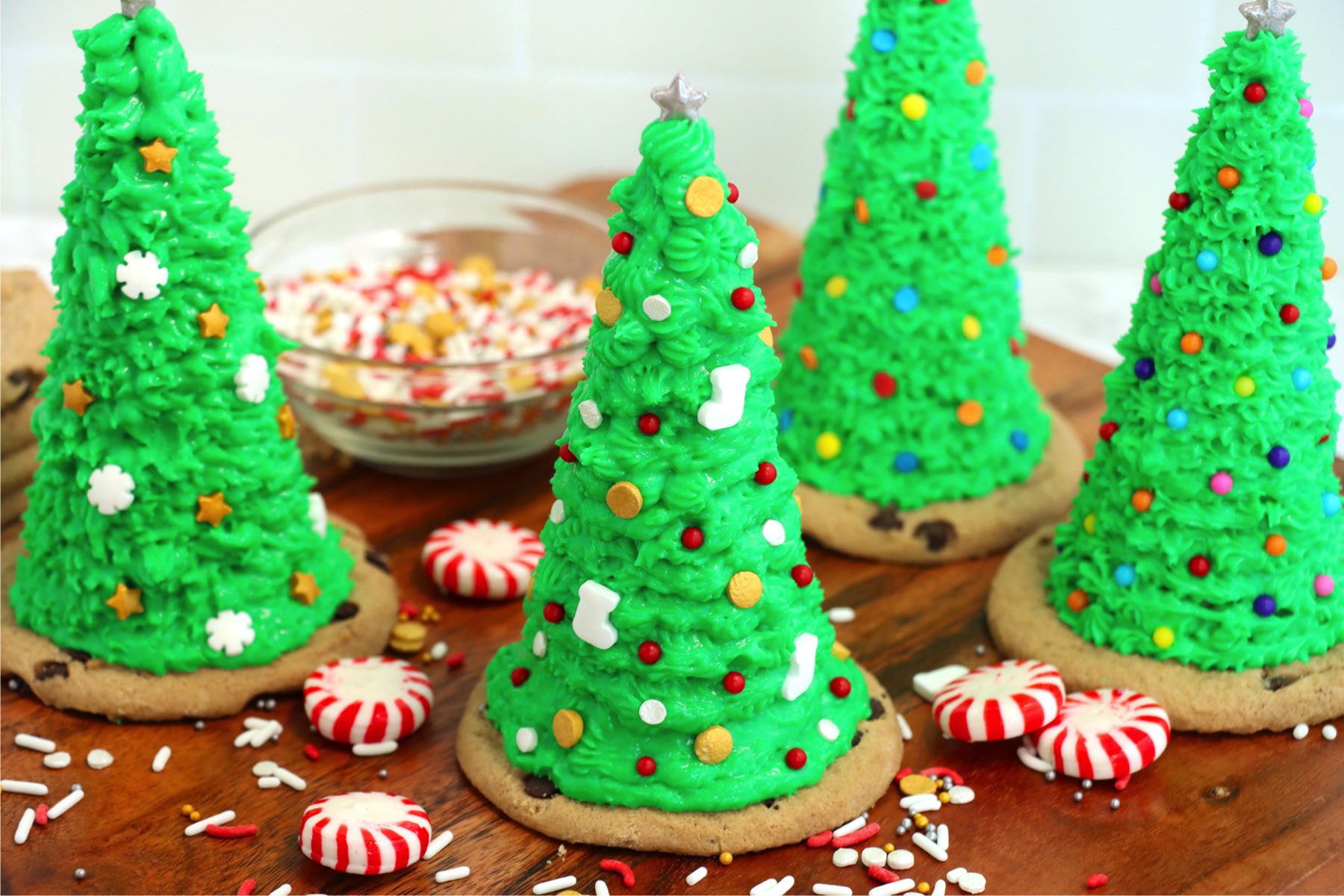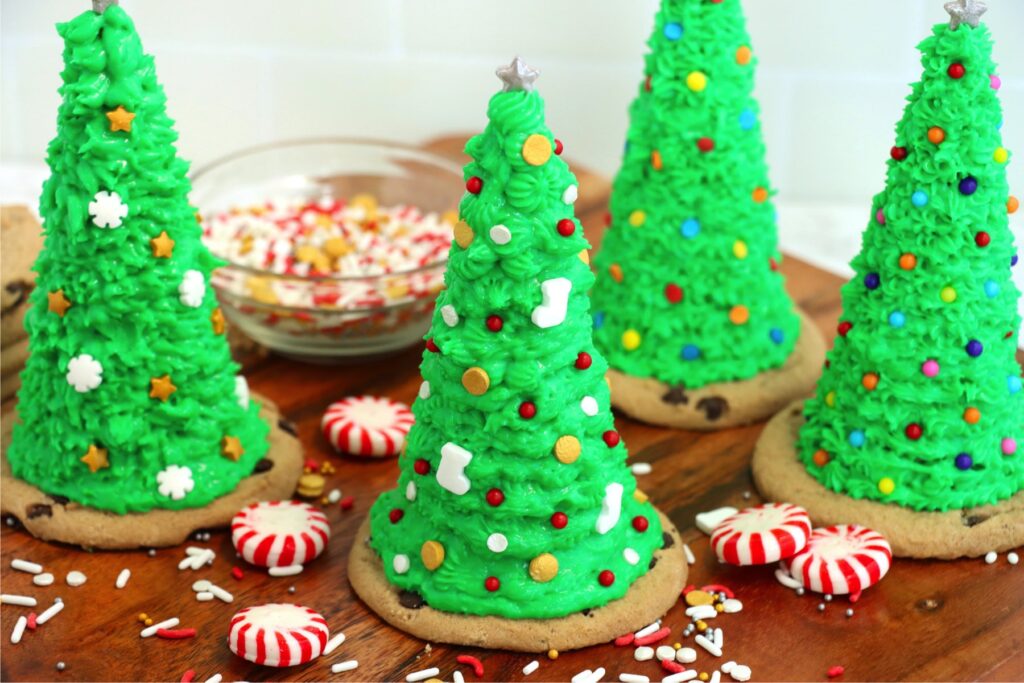 More Holiday Recipes You'll Love
Ready to make this delicious treat? Print the recipe card below!
Yield: 8 trees
Sugar Cone Christmas Trees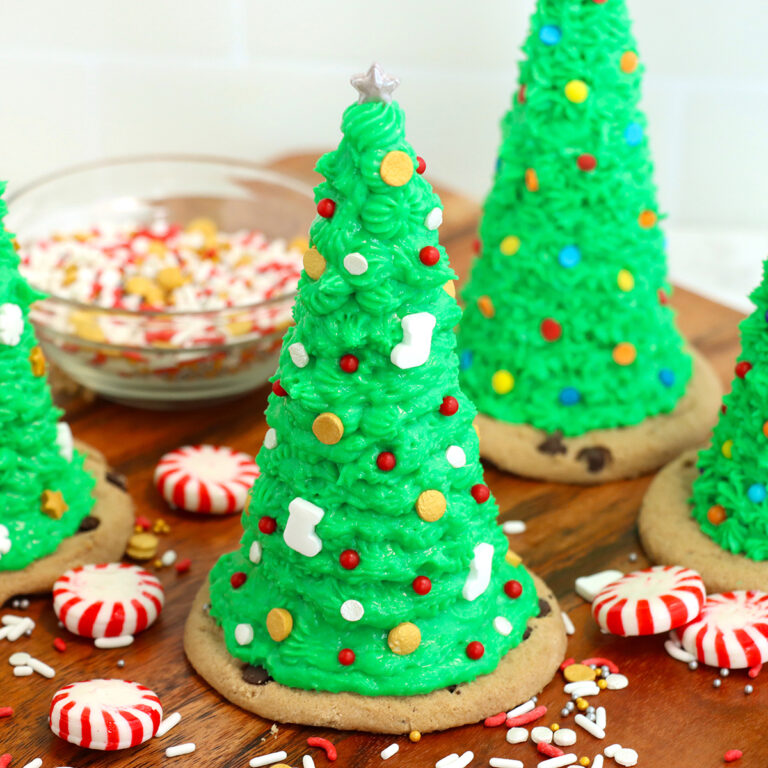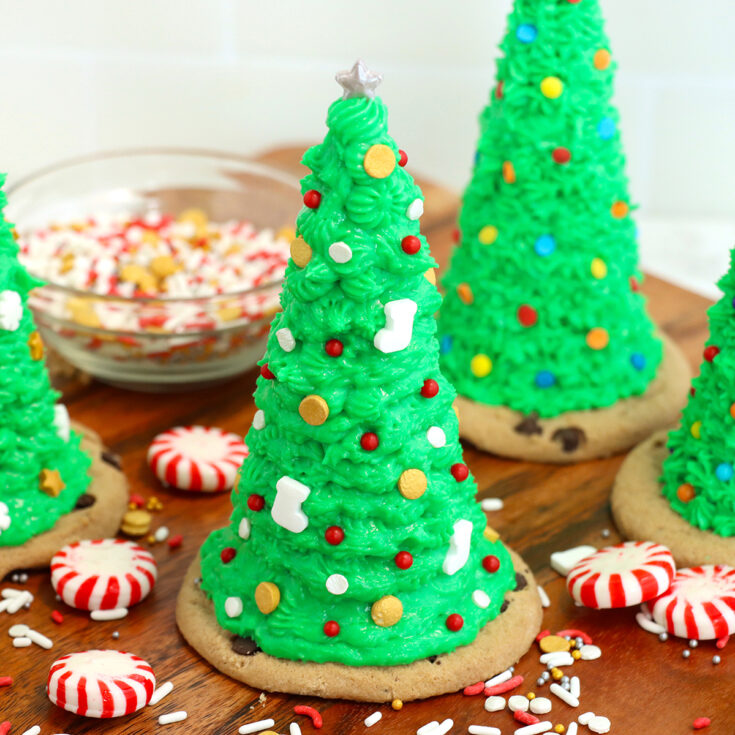 Sugar cone Christmas trees are a sweet, delicious holiday treat that really captures the festiveness of the holidays.
Additional Time
30 minutes
Ingredients
8 sugar cones
4 cups powdered sugar
½ cup butter
1 tsp vanilla
2-3 tbsp milk
Green food coloring gel
8 cookies (I used chocolate chip)
16 red and green mints
2 cups M&Ms
8 star sprinkles for tops of trees
Variety of Christmas sprinkles to decorate trees
Instructions
To prepare frosting, in a medium mixing bowl, cream butter and powdered sugar together. 

Add 2 tablespoons of milk and vanilla. Beat well.

If it is too thick, add more milk. If it is too thin, add more powdered sugar.
Add green food coloring gel to frosting until desired color is reached.
Transfer frosting to a large pastry bag with a star-shaped tip.
Fill each cone with two mints and ¼ cup M&Ms.
Place a cookie over top to hold the candy in. Next, gently flip it over so the candy remains inside the cone.
Pipe frosting around the base of each sugar cone, securing each to a cookie.
Continuing adding frosting around each cone until they are covered entirely.
Add sprinkles to each tree to decorate them.
Top each tree with a star sprinkle.
Nutrition Information
Yield
8
Serving Size
1
Amount Per Serving
Calories

865
Total Fat

33g
Saturated Fat

17g
Trans Fat

1g
Unsaturated Fat

13g
Cholesterol

39mg
Sodium

307mg
Carbohydrates

139g
Fiber

3g
Sugar

107g
Protein

7g
Get Inspired!
Never miss my delicious recipes, cute creations, or household tips!