This delicious sage bread with onions tastes like the holidays in every bite. This bread is loaded with sage and onions and a touch of sugar, and it tastes almost like stuffing!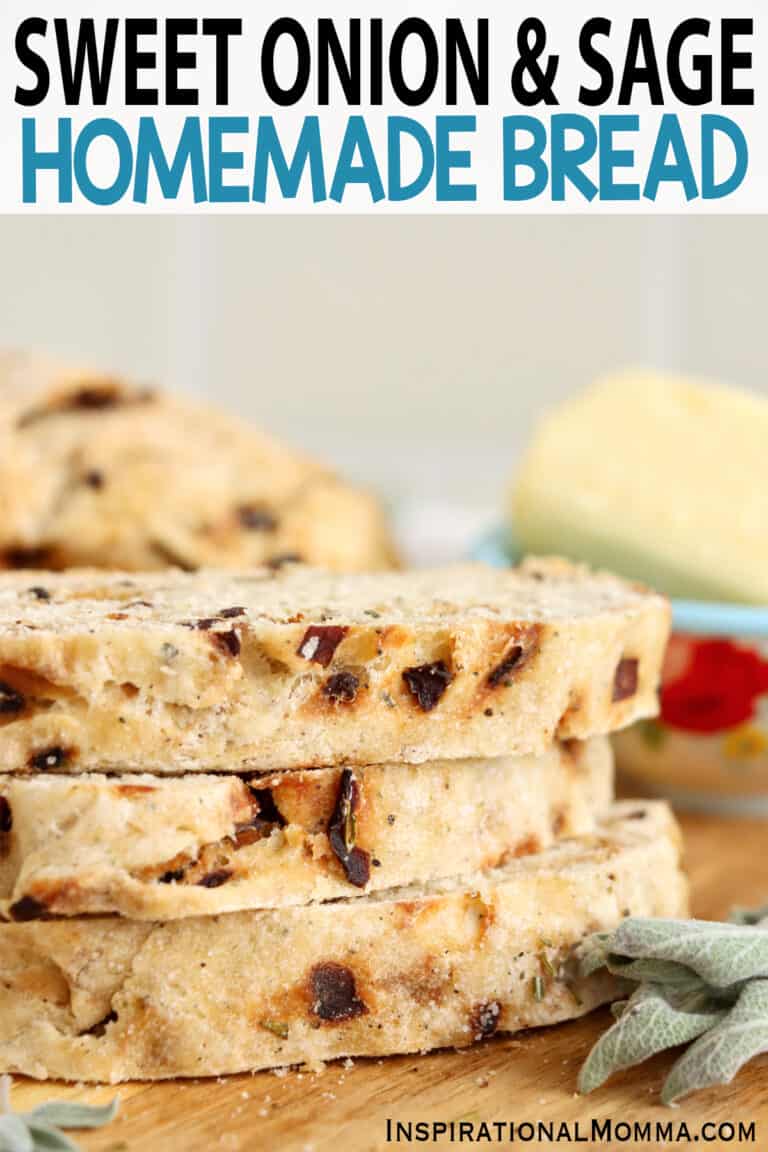 I love the flavors of the holidays. They just make me feel so cozy. That's why I love making this bread. I actually make it throughout the year, and I love to serve it topped with butter alongside chicken, beef, or pork dishes. MmmMMM. It's so good.
Why You'll Love This Recipe
It uses just a few simple ingredients.
It's an easy recipe that even bread newbies can make.
It's full of the classic flavors of the holidays.
It's a great appetizer or side dish for a variety of chicken, beef, and pork dishes.
Top Tip
Be sure your yeast is very fresh so your bread gets a nice rise.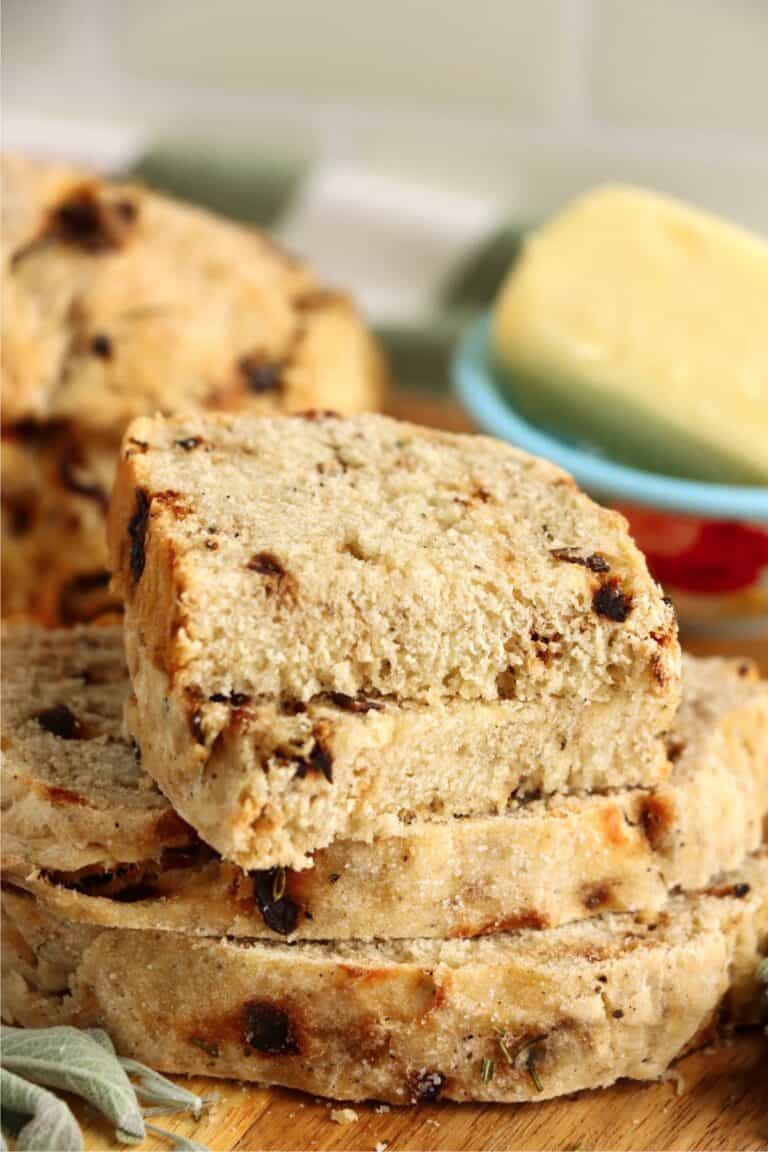 Ingredients
You'll only need a few basic baking ingredients, onions, and some herbs to make this recipe. Chances are you have everything you need in your kitchen right now!
The recipe overview is right here, but you'll find the exact instructions in the recipe card at the end of the post.
Bread Ingredients:
Red onions, finely chopped
Sage, dried and rubbed fine
Pepper
Olive oil
Dry yeast
Sugar
Warm water
Salt
All-purpose flour
Topping Ingredients:
Sea salt
Black pepper, coarsely ground
Rosemary, dried and rubbed fine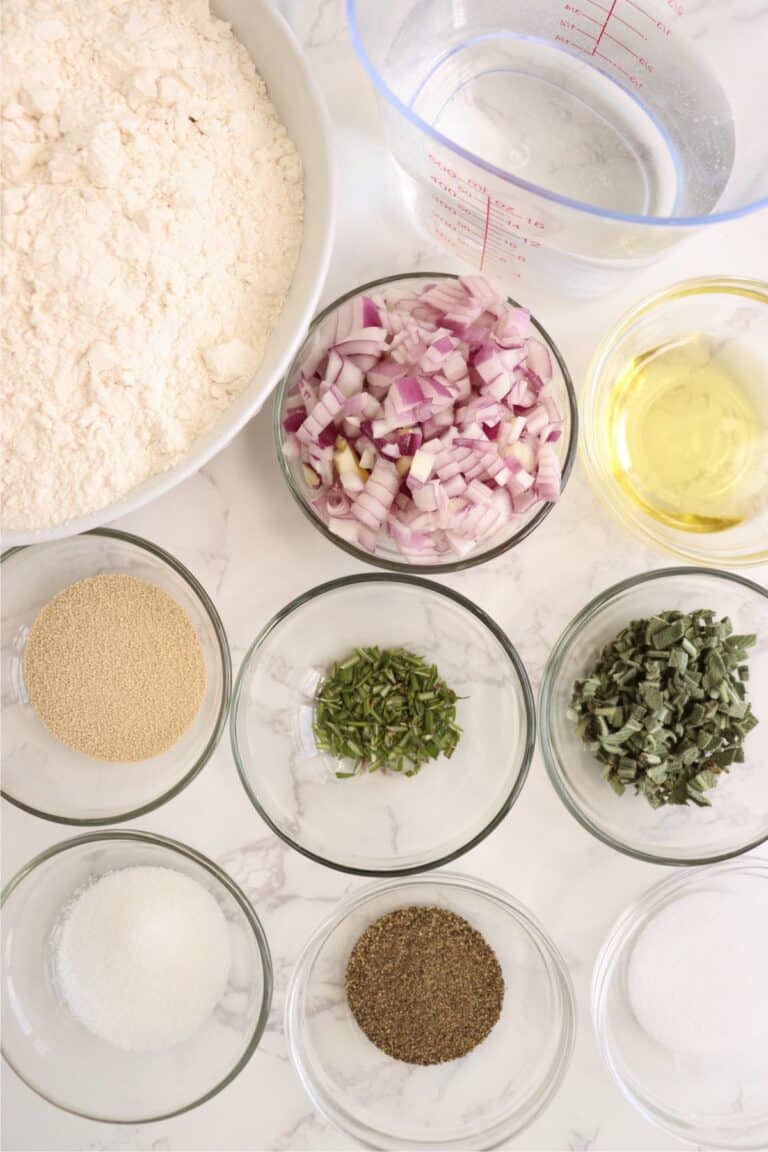 Instructions
It only takes a few simple steps to make this recipe. It does need time to rise, so factor that into your timing when you make this bread!
The recipe highlights are here, but you'll find the exact instructions in the recipe card at the end of the post.
1: Sautee the onions, sage, and pepper until tender. Let cool.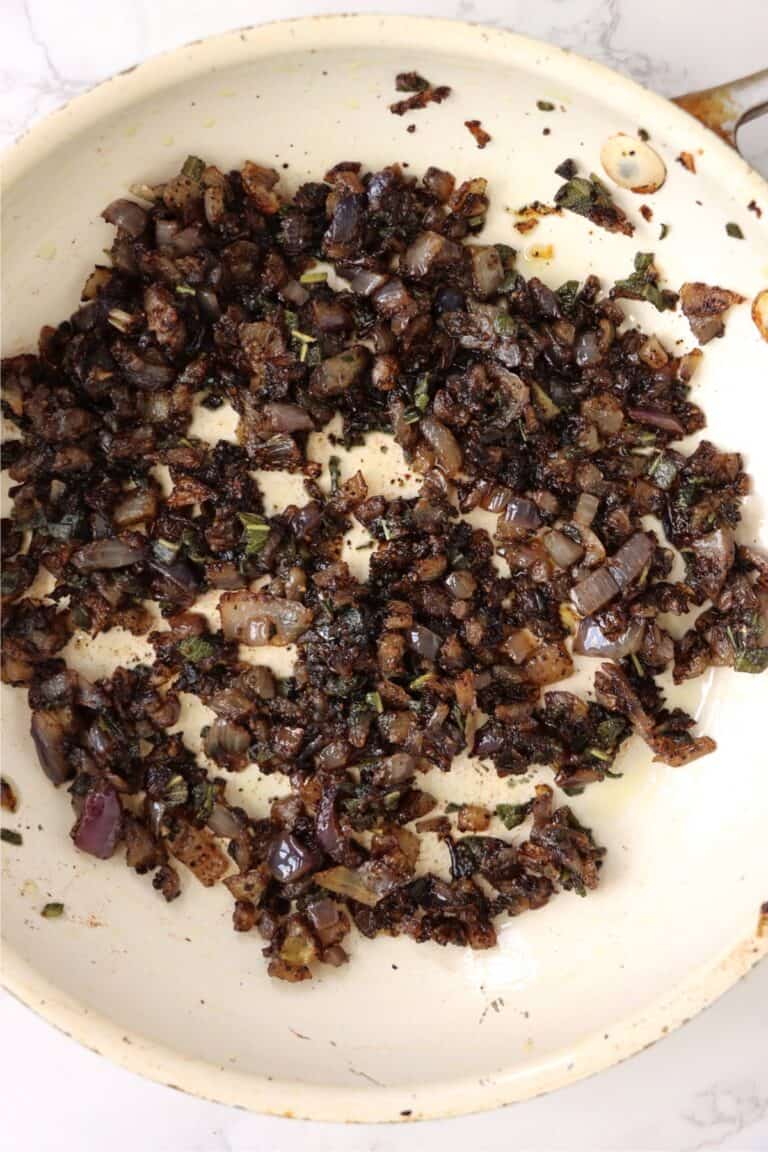 2: Combine the yeast, sugar, and warm water and let it proof until foamy.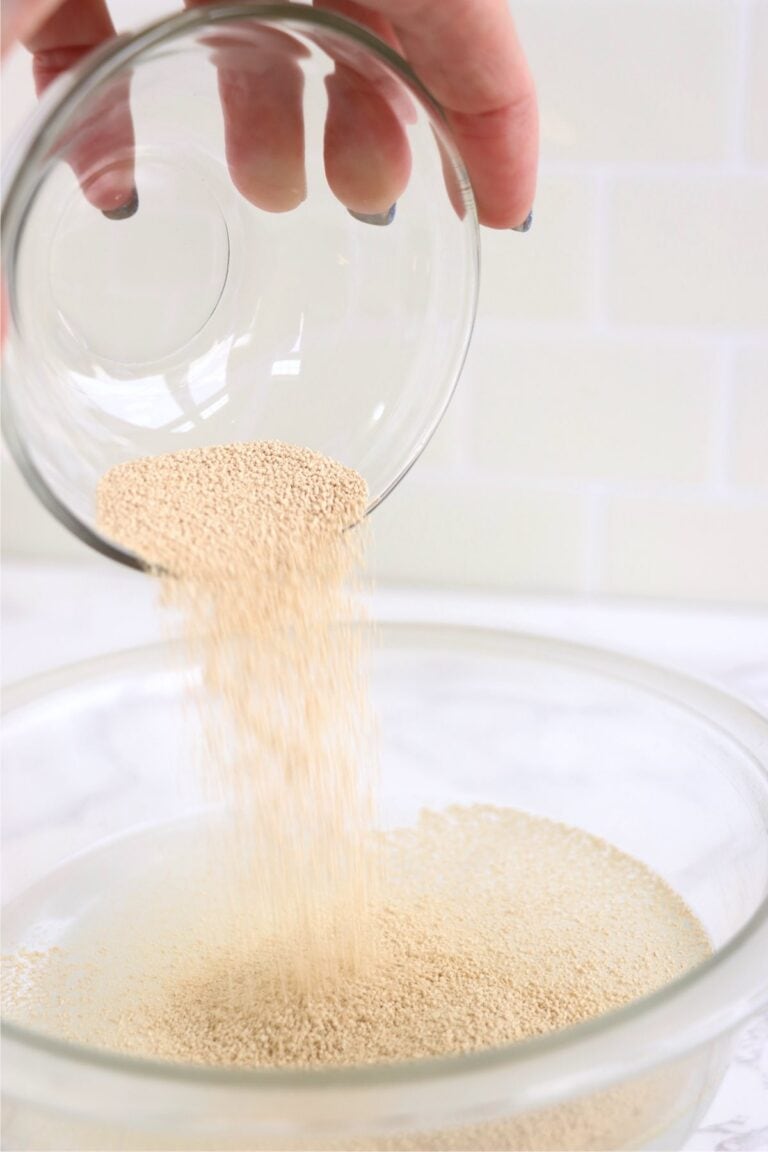 3: Add olive oil and mix well, then add onions and dry bread ingredients and mix again.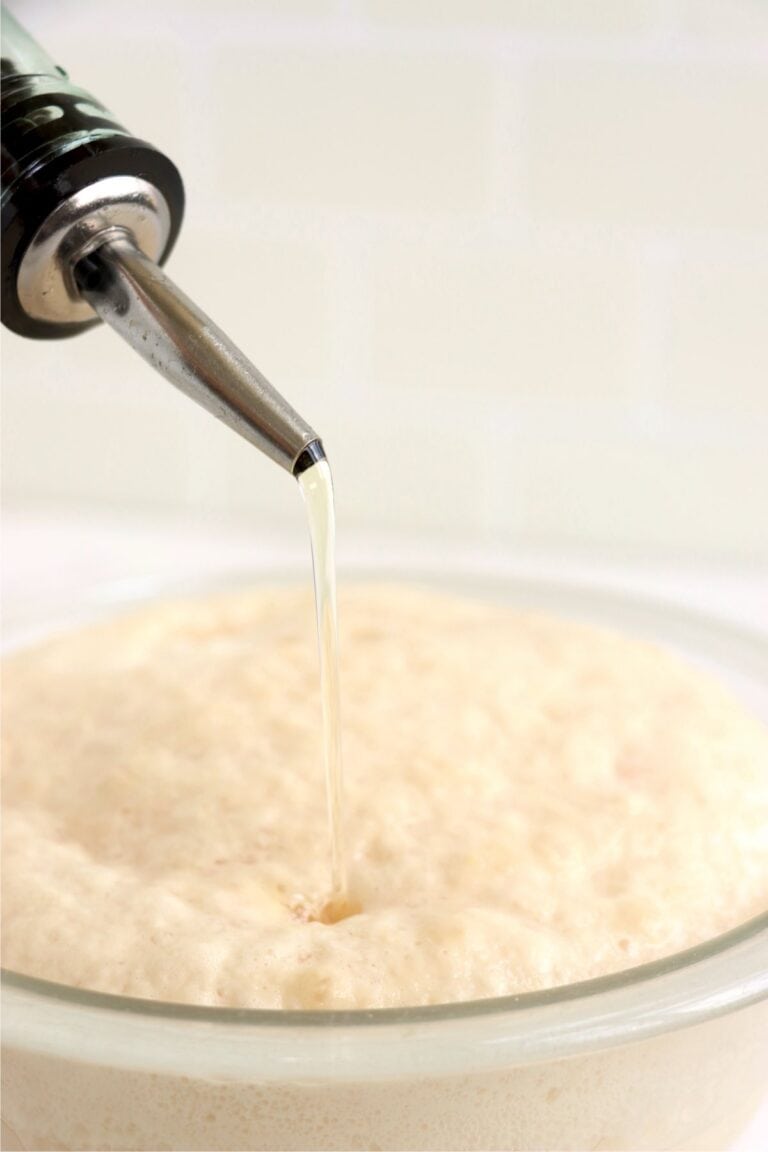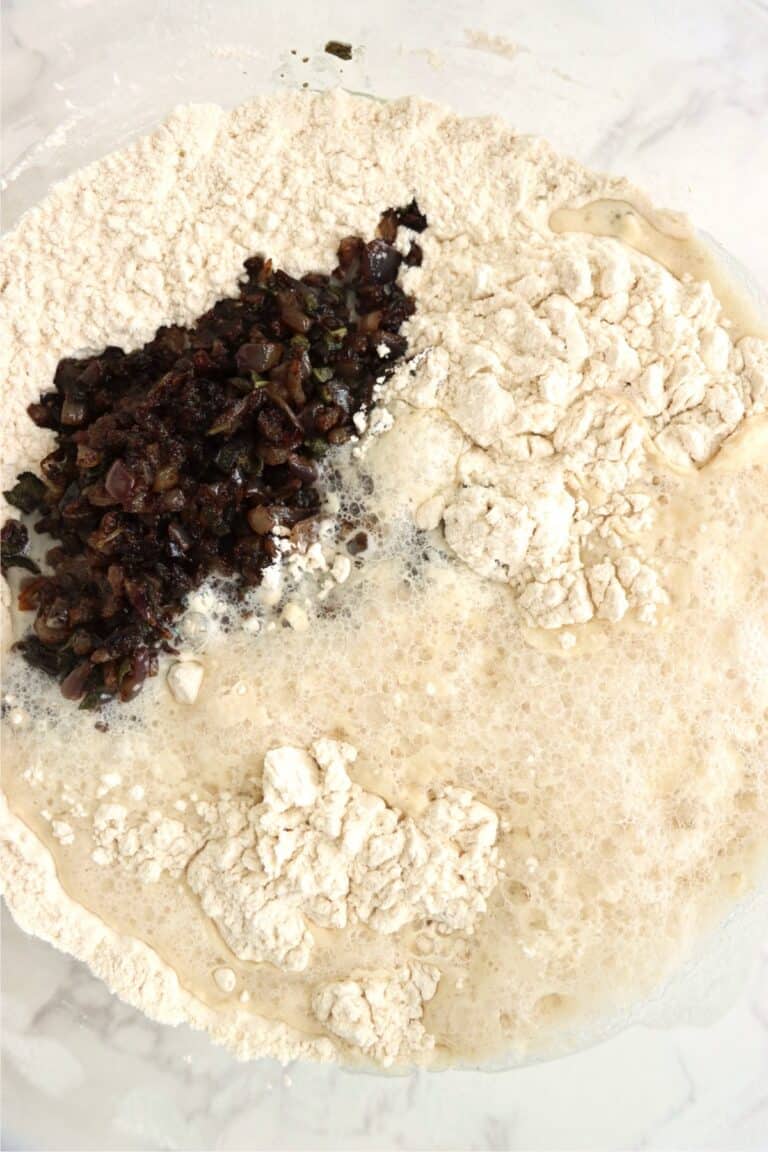 4: Knead the bread until smooth and pliable.
5: Proof in a covered bowl until doubled in size.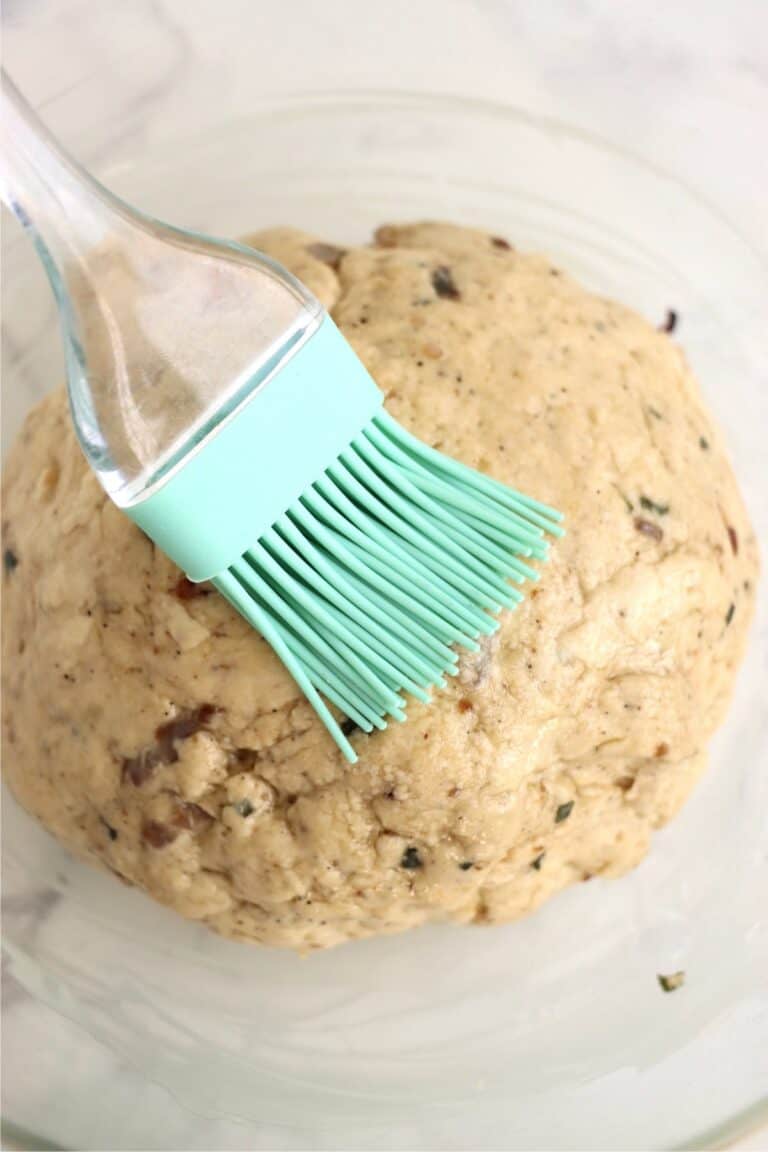 6: Punch down the dough and divide in two.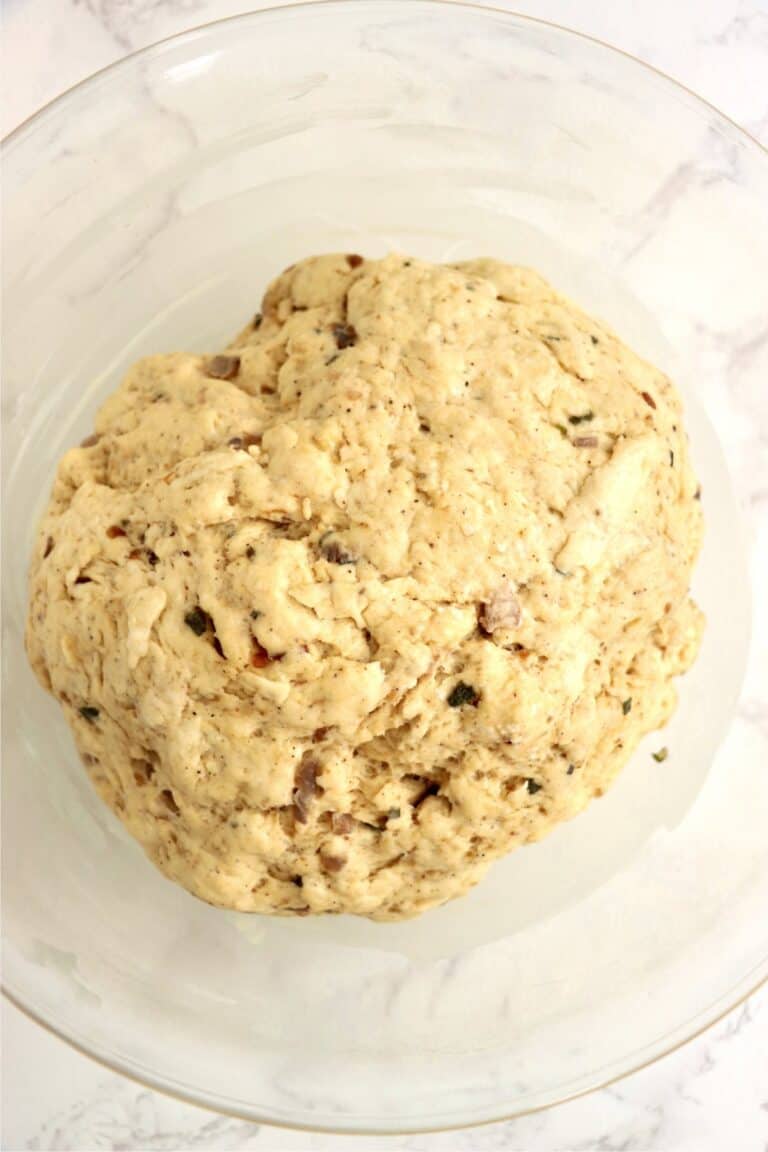 7: Add the dough to 2 loaf pans and top with the herb mixture.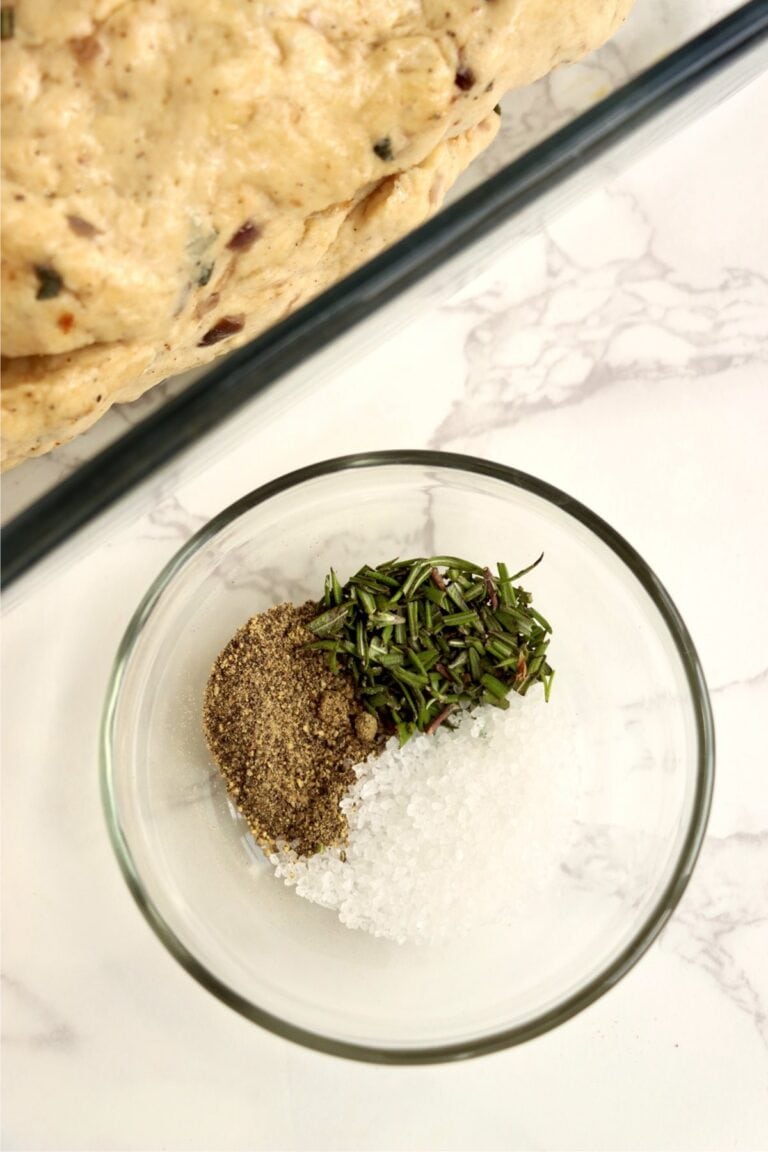 8: Let the dough proof again.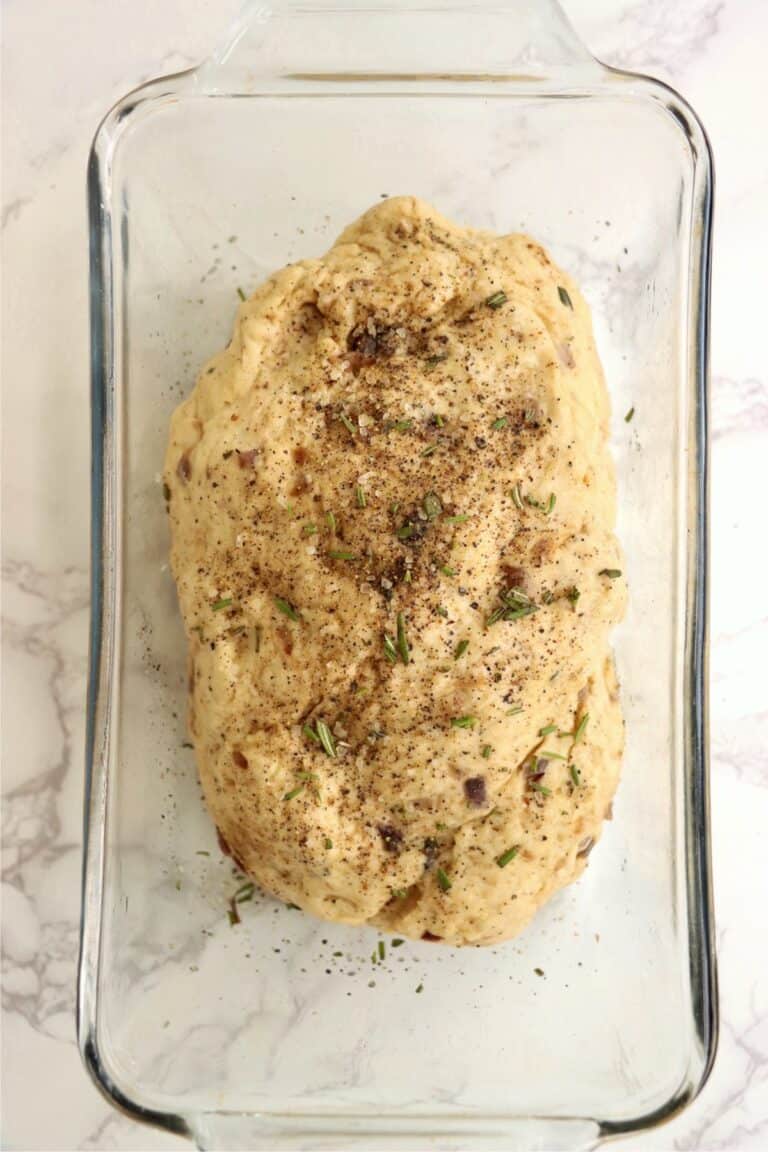 9: Bake until golden and cool on a wire rack.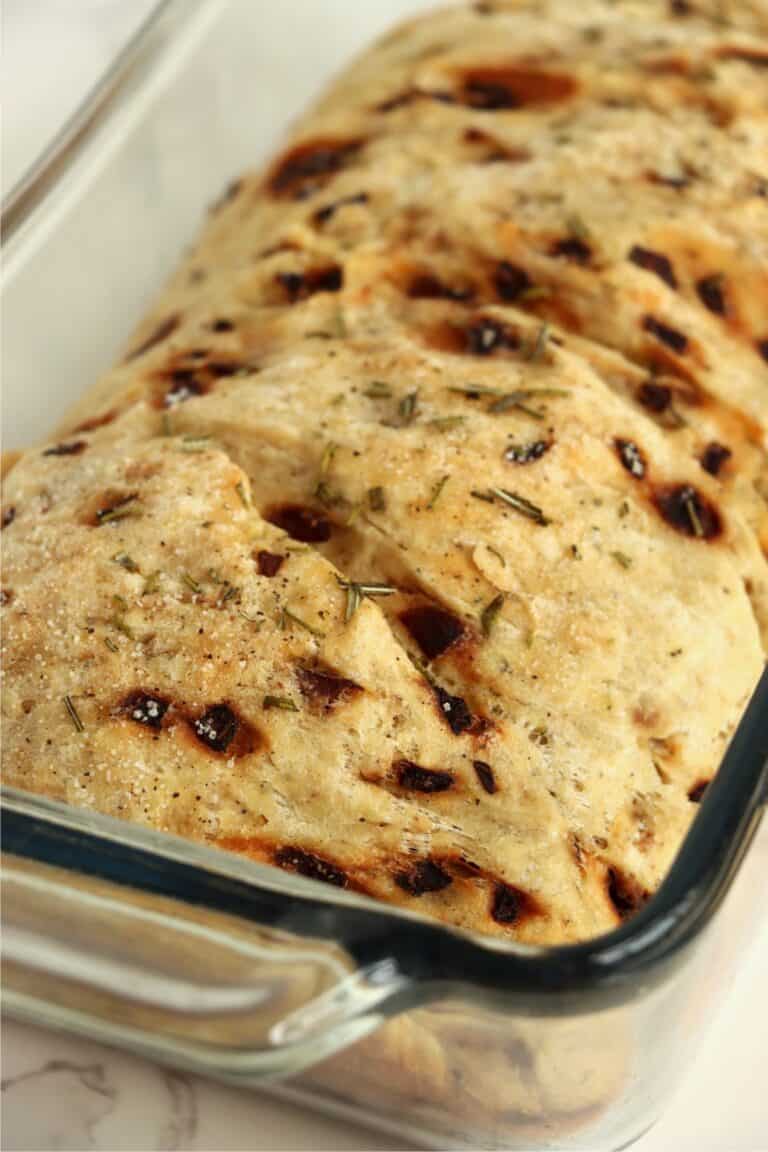 Substitutions and Variations
Try Vidalia onions for a sweeter bread.
Add cooked sausage for bread that tastes just like stuffing!
Try adding diced apples to the onion mixture for sweet and savory bread.
Chopped nuts are lovely in this bread.
Equipment
Measuring cups and spoons
Mixing bowls
Cloth
Loaf pans
Wire cooling rack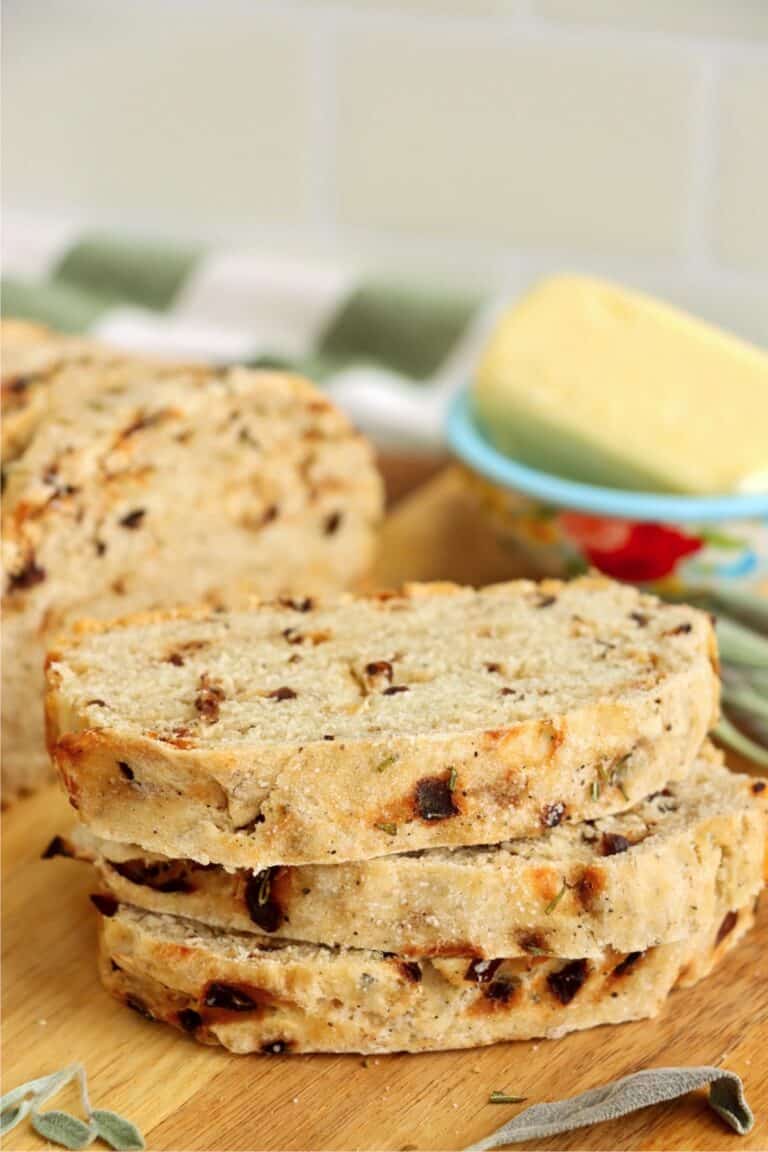 Storage
Room Temperature: Wrap the bread thoroughly in foil and store at room temperature for 4 to 5 days.
Freezer: Wrap cooled bread in a double layer of plastic wrap and a layer of foil and store for up to a month.
What to Serve Onion Sage Bread
This delicious bread has a flavor profile that makes it incredibly versatile. It's great as an appetizer or snack served on its own with some butter. However, you can also serve it with your favorite chicken, beef, or pork recipes, as well.
Tips:
Proof your bread in a warm area of the kitchen for the best rise.
Don't let your bread proof after it's doubled in size or you could end up with large air holes in the bread.
It's important to let your onion mixture cool completely. Hot onion mix can kill the yeast in the liquid.
Be sure your bread is thoroughly coated in oil before leaving it to rise.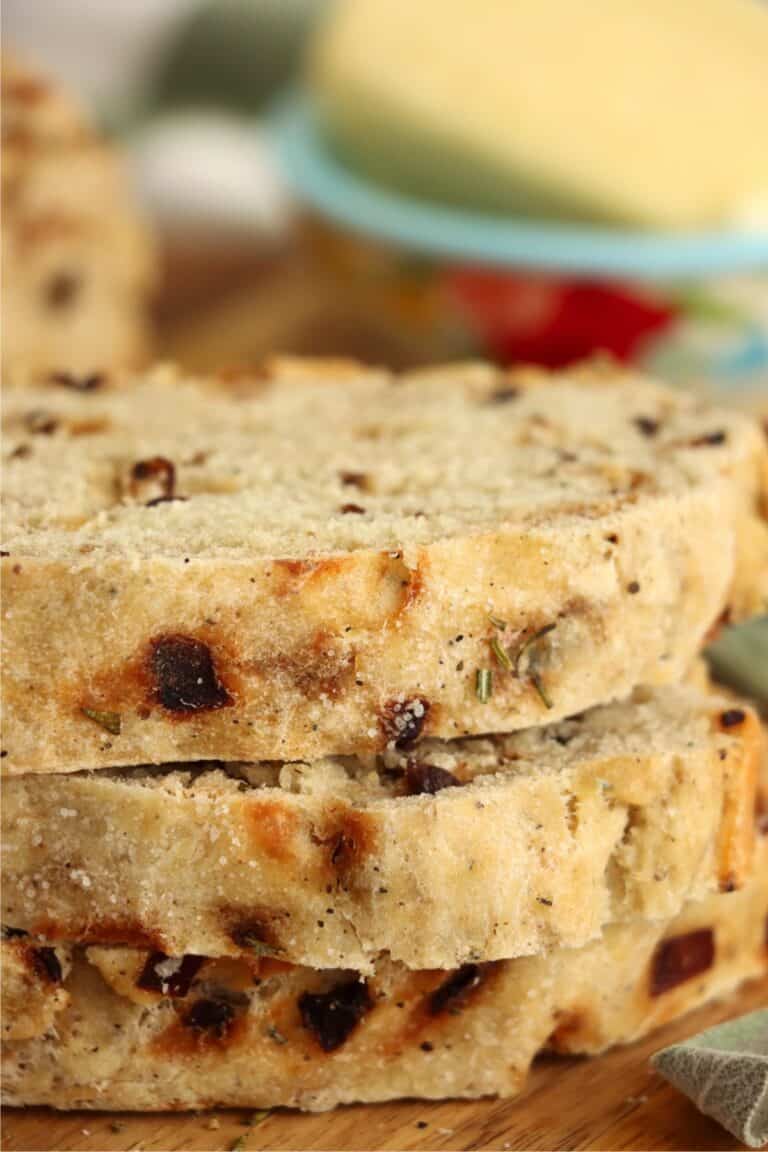 FAQ
What is onion sage bread?
Onion sage bread is a basic bread dough filled with sauteed onions, sage, and herbs.
What does onion sage bread taste like?
Onion sage bread tastes quite a bit like stuffing. The onions, sage, and rosemary combine to make a flavor profile that's very reminiscent of the holidays.
What can I serve with sage bread?
Sage bread is delicious on its own with butter or served alongside almost any chicken, beef, or pork dish. Of course, it also makes a great pairing with turkey!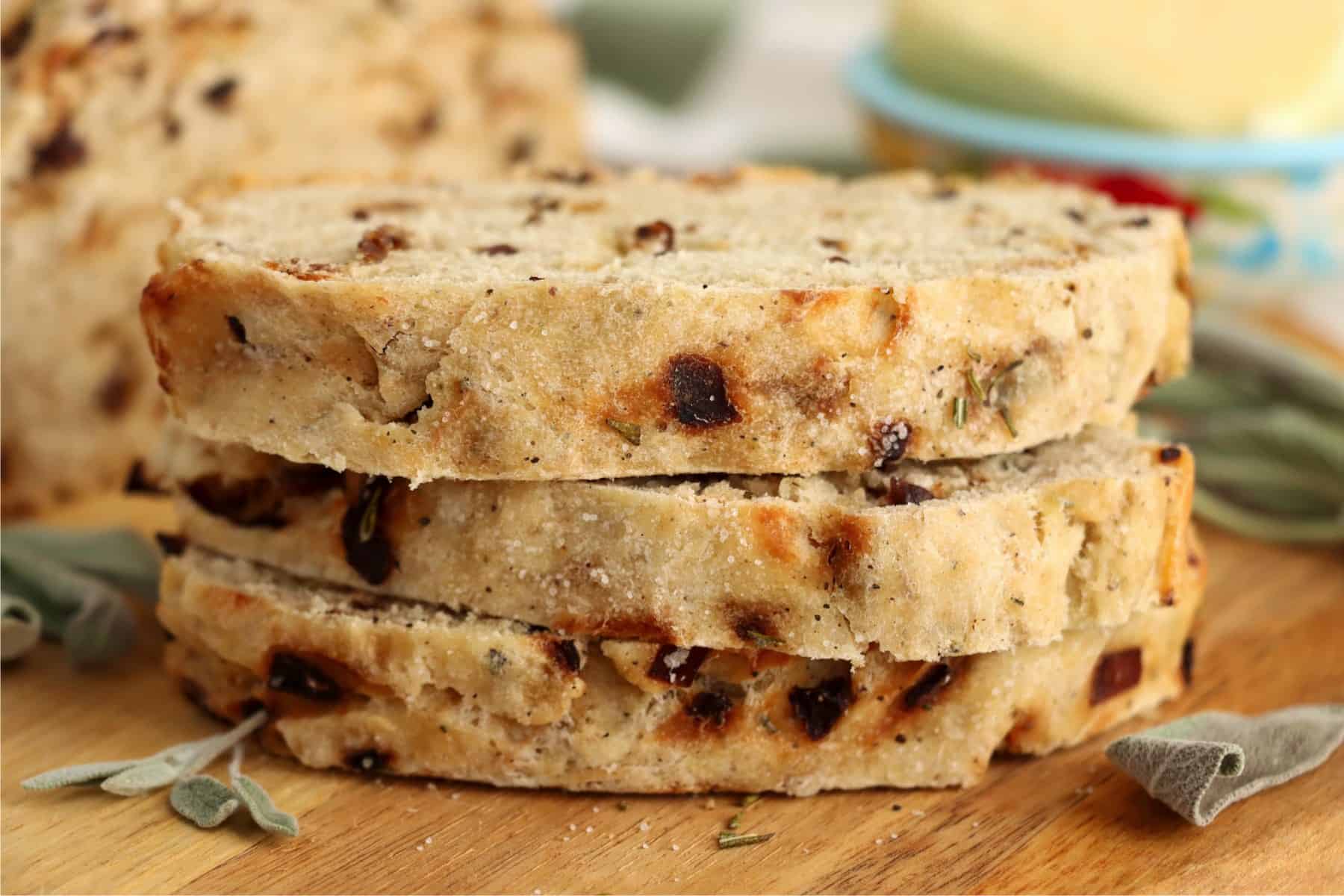 Other Tasty Baked Recipes
Yield: 2 loaves
Sweet Onion and Sage Bread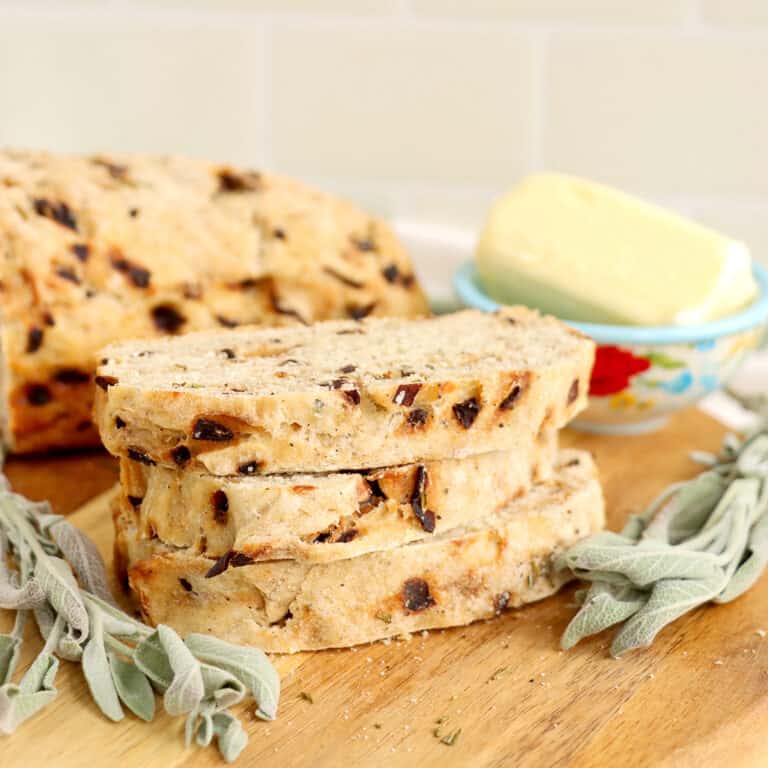 This sage bread with onion is slightly sweet and loaded with the flavors of the holidays. It tastes almost like stuffing!
Additional Time
1 hour
35 minutes
Total Time
2 hours
40 minutes
Ingredients
Bread Ingredients:
2 large red onions, finely chopped
2 tsp sage, dried and rubbed fine
2 tsp pepper
2 tbsp olive oil
2 envelopes dry yeast
1 tbsp sugar
1 ½ cups warm water
2 tsp salt
5 cups all-purpose flour
Topping Ingredients:
2 tbsp sea salt
1 tbsp black pepper, coarsely ground
2 tbsp rosemary, dried and rubbed fine
Instructions
In a large skillet, heat olive oil over medium heat until it starts to shimmer or a drop of water flicked in it dances.
Add finely chopped onions, sage, and pepper. Stir regularly until onions are tender. Set aside and allow to cool.
Using a small bowl, combine yeast, sugar, and warm water. Stir until dissolved. Let sit for 10 to 15 minutes, until frothy.
Add 1 tablespoon of olive oil and mix well.
Next, using a very large bowl, combine flour and salt. Add yeast mixture and cooled onions. Mix well.
Dust your workstation with flour and knead dough by hand for at least 5 minutes. Use more flour if needed to avoid the dough from sticking to your kneading surface.
Lightly grease a big bowl with butter, large enough to hold your dough.
Place dough inside your greased bowl and then flip the dough over. Using a brush totally coat the top surface of the dough with olive oil. Cover with a warm damp cloth and allow the dough to rise for 45 to 50 minutes in a warm, but not hot, place. Your dough should double in size. Do not allow your bread to rise too much longer or you could end up with a lot of air holes in your bread.
Punch in the center of the dough to release air and divide the dough into two pieces as equal as possible.
Shape into two loaves and place them into two greased bread pans.
In a small bowl, combine black pepper, salt, and rosemary.. Stir and sprinkle mixture all over the tops of the loaves. Leave loaves uncovered to rise for another 30 minutes.
Preheat your oven to 350ºF. Once heated, bake loaves for 35-45 minutes. The crust must be a beautiful golden brown before you remove it from your oven. Remove from oven and allow your loaves to cool on a wire rack.
Nutrition Information
Yield
20
Serving Size
1
Amount Per Serving
Calories

142
Total Fat

2g
Saturated Fat

0g
Trans Fat

0g
Unsaturated Fat

1g
Cholesterol

0mg
Sodium

940mg
Carbohydrates

27g
Fiber

2g
Sugar

1g
Protein

4g
Get Inspired!
Never miss my delicious recipes, cute creations, or household tips!