This old fashioned country white bread is an easy, rustic bread recipe that's just as at home on the breakfast table as it is when used for sandwiches. It's soft and tender with the perfect crust.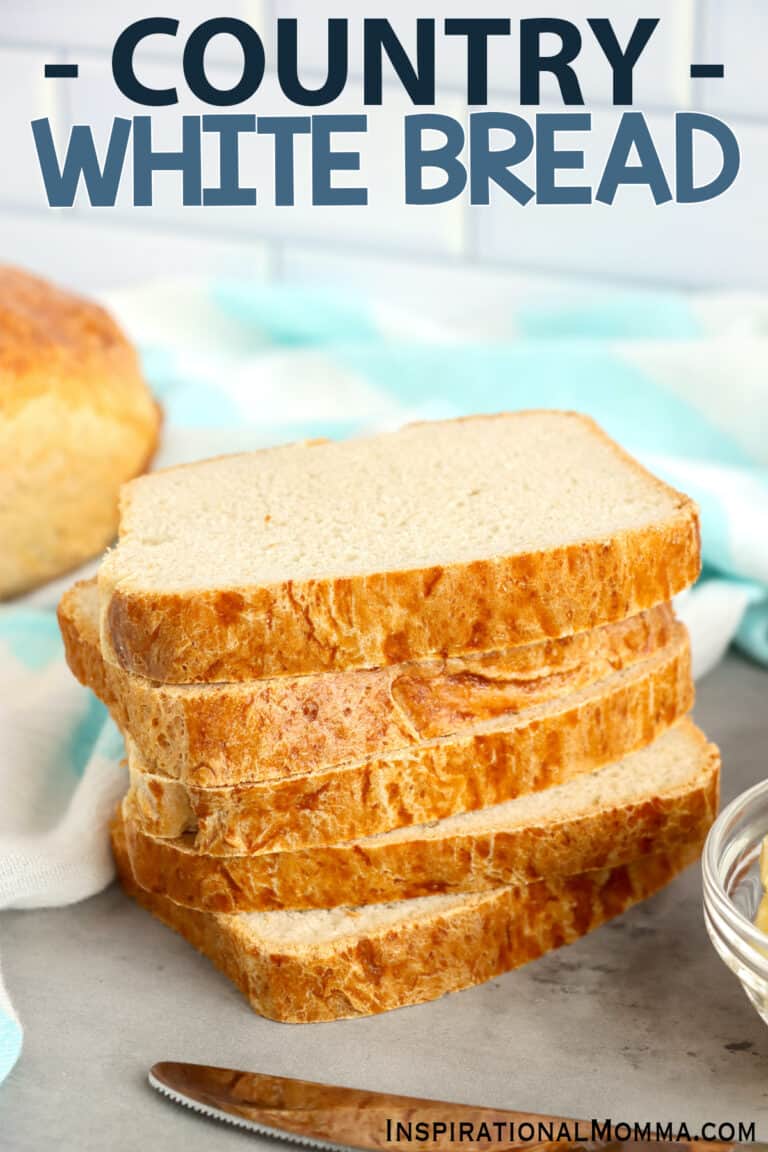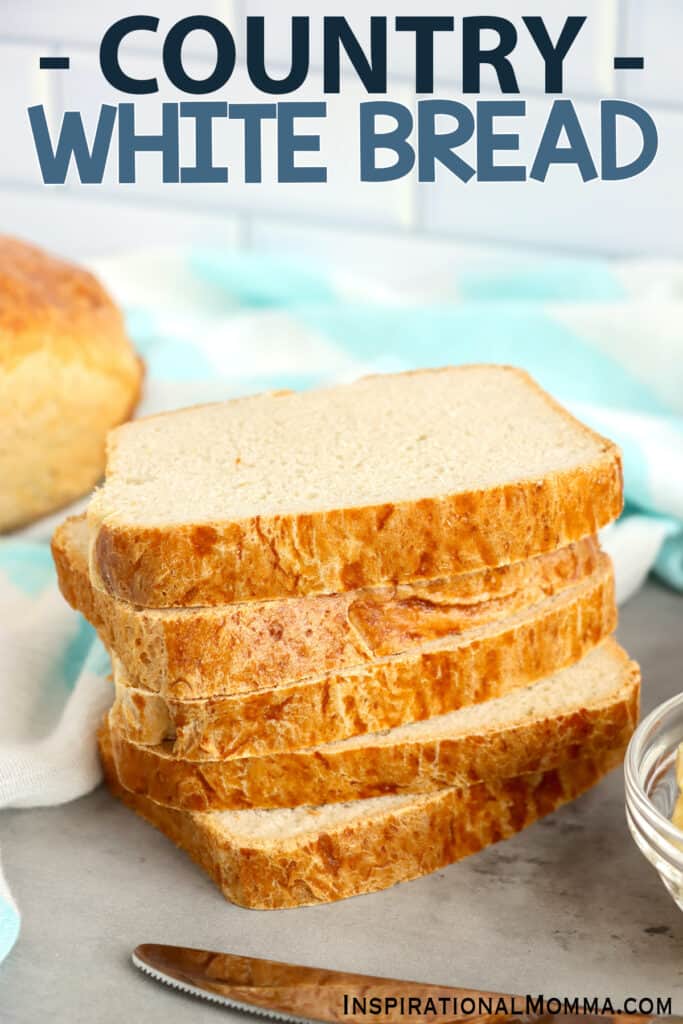 I love white bread. I just love it. It's perfect for toast, and it makes the best sandwiches if you aks me. One of my favorite kinds of white bread is rustic country white bread, and this recipe is the perfect version of it. It's so easy to make and it has that classic flavor that's so wonderful about white bread.
Why You'll Love This Recipe
It uses simple baking ingredients that you probably have in your kitchen right now.
It's an easy bread recipe that even beginners can make.
It's a versatile bread that's perfect for breakfast, snacks, or served with butter at dinner.
Top Tip
Be absolutely sure that your yeast is fresh. Stale yeast will not leaven the bread, and the fresher the yeast, the better the bread will rise.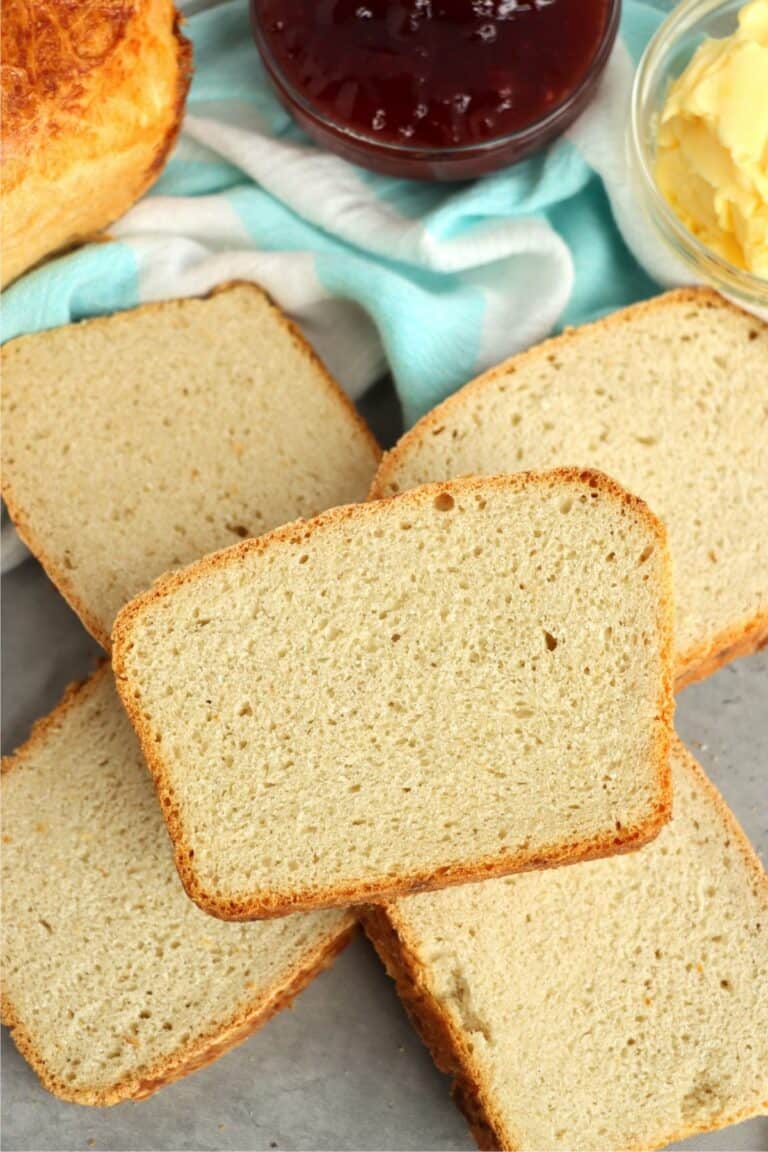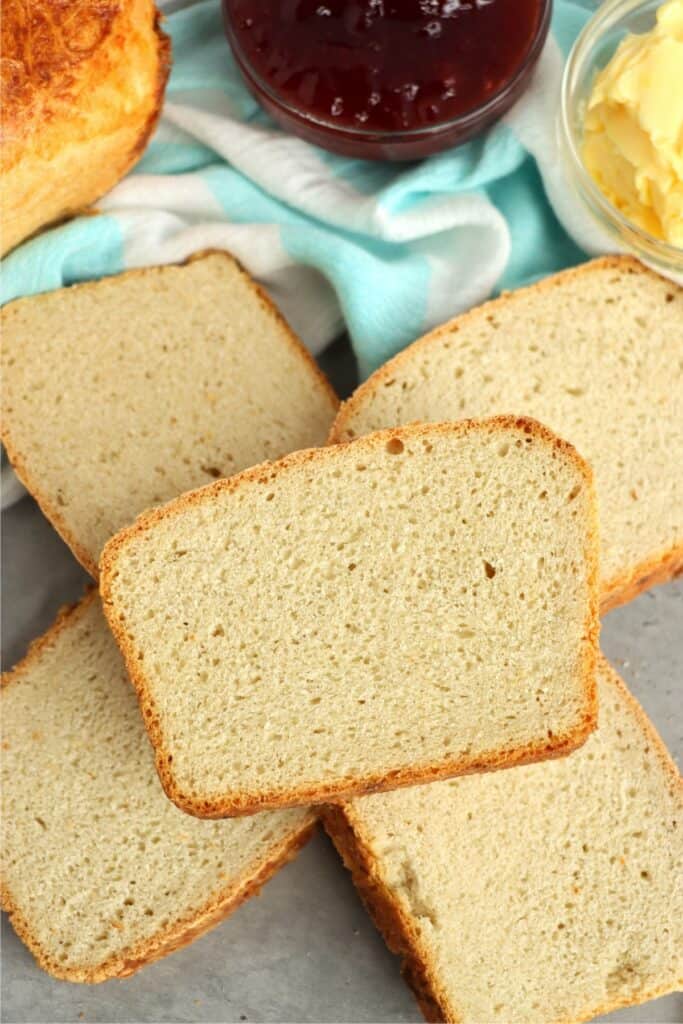 Ingredients
All the ingredients for this bread are basic baking staples, and you'll almost certainly have them all in your kitchen. If for some reason you don't, you'll find them easily at your local grocery store. Check out the recipe card at the end of the post for exact amounts.
Sugar
Warm water (about 105ºF)
Active dry yeast
All-purpose flour
Warm milk
Salt
Butter, melted and cooled (plus extra for greasing and finishing)
Egg, beaten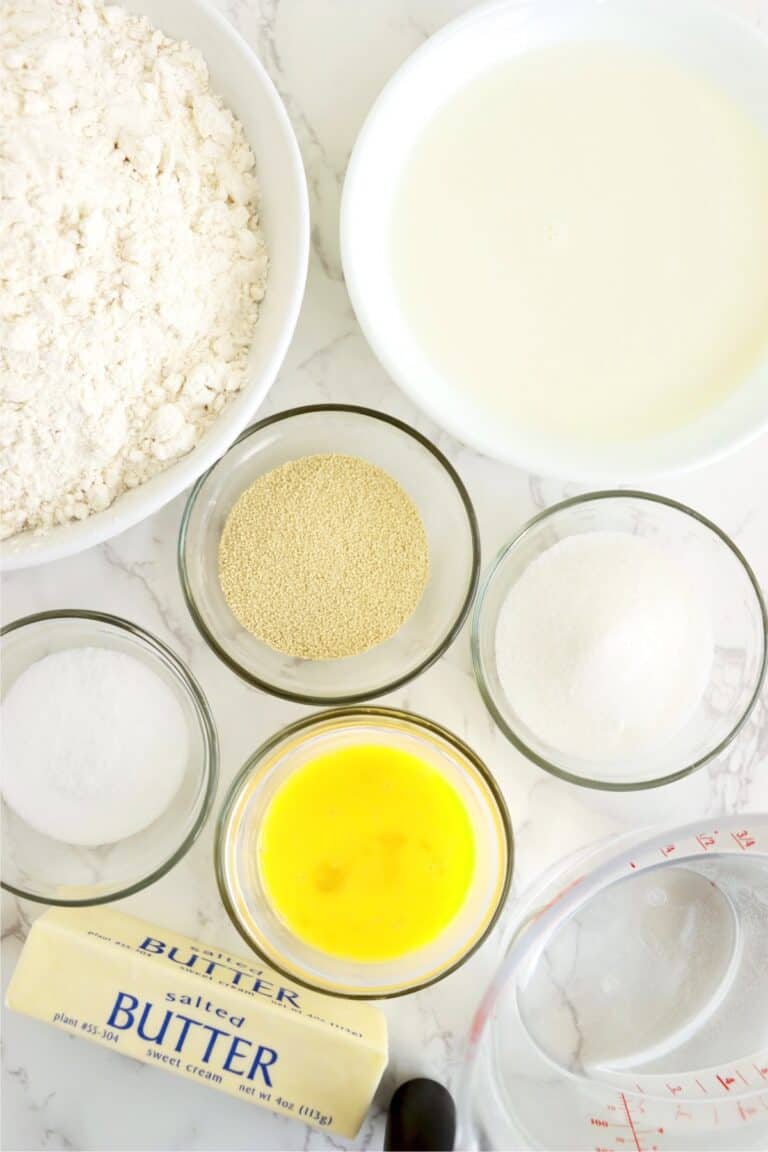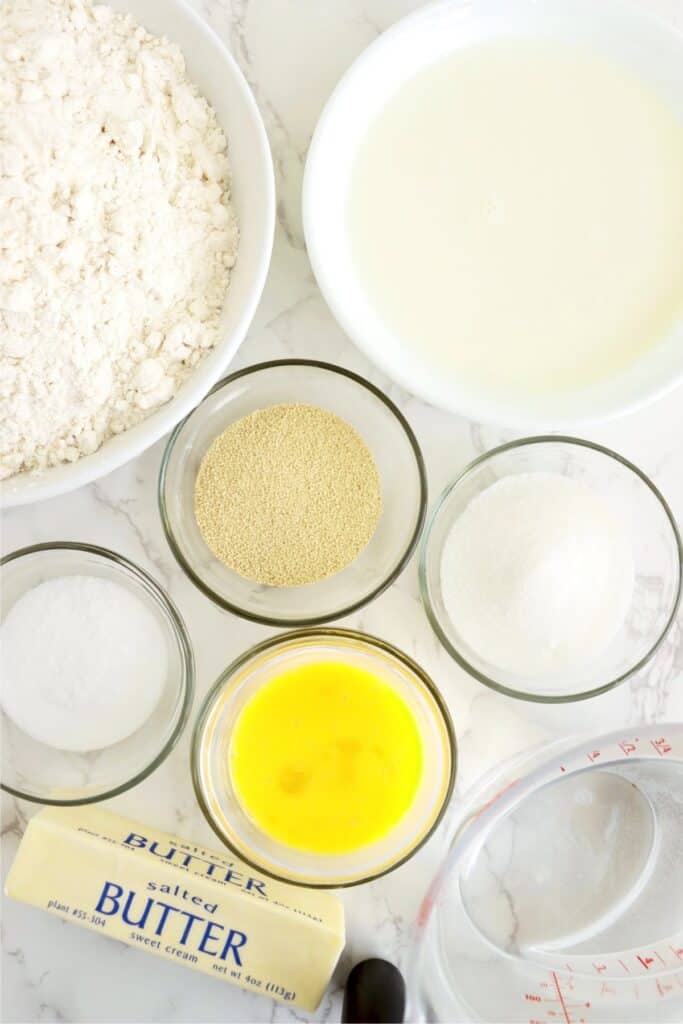 Instructions
This is a basic white bread recipe, so it's not difficult to make. It only takes a few simple steps. The highlights are below, but you'll find the exact instructions in the recipe card at the end of the post.
1: Combine sugar and water, then sprinkle the yeast over the top and proof until foamy.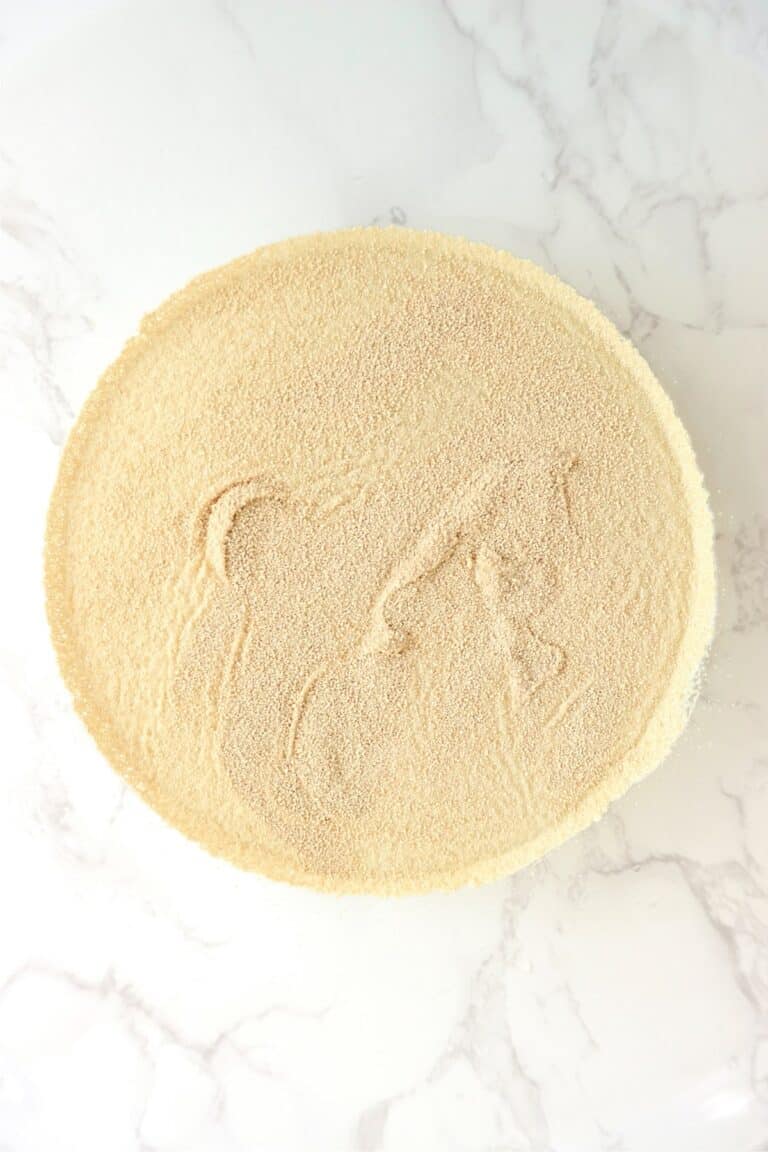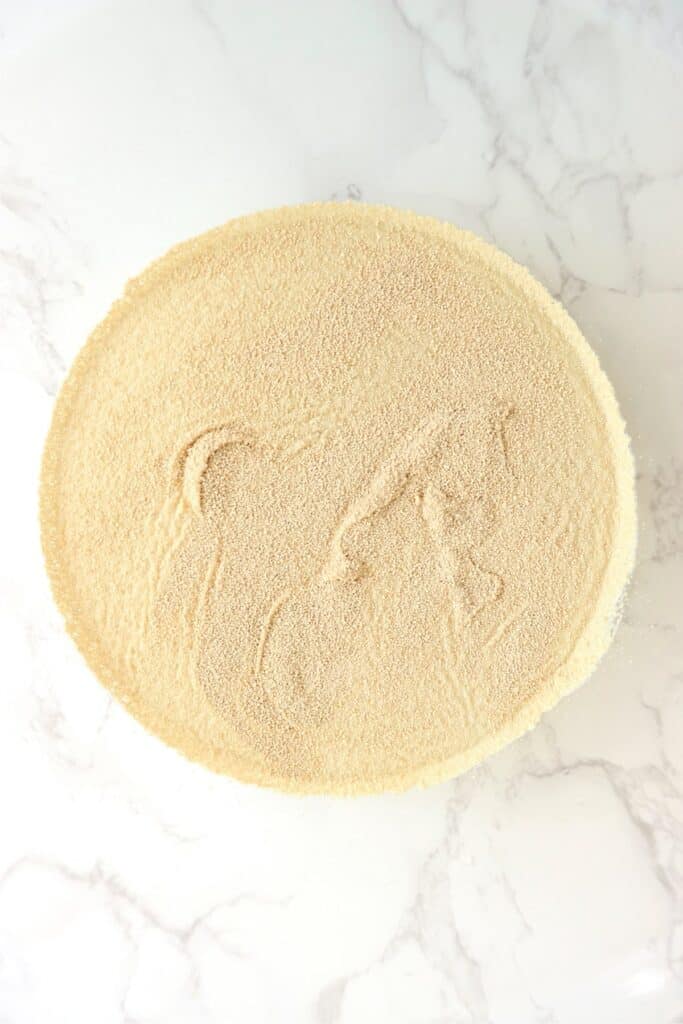 2: Add 2 3/4 cups of flour and mix. Cover with a damp cloth and let the bread rise for 45 minutes in a warm area.
3: Stir in milk, sugar, salt, and butter. Then stir in enough flour to make a sticky dough.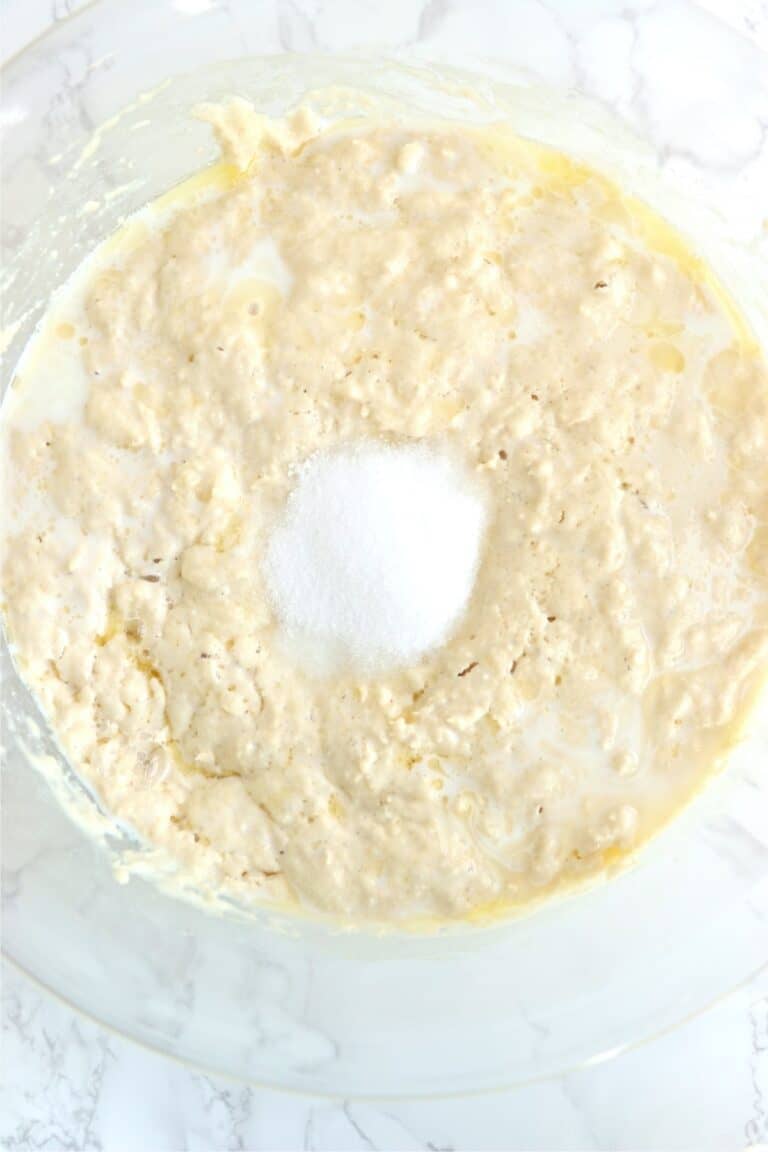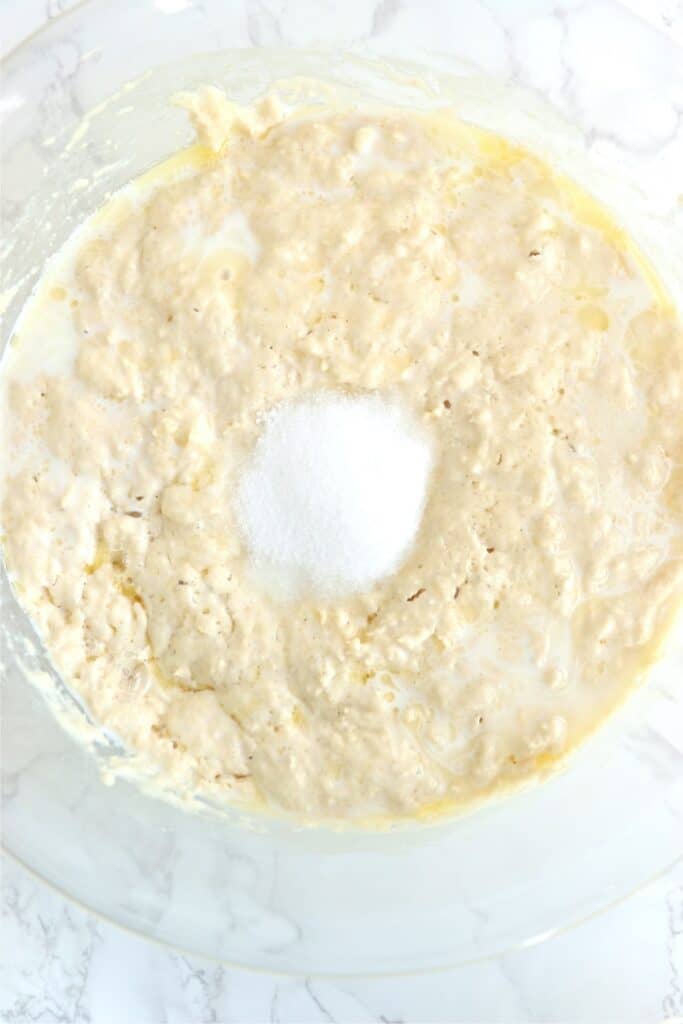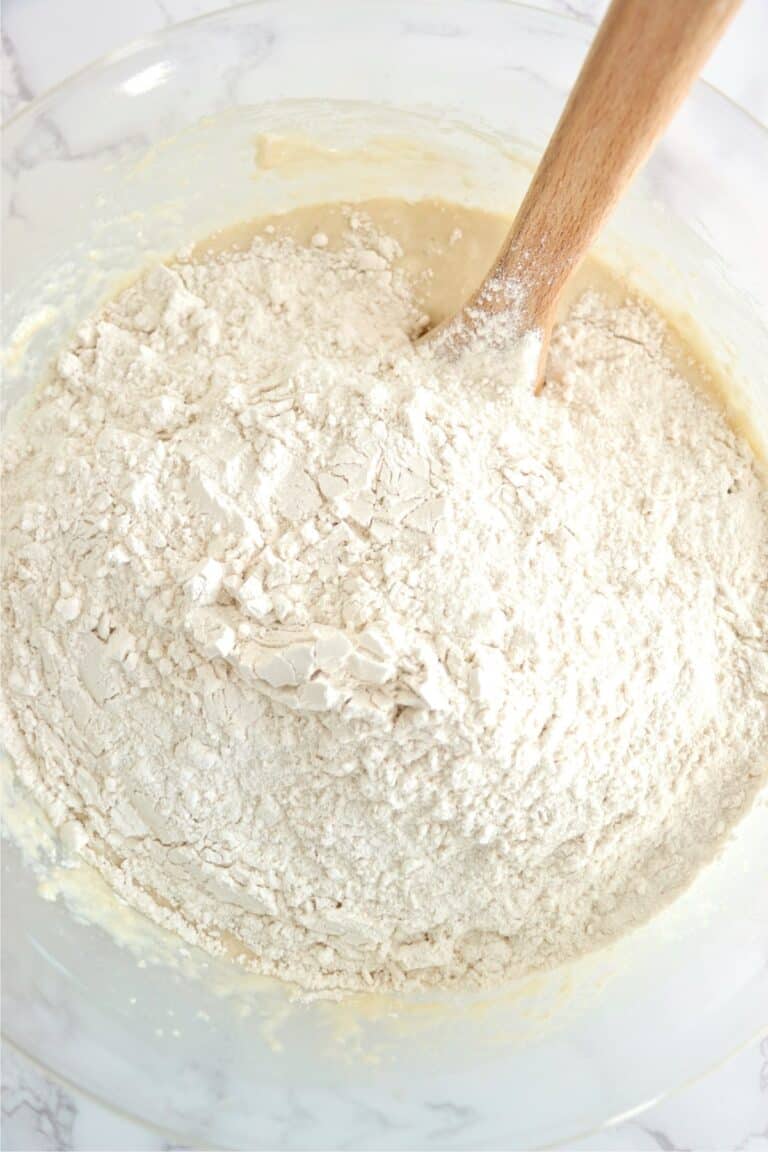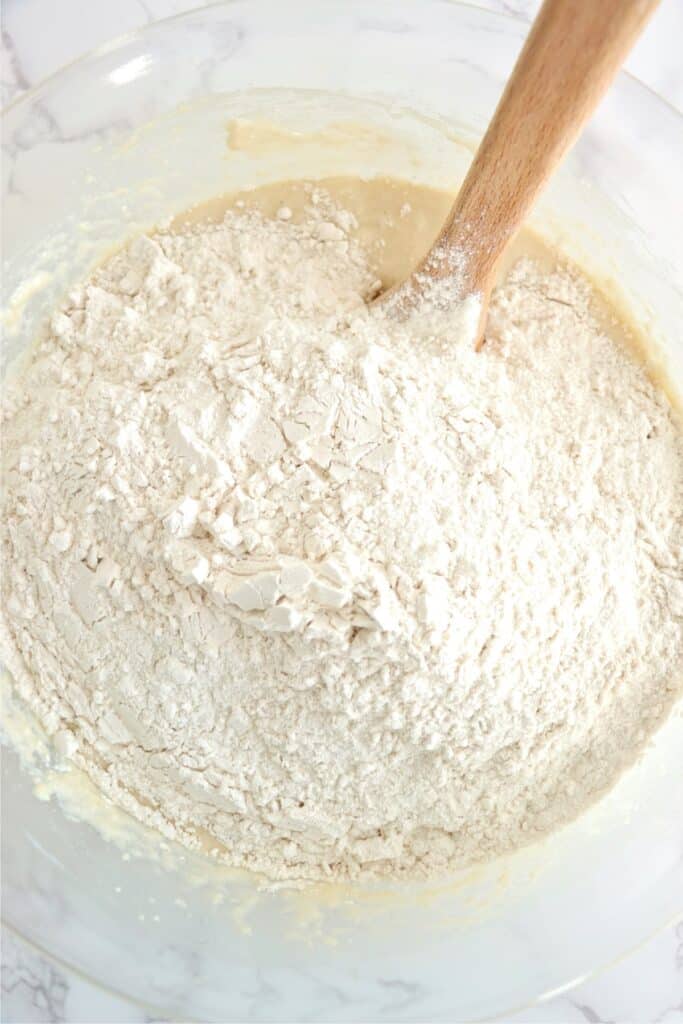 4: Knead the dough on a floured surface for 10 to 15 minutes, adding as much flour as necessary to prevent sticking, until smooth and elastic.
5: Butter a bowl, coat the dough in butter and let rise again under a warm, damp towel until doubled in size.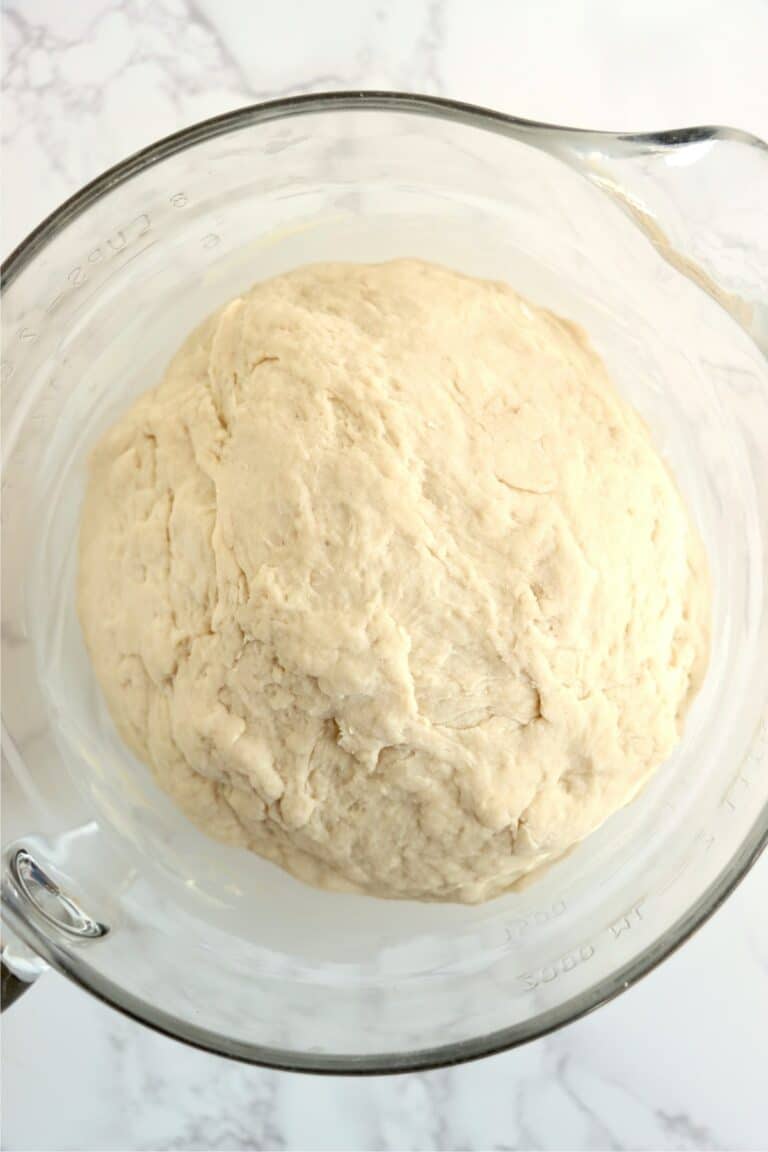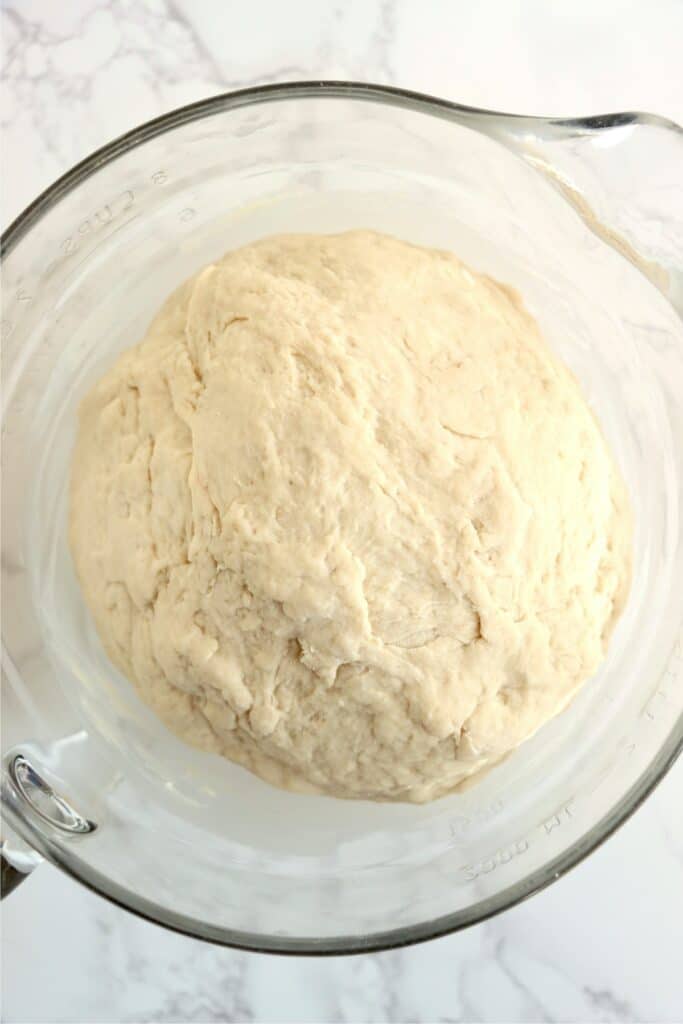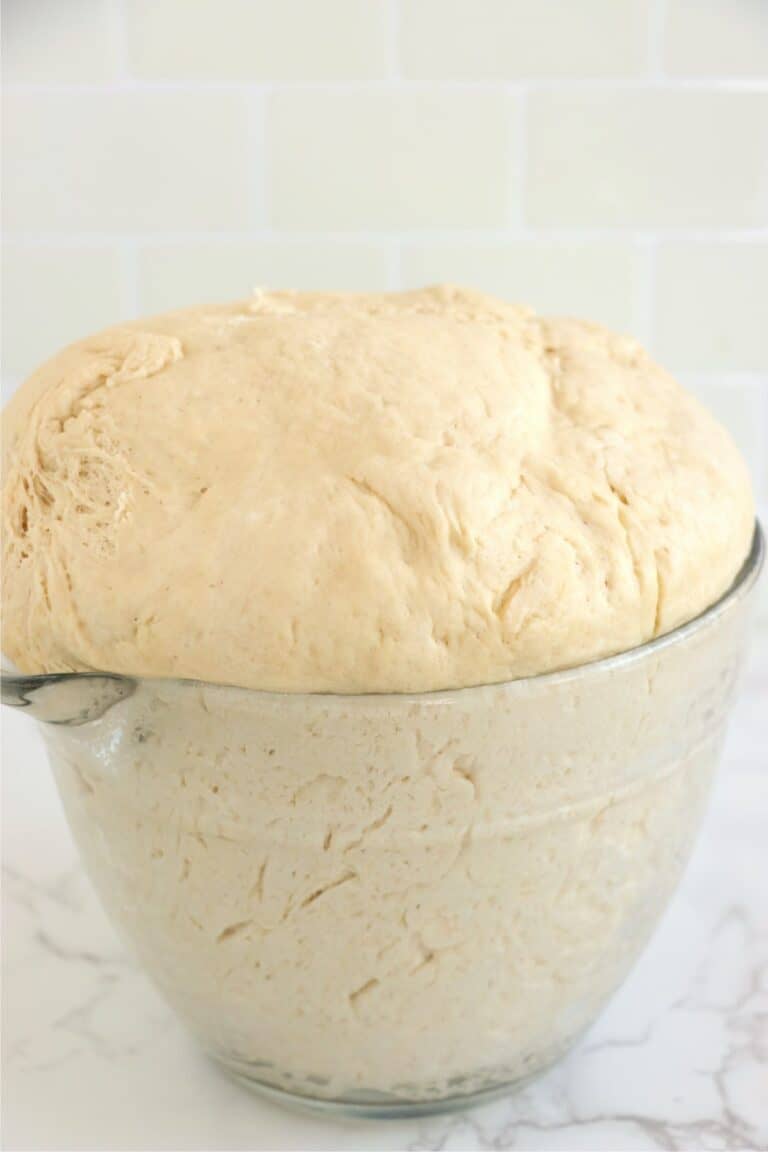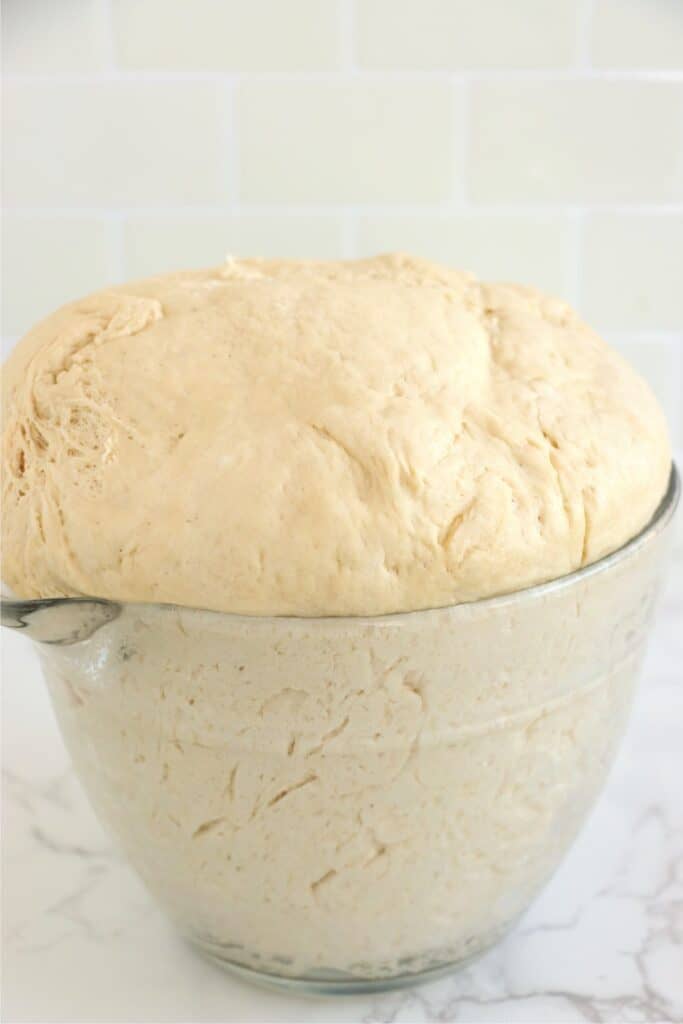 6: Punch down the dough and separate into two loaves. Place in two buttered loaf pans.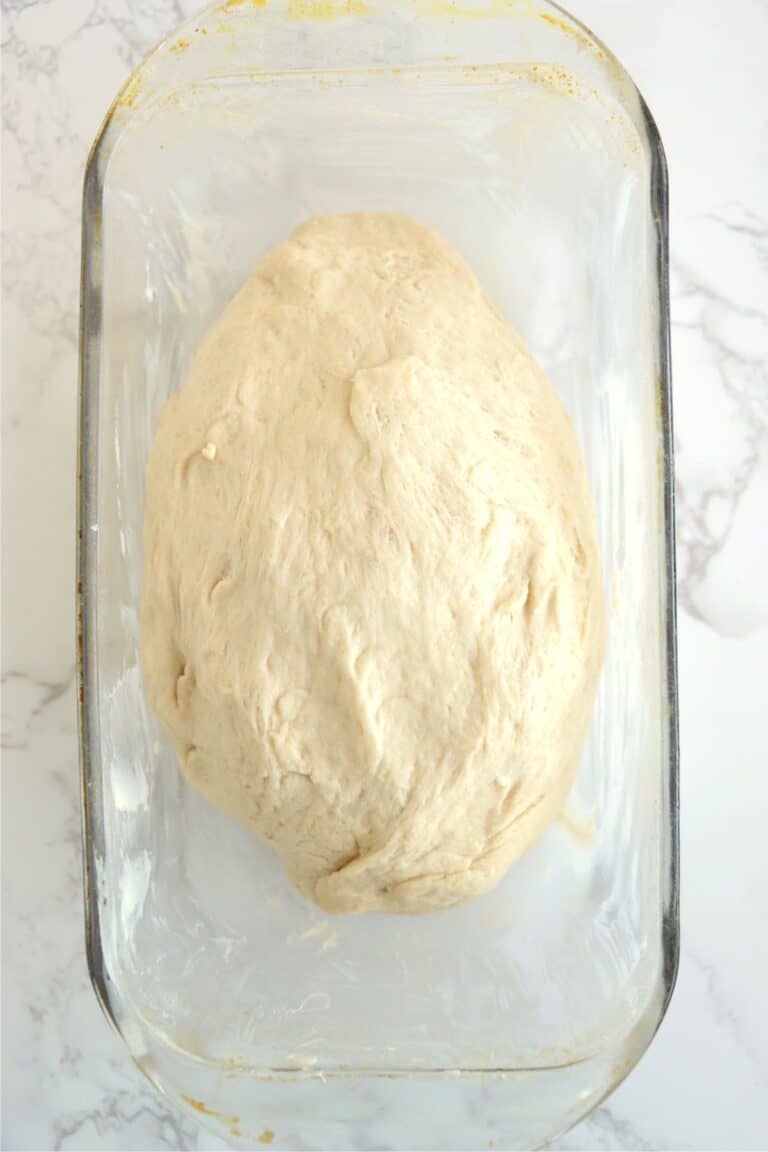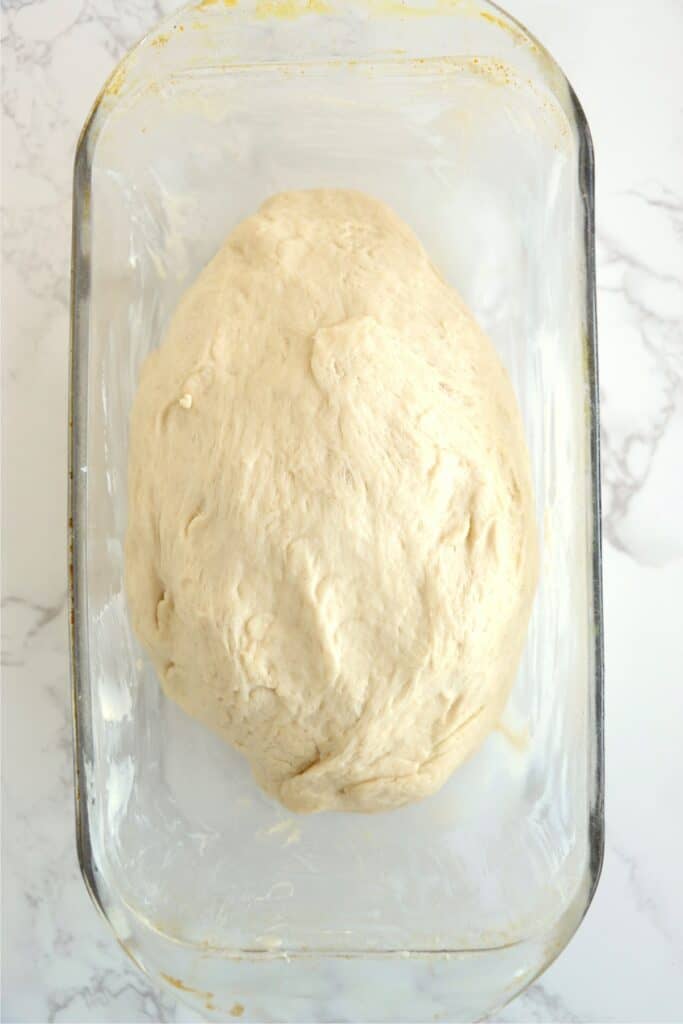 7: Cover the loaves with a damp, warm towel and let them rise until almost doubled in size.
8: Brush the loaves with beaten egg and bake at 425 for 5 minutes. Then, lower the heat to 375 and bake until golden. Cool on a wire rack.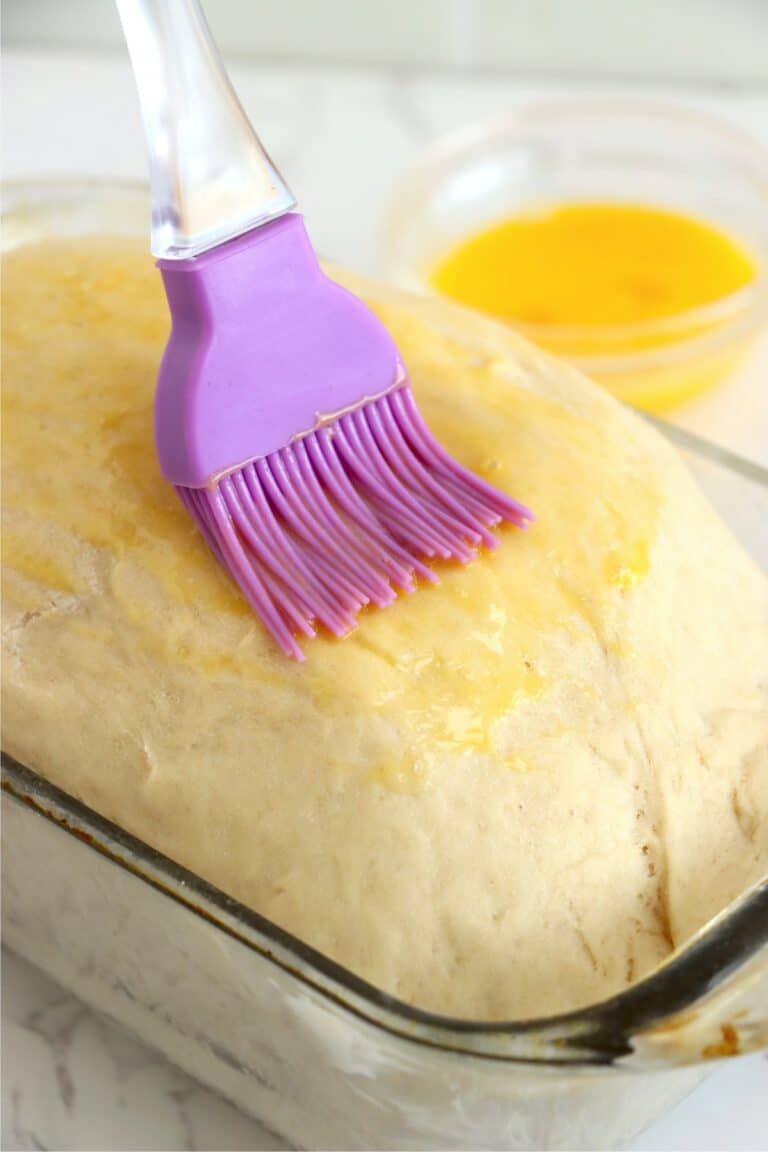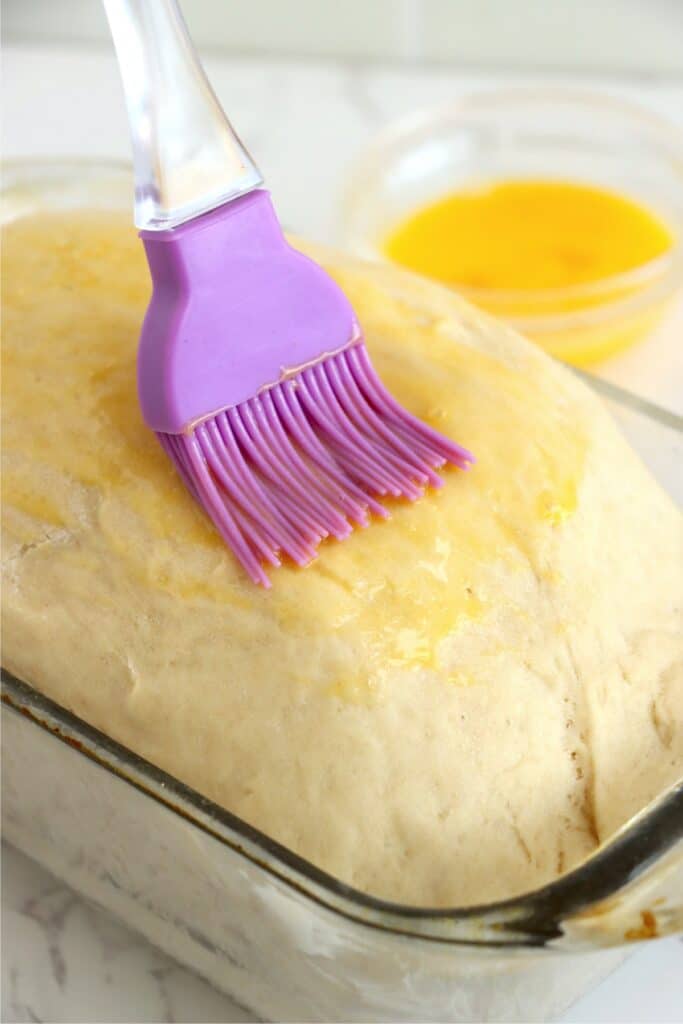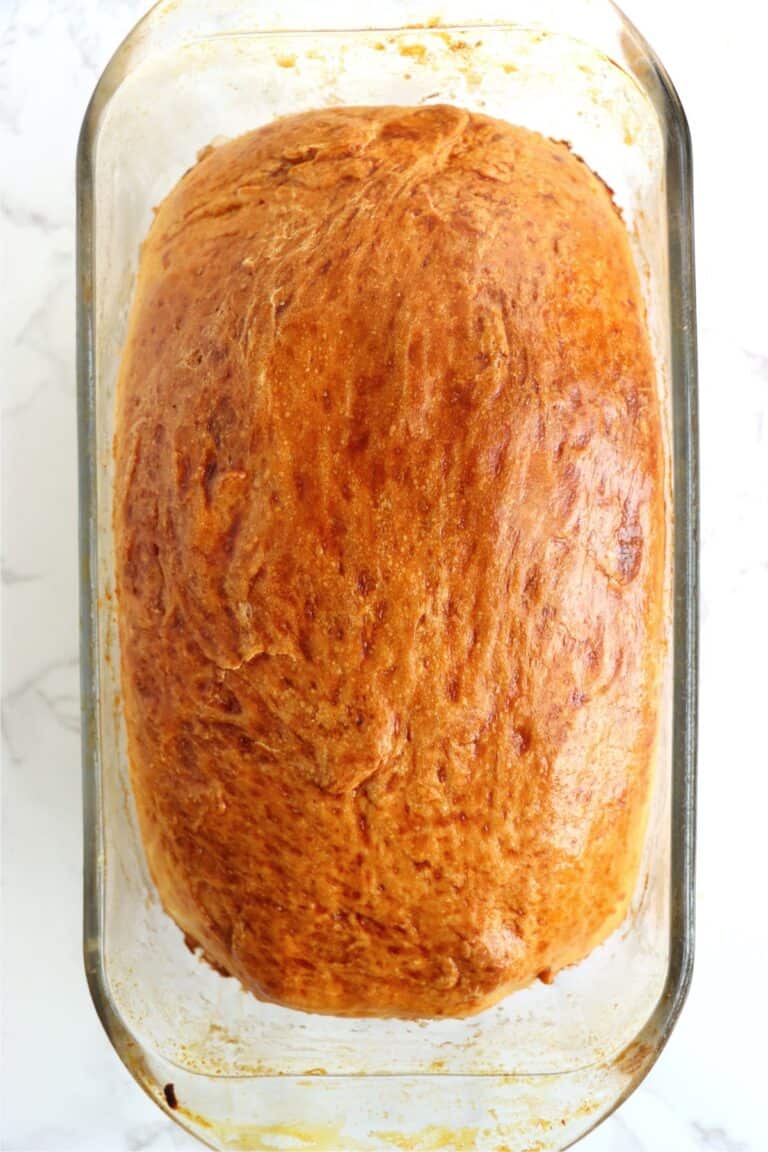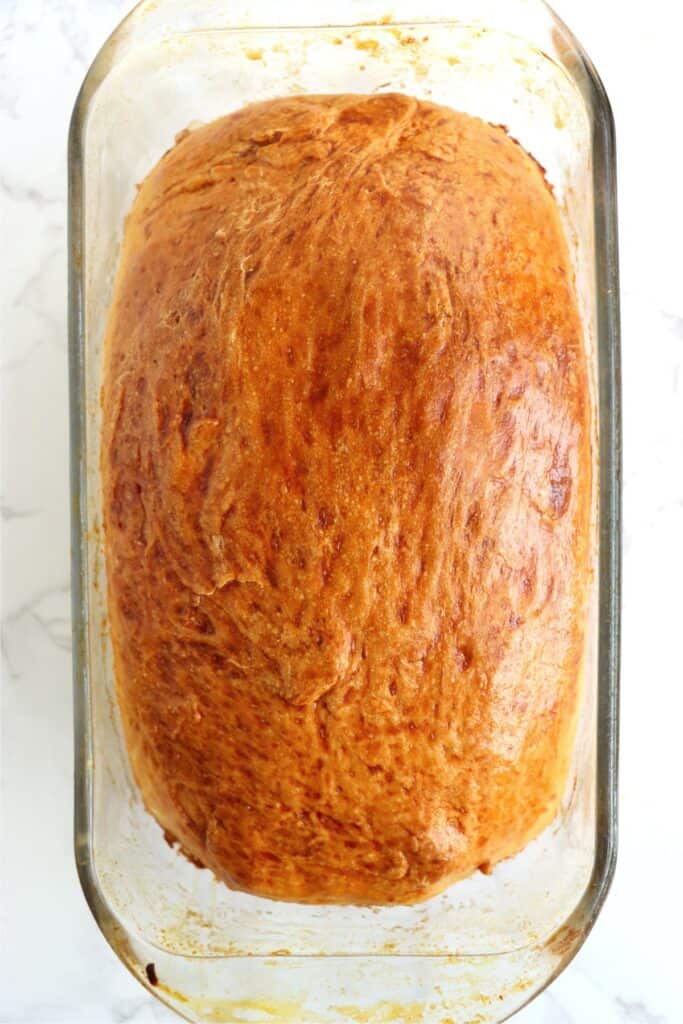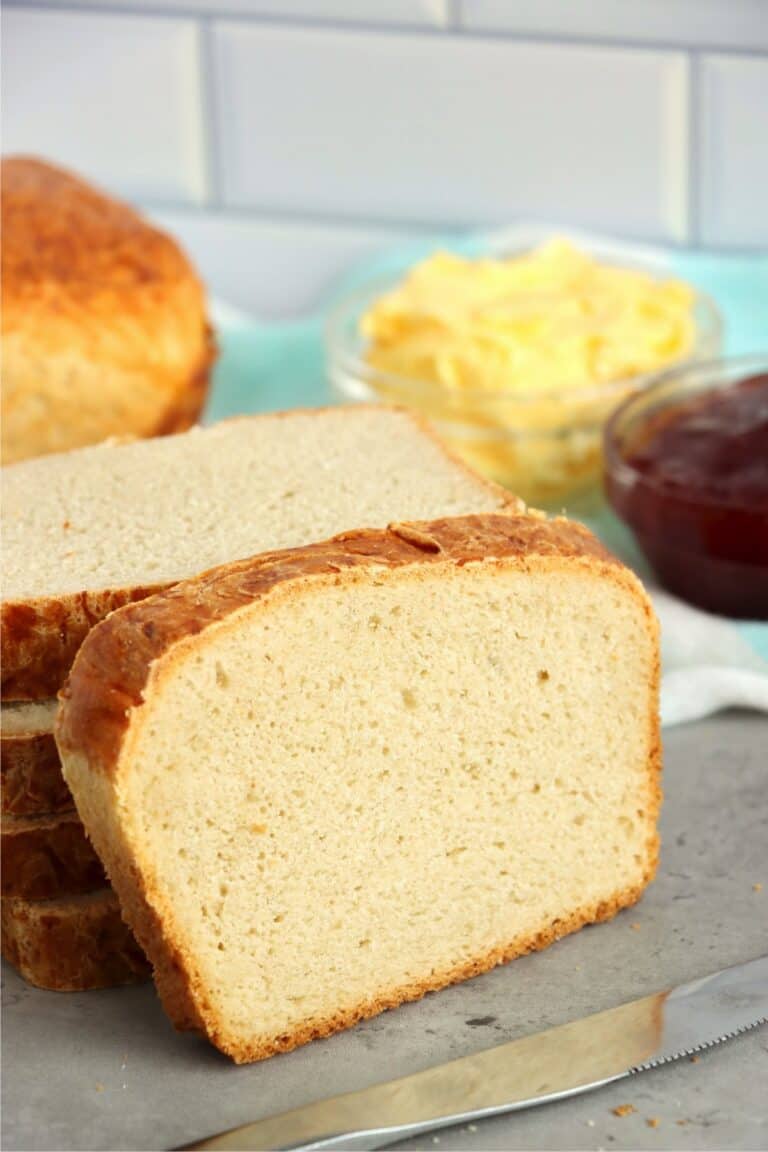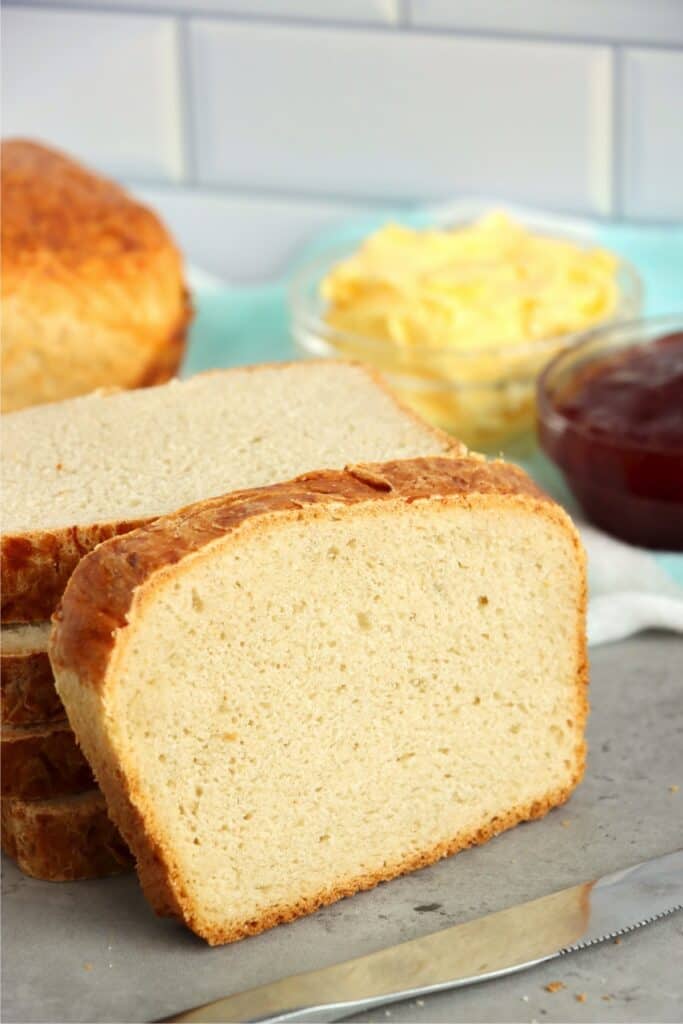 Substitutions and Variations
This is a classic rustic white bread recipe, and the individual ingredients are what make it what it is. For this recipe, I don't recommend substituting or varying anything in the recipe. How you use it, however...
Use this bread for:
Toast and jam
Bread and butter with dinner
For French bread
For delicious sandwiches
Equipment
Measuring cups and spoons
Mixing bowl
Towel
Whisk
Spoon
Loaf pans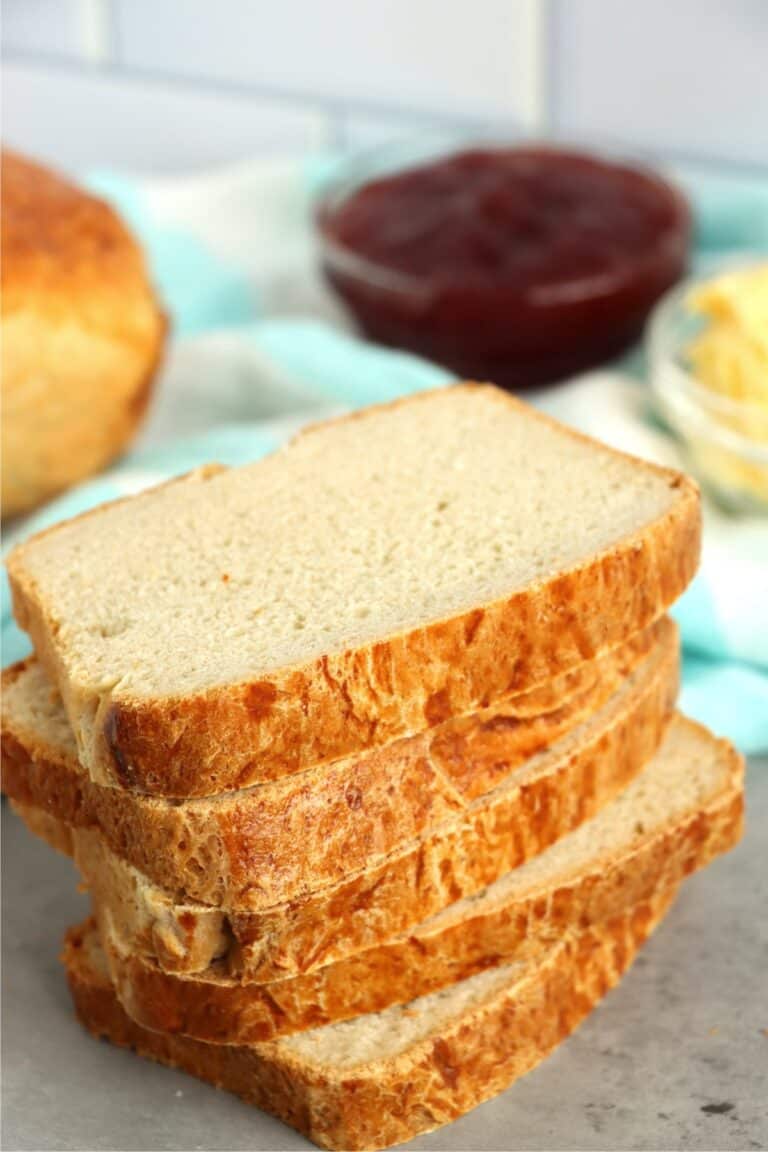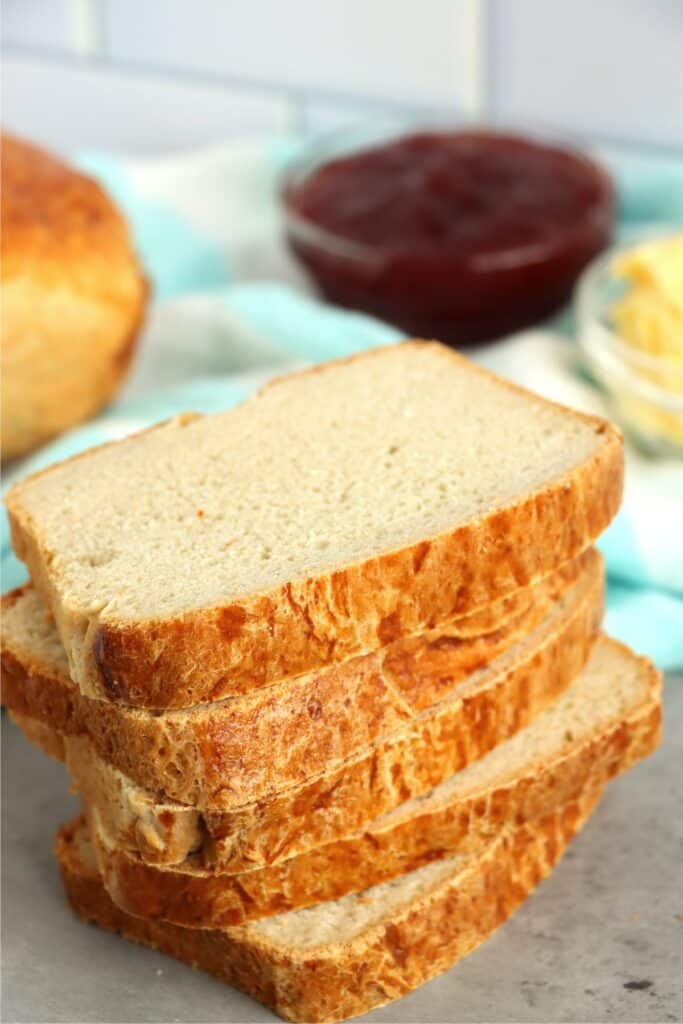 Storage
Counter: Store for up to 4 days in an air-tight container in a cool dry place.
Freezer: Wrap the loaf in a double layer of plastic wrap and then a layer of foil and freeze for up to a month.
Defrost: Simply leave the bread on the counter for a few hours.
What to Serve with Loaf Bread
This delicious country white bread is perfect with jam at breakfast or slathered with butter and served alongside your favorite dinner recipes. Some great options include:
Tips
Make sure your yeast is super fresh. The fresher the yeast, the better your dough will rise.
Let your dough proof in a warm area for best results.
A warm, damp cloth will help the bread rise and add humidity to the air around it.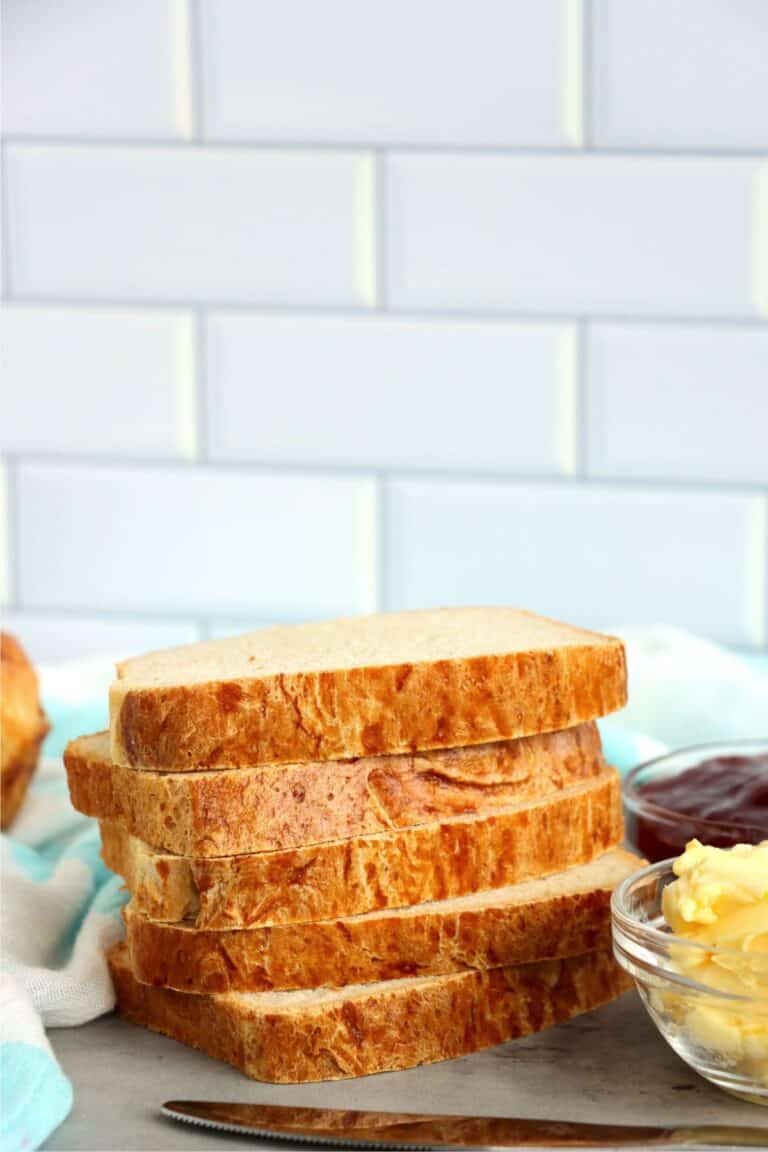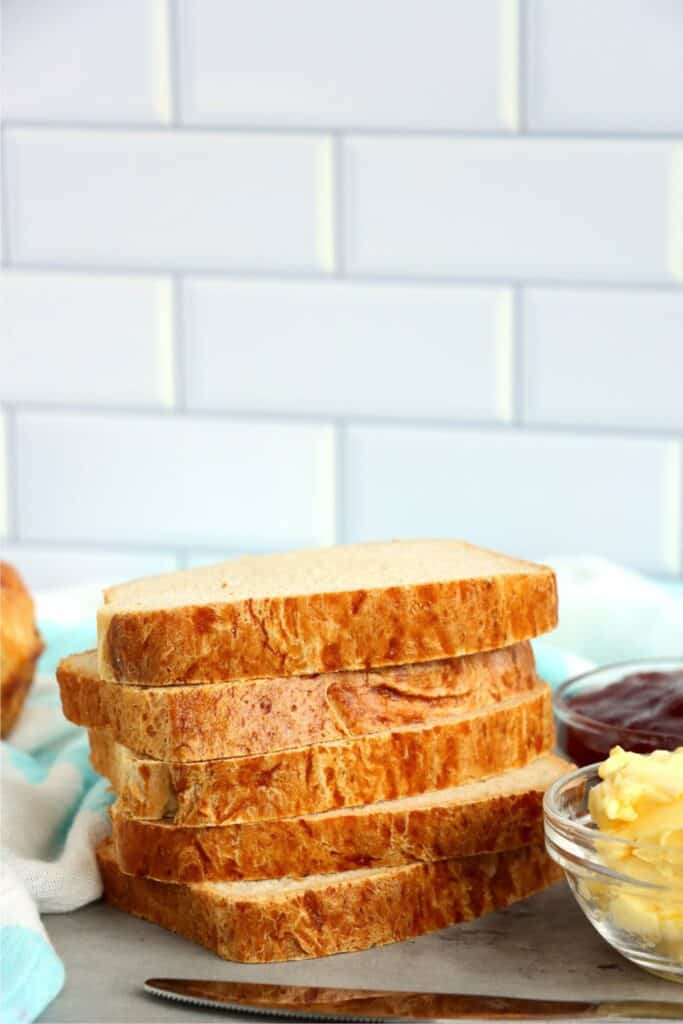 FAQ
Why didn't my yeast work?
Yeast that's too old may be dead and won't work. In addition, if your liquid is too hot, it will kill the yeast. On the other hand, if the liquid is too cool, the yeast won't activate or "wake up" to do its job.
How does yeast work?
Yeast is actually a living organism. It eats the sugar in the bread dough and releases carbon dioxide as it digests it. The carbon dioxide is trapped in the dough which causes it to rise.
Why didn't my bread rise?
There are a few reasons this could happen. If your yeast is too old or if the liquid was too warm or cold, your dough won't rise. In addition, if you leave your bread in a spot that isn't warm enough, the cool air will inhibit the activity of the yeast resulting in a sub-par rise.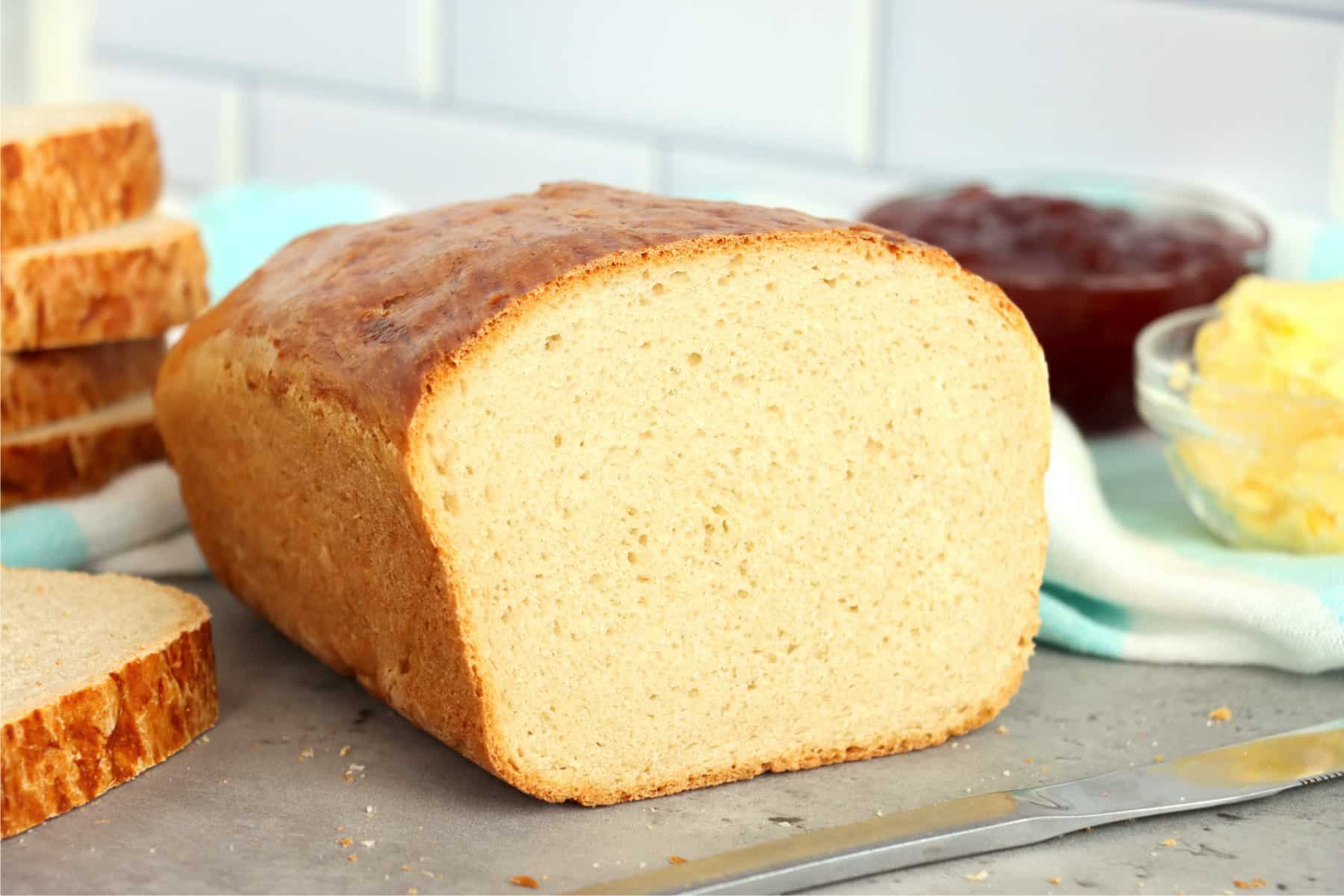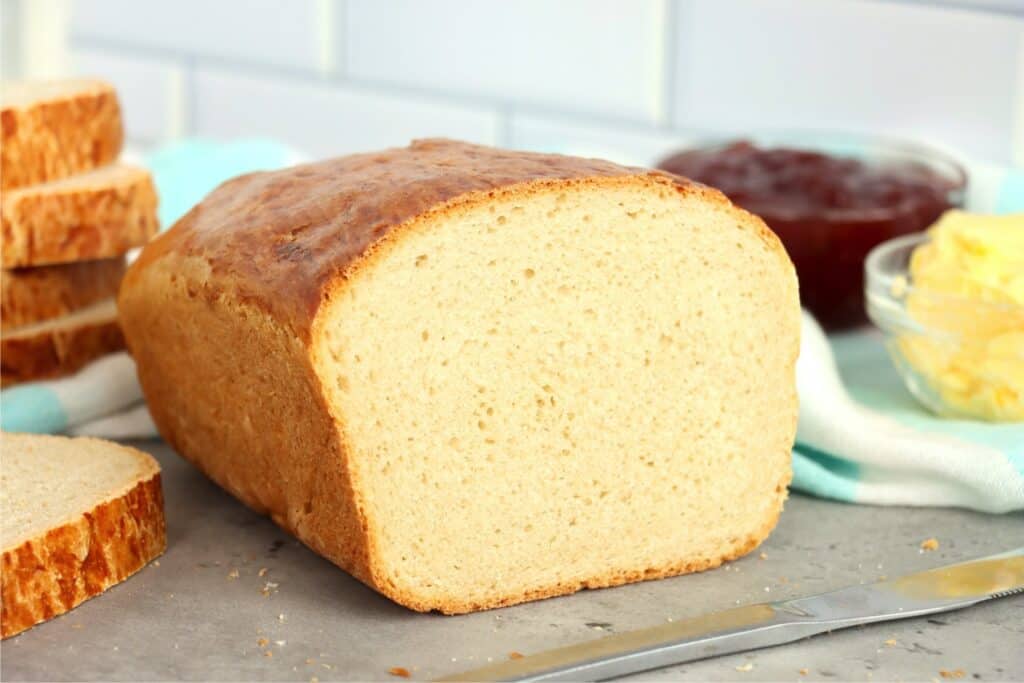 Tasty Recipes Using Bread
Yield: 32 servings
Country White Bread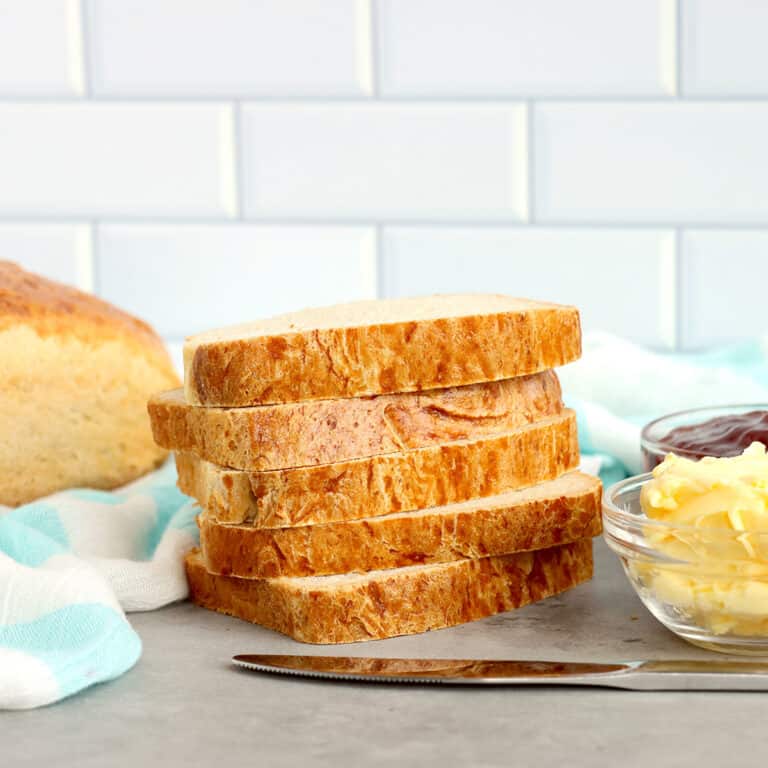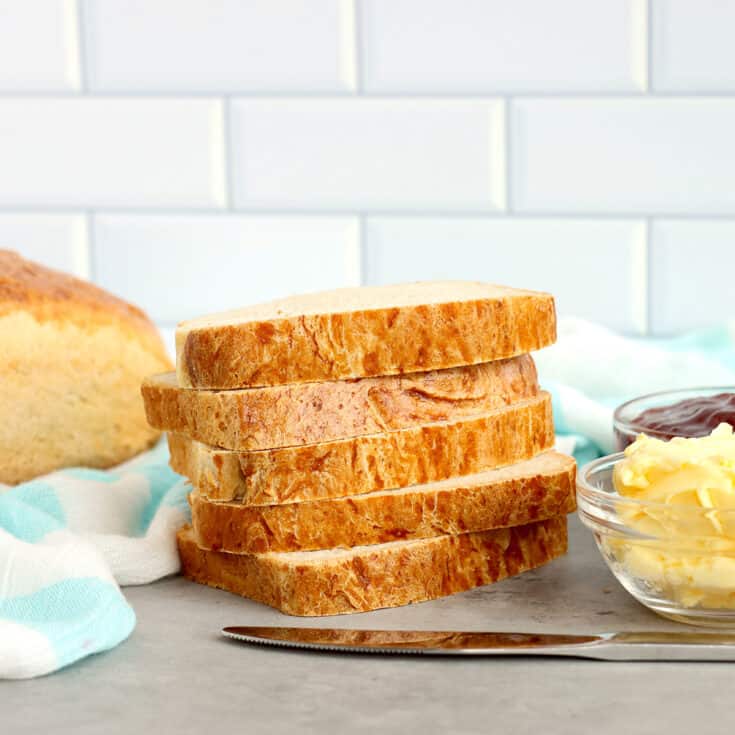 This country white bread is some of the best bread you'll ever make. Soft, fluffy, and rustic, this bread is perfect for toast or sandwiches.
Additional Time
1 hour
40 minutes
Total Time
2 hours
50 minutes
Ingredients
3 tbsp sugar
1 ½ cups warm water (about 105ºF)
3 packets active dry yeast (6 ¾ tsp)
8-9 cups all-purpose flour
1 ½ cups warm milk
2 tbsp salt
4 ½ tbsp butter, melted and cooled (plus extra for greasing and finishing)
1 egg, beaten
Instructions
In a large bowl, combine 1 ½ tablespoons of sugar and water. Sprinkle yeast over top of the mixture and allow it to sit for 10 minutes. It will become foamy.
The yeast should puff up and cover the surface of the water. If your yeast doesn't foam up within ten minutes you might need to use slightly cooler water or get some fresh yeast.
Stir in 2 ¾ cups of the flour until incorporated. Cover with a warm damp cloth and place in a warm area for 45 minutes. This bread needs to rise in a warm area or it will not rise properly.
Stir in milk, remaining sugar, salt and butter until combined.
Stir in 5 to 6 cups of the remaining flour, enough to make a soft sticky dough.
Dump the dough onto a floured surface and knead it for 10 to 15 minutes incorporating as much flour as necessary to prevent sticking. The dough should be smooth and elastic.
Form it into a ball and put it into a well buttered bowl. Coat the dough with butter also. Cover again with a warm, damp towel and let it rise for 45 minutes to 1 hour, back in a warm place, until it is double its original size.
Punch down the center of the dough. Separate dough into two pieces and form into 2 loaves. Put each into a buttered loaf pan. Cover with the warm, damp towel again and let them rise again, covered, for 30 to 45 minutes, until they almost double in size again.
Preheat oven to 425ºF.
Paint the beaten egg on top of both loaves before placing inside the oven.
Bake for 5 minutes. Lower the heat to 375ºF and bake for 35 to 40 minutes or until golden.
Turn onto a rack to cool.
Serve and enjoy!
Nutrition Information
Yield
32
Serving Size
1
Amount Per Serving
Calories

1053
Total Fat

5g
Saturated Fat

2g
Trans Fat

0g
Unsaturated Fat

2g
Cholesterol

11mg
Sodium

463mg
Carbohydrates

217g
Fiber

8g
Sugar

3g
Protein

30g
Get Inspired!
Never miss my delicious recipes, cute creations, or household tips!