These grilled pears are loaded with caramelized, brown sugar and cinnamon flavors and are so easy to make. They're the perfect addition to any meal.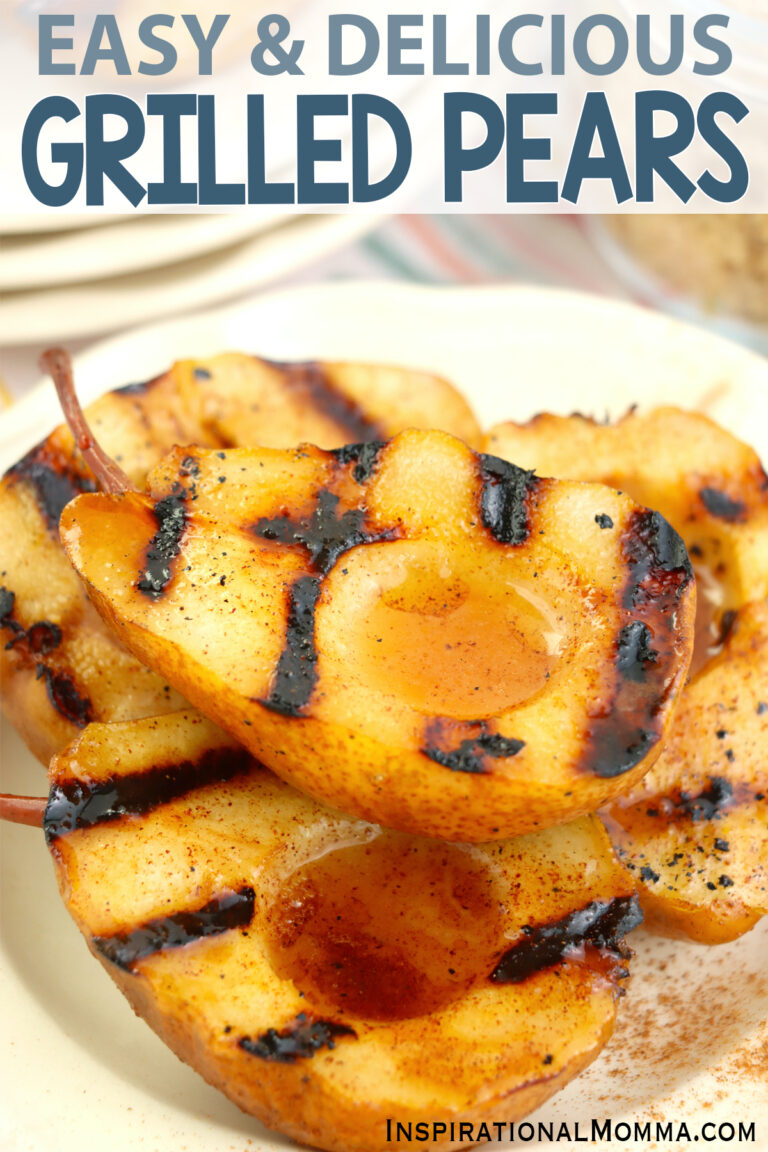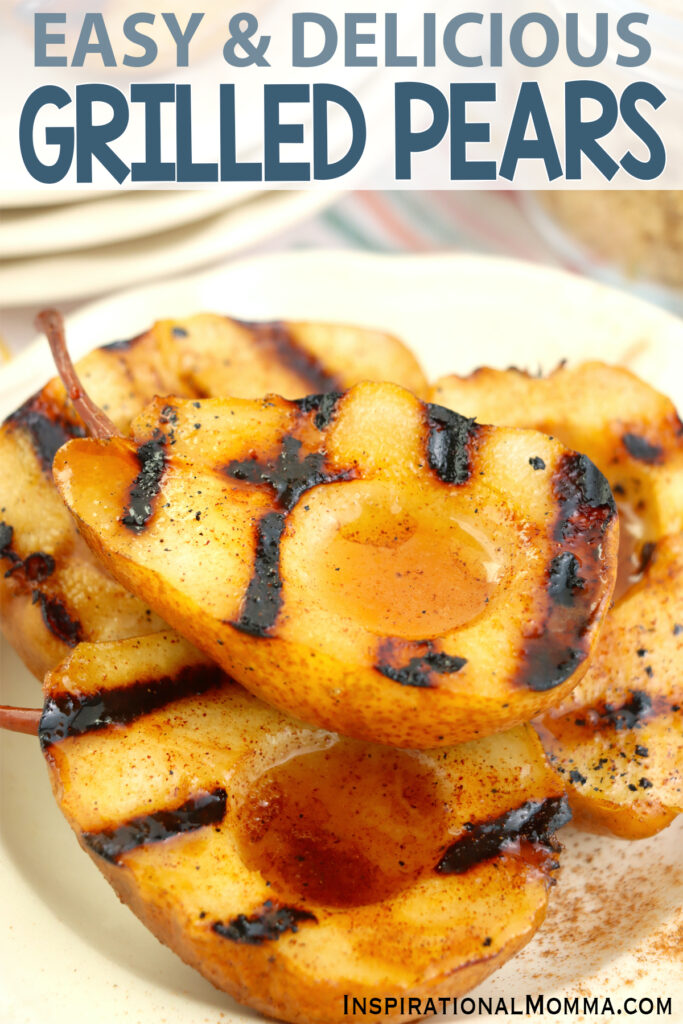 Pears are one of my favorite fruits. I love to make pear salad with them or add them to my regular salads. I'm also a big fan of pear bread and other desserts. One of my favorite ways to make them, however, is to simply grill them. And when I say simply, I mean that literally. These are incredibly simple to make.
The best part is that you can grill them outdoors during the summer or cook them on a grill pan in the winter or on rainy days. They're delicious both ways, which makes this a year-round recipe that everyone can and will enjoy.
Easy, Delicious Grilled Pears
These pears develop a deep, sweet, caramelized flavor that's similar to the flavor achieved with these baked apples. Similar to how baking fruit concentrates the natural sweetness of any fruit, grilling these pears also concentrates their sweetness, however it also adds an element of caramelization due to the grill grate cooking it directly.
Another thing that's a huge bonus for me is that I can serve up a sweet dessert that's far healthier than many other desserts. With simply pears and a little brown sugar and cinnamon, you get a ton of sweet flavor without a ton of sugar and extra empty calories.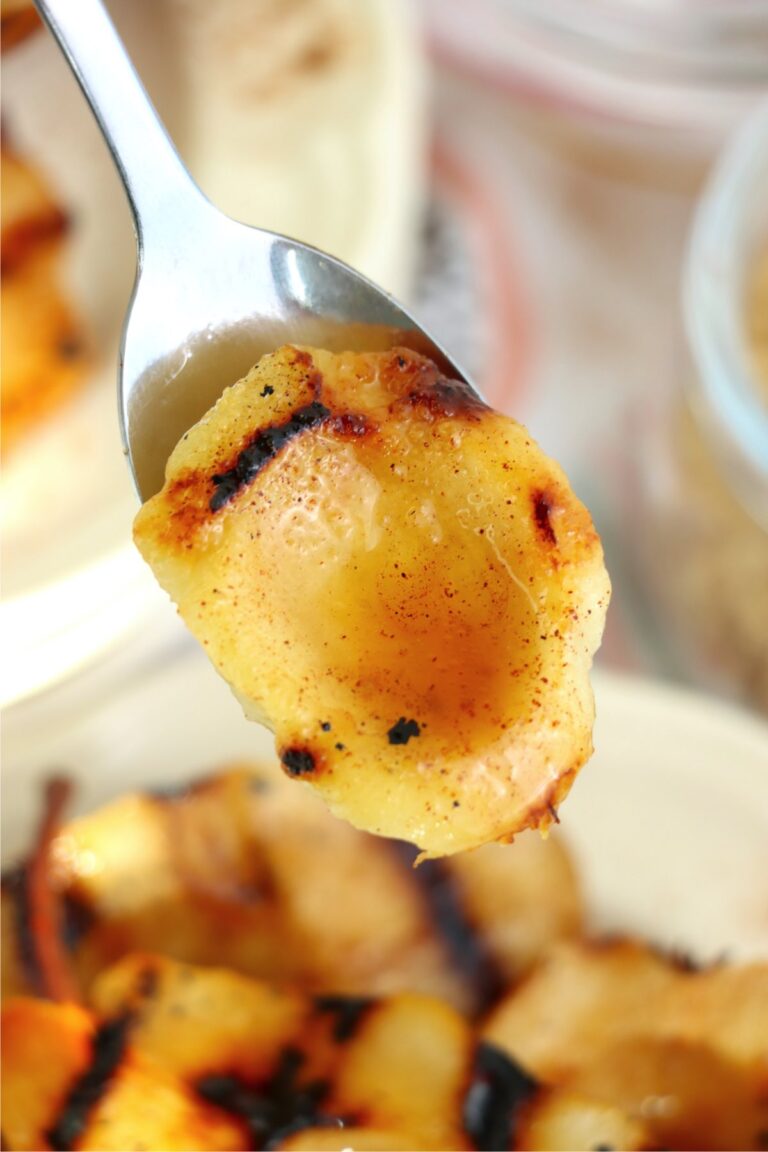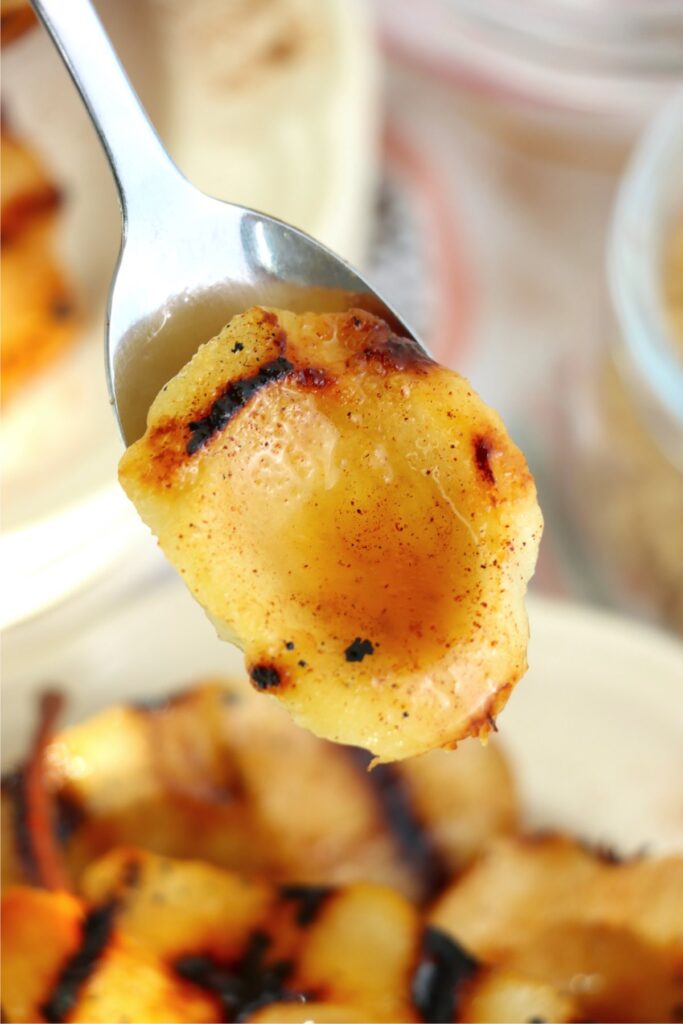 The delicious brown sugar and cinnamon flavor of these grilled pears make them a great dessert to pair with meals like this BBQ brown sugar chicken and air fryer frozen meatballs.
Why You'll Love This Recipe
It's an easy pear recipe that you can make quickly.
It's just as delicious made on a grill pan as it is on an outdoor grill.
It's sweet and tasty without being loaded with an excessive amount of sugar.
It pairs well with any grilled food, so it's perfect for backyard parties.
Ingredients
You'll only need a handful of simple ingredients to make this recipe. Aside from the pears, everything you need is a kitchen staple. And if you eat pears regularly, you might not have to do any shopping for this recipe at all.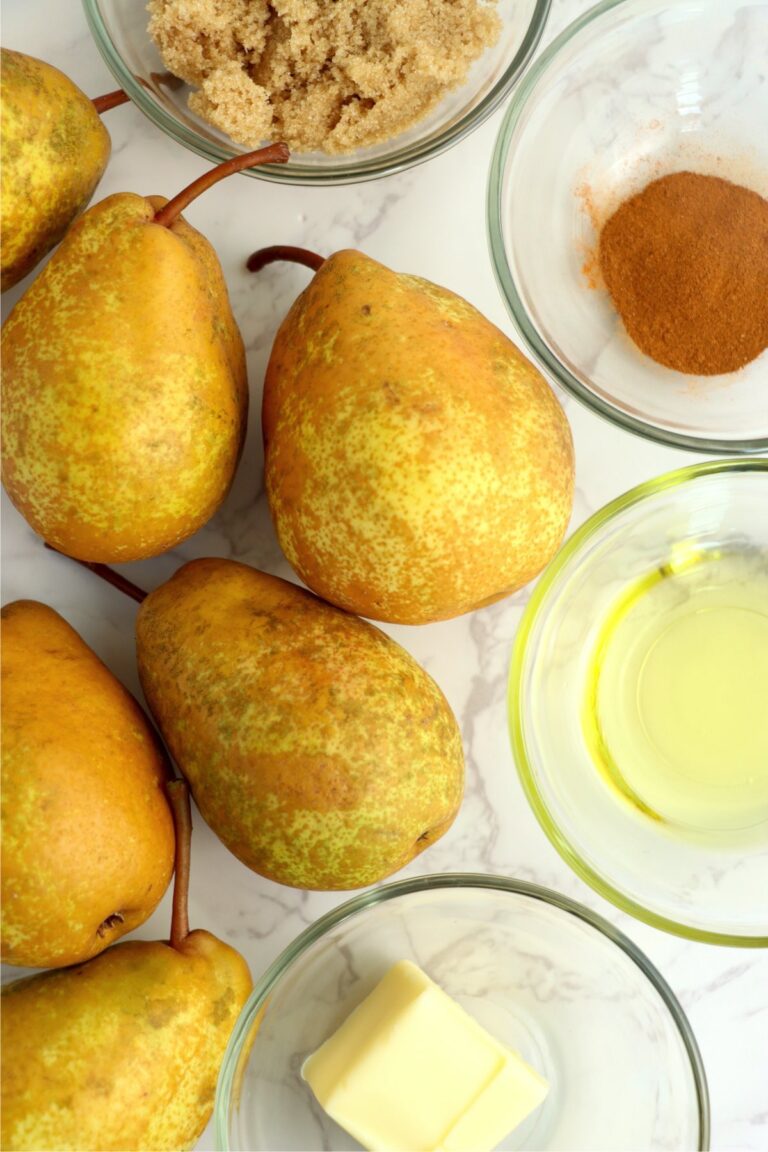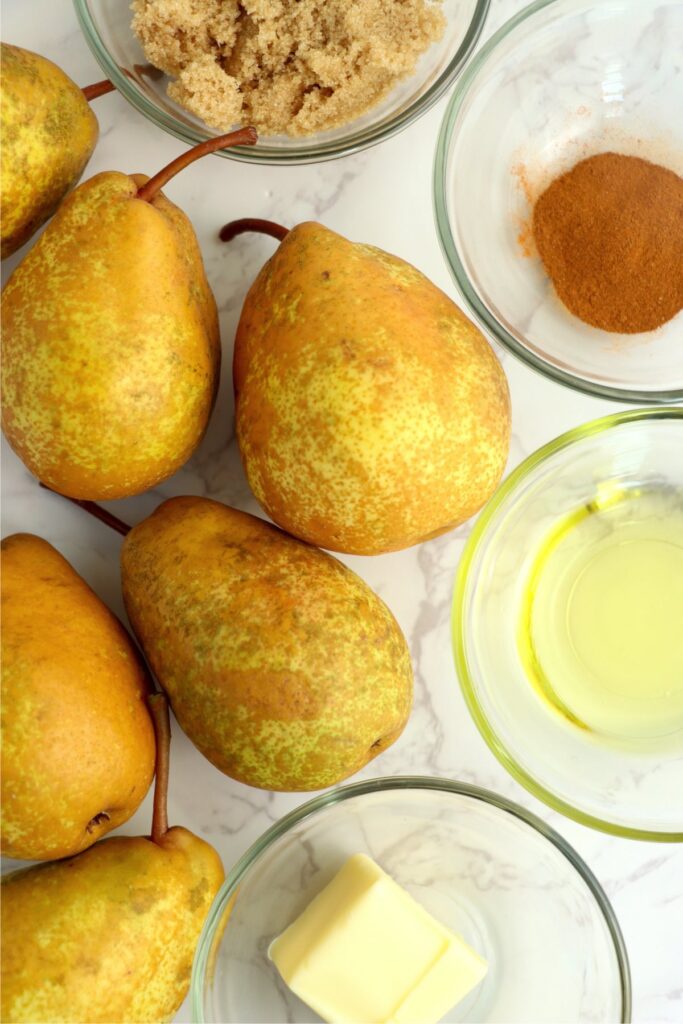 Pears: The vehicle for all the delicious flavor in this recipe.
Brown sugar and cinnamon: For rich, deep, sweetness.
Butter: To adhere the brown sugar-cinnamon mixture to the pears.
Olive oil: To prevent sticking.
The full ingredient list with quantities can be found in the recipe card at the end of the post.
How to Make Grilled Pears
You won't find a recipe much easier than this one. It only takes a few minutes to make on a hot grill. We're covering the high points of the recipe here, but when you check the recipe card at the end of the post, you'll find that the high points are almost ALL of the points!
1: Cut the pears in half and core them.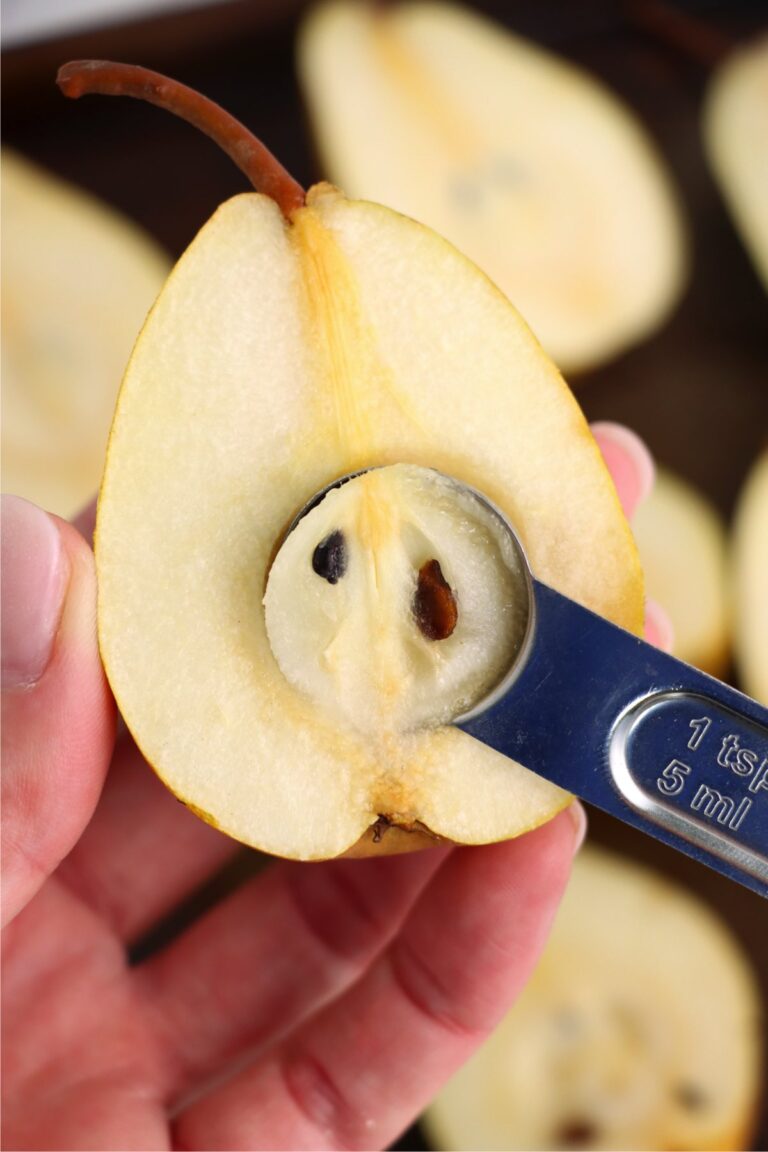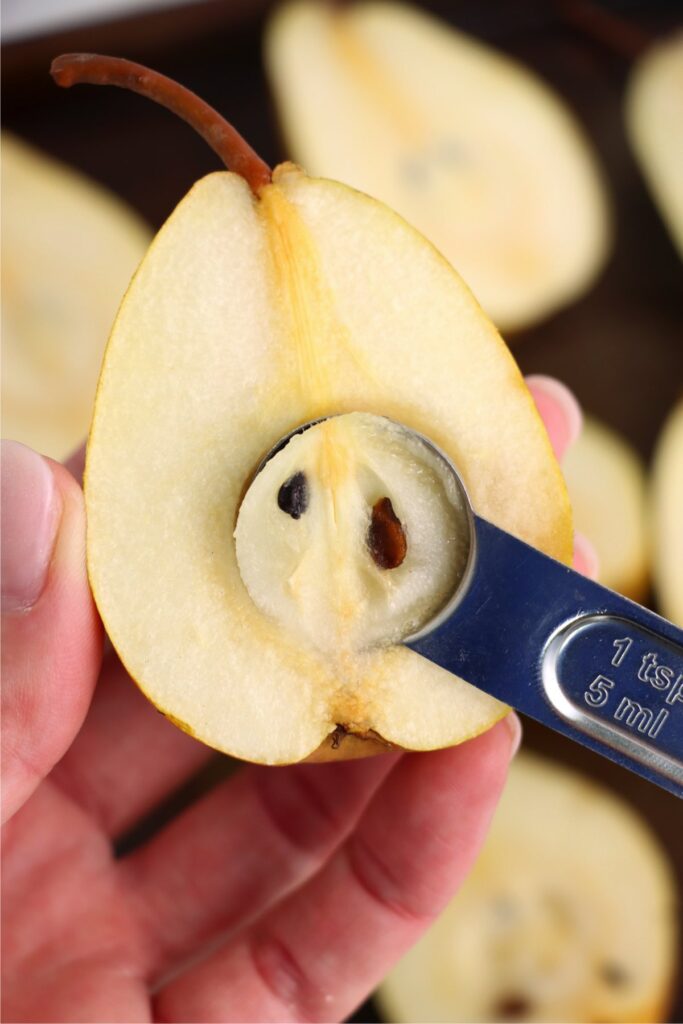 2: Brush with olive oil.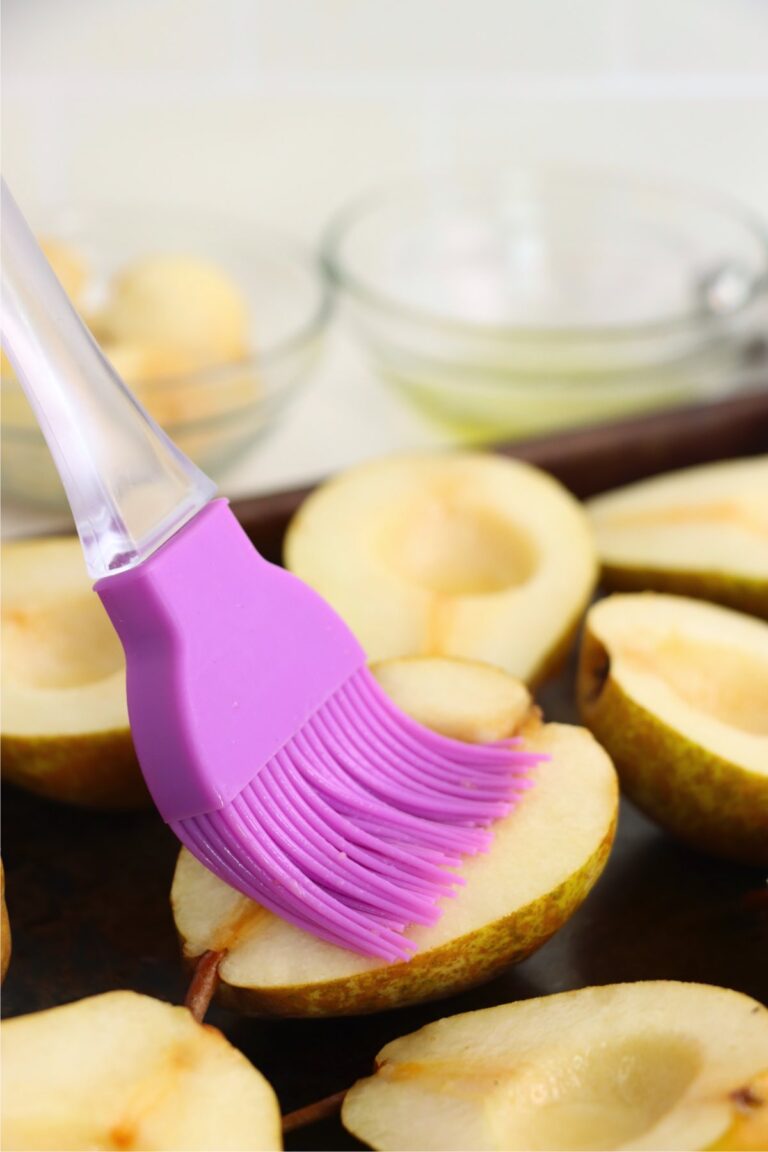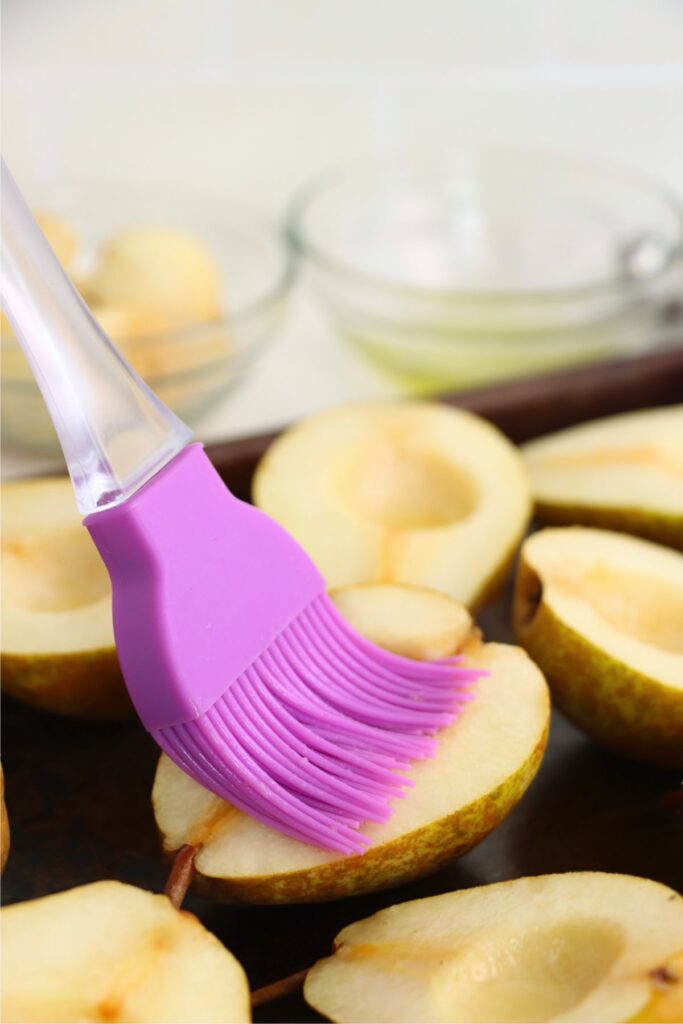 3: Grill until tender.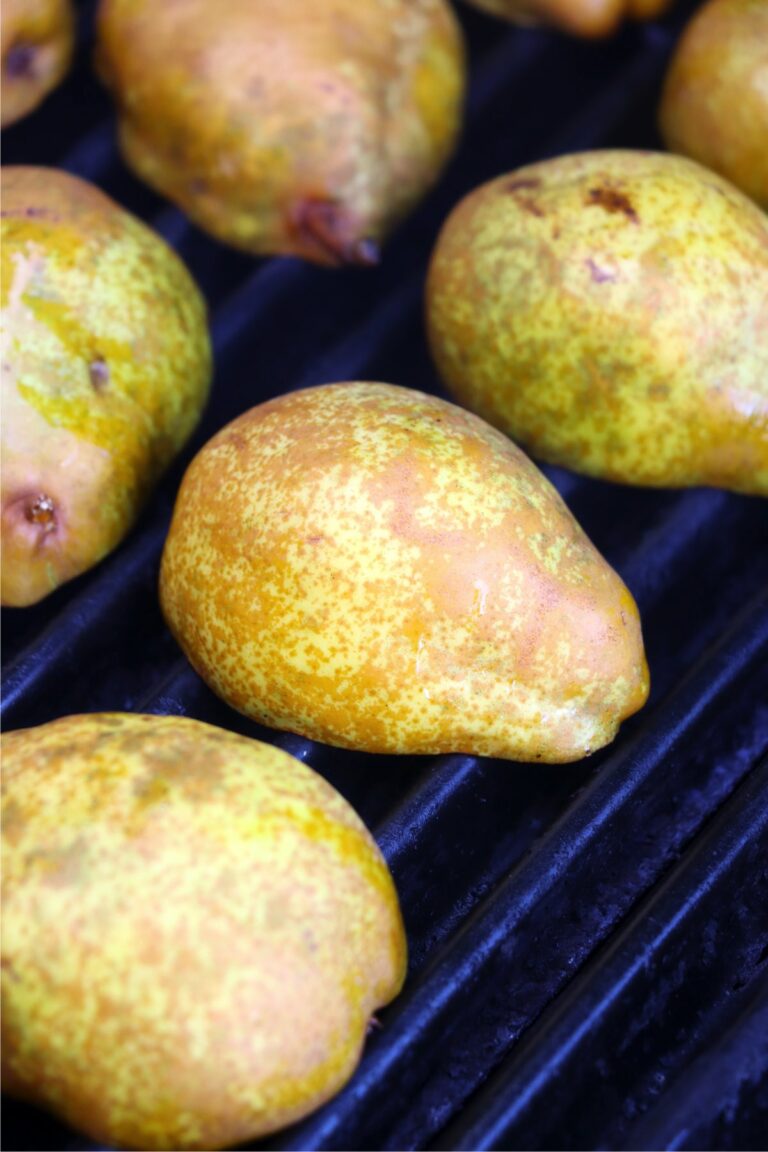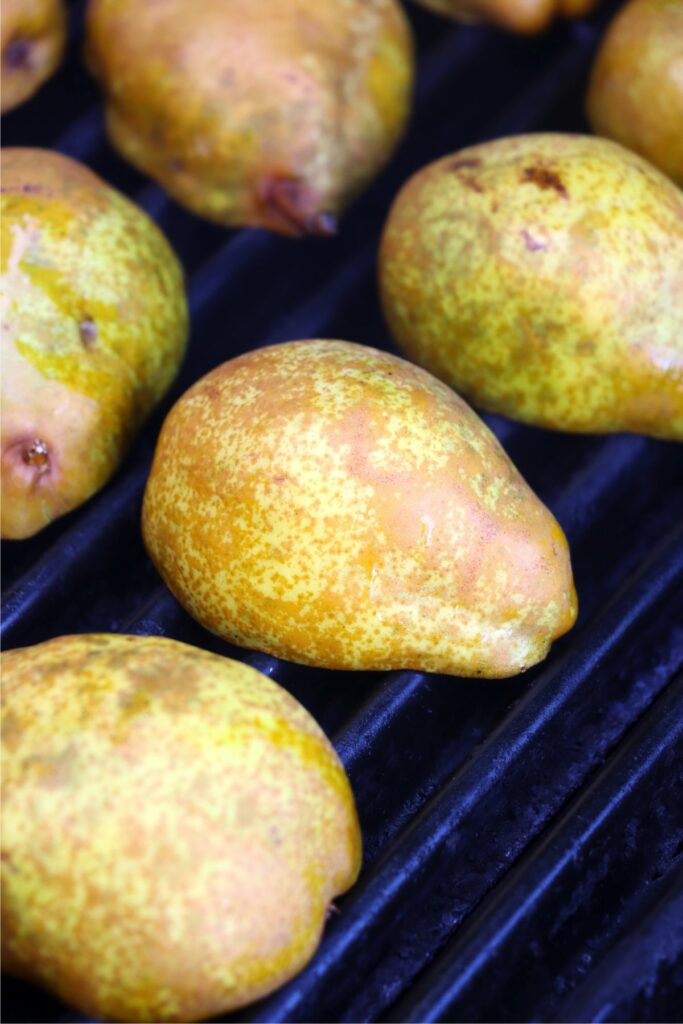 4: Make the brown sugar cinnamon sauce in a saucepan.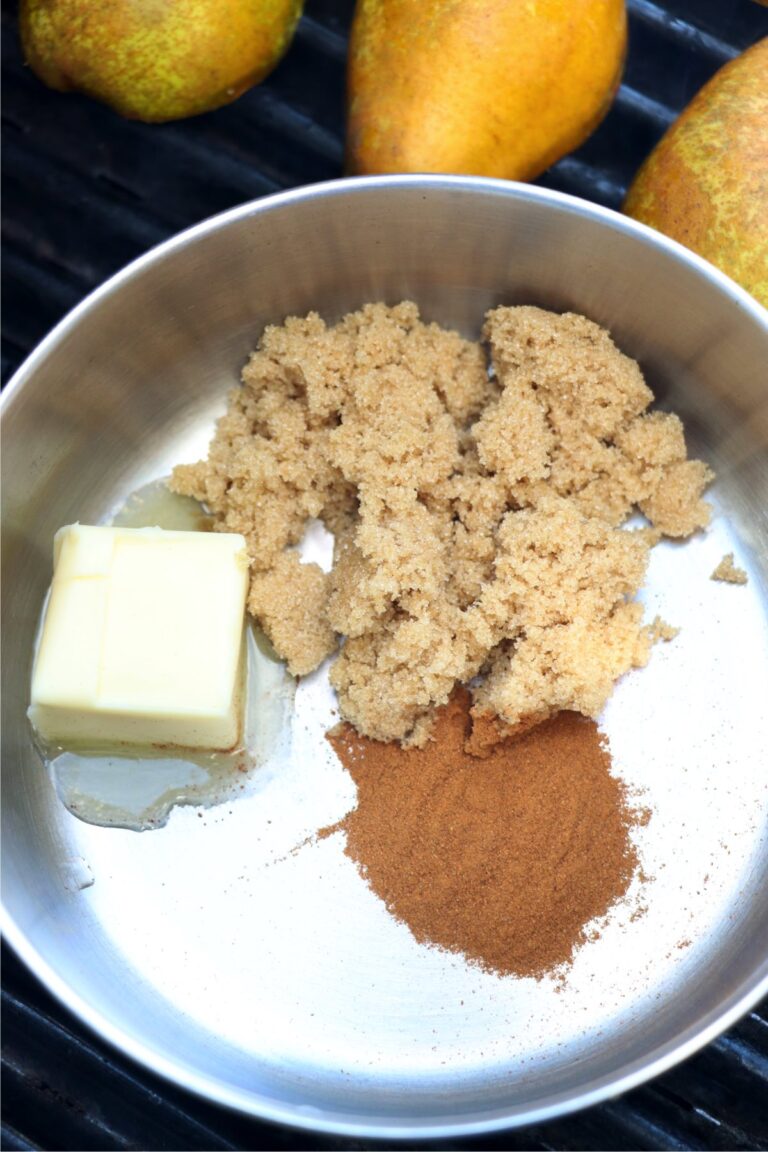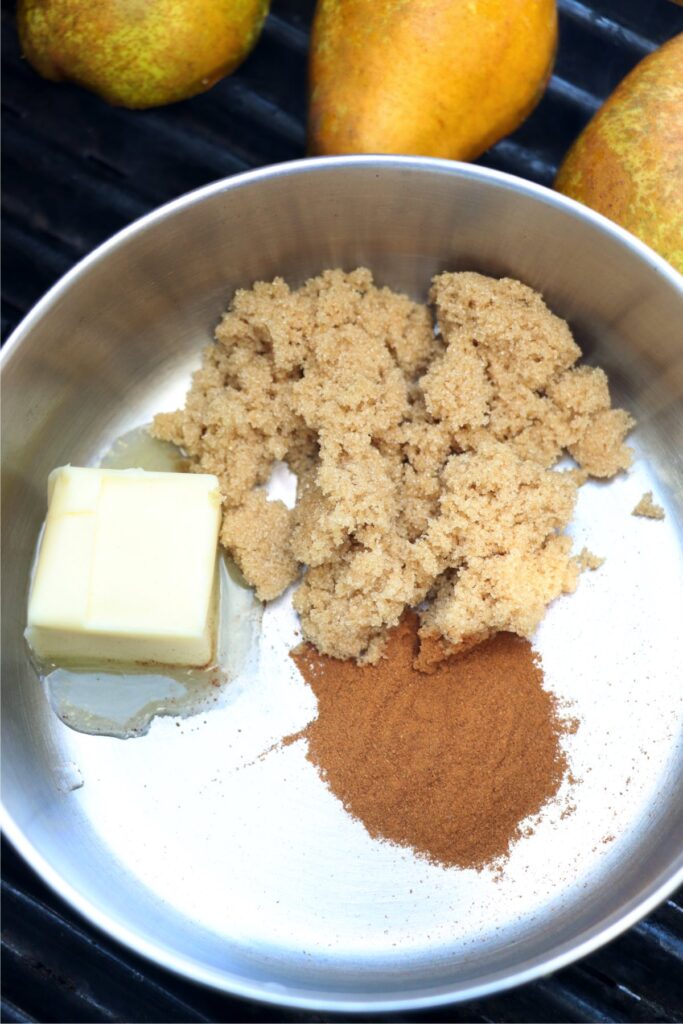 5: Flip the pears and brush with the brown sugar-cinnamon mixture.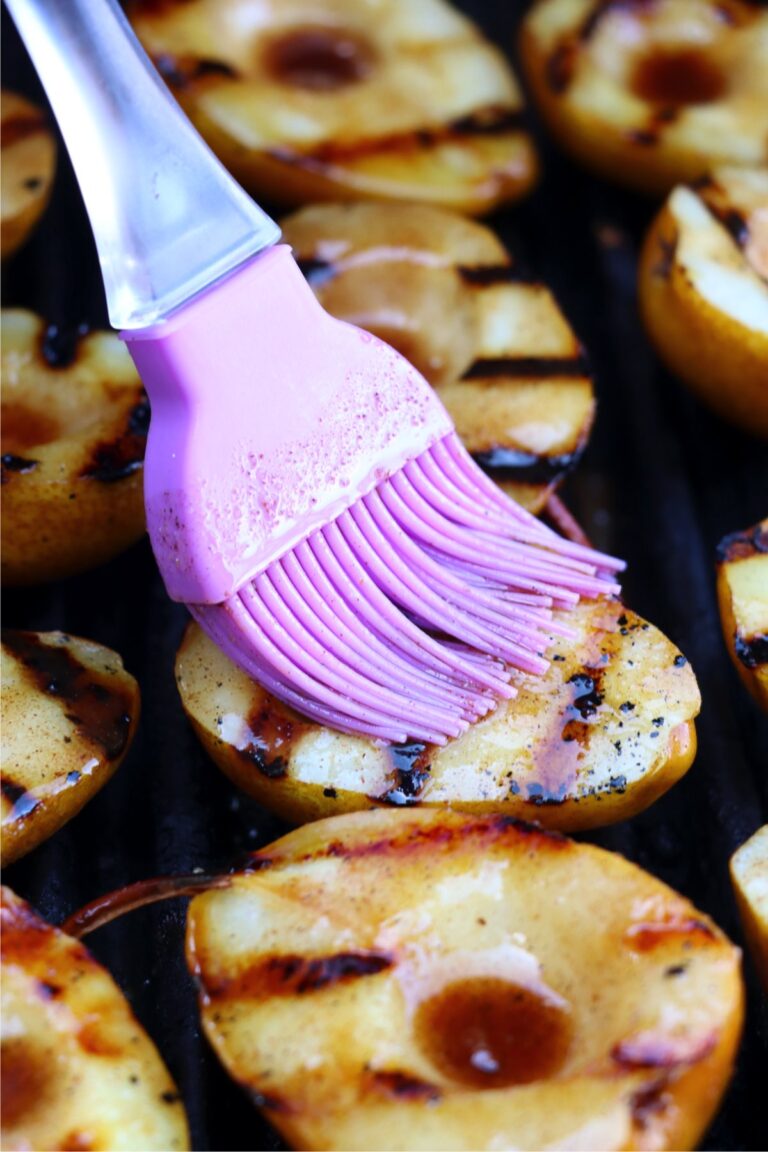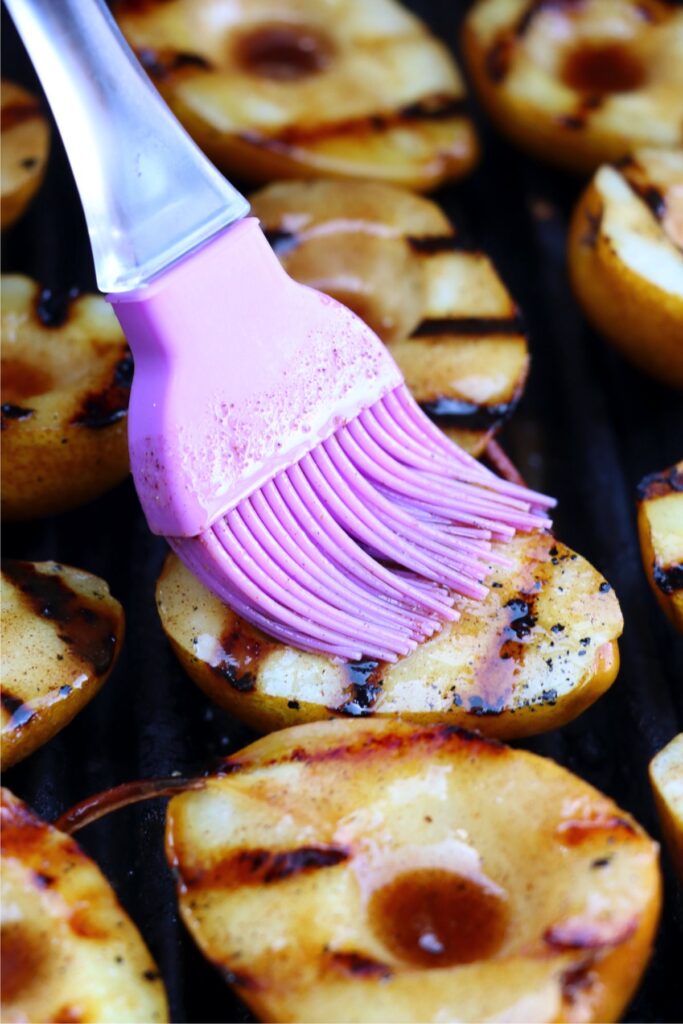 6: Allow to grill for 1 more minute. Remove from grill and enjoy.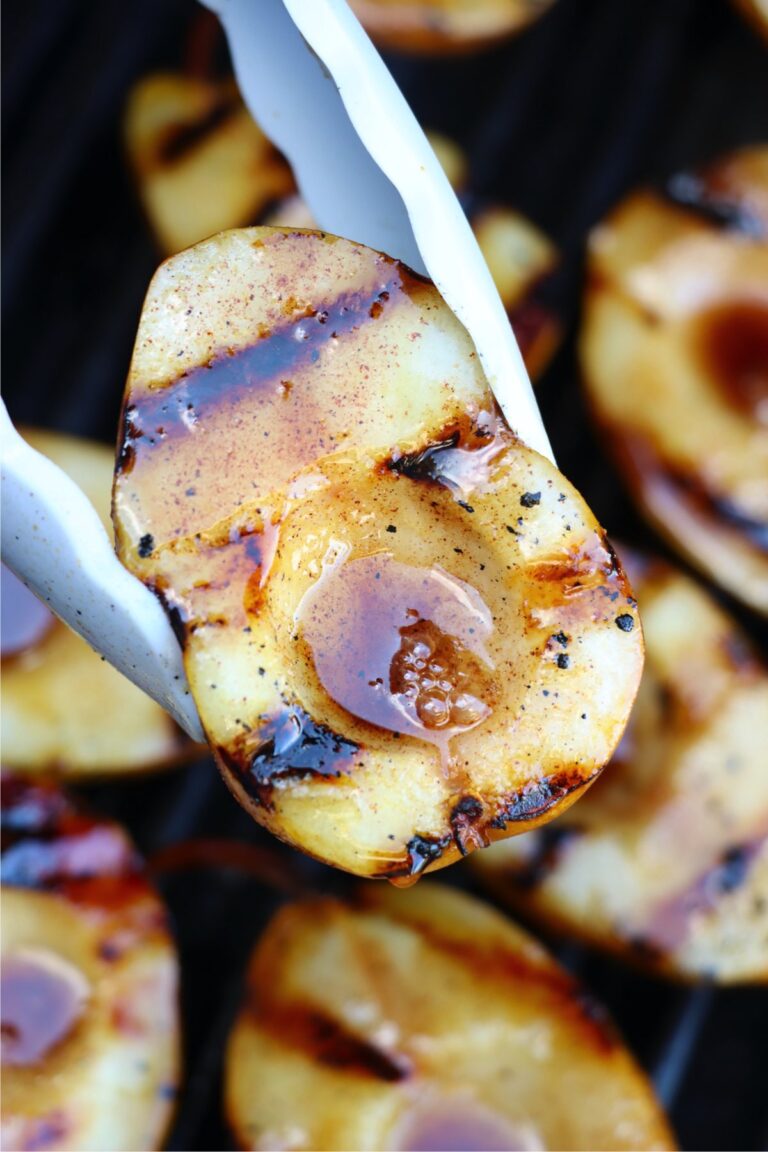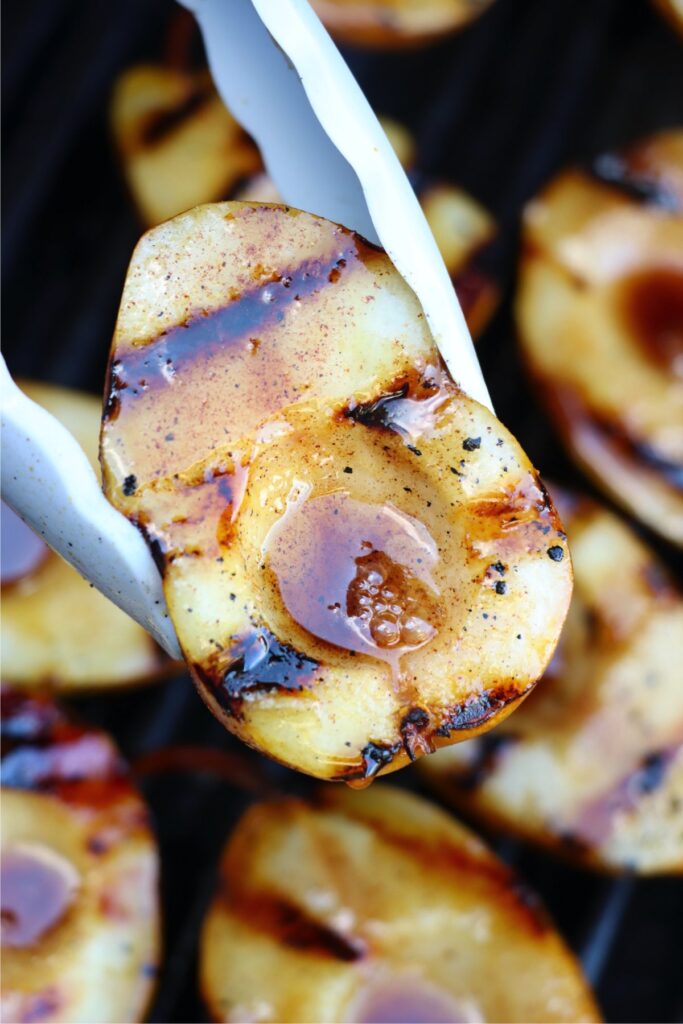 Substitutions and Variations
Other Fruit: Use any of your favorite fruits such as apples, pineapple, peaches, or even bananas with the skin on.
Grill Pan: If you don't have a grill or the weather is uncooperative, make these pears on your grill pan.
Nutmeg: Add a bit of nutmeg for a more fall flavor.
If you like simple fruit desserts like this, then check out this air fryer apple danish.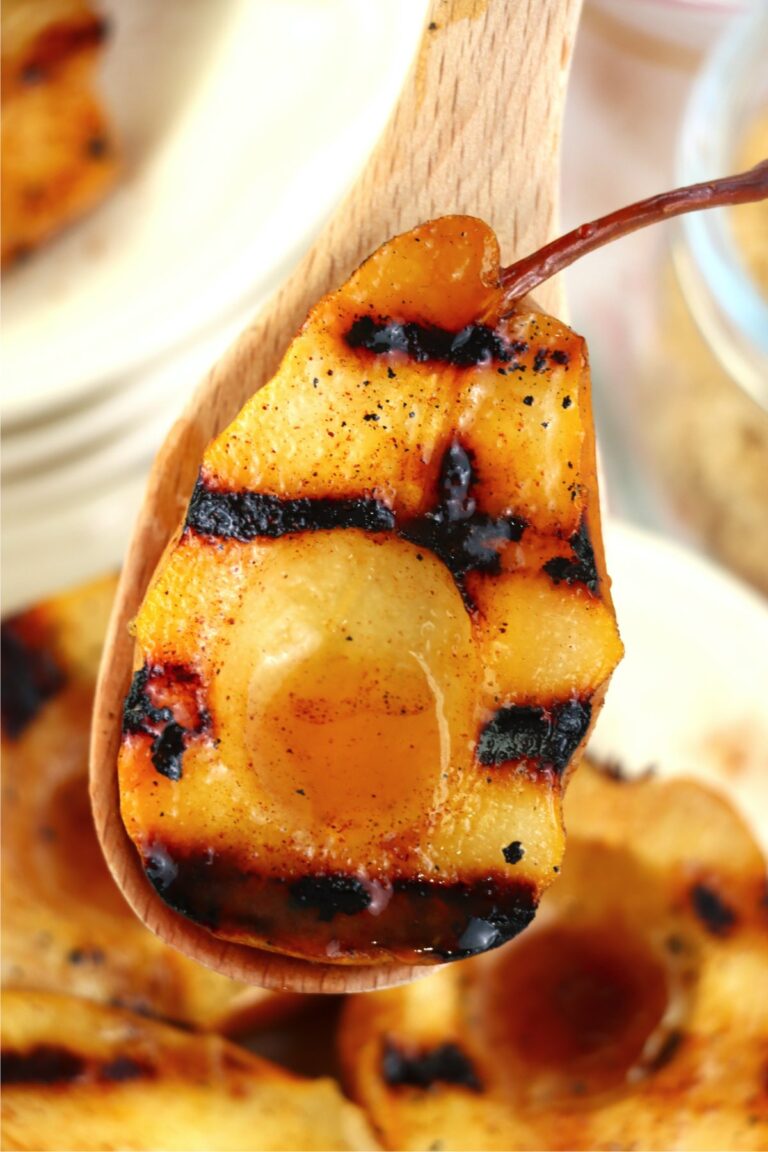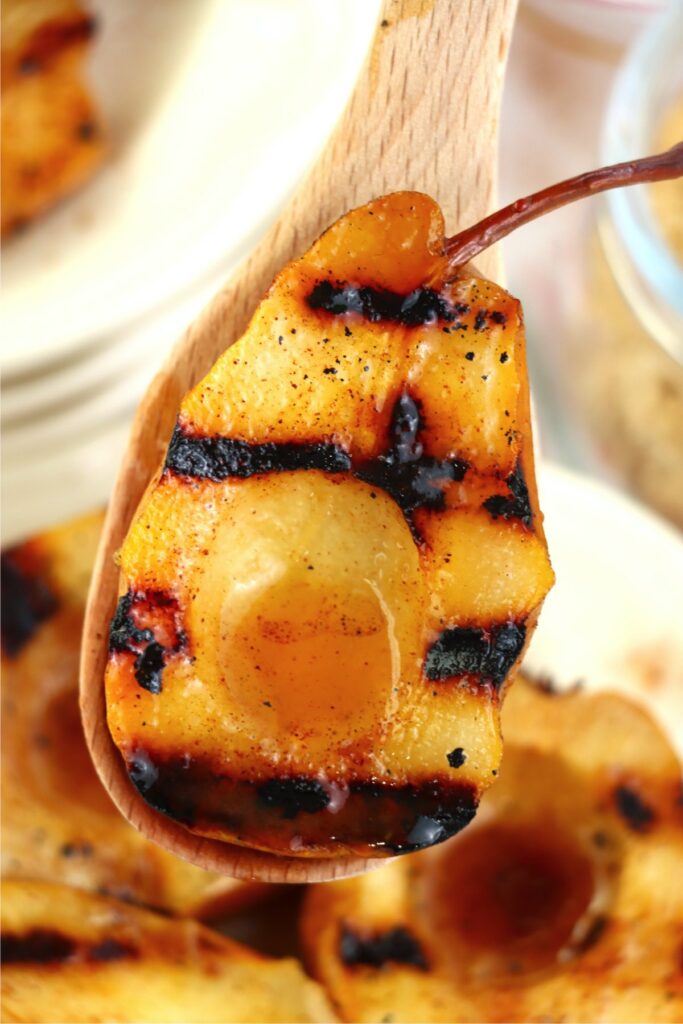 What to Serve with Grilled Pears
This simple dessert is delicious just as it is or when topped with whipped cream or vanilla ice cream. It also makes a great dessert to pair with meals like:
Equipment
Measuring spoons
Knife
Cuttinbaord
Melon baller
Tongs
Storage
Refrigerator: Store these in the refrigerator for up to 5 days.
Freezer: Wrap them in clingwrap and place them in an air-tight, freezer-safe container. Freeze for up to 3 months.
Reheat: Place the pears in a baking dish with a bit of water. Cover with foil and bake for about 15 minutes at 325 or until heated through.
Tips:
Cook the pears just until tender and no longer. You don't want them to get mushy and fall through the grate.
Be sure the grate is well-oiled or your delicious pears will stay on the grill and not the plate.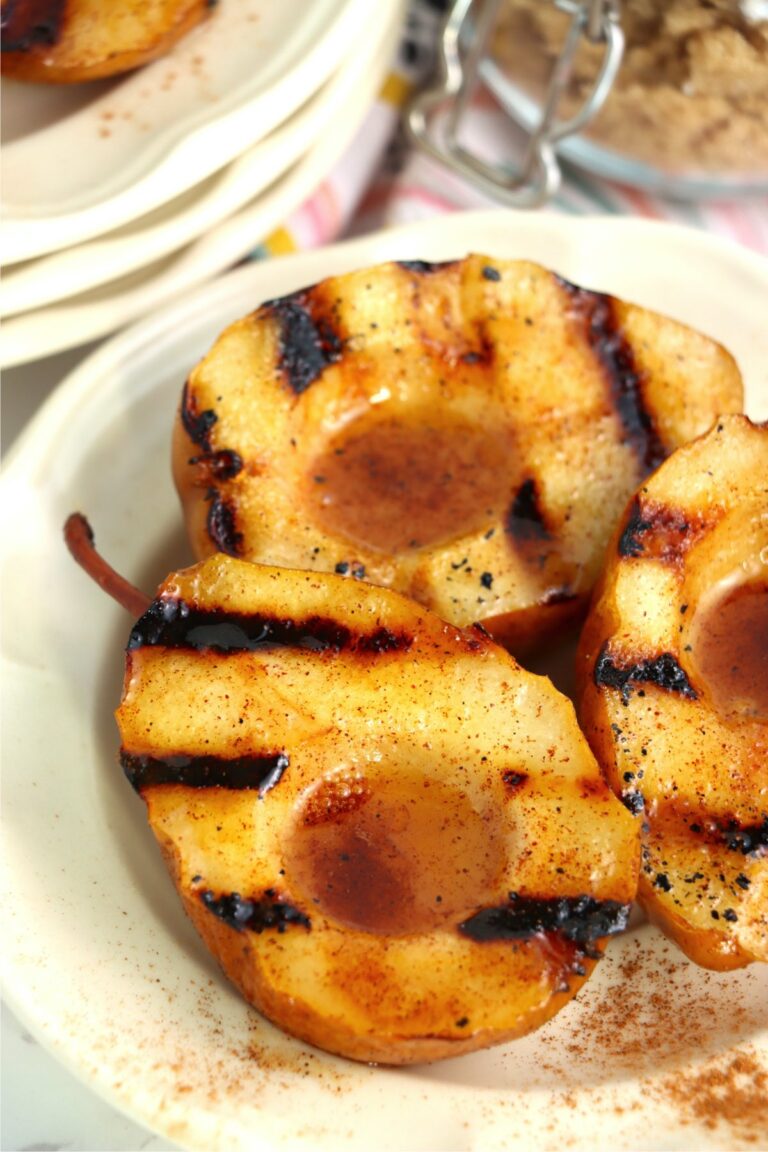 FAQ
What does grilling pears do?
When fruit is grilled, the sugars are concentrated and the outer flesh is caramelized. This leads to tender, extra-sweet fruit.
What's the best pear for grilling?
Pretty much any pear will work, but be sure it's still firm. That's the key to soft, sweet grilled pears that won't fall through the grates.
Are grilled pears healthy?
Yes, they are! Although a bit of sugar and butter is used for the glaze, it's a fairly negligible amount.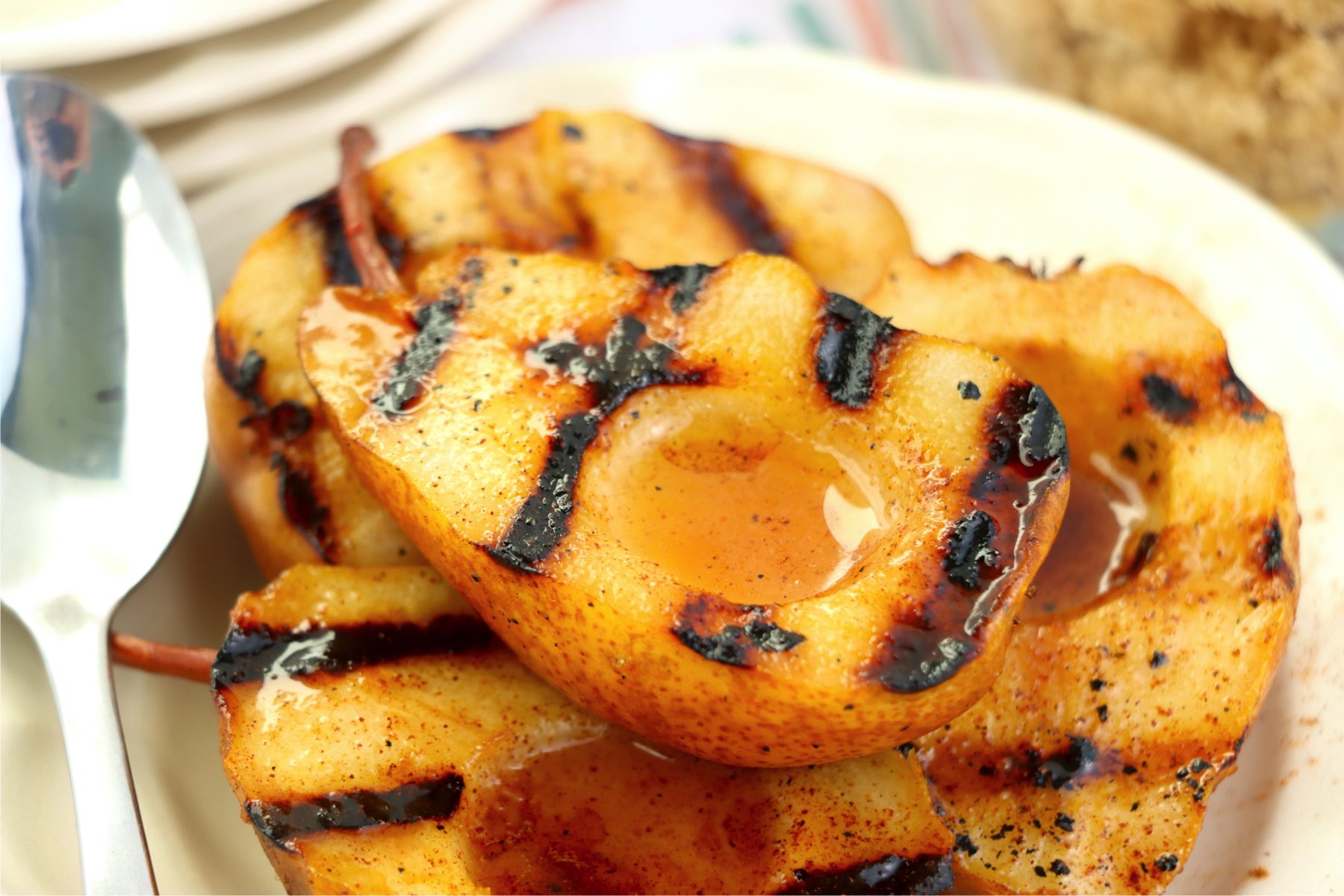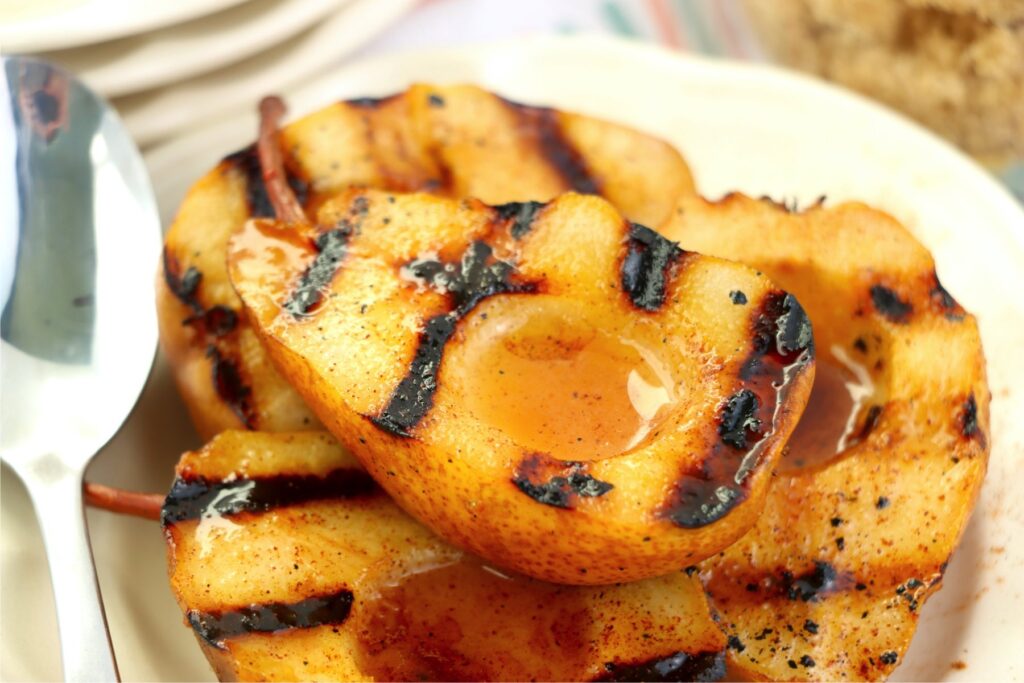 More Grilled Recipes
Grilled Pears
Ready to cook this recipe? Then print the recipe card below.
Yield: 6 servings
Grilled Pears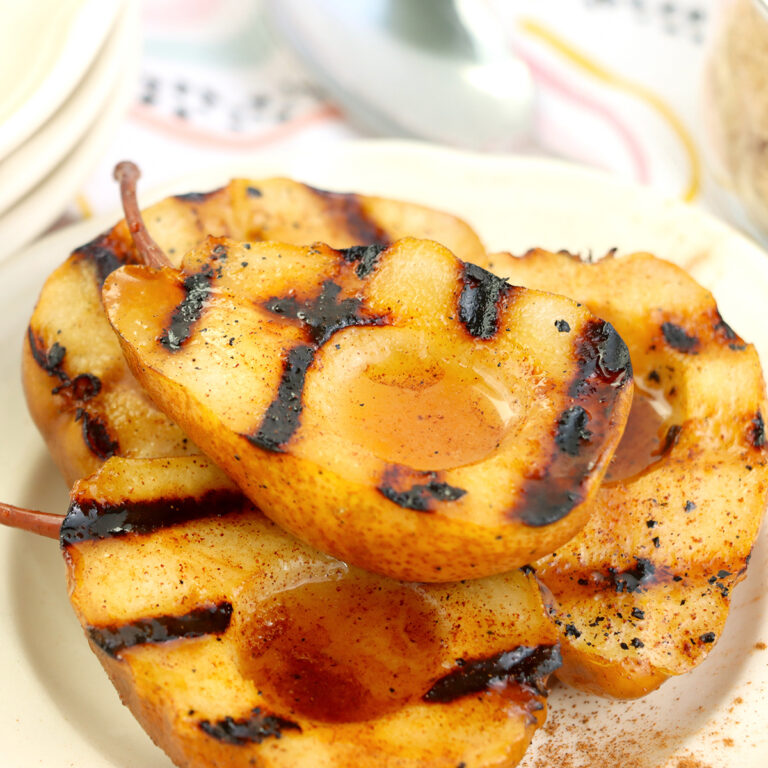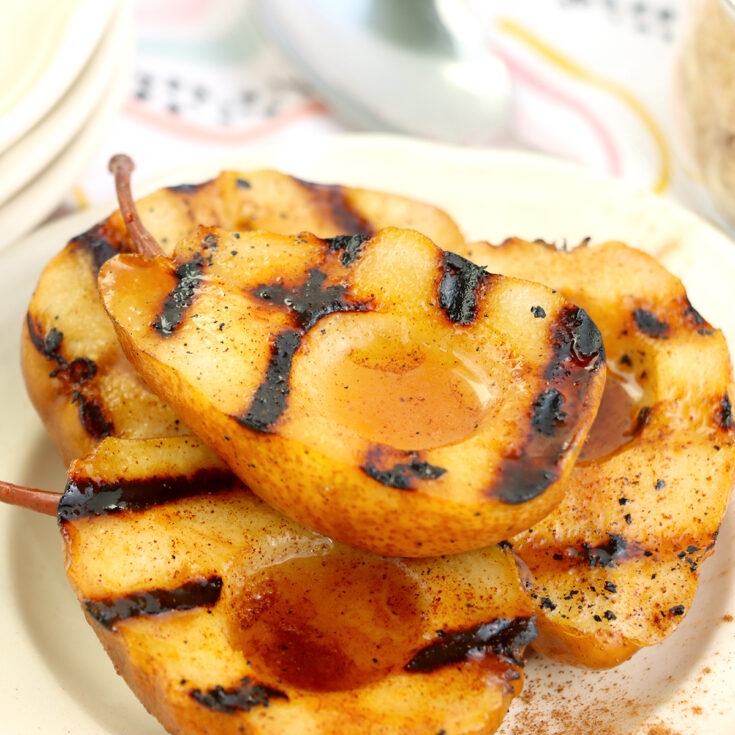 Grilled pears are a delicious, healthy, and sweet treat that make a great dessert for any dinner or party. It's so easy and so good!
Ingredients
6 pears
1 tbsp olive oil
2 tbsp butter
3 tbsp brown sugar
1 tsp cinnamon
Instructions
Heat grill to 325ºF.
Cut pears in half, lengthwise.
Using a teaspoons, scoop out the seeds.
Brush cut side of pears with olive oil.
Place pears cut side down on greased grill and cover for about 10 minutes or until tender.
At the same time, place butter, brown sugar, and cinnamon in a small saucepan. Set pan on grill and allow butter to melt. Stir until mixture is uniform.
When pears are tender, flip them skin-side down and brush them with brown sugar mixture.
Allow to grill for 1 more minute. Remove from grill and enjoy.
Nutrition Information
Yield
6
Serving Size
1
Amount Per Serving
Calories

177
Total Fat

6g
Saturated Fat

3g
Trans Fat

0g
Unsaturated Fat

3g
Cholesterol

10mg
Sodium

34mg
Carbohydrates

33g
Fiber

6g
Sugar

23g
Protein

1g
Get Inspired!
Never miss my delicious recipes, cute creations, or household tips!