This DIY Log Snowman is so simple to make at a minimal cost. He is quite cute and is sure to create a festive winter wonderland!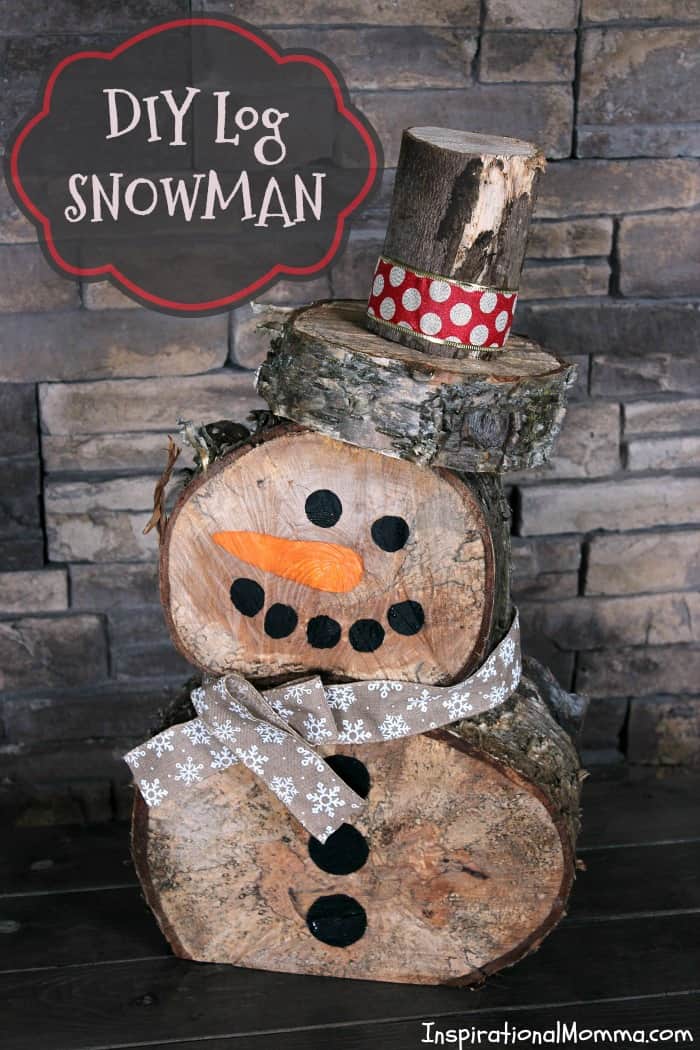 Homemade Wooden Snowmen
These adorable Christmas snowmen will be a perfect addition to anyone's holiday decor. This DIY project is perfect for anyone that is ready to get creative! If you love cute projects, you should also check out my DIY Heart String Art Sign.
Well folks...the holidays are just around the corner! There is just something about turning our home into a winter wonderland that I absolutely love! I am one of the crazy people that have the Christmas tree up the week before (yes, I said before) Thanksgiving! While I have had many of our decorations for years like my
Reversible Thanksgiving & Christmas Blocks
, I always like to add something new each Christmas. Sometimes it comes straight off the shelf at the store. Other years, we are given something as a gift. This year, I made it my mission to create the perfect addition to our collection.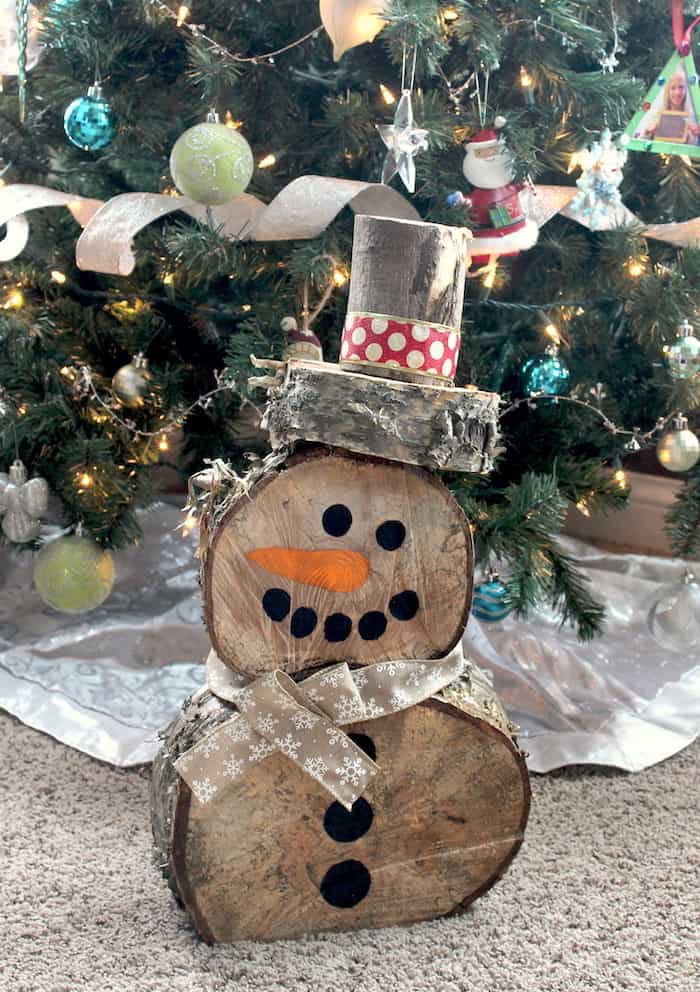 Not really sure what to make, I spent some time wandering around Pinterest. I came across these adorable DIY Snowy Mason Jars from A Pumpkin and a Princess, but I still wasn't set on what I wanted to make. Then, a few weeks ago, I was at our town's annual craft show. Everyone was ooo-ing and ahh-ing over some cute snowman is the next room. Of course, by the time we got there, they were all sold. However, as I was looking at the last one in some woman's arms, I was quite confident that with my husband's help, I could create one.
And that is just what we did! With Andrew's craftsmanship, we created our first DIY Log Snowman!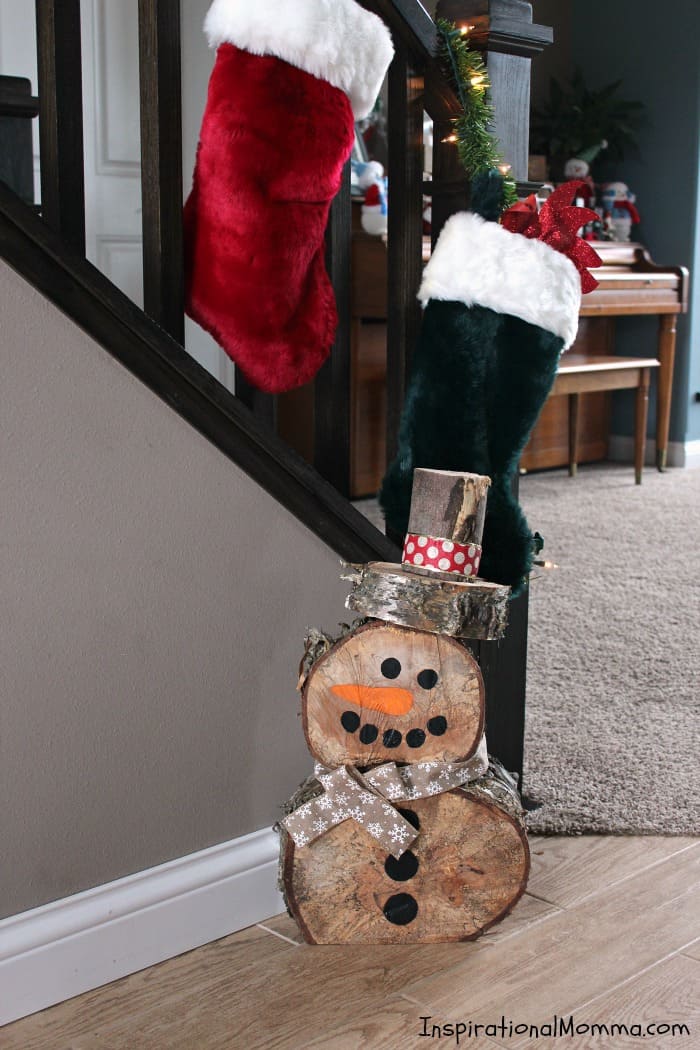 Our first task was to find the perfect materials for our DIY Log Snowman. We got quite lucky and found just what we needed on my grandpa's wood pile. Birch was our wood of choice. Follow the simple steps below and create a cute DIY Log Snowman of your own!
Materials for a DIY Log Snowman:
- 4 pieces of wood (sizes can vary, this is just what we used)
- 12" diameter and 4" thick
- 8" diameter and 4 " thick
- 6" diameter and 2.5" thick
- 3" diameter and 5" thick
- 4 - 3" screws
- black and orange acrylic paint
- ribbon
- main color @ approximately 30" long
- secondary color @ approximately 10" long
- hot glue gun and glue sticks
- drill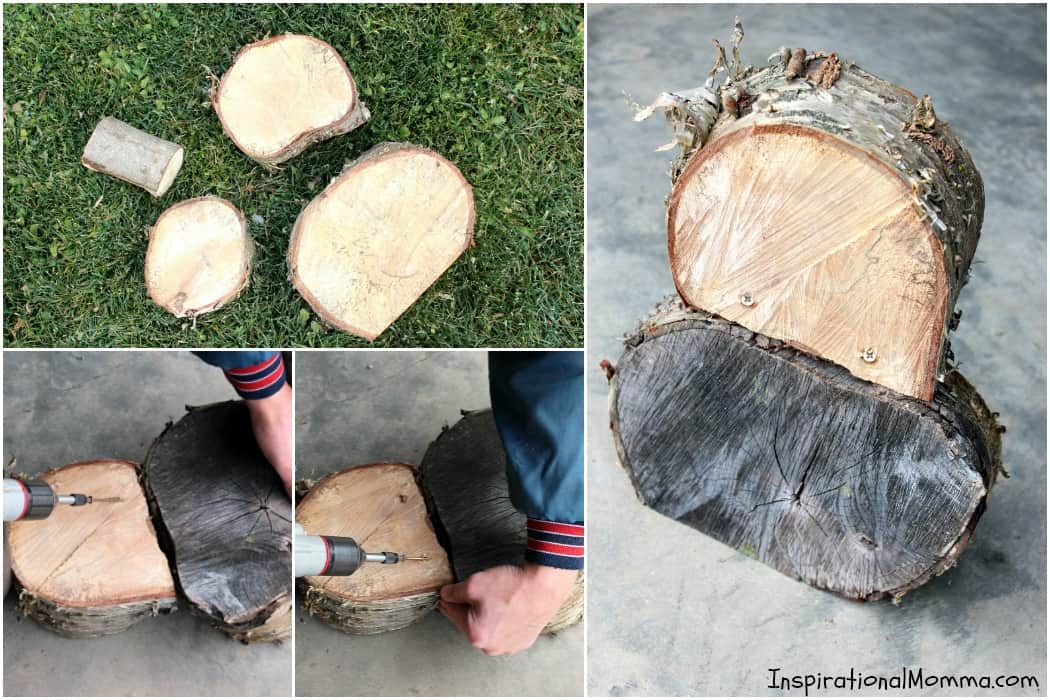 How to make a DIY Log Snowman:
Cut 4 pieces of wood (sizes can vary, this is just what we used)
- 12" diameter and 4" thick
- 8" diameter and 4 " thick
- 6" diameter and 2.5" thick
- 3" diameter and 5" thick
You must start by forming the body with the 2 larger pieces of wood. Determine how they fit best. Next, secure them together with 2 screws on the back side. Insert them at an angle so you are certain both pieces are connected well.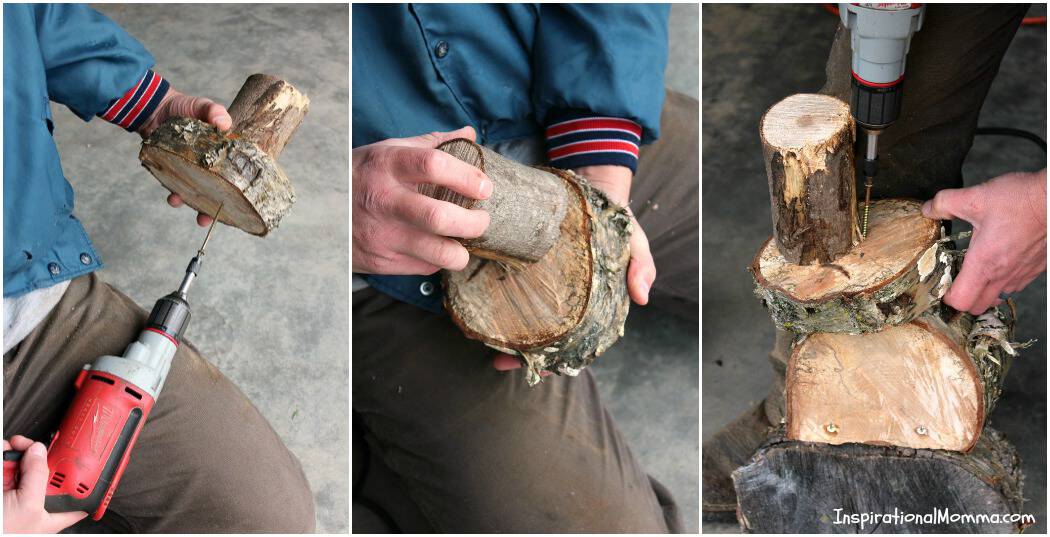 Using the 2 smaller pieces of wood, it is now time to construct the hat. After placing the top of the hat on the base of the hat, secure them together with a screw. This part can get a little tricky. Make sure the screw inserts in the top of the hat closer to one edge. This will allow you to rotate it off to the side so you are able to connect the hat to the head, but keep the screw hidden.
Connect the hat to the head, making sure that when the top of the hat is rotated back over, the screw will be hidden.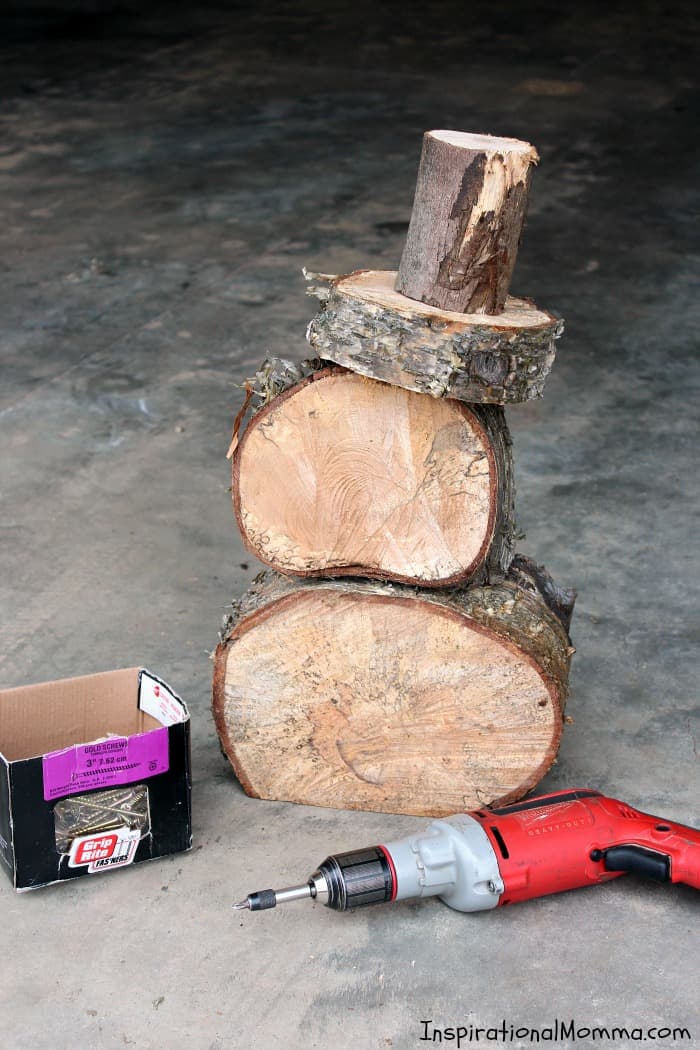 Now it's time to paint! While these sizes can vary, I used quarters for the eyes, nickels for the mouth, and 50 cent pieces for the buttons. As for the carrot-nose, I got brave and free-handed it! You can do it too! If you are a little nervous, draw it lightly with a pencil first.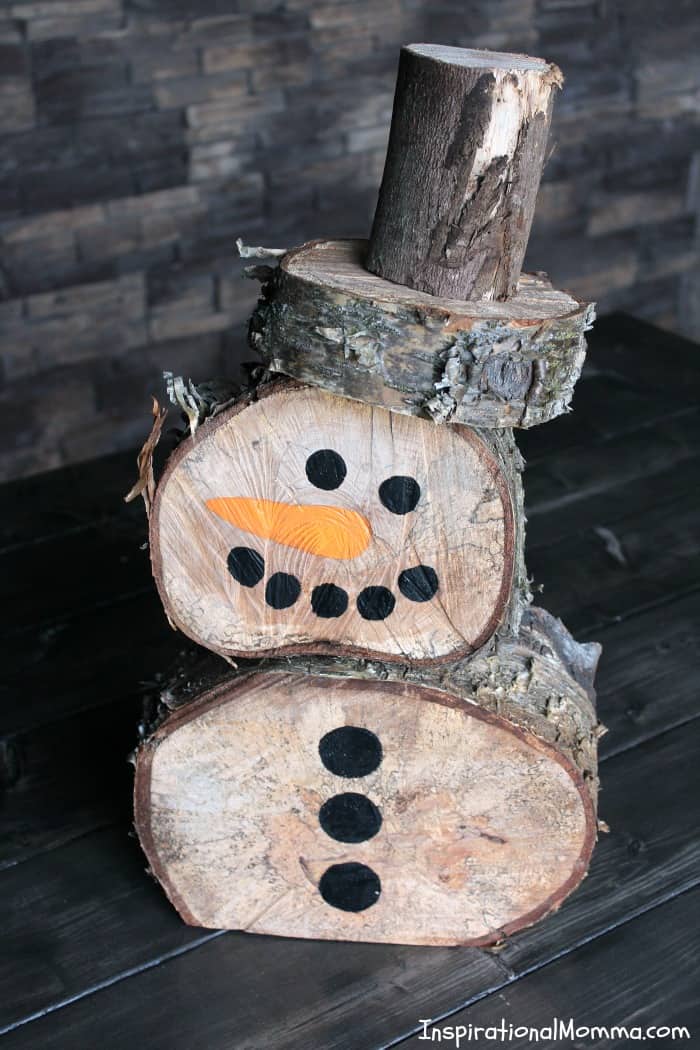 You are almost done!!!
Let's give your DIY Log Snowman some personality with some ribbon. Using about 30 inches of the main color, wrap it around the snowman's neck and connect it with a small amount of hot glue. While you can finish your bow in many different ways, I kept things simple. I looped it once and secured it with a little more hot glue.
With the secondary ribbon, add a little flair to the hat. The size of this piece will depend on the actual size of the log. Simply use a dab of hot glue to secure the ribbon to the log and one more dab to connect the ends.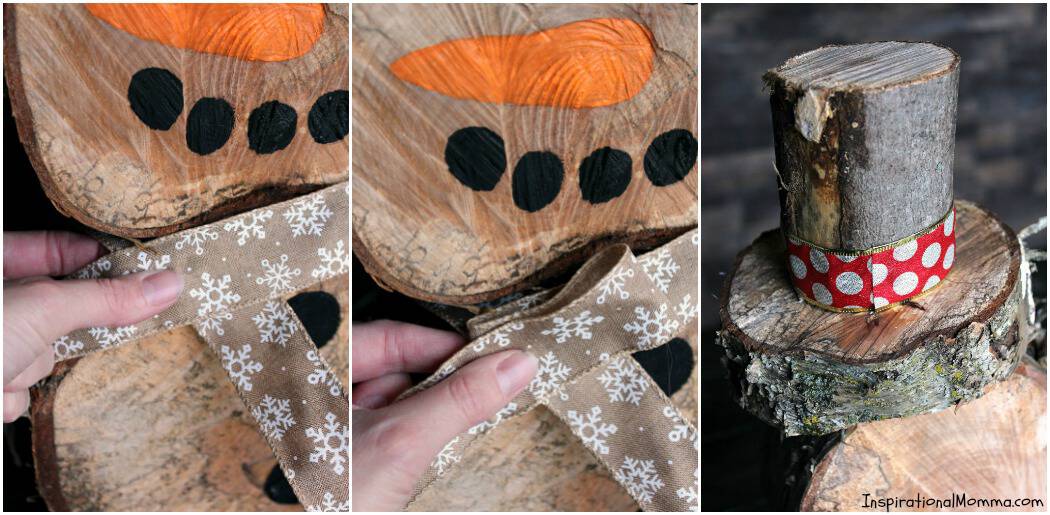 YOU DID IT! You are now the proud creator of a DIY Log Snowman! Your little cutie will help you create a festive winter wonderland for years to come. With some delicious Peanut Butter Blossoms in the oven, Christmas music playing, and the laughter of friends and family filling the air, many holiday memories will be made!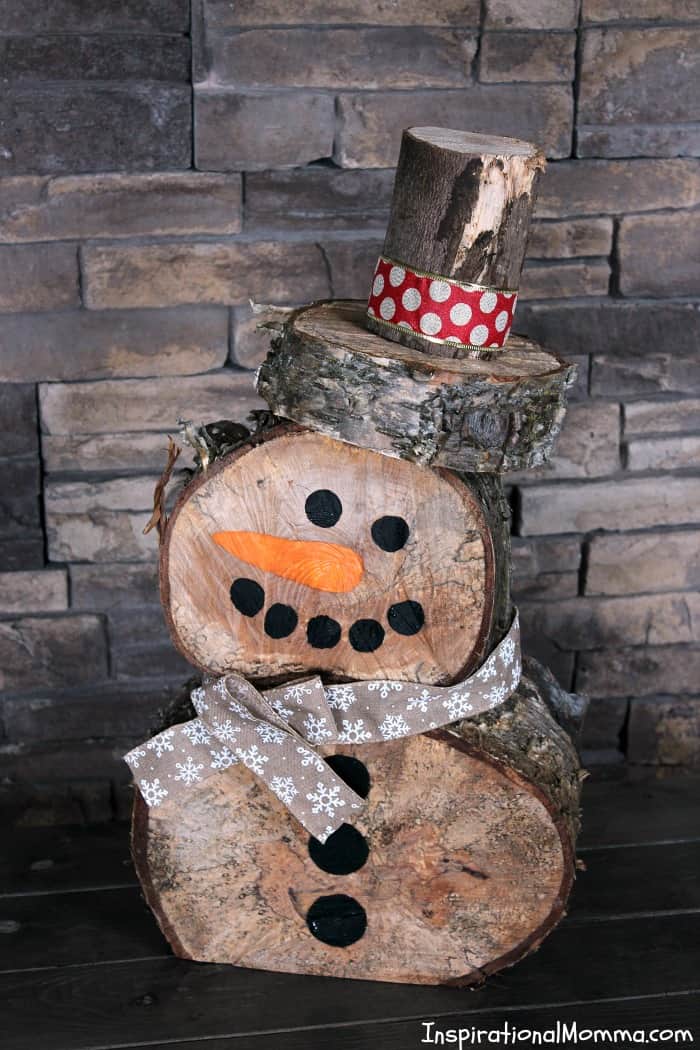 Realizing just how easy this project was, I immediately sent Andrew back to the wood pile to collect more materials. In just 2 hours, we built, painted, and dressed nine DIY Log Snowmen! They made perfect gifts for our family, and I can't wait to see them make their debuts for many years to come!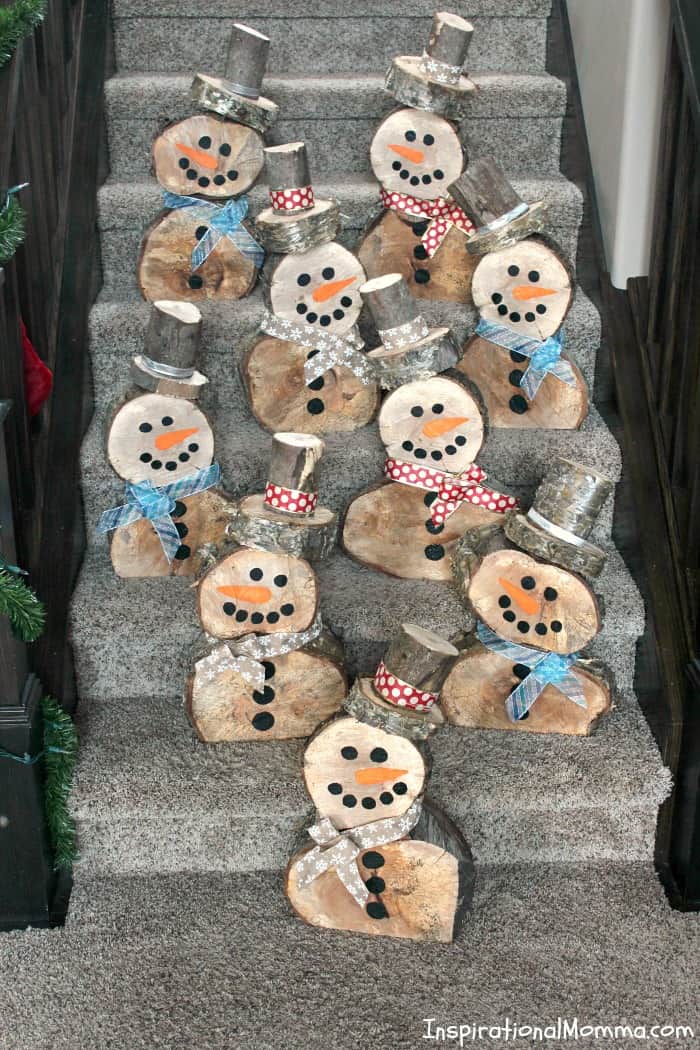 Love what you see? Find more of my fun creations on Facebook, Instagram & Pinterest! You can also sign up for my weekly newsletter below and never miss any of my inspirations!
Can't get enough cookies? Check out more of my favorites!
Get Inspired!
Never miss my delicious recipes, cute creations, or household tips!