These frozen rhubarb recipes are sweet, tangy, and loaded with that delicious rhubarb flavor. They're also made easier by using frozen rhubarb. Using frozen rhubarb reduces prep time while delivering the same authentic flavor you get with fresh rhubarb.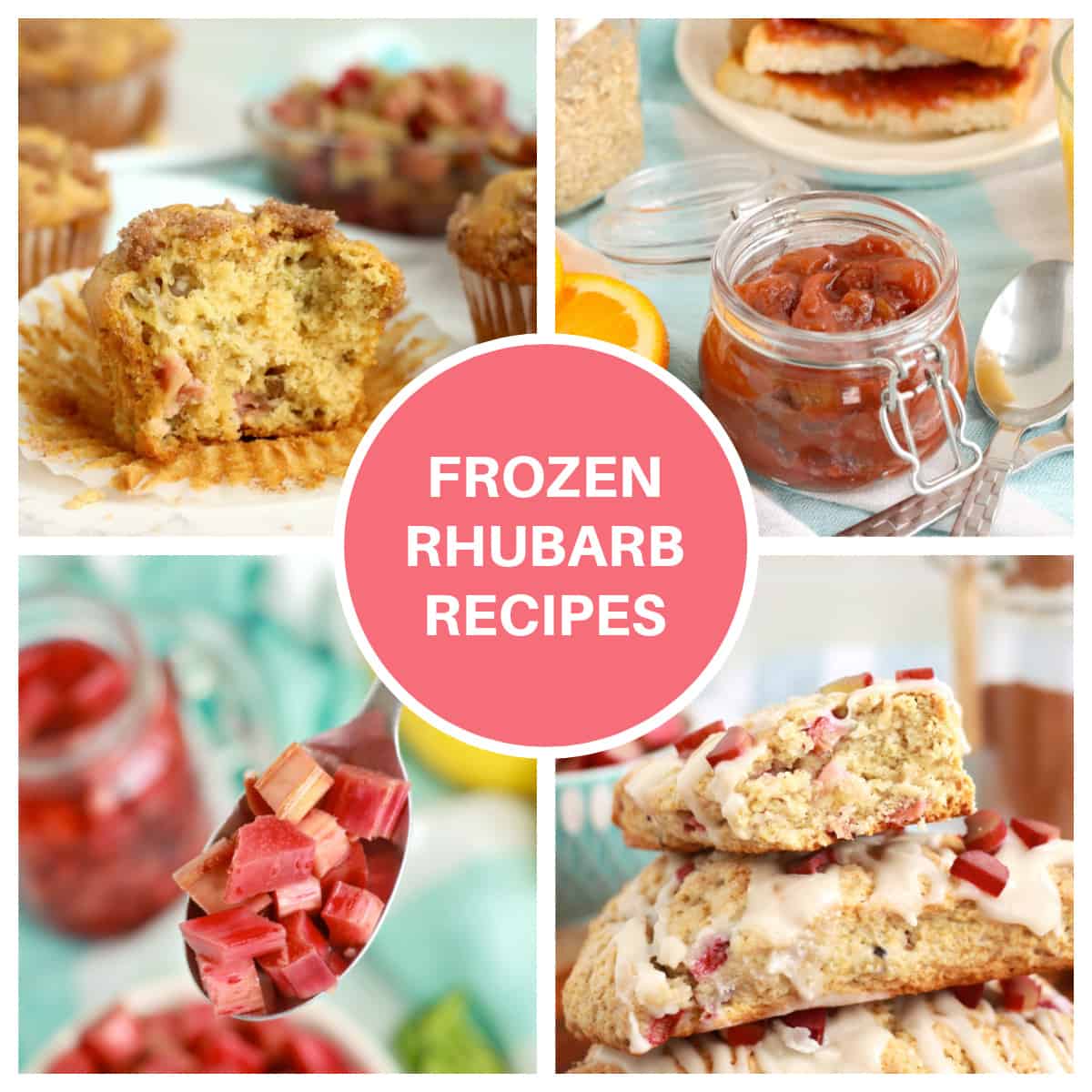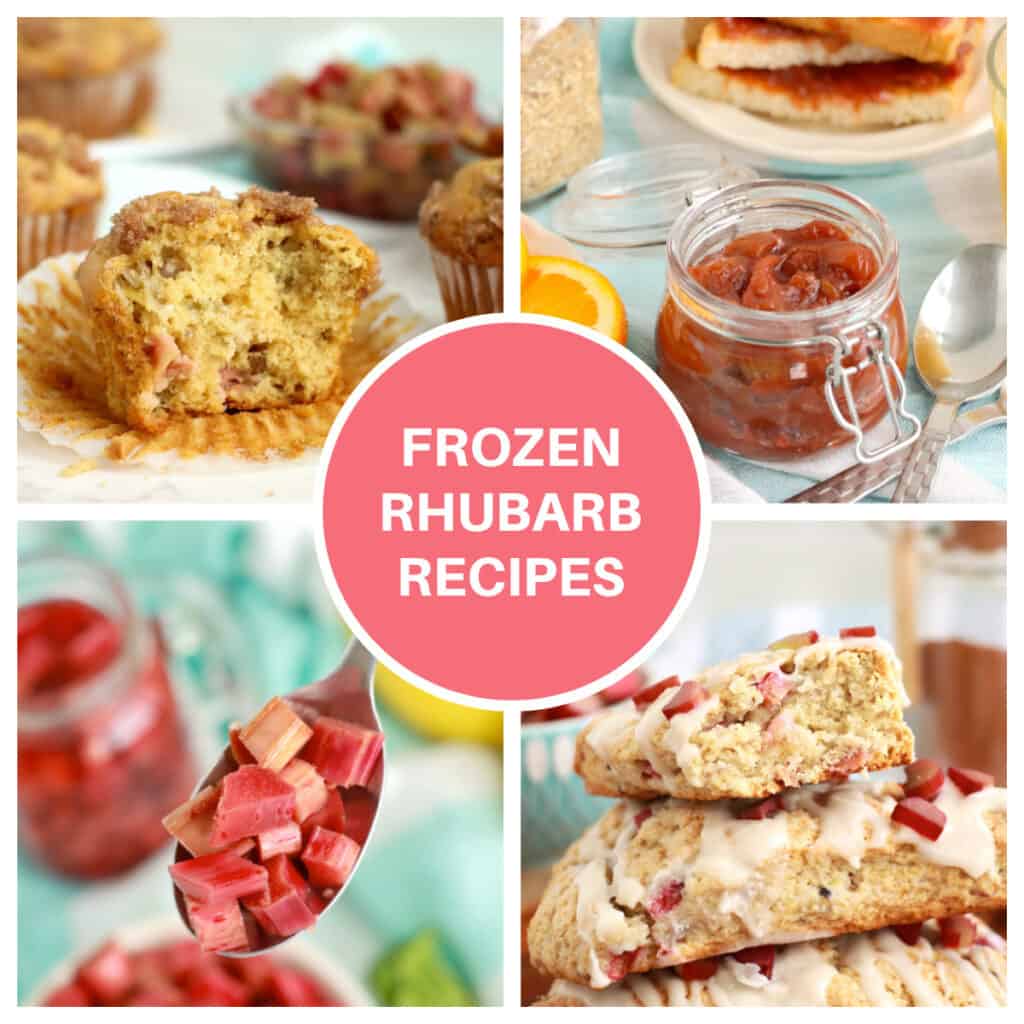 Using Frozen Rhubarb
Using frozen rhubarb allows you to store large quantities of this tasty vegetable, buying large amounts during the short time it's in season, and then freezing it for later use.
Rhubarb is incredibly versatile and can be used in everything from sauces to scones, so it makes sense to buy in bulk and freeze it if you enjoy its flavor.
How to Freeze Rhubarb
Freezing rhubarb is an incredibly simple procedure, and it only takes a few minutes.
First, trim the ends off of the stalks and remove the leaves. Then wash them in cold water and pat them dry. Cut them into 3/4-inch or smaller pieces.
Place the rhubarb pieces on rimmed baking sheet lined with parchment paper and spread them out so they aren't touching. Then, freeze them until totally frozen. This usually takes a few hours to overnight.
When the rhubarb is completely frozen, place the pieces in an air-tight, freezer-safe container or heavy-duty freezer bag and store for up to four months.
How to Use Frozen Rhubarb
After you've frozen your rhubarb, it's time to use it. You can go with any rhubarb recipe you find online or you get from your friends. You can also go your own way and make your very own recipes. The key is knowing what to pair it with.
Flavor Pairings
Rhubarb's tang pairs perfectly with a variety of flavors. When considering what to make with your rhubarb try these flavors.
Berries: Berries are a classic pairing with rhubarb. Their sweetness is the perfect counterpoint to the sourness of rhubarb. Try your favorites like strawberries, blueberries, raspberries, blackberries, and more.
Apples, Pears, and Peaches: These fruits pair wonderfully with rhubarb. Try combining them in a crumble, cobbler, or pie.
Cinnamon or Nutmeg: Both cinnamon and nutmeg add a lovely depth of flavor to any rhubarb dish.
Recipe Ideas
Frozen rhubarb is just as versatile as its fresh counterpart, and frozen rhubarb recipe are just as delicious. If you're itching to give some recipes a try, here are some great ideas.
Coffee Cake: Add rhubarb to your favorite coffee cake recipe. The sweetness of the coffee cake will offset the tang of the rhubarb perfectly.
Jams and Preserves: Add rhubarb to your favorite jam and preserves recipes for a sweet and tangy combo.
Pies, Crisps, Cobblers, and Crumbles: Simply add frozen rhubarb chunks to any of your favorite recipes for added flavor.
Muffins: Rhubarb makes an excellent addition to muffins, especially fruit muffins.
Tips for the Tastiest Frozen Rhubarb Recipes
Frozen rhubarb recipes can be full of flavor if you know when to pick it, how to use it, and how to store it.
Using Frozen Rhubarb
Thaw your frozen rhubarb before adding it to your recipe. When fully thawed, drain the excess liquid to prevent a soggy dish.
Picking Rhubarb
Rhubarb is in season from spring to early summer. Choose fresh rhubarb that's firm and about 10 to 15 inches long. The stalks can be green to deep red. Avoid rhubarb that feels soft.
Storing Rhubarb
Open-air freeze your rhubarb after slicing. Then, transfer it to an air-tight, freezer-safe container or heavy-duty freezer bag.
Frozen Rhubarb Recipes
Now that you know how to pick, freeze, and thaw frozen rhubarb, let's take a look at some delicious frozen rhubarb recipes. These recipes range from sauces to breads and even scones, and they're all delicious. No matter your tastes, you'll find something on this list to love.
Frozen Rhubarb Recipes
These frozen rhubarb recipes deliver all the flavor we love in rhubarb recipes, but it's all made easier by using frozen rhubarb.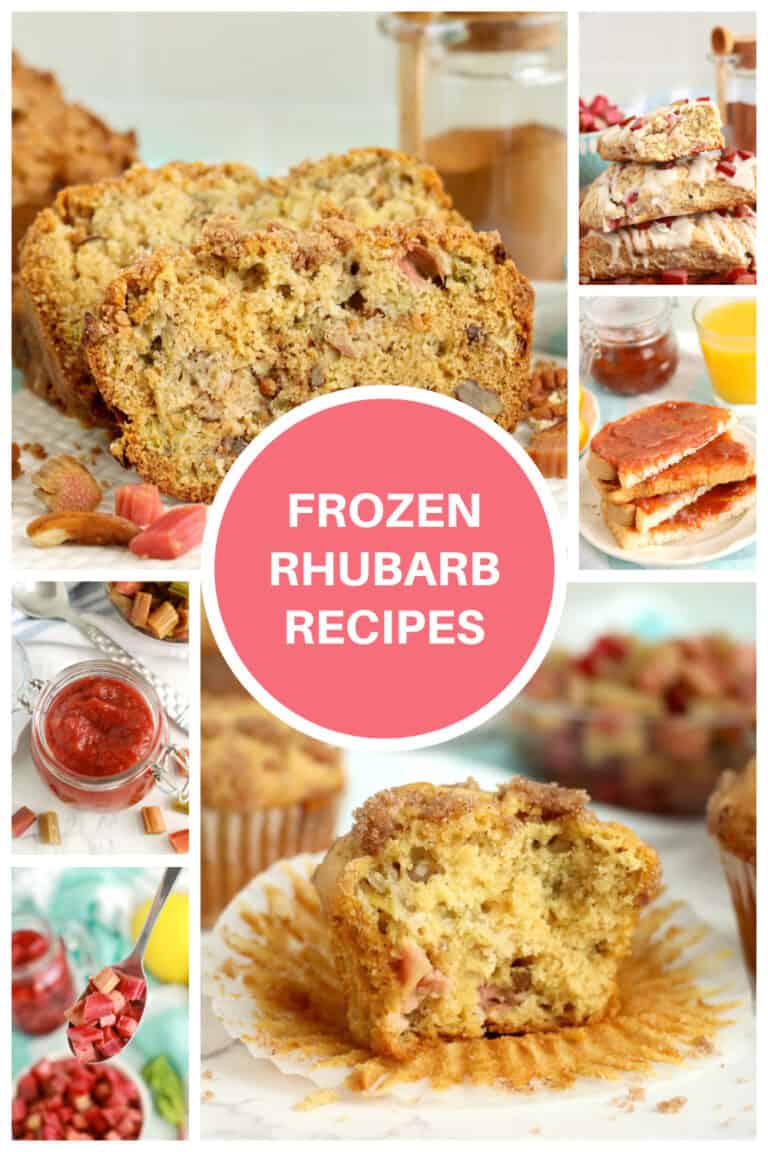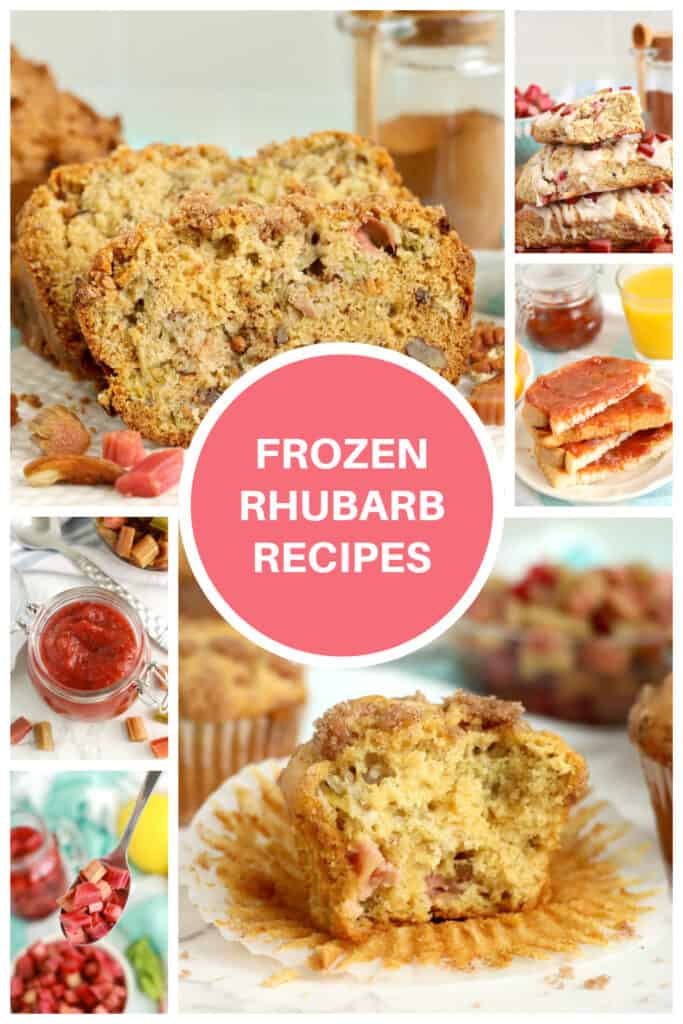 Get Inspired!
Never miss my delicious recipes, cute creations, or household tips!